We arrive in Padang Bai, Bali after our boat trip from Flores to Lombok. We go directly to Ubud.
(This entry goes out to the memory of Anthony Bourdain (1956 – 2018), originator – and practically sole owner – of a totally new genre: bad-boy chef.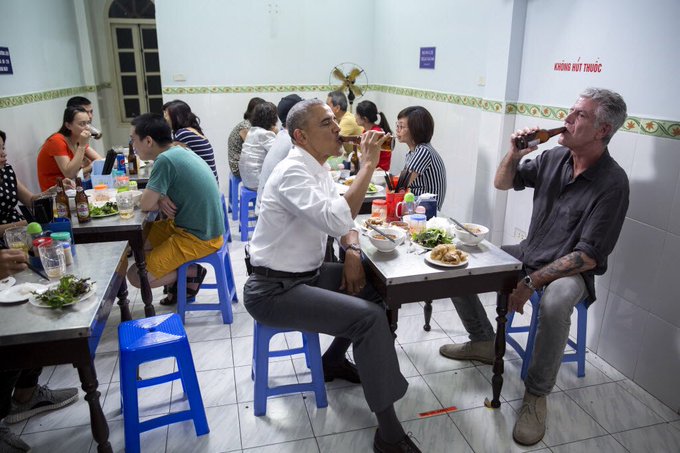 When a creature like Donald Trump is the President of the United States and a life-affirming individual like Anthony Bourdain commits suicide, you have to wonder if we are indeed reaching the End Times.
See you in another life, Tony.)
It happens to be the first day of Galungan, one of the most important of Balinese holidays.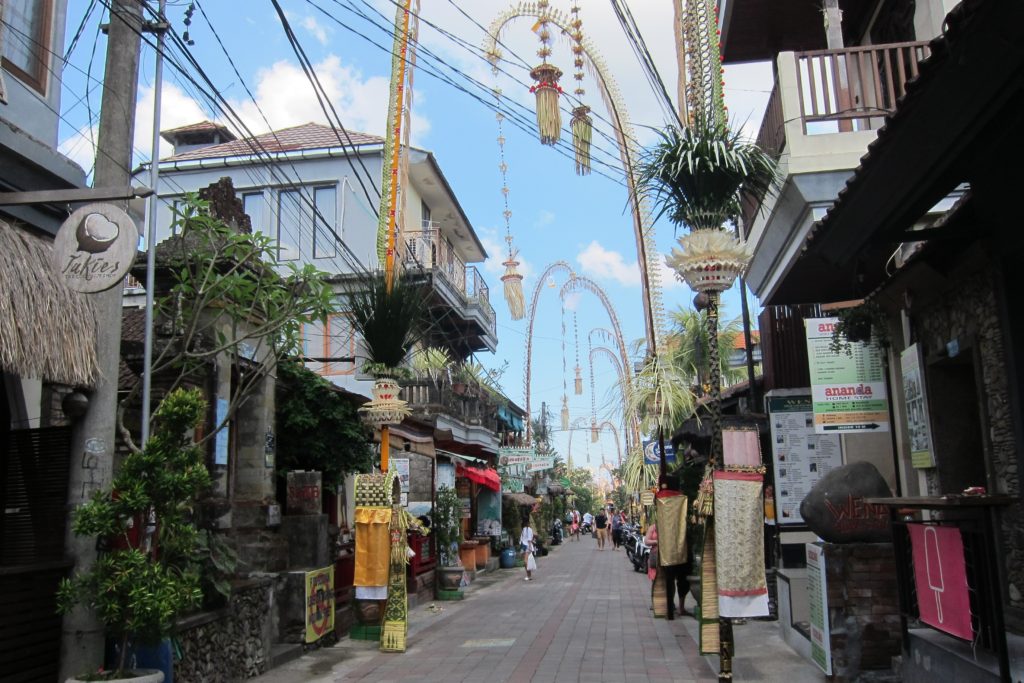 And there are lots of holidays. Besides the boring old Gregorian calendar, the Balinese also use not one, but two traditional calendars: the Saka calendar and the Pawukon calendar. Both are Hellishly complicated.
These decorations – 'penjor' – are everywhere.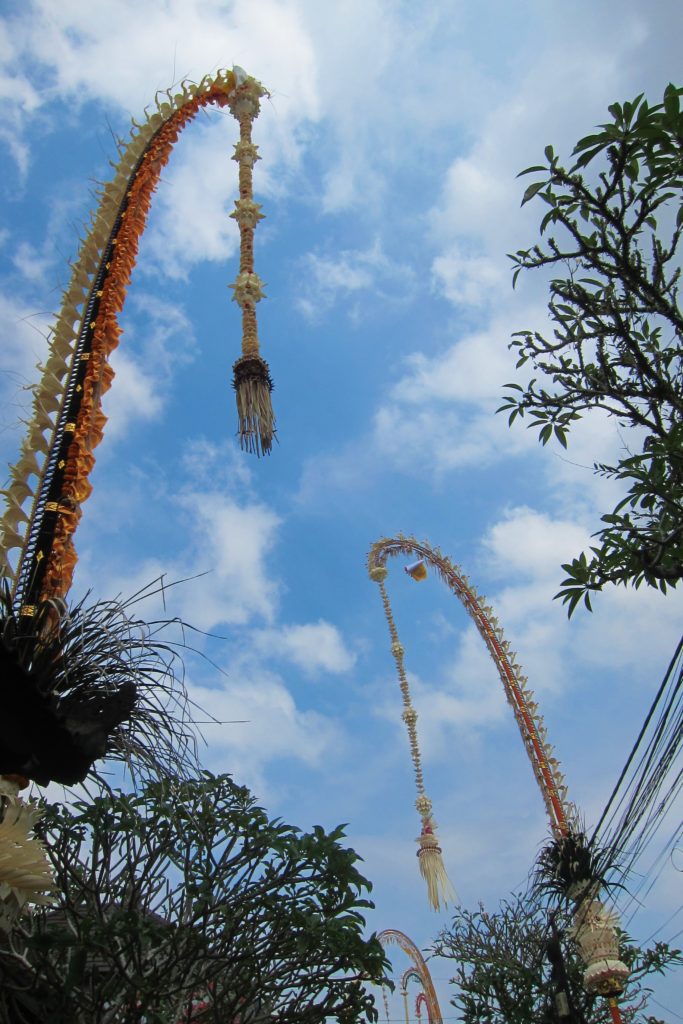 Staying at the Nirvana Pension. It's a beautiful place, oozing with  Balinese authenticity , run by a nice family.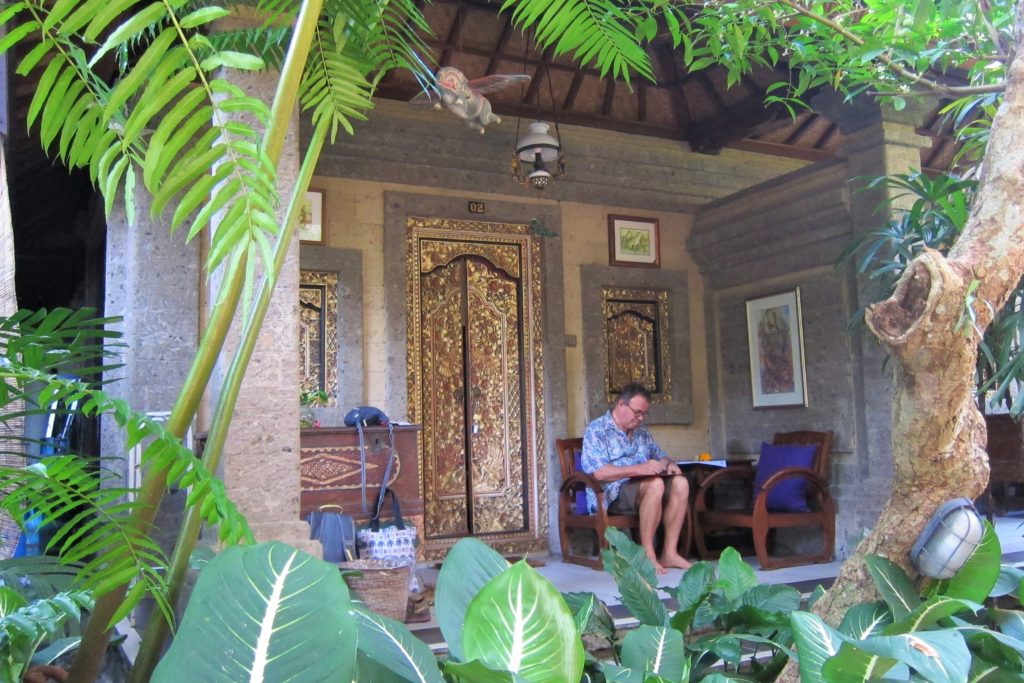 Ubud – all of Bali, for that matter – is, let's face it, overrun with tourists. We take advantage of this fact by eating lots of gringo food after months of rice and noodles and fish. Pizza from a wood-fired oven, more-than-respectable burgers, and something we miss, beef rendang. (A coincidence – beef rendang is a Sumatran specialty that was one of Tony Bourdain's favourites  from the area. Find a good recipe and try it!)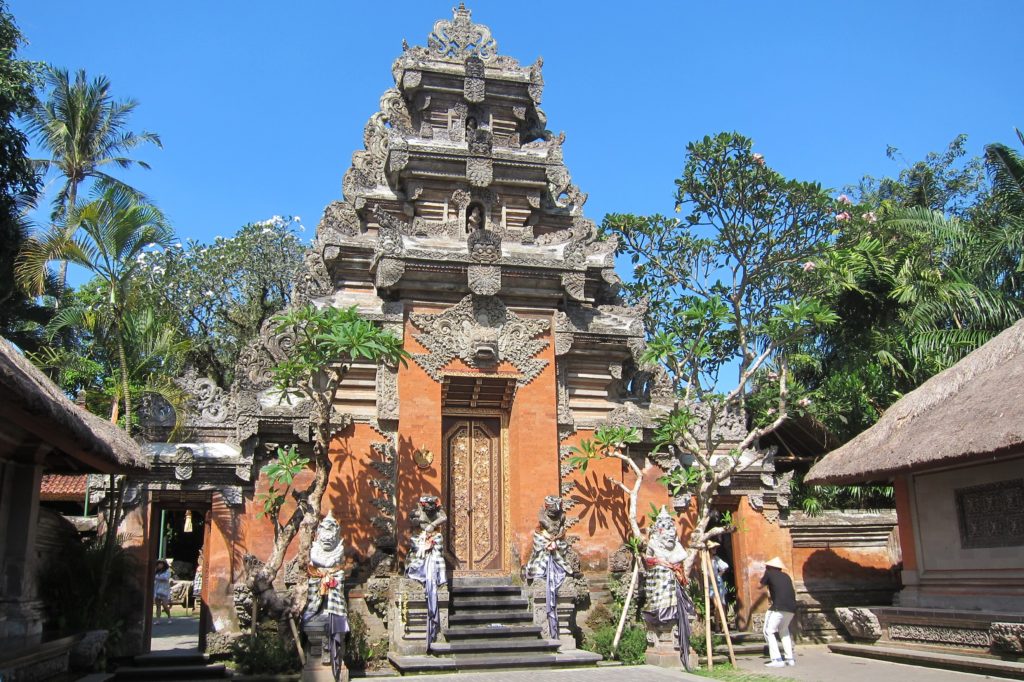 After a stretch of uninterrupted travel, we are happy to hang out in our lodgings and not do anything special.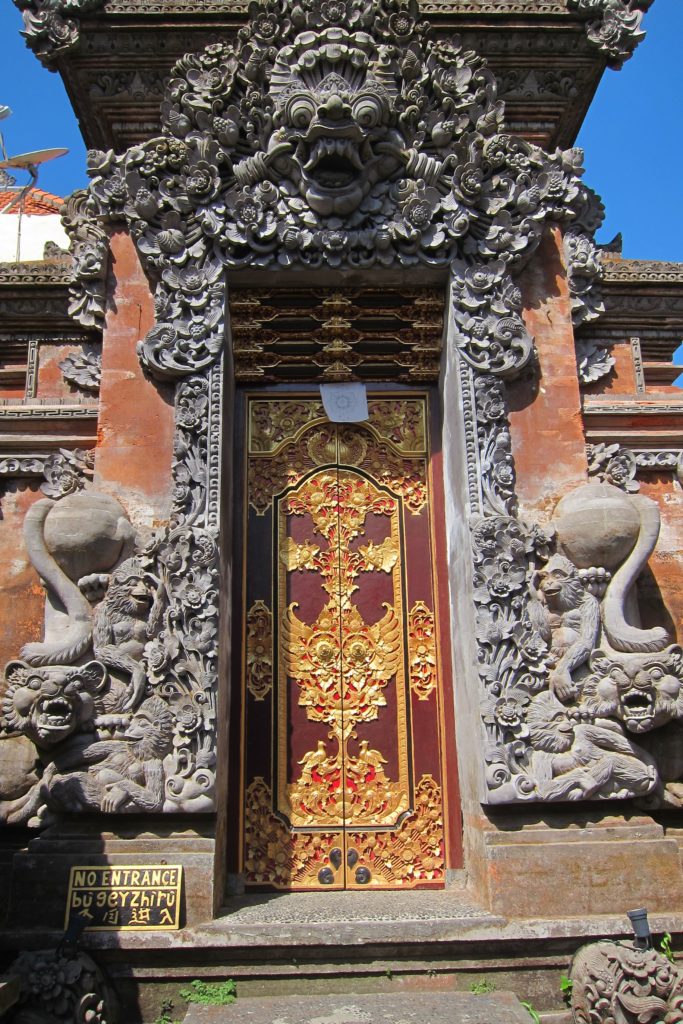 When strolling around town, we see that Balinese temples abound.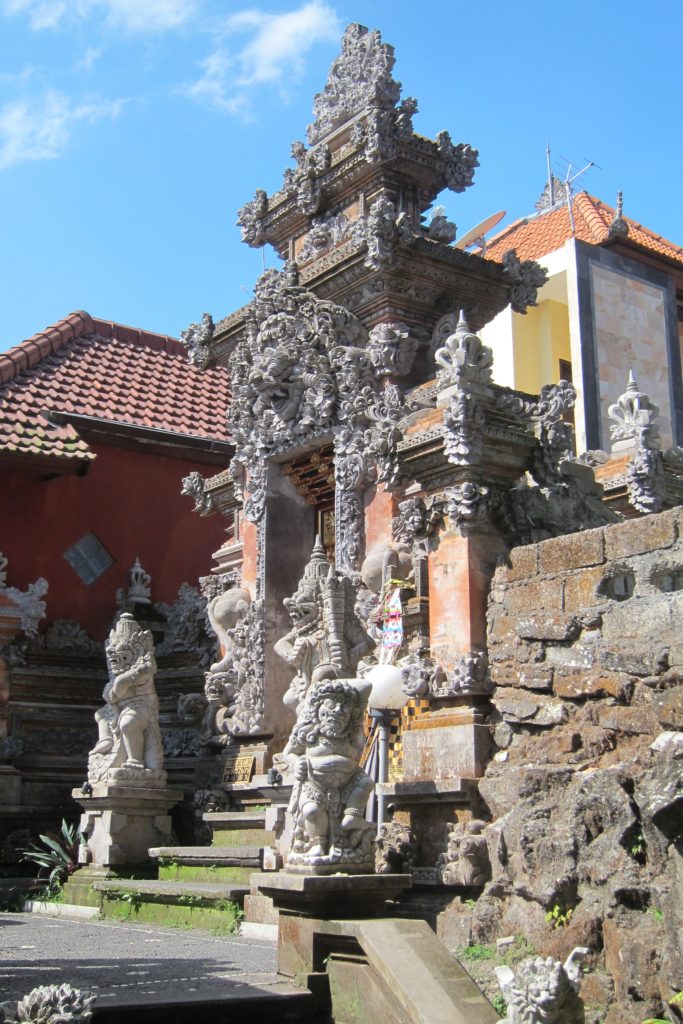 The Balinese are Hindus, preserving a kind of Hinduism that existed throughout Indonesia (and Malaysia, and other parts of Southeast Asia) before the arrival and spread of Islam.
Among other observances, statues and altars for small offering are often wrapped in checkered cloth that looks as if they're borrowed from an Italian restaurant.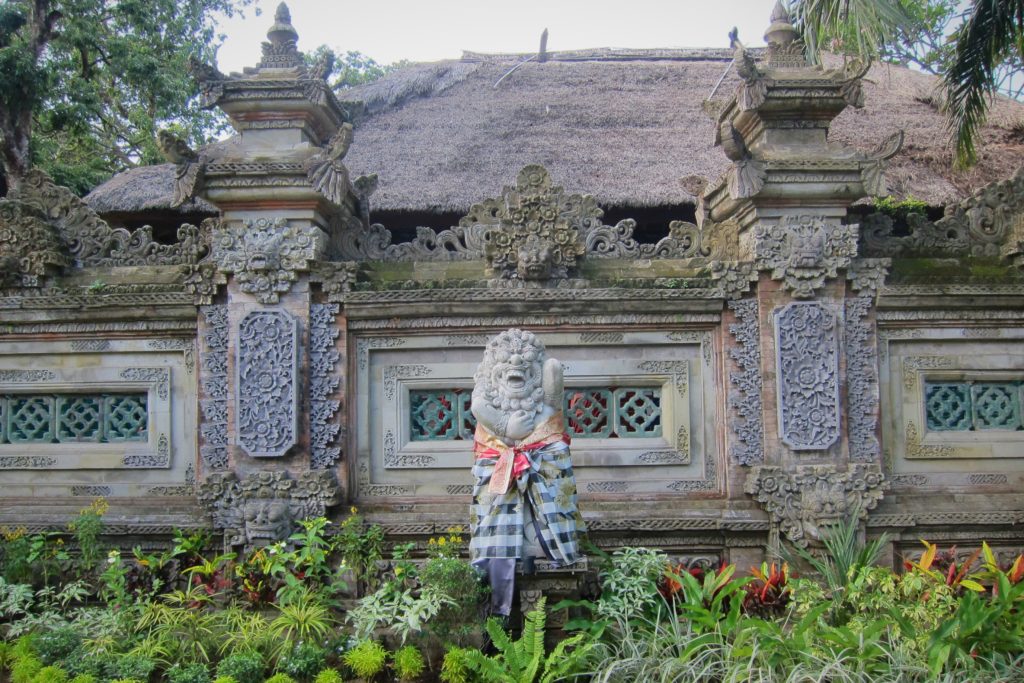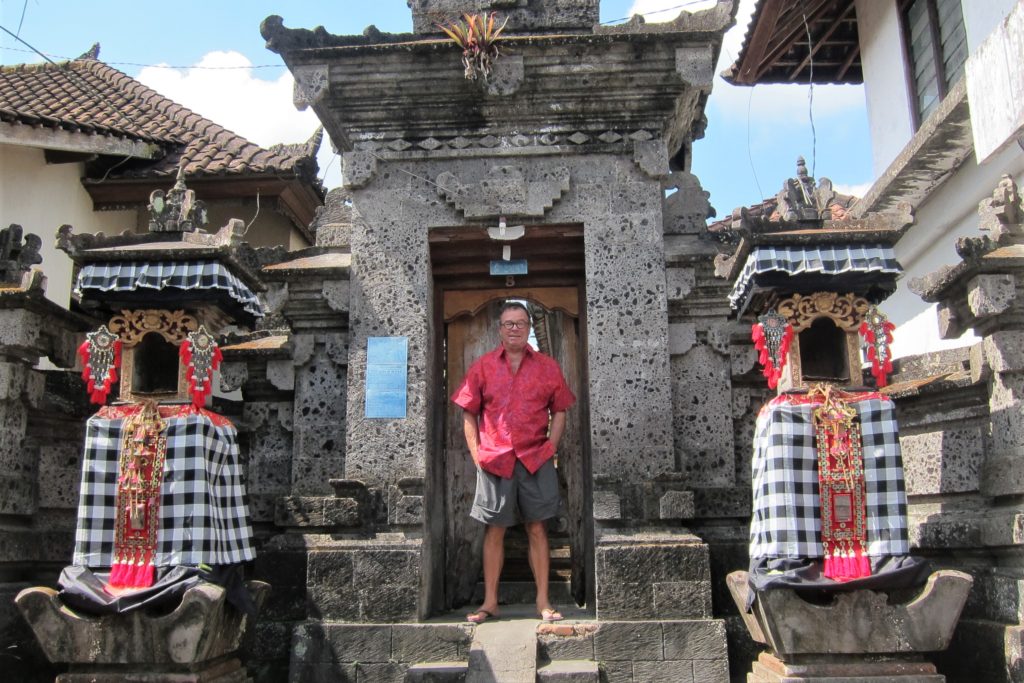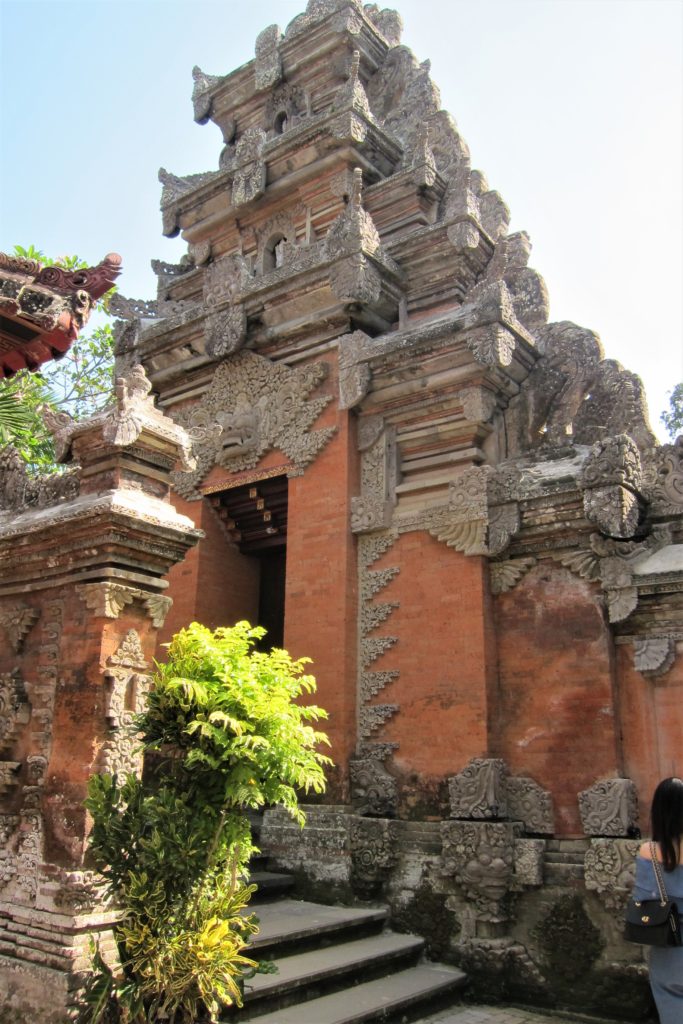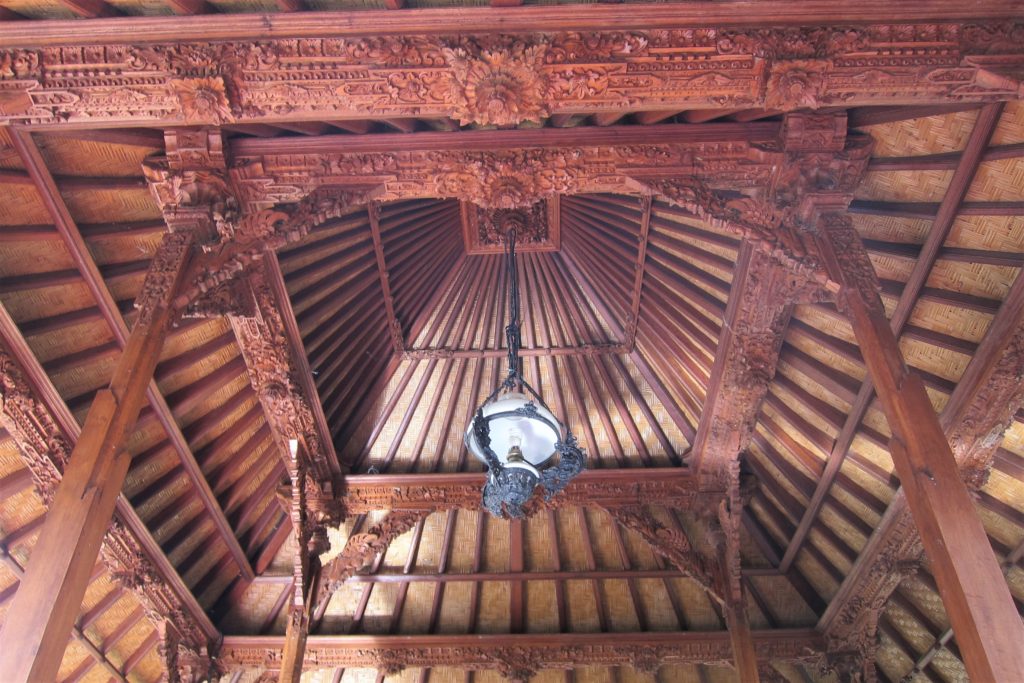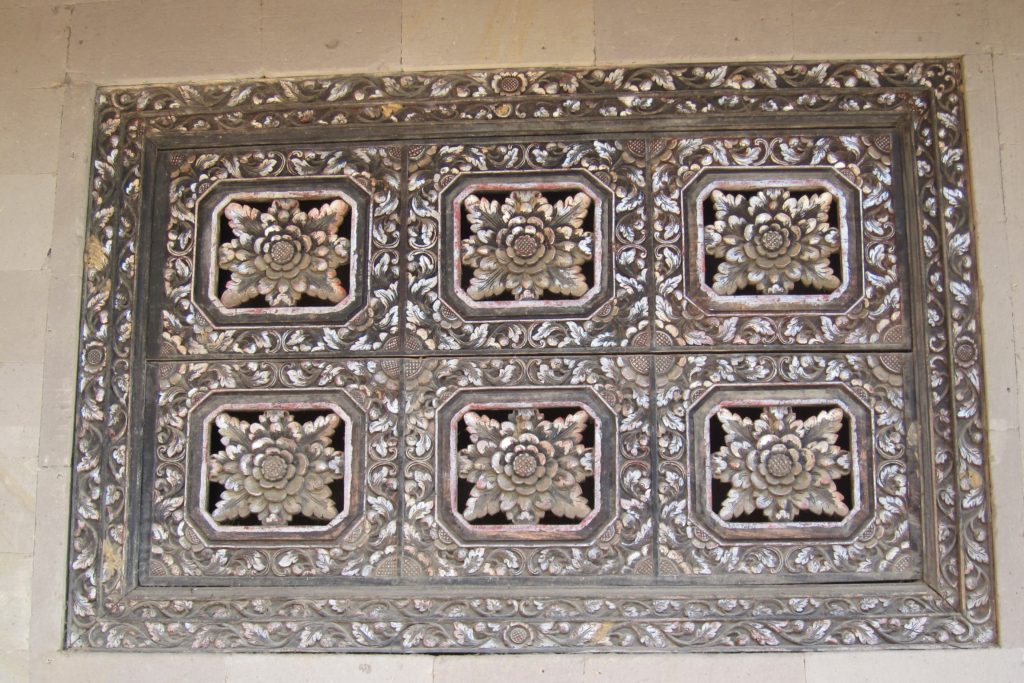 Stone demon similar to the ones in Candi Sukuh.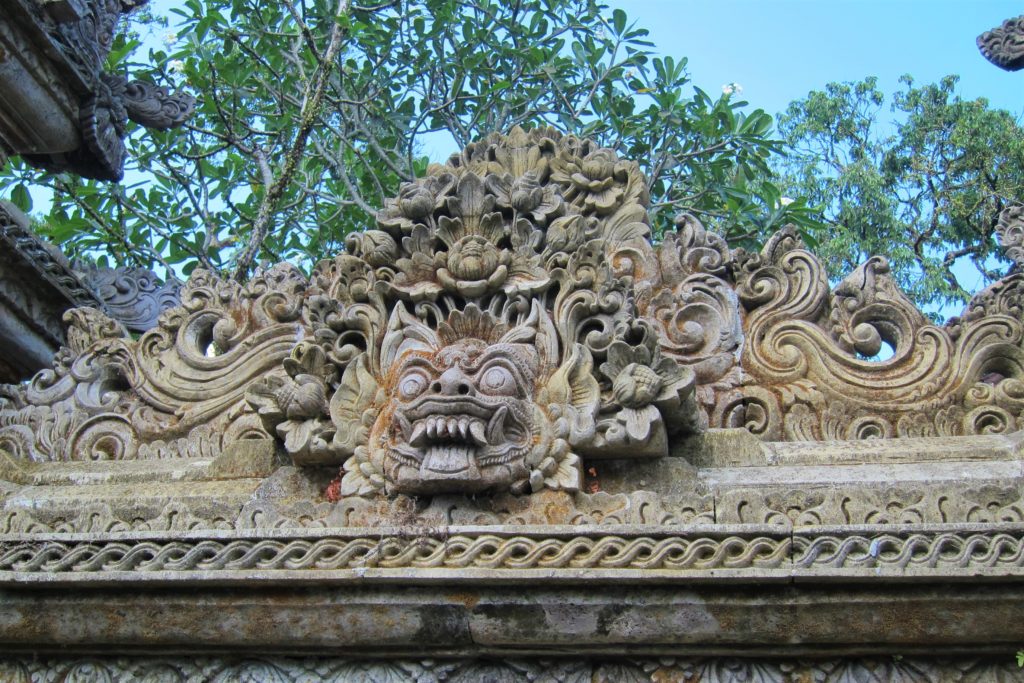 We visit the Threads of Life textile gallery, a fair-trade outlet. We leave with a Timorese textile, which we now have to send home. We resist buying stuff most of the time.
We also visit the Museum Puri Lukisan. A good place to see Balinese art. Lots of inspiration from the Ramayana and the Mahabarata. India is visibly the greatest cultural influence in this part of the world before the arrival of first, Islam, and second, Europeans.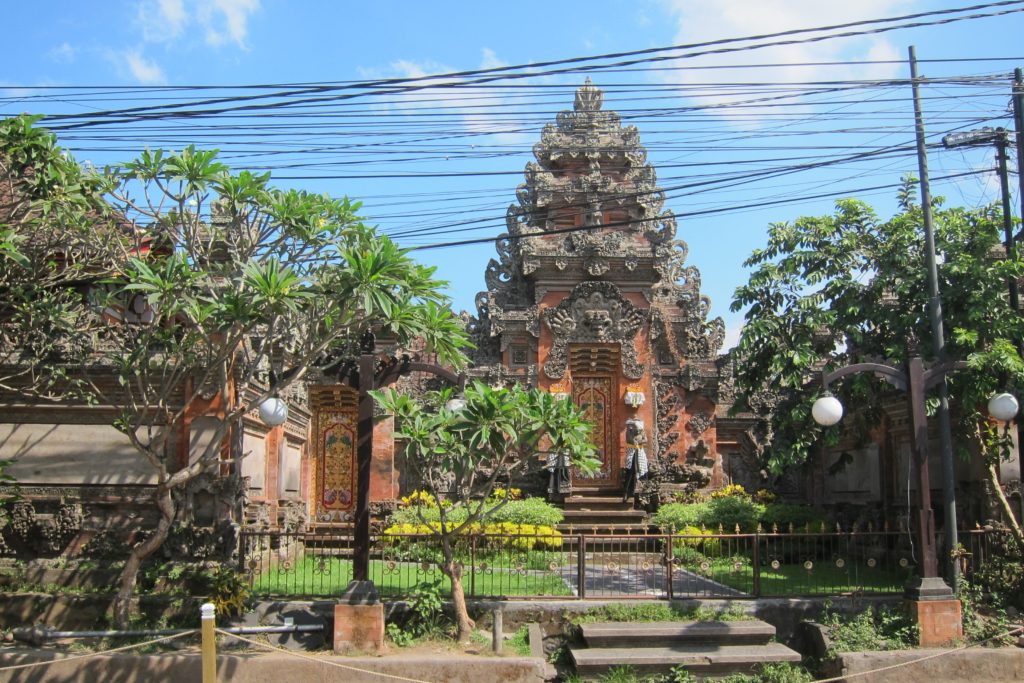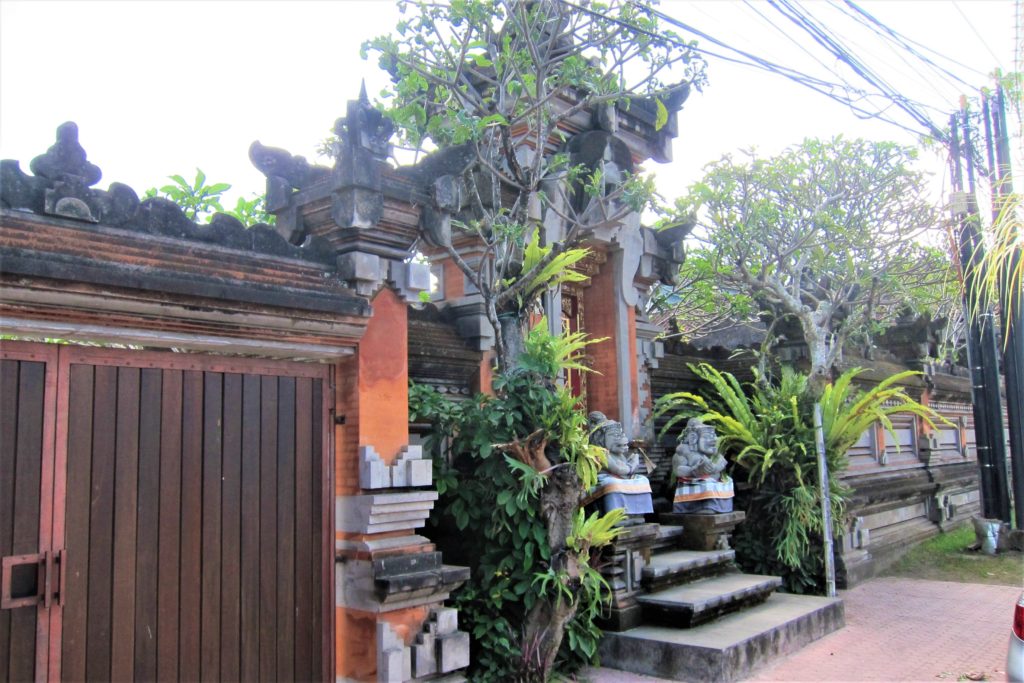 Venturing to the outskirts of town – which is not that big – to view the surrounding rice paddies.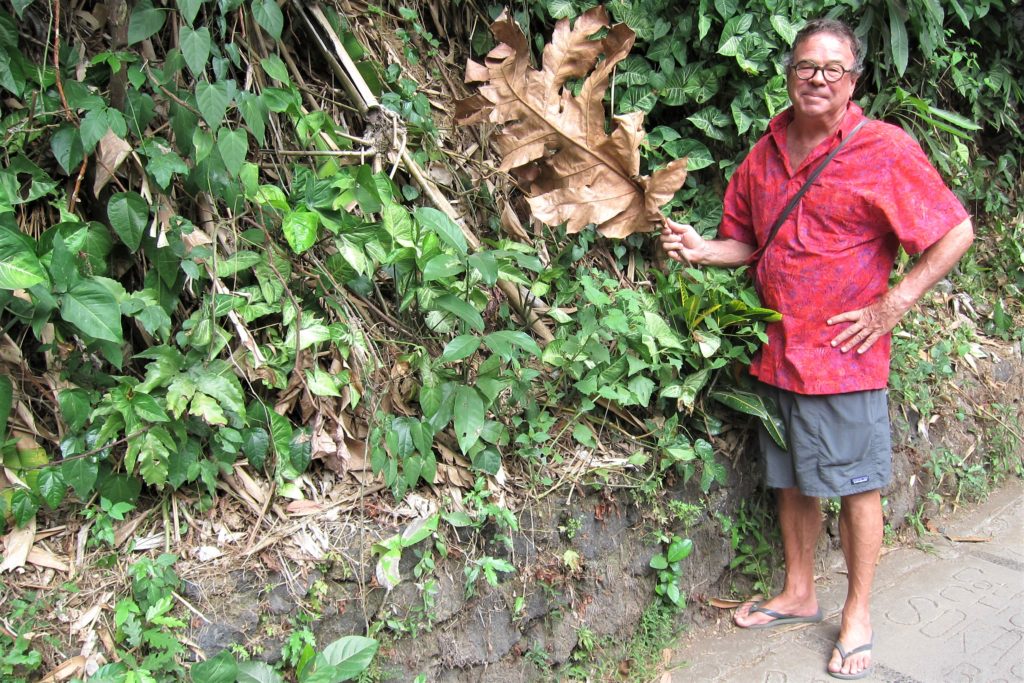 We don't have to go very far.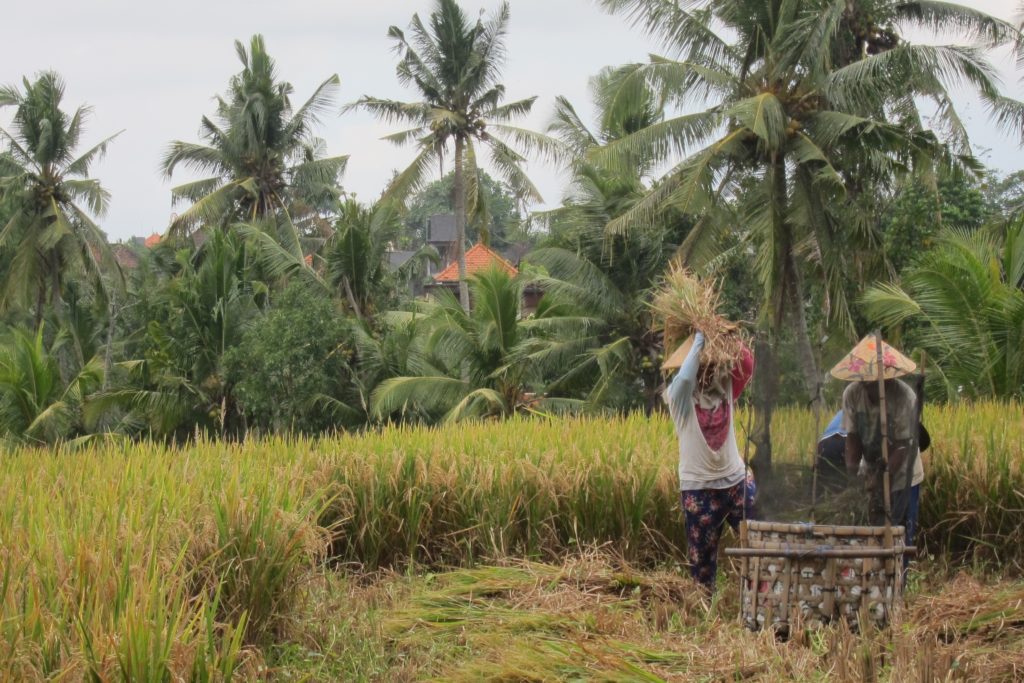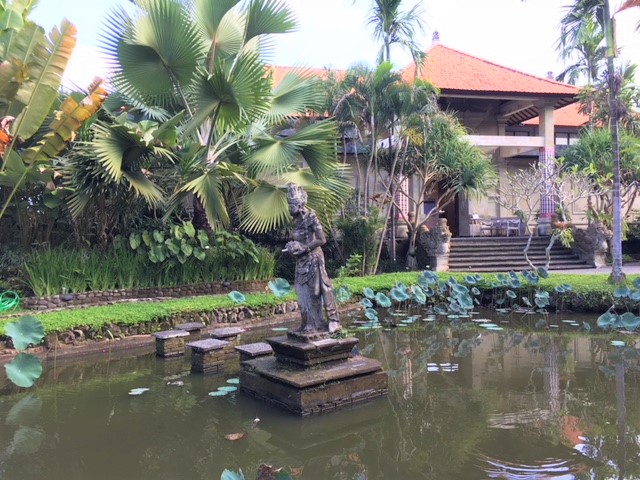 We have a look at the intriguingly-named Yoga Barn. Yoga is a big thing here.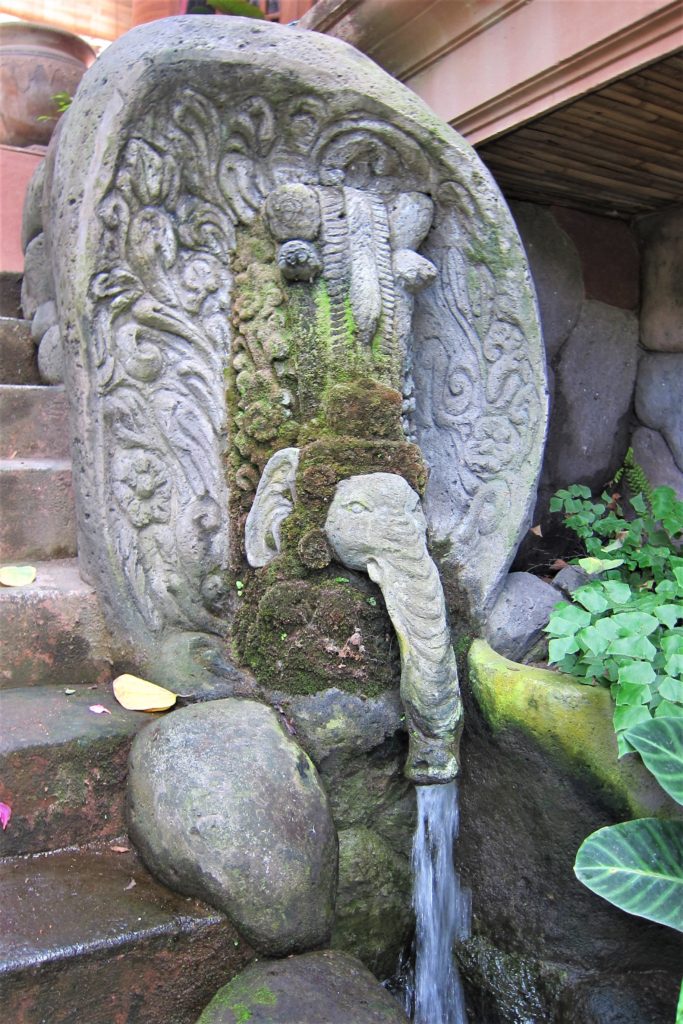 After five lackadaisical days in Ubud in which we can't decide where to go next, we opt for something different: the island of Nusa Penida off the coast.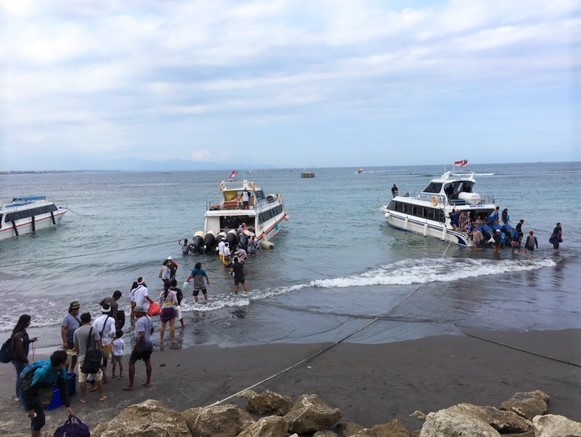 Sight or Insight of the Day – Ubud
Everything in this world connects. Maria goes for daily yoga sessions at Radiantly Alive Yoga while we're here, chosen at random from the many yoga studios available.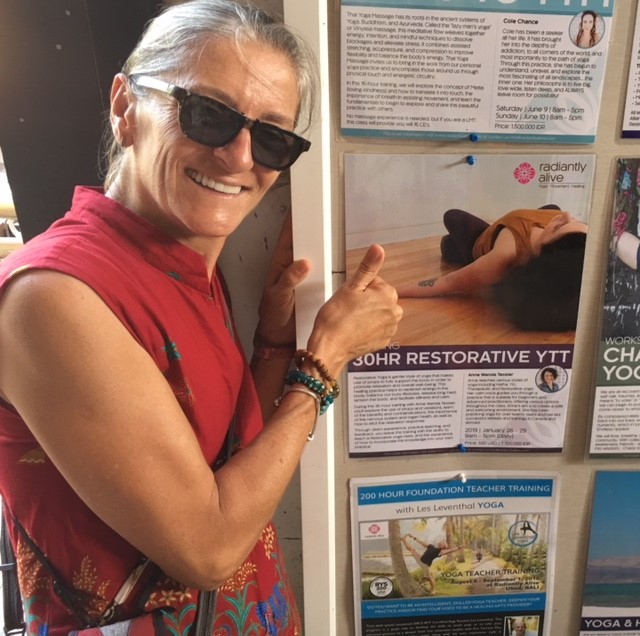 Our friend in Ottawa, Anne, has been coming to Ubud to teach occasional yoga courses for the past few years. Maria sees a notice for Anne's upcoming course in January, 2019.
We are almost 16,000 kilometres from Ottawa. Small world.