After traveling by train up to now, we rent a chauffeured van. Our driver, Viraj, picks us up in Ella. Then it's back to Kandy, this time by road.
We stop for lunch in Nuwara Eliya, also known as 'Little England'.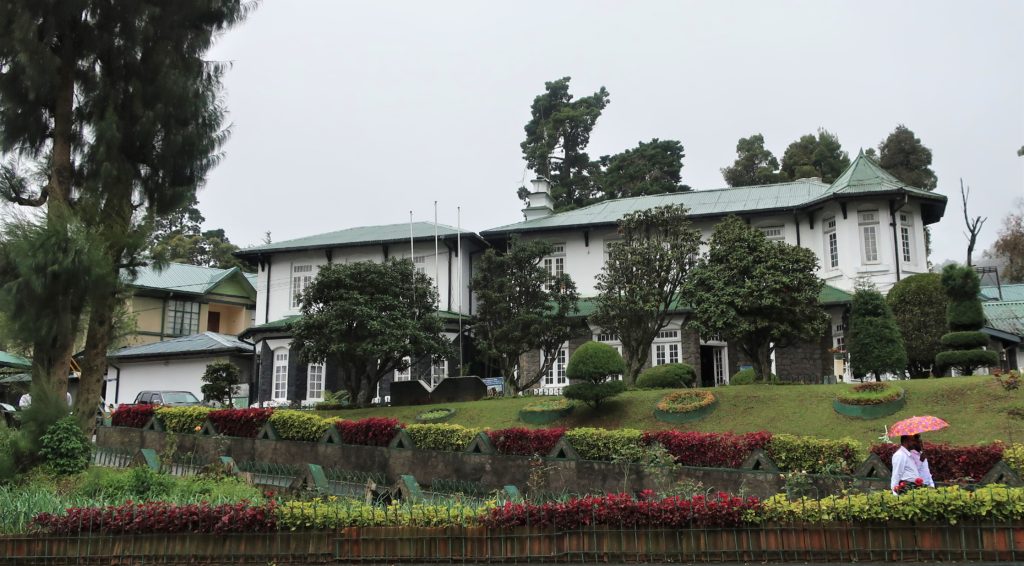 With the rain of the past few days, the rivers are swollen. We pass several dramatic waterfalls.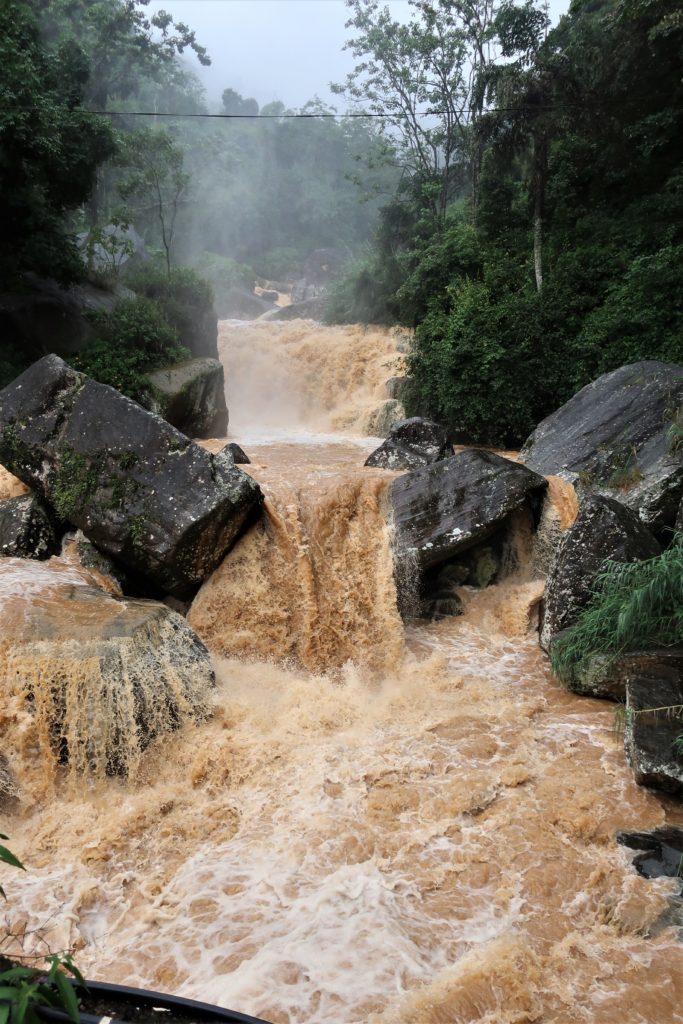 Back in Kandy for a single night. Next morning, we set out for Sirigiya.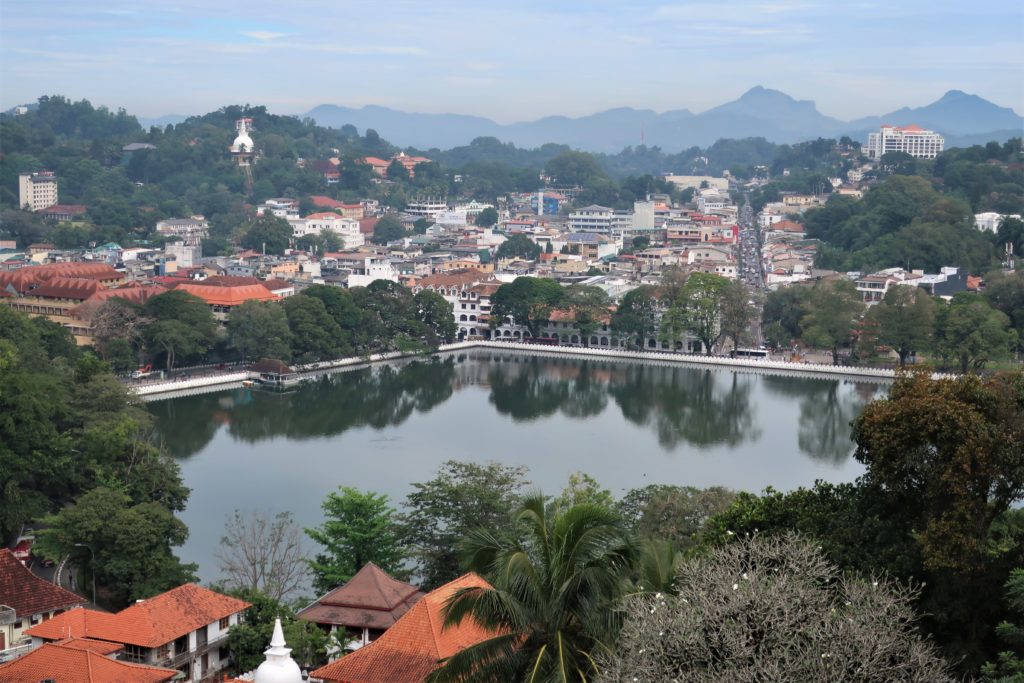 Most signs in Sri Lanka are in Sinhalese, Tamil, and English.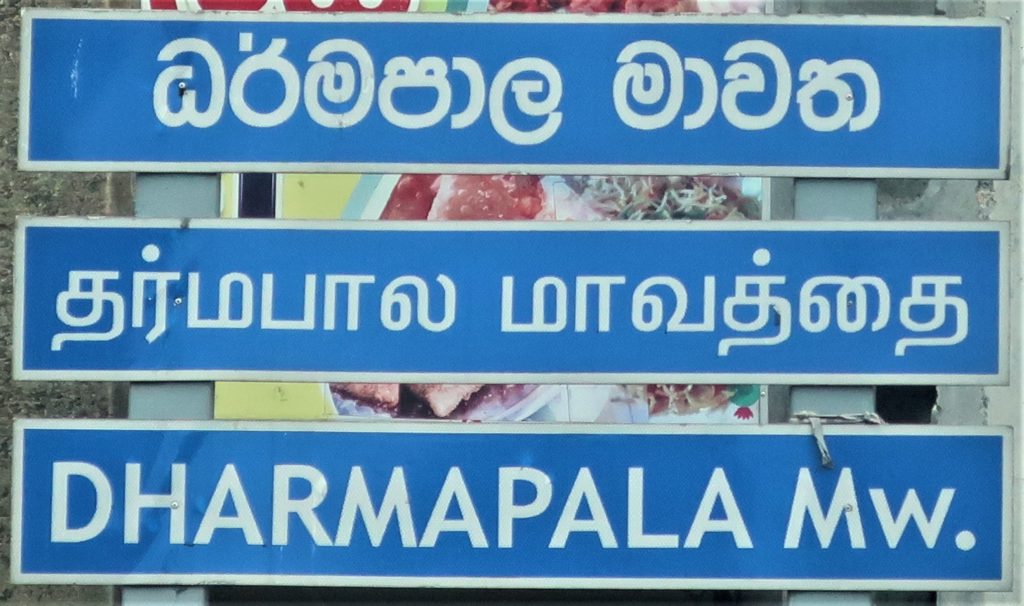 We visit a spice garden. This is what nutmeg looks like before it's ground up and sold in a little bottle.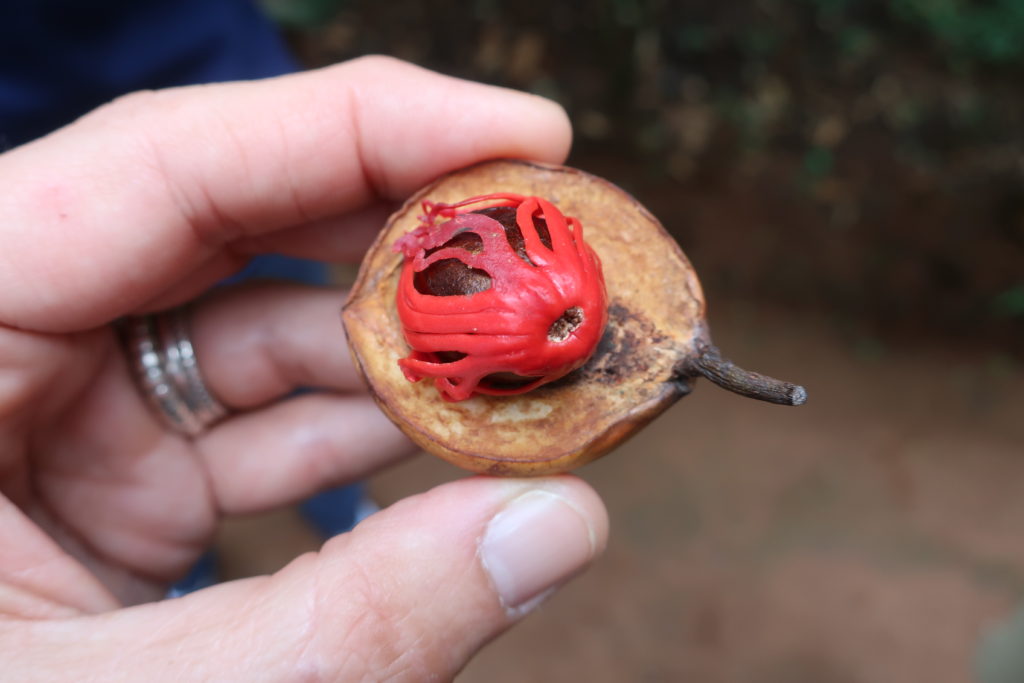 Lunch means stopping for Sri Lankan fast food.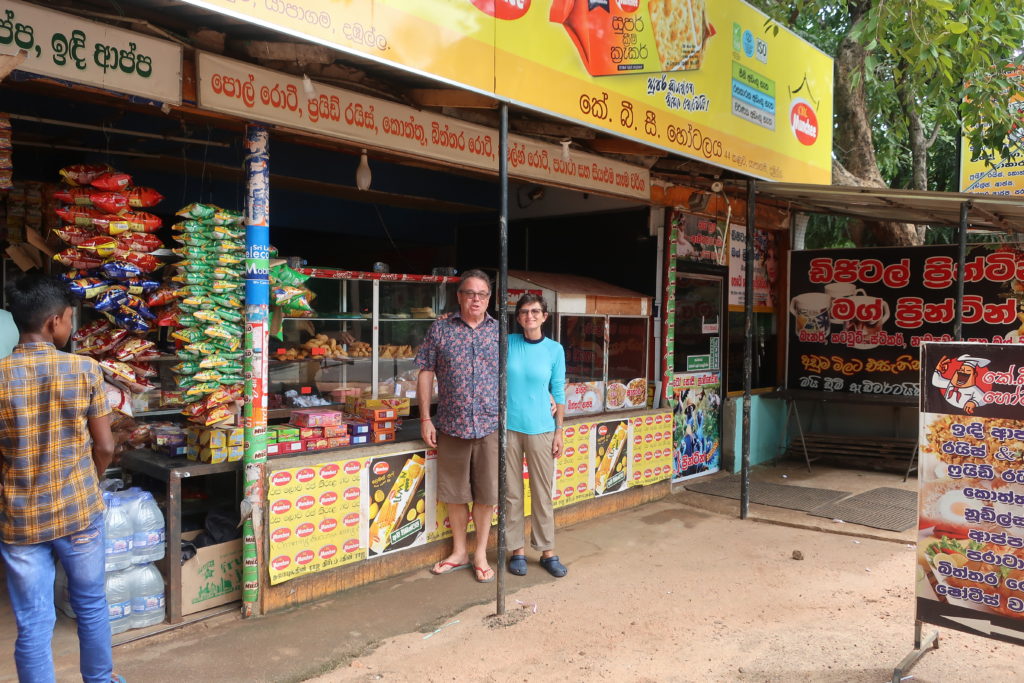 Our destination is the cave temple of Dambulla. Bare legs are not allowed, so Pete and I don some makeshift sarongs.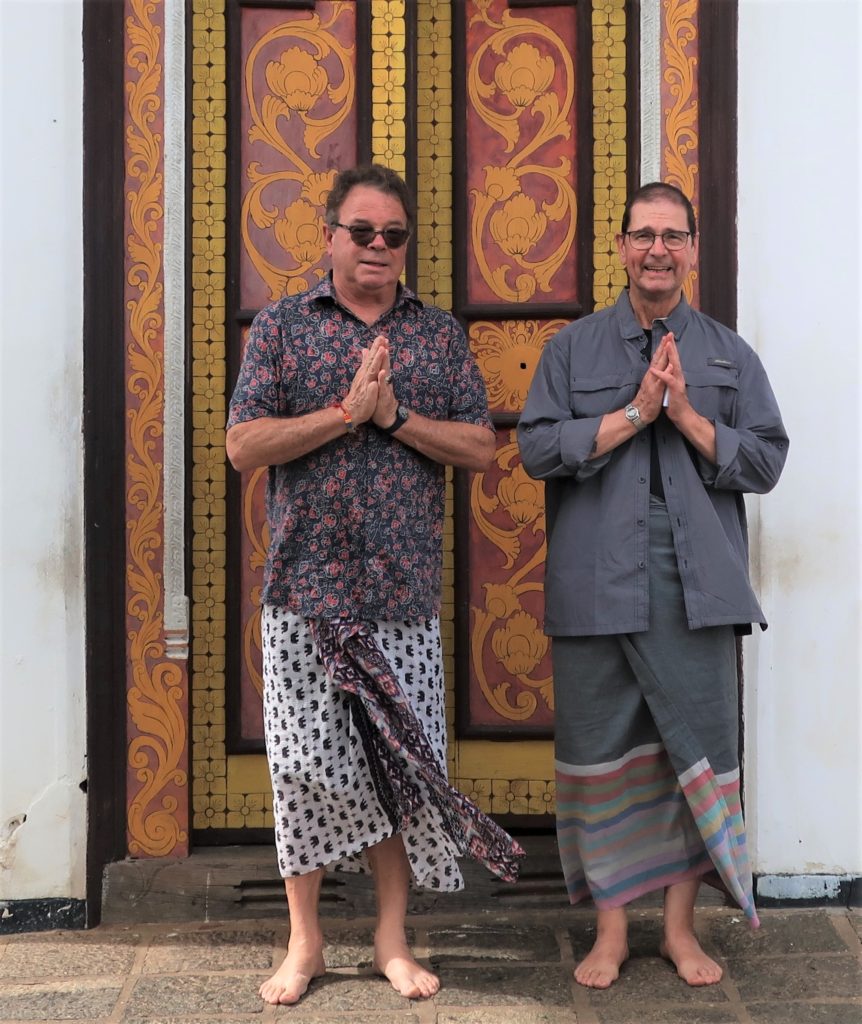 This temple complex dates back to the first century BC.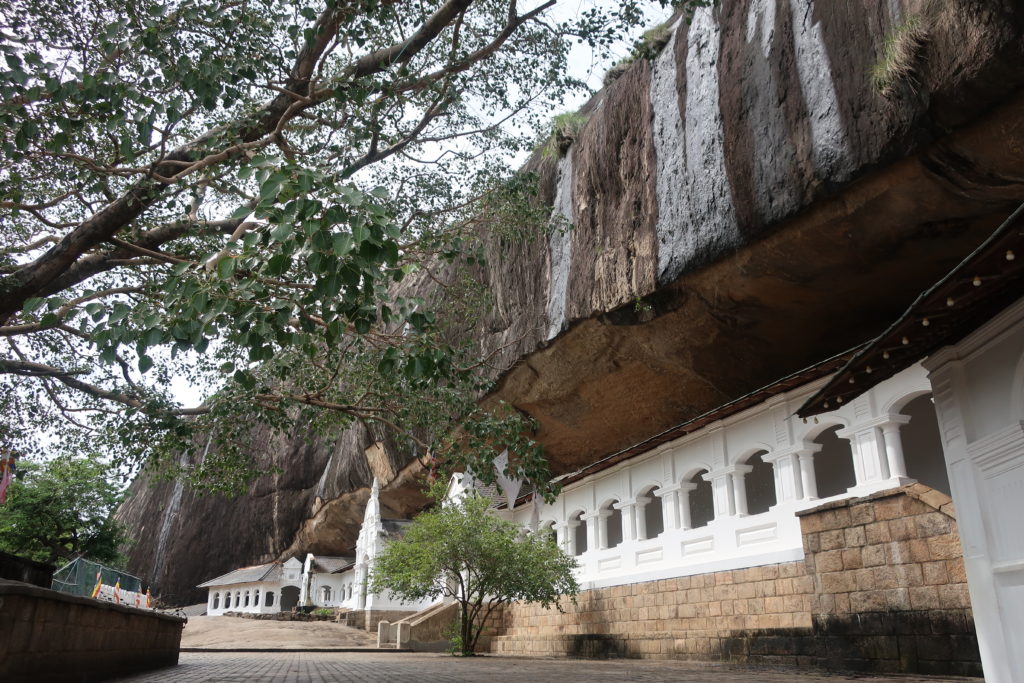 I make friends with the temple cat. Buddha taught that all sentient beings, including those in the animal realm, possess Buddha nature and therefore can attain enlightenment.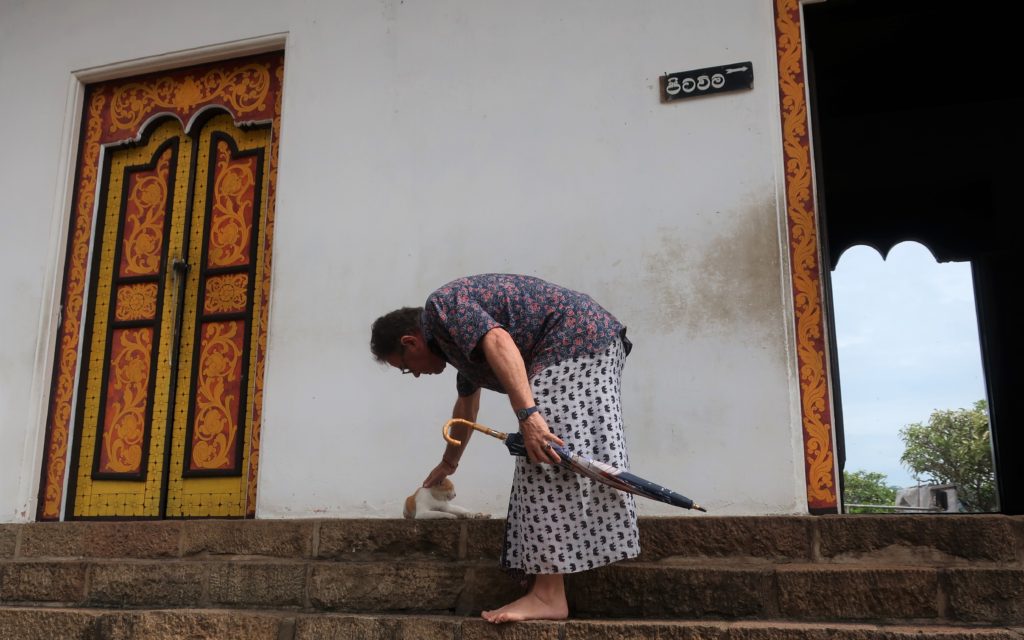 There is a calm tranquility about this place. Maybe because it's not peak tourist season.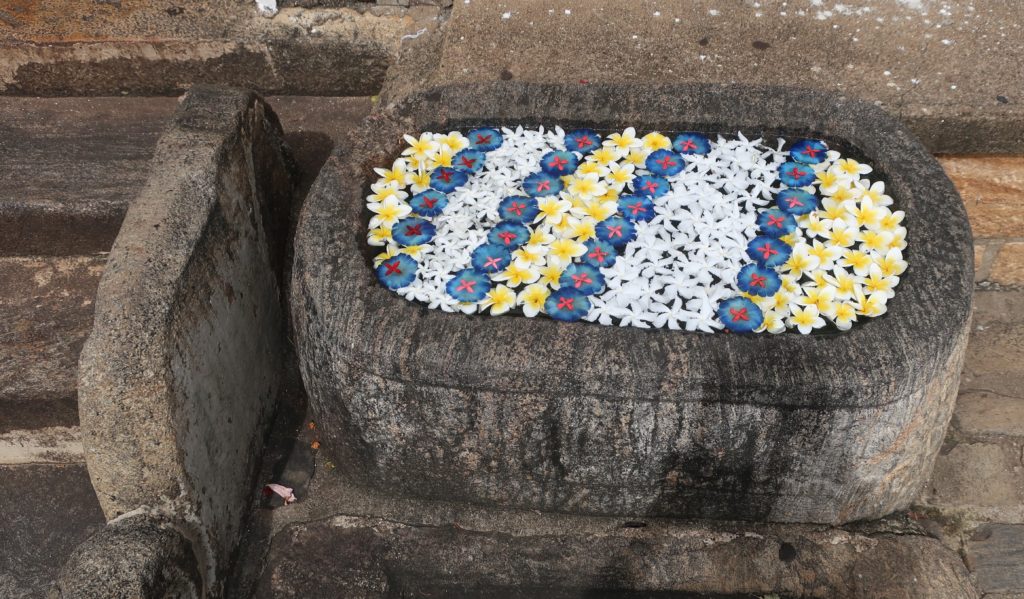 The caves contain amazing murals on the walls and ceilings.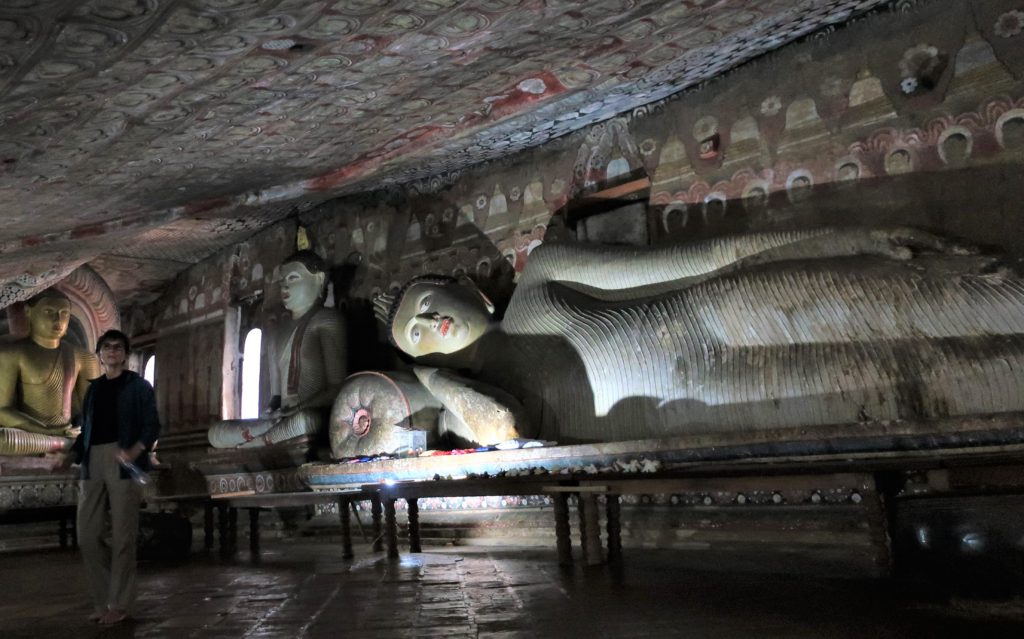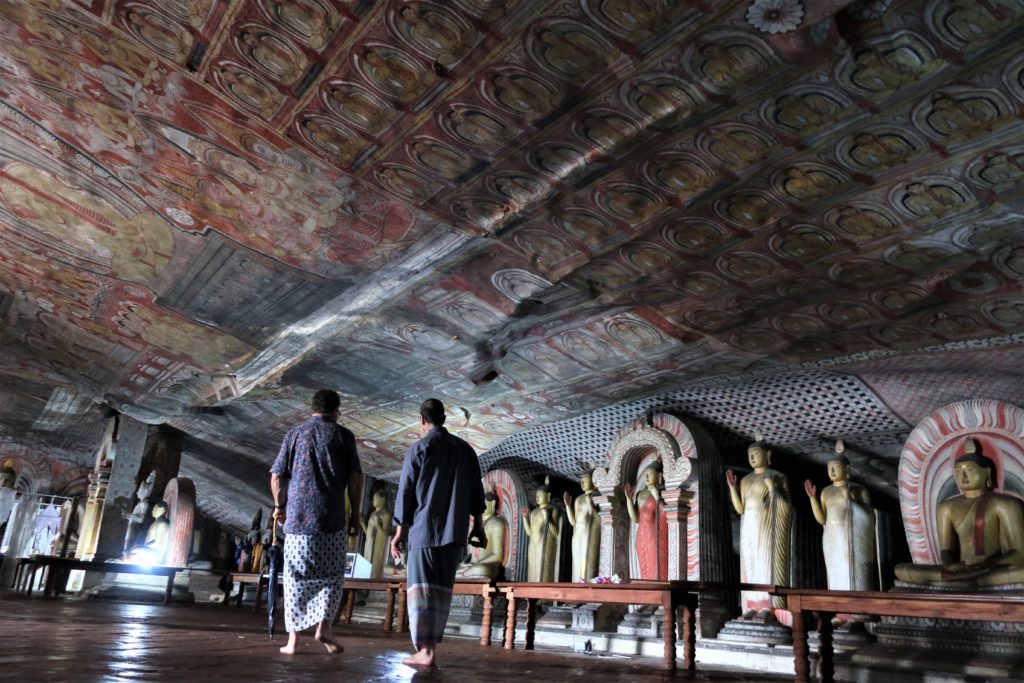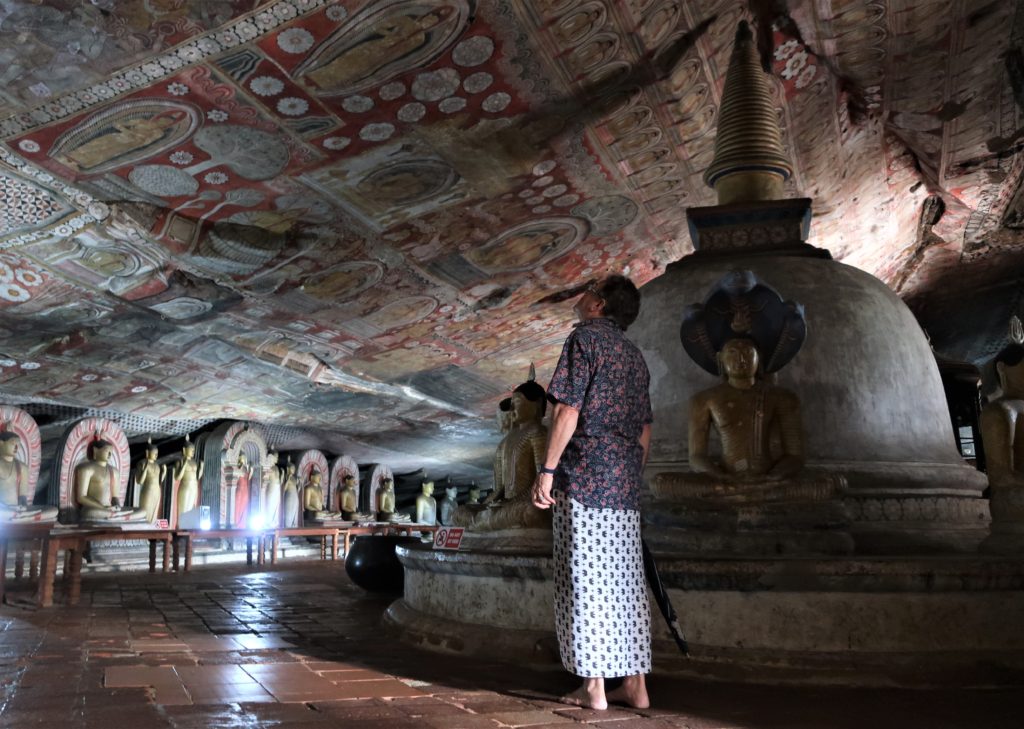 We spend the night at the Nature Park Villas near Sigiriya. It's nice.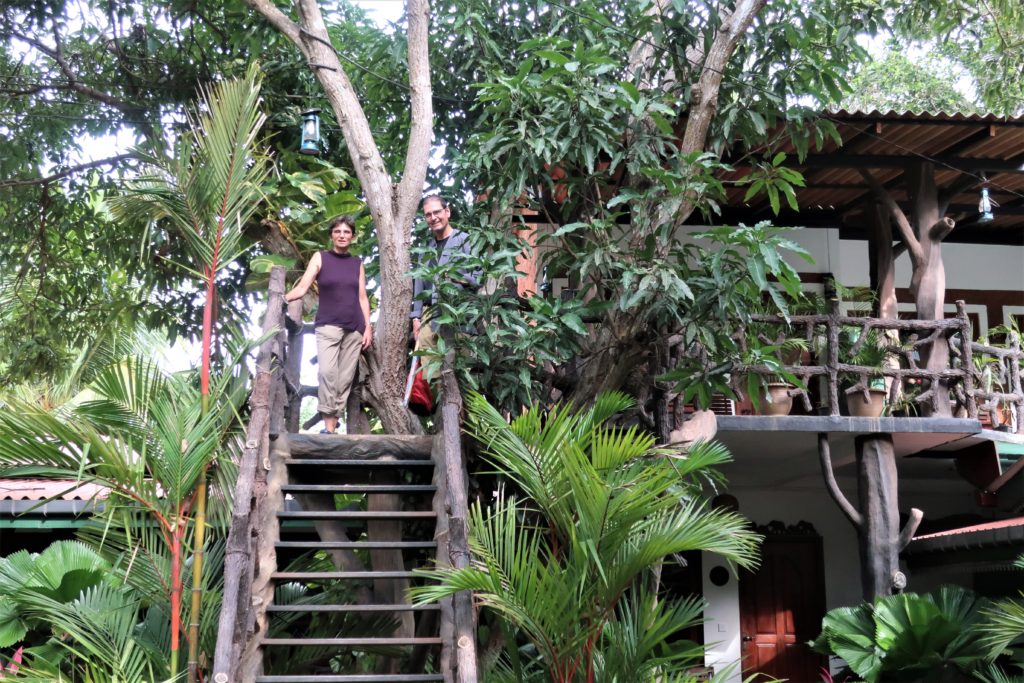 First thing the next morning, we drive to Sigiriya.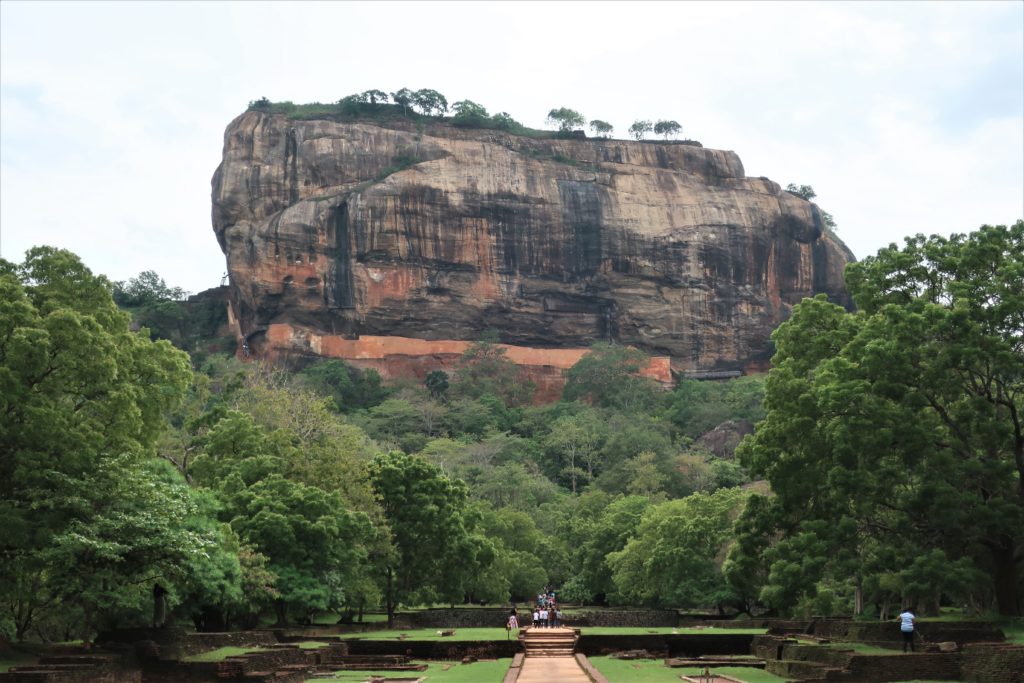 A sign reminds would-be vandals and looters what awaits them in graphic detail.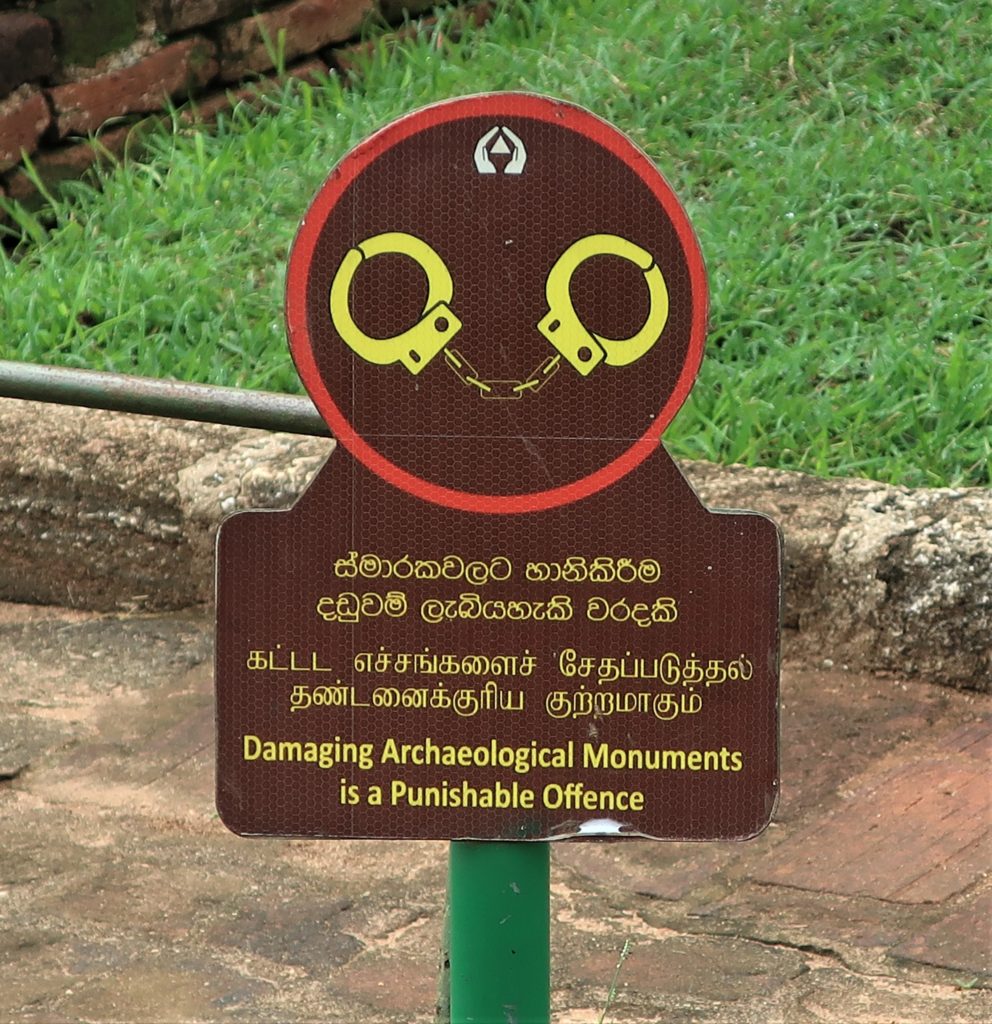 There is no escalator. Just lots and lots of steps.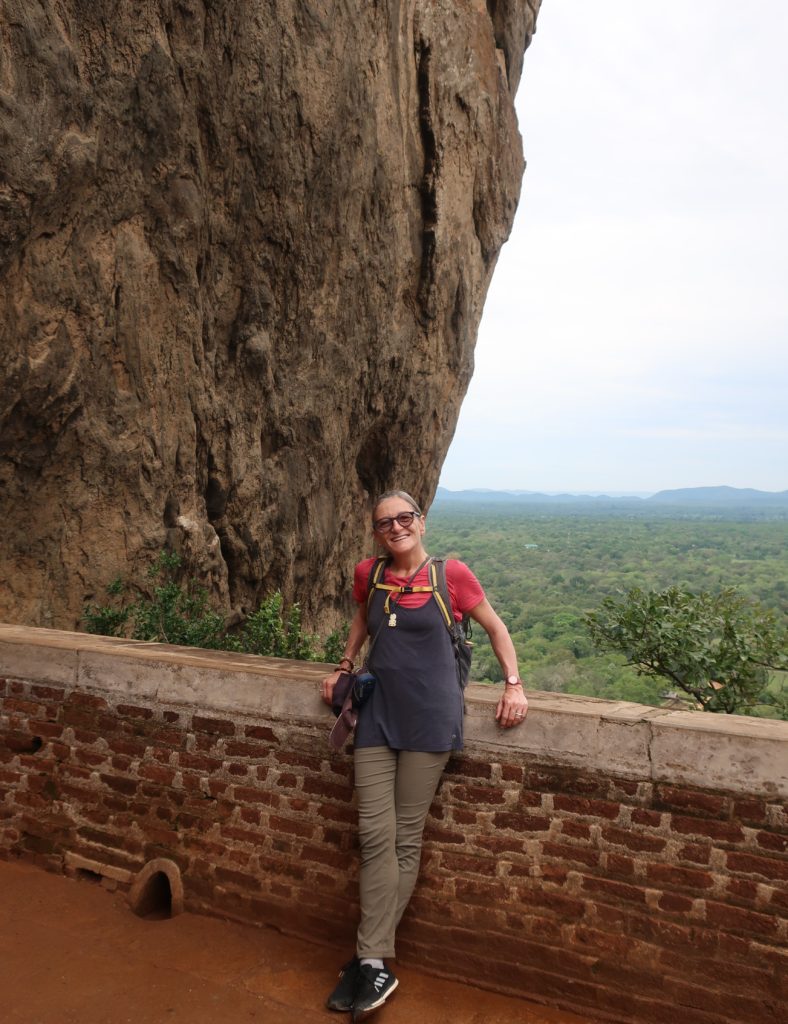 You get a great view from the top.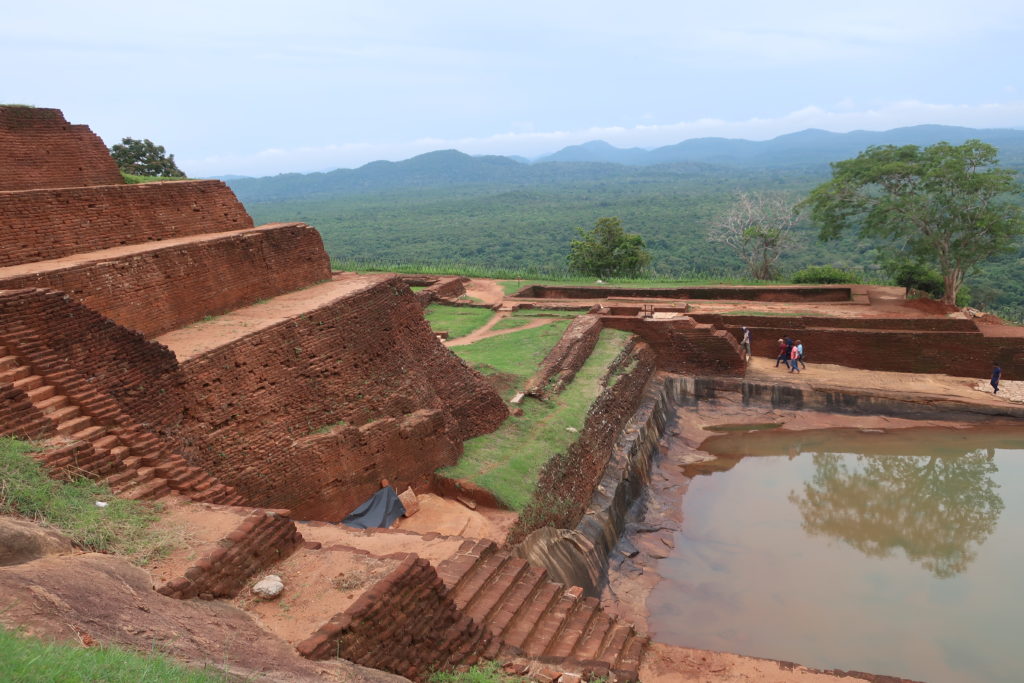 We try to spot our van in the parking lot far below.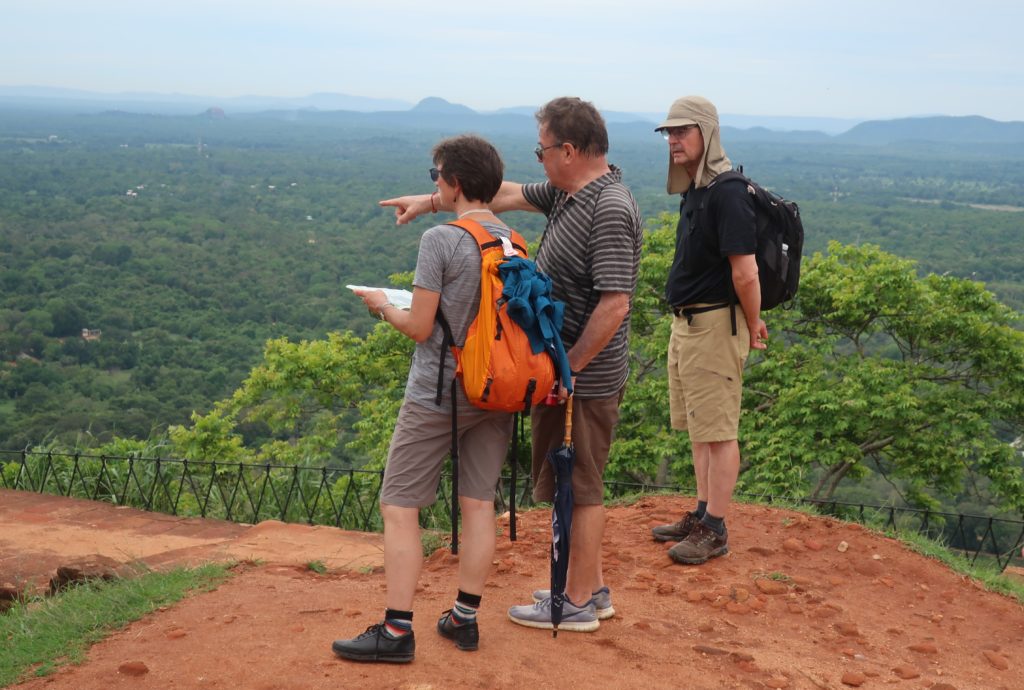 Eventually, we make our way down.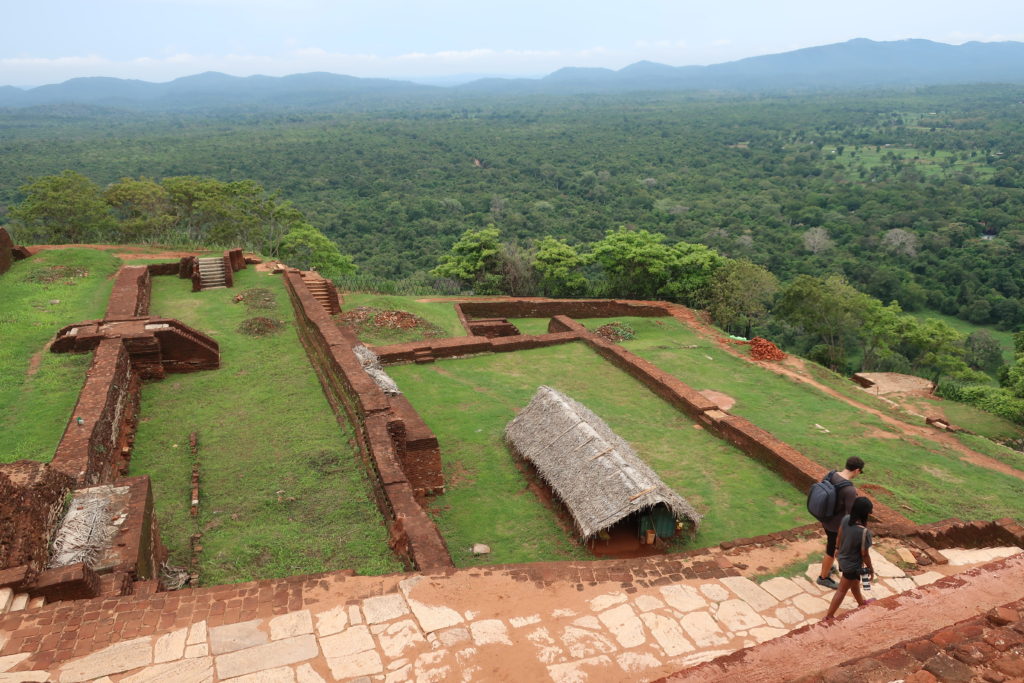 The dandu lena, or grizzled giant squirrel, is considered by many Sinhalese to be the national animal of Sri Lanka. But it's not official.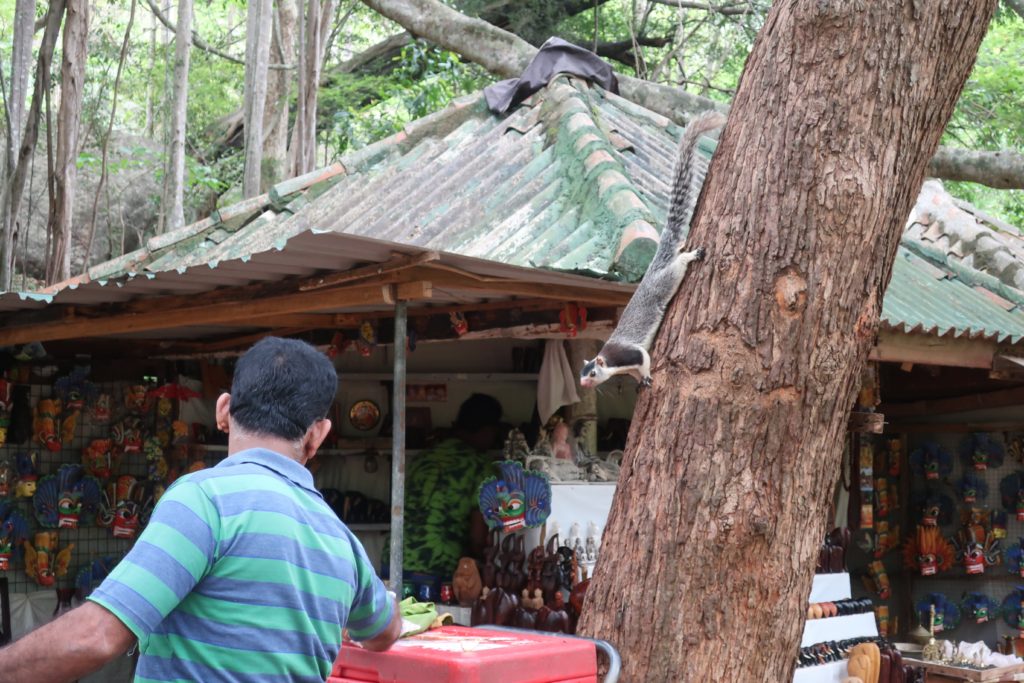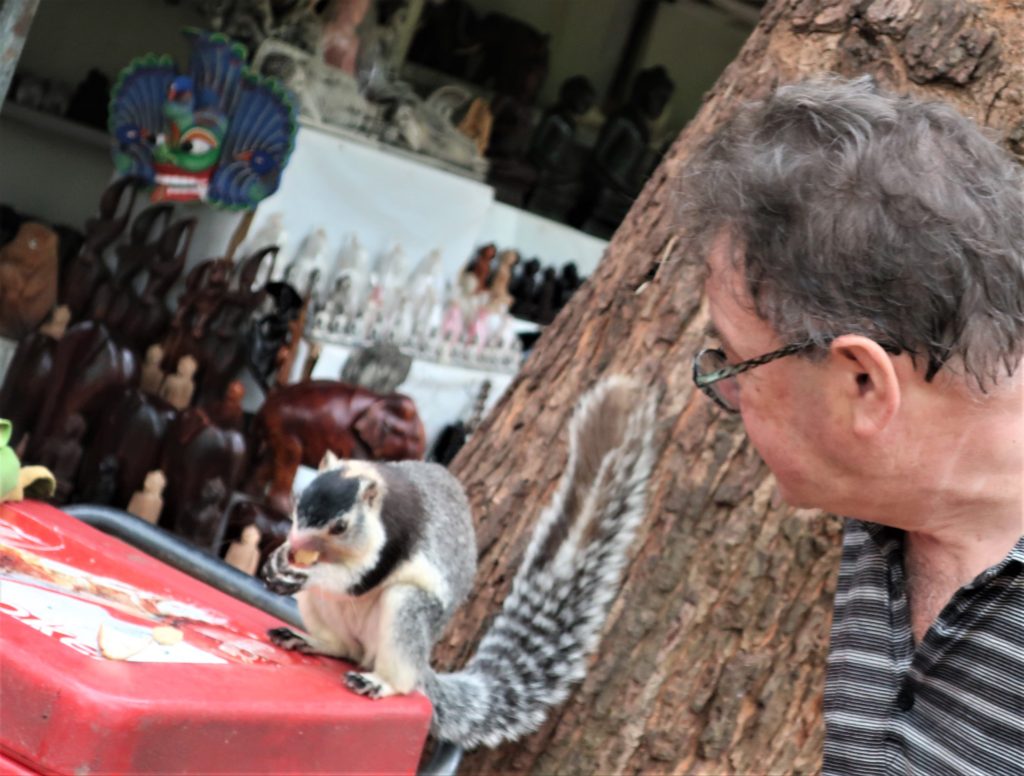 The next stop is Anuradhapura. This was the capital city of the first established kingdom in ancient Sri Lanka, founded in the fourth century BC.
The sights in Anuradhapura are quite widespread. Good thing we have Viraj to chauffeur us around. First we go to the Jaya Sri Maha Bodhi temple.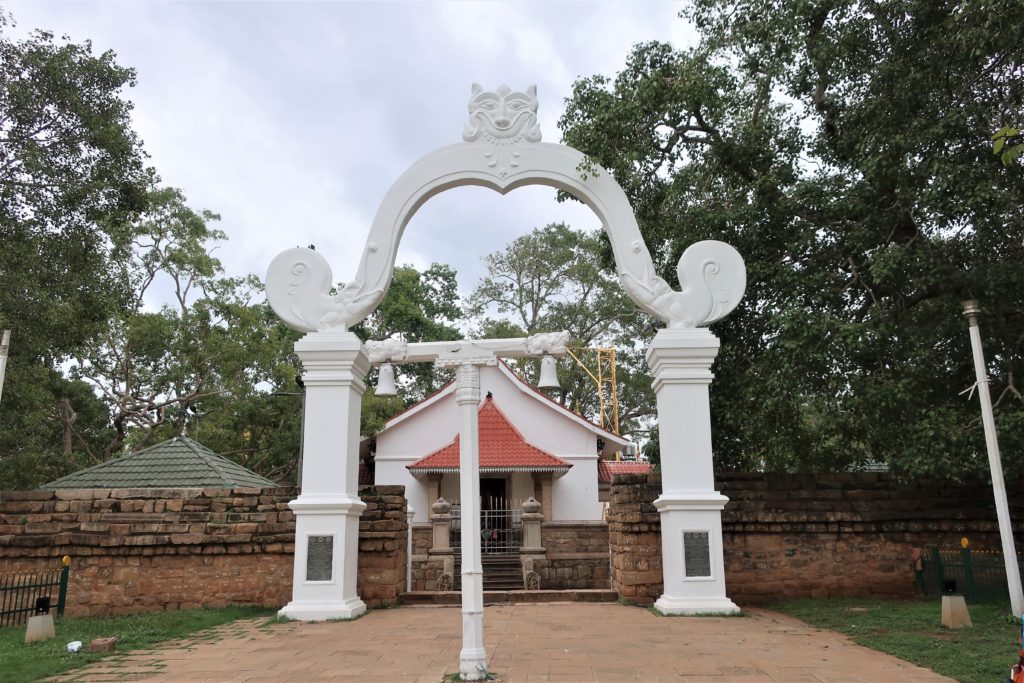 This contains a tree supposedly grown from a cutting of the tree under which Buddha achieved enlightenment.
This temple has an intricately-carved 'moonstone', or sandakada pahana.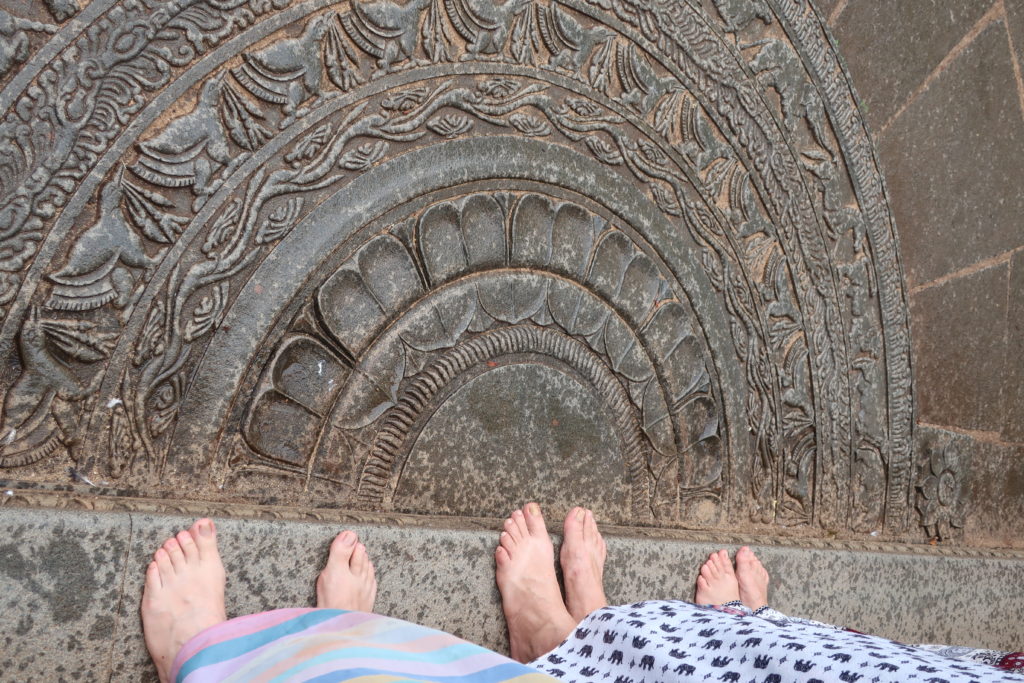 From a different angle.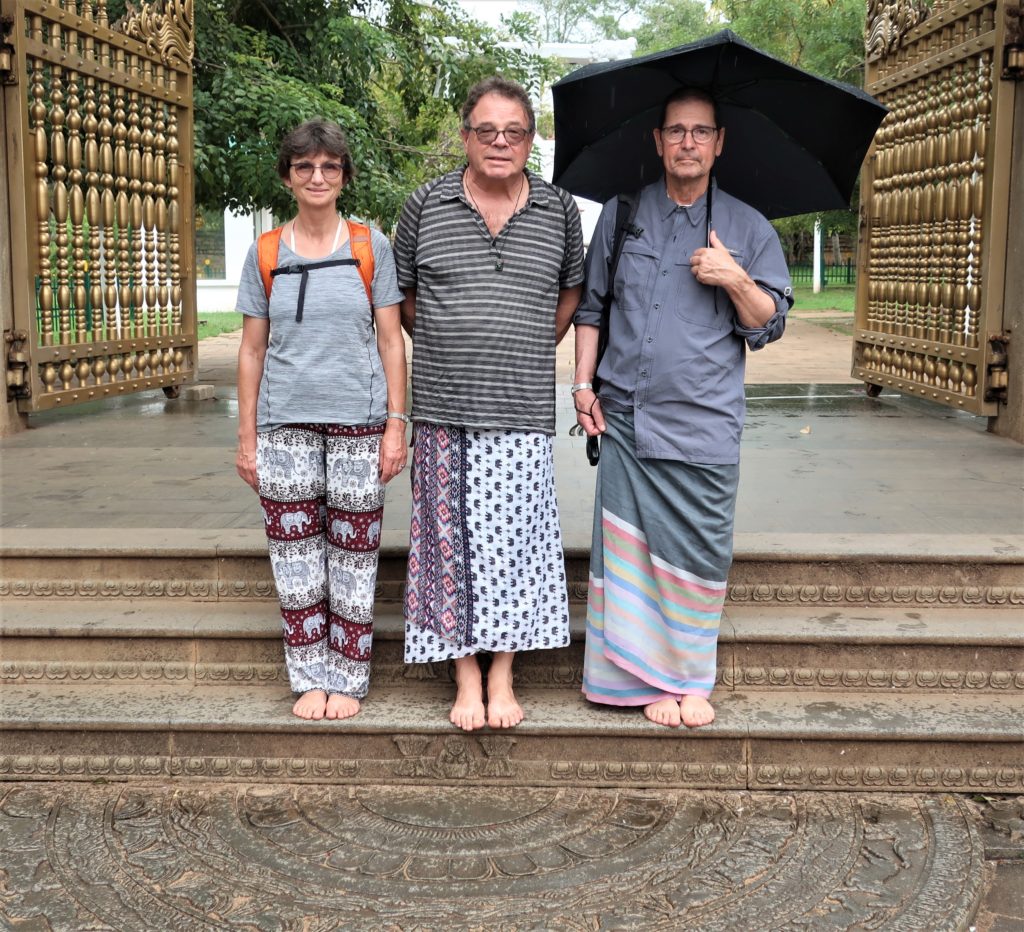 Many people bring offerings.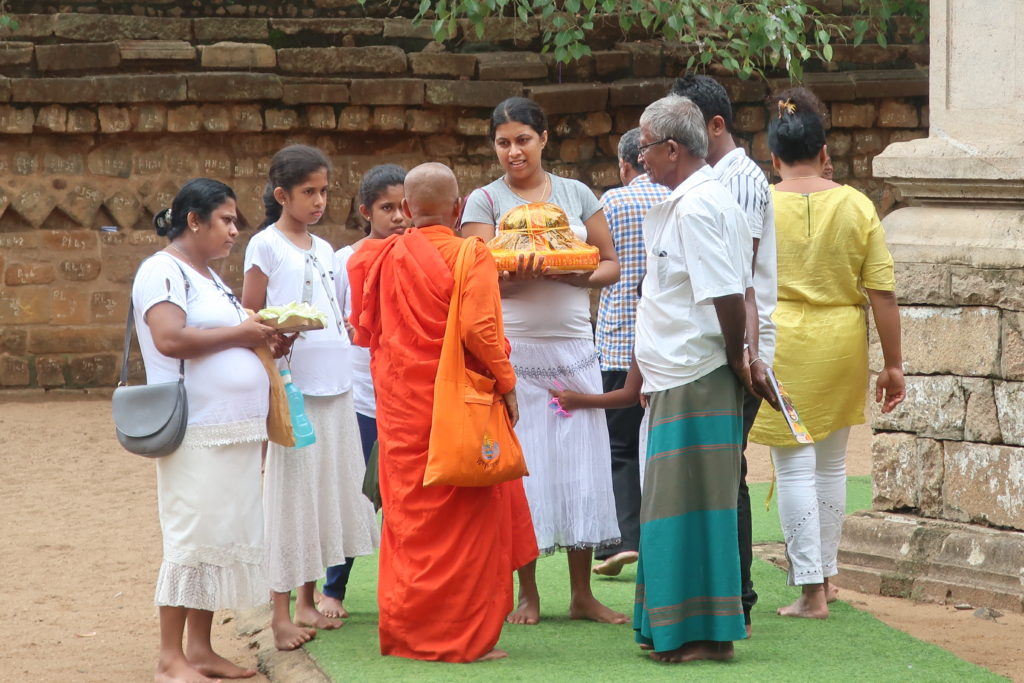 There are many langurs around. Judith sees a young one sneak up to a sleeping dog and pull its ears before racing away, proud of its mischief.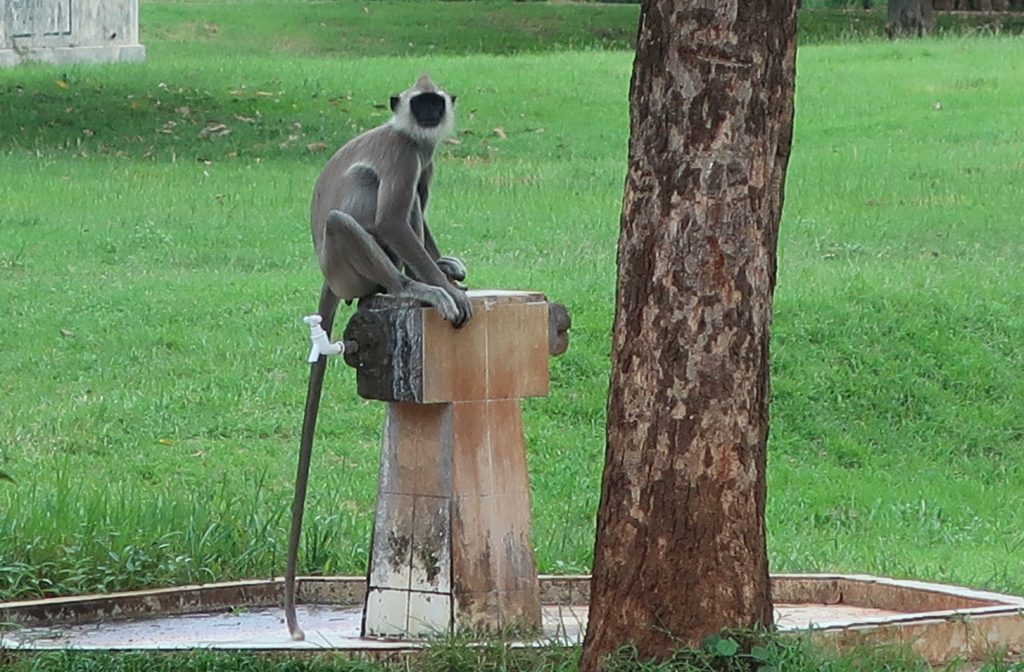 Maria takes a surreptitious photo of some praying ladies…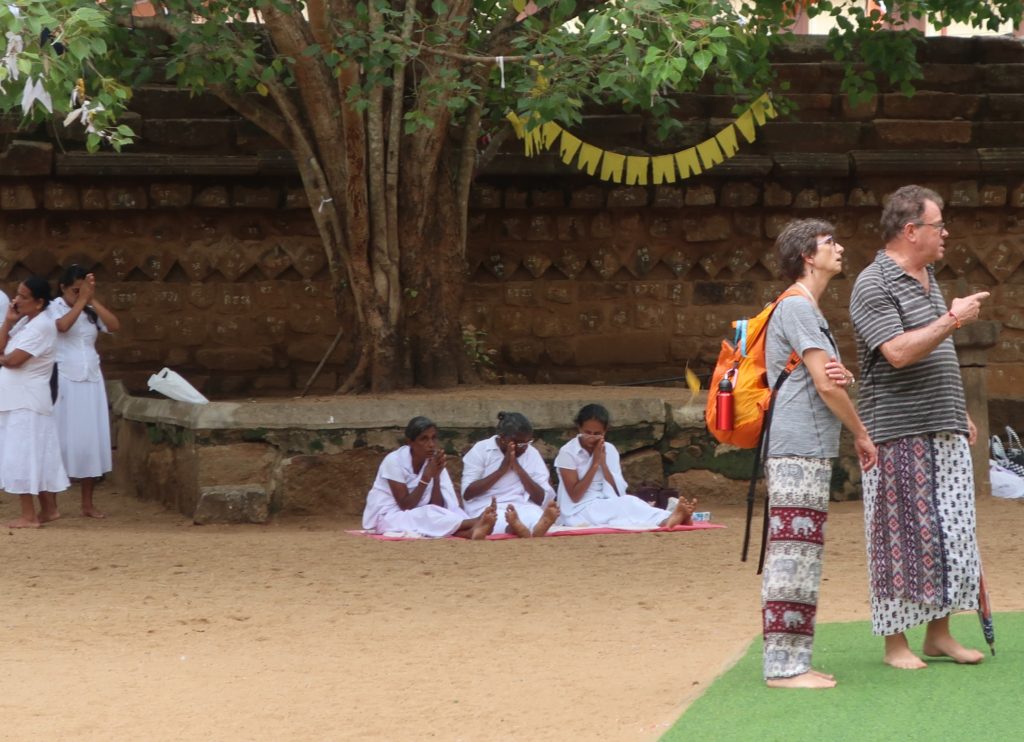 The massive stupa of Ruwanwelisaya is undergoing restoration.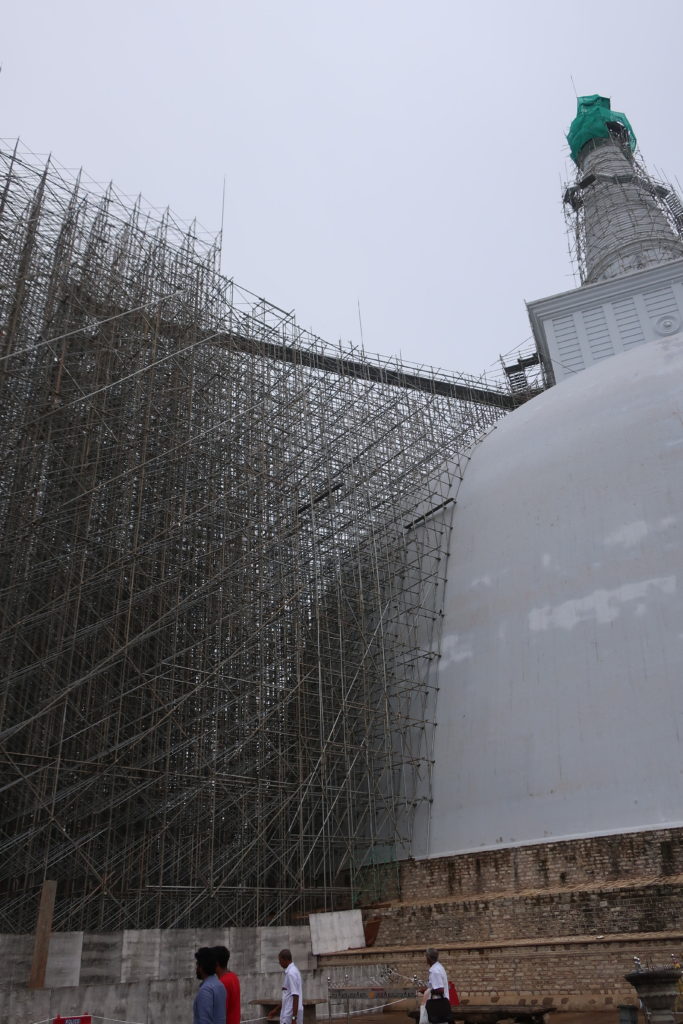 A monk walks away from the enormous Jethawanaramaya stupa. It's surrounded by a red sash because a part of a sash or belt tied by the Buddha is believed to be the relic that is enshrined here.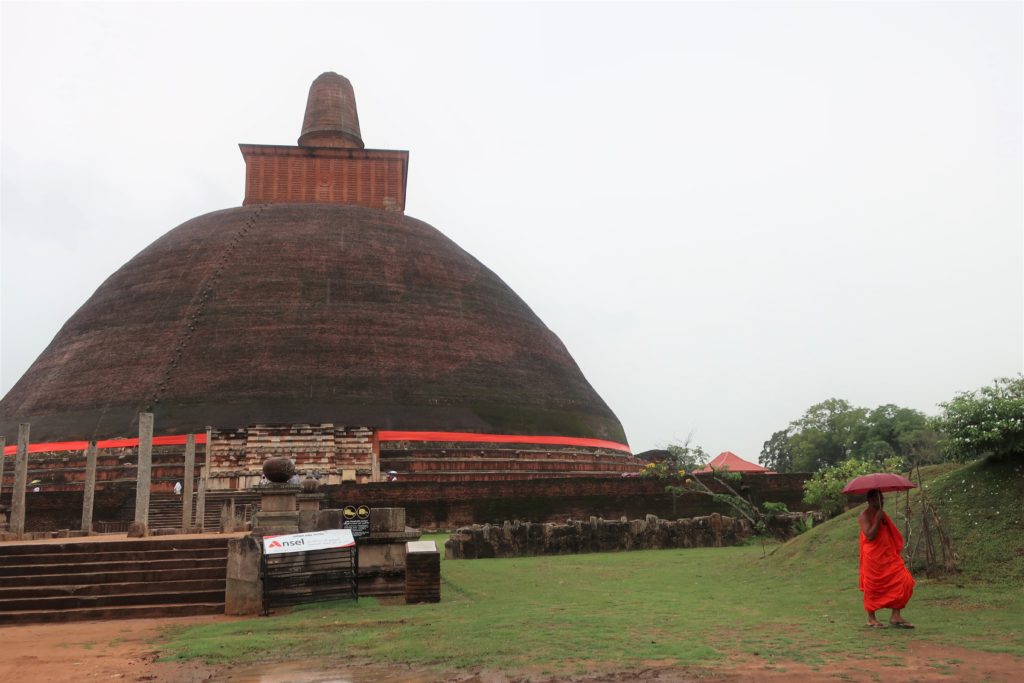 While wandering around, we are fortunate to see two hornbills land in a tree.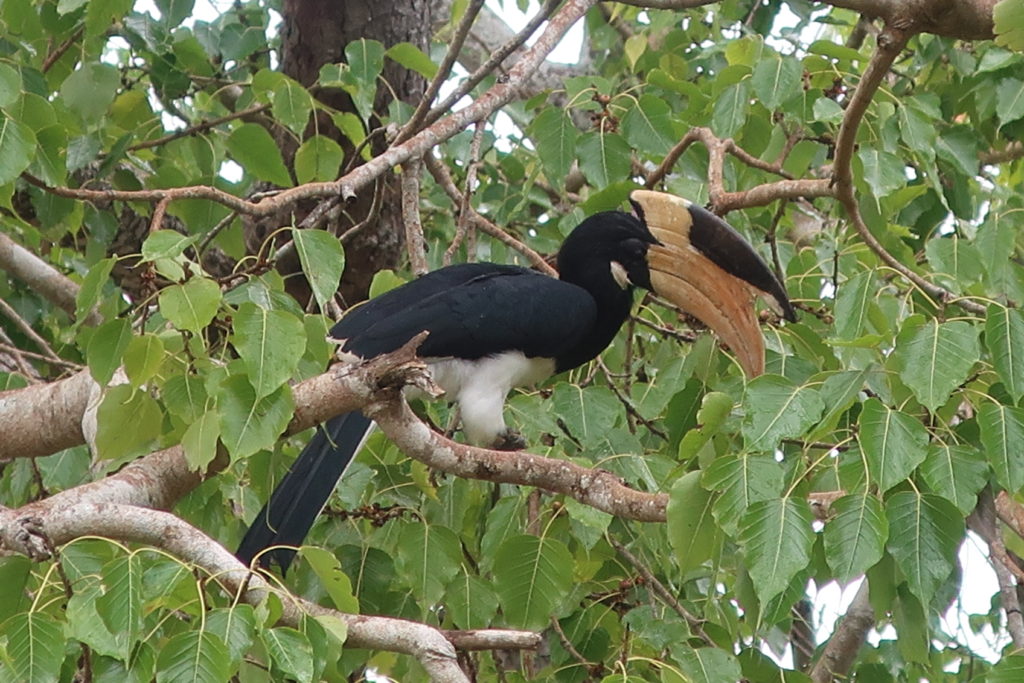 An example of early water management.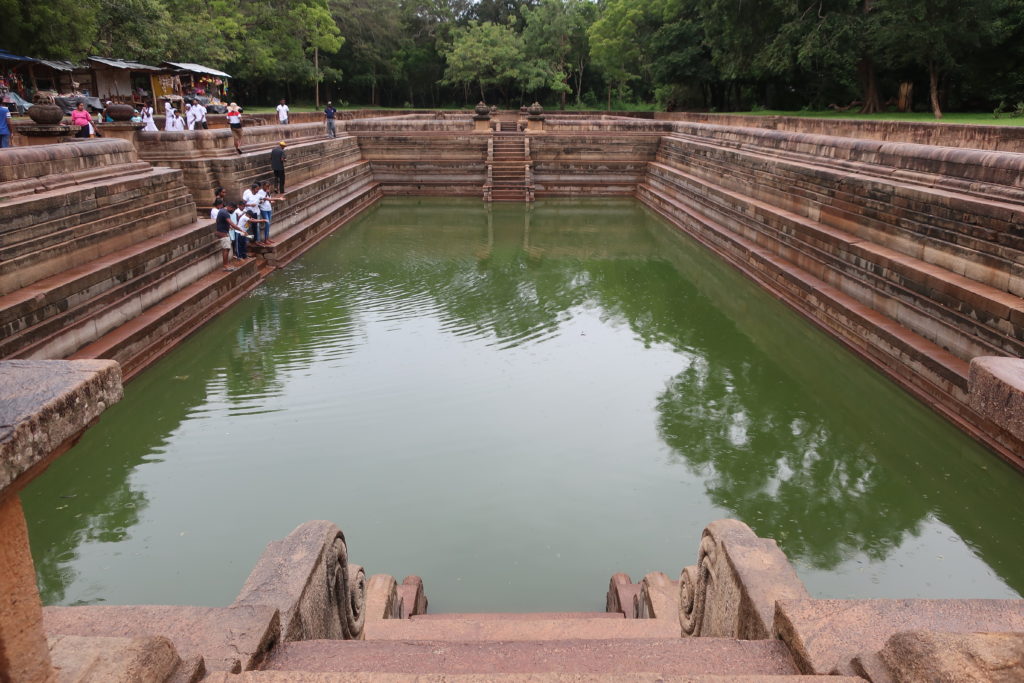 A mystery – we come across a pair of concrete blocks, each containing 20 squat-type toilets. The toilets are uncomfortably close together, even by Asian standards. Whatever can it all mean?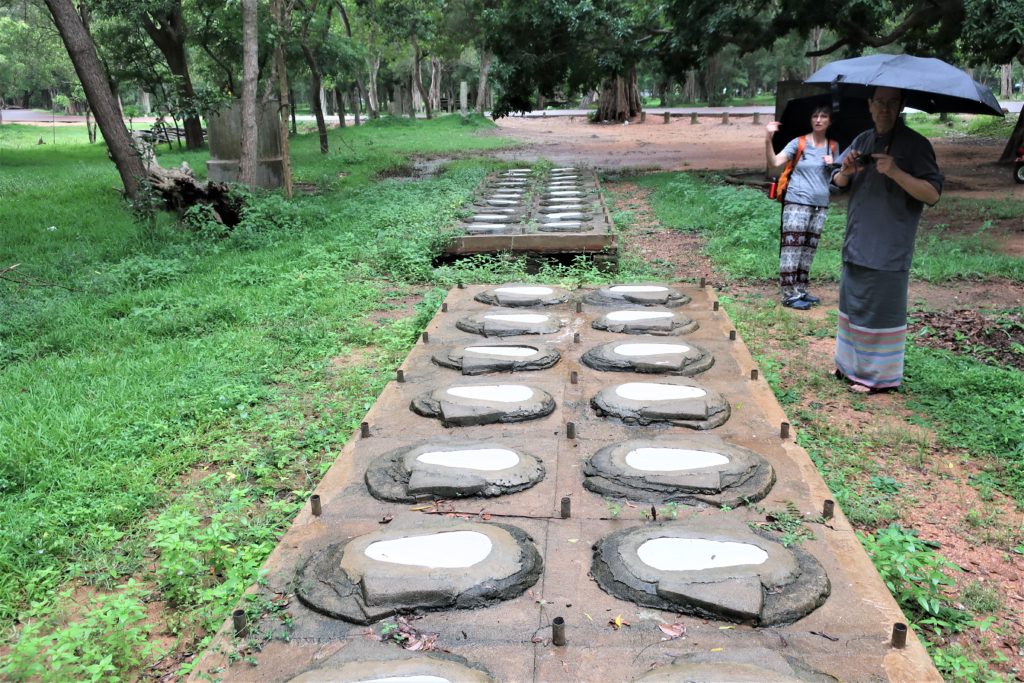 Sight or Insight of the Day
Now and then, we see electric fencing by the roadside, meant to keep elephants off the road. We imagine how great it would be to see some. (Elephants, that is.)
Sure enough, as we drive towards Trincomalee at dusk, we see a few vehicles pulled over. Out in the field, two elephants leisurely graze.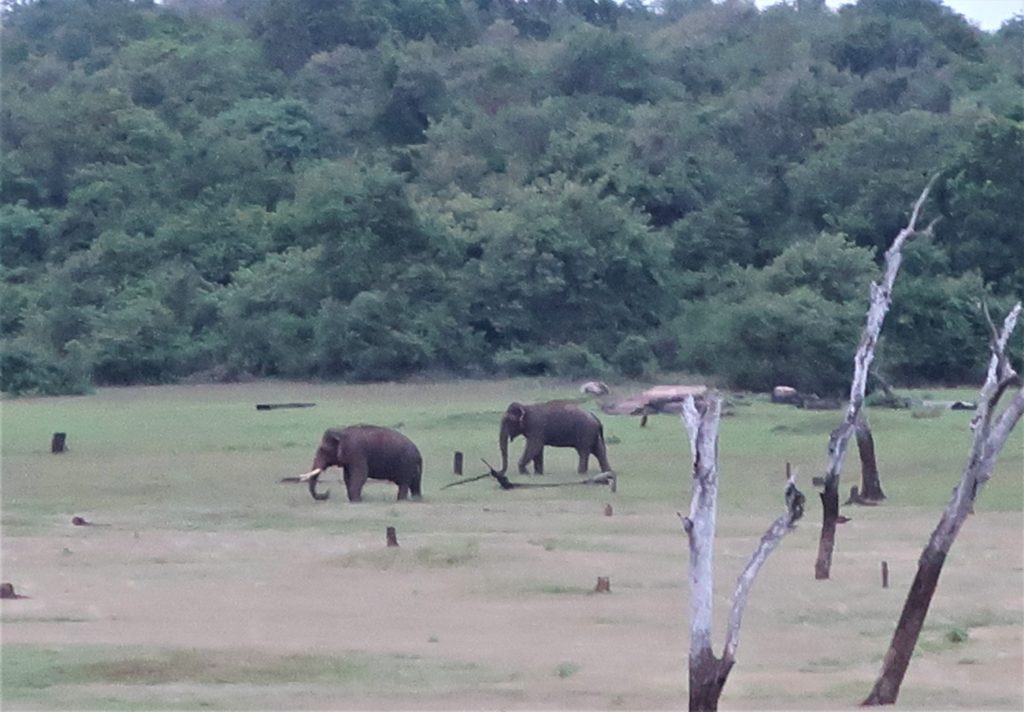 Seeing wild elephants is always like being present at the dawn of time.