From Hobart, we drive north.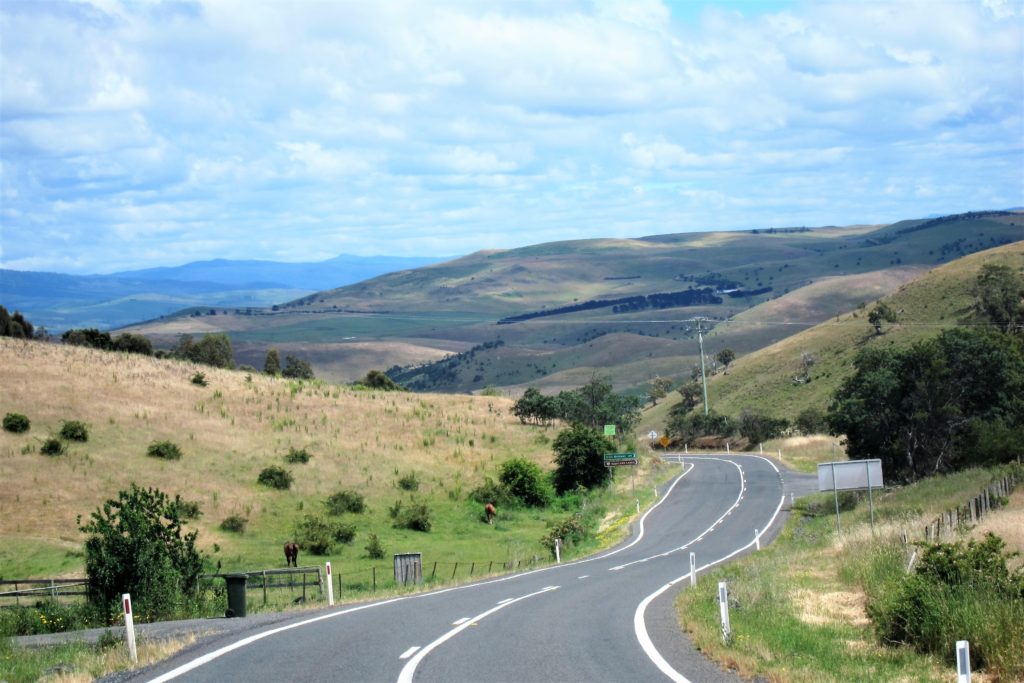 We stop for lunch in Tarraleah. In the nearby fountain, a momma duck herds her ducklings.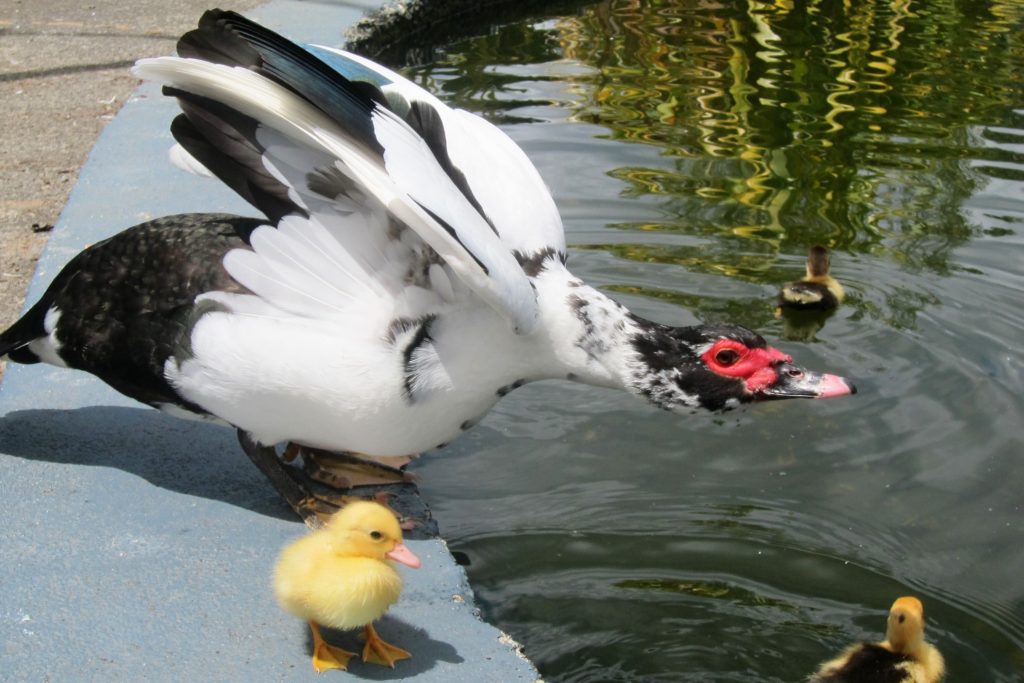 On our way towards the west coast, we visit the Wall in the Wilderness. This is a project of sculptor Greg Duncan to carve a mural in wood describing life in this part of Tasmania. They have a strict 'no photos' policy, but fortunately, Google once again comes to the rescue, as you can see here.
On our way to Strahan, we pass through Queenstown, a former mining area.
Below is Tas, our two-week campervan rental. He – yes, he's a 'he' – is actually an upgrade. Much newer, but lacking in character. And an un-ergonomic configuration that has us banging our heads daily and tut-tutting about the user-unfriendly design.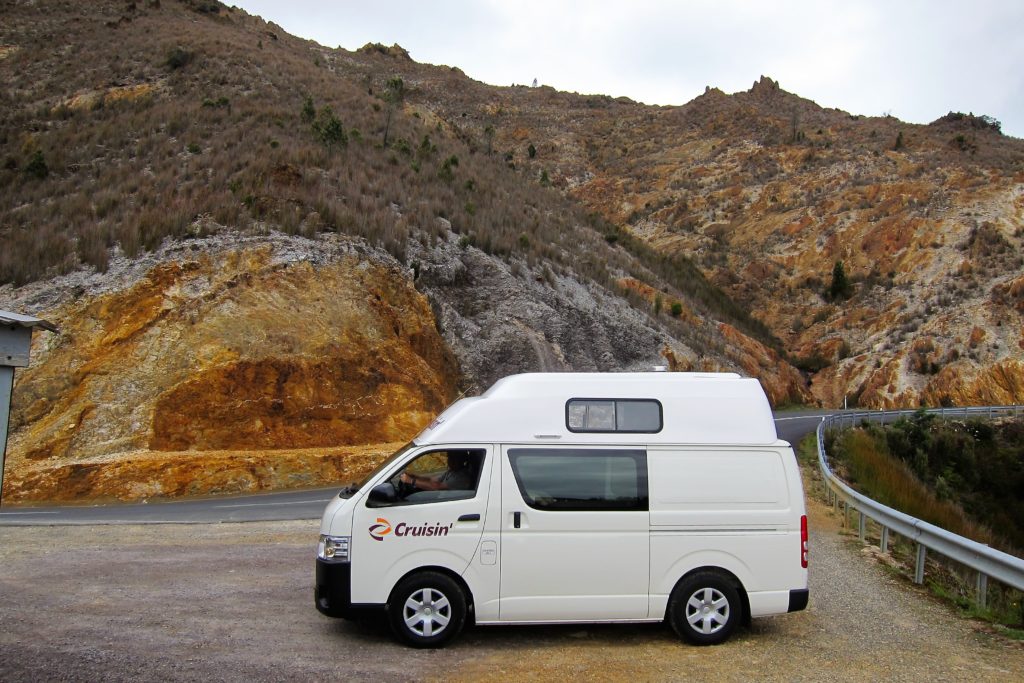 The approach to Queenstown is a windy steep road – lots of fun.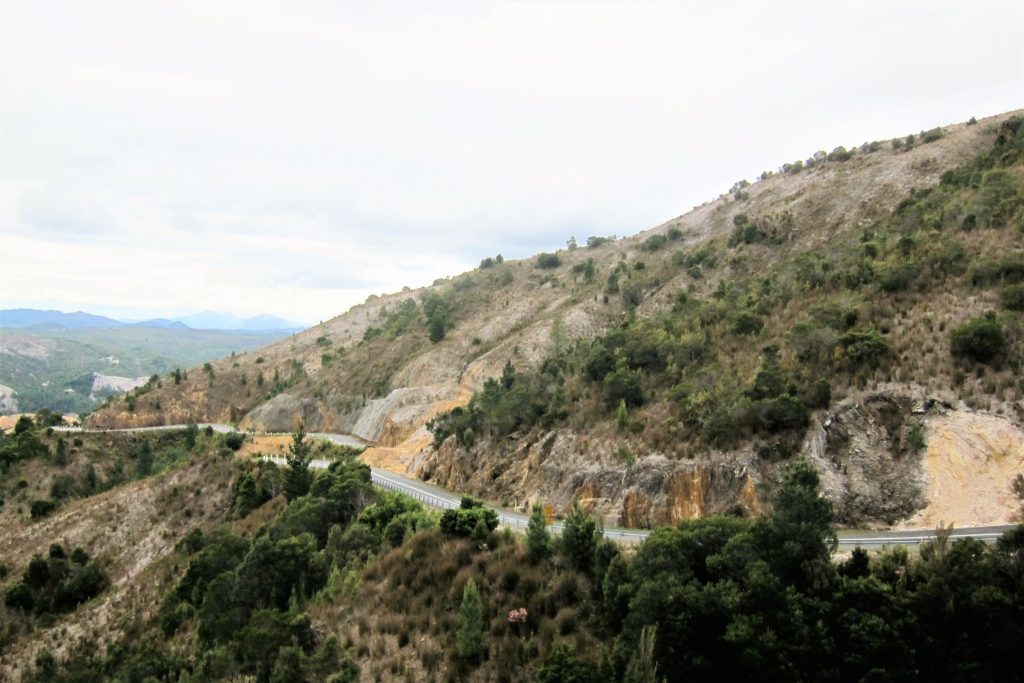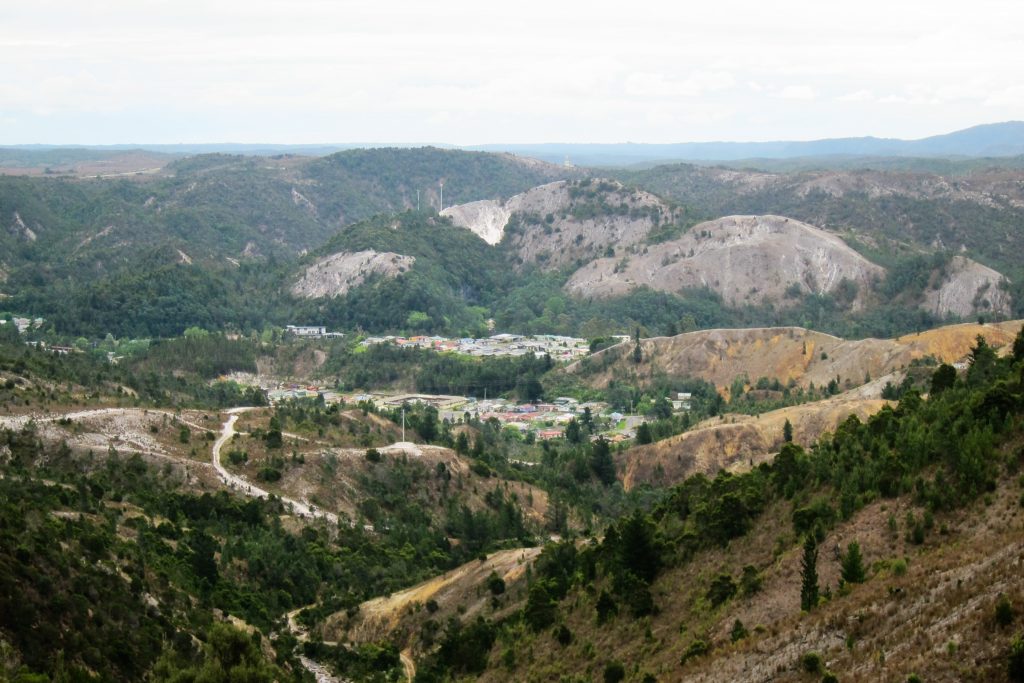 After a few days in Strahan, we drive to Cradle Mountain.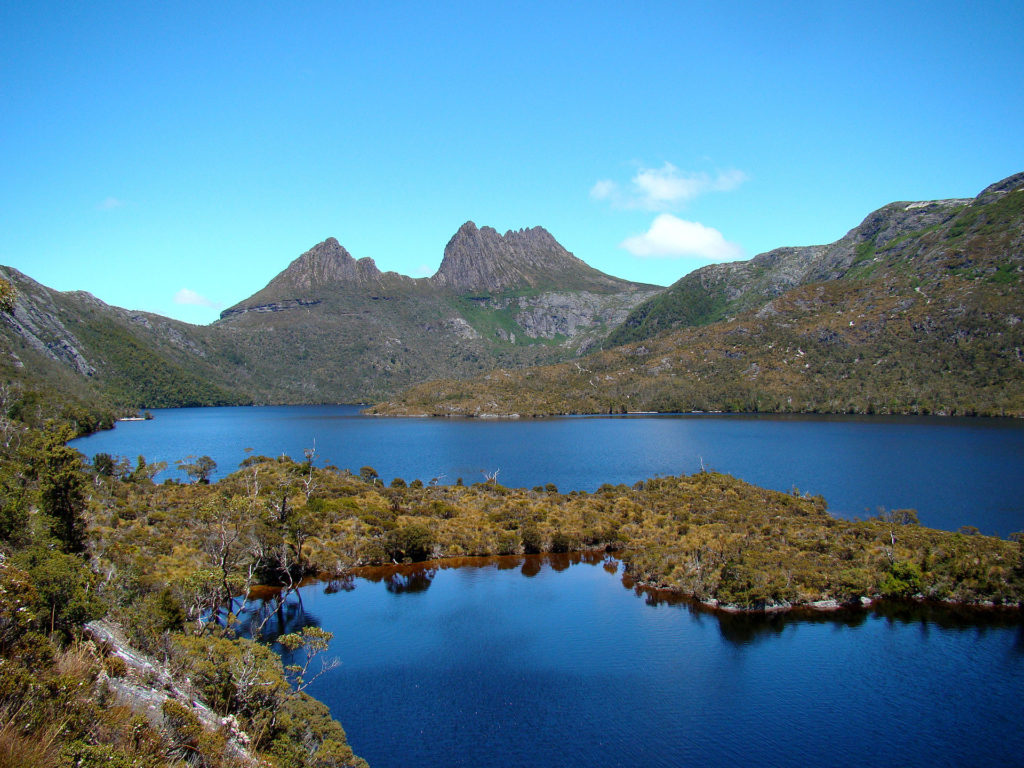 We never get to see it like this. For the entire time we are in the area, we endure gale-force winds, torrential rain, and temperatures hovering around zero. Fortunately, there's a comfy lodge to hang around in during the day.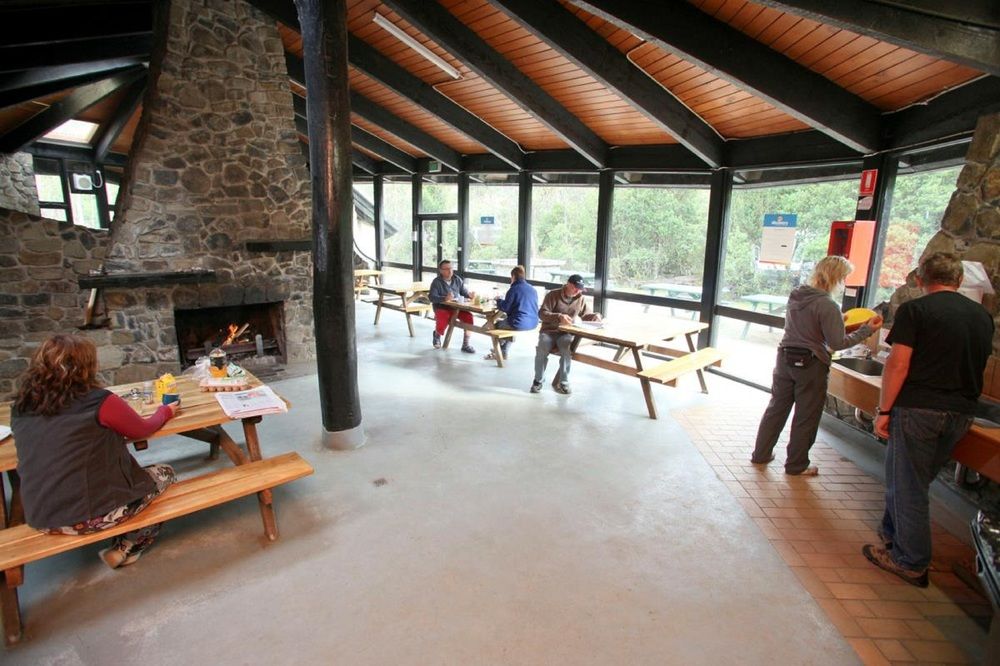 We drive through the mountainous region around Mount Cradle on our way to Launceston.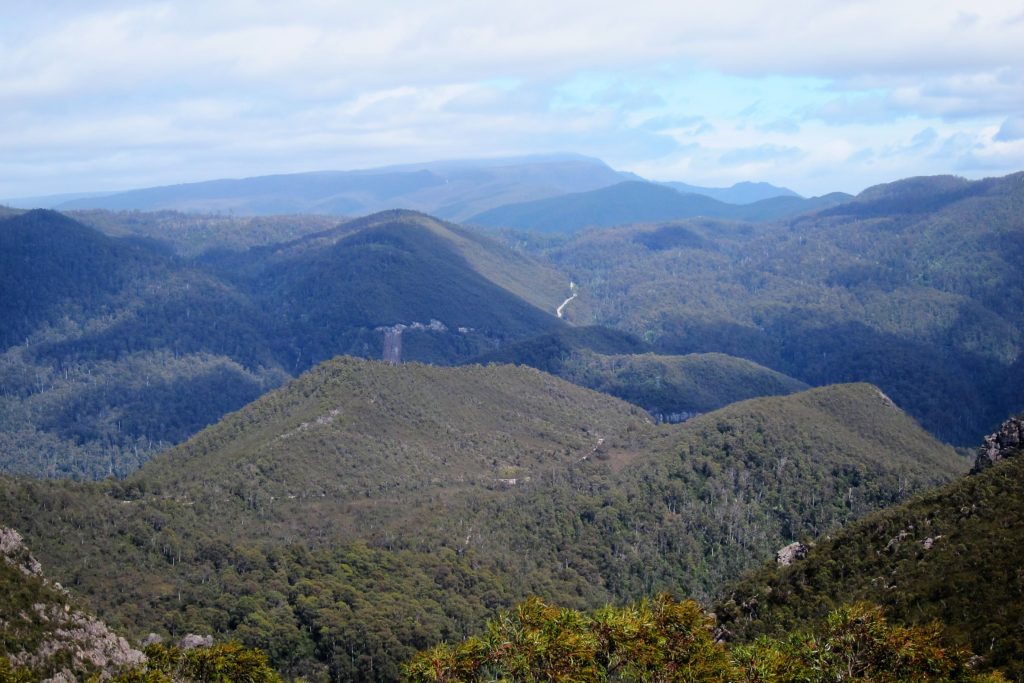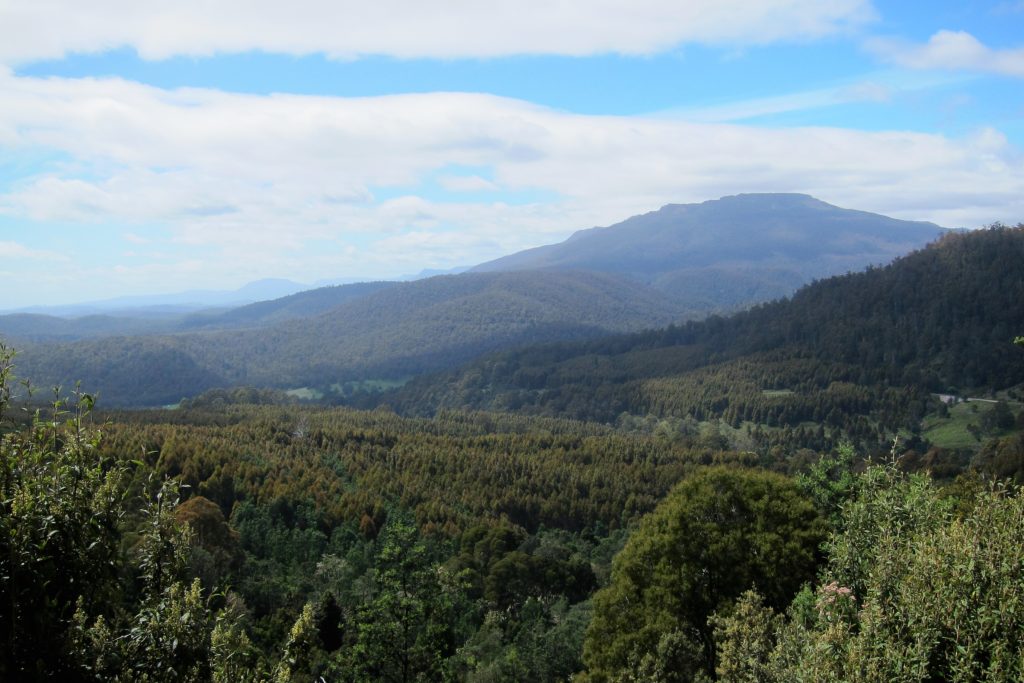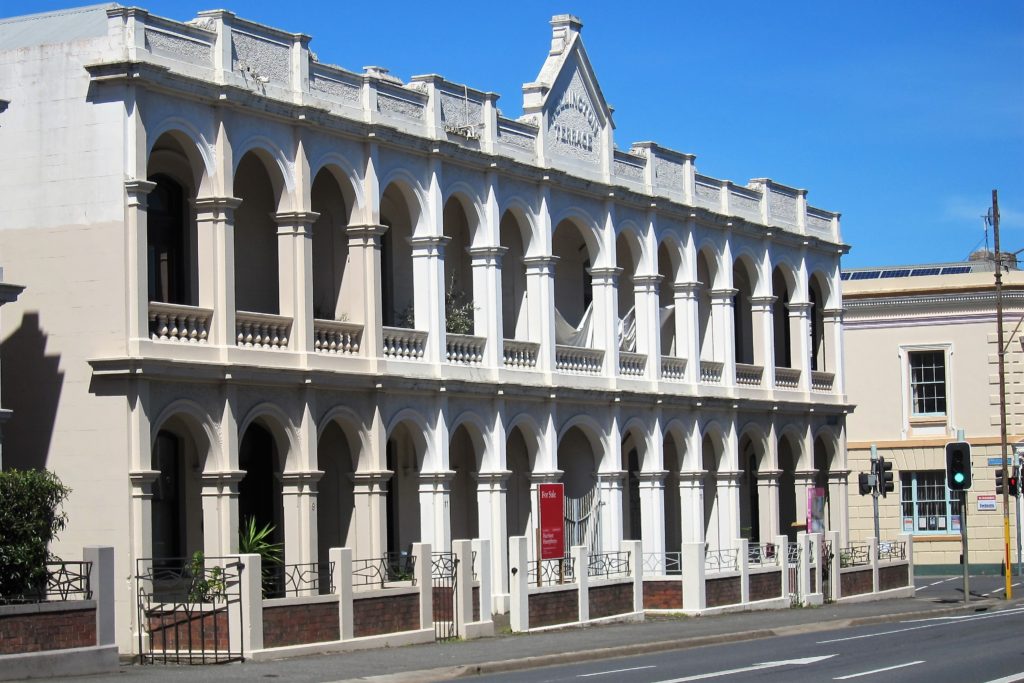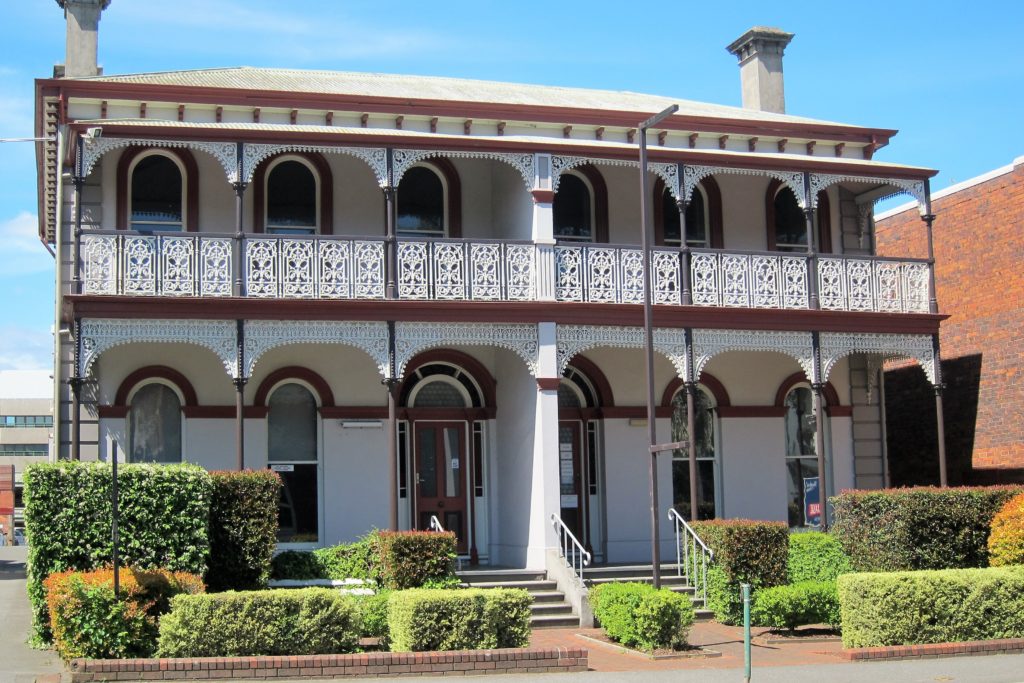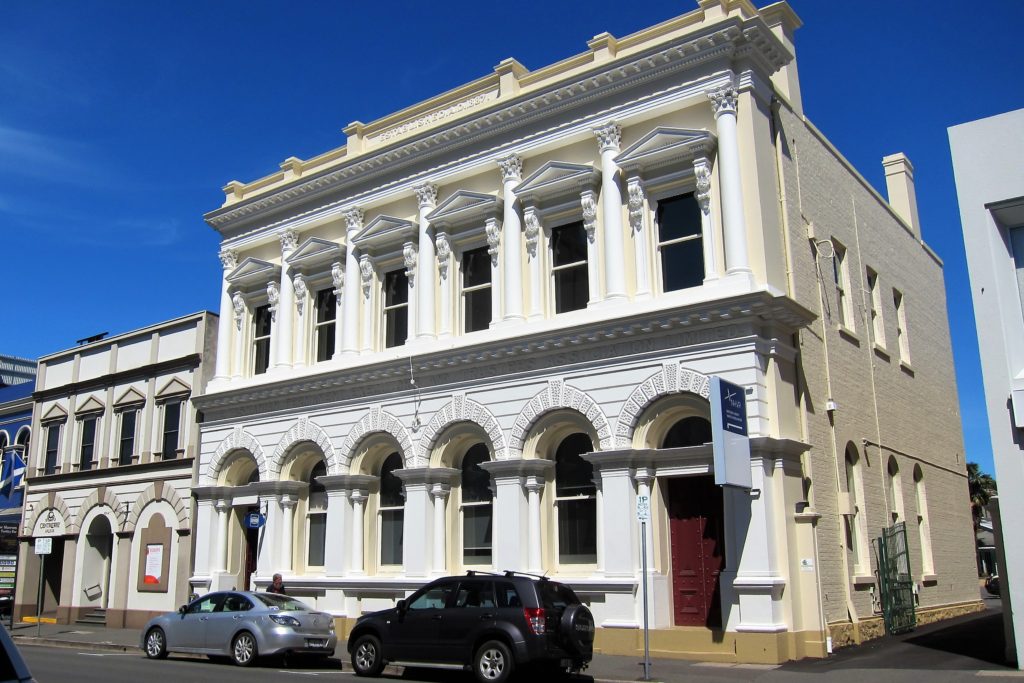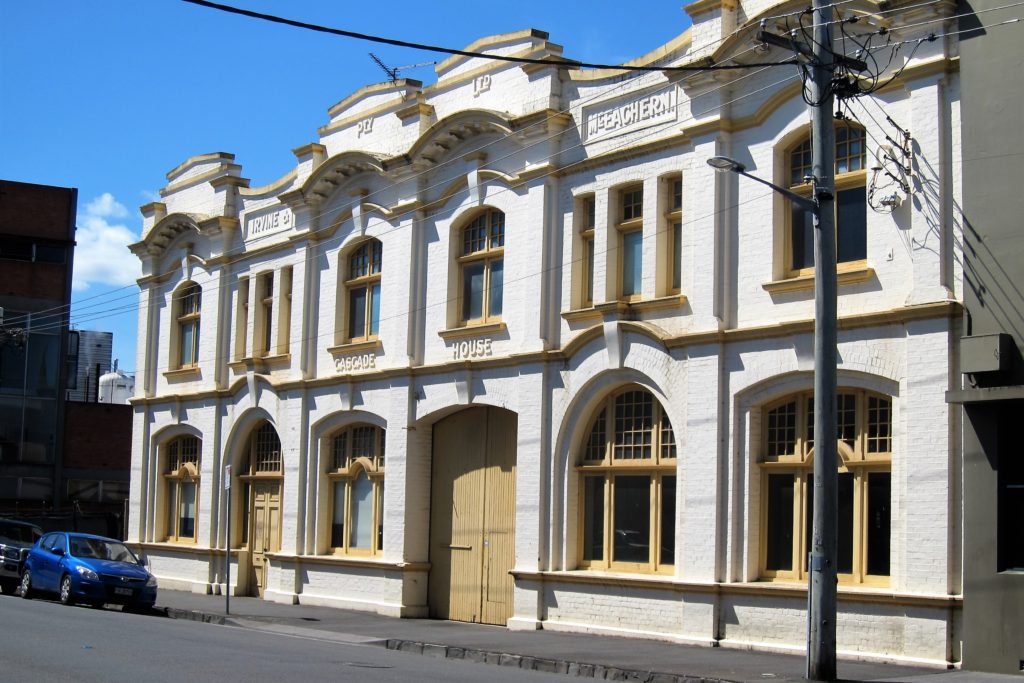 Unbelievably, we run short of wine. We visit the Josef Chromy winery to stock up. Tasmania produces excellent pinot noirs.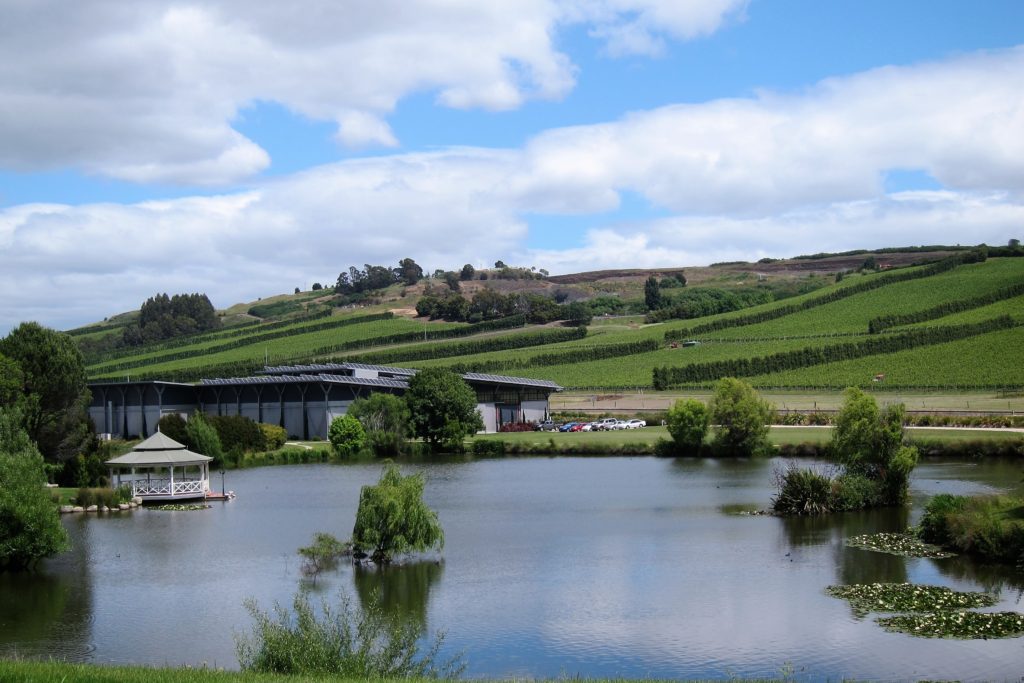 Our caravan park has two horses, Lauren and Greta.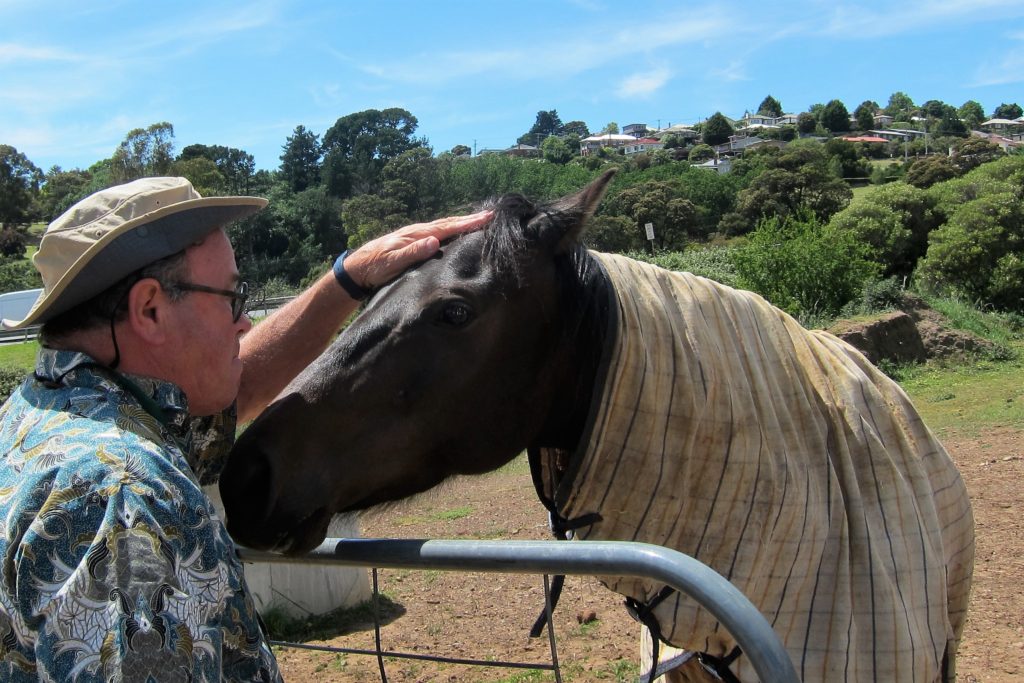 Greta enjoys an apple she mooches off Maria.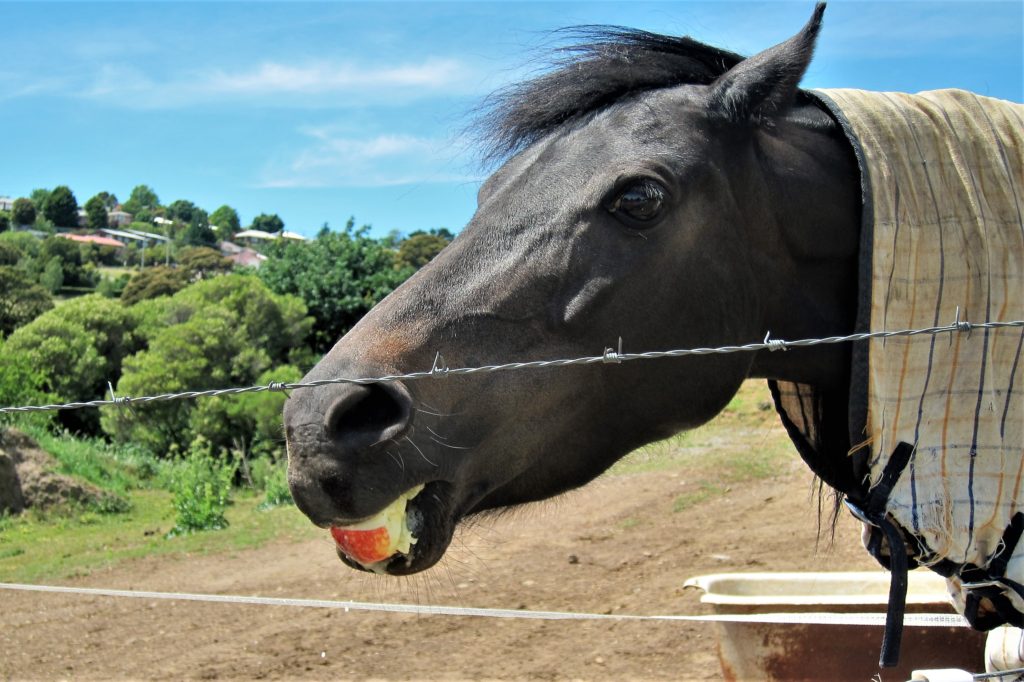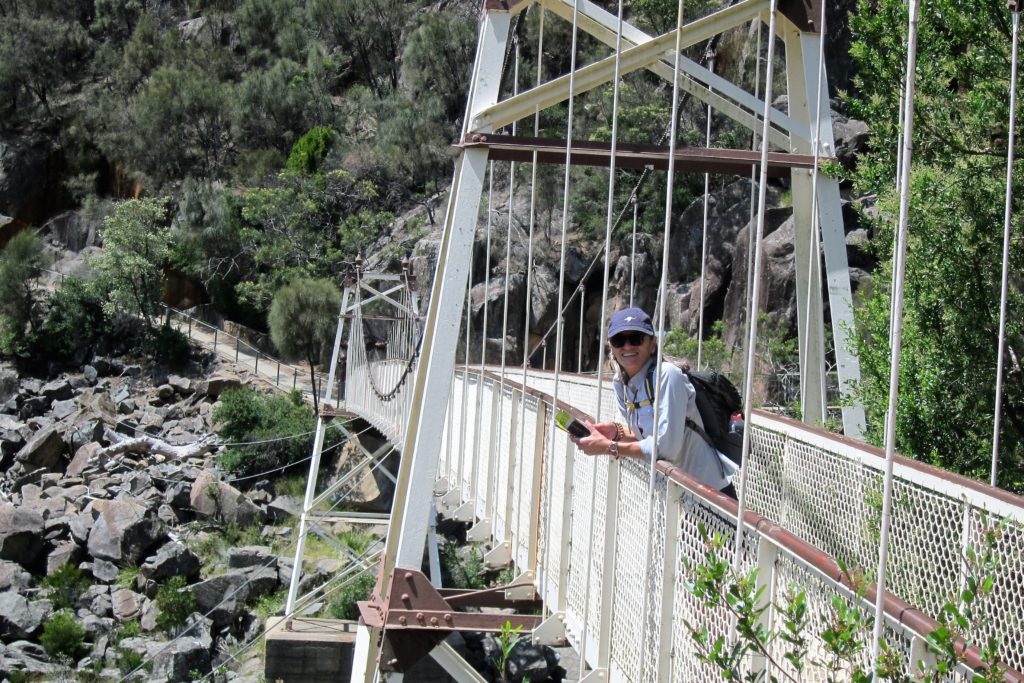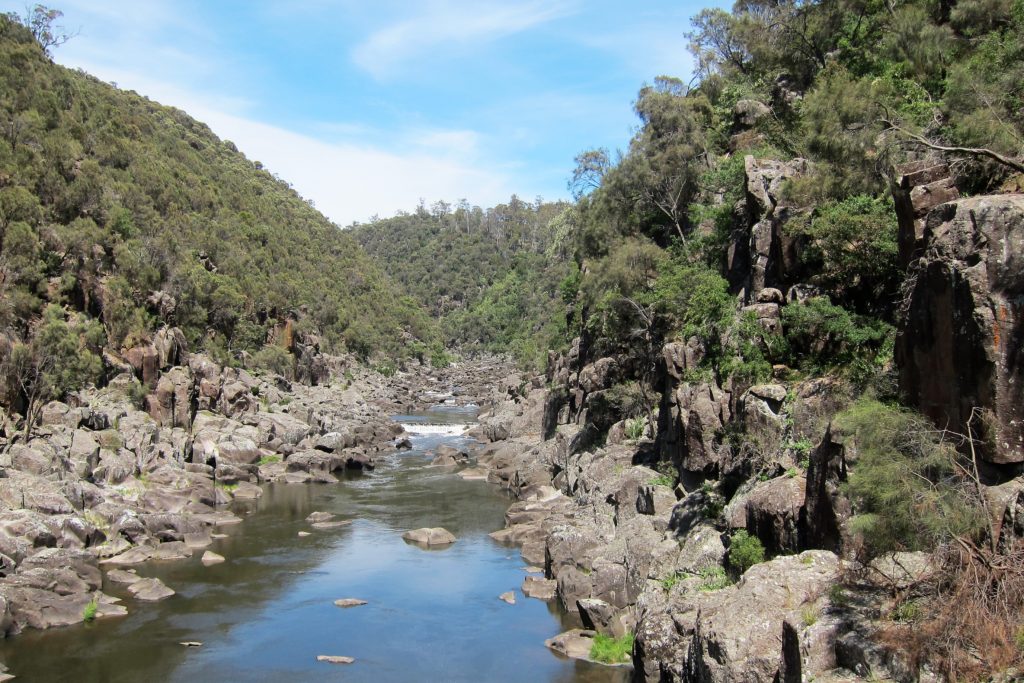 In the middle of the country is the historic small town of Ross.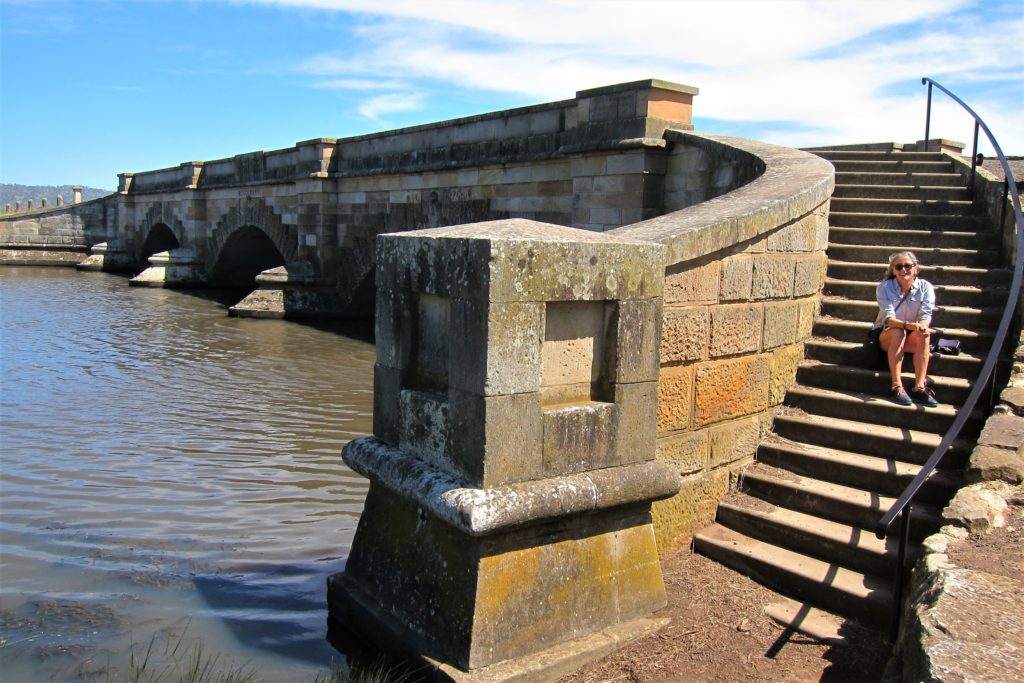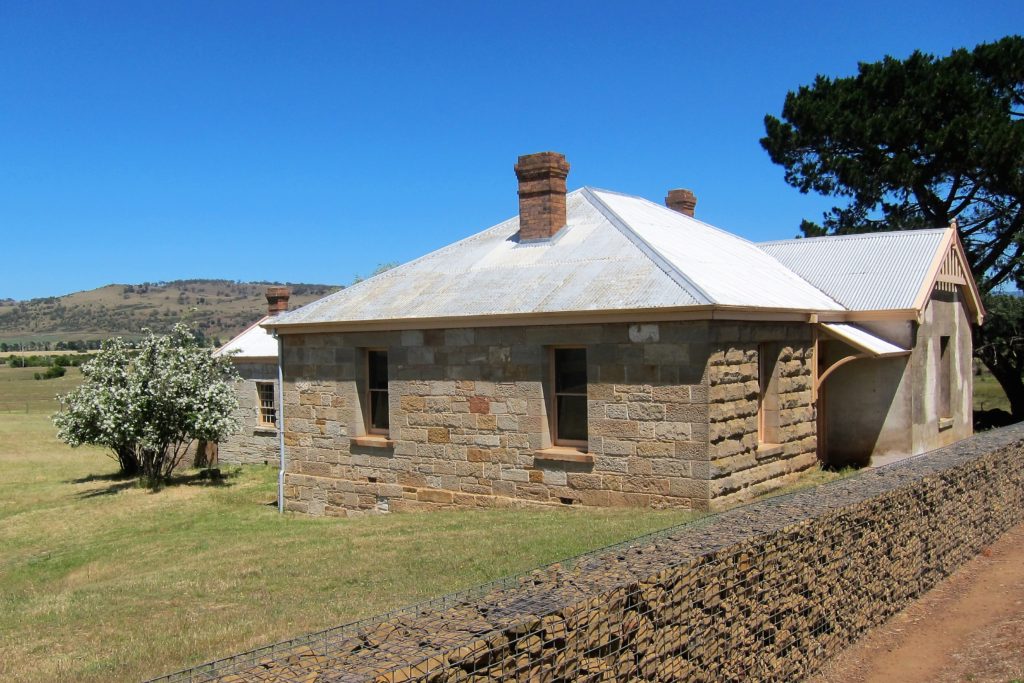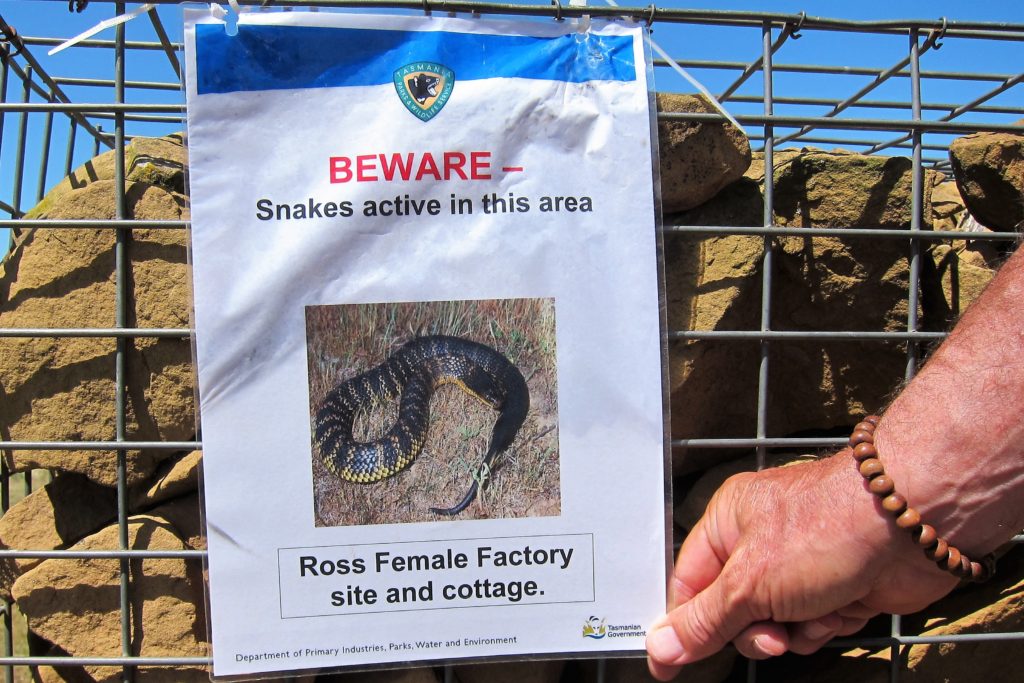 All in all a picturesque little town.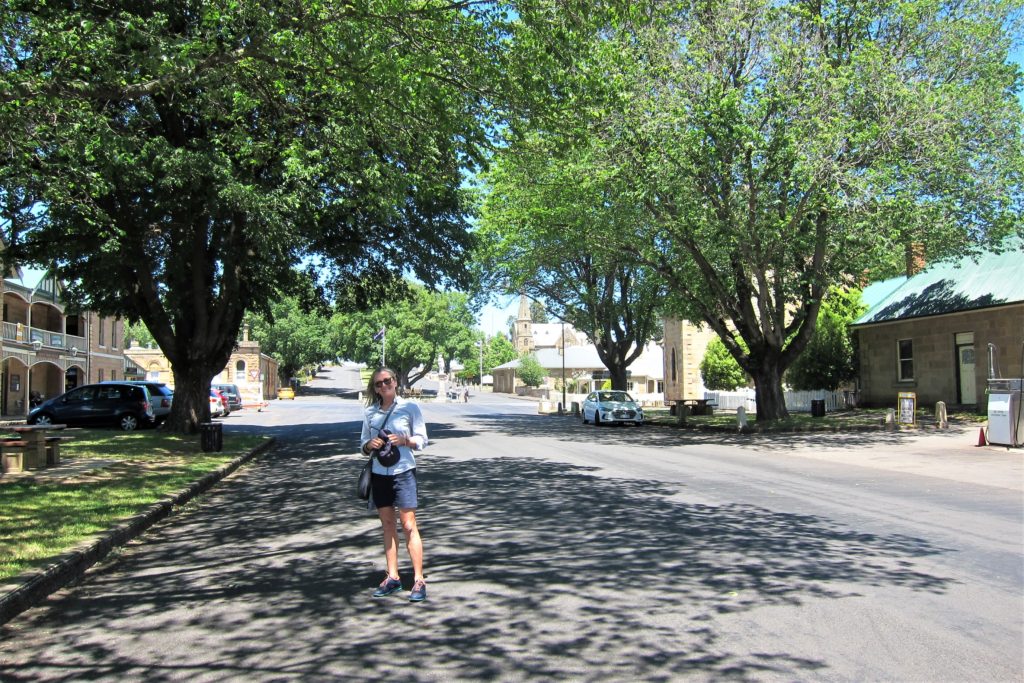 We make our way to the Freycinet Peninsula.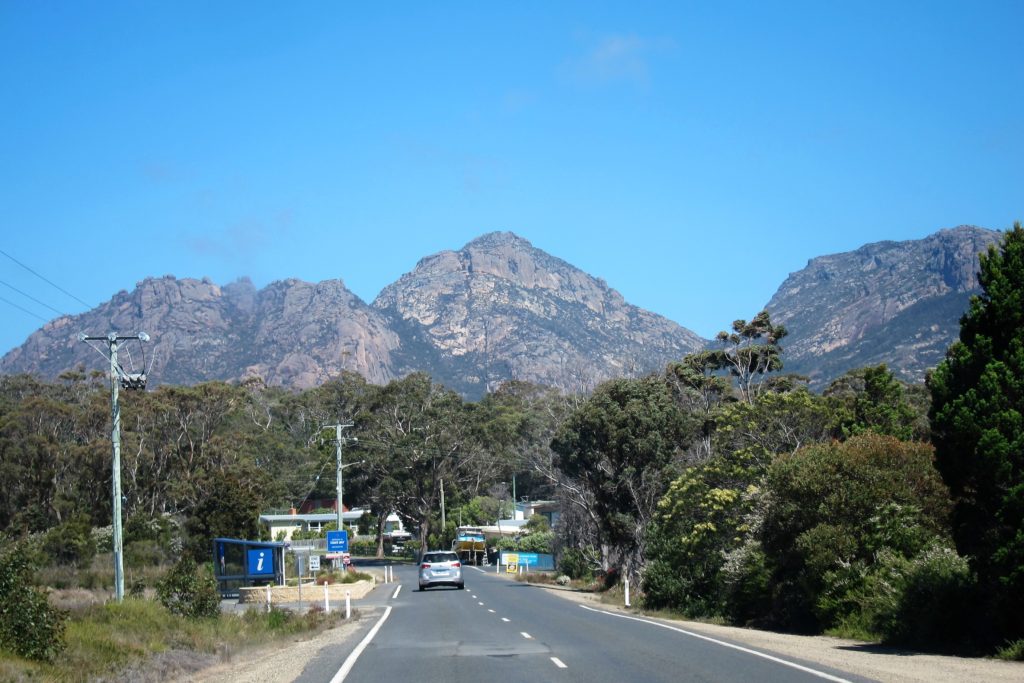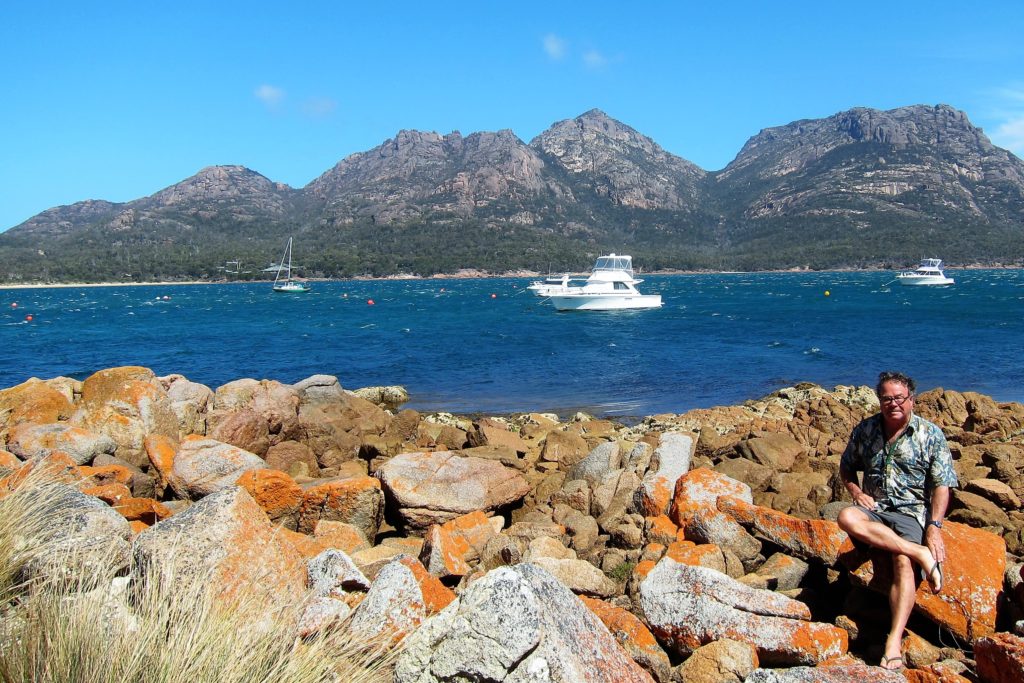 We take a little sea cruise around to Wineglass Bay.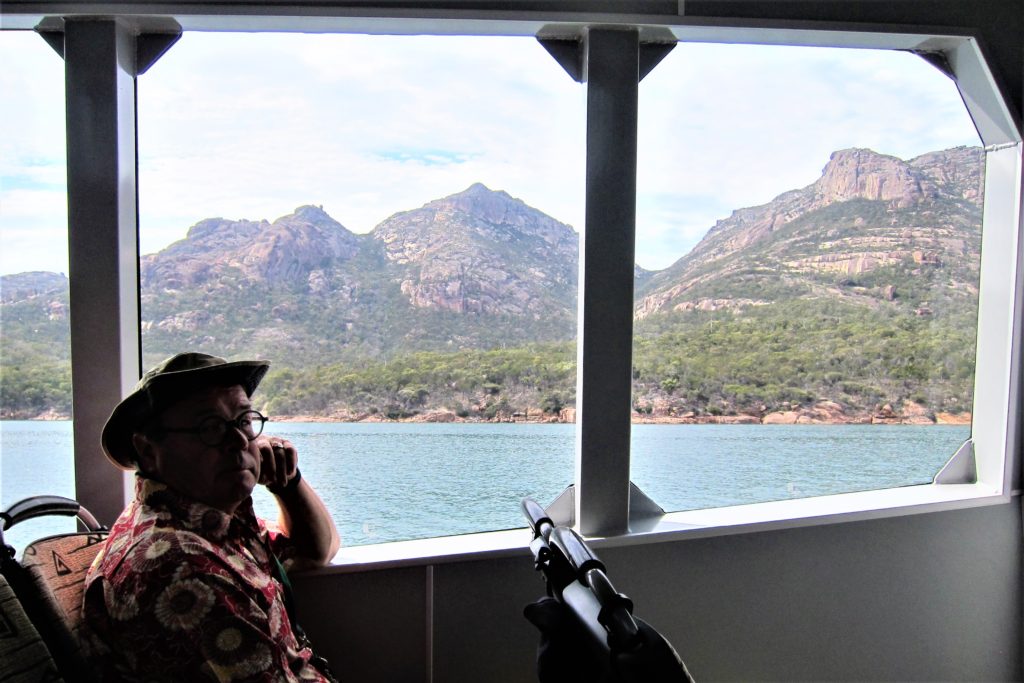 Along the way, a pod of dolphins head for our boat and surround it with their sleek, torpedo-like forms.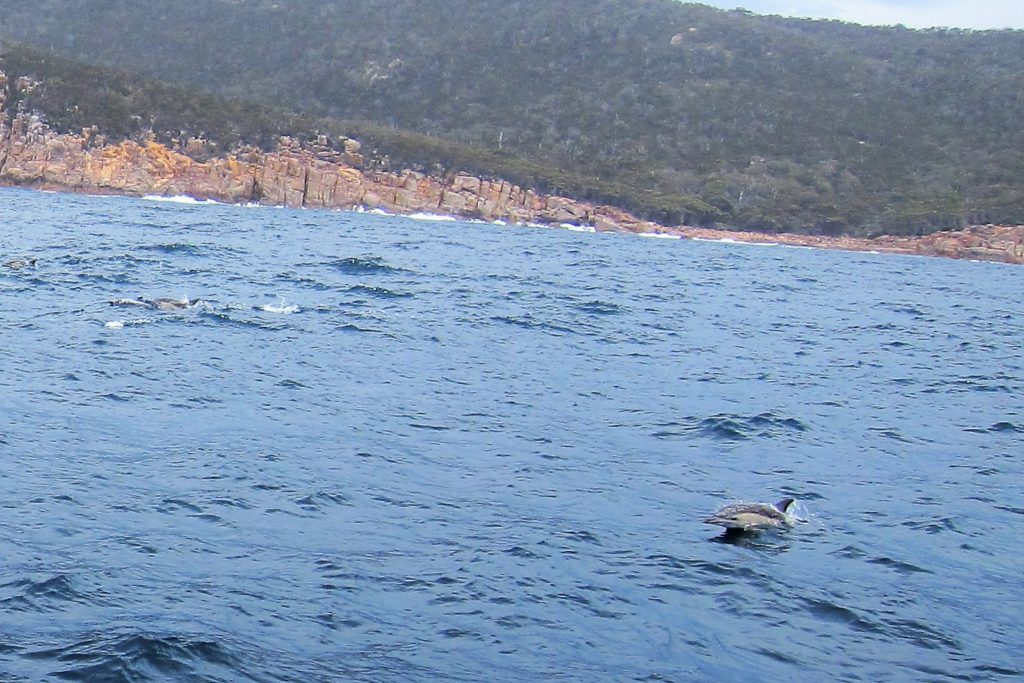 They seem to enjoy racing alongside – and in front of – our boat.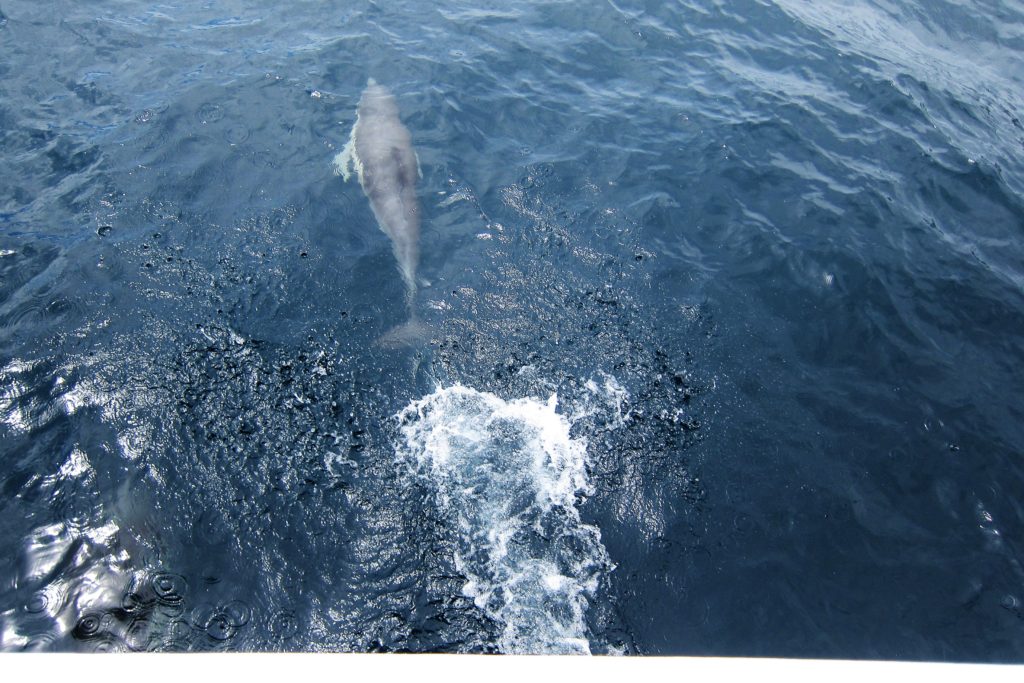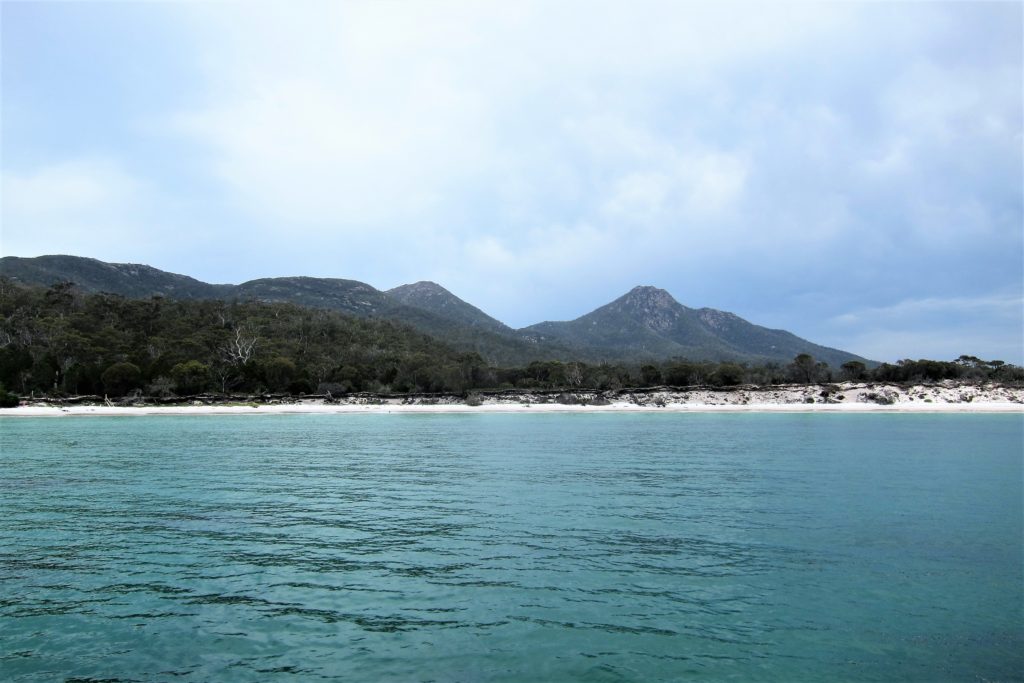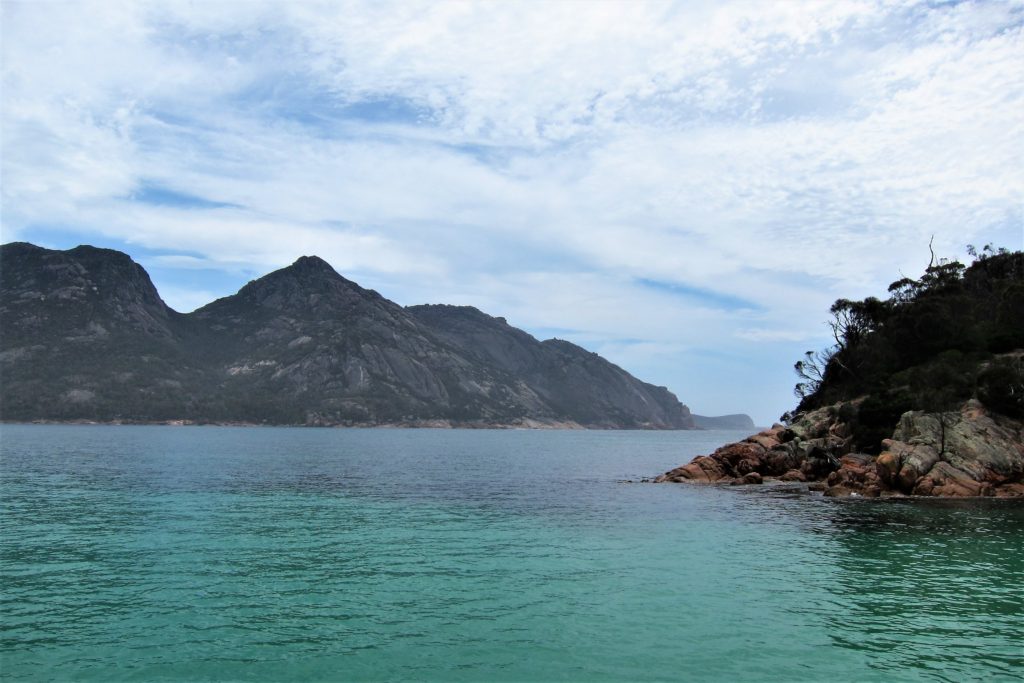 We make another wine stop at Devil's Corner.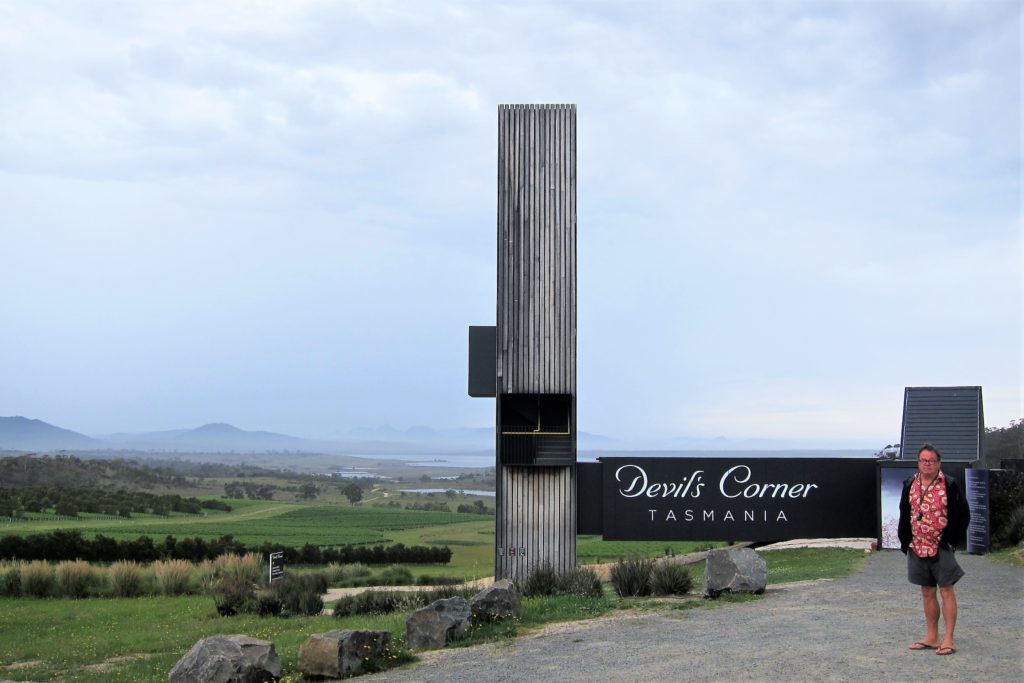 This happens to be the first Tasmanian wine we try on arrival. By a happy accident, we come across it unplanned on our drive south.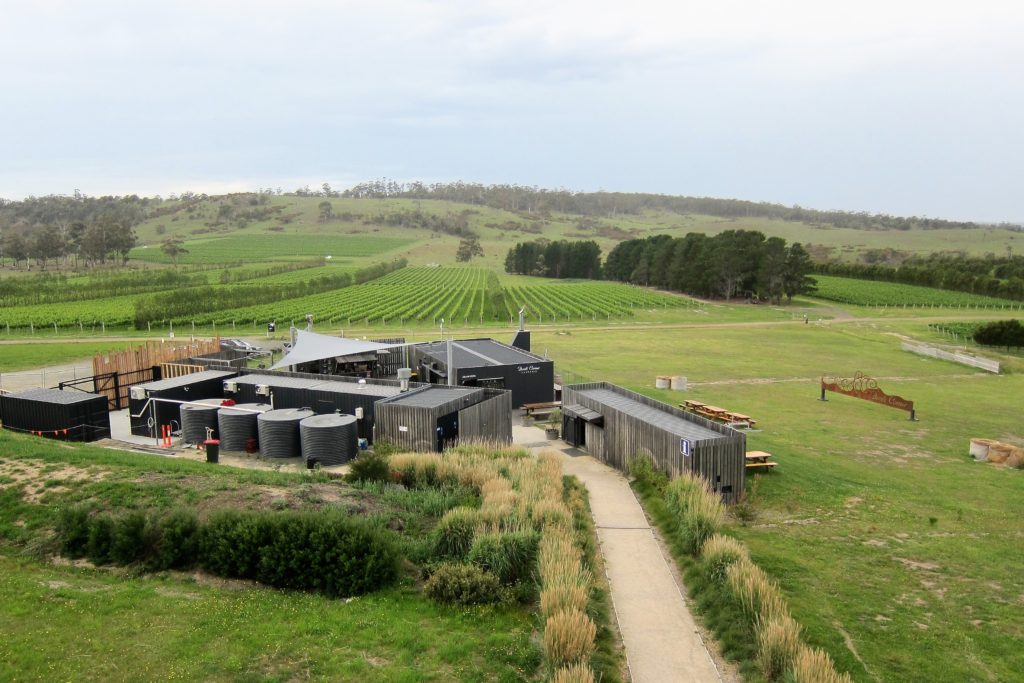 More mountainous scenery.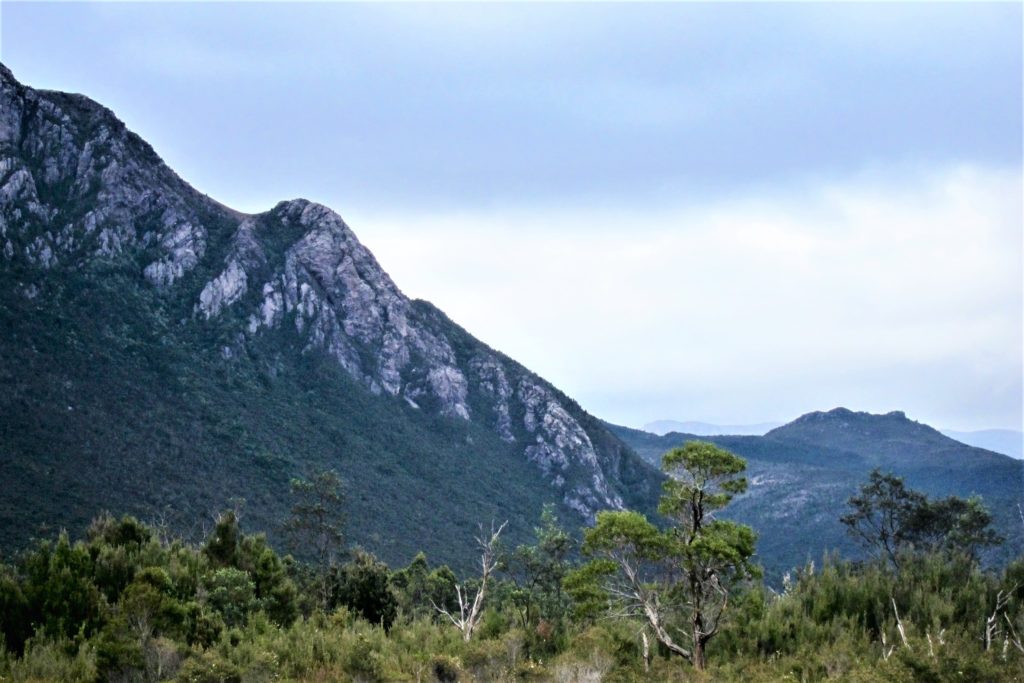 We spend some time around Richmond, another historic town. It contains Australia's oldest bridge, completed in 1825.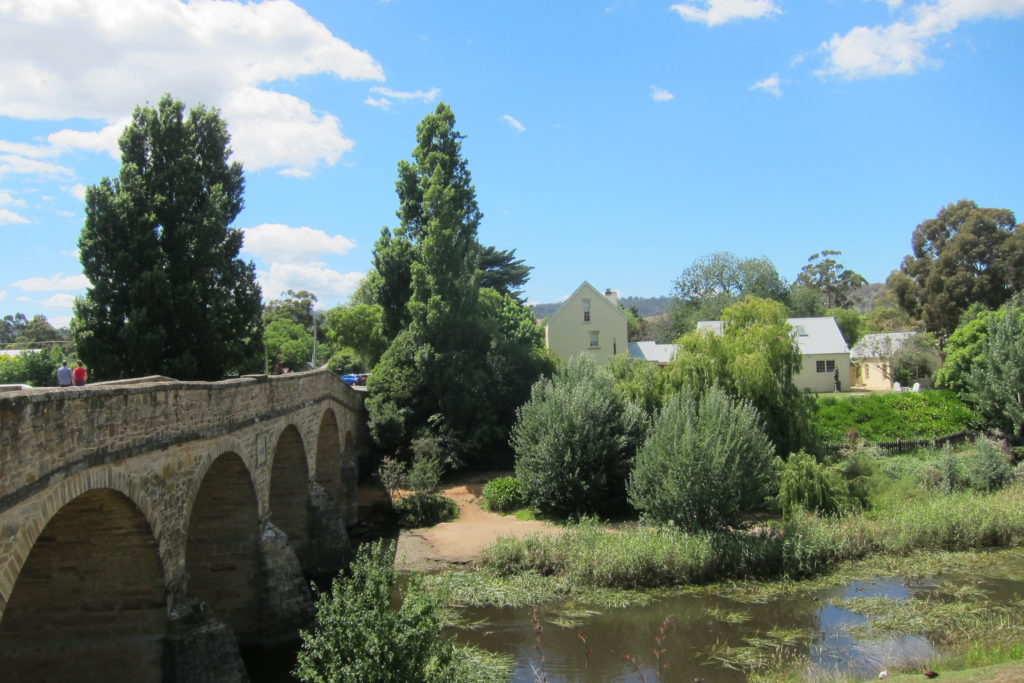 Our two weeks in Tasmania are up; time to return to Hobart for the flight back to the mainland.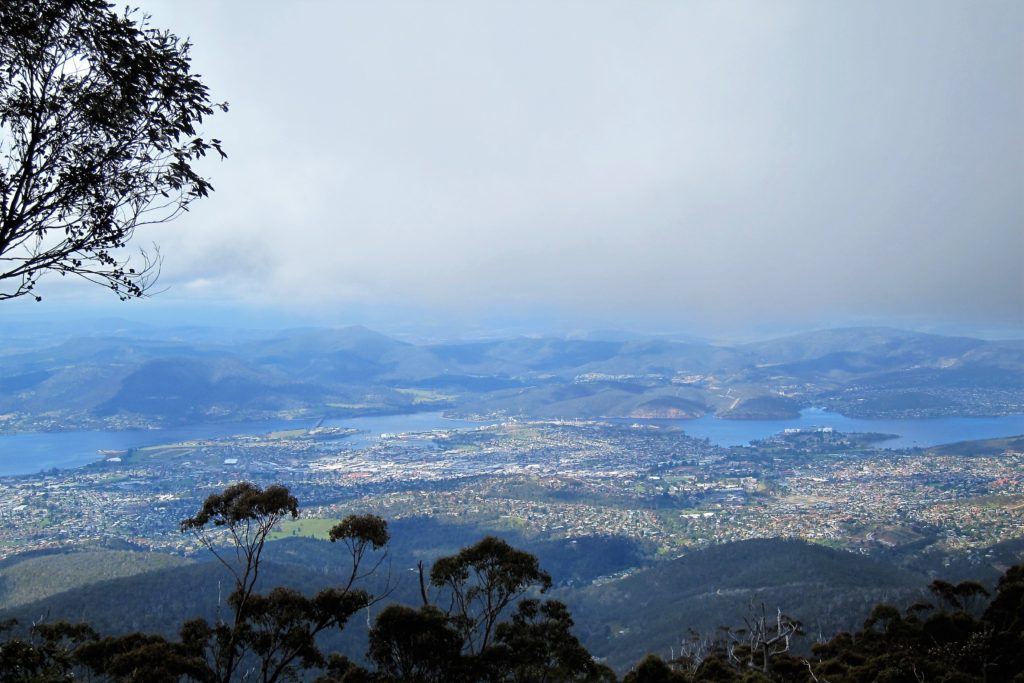 Sight or Insight of the Day – Tasmania part two
In the small coastal town of Swansea, we find this seasonal decoration of  Santa's sleigh being pulled by kangaroos.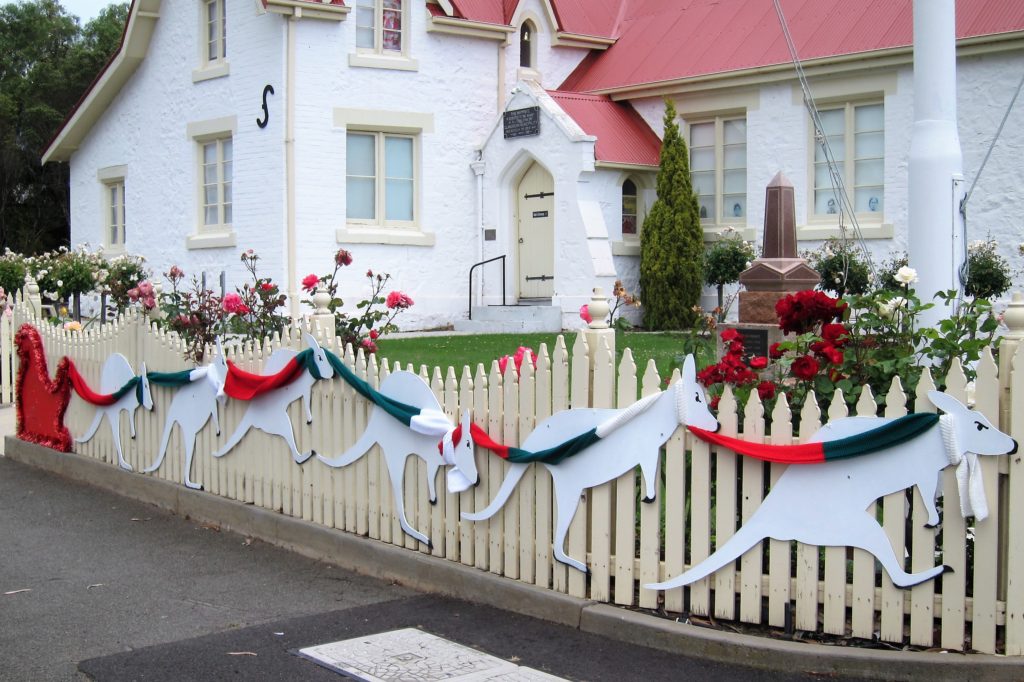 It's beginning to look a lot like Christmas…