We fly from Muscat to Abu Dhabi in the United Arab Emirates. It takes less than an hour.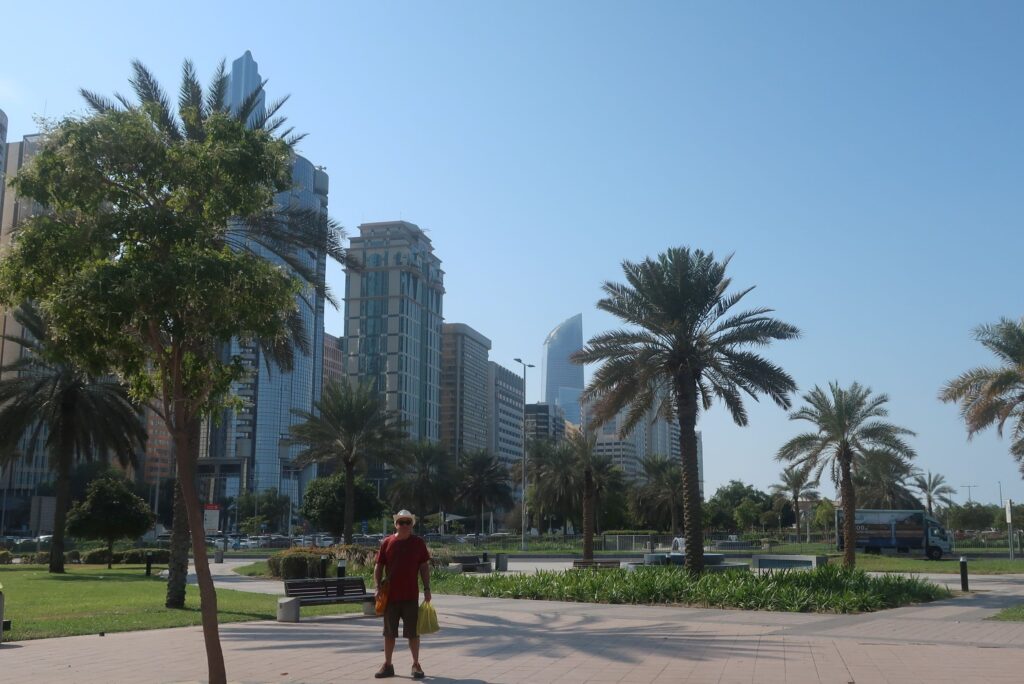 See the three tall buildings behind the pinkish tower? Those are the Etihad Towers. Vin Diesel flew a car through all three. Don't believe me? See for yourself.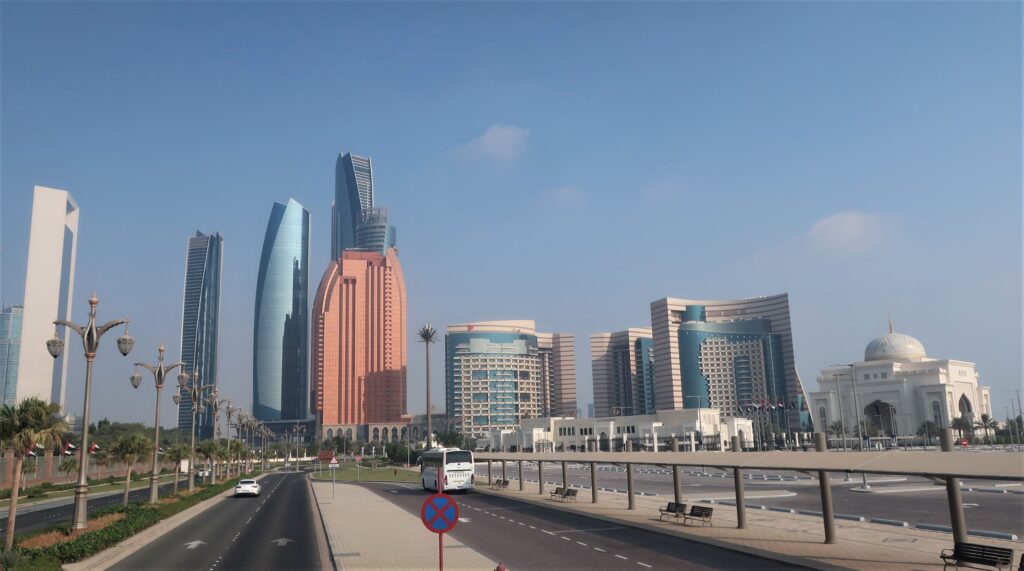 My iPhone needs a new battery. As usual, the Apple Store is a marvel of design.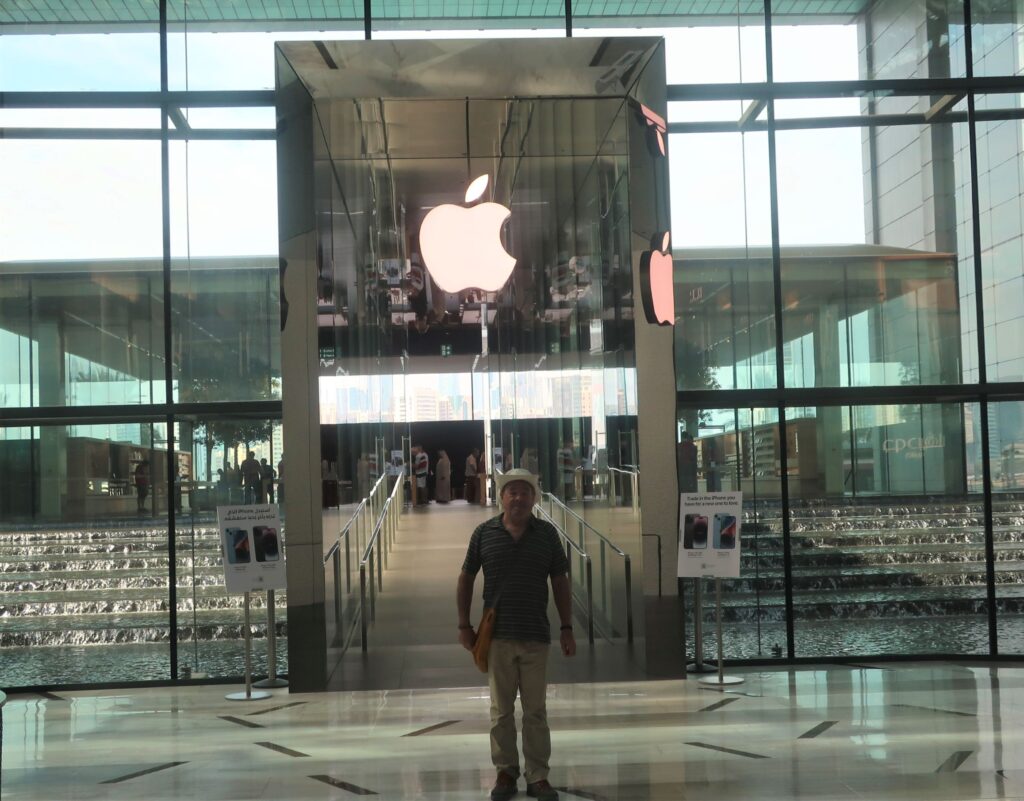 Our first stop is the Louvre Abu Dhabi.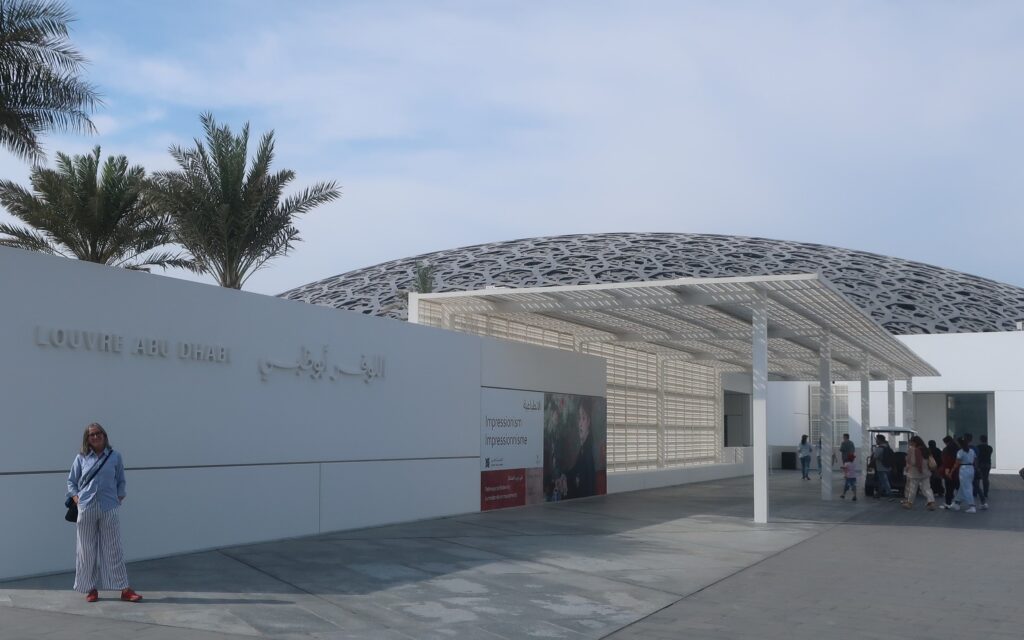 Designed by French architect Jean Nouvel, it features bunker-like temperature controlled exhibition spaces under a lacework dome with lots of places for people to hang out in a relaxed setting.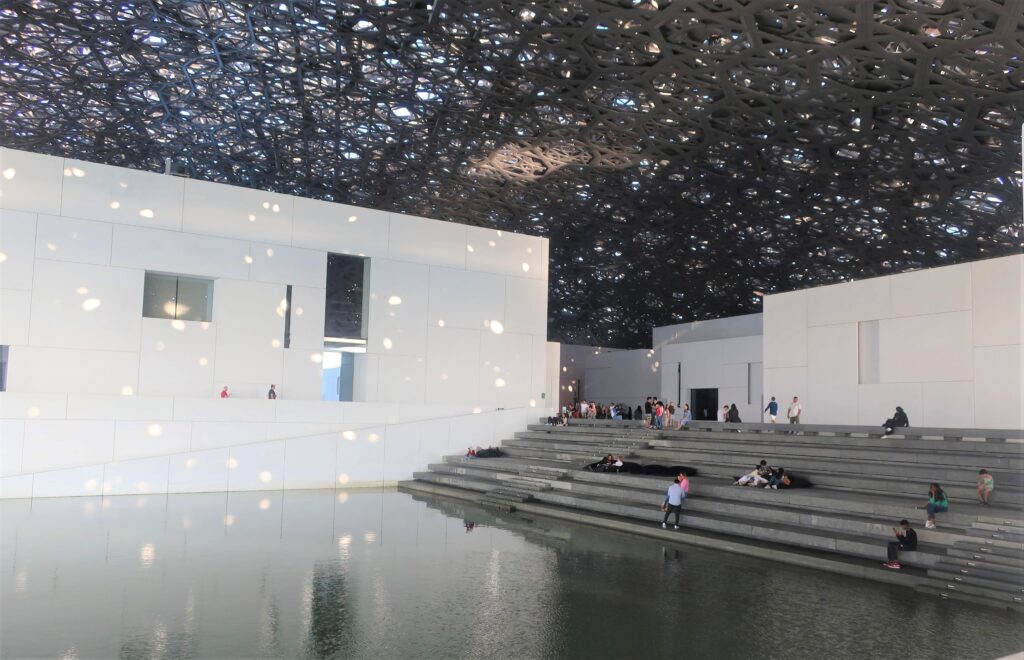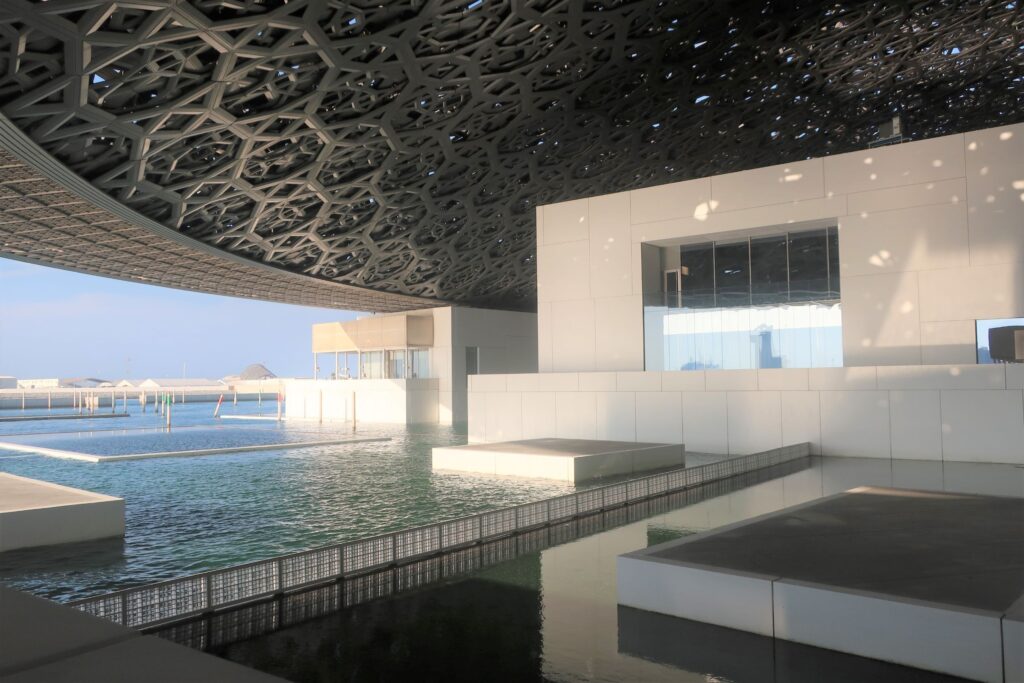 Nearby, another interesting building is going up. It might be the future Sheik Zayed National Museum.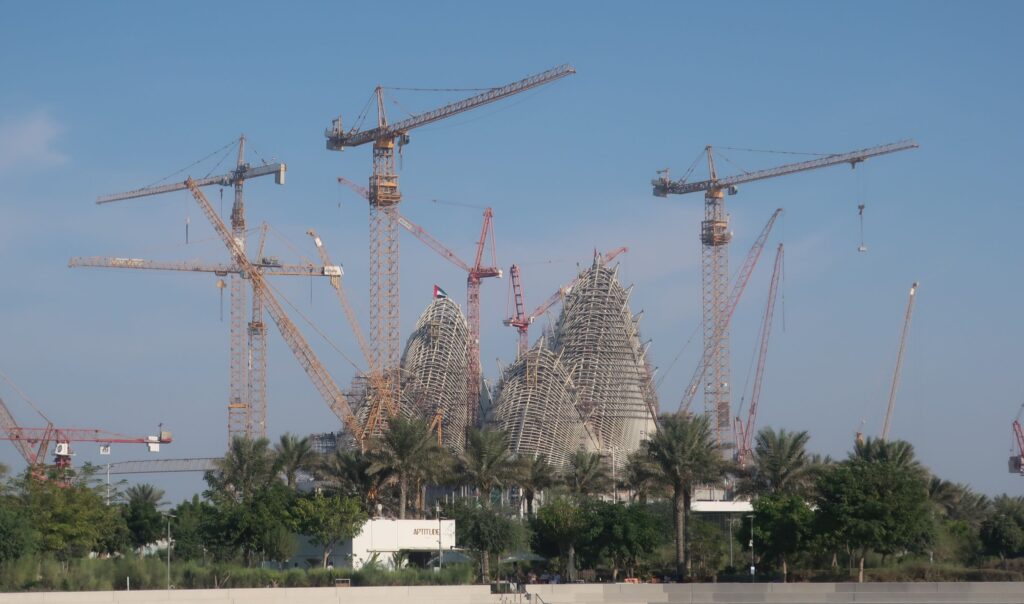 Hey, they have Tim Hortons in the UAE. Who knew?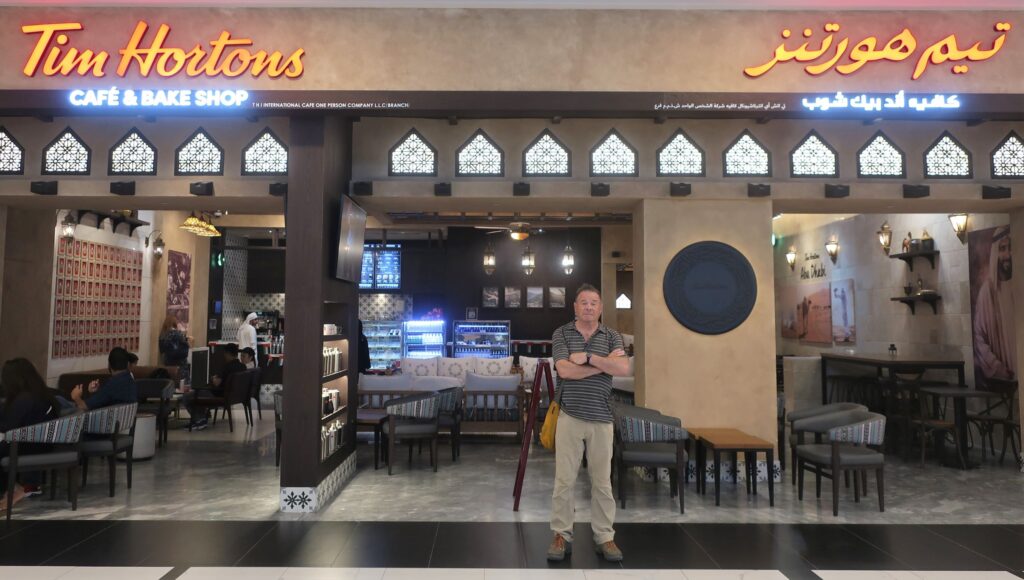 This is the Sheikh Zayed Grand Mosque. Grand might be an understatement.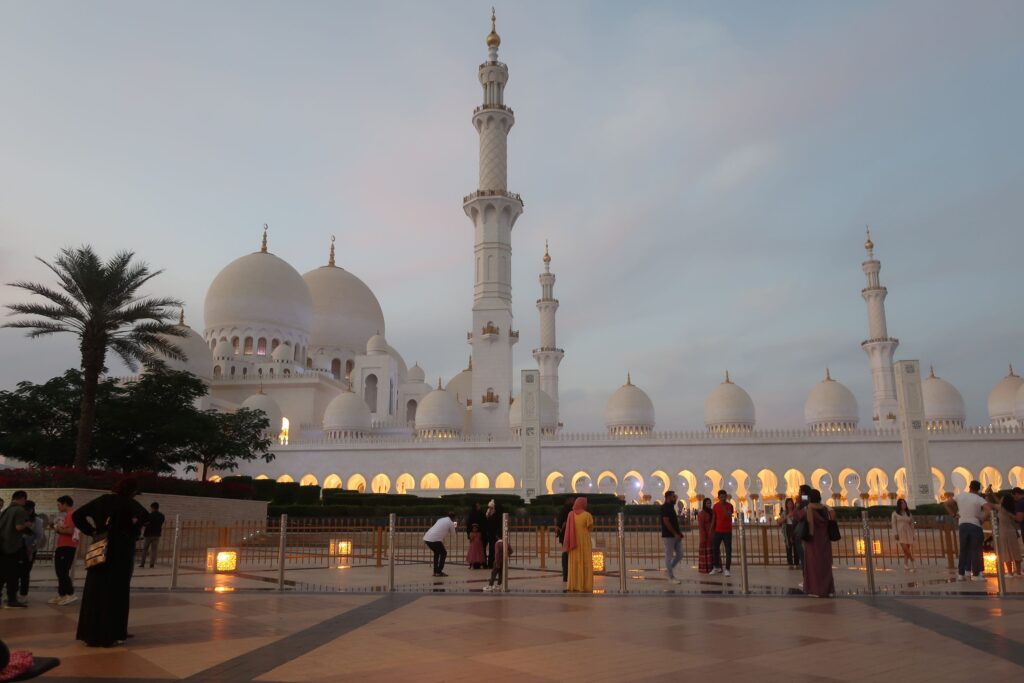 It's a gargantuan edifice. (A big building, in plain English.) It's connected to a giant underground shopping mall. This is actually a natural fit; two things that are plentiful here are mosques and shopping malls.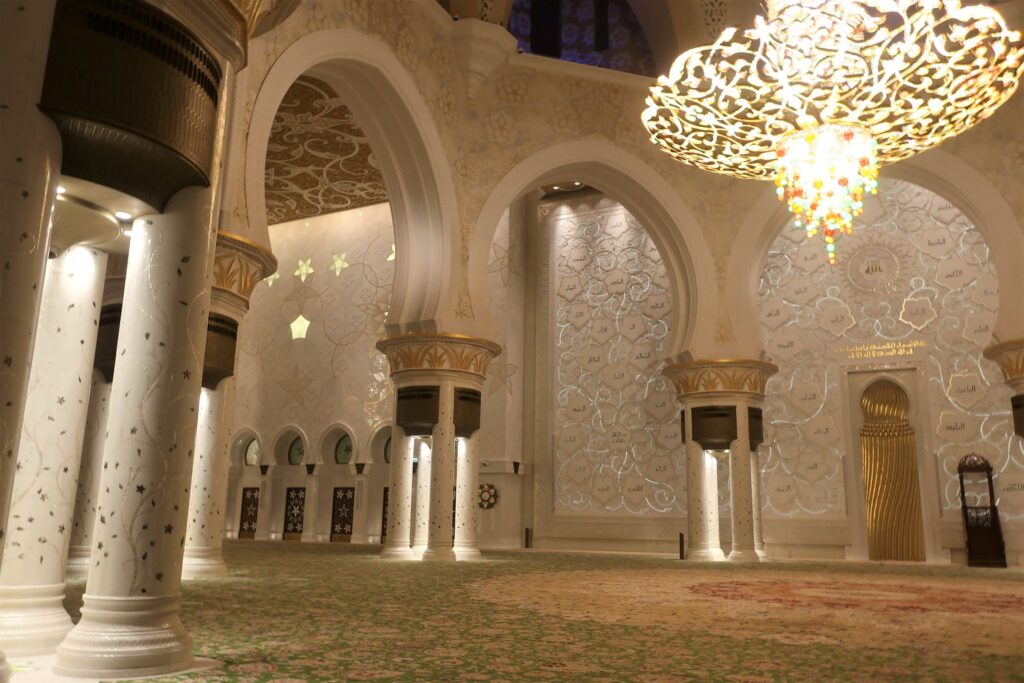 The columns are inlaid with semi-precious stones.
A woman takes a photo of her daughter, coaching her into this demure pose.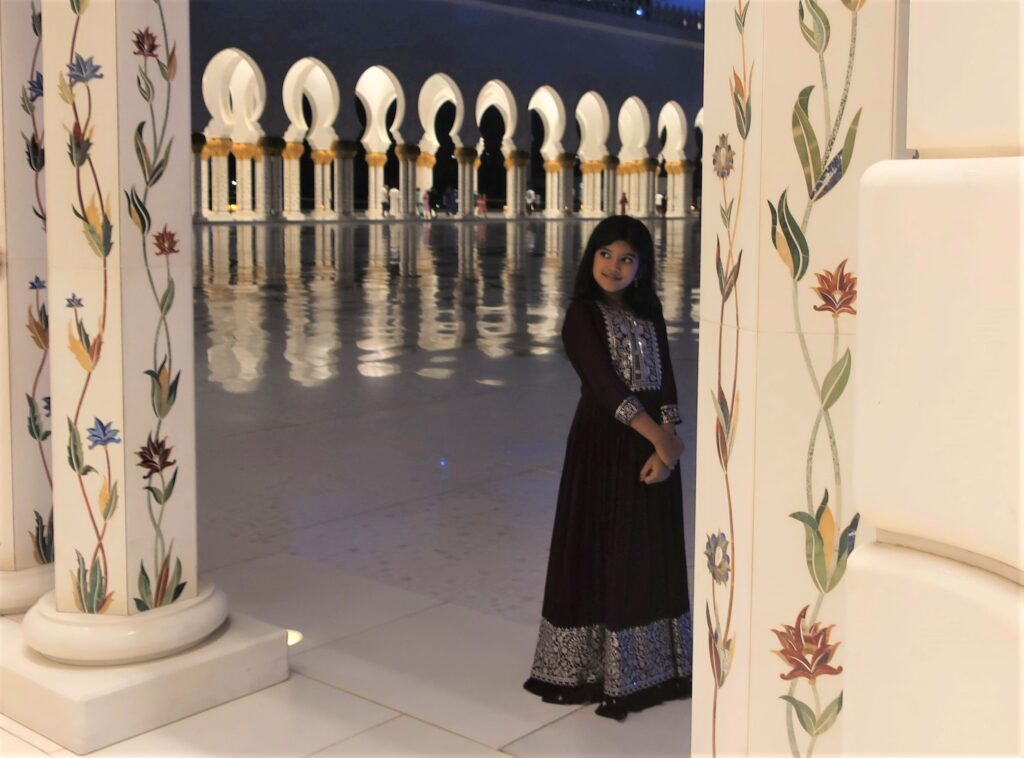 We take a bus from Abu Dhabi to Dubai.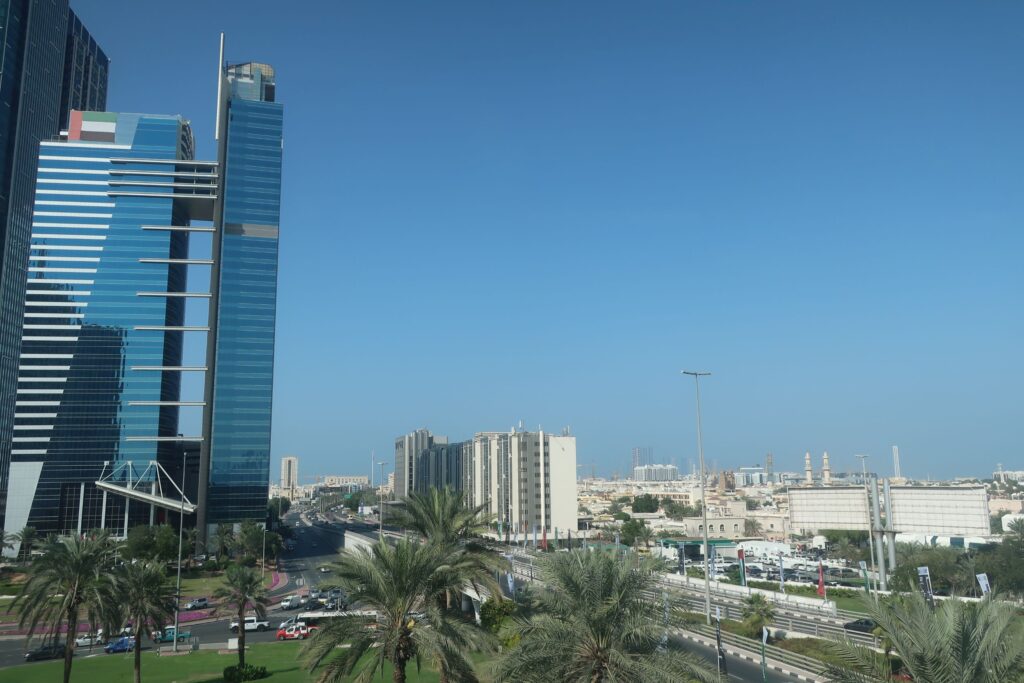 On arrival, Maria has to test a fresh-squeezed orange juice machine. It's cold and delicious.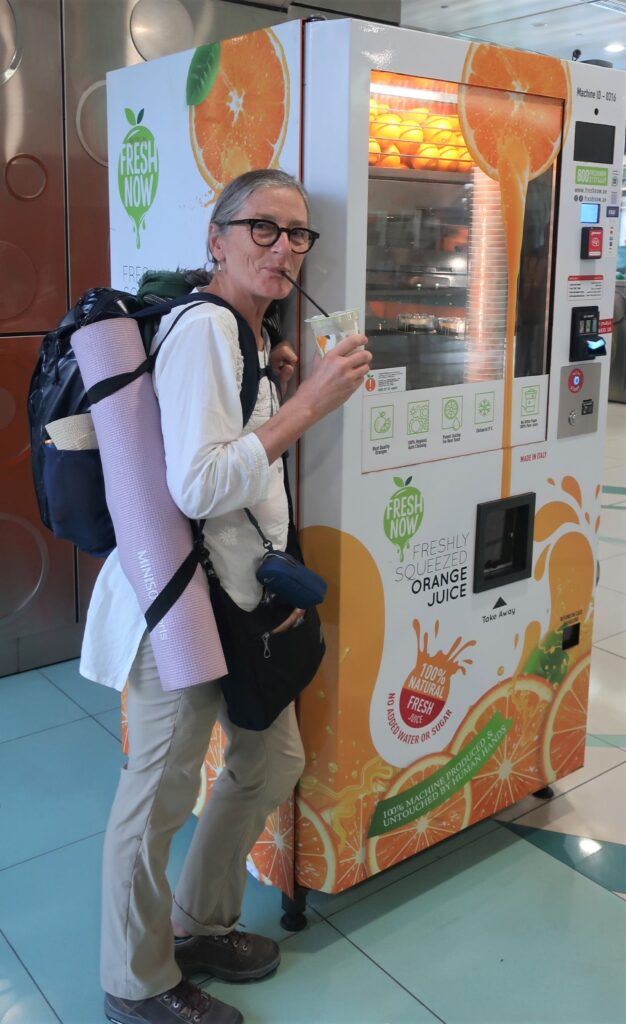 The one thing we consider must-see here is the Burj Khalifa, the world's tallest building. (For now.)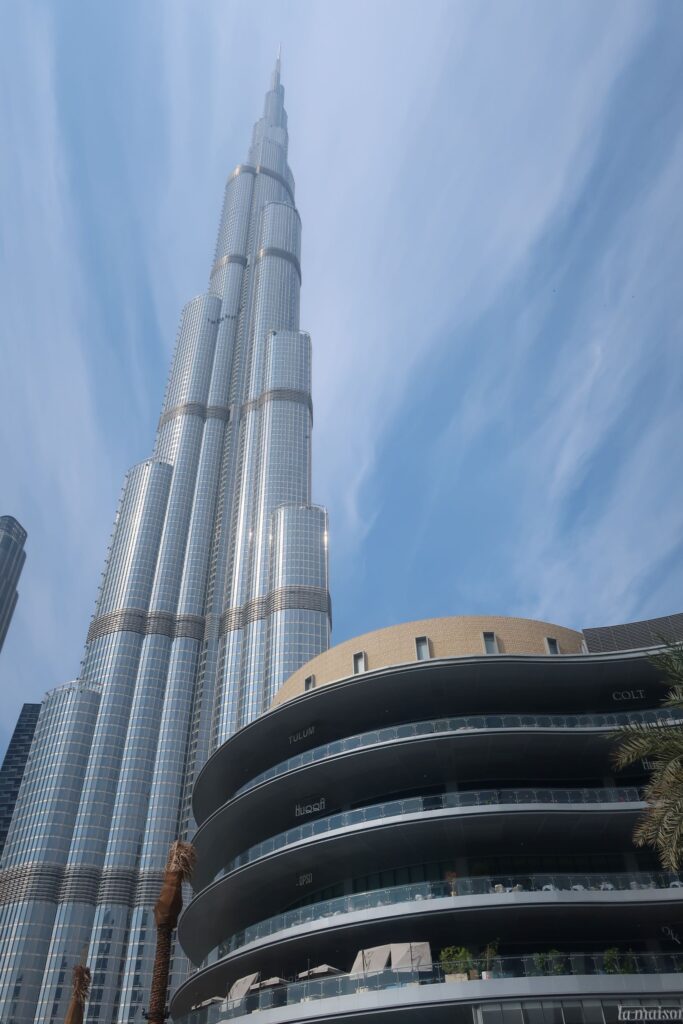 From the top, you get a great view of the city-sized Dubai Mall below.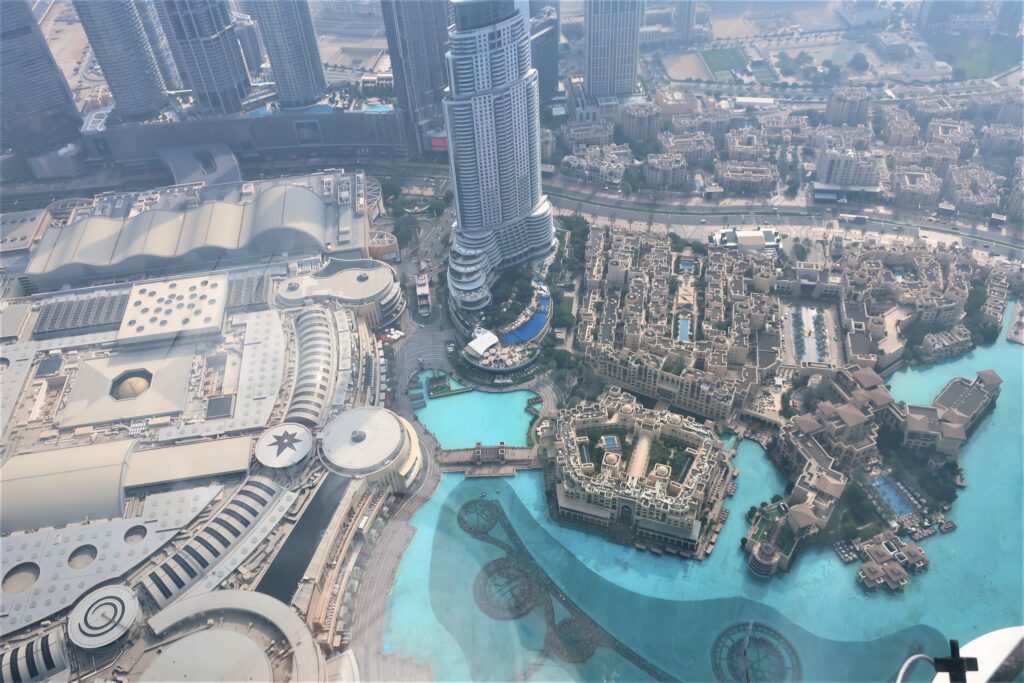 As well as the rest of the Dubai skyline.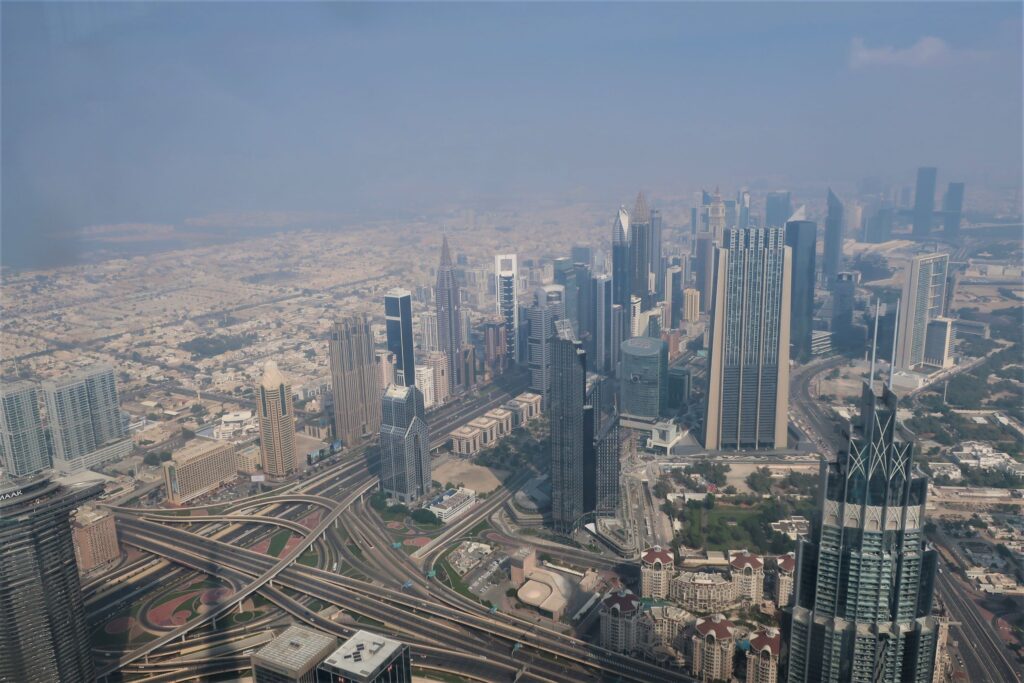 Also in the Dubai Mall is an enormous fish tank, complete with sharks, manta rays, and sawfish.
Another Dubai icon is the Palm Jumeirah, a palm-tree shaped artificial island.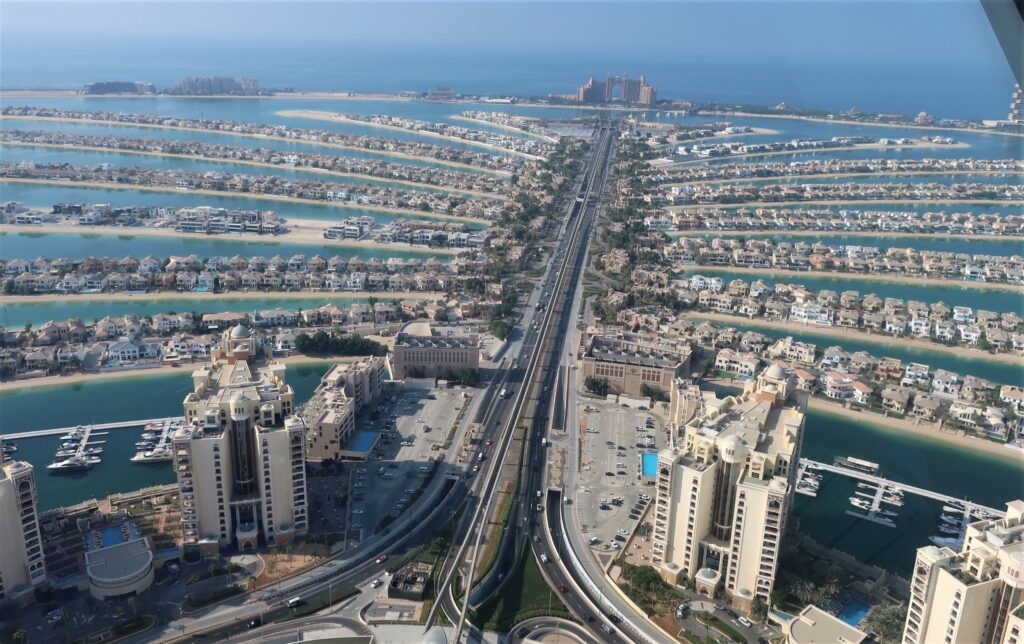 From here you can see another Dubai landmark, the sailboat-inspired Burj Al Arab.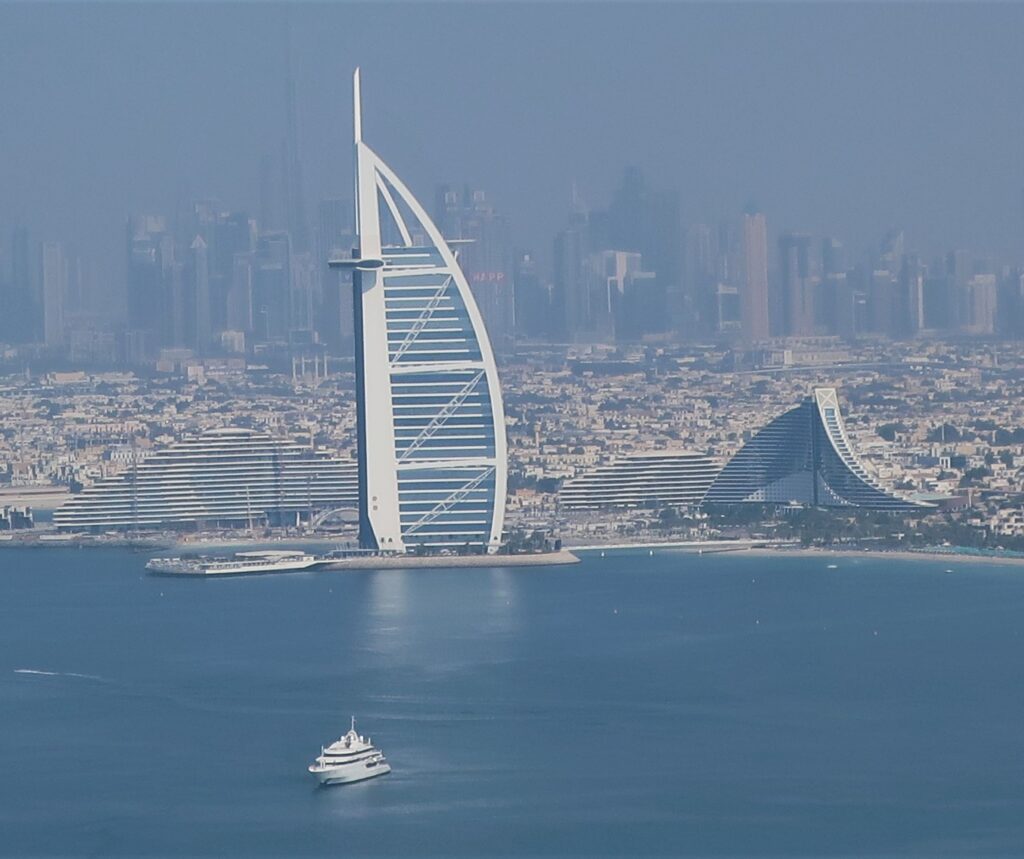 We visit the Gold Suq. Plenty of jewelry on display, but it's more about the weight than the esthetic quality.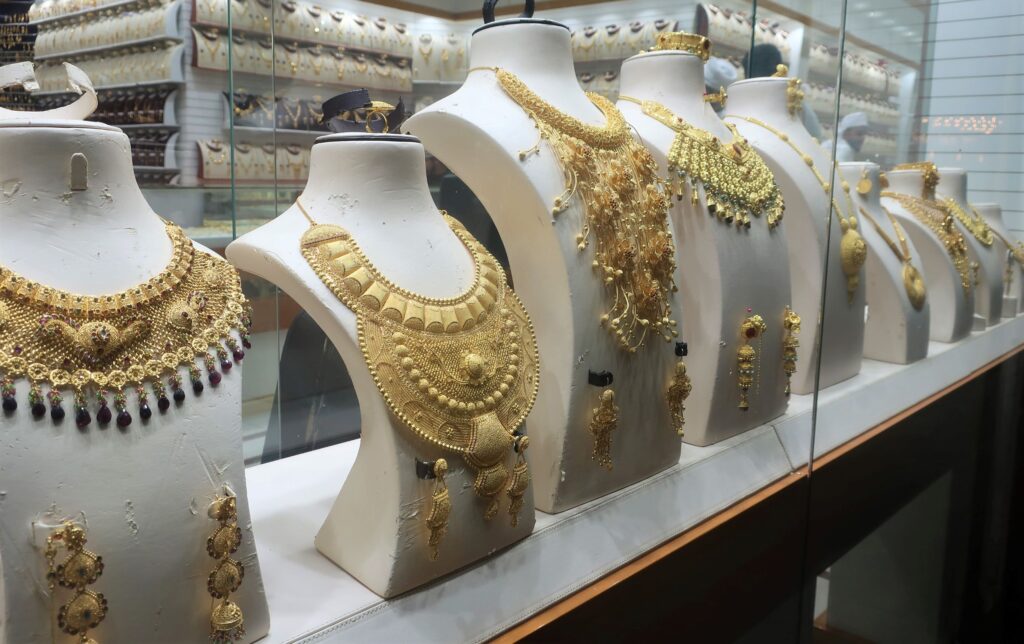 A new attraction in Dubai is the torus-shaped Museum of the Future.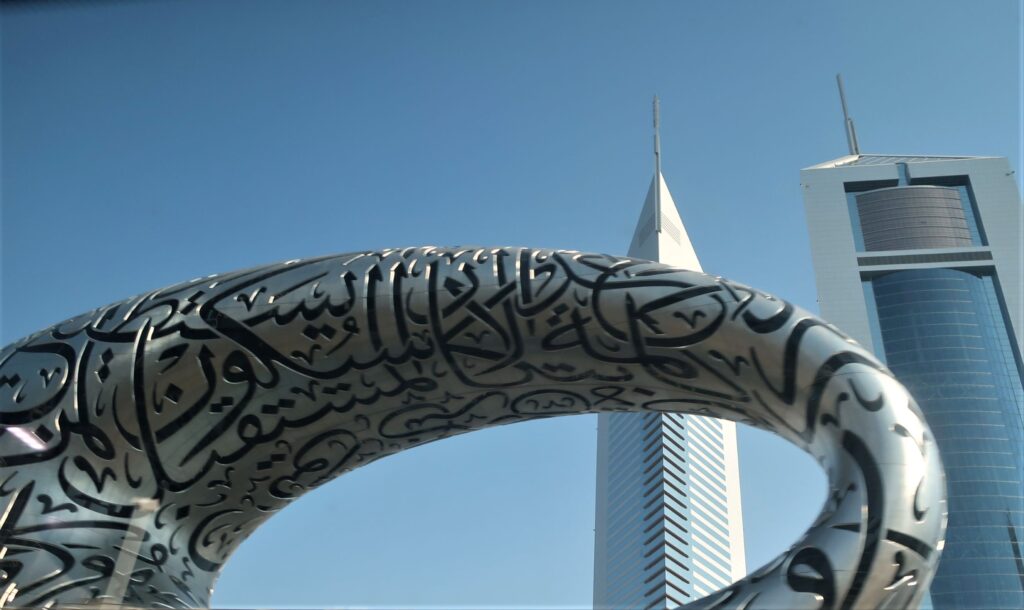 It's covered in Arabic script. (Quotes from the current Sheik that rules Dubai.) To be honest, the architecture is the best thing about it, despite the steep entrance fee..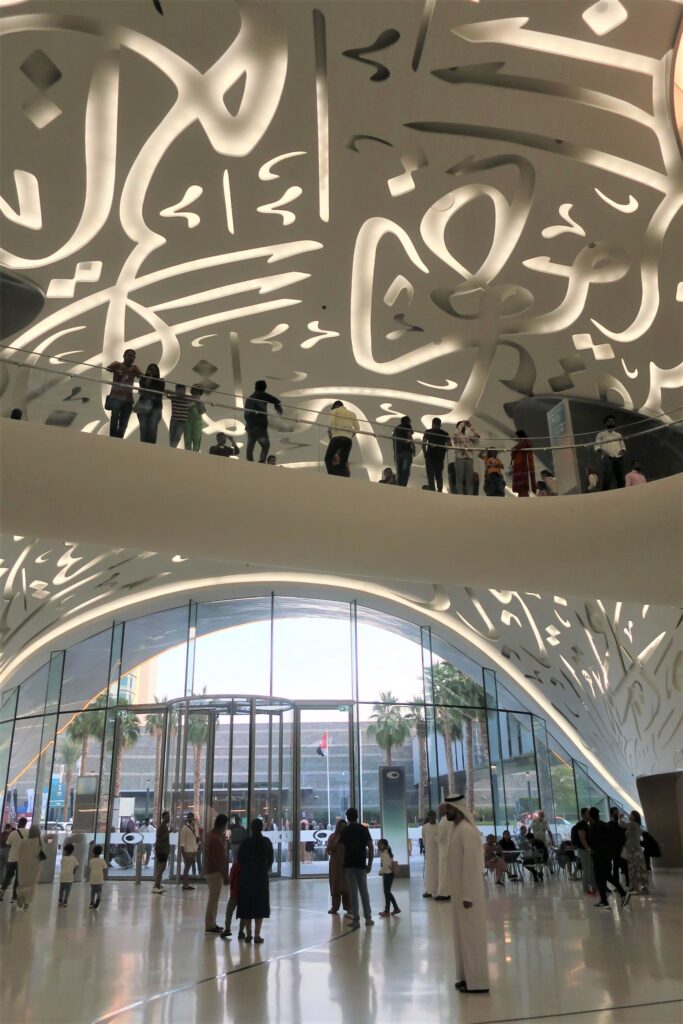 The exhibitions about the future are not very convincing. (Personally, I can't imagine women wearing hijabs a century from now any more than I can imagine women today wanting to wear corsets and bustles.)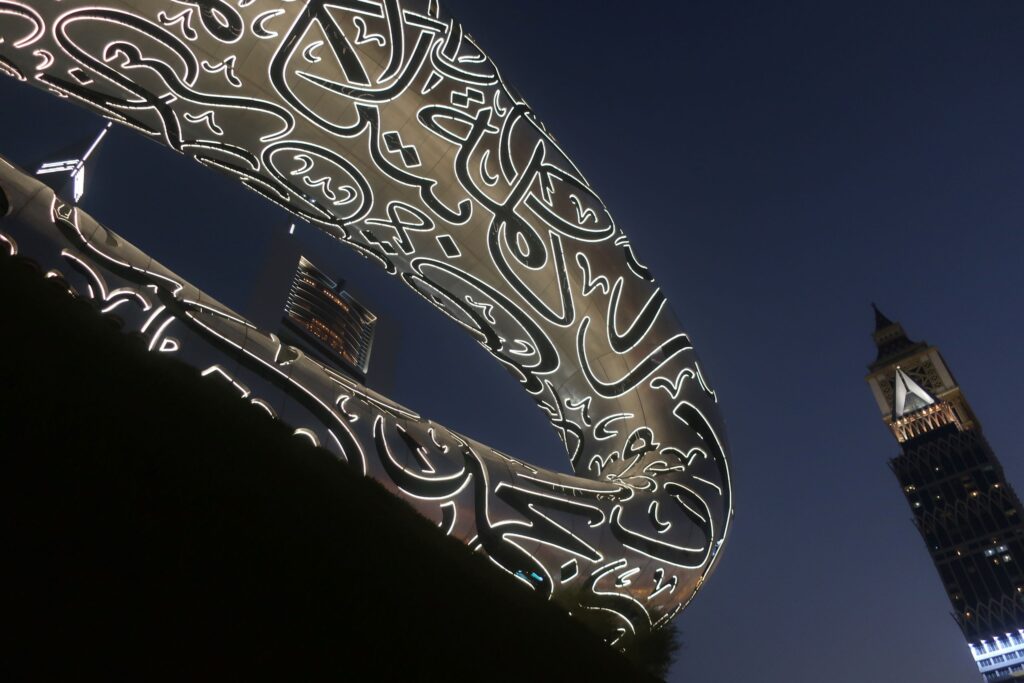 On our last day in the UAE, we go to Sharjah, our third emirate. (There are seven.)
Sharjah is much less glitzy than Abu Dhabi and Dubai. More working-class, you could say. Its harbour is full of fishing boats and small freighters.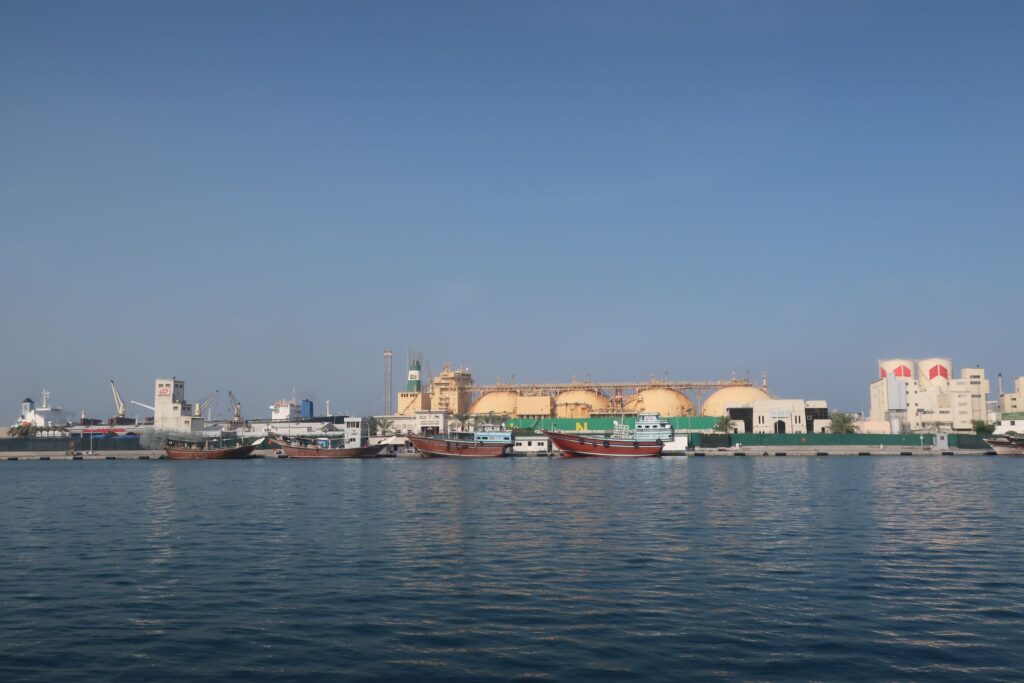 It resembles the midsized cities of Oman. Not much globally-recognized architecture here.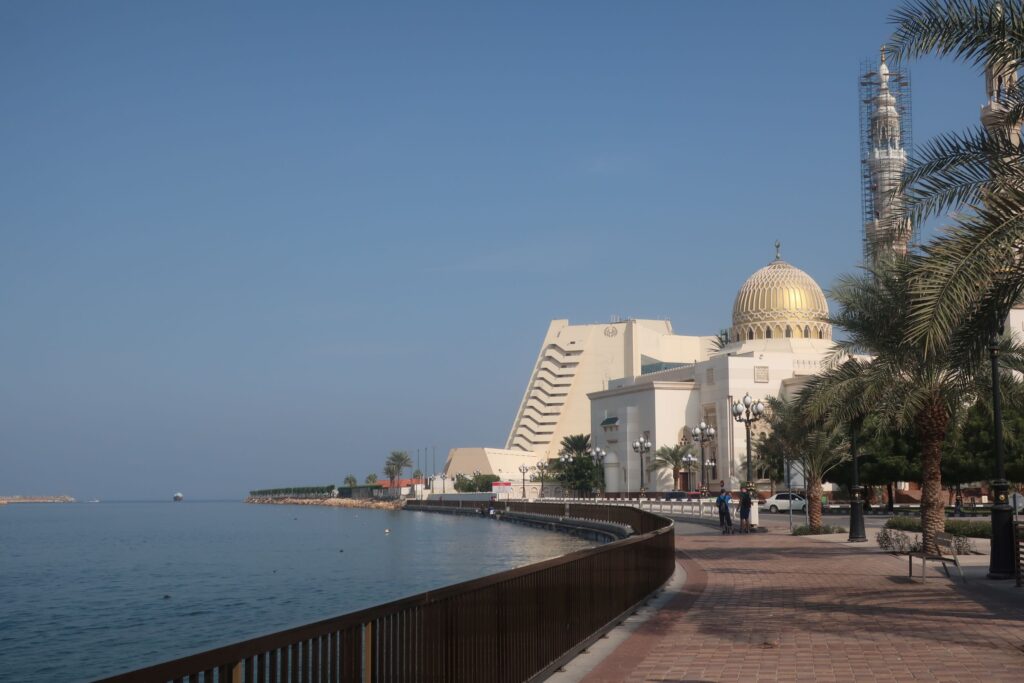 We've come specifically to visit the Museum of Islamic Civilization.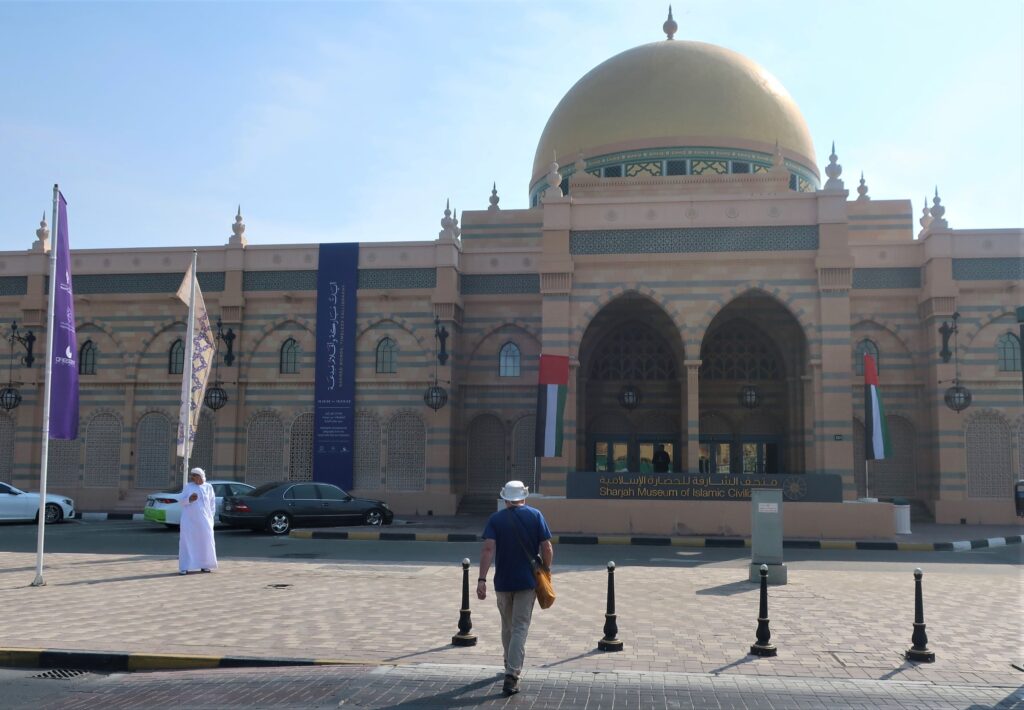 Its numerous artifacts are well-curated. We liked the special exhibition on Arabic calligraphy.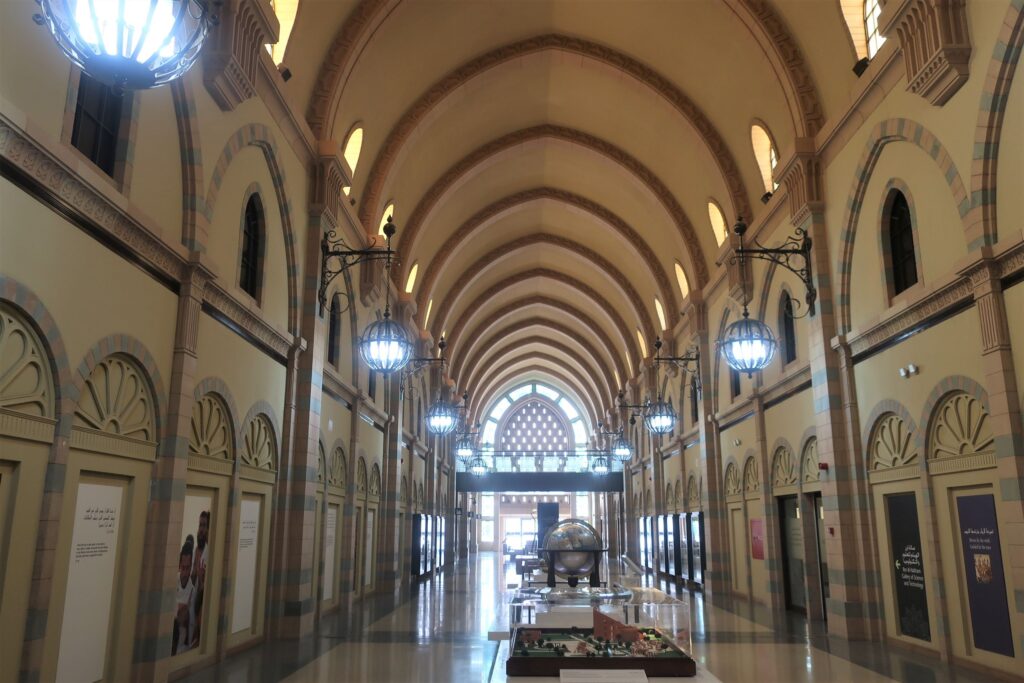 That evening, we board our flight for Alexandria, Egypt.
Sight or Insight of the Day
There is obviously a lot of money sloshing around in these Gulf states. It just seems to me that most of it is frittered away in frivolous vanity projects. Nobody here is committing billions of dollars to cure cancer, or end world hunger, or ensure universal childhood education.
I've always thought it a bit strange that during the migration crisis of 2015, the number of refugees taken in around here was, um, zero.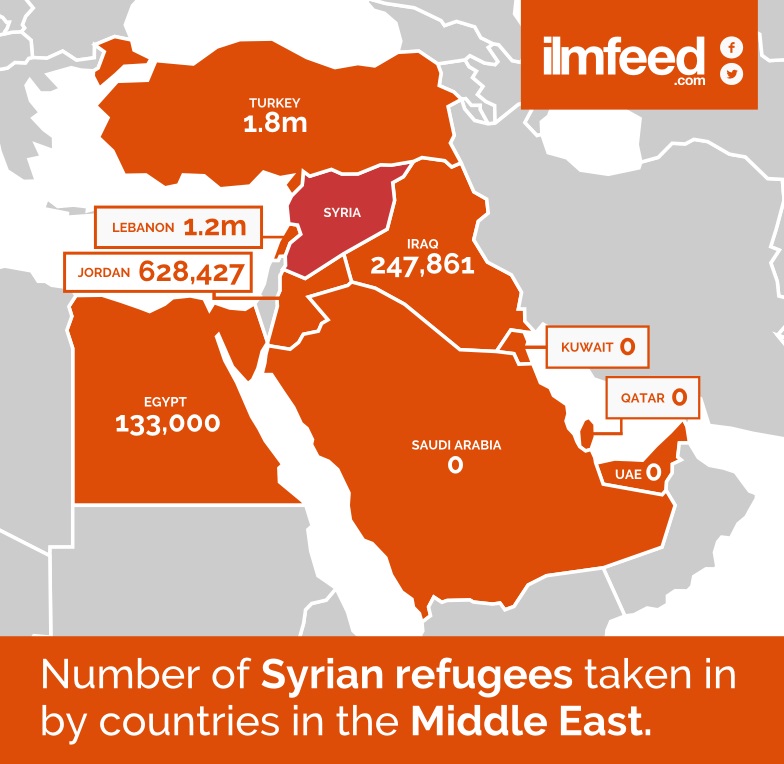 Here are people who share the same language. The same culture. The same religion. Yet notwithstanding a generous amount of financial aid, the number of their Arab brethren they were willing to physically take in was none. Nada. Zilch. Not one.
Considering that all of these countries depend on foreign workers – in the UAE, over 80% of residents are non-Emiratis, mostly South Asians – you'd think they would have been glad to import a few million immediately-assimilable souls.