Something unprecedented for us: we go on a package tour. Having decided that getting from site to site would be more hassle than it's worth, we sign up for a nine-day Egyptian tour that begins in Cairo. It's much more fun than we would have imagined.
(In case you're wondering, the title of this entry paraphrases the title of a schlocky movie I saw as a kid.)
Luck has a lot to do with it. Our group is made up of interesting and diverse people, most with a good sense of humour.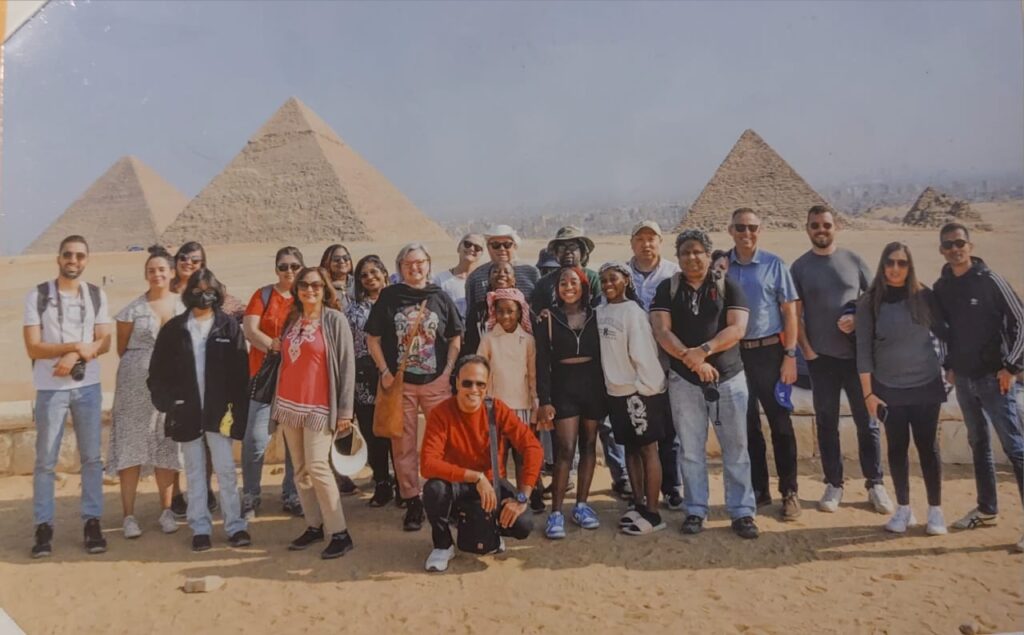 Let's see, we have Annie from Australia, Manav and Upma from the US, Angel and Triscia from South Africa, Graham and John from Canada, Elvira and Denise from the Netherlands, the Sungai family from Zimbabwe, Kamal and Dreety from Mauritius, and many more.
First stop are the pyramids. Even after a lifetime of seeing these in films and photos, to see them in real life is overwhelming.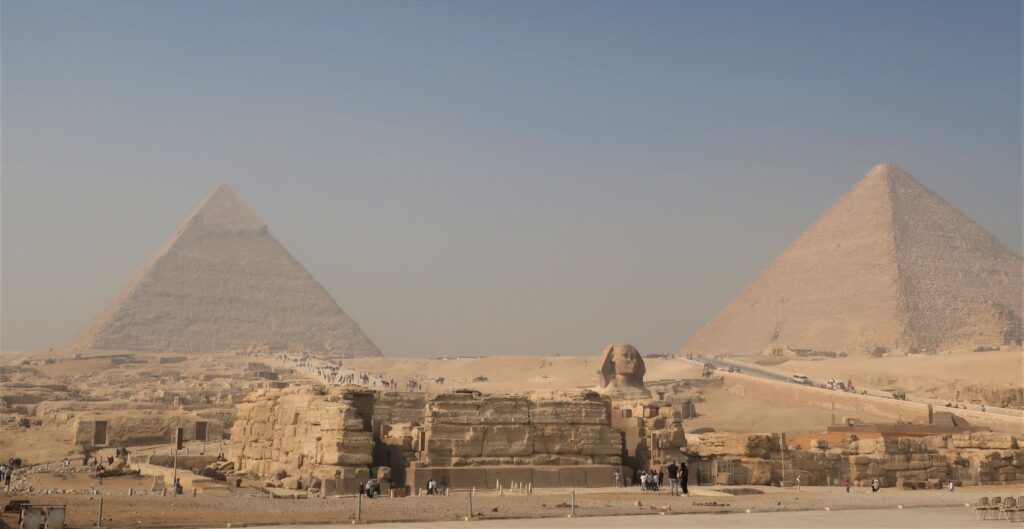 It's kind of hard to give an idea how enormous they are. As we discover, for the ancient Egyptians, bigger is always better. But even with these mountains of house-sized stone blocks to protect them, grave robbers managed to plunder the mummies out of them.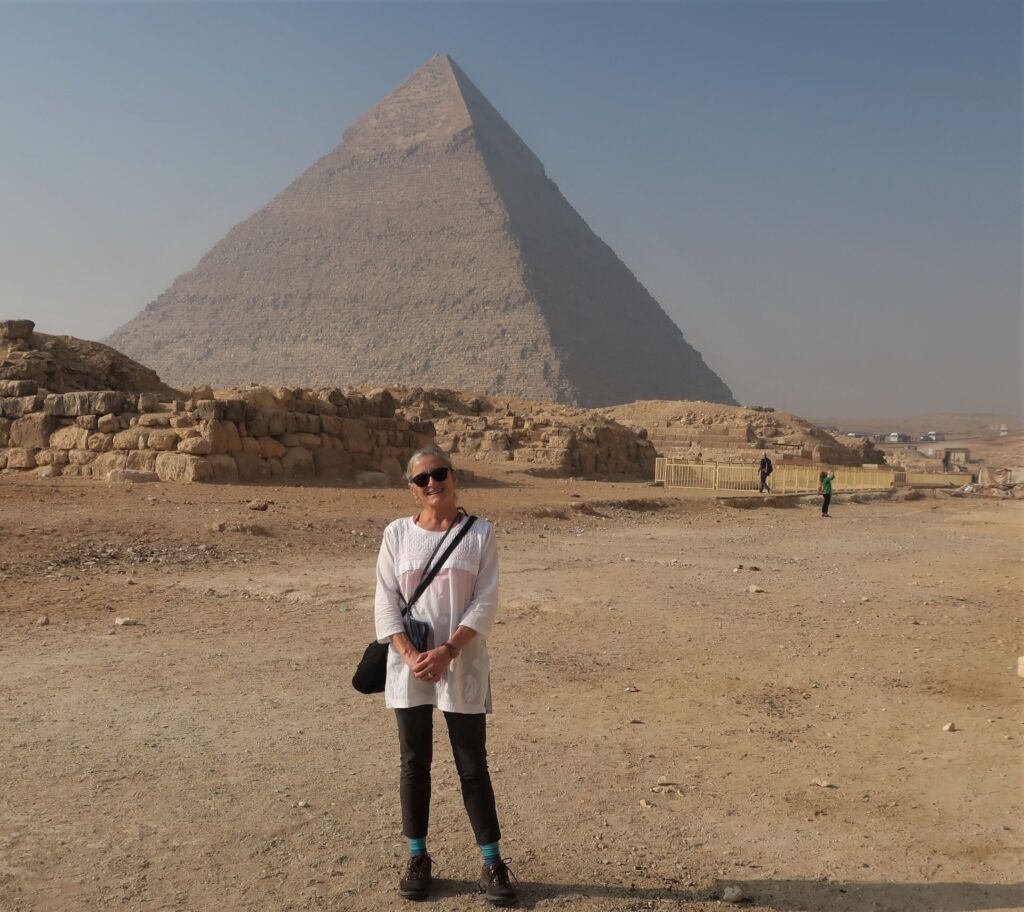 "What are the hopes of man? Old Egypt's King
Cheops erected the first pyramid
And largest, thinking it was just the thing
To keep his memory whole, and mummy hid;
But somebody or other rummaging,
Burglariously broke his coffin's lid:
Let not a monument give you or me hopes,
Since not a pinch of dust remains of Cheops." – Lord Byron, from Don Juan: Canto 1, stanza 219
They certainly make a great background for photos, though.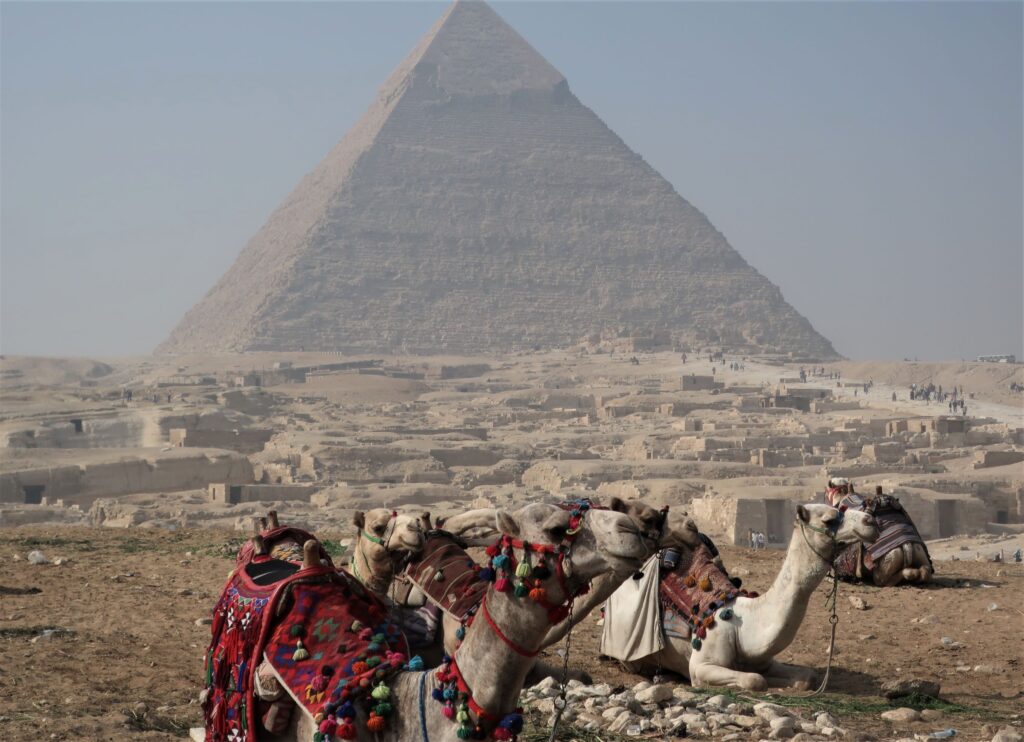 The same day, we visit the step pyramid of Djoser in nearby Saqqara.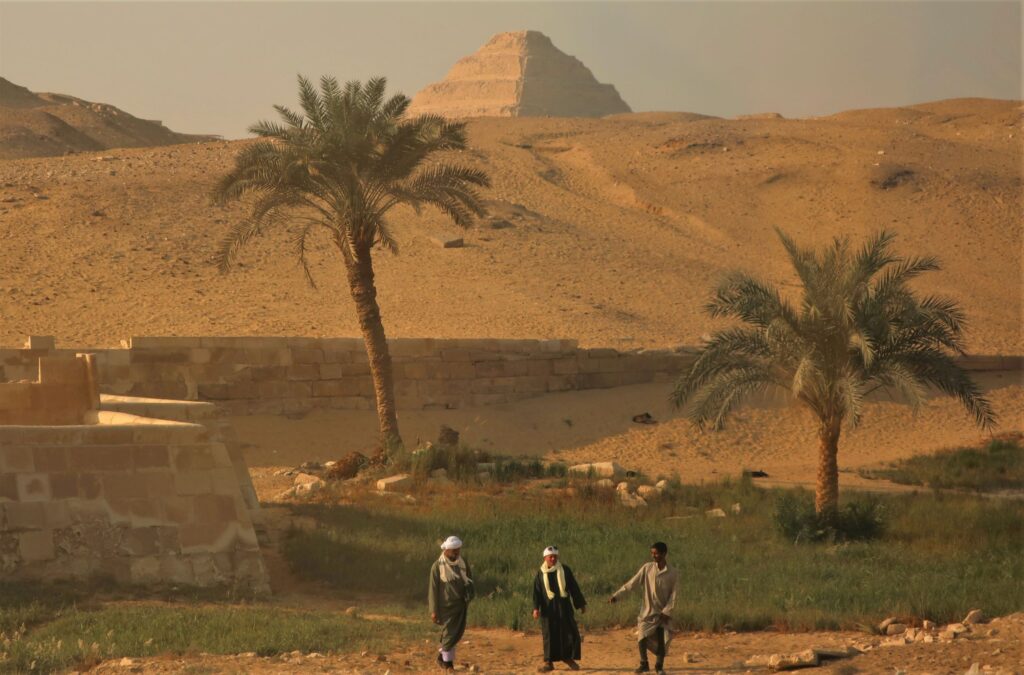 This one pre-dates the Giza pyramids.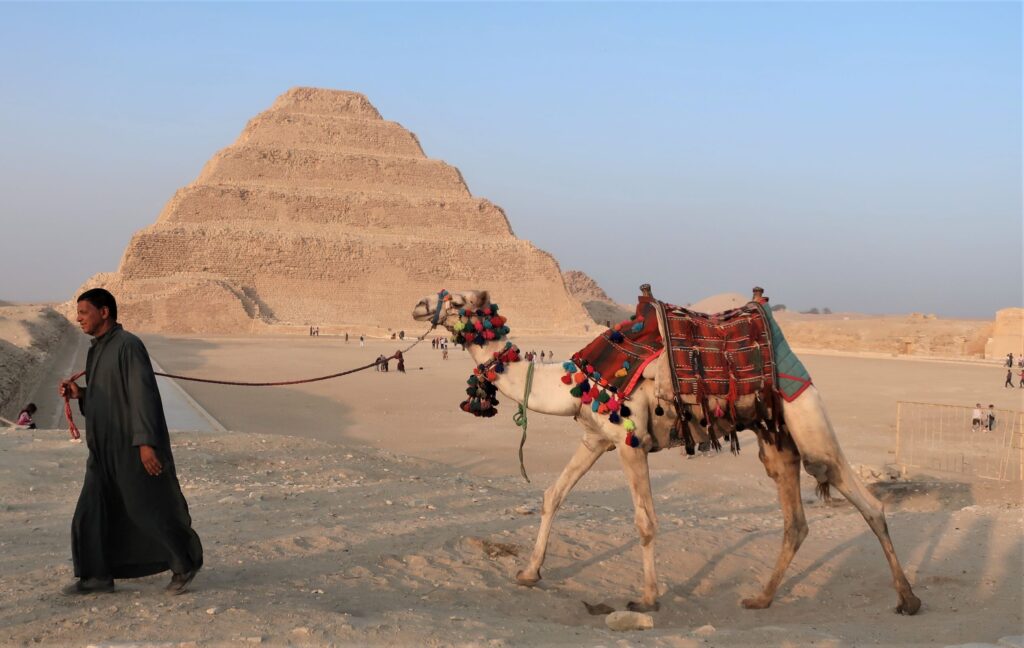 Some other senior civil servants are entombed nearby. Besides the great step pyramid, we explore a couple of these.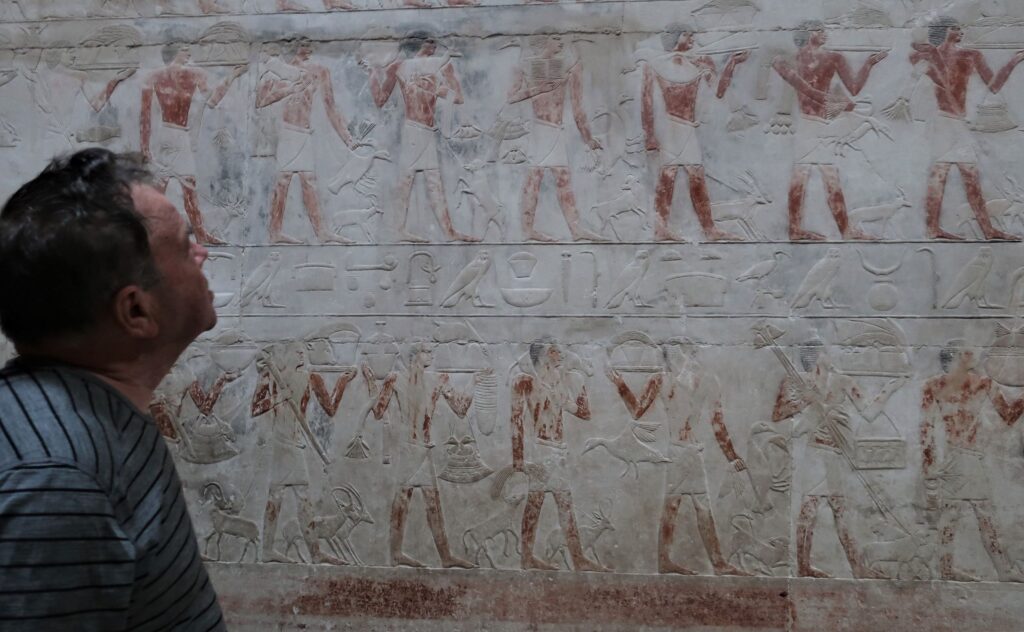 We fly from Cairo to Aswan. The next day, we embark for a short boat ride to the Temple of Philae.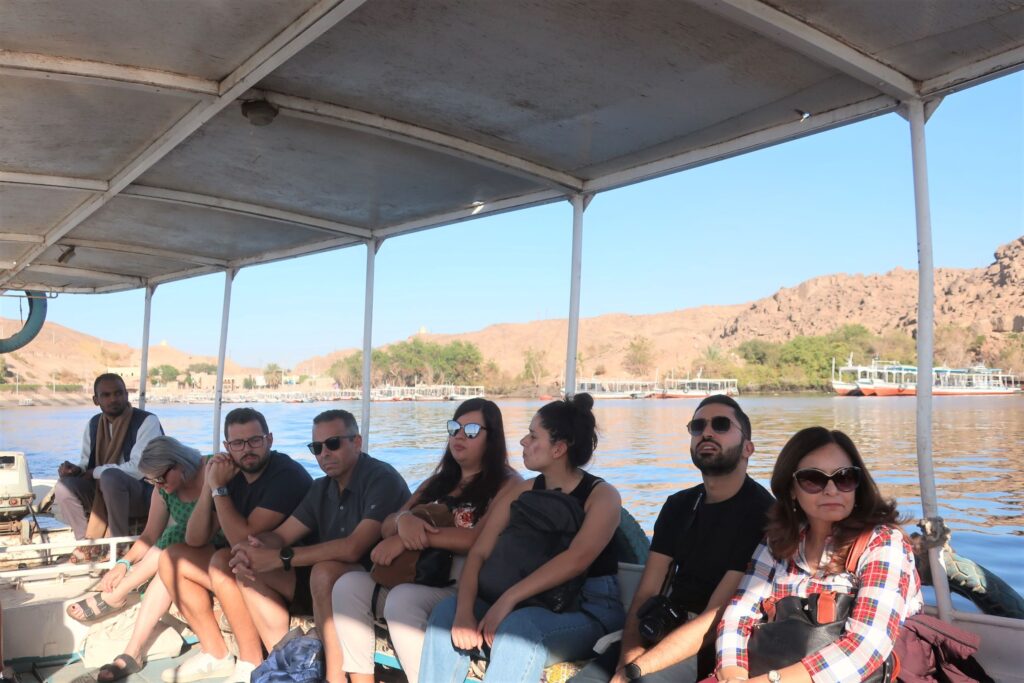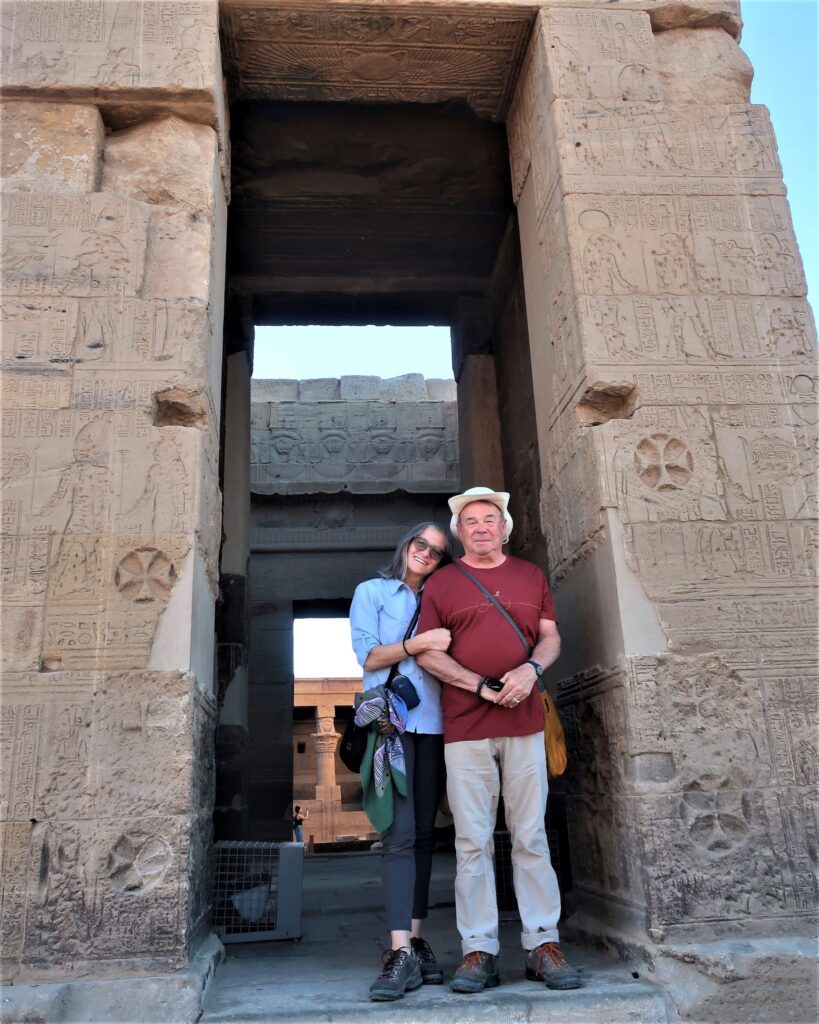 Our guide, Ash, fills us in on the historic details.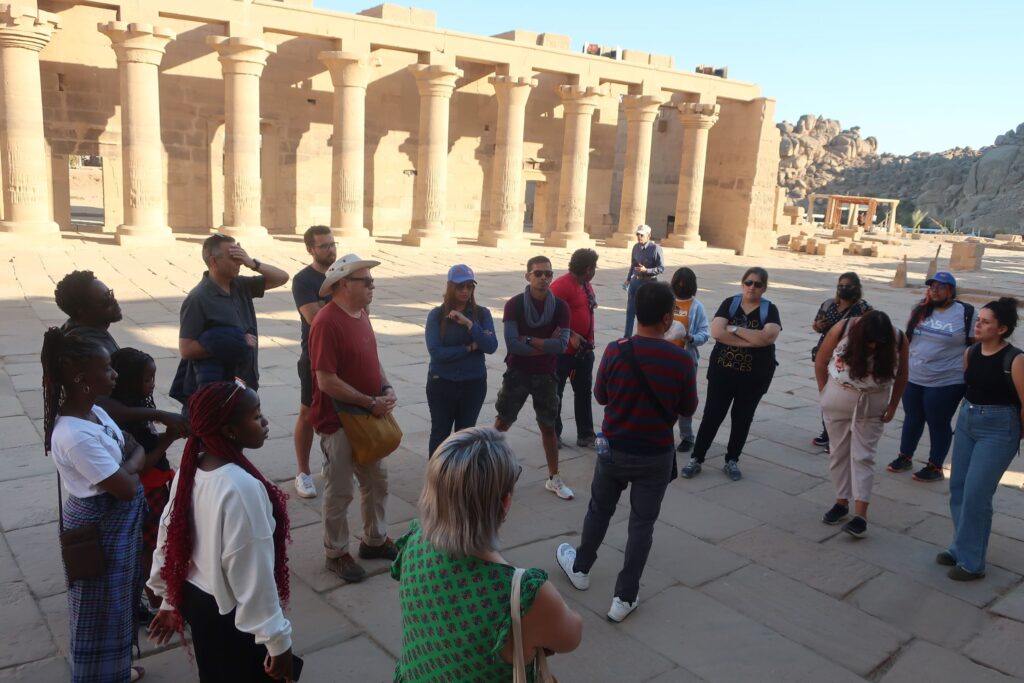 One feature of every country we've been to so so far on this trip: there's always someone around making bread.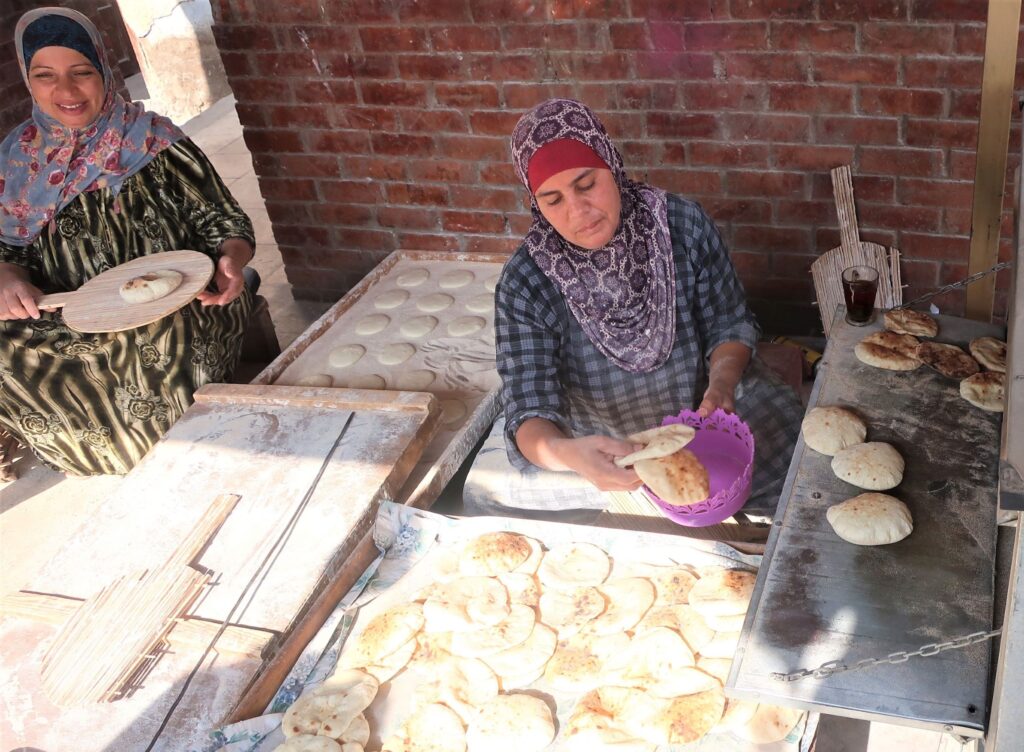 At the Nubian Museum in Aswan, this woman and her family were very insistent that I take a selfie with them.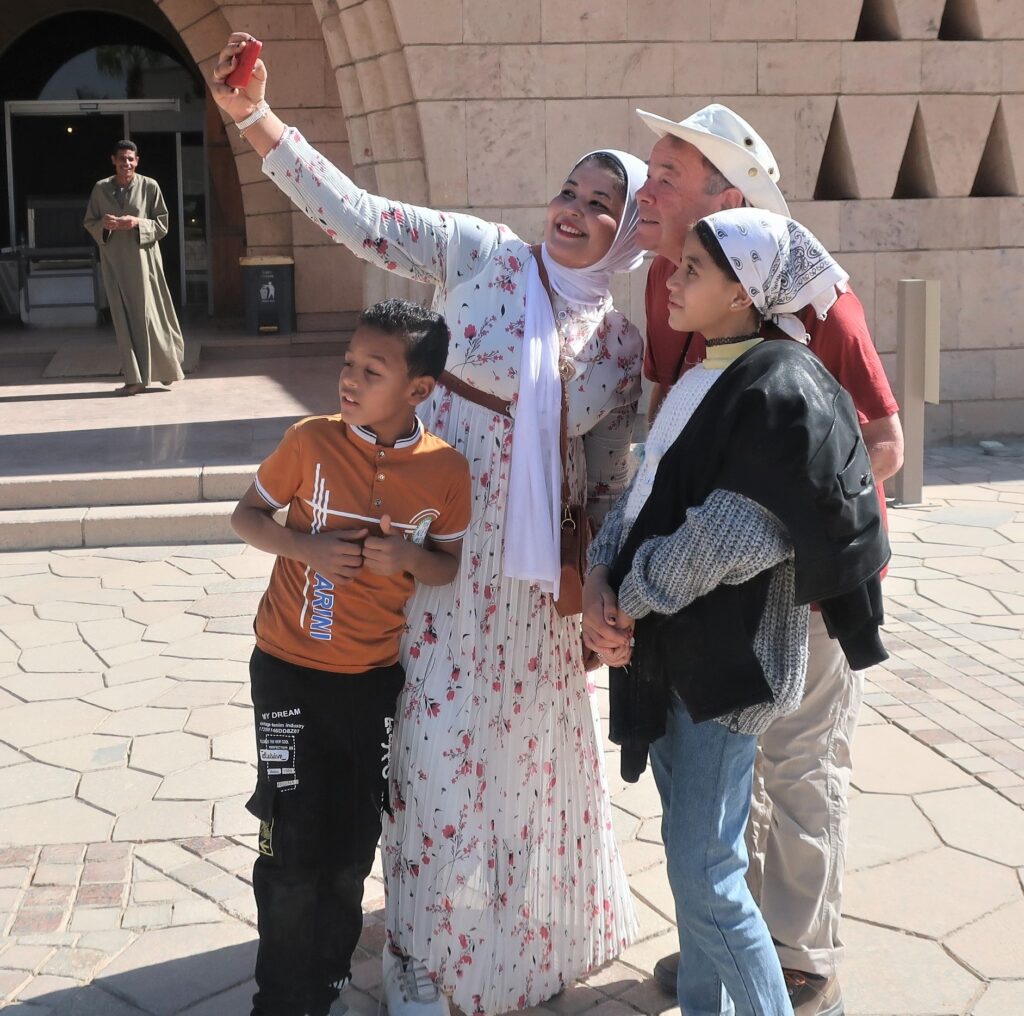 From Aswan, we awake for a long bus journey to Abu Simbel.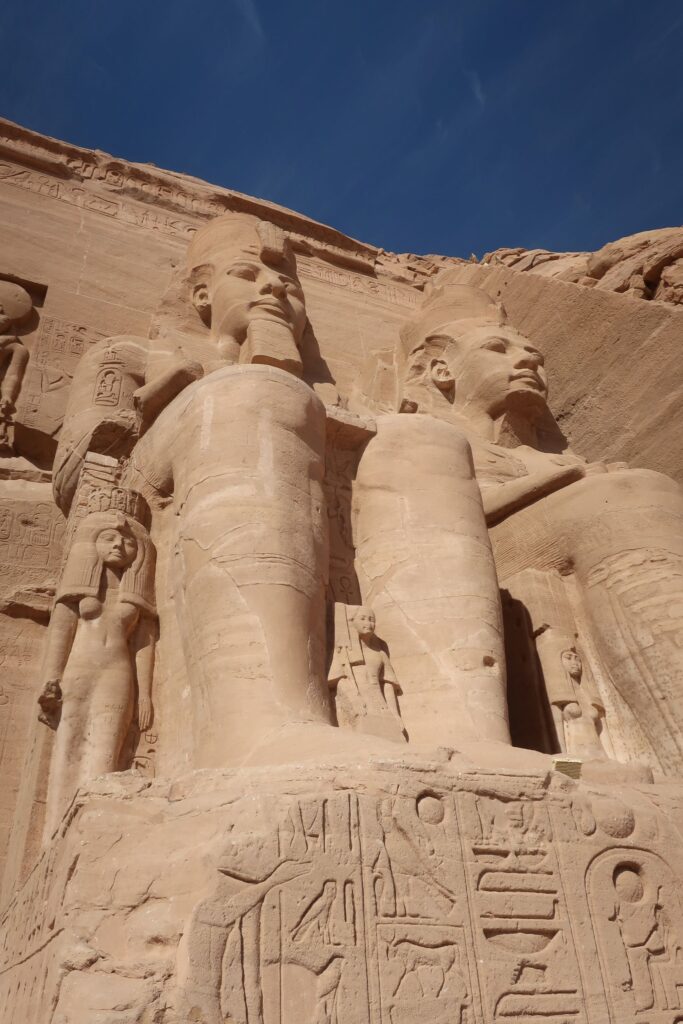 In case you don't know, these were cut out from their original location in the 60s and relocated to avoid being submerged under the rising waters of the Lake Nasser reservoir.
I remember learning about this in elementary school and being fascinated at the time.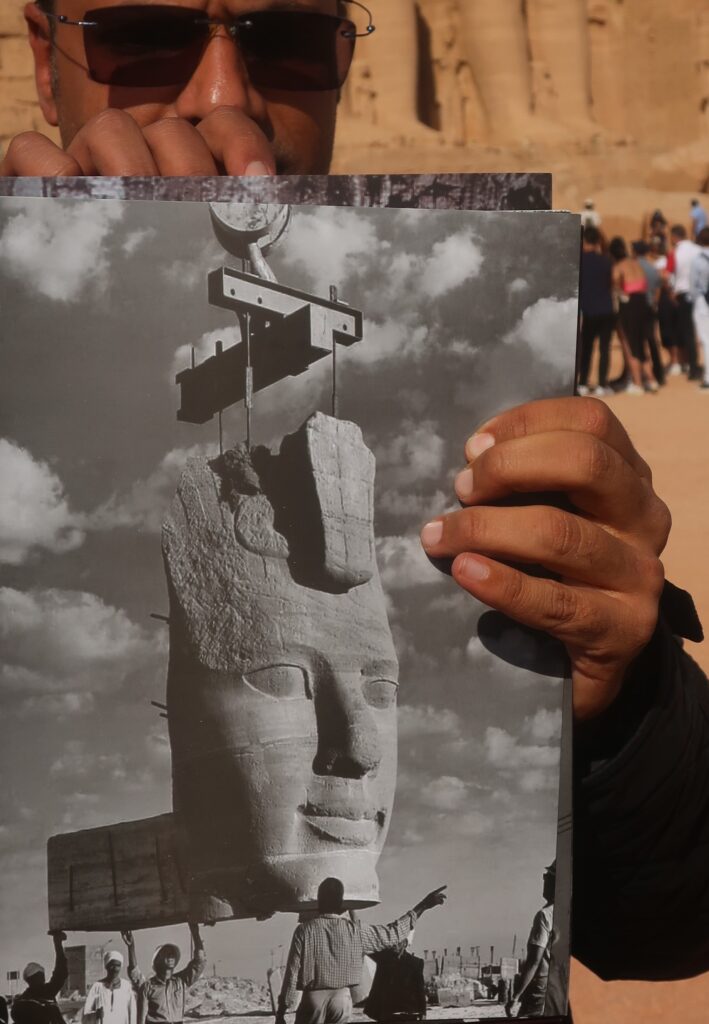 I can scratch one item off my childhood bucket list.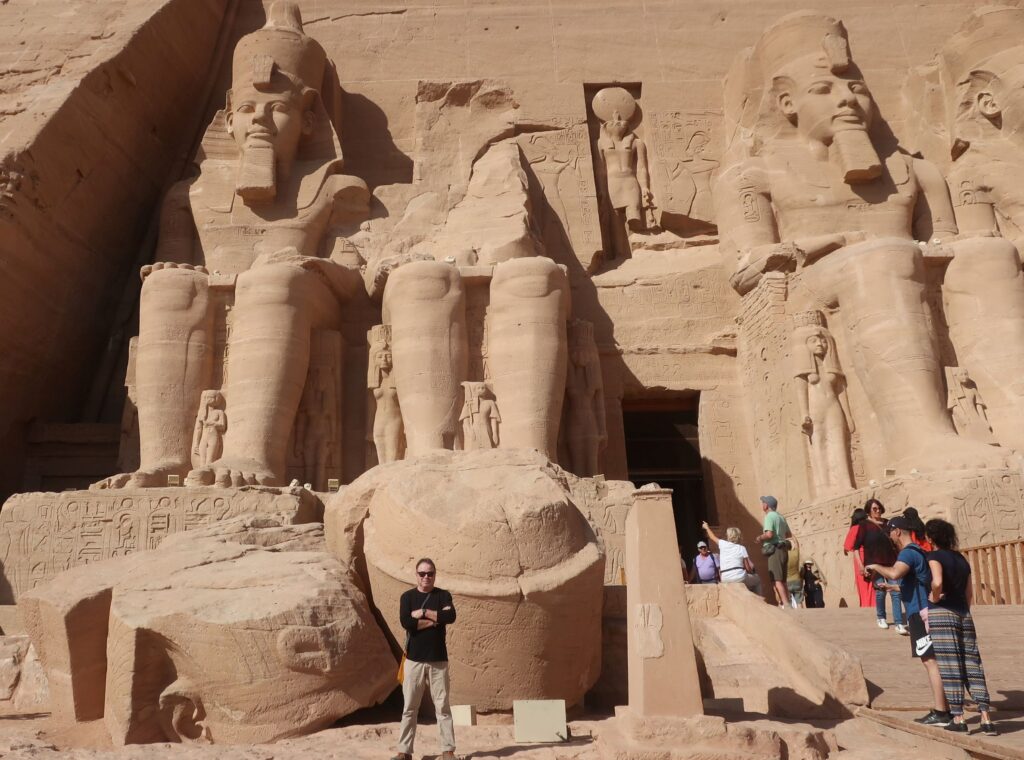 We also visit Kom Ombo temple. Half of this temple was dedicated to the crocodile god Sobek.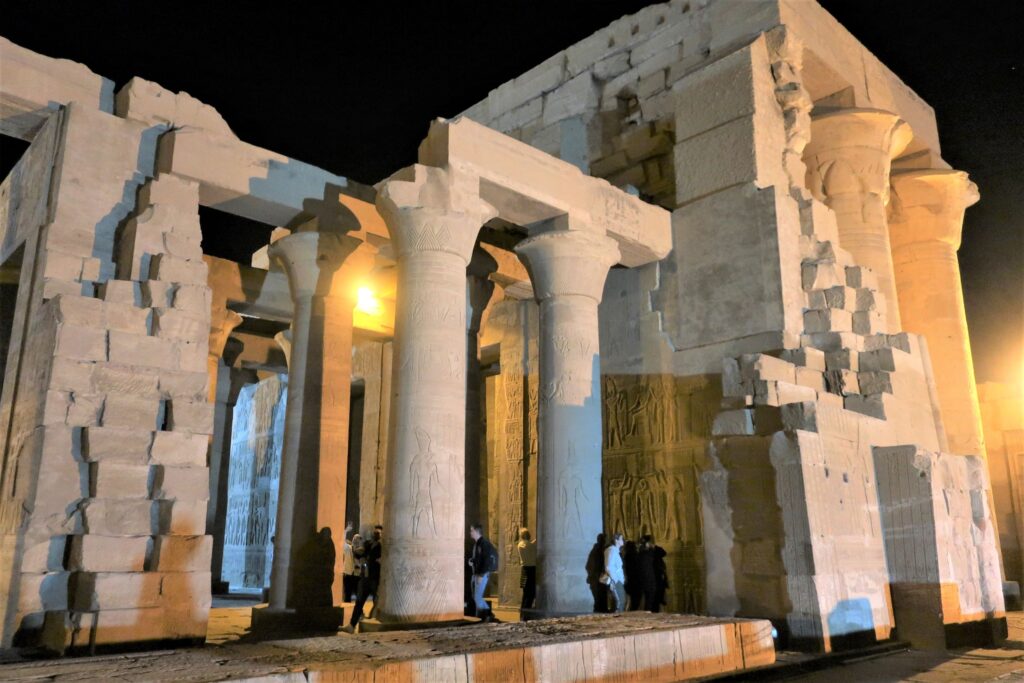 Because of this, an on-site museum features lots of mummified crocs. Some are wrapped like submarine sandwiches.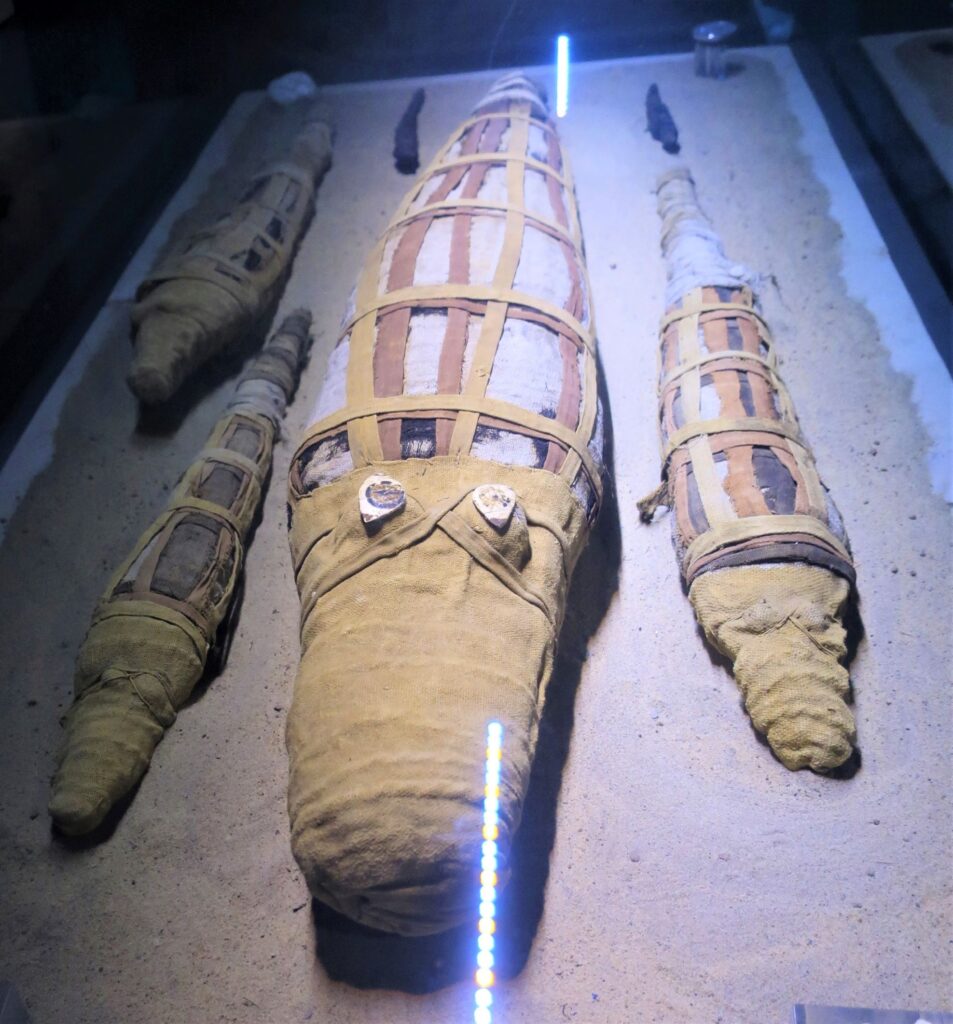 And some are not. They get the same treatment as human mummies, that is, their interior organs are removed and the cavity filled with preservative substances.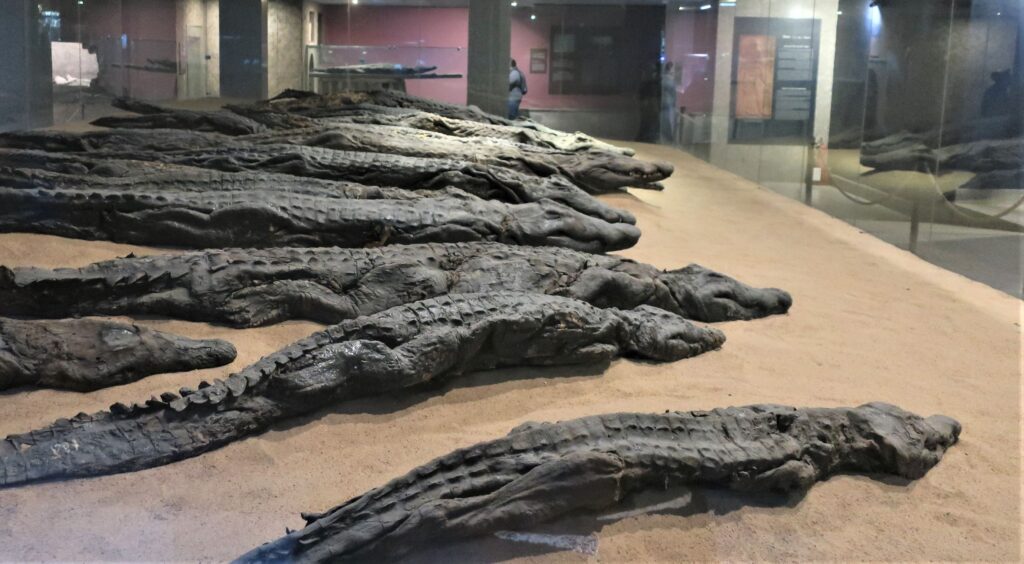 For three nights, we cruise down the Nile on the MS Nile Jewel.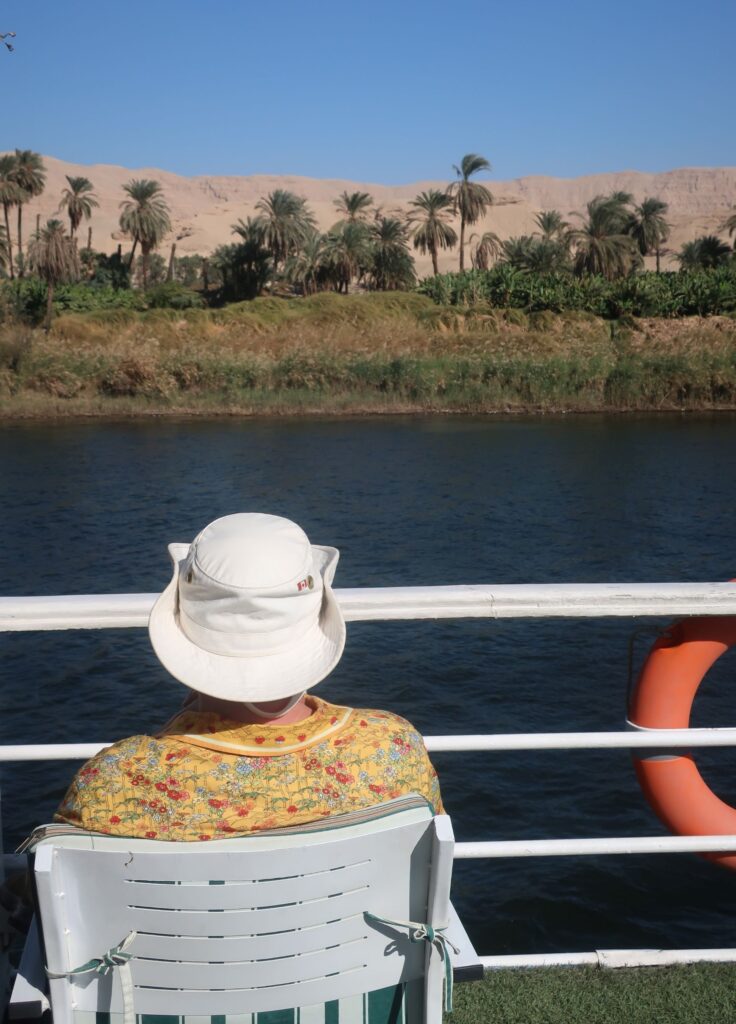 We see a woman on a deck chair is reading Death on the Nile. (As it turns out, we spend Christmas Eve watching the 2022 film version.)
Sight or Insight of the Day
Because of the crappy internet in Egypt, we are a bit behind in these entries. We are, in fact, in the Sinai beach resort of Dahab celebrating the holidays, after spending five days in Cairo.
Merry Christmas, everyone! Looking forward to new adventures in 2023.