After our nine-day group tour, we have five days to spend in Cairo before flying to Dahab in the Sinai Peninsula.
As mentioned, Cairo is a city of ten million closely-packed residents. It's pretty chaotic.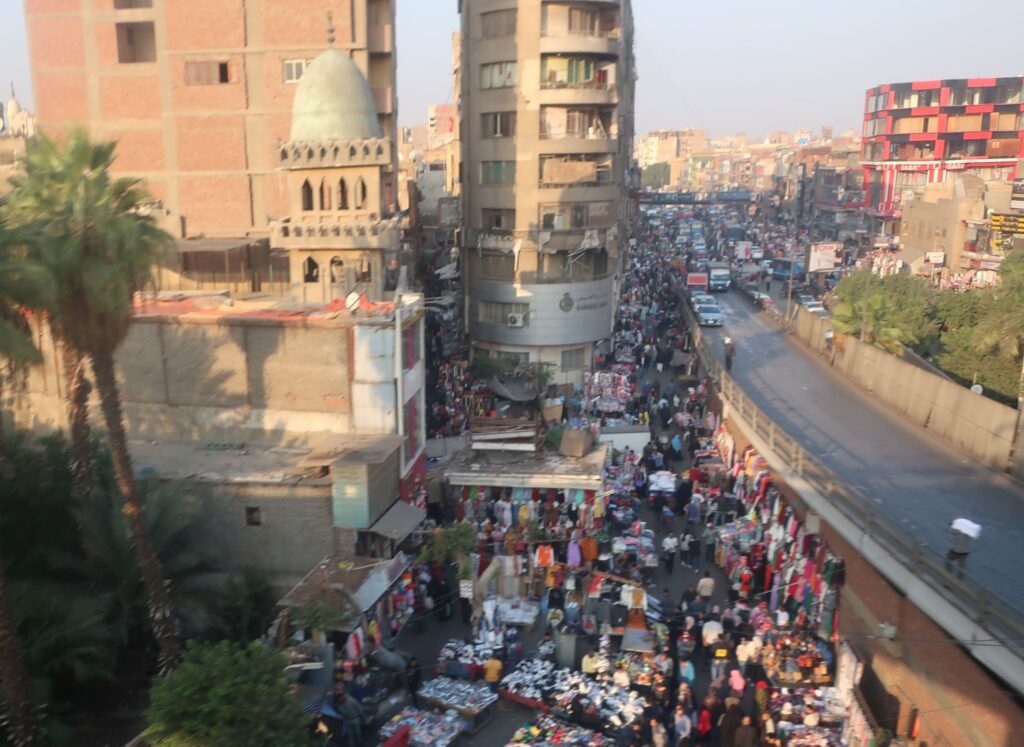 Our hotel is on Talaat Harb street, just a few minutes walk from a Metro station and the Egyptian Museum in Tahrir Square.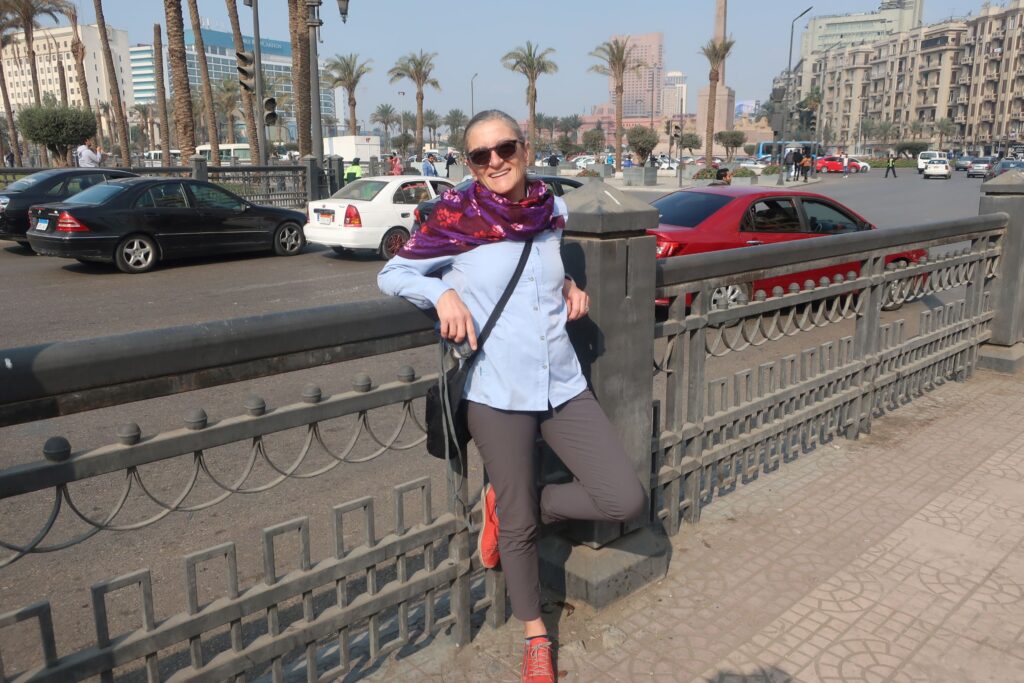 This is the venerable old Egyptian Museum, a Cairo landmark for over a century.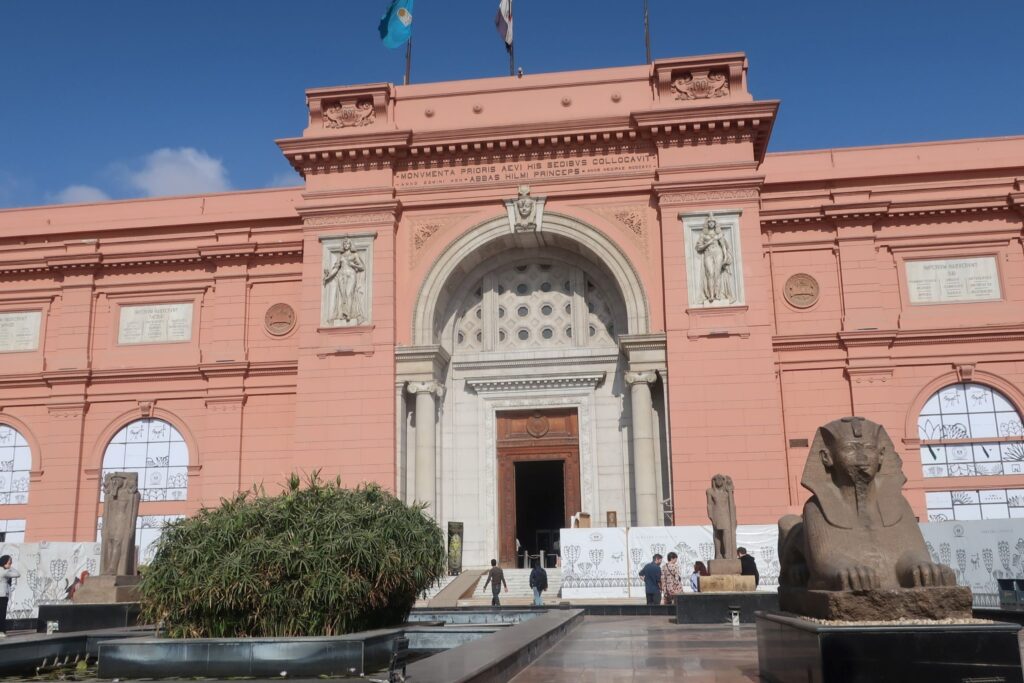 We spend a few hours at the Egyptian Museum with our tour group. Now, we dedicate an entire day exploring it.
Egypt is building another mega-museum, the Grand Egyptian Museum. When it will actually open its doors is anybody's guess.
Finds from the tomb of Tutankhamen are a big draw. There were over 5,000 objects placed there. We'll limit ourselves to a single item.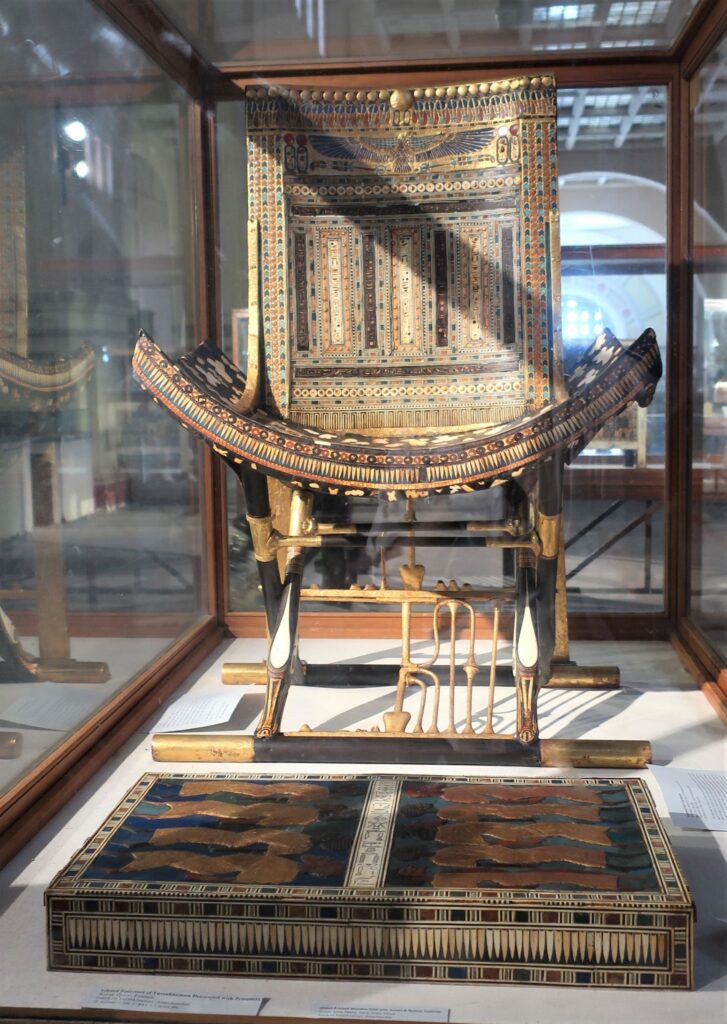 The detail and workmanship is amazing. The footstool is covered with conquered enemies. (Considering he died at the age of 19, I don't think Tutankhamen led any great hosts in pitched battles.)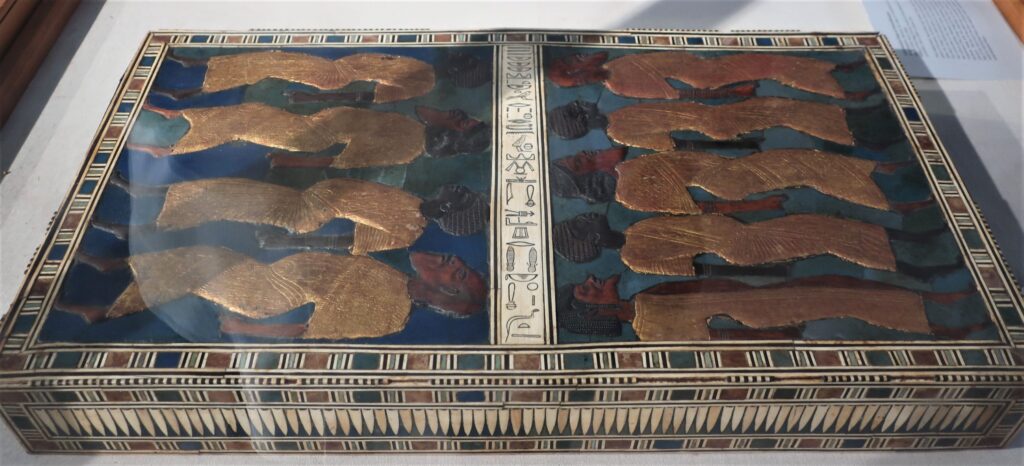 The support struts are ducks (or geese) holding the bottom rollers in their beaks.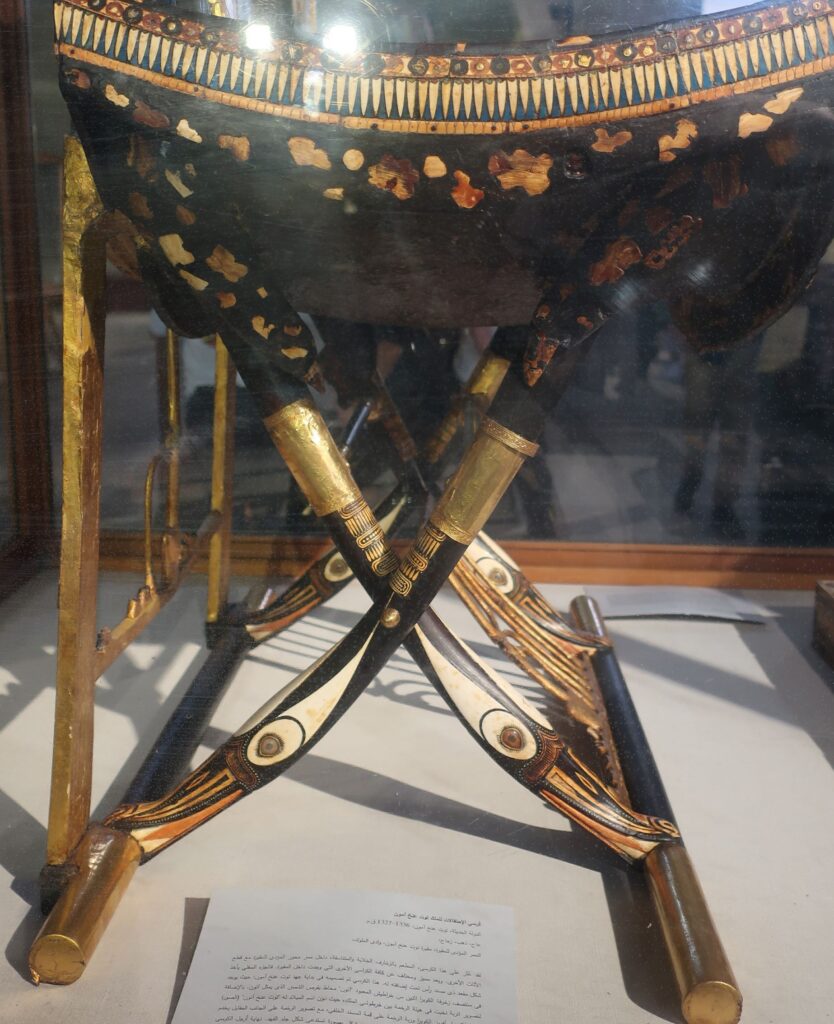 OK, we said we'd limit ourselves to one Tutankhamen item. Just one more – another richly-decorated chair.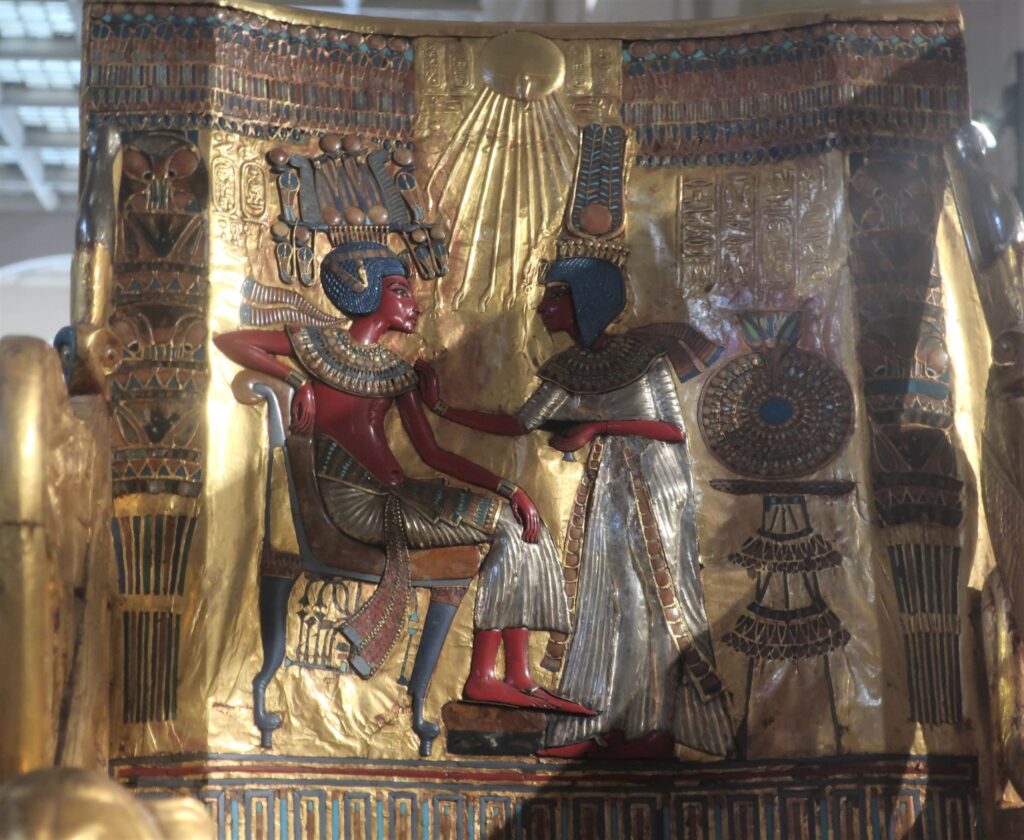 The museum is full of praiseworthy stuff. This is a statue of Djoser, the pharaoh responsible for that step pyramid we visited a few entries ago, in front of some beautiful sea-green tiles from the same pyramid.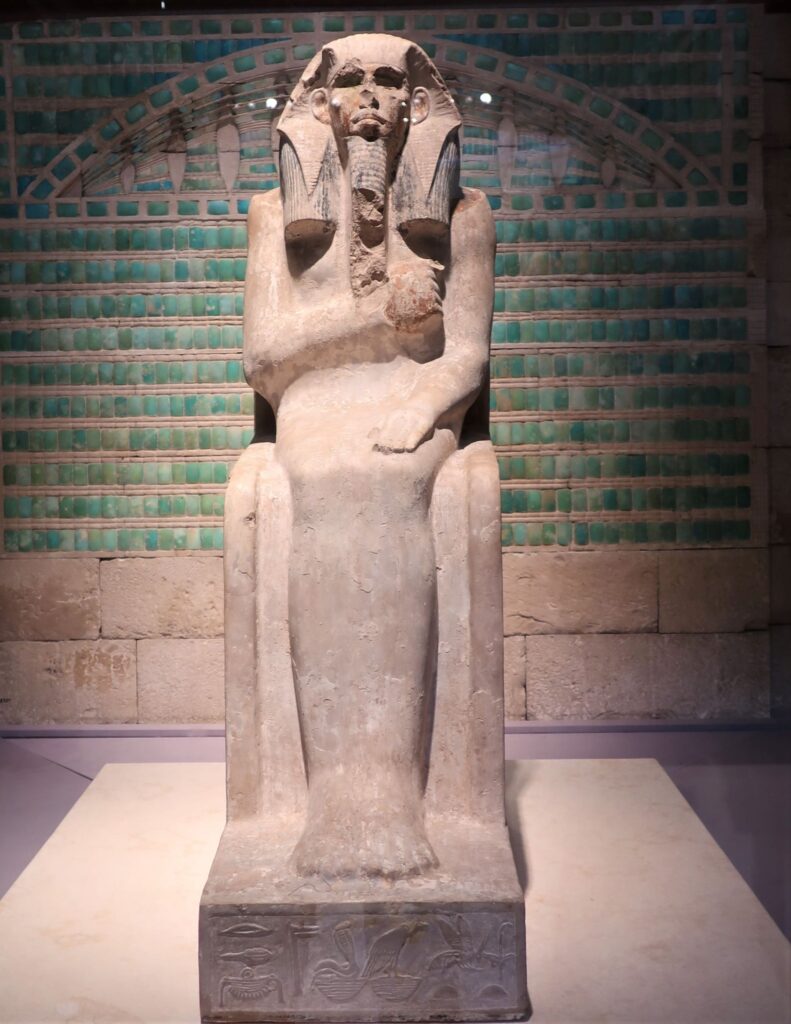 Here's the Palette of Narmer. It's world-famous – at least among history fans.
We see this depicted a lot in Egyptian art – a leader dominating a defeated rival while firmly grasping his man-bun.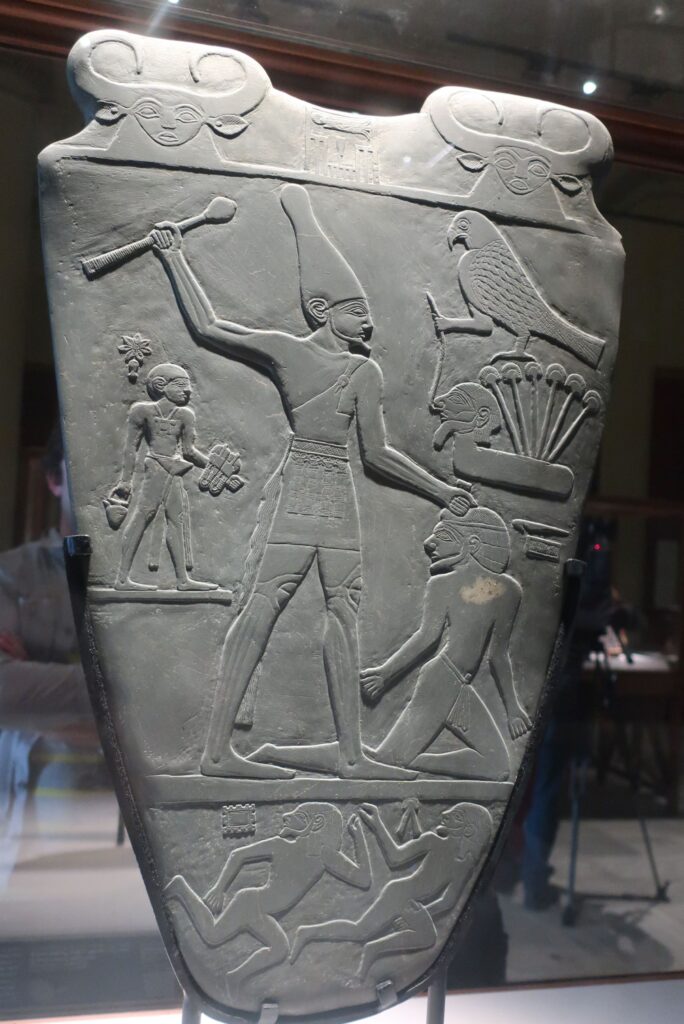 Both of us really liked the possessions from a tomb of the royal couple, Yuya and Thuya. We've never heard of them before. After examining their belongings, it felt like they were old friends.
And just at random, an exquisite mummy mask.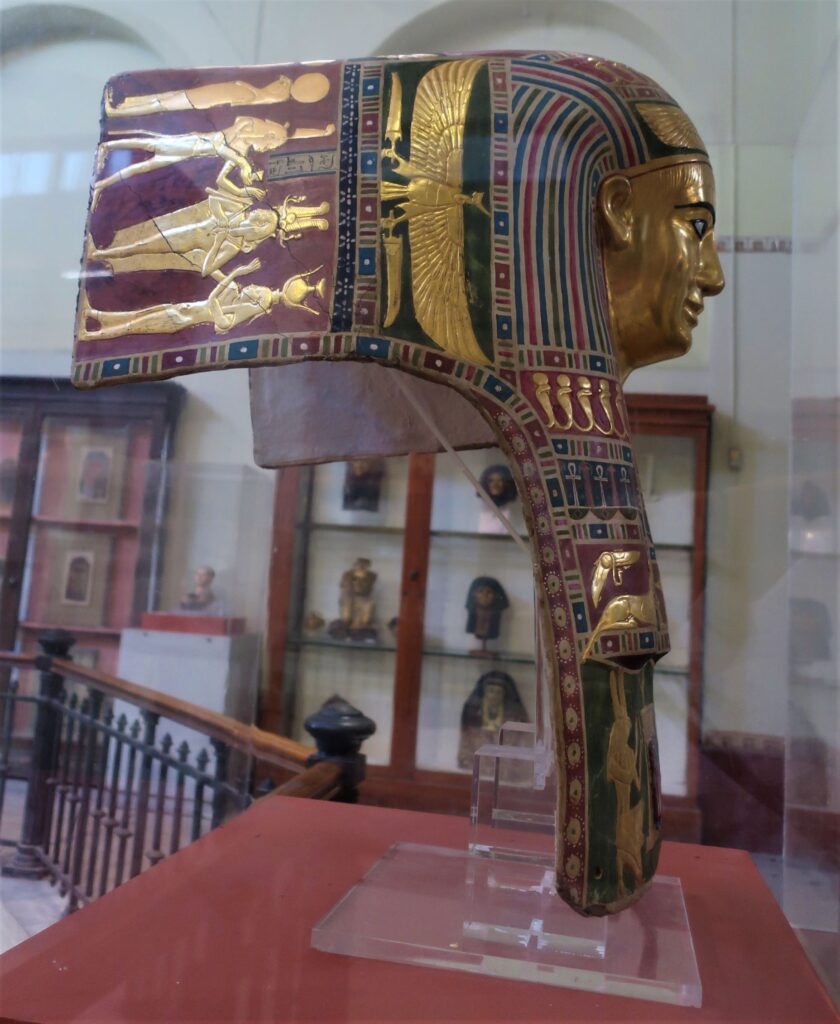 Of course, all of these priceless treasures of world heritage are just a single Islamic revolution away from total destruction. It's a good thing there's still a lot of the original discoveries safe in Western museums.
Another place we revisit is the Khan el-Khalili bazaar in the historic centre of Cairo.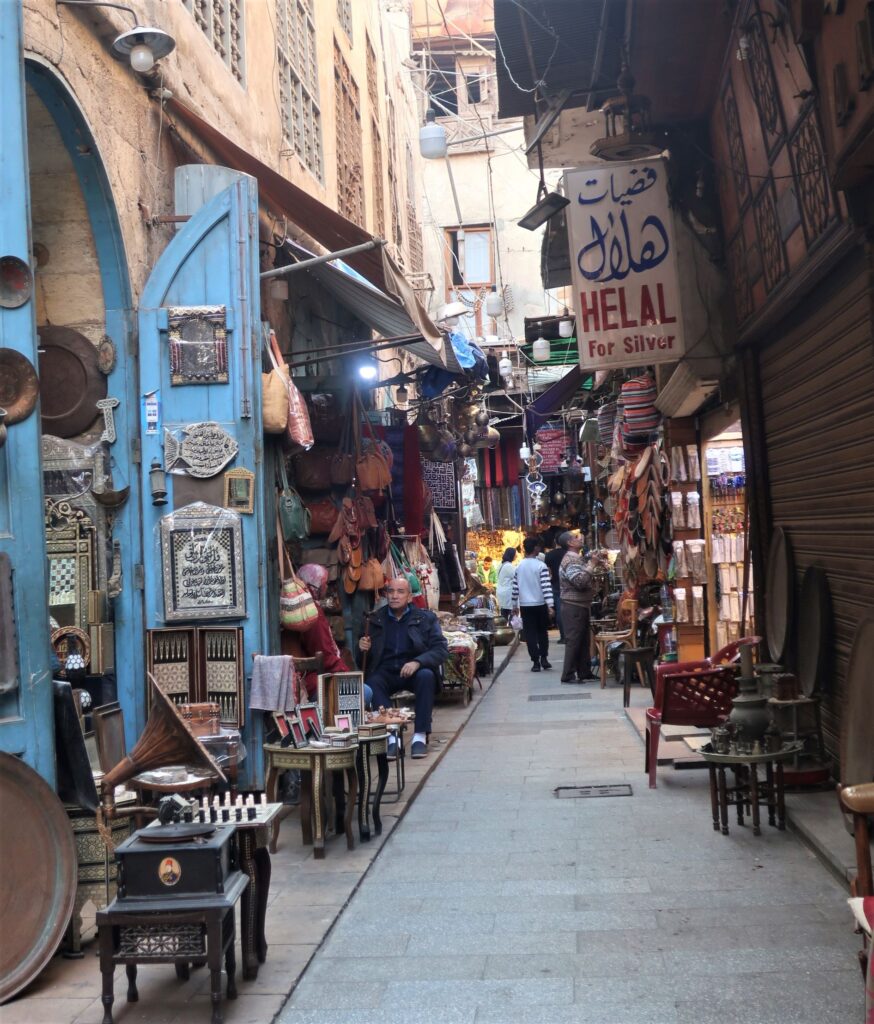 Maria and I succumb to the lure of all this unbridled capitalism: she buys a pair of scarlet camel-hide slippers and I purchase a lapis-lazuli ring.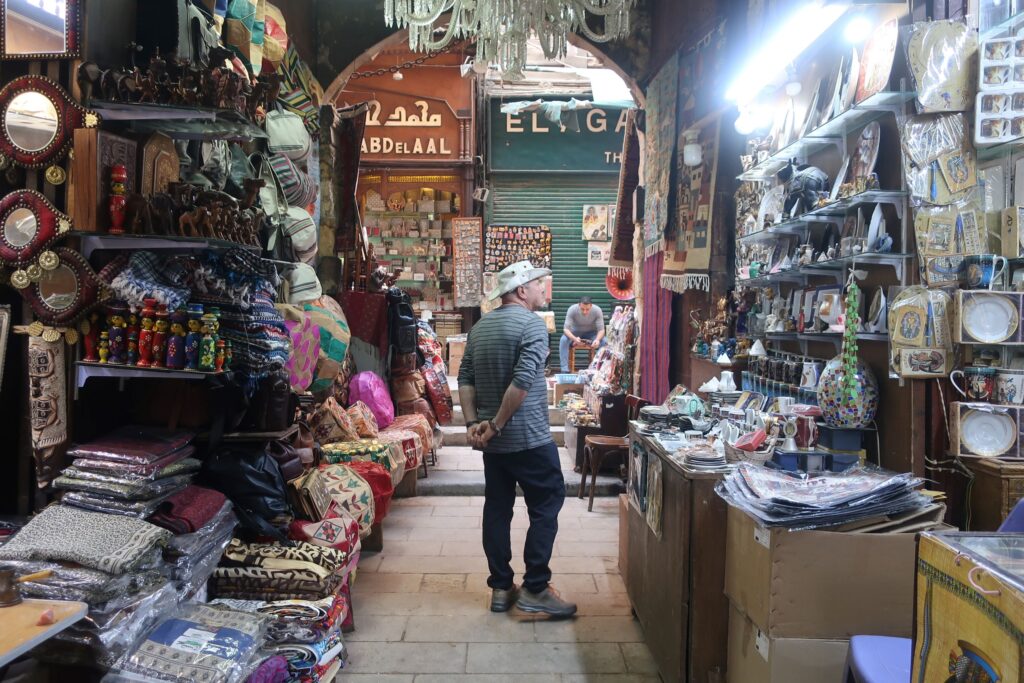 Some of the architecture dates back centuries.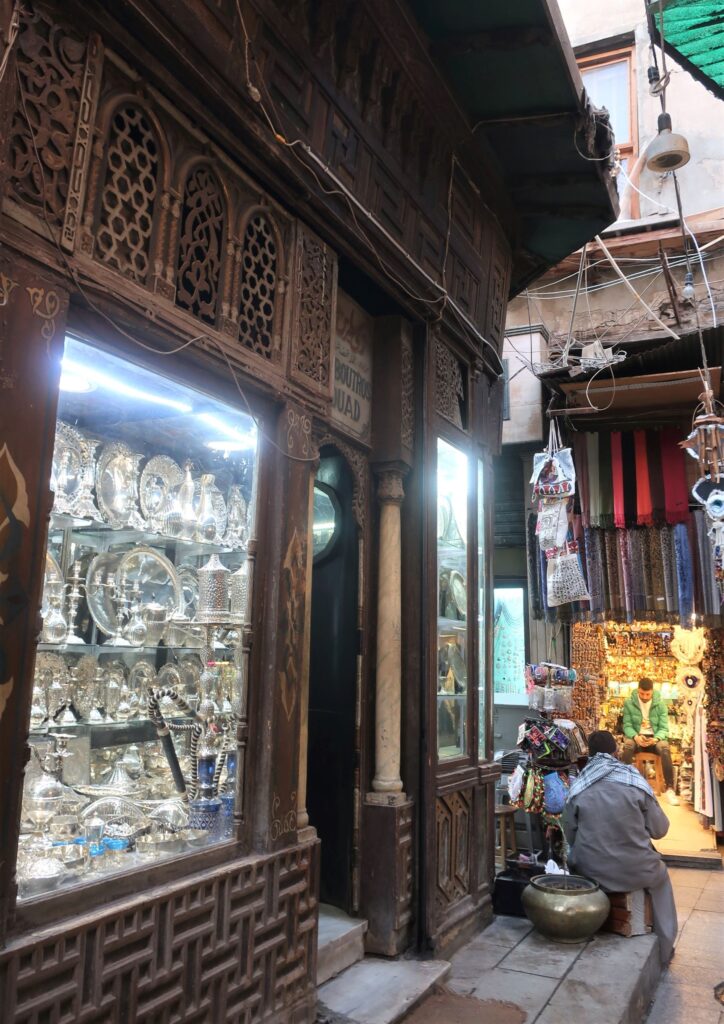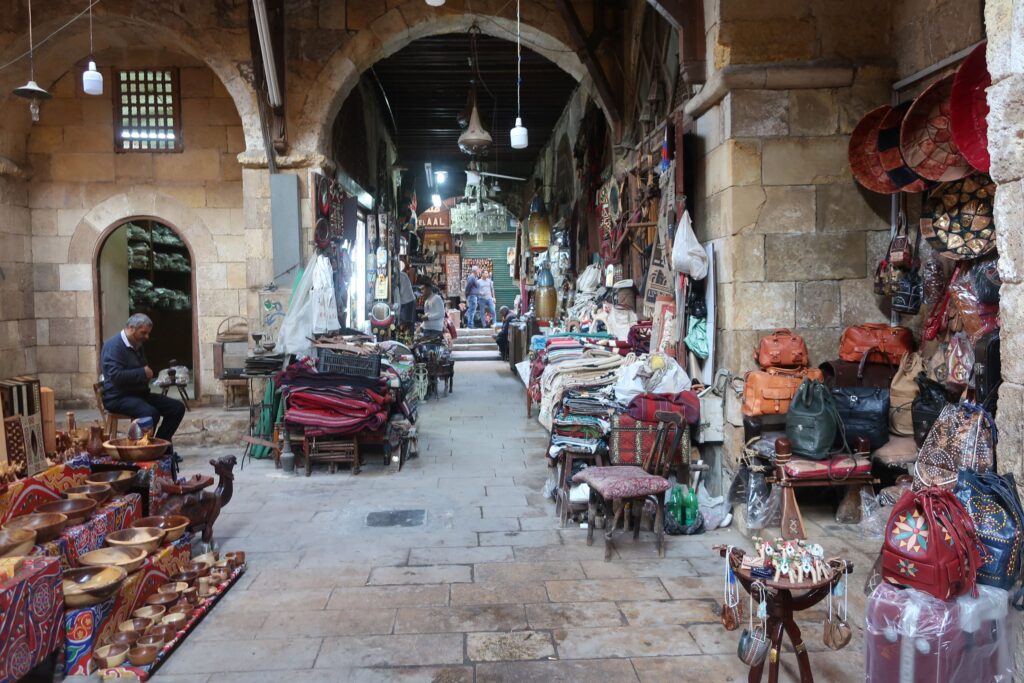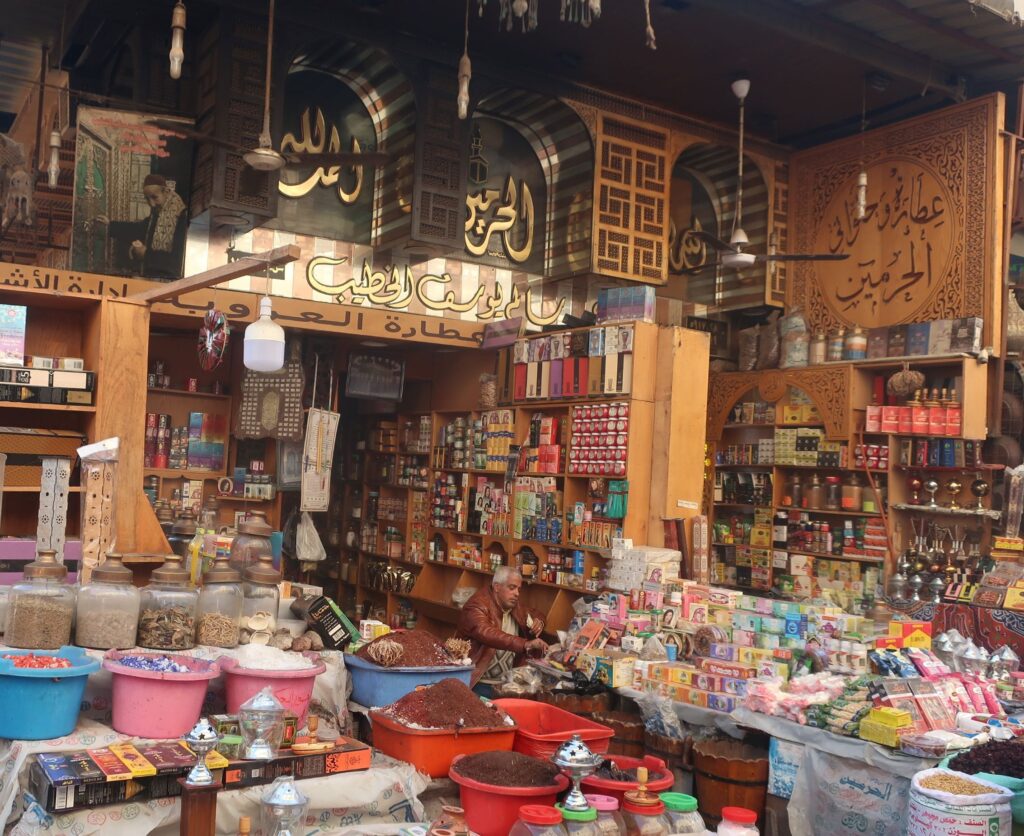 Sight or Insight of the Day
Getting around in Cairo is not for the faint-hearted. There is a Metro, which is a good way to get around. We take it one day to visit the Coptic Museum.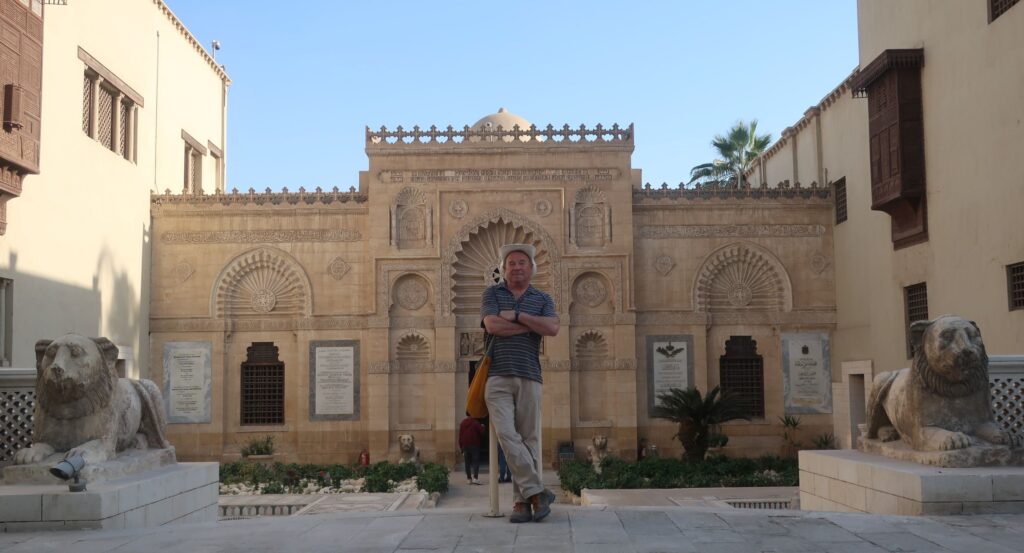 But the areas of interest you can get to by Metro are limited. They have Uber here, but often the places we visit are so jam-packed with pullulating humanity, there is no easy pickup-point.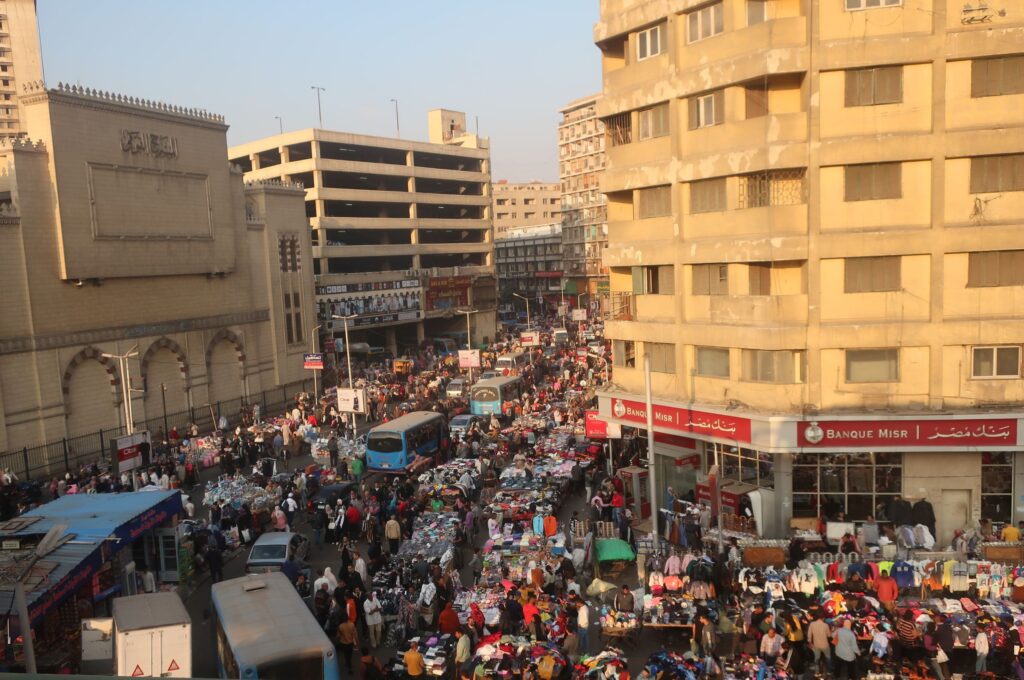 And taking a taxi here always involves the unpleasant feeling of being skinned alive (financially) by the taxi drivers.
So we often walk to places. Where sidewalks exist, they are usually overrun with impromptu markets.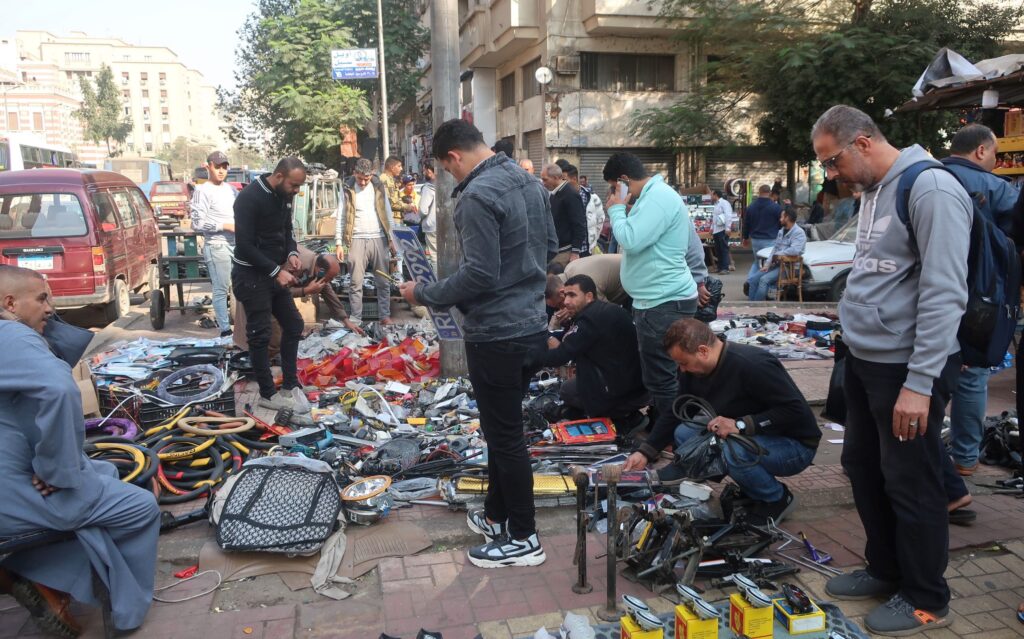 Or, in areas where there are government buildings, 'for security reasons' ordinary people are diverted off of the sidewalk and onto the death-defying streets packed with crazed Cairo motorists.