From Thomson's Falls, we drive to Naivasha.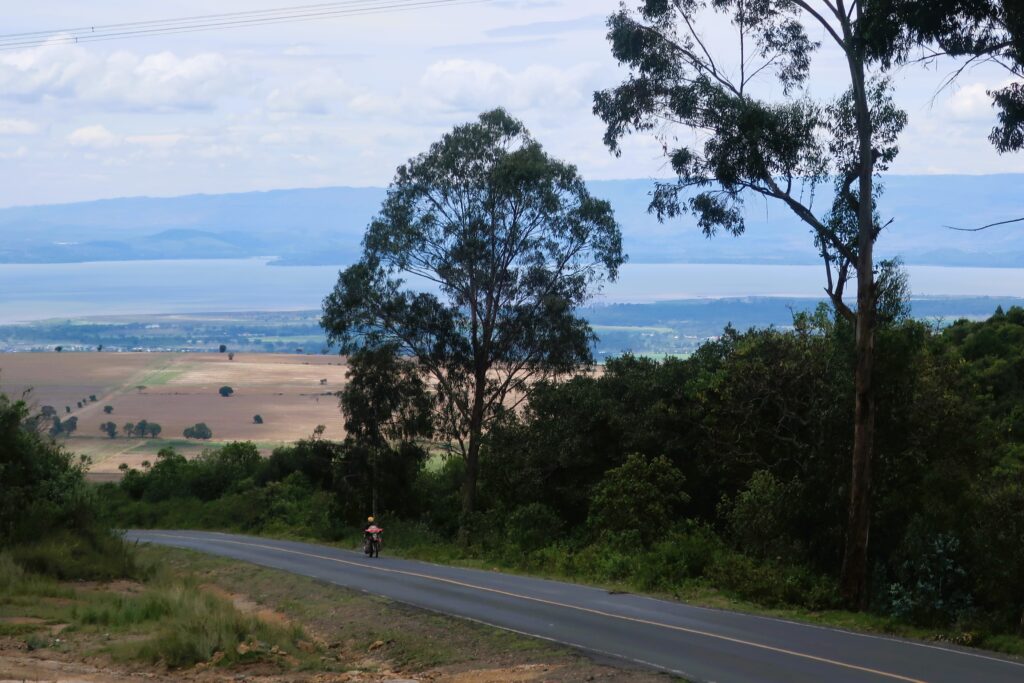 We never tire of seeing how much cargo can be put on a small motorcycle.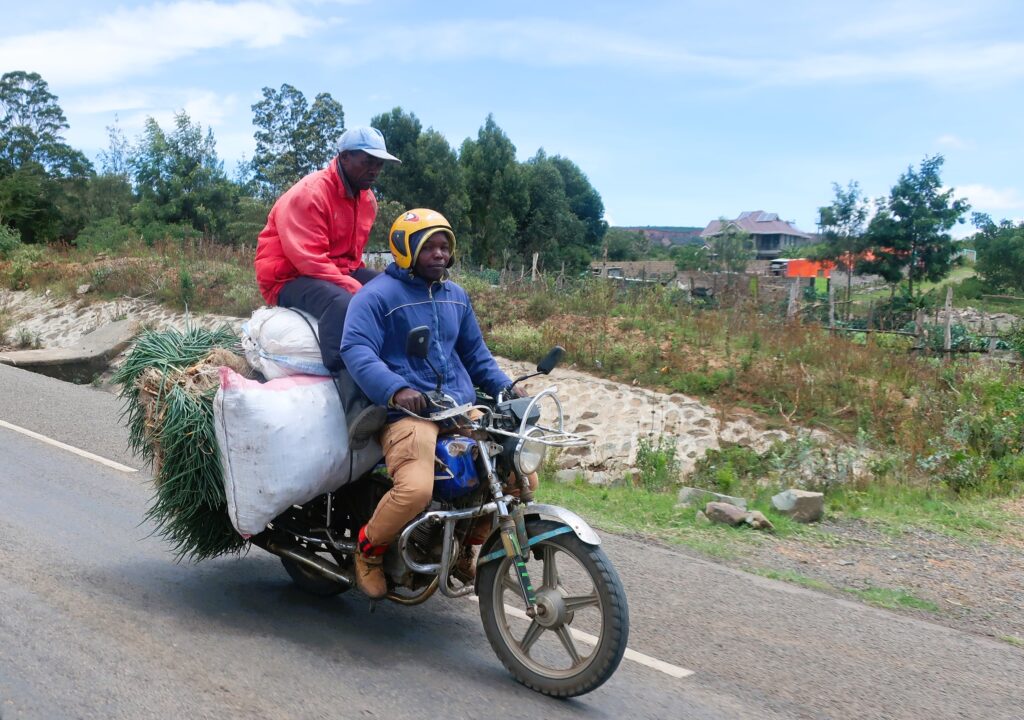 The flower industry is a big employer in Kenya, especially around Lake Naivasha and the area around Mount Kenya. These enormous greenhouses are everywhere.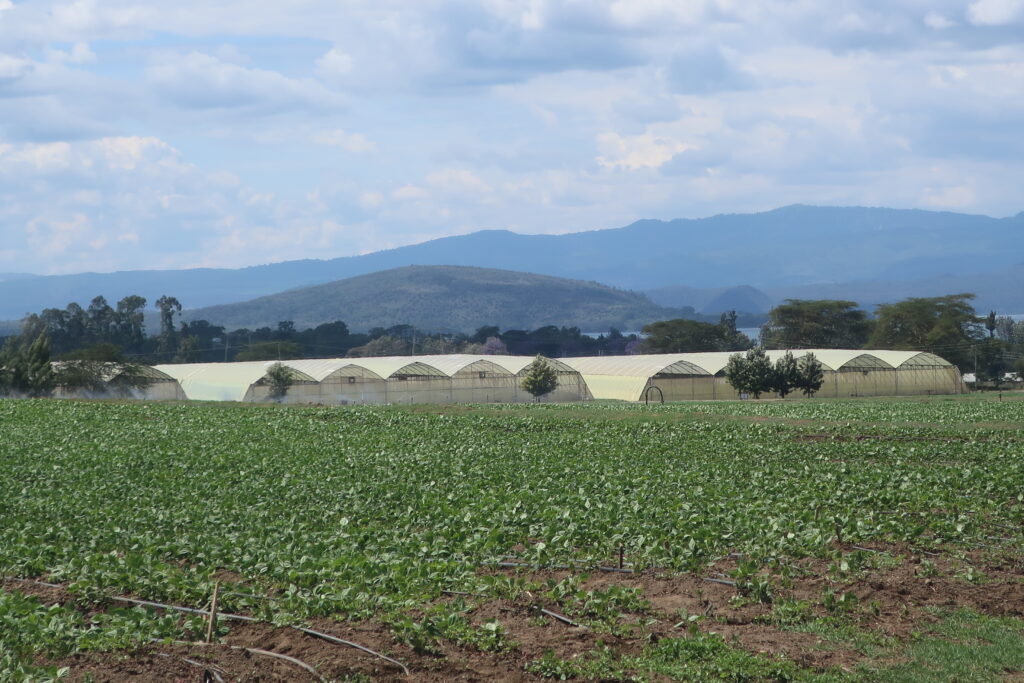 In keeping with our Born Free-themed tour of Kenya, we visit Elsamere, the former home of George and Joy Adamson.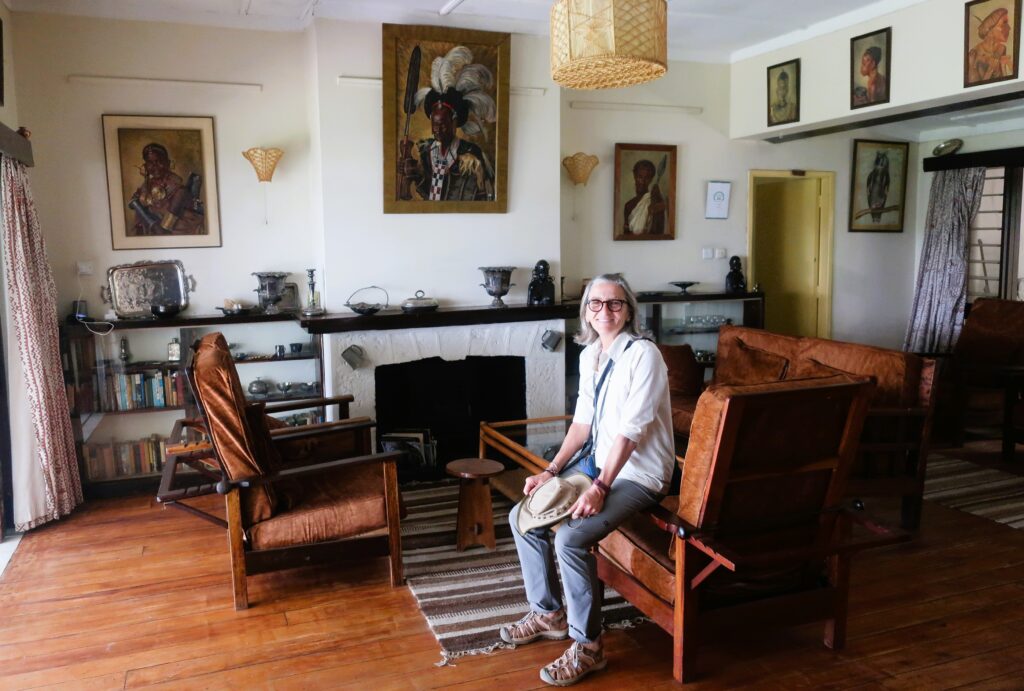 The price of admission includes tea on the lawn.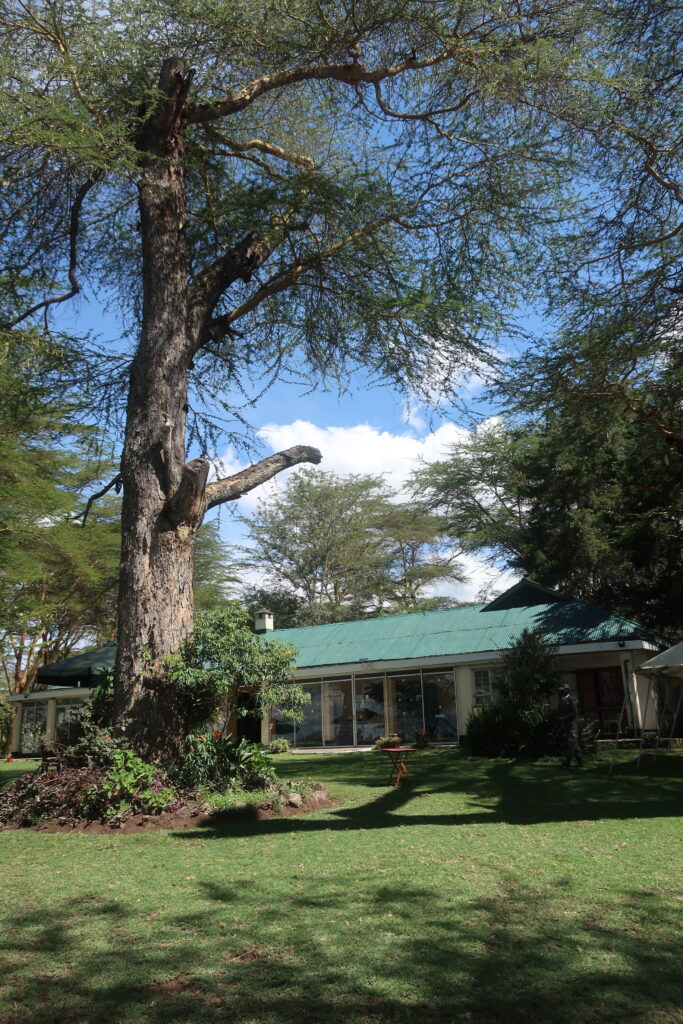 The grounds contain a troop of striking colobus monkeys.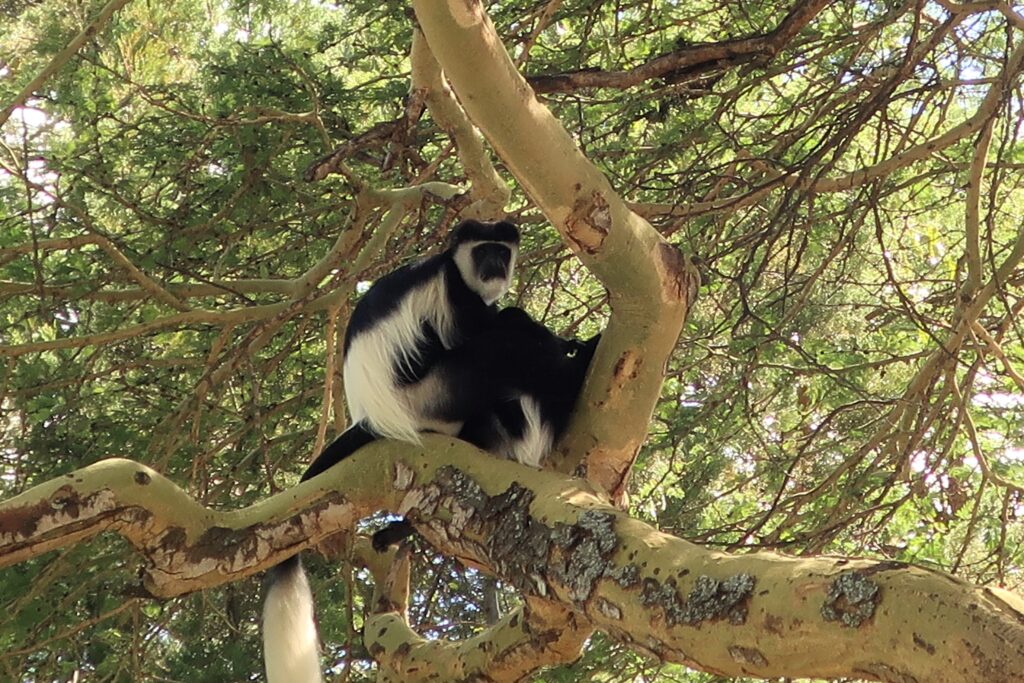 One macabre exhibit is the Land Rover in which George Adamson was murdered. According to Wikipedia:
"On 20 August 1989, George Adamson was murdered near his camp in Kora National Park, by Somali bandits, when he went to the rescue of his assistant and a young European tourist. He was 83 years old."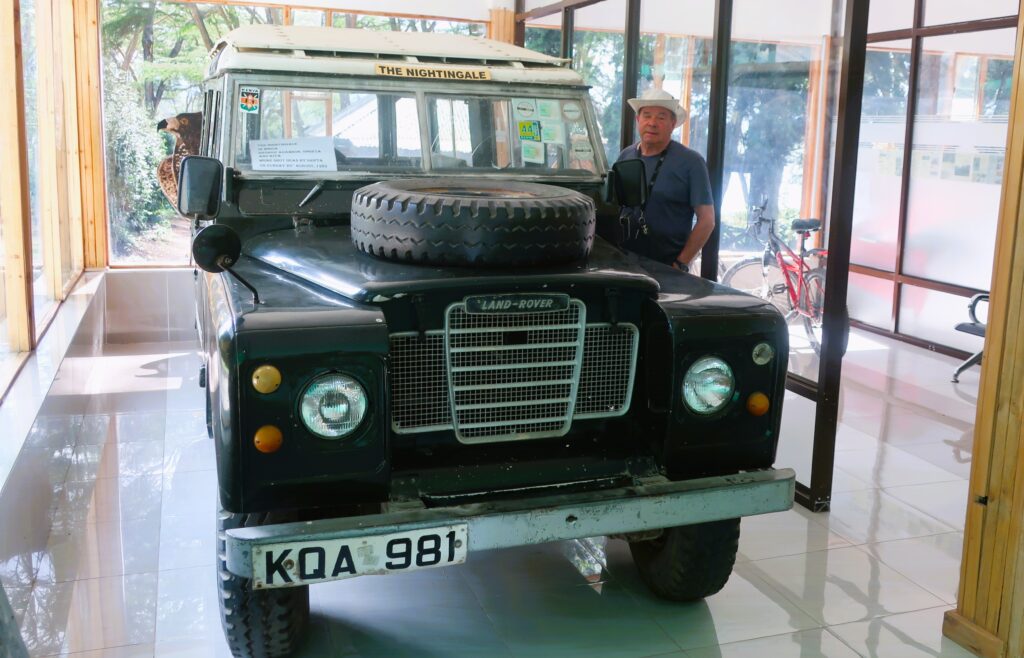 Joy Adamson was also murdered nine years earlier in 1980 by a disgruntled employee.
In our campground, a large party of young Muslim girls camps overnight for some kind of Islamic jamboree.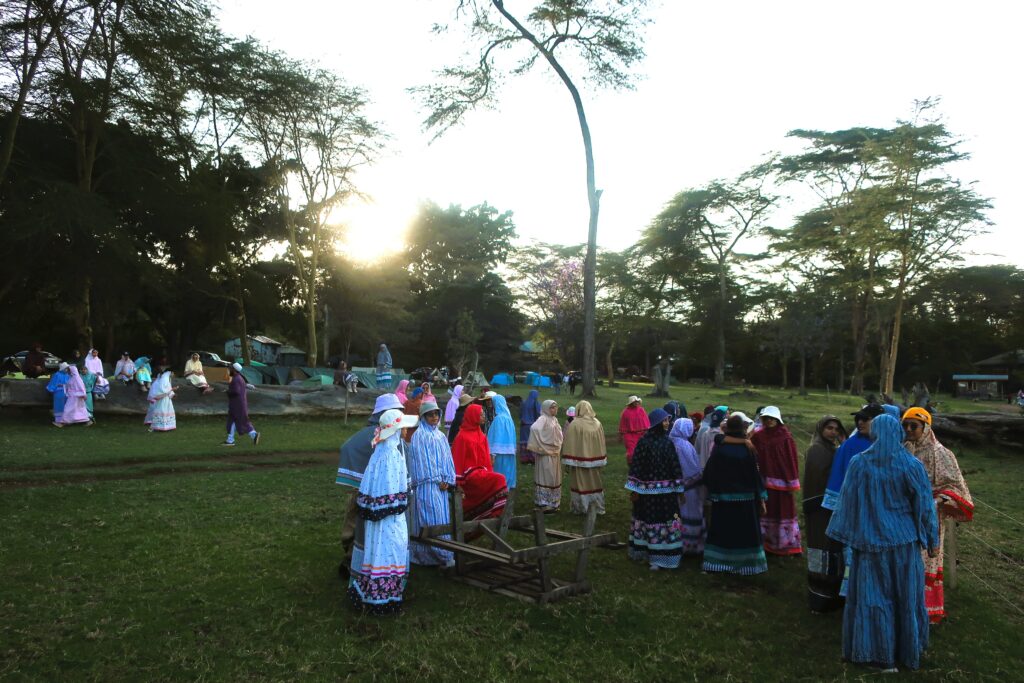 While in Naivasha, we visit Hell's Gate National Park. This park is unique because you can rent a bicycle and ride through it. Large predators are not an issue.
Maria is smiling because I haven't told her yet how potentially dangerous the buffalo in the background can be.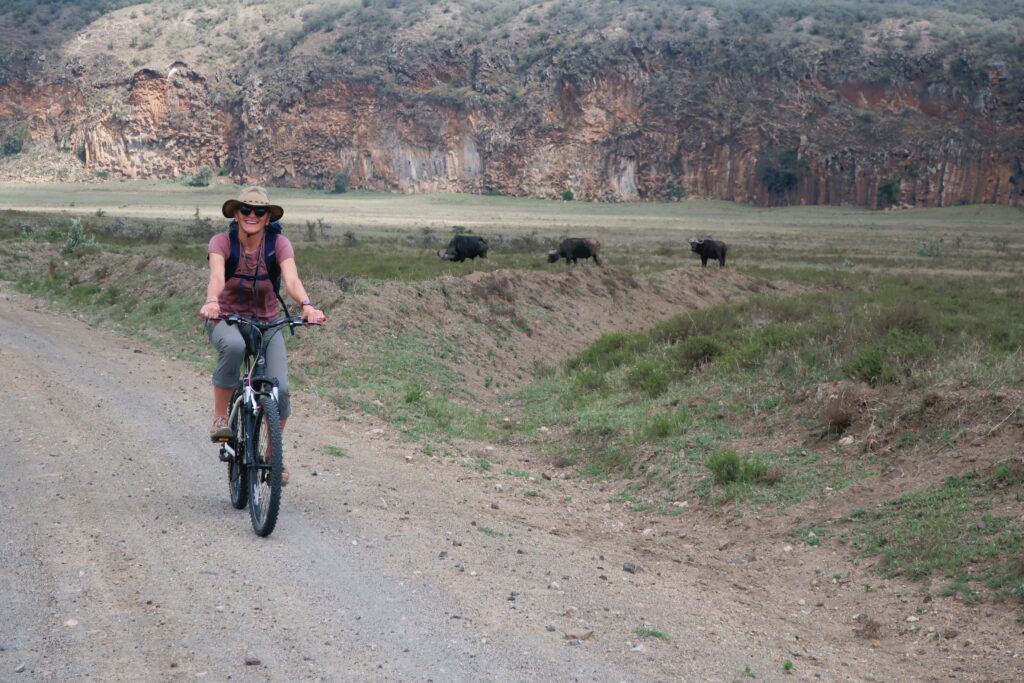 Speaking of excess cargos earlier: the way in which our rental bikes arrive at the park gate is by motorcycle. Seven or eight bicycles are strapped onto the back of a motorcycle and delivered to clients.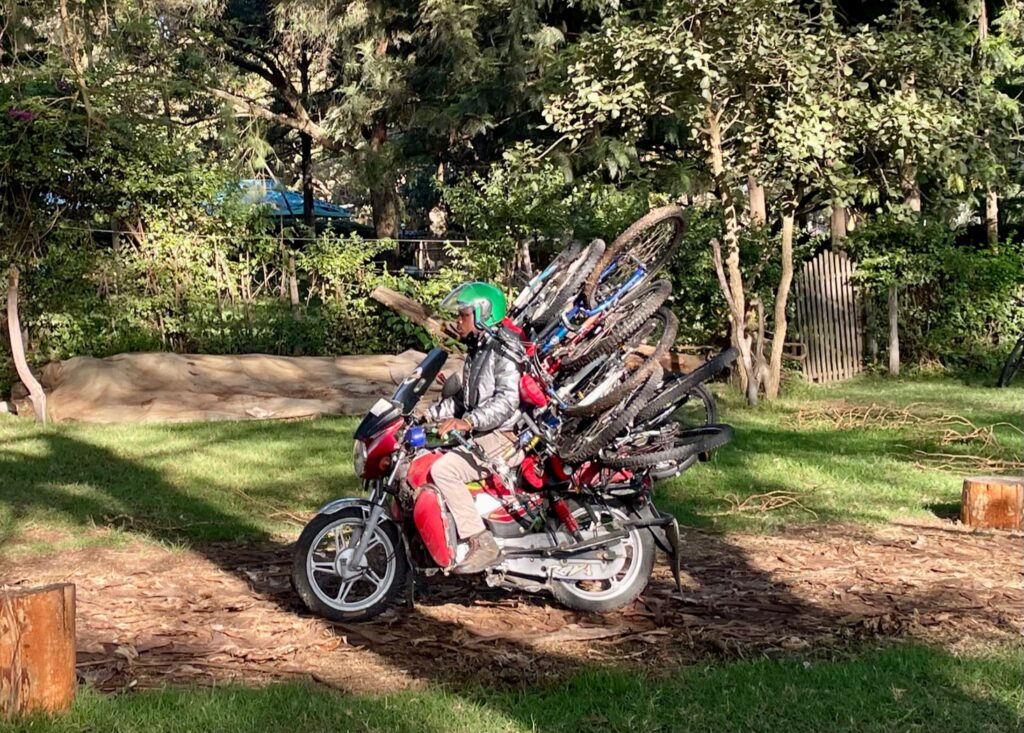 The Olkaria V geothermal power plant is in the middle of the park.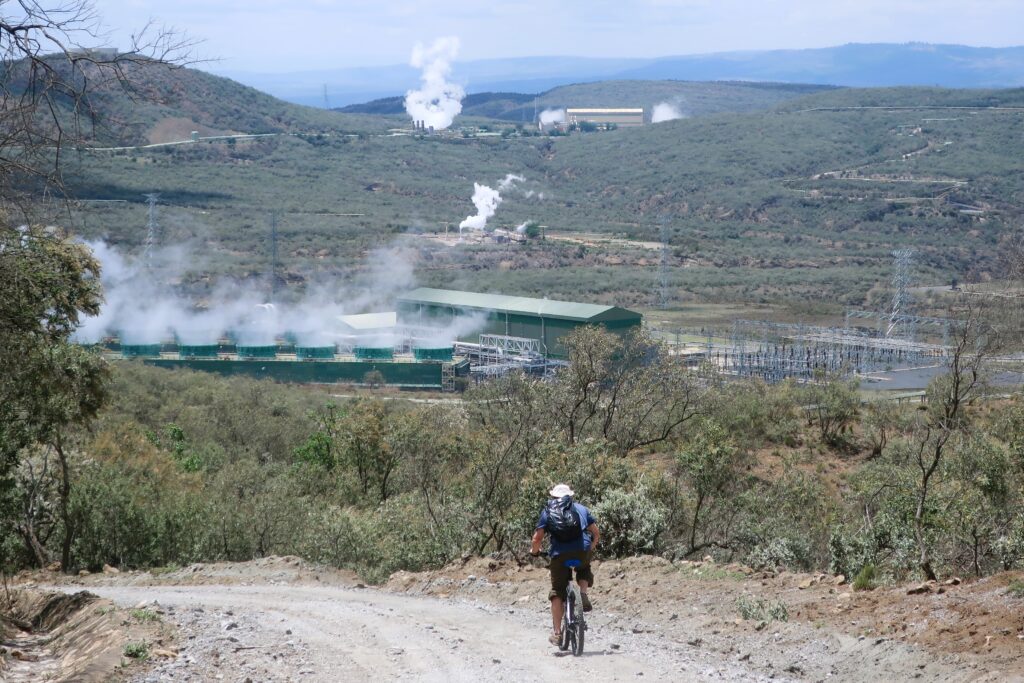 We favour Shell gas stations. They have the cleanest bathrooms, the best coffee, and you can always pay with a credit card.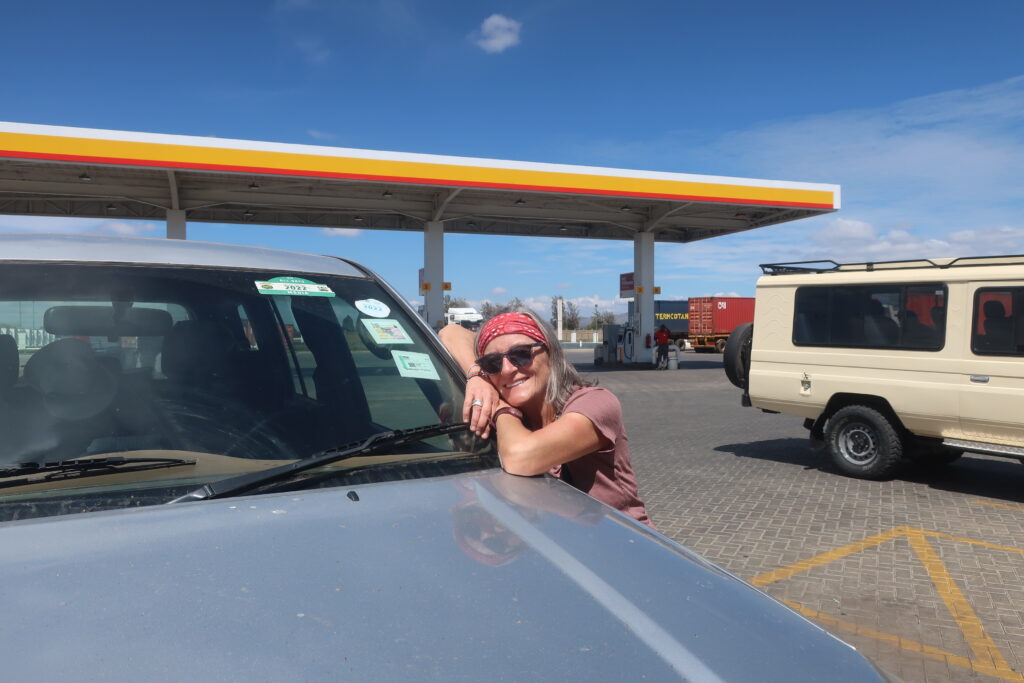 In Masai Mara National Reserve, we stay in the rather rustic Aruba Mara campsite. We see a convoy of safari vehicles gathered in one location. It's a leopard.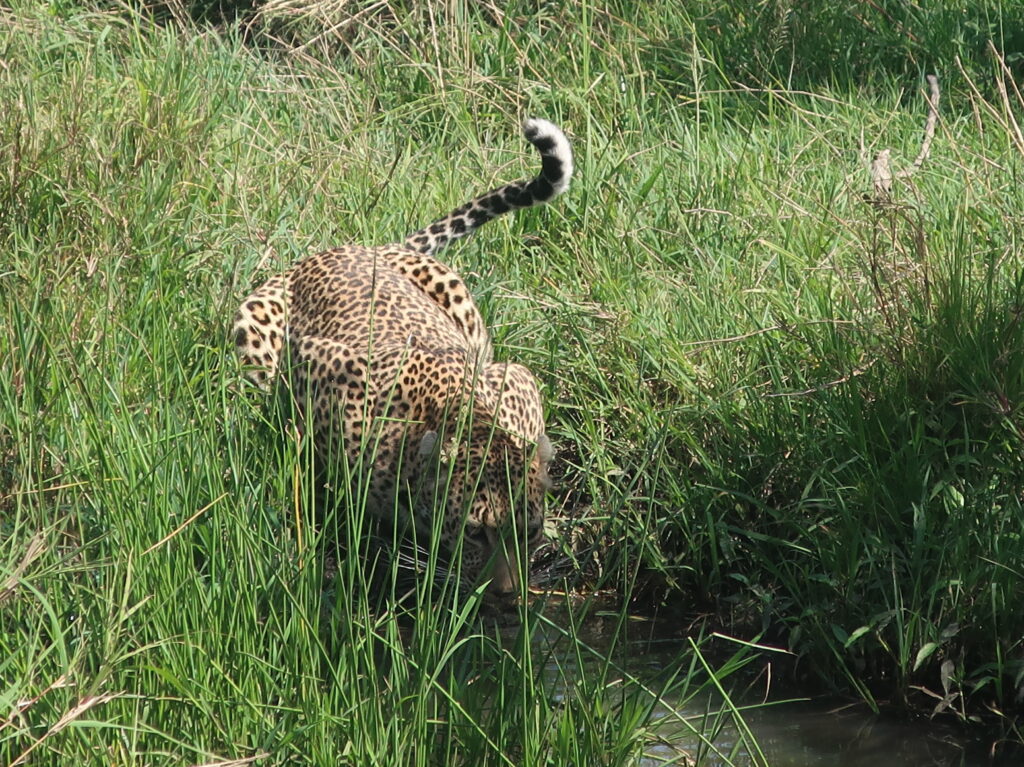 She leaves, calmly ignoring the circus of Land Cruisers and Land Rovers.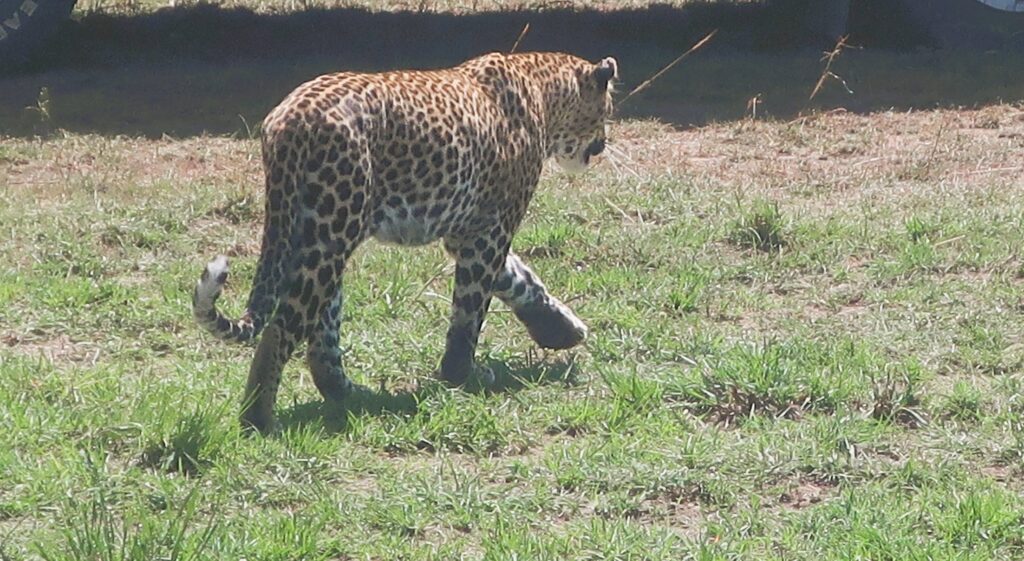 Masai Mara has plenty of wide-open vistas. Good for spotting animals.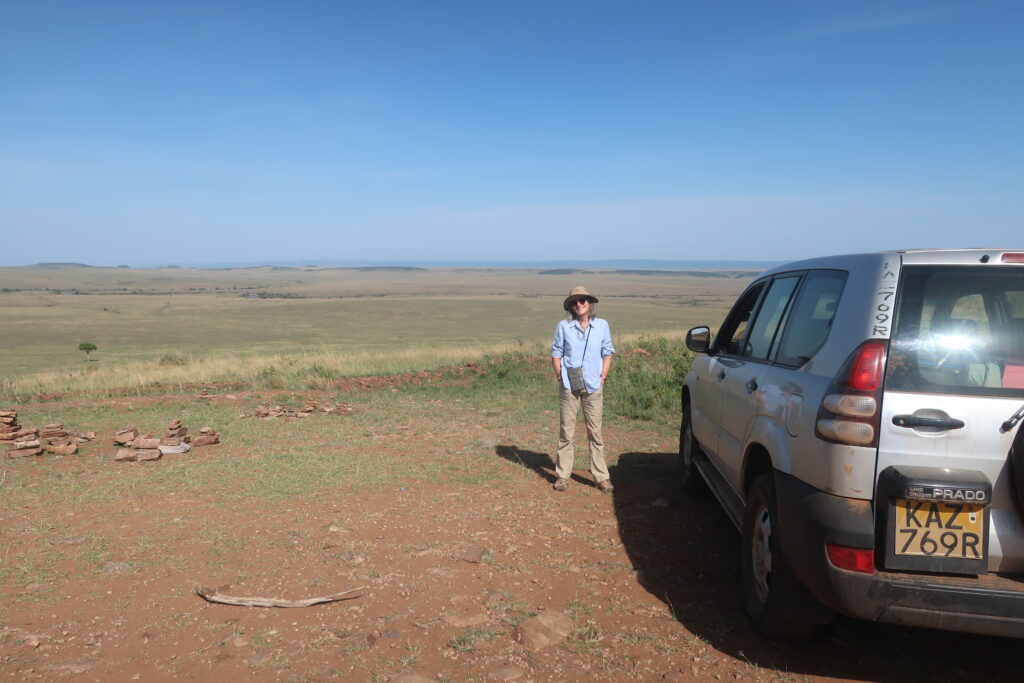 One day we drive across the park to the Mara Bridge.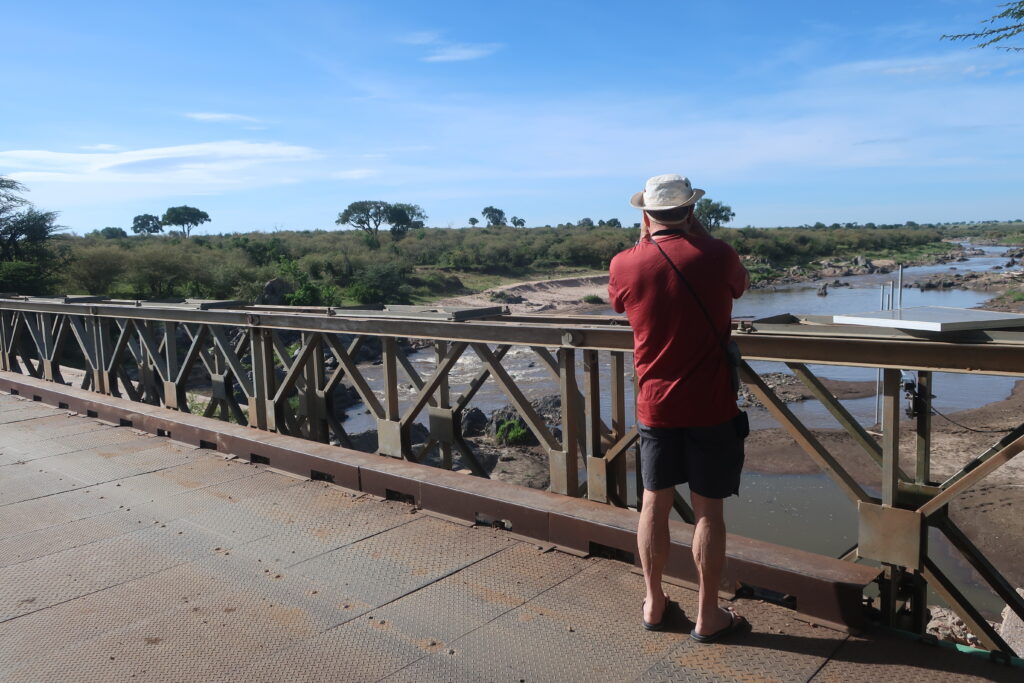 These colourful agama lizards are common. They look like they're wearing a Spiderman costume.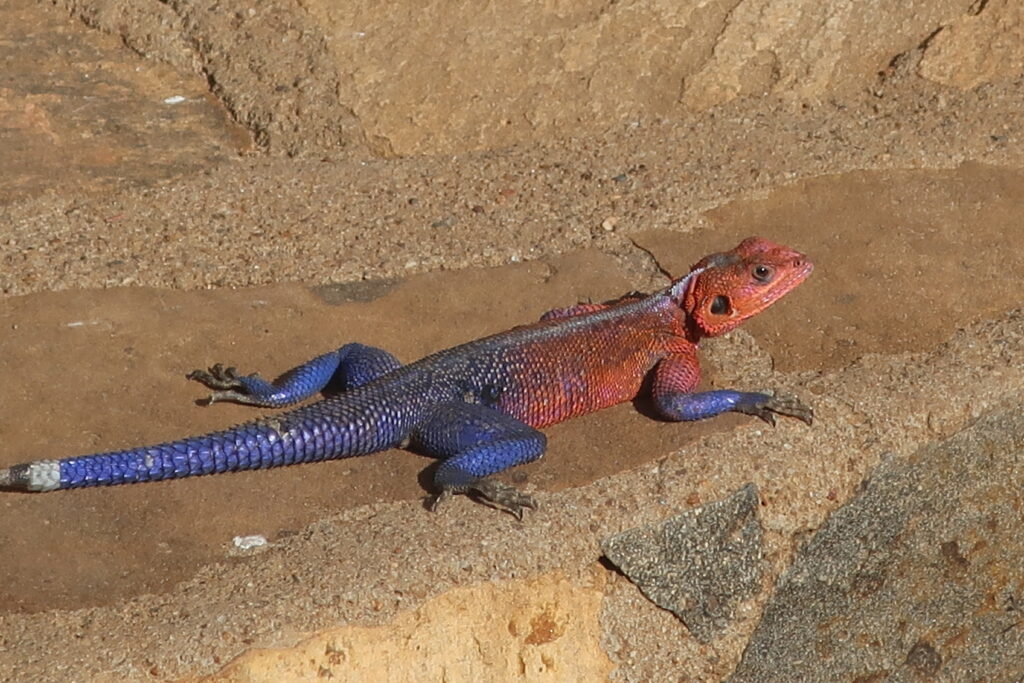 We stay at Aruba Masai Camp. We complain to a camp employee, John, that we haven't seen any lions yet. Especially because there is a BBC program, 'Big Cat Diary', that is filmed here and which shows lions galore.
John says 'I can show you many lions.' So we take him up on his offer on our next game drive.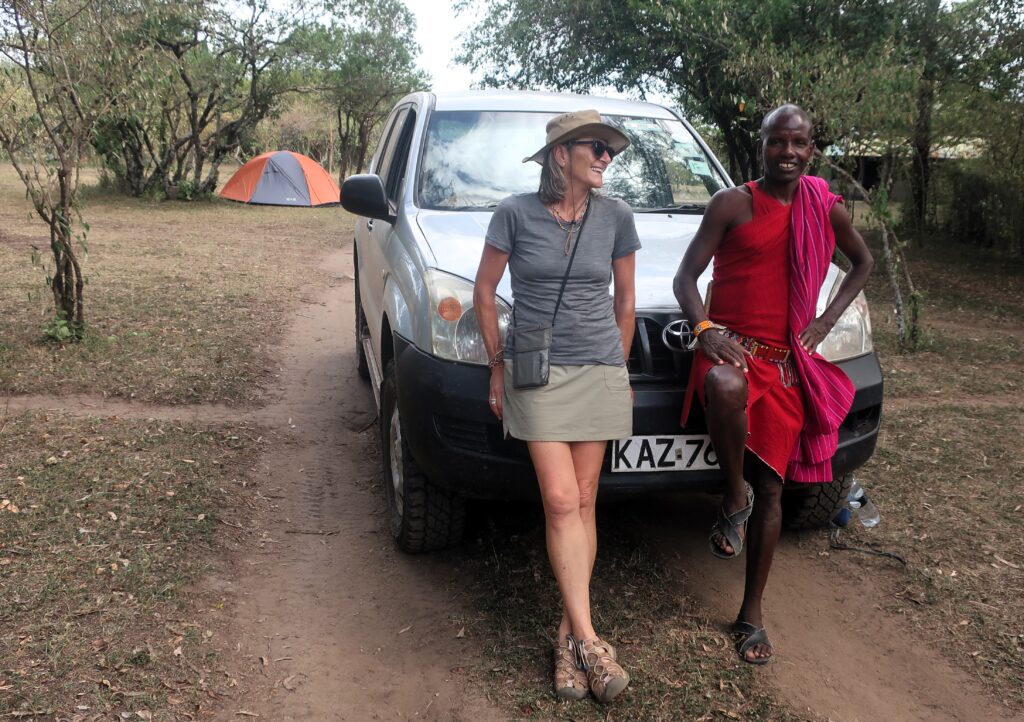 (That's our tent in the background.)
John rides shotgun while I drive.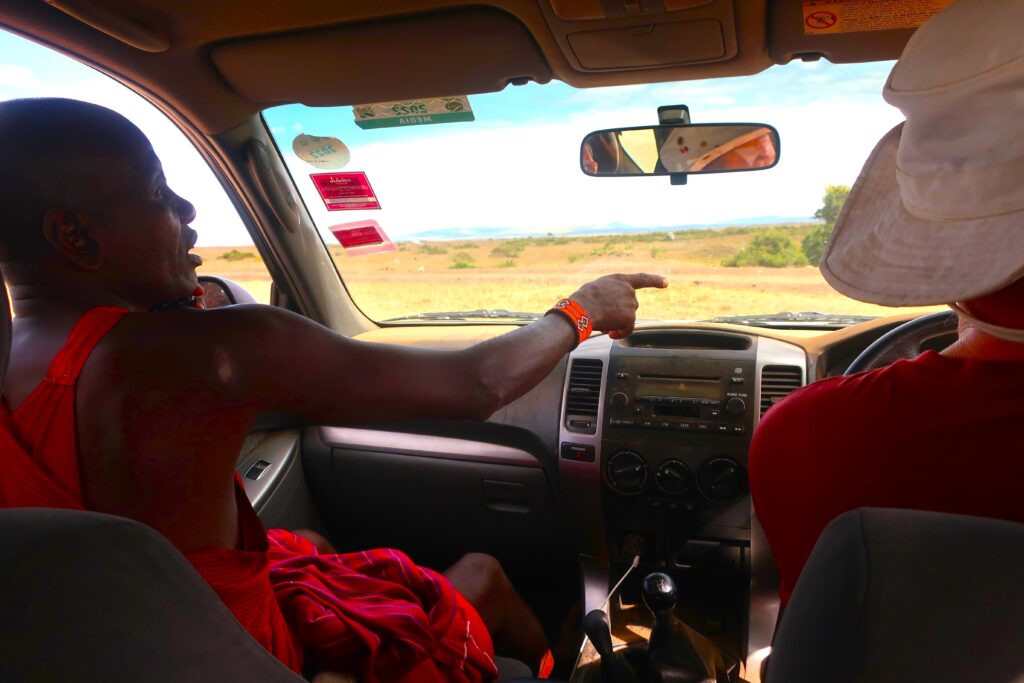 Sure enough, we soon spy a lioness snoozing under a bush.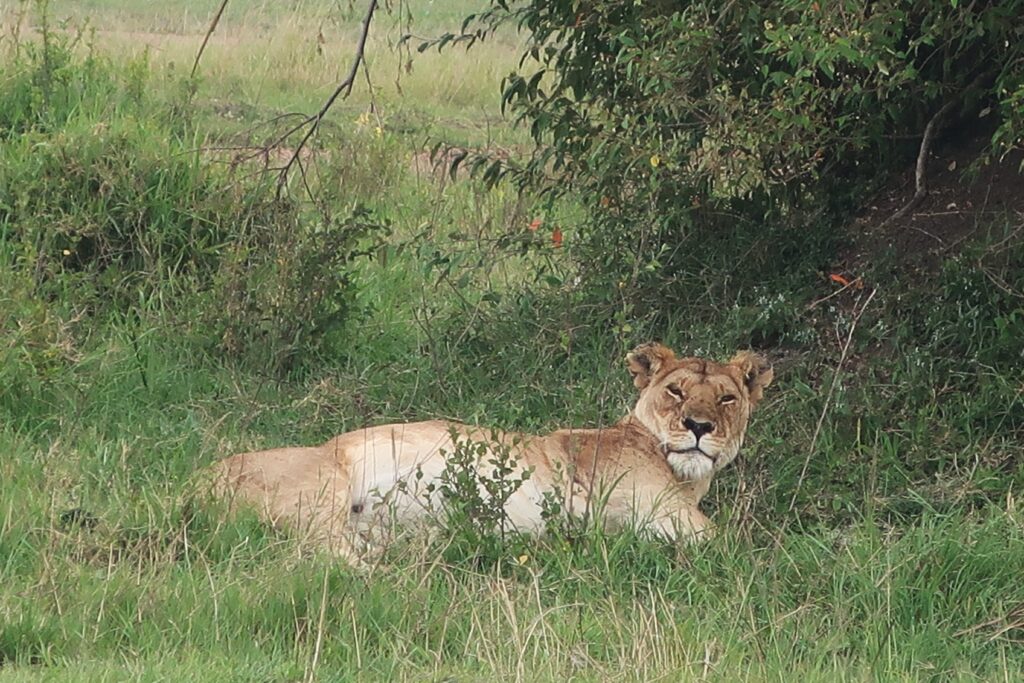 We also find a male and female.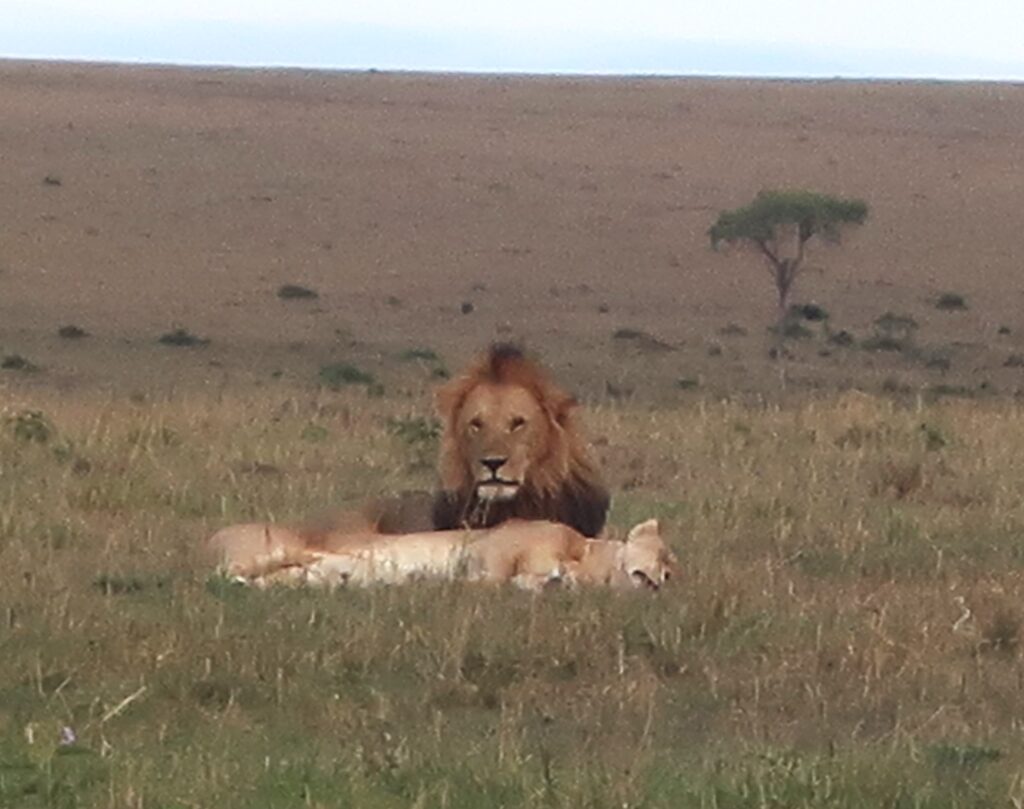 We hit the mother load of lions – dozens of females scattered around like downed tenpins. Apparently when lions aren't hunting, they spend most of the time sleeping.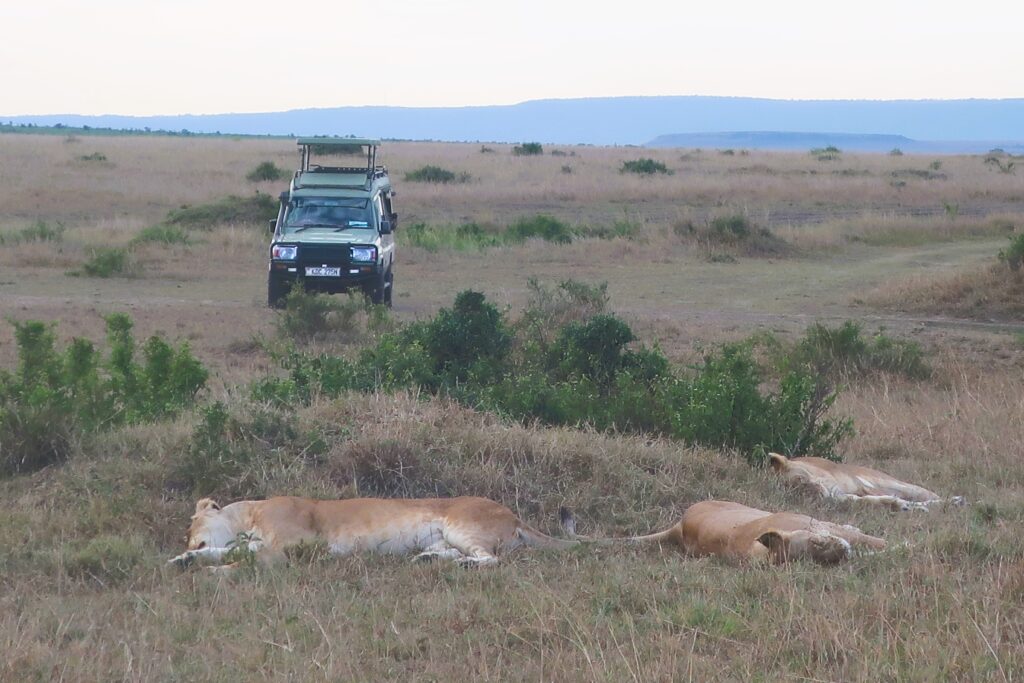 When they finally wake up, they become 150-kilo tawny bundles of pure muscle.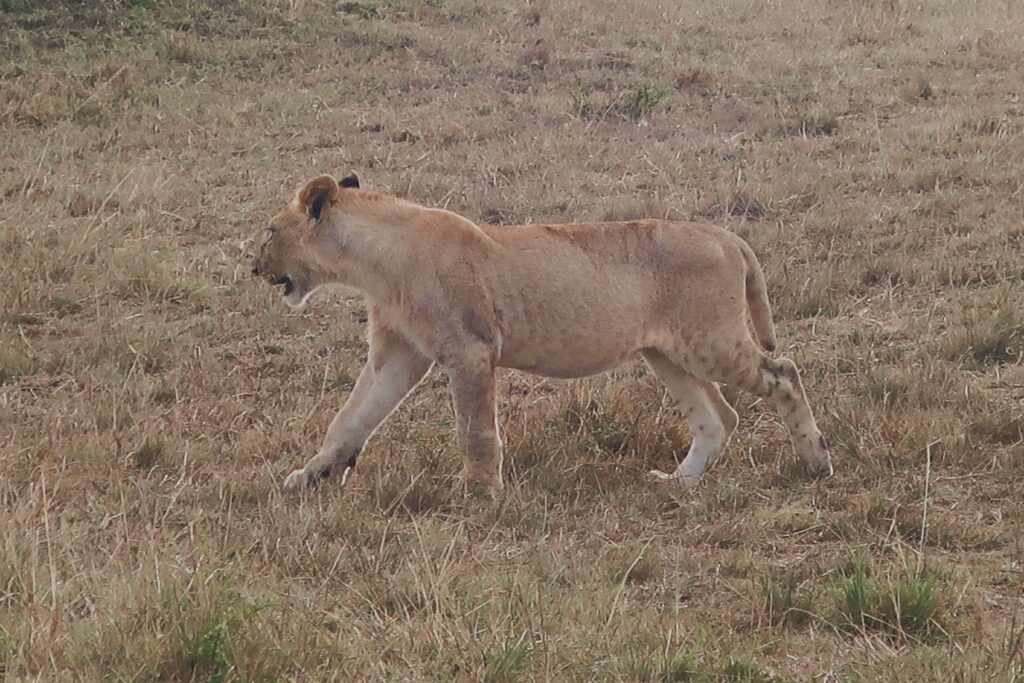 There are a number of young males. They like resting atop small grassy hills to keep an eye on things.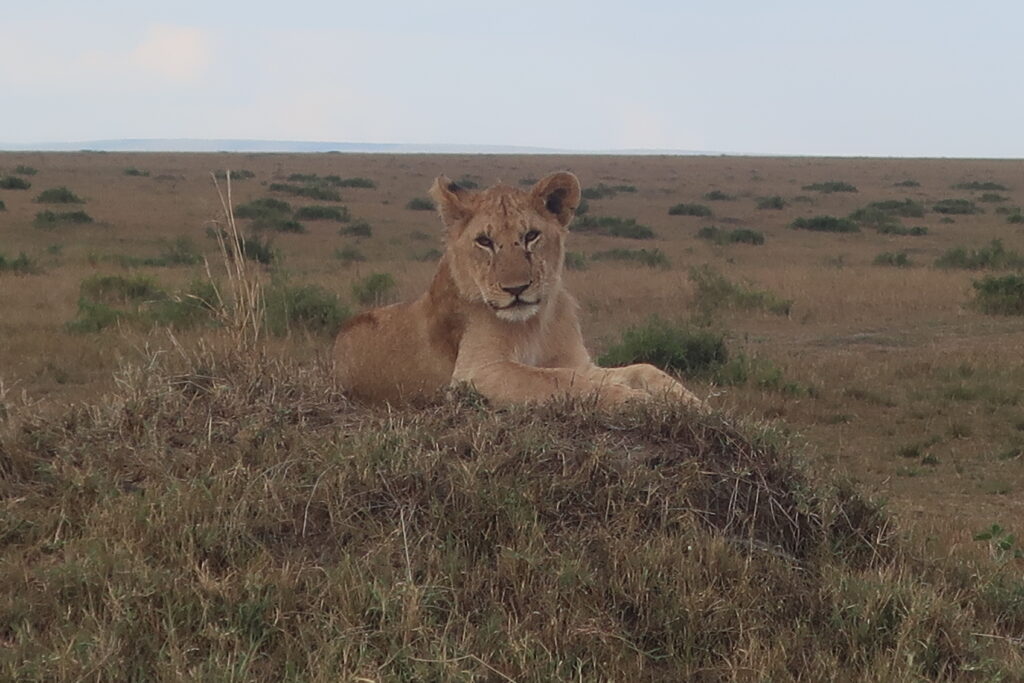 On the way back, we stop at a hippo pool. Just about any body of water in Africa is likely to be a hippo pool.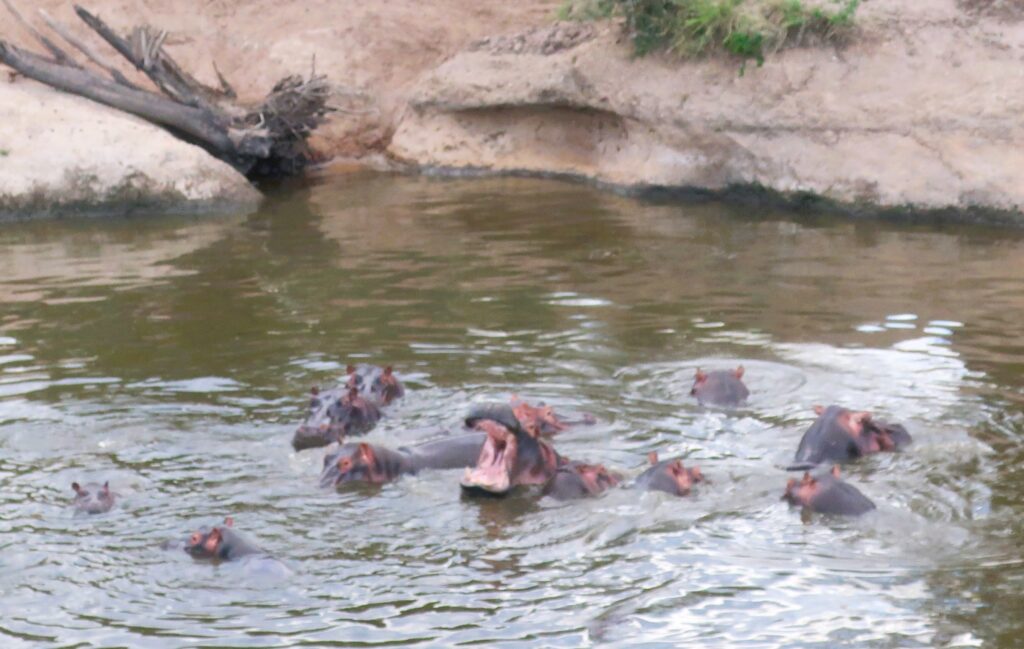 I feel slightly underdressed next to John's Masai regalia.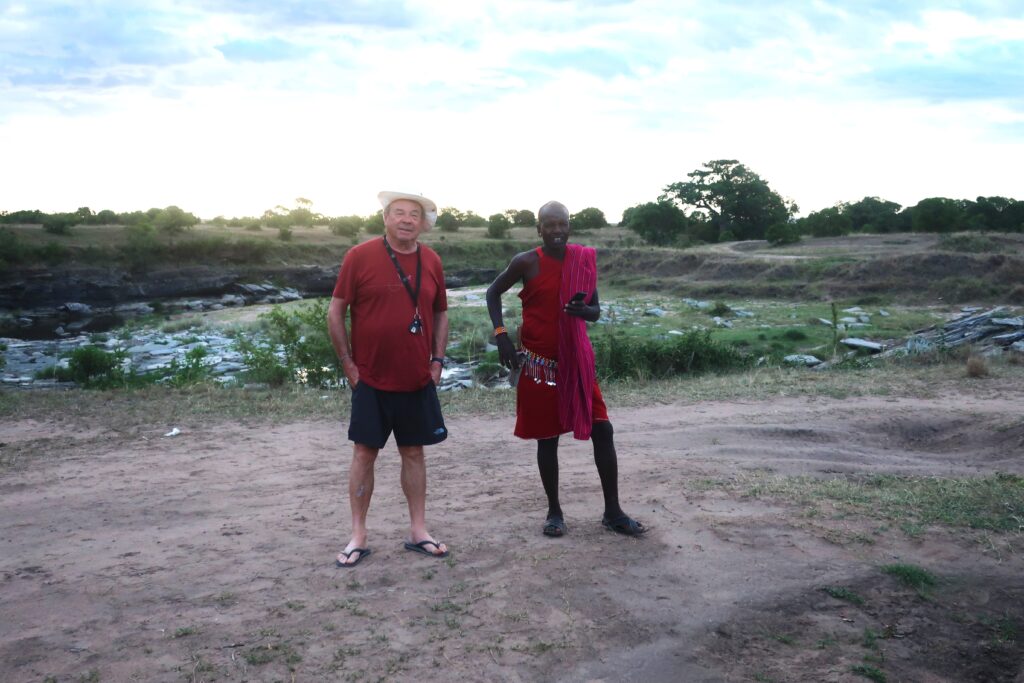 The next day, John shows us a shortcut that avoids crossing the park. (And paying sky-high park fees.)
At one point, we ford a river in which a vehicle has already been stranded mid-stream. But Jambo has no problem thrashing across.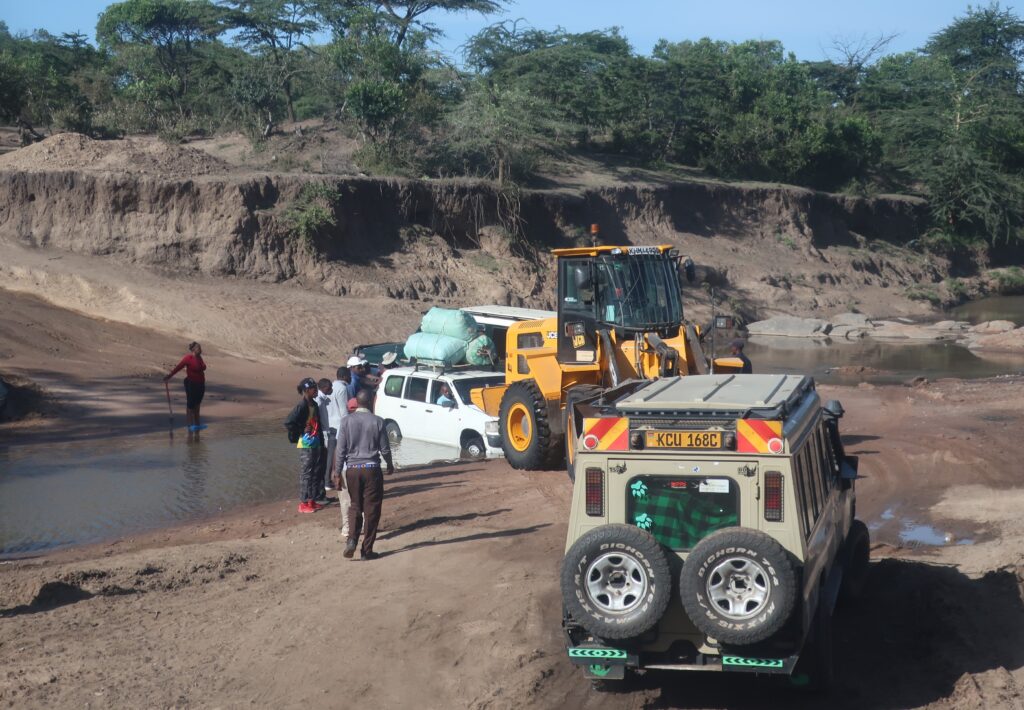 Sight or Insight of the Day
On our drive from Masai Mara to Amboseli, we break our journey once more at the Wildebeest Eco Camp in Nairobi.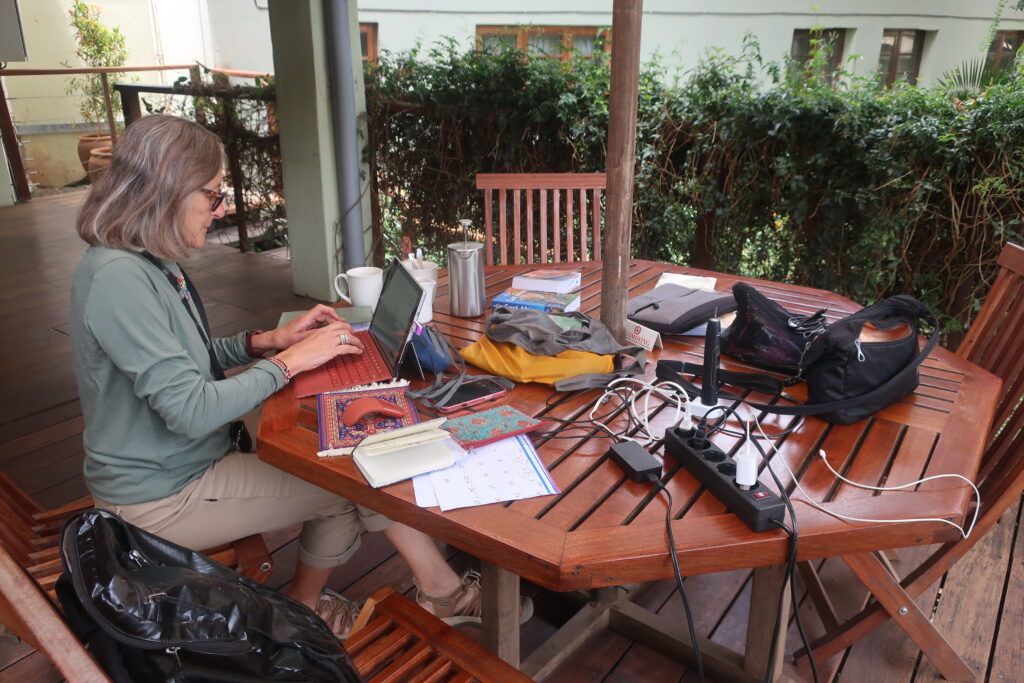 We have a single day to do some concentrated research regarding flight bookings and hotel reservations. As usual, we monopolize an entire table with our panoply of books and gadgets.