After an epic overland journey from Inle Lake, at last we reach Ngwe Saung Beach on the Bay of Bengal, west of Rangoon.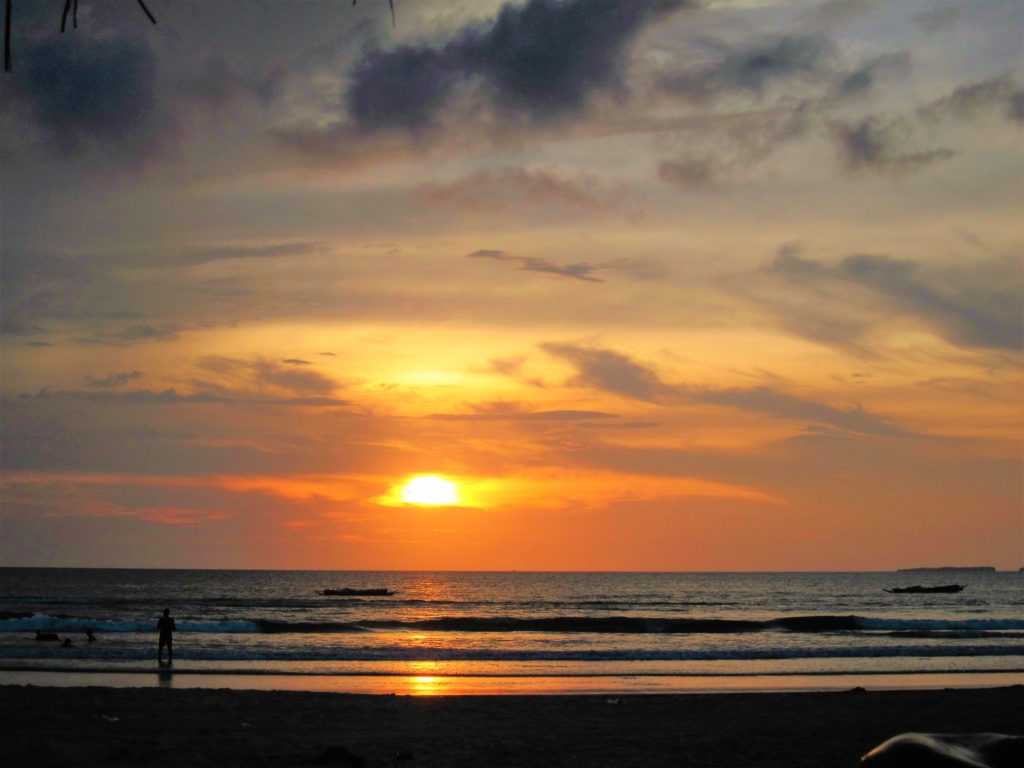 Took an overnight bus from Nyaungshwe to Rangoon that was air-conditioned to Arctic conditions (for which we came prepared with layers of clothing.) With an arrival time in Rangoon of 6:00 AM, we bought an onward ticket from Rangoon to Ngwe Saung in advance (departing from a different bus depot at 8:30), thinking we had plenty of time. Nyuh-unh. Our first bus arrived late, it took forever to get through the gridlocked Rangoon traffic, so we arrived at 9:30 for our 8:30 bus, which was long gone. Took another bus to Pathein, from Pathein shared a taxi with a German couple for the additional 1 and 1/2 hour drive to Ngwe Saung.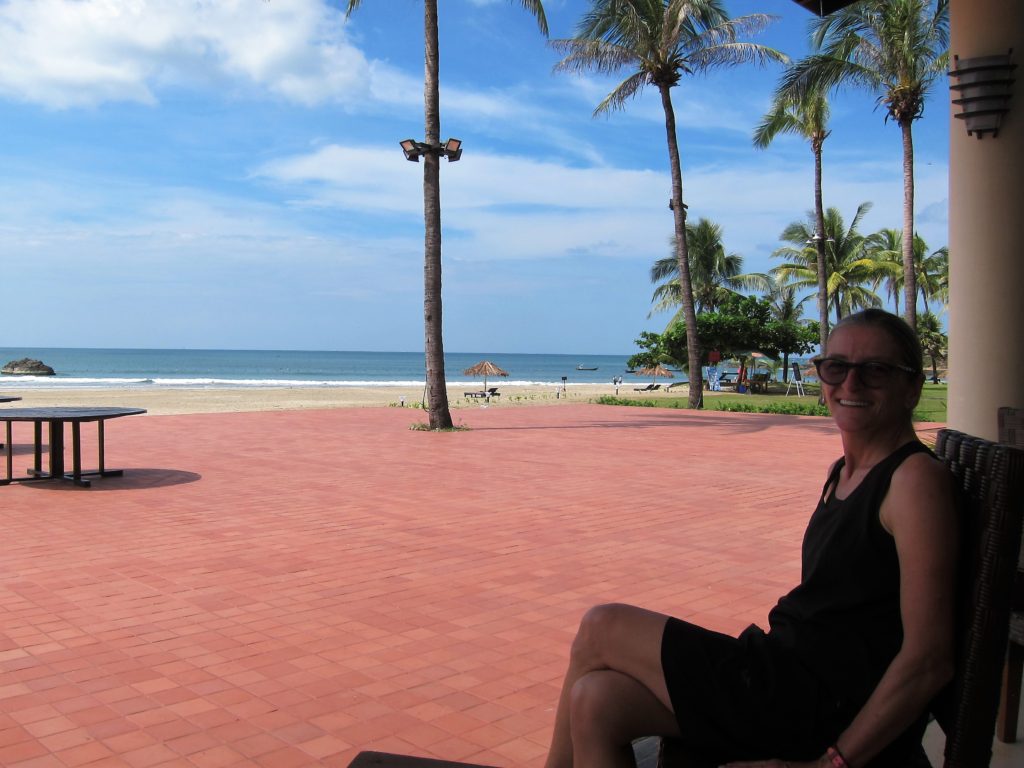 Our Lonely Planet guide describes the surrounding beaches thus:
"… palm-fringed Ngwe Saung Beach (ေငြေဆာင္ကမ္းေျခ) has emerged as a hip destination for Yangon's new rich."
We can see that. Most of the 13-kilometre beach taken up by exclusive 5-star resorts, 98%  empty. We found cheaper digs.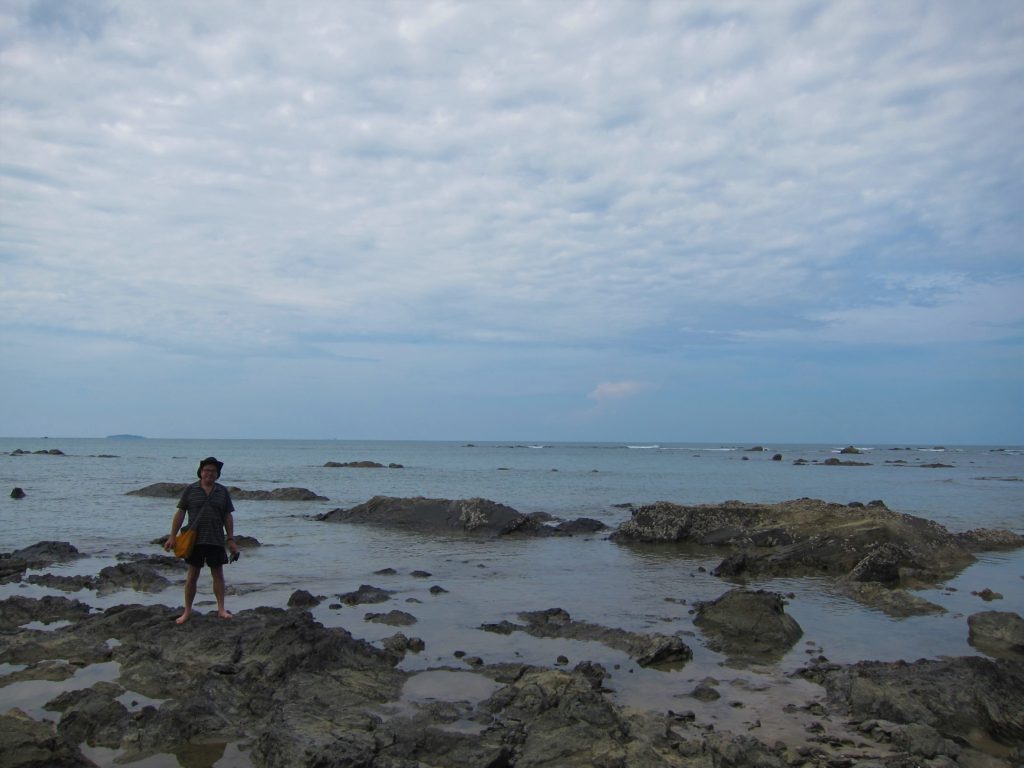 To be continued…
Searching for decent WiFi. Maybe here, which someone described as having 'the best WiFi in Ngwe Saung'?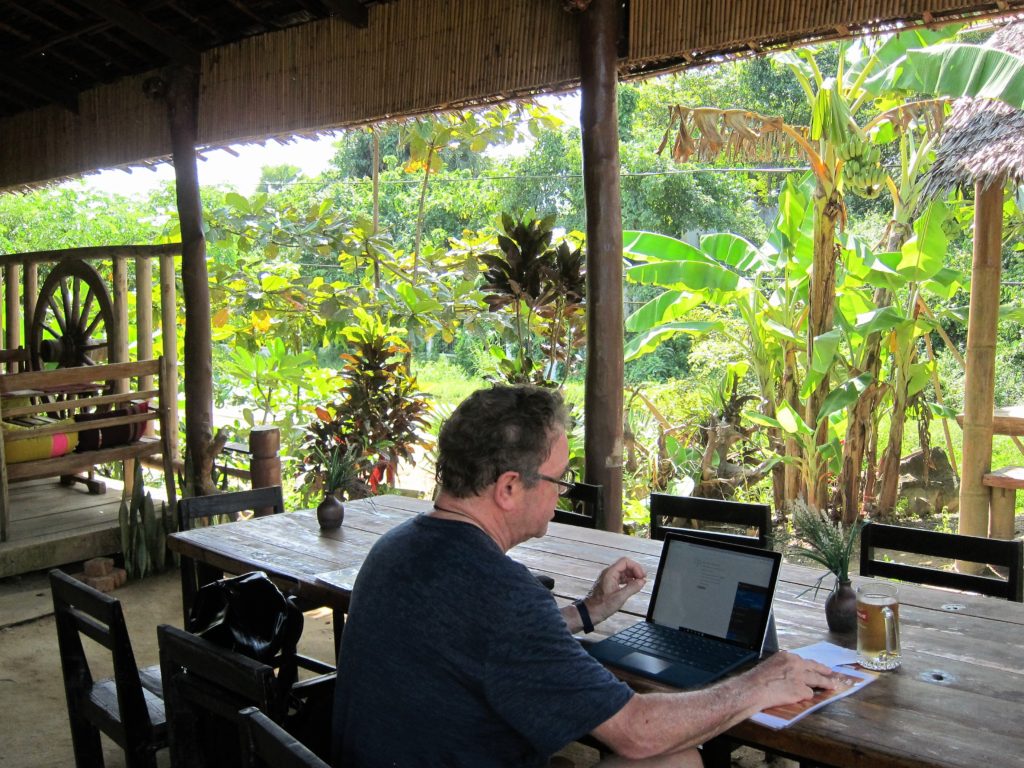 Maybe here, at the village internet café?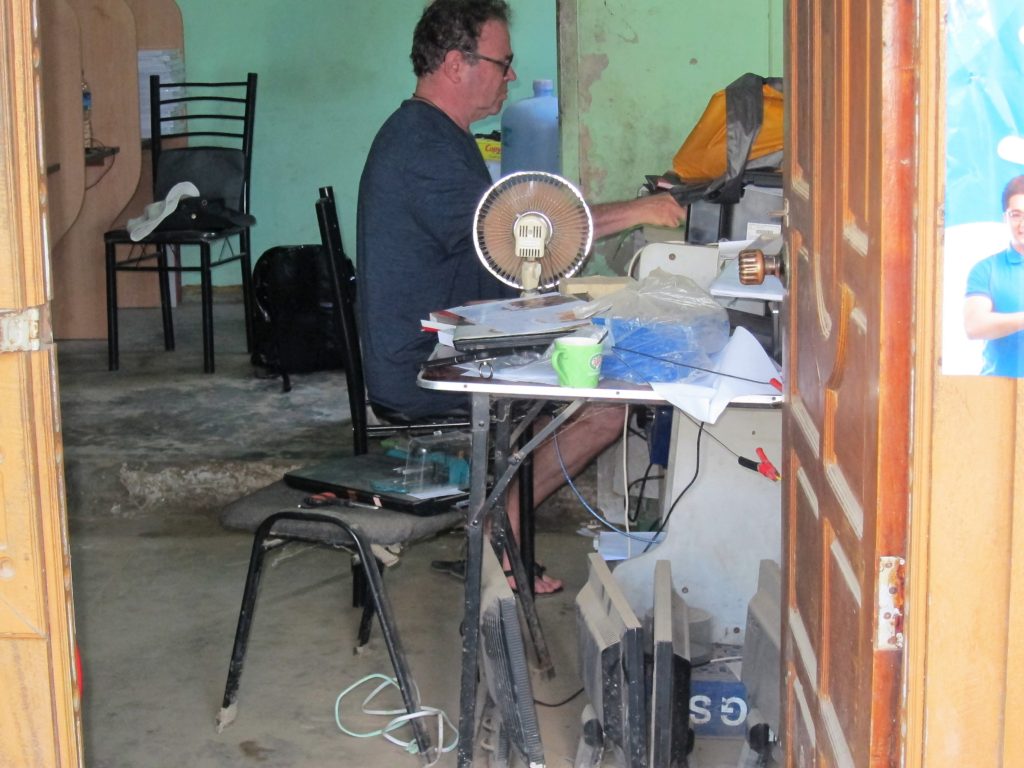 Finally found a place with decent Wifi.  Actually, it's the resort we crashed in the photo of Maria above. We went legit, paid the equivalent of two movie tickets in Canada to spend the day here as 'Day Visitors', enjoying the ultra-clean palm-fringed beach, free of hawkers and trash and motorbikes, plus the great internet connection.  Towels included.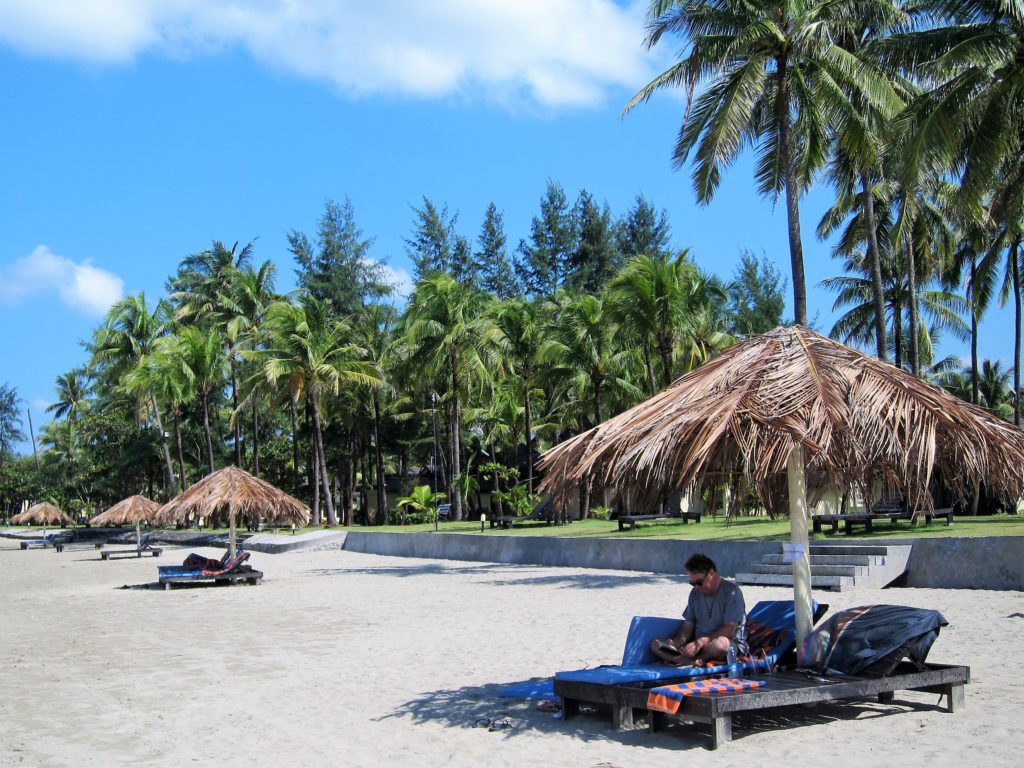 You can still see traces of the fishing village this place once was.
Fishing is still what people do here. (At least, those not employed in tourism.)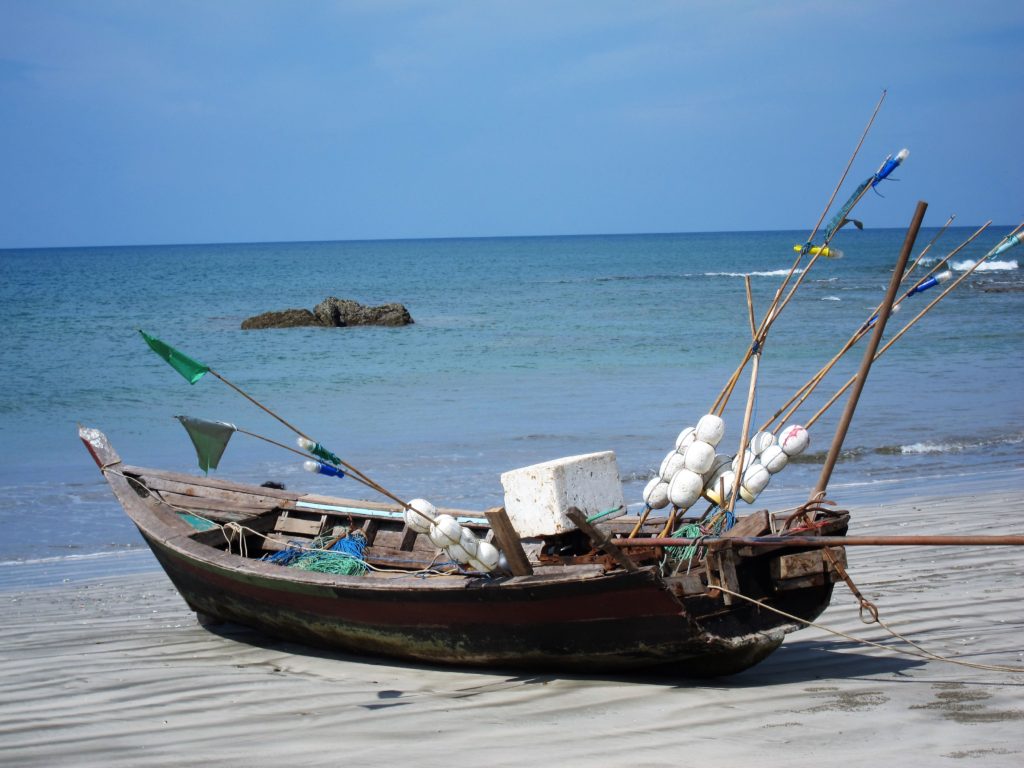 We do our bit for the local economy by devouring this grilled tuna.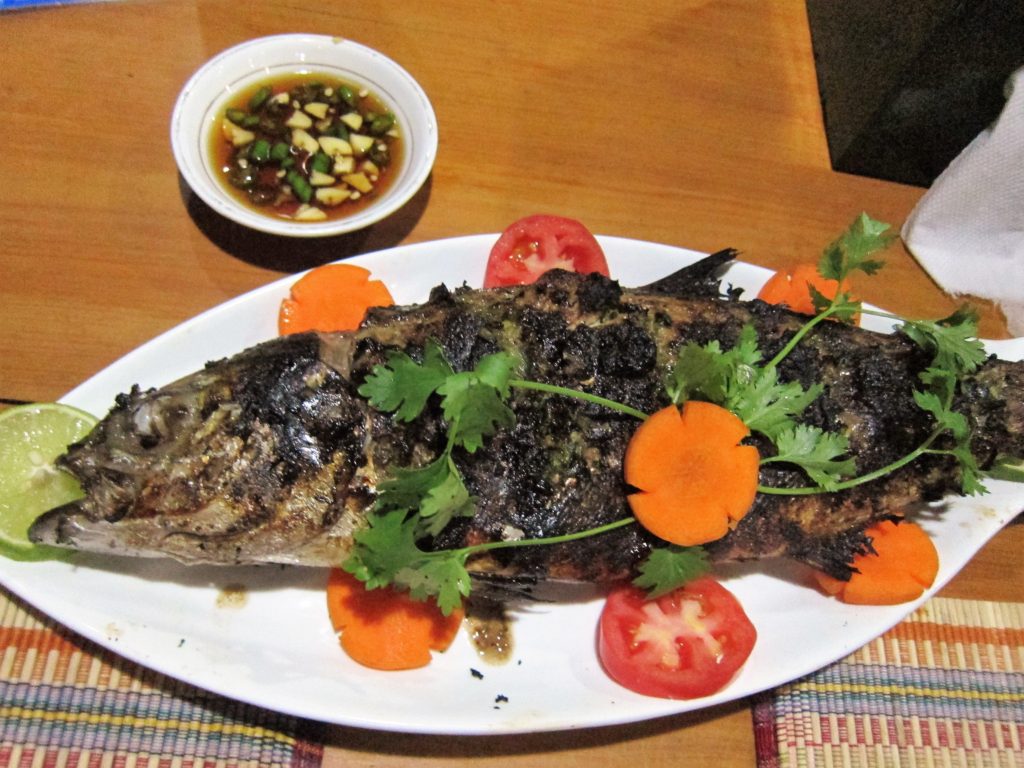 Sight or Insight of the Day for Ngwe Saung Beach
Cleaning out our luggage shortly after arriving here,  I noticed that all the train tickets we buy have an amount for life insurance added to the price.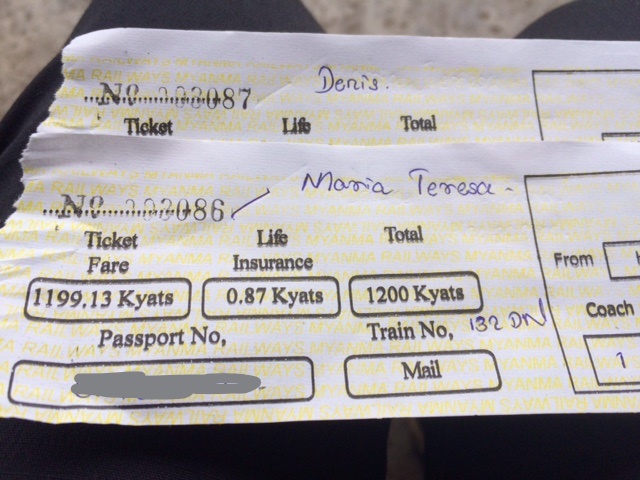 The premium is 0.87 Kyat, which in Canadian money is 0.000812003 of a dollar. Not sure how much of a payout we can expect if catastrophe ever strikes on Myanmar Railways.