Is there anything they aren't fantastic at in Singapore, we wonder?
We take an international bus from Malacca to get here.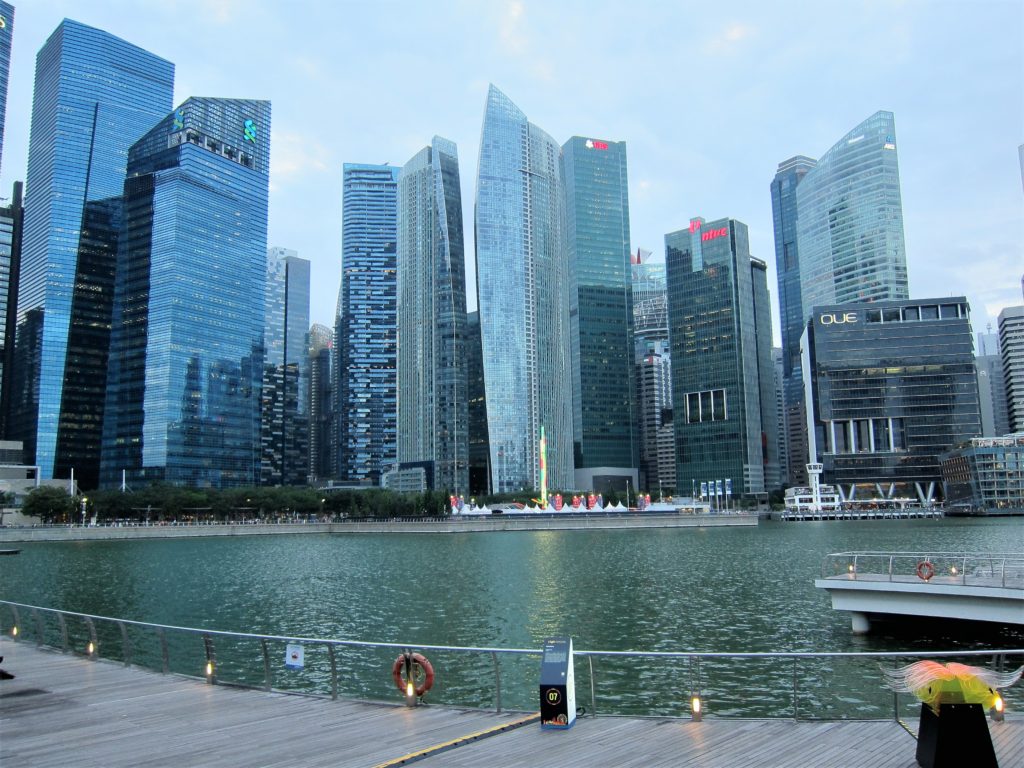 Below is the Marina Bay Sands. Looks like Noah's Ark come to rest on top of three tower blocks.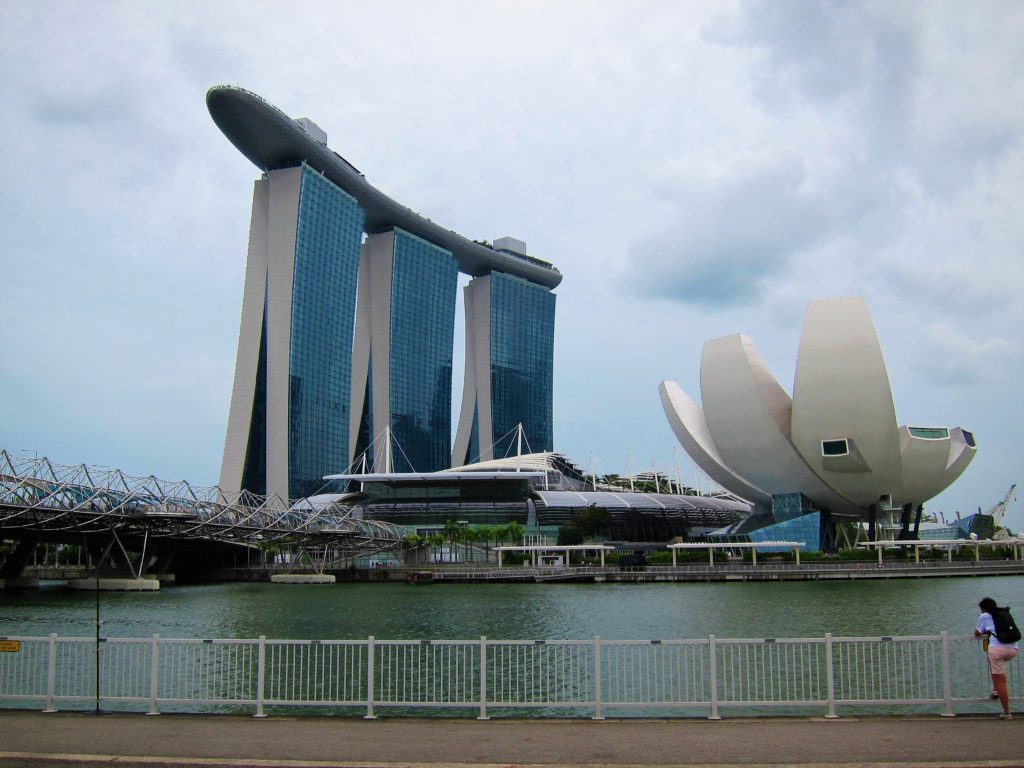 Great things we love about Singapore – it's clean. REALLY clean. It is cutting-edge modern. (Makes Toronto look like a Duckburg. Sorry, Toronto.) Its public transport is top notch. Its infrastructure is fresh-out-of-the-box new and up to date, unlike a lot of the West's '70s-era stuff that is definitely showing its age. There are flowers and greenery everywhere. Did we mention that it's clean?
(Example – we take the metro out to Changi. On an exterior stretch, we pass a vista of a community square with broad, tree-lined avenues, snazzy modern apartments, and groups of well-dressed people striding purposefully down the wide, clean sidewalk. It strikes us both that it looks like an 'artist's conception' rendering of a future project. In reality, the original 'artist's conception' is usually missing the unconscious crackhead passed out on the sidewalk and the overflowing trash bins outside the fast food joint.)
This is where someone chimes in about Singapore as 'that place where chewing gum is illegal', or 'that place that still uses corporal punishment on social offenders'. If the result is an urban environment as idyllic as Singapore, I'd happily wield the lash against litterbugs myself.
Spectacular buildings are everywhere. The eye-popping Singapore JW Marriott, by Foster and Partners.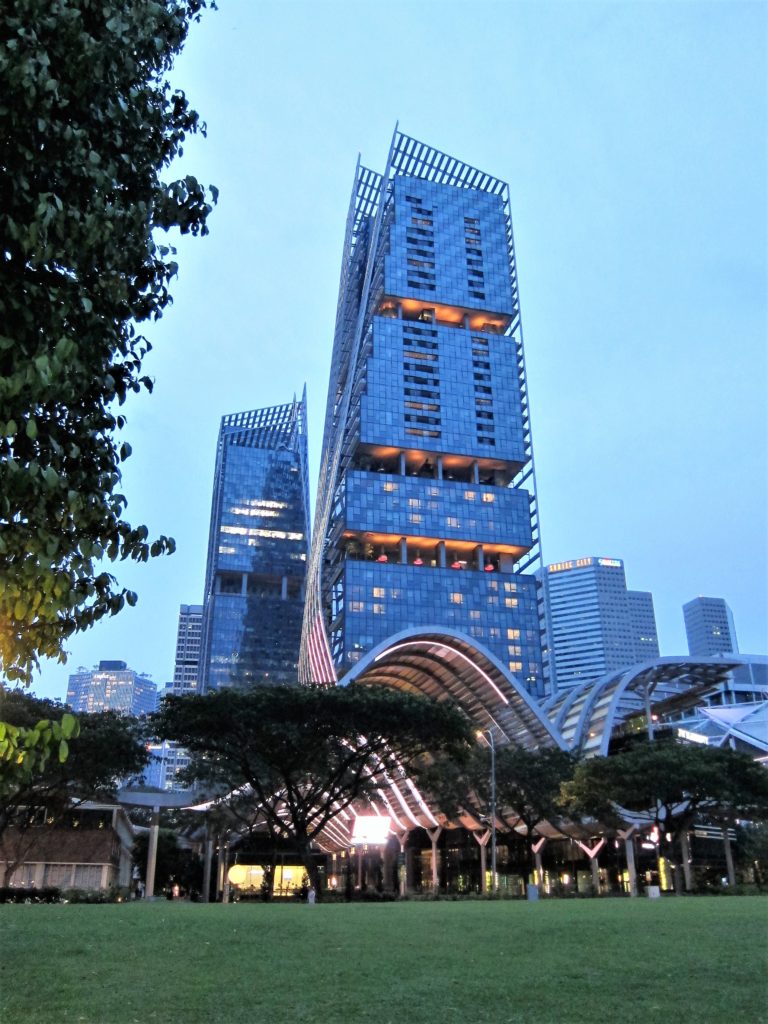 We make our way out to visit Changi Museum. It may seem as if we visit a lot of scenes of WWII Japanese atrocities. This isn't deliberate on our part. It's simply that every place Japan occupied is the scene of egregious acts of brutality. Go figure.
(Most of the visitors to Changi are old people. Evidently, WWII  joins the ranks of the American Civil War, the Seven-Years War, the Crusades, and the Punic Wars: as ancient history.
I've always seen WWII as the pivotal event of the 20th century: WWI and the Great Depression lead up to it; the end of colonialism, the Cold War and much of Western social and technological advance are the result of it.  But then again – the 20th century has been over for 18 years.)
Because we're already in the neighbourhood, we visit Changi Airport. It keeps winning 'World's Best Airport' awards, and we're not sure yet if we'll be leaving through here.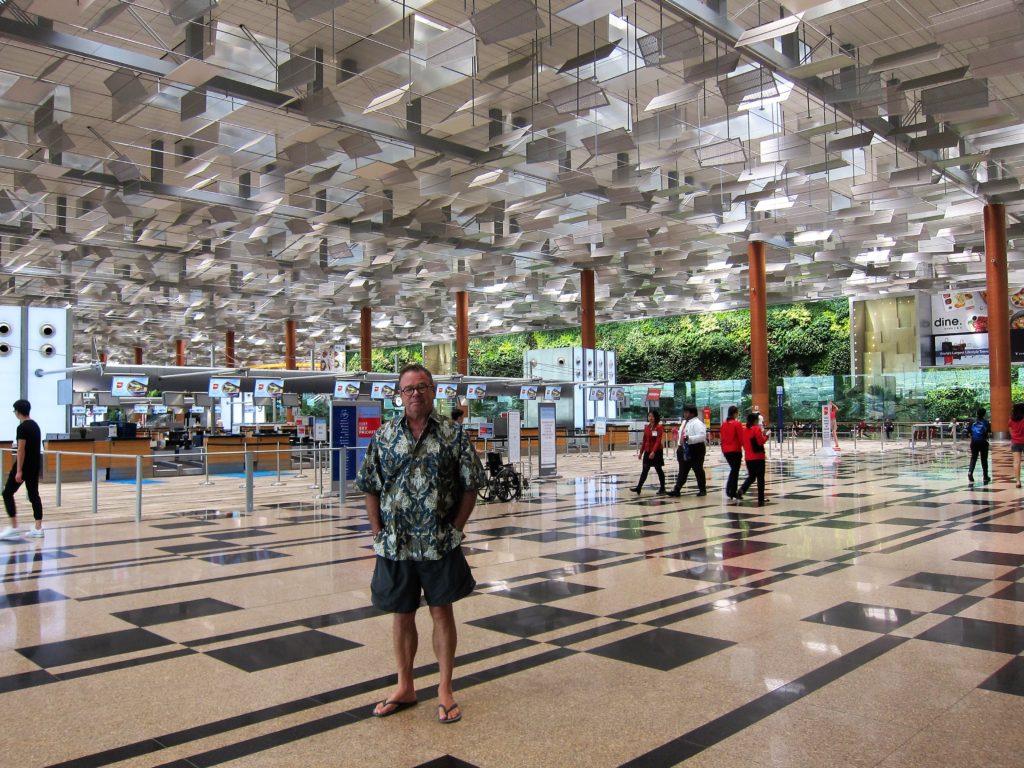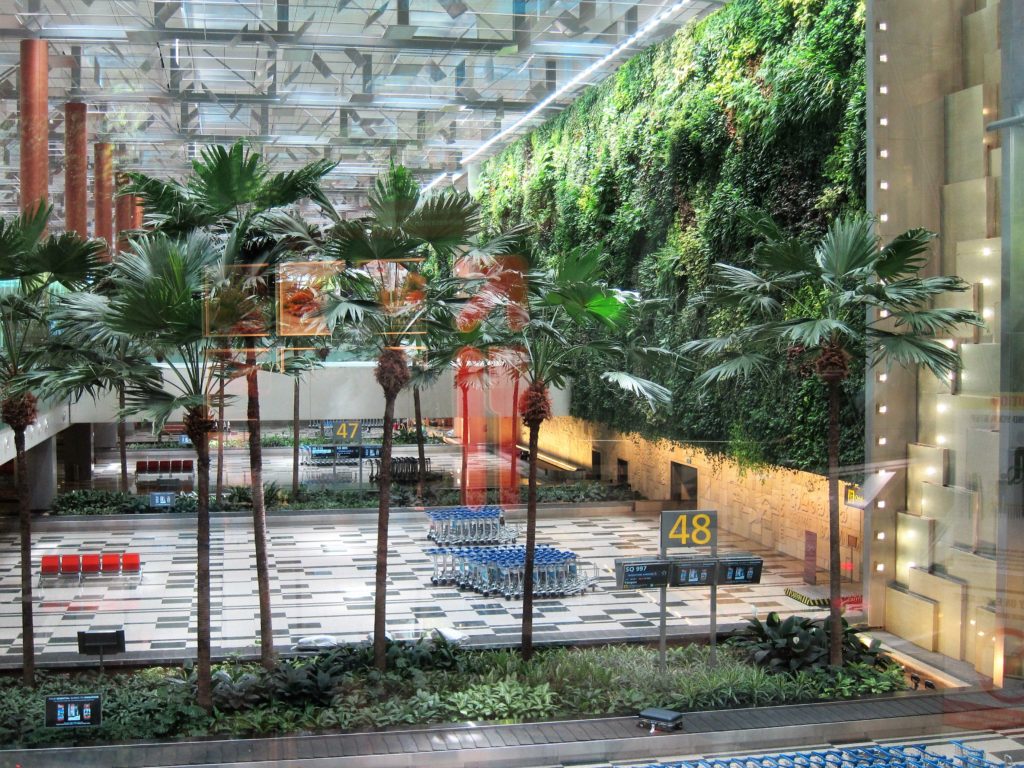 Singaporeans love to congregate by the waterside.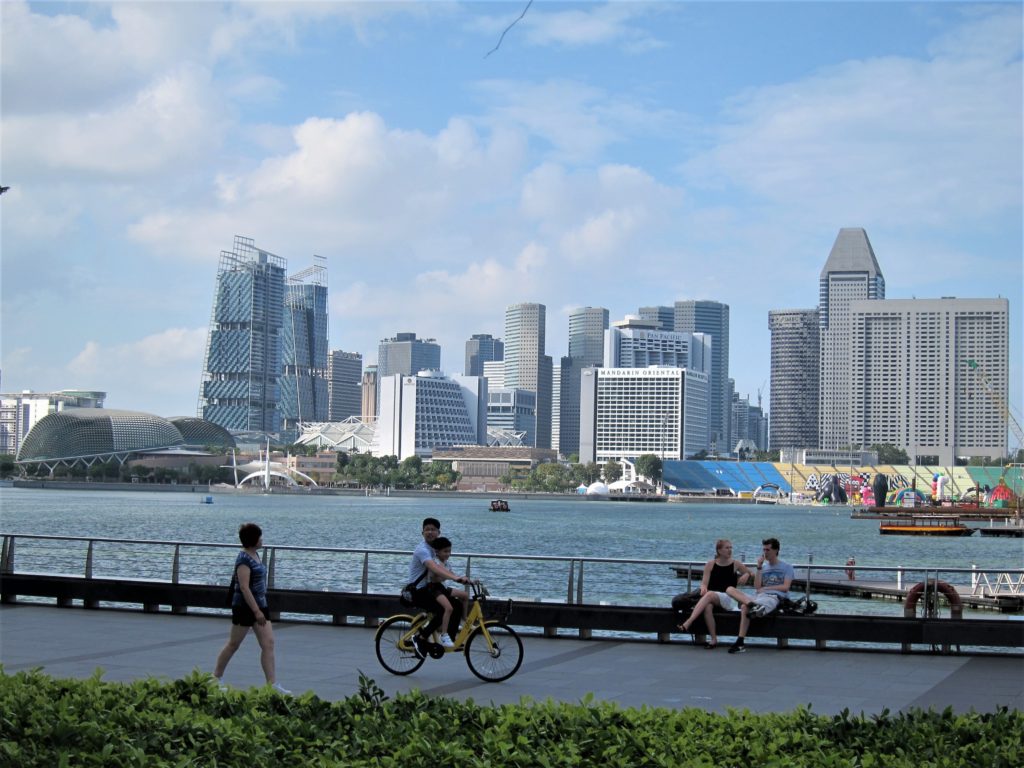 This is the Sultan Mosque, as seen from outside our guesthouse. The 5:15 AM call to prayer wakes me up every morning.
Inside the Flower Dome of the Gardens by the Bay.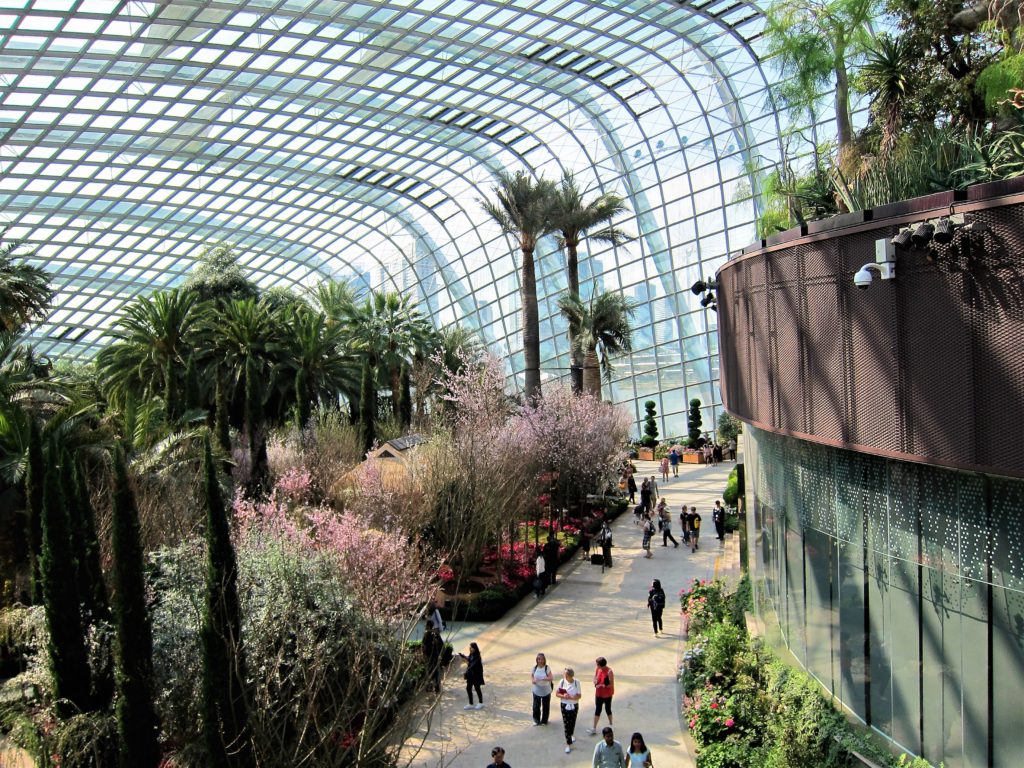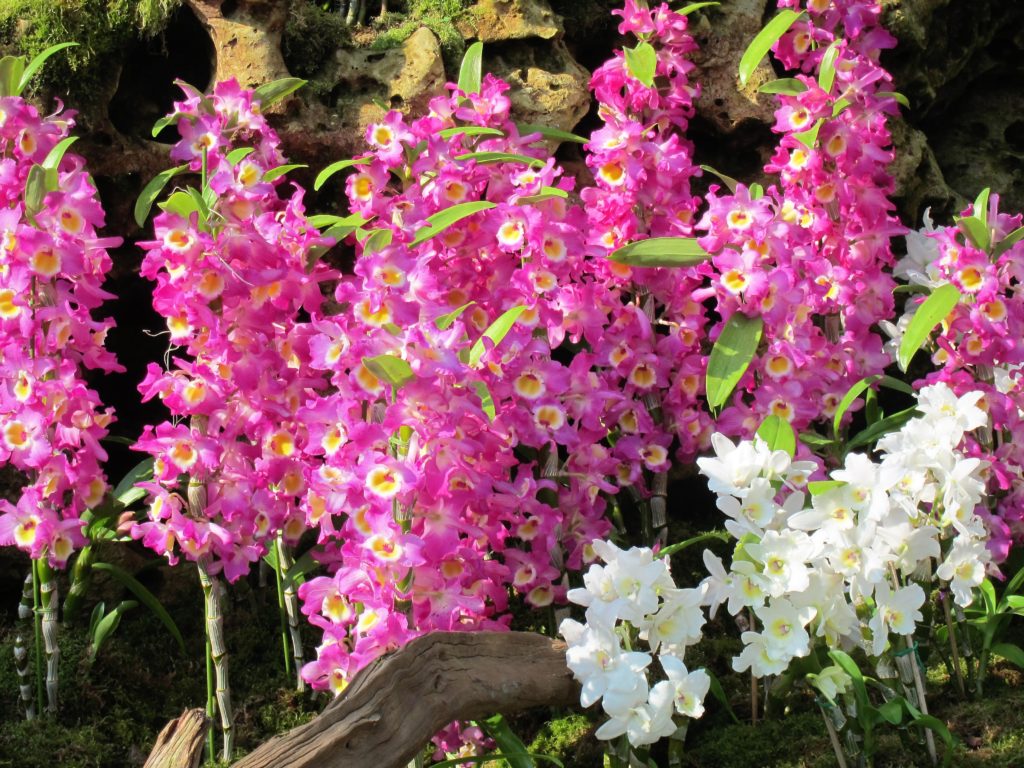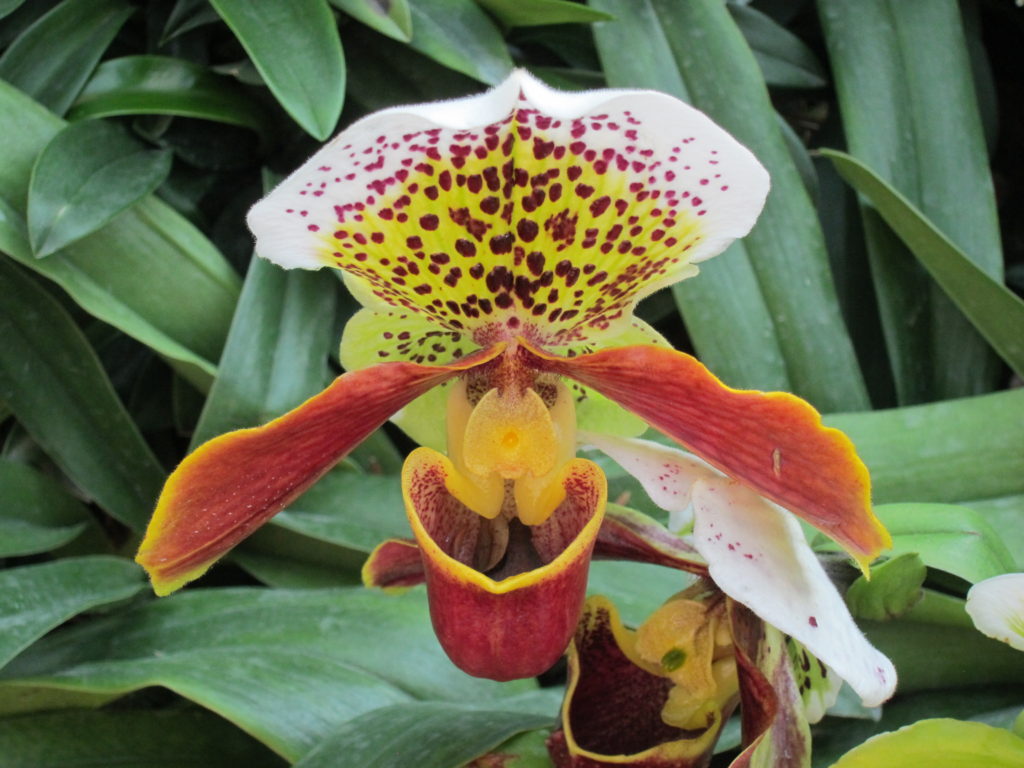 This is inside the Cloud Forest Dome.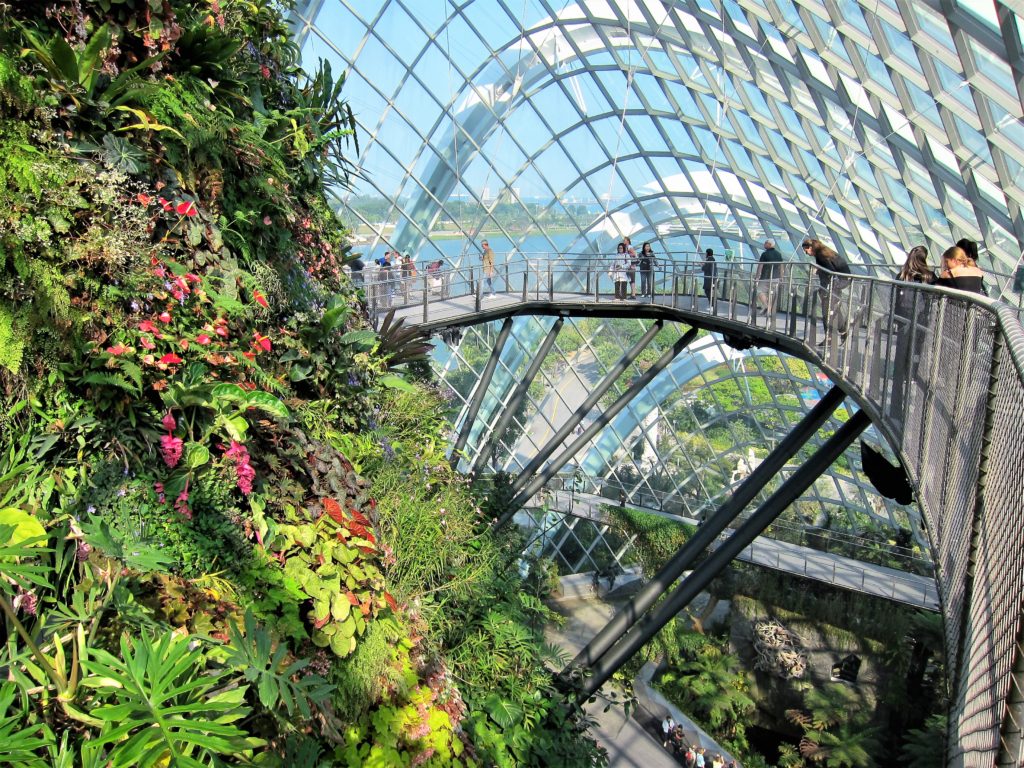 Inside a local mall is an artificial canal, in case you feel the need to row a boat while shopping.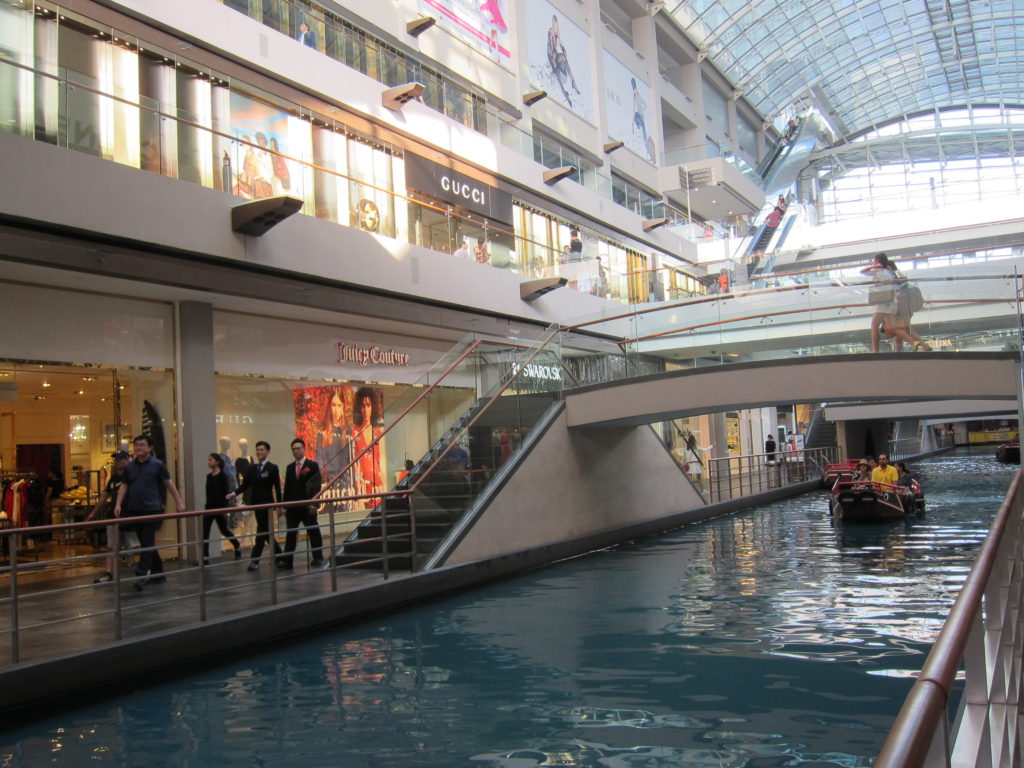 Of course all of this comes at a cost. It's pricey here, possibly more so than Canada. But as usual, you get what you pay for.
Sight or Insight of the Day – Singapore
We visit the visually stunning Singapore National Gallery. One noteworthy exhibit – in a gallery of modern Singaporean artists is what looks like angular shapes distributed at random across the floor.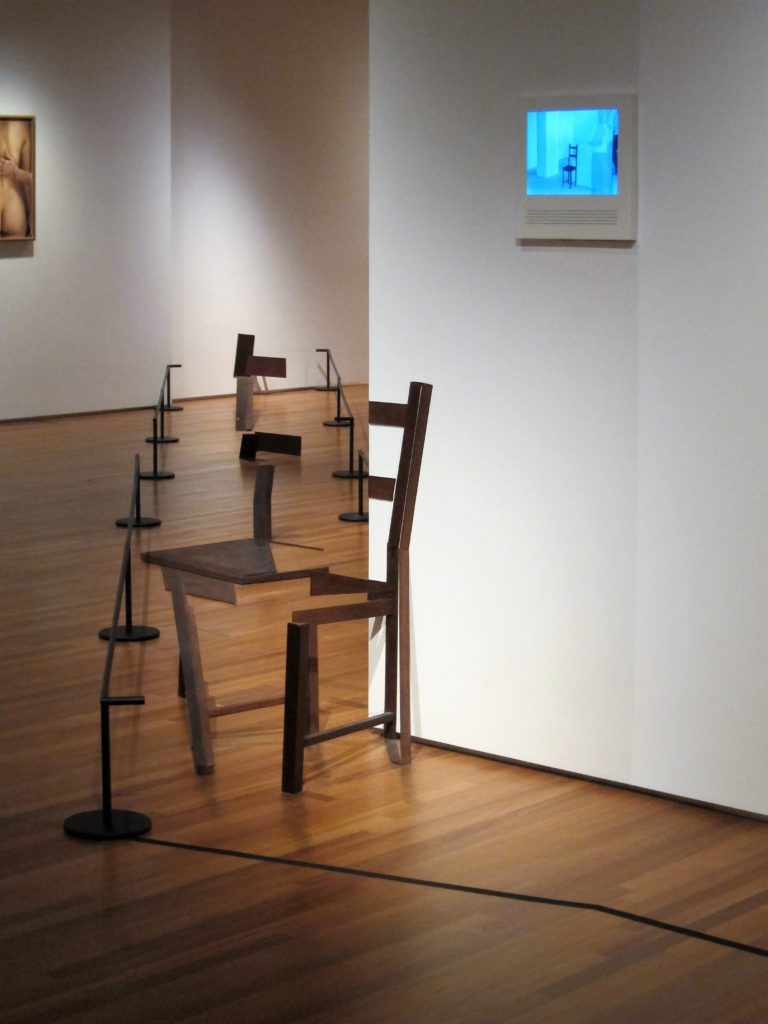 Move to a certain spot and presto! – looks like a real chair. Neat, eh?