Just when we are finally reveling in the the tropical heat of Darwin, it's time for an 11-day Sydney interlude. We reluctantly leave Matilda in the long-term parking at Darwin airport and fly across the country to the still-wintry urban frenzy of Sydney. Our niece, Julia, is visiting from Canada.
We look forward to seeing Julia again. After she spends a few days in Hong Kong and Macao, we arrange to meet in Sydney. Julia is always good at scouting out excellent Airbnb properties. This time is no exception – we move into a quaint renovated old home in the gentrified neighbourhood of Pyrmount.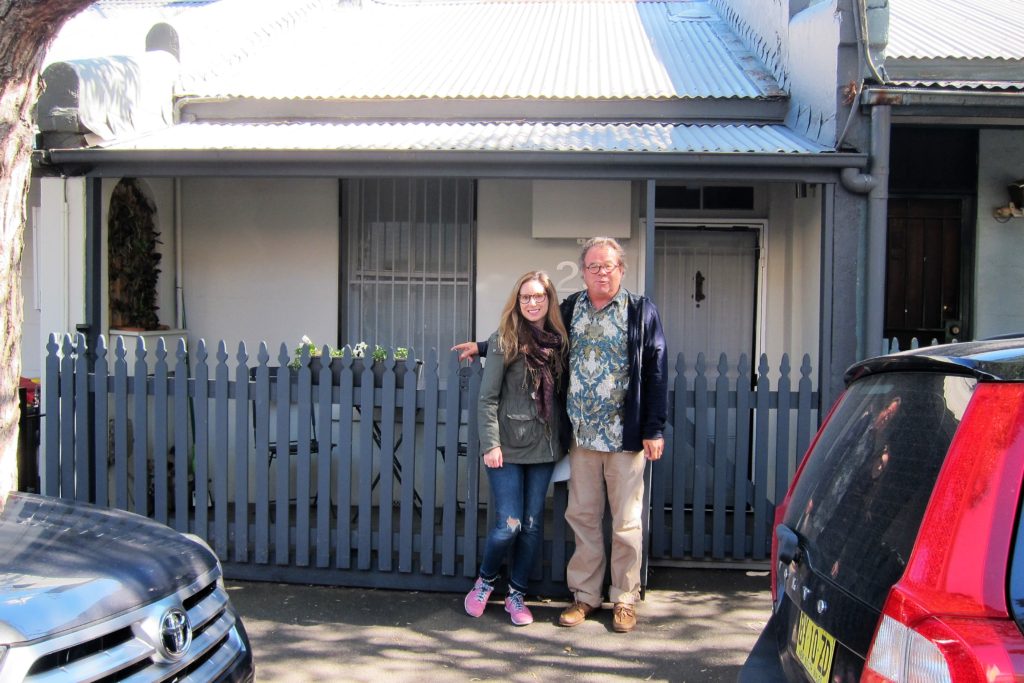 Maria and Julia go out on the town.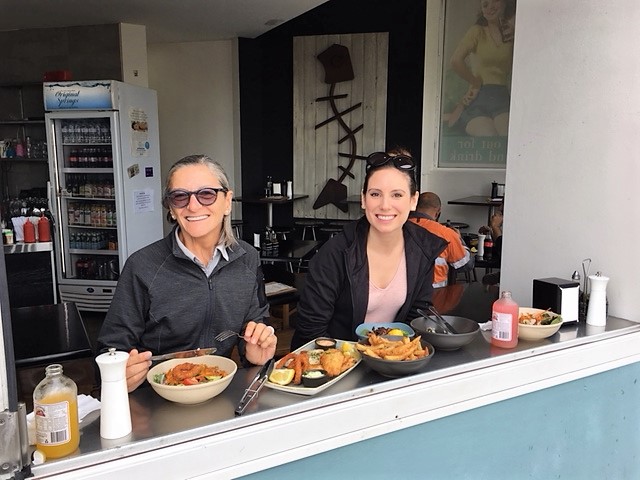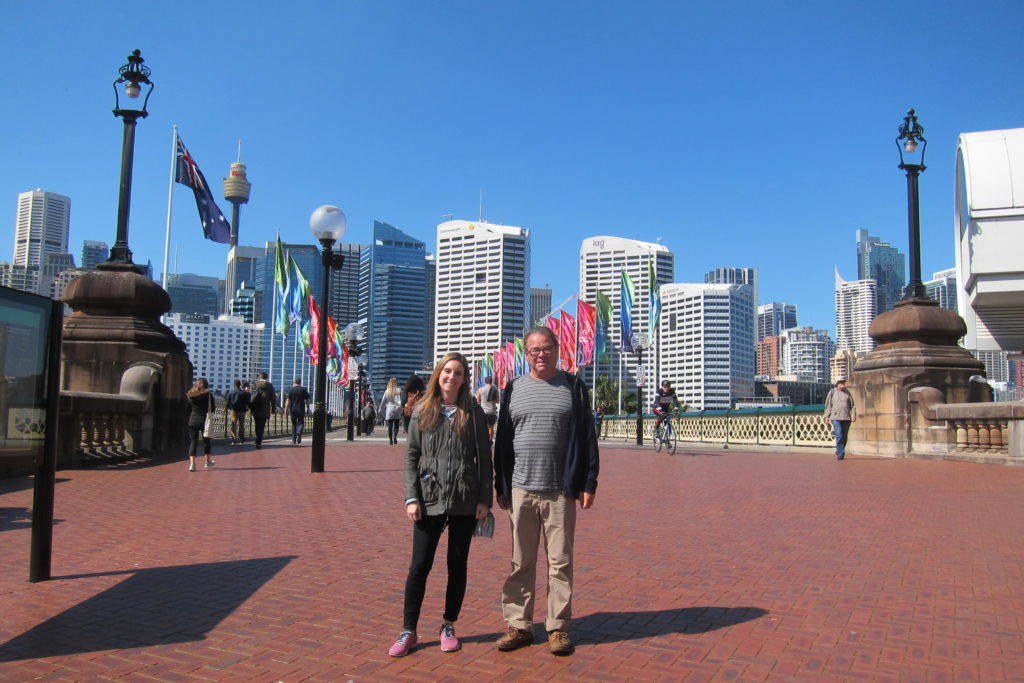 The Sydney Fish Market is a few minutes walk from our place.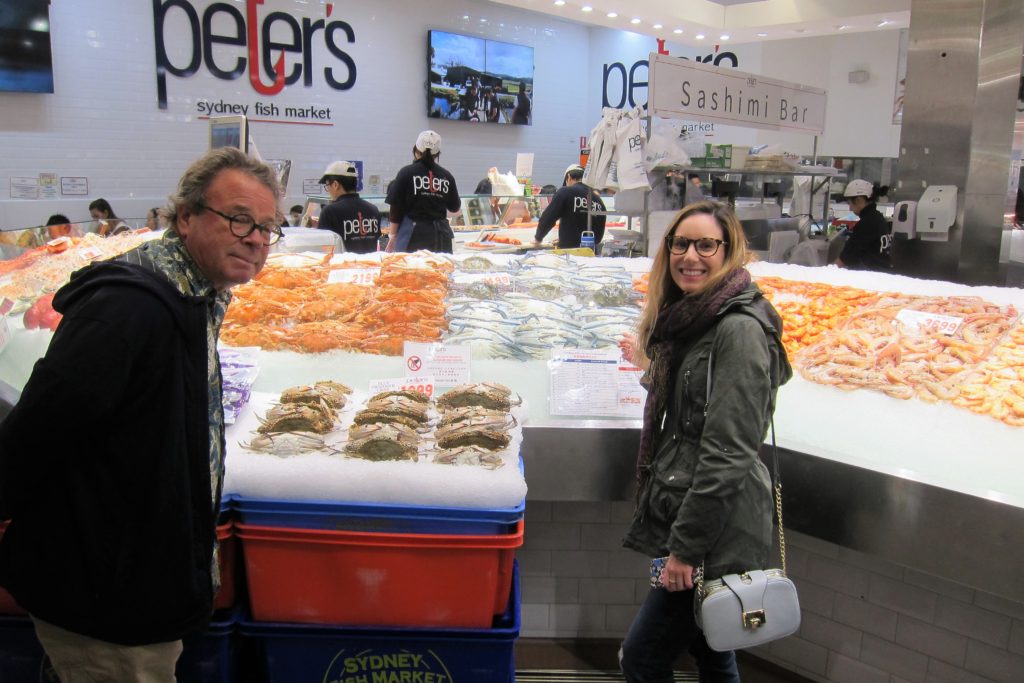 Julia really, really wants to interact with some koalas. We attend a 'breakfast with the koalas' event at Wild Life Sydney Zoo.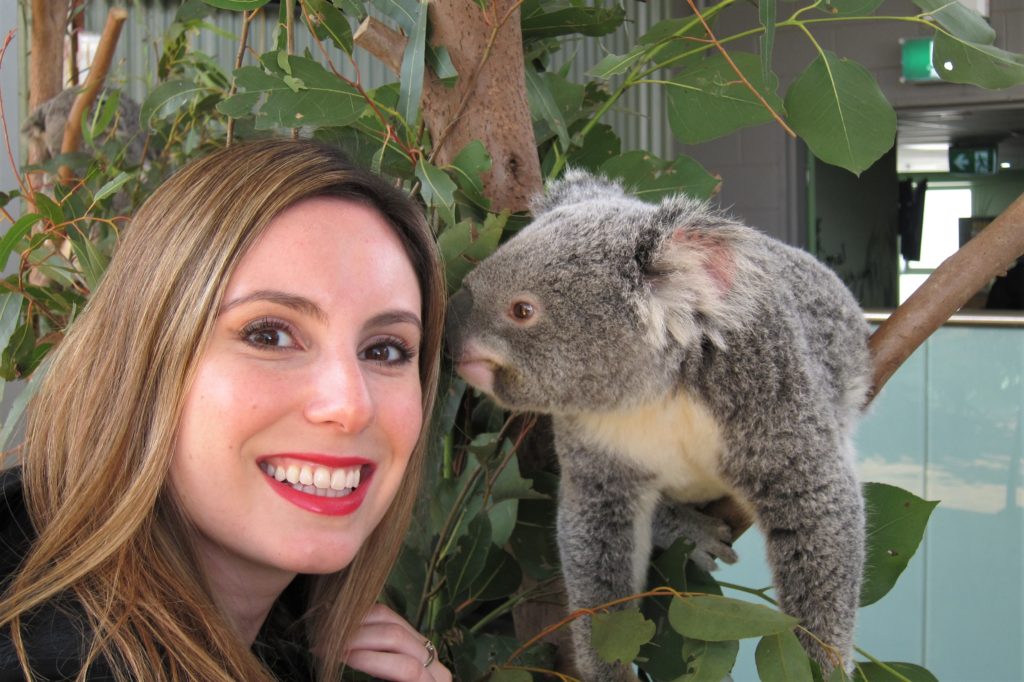 There are lots of koalas. They're all predictably adorable. You just want to squish them. But no touching allowed.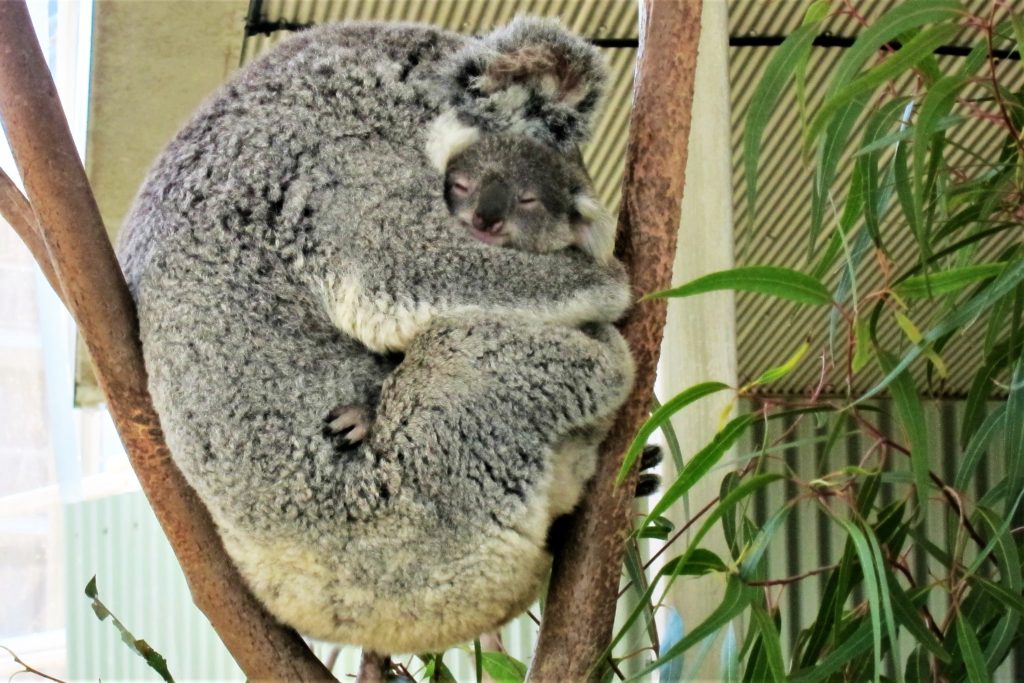 I can cross 'pet a wombat' off my bucket list.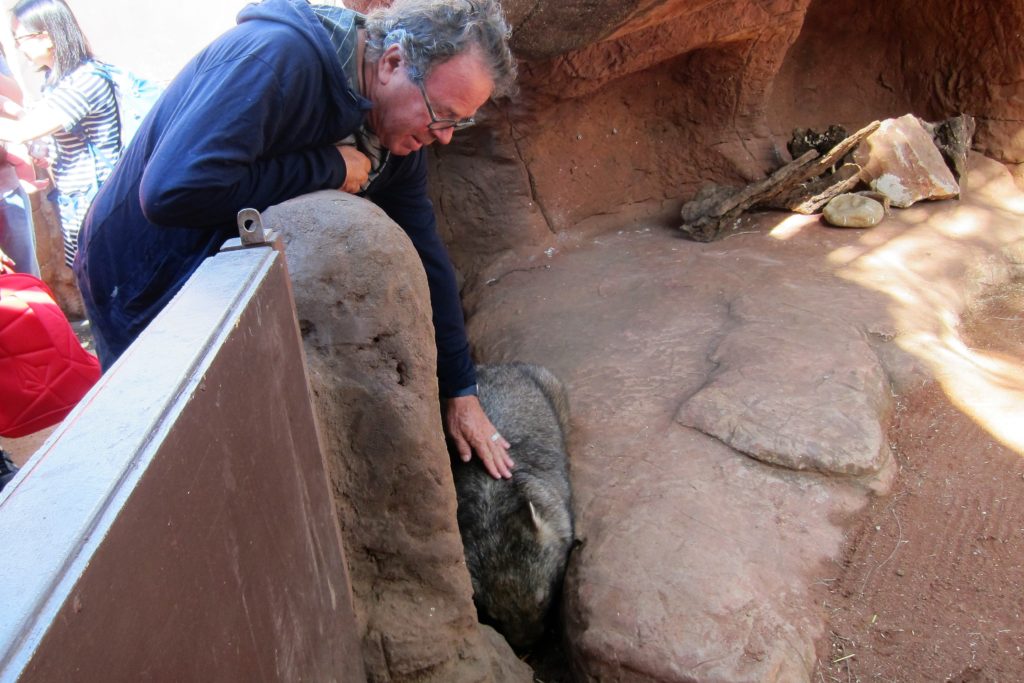 Julia and I clown around at the wombat enclosure.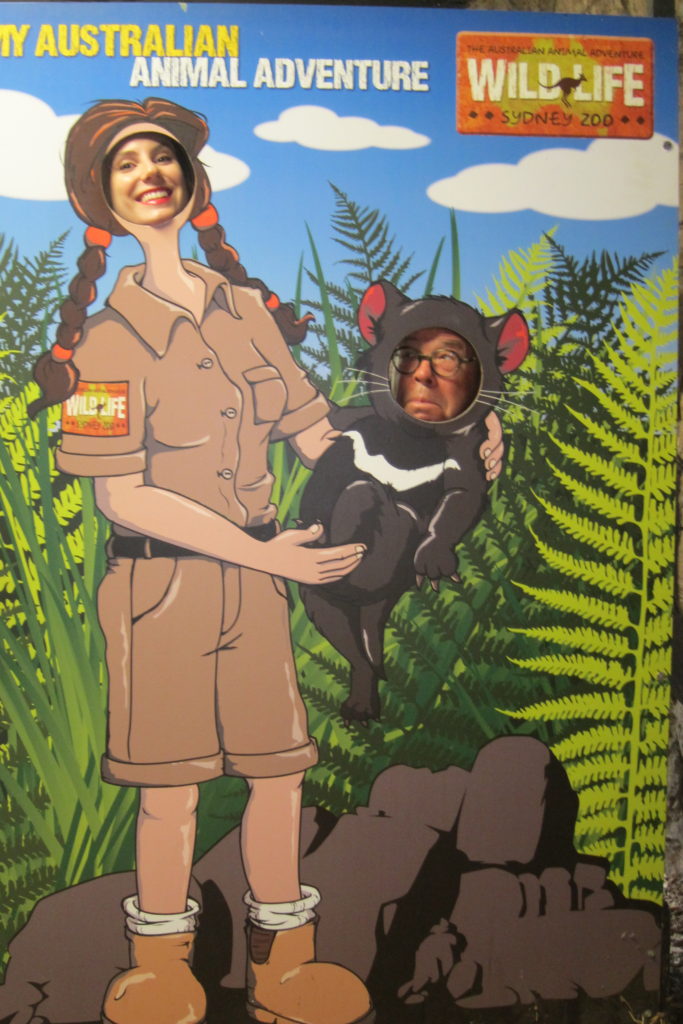 Fun fact: wombat dung is cube-shaped.
Julia and a wallaby share highlighting secrets.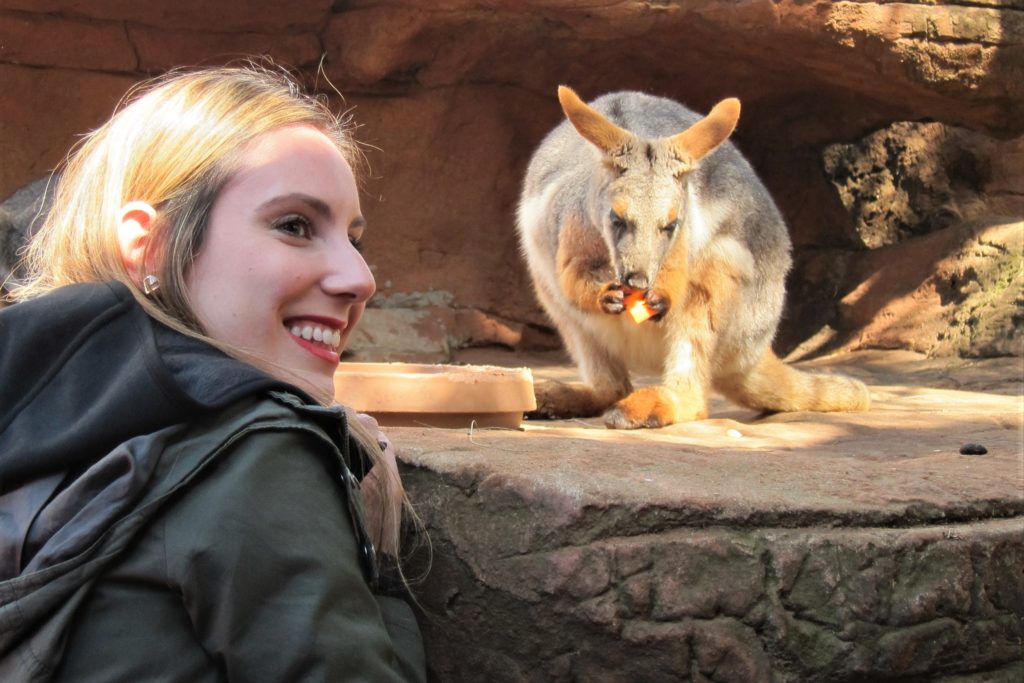 We rent a car and drive to the viniferous Hunter Valley. We visit half a dozen wineries by bike.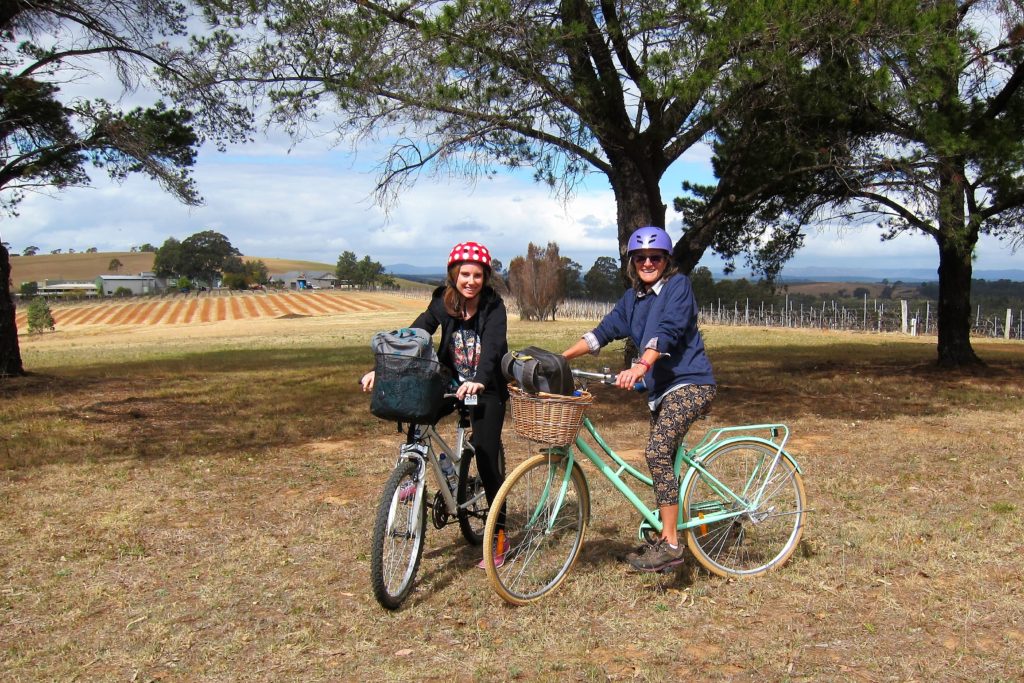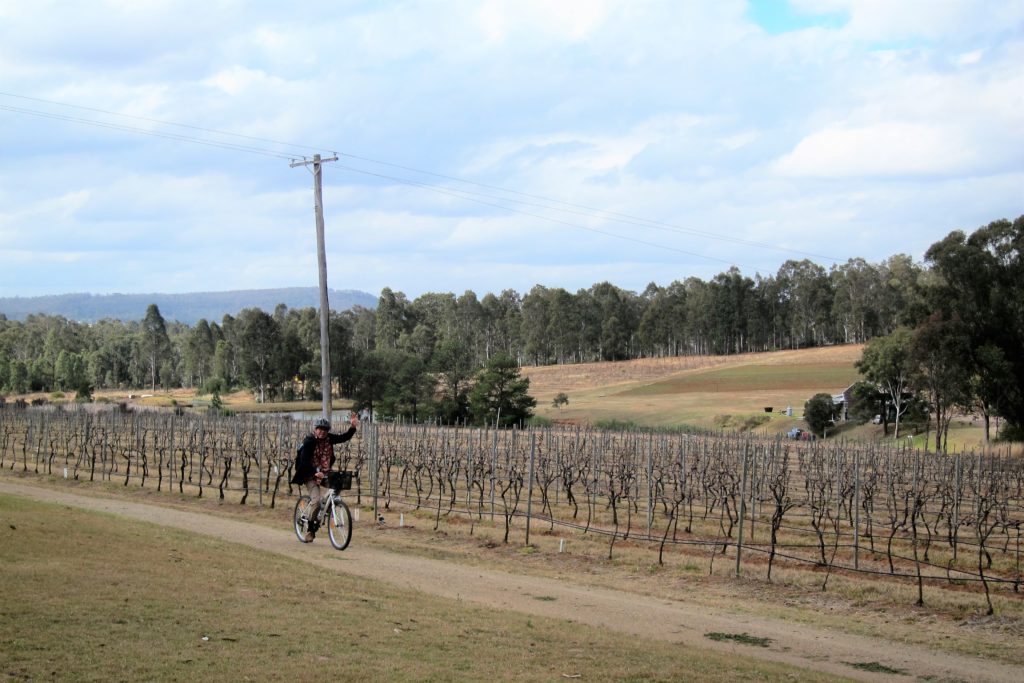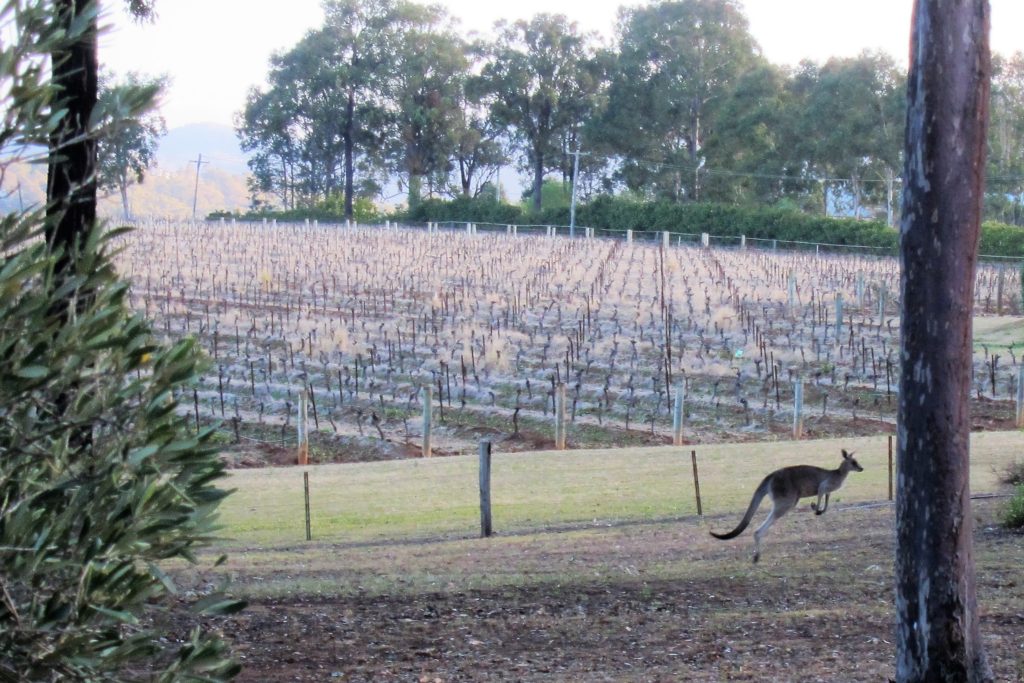 Back in Sydney, we decide to eat in one evening for a change. Maria prepares some kangaroo steaks.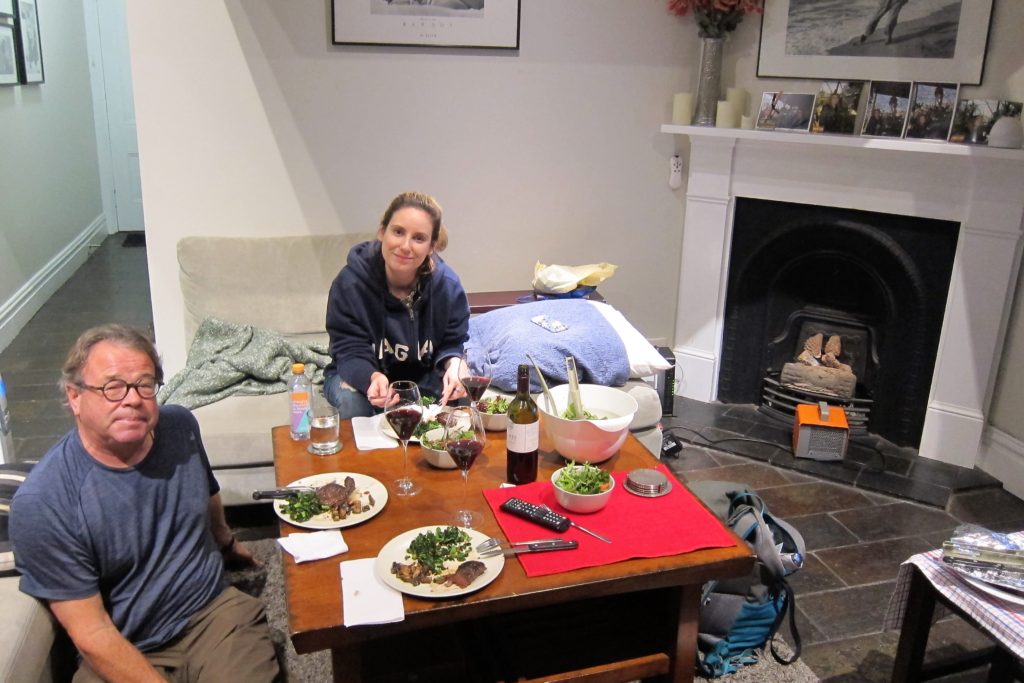 One night, we go to the Sydney Opera House to see…an opera! Rossini's The Turk in Italy, with the setting delightfully transposed to 1950's Italy.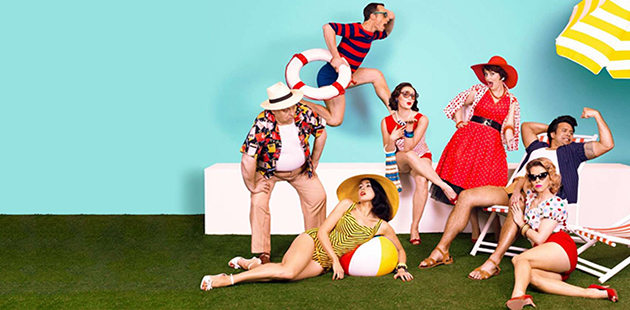 Everyone has a good time. This production is very colourful.
On another day, we rent a car and go for an overnight trip to the Blue Mountains.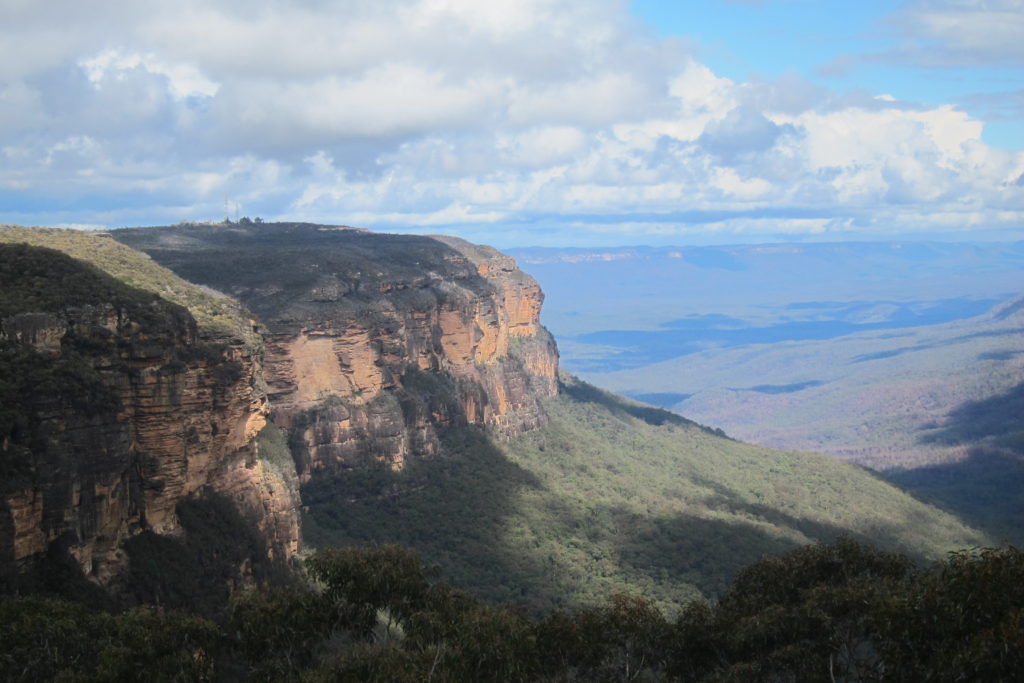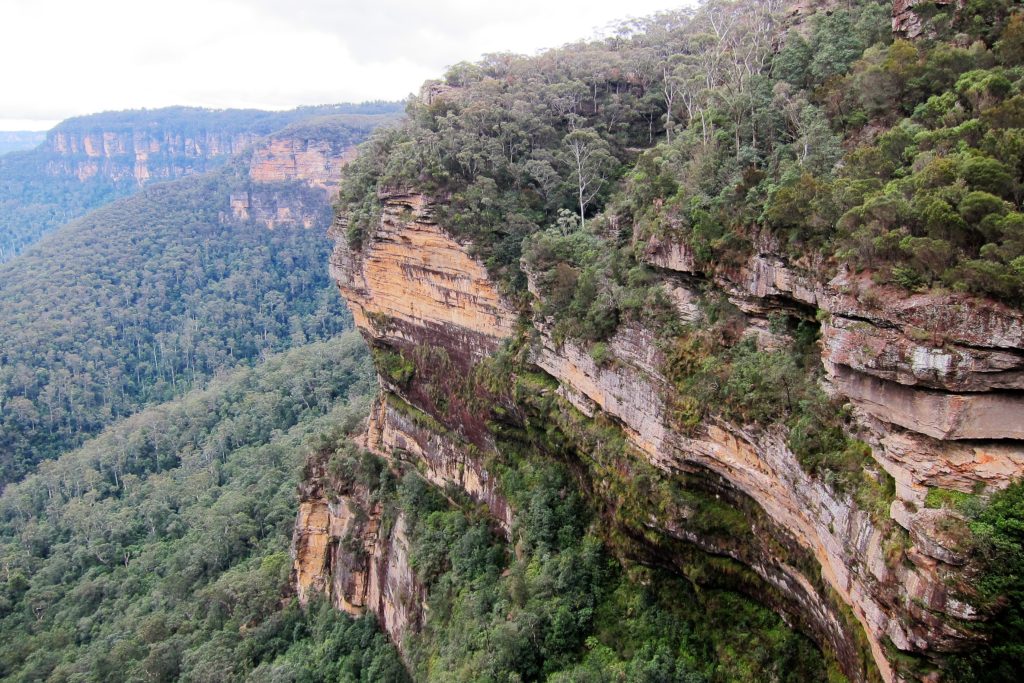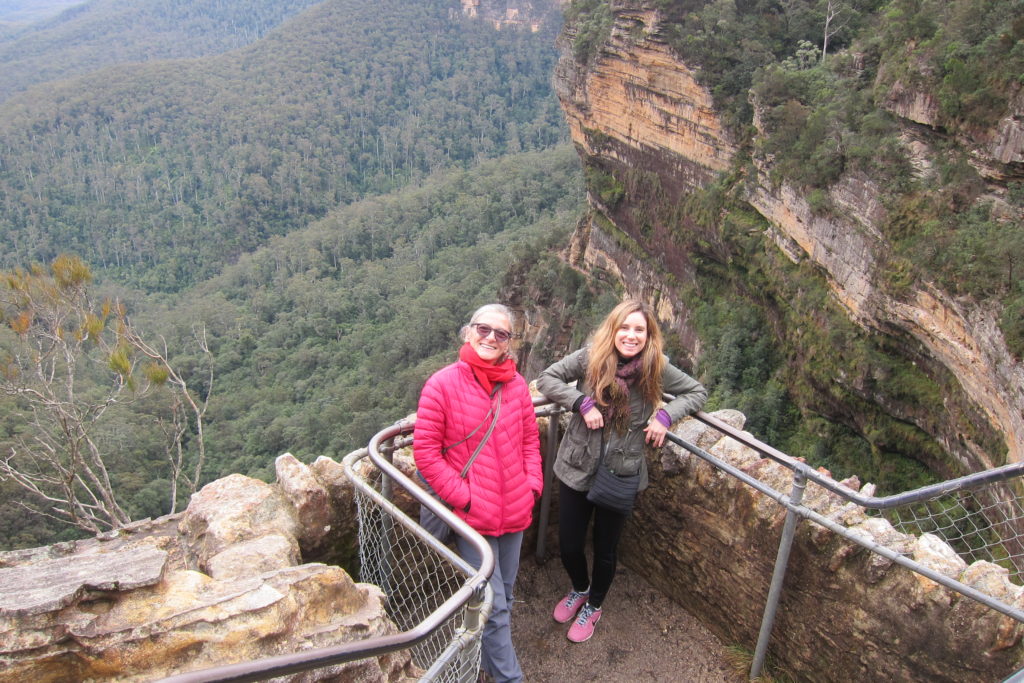 Julia finds us a four-bedroom house in Katoomba on Airbnb. It's a bargain at 94 AUD per night.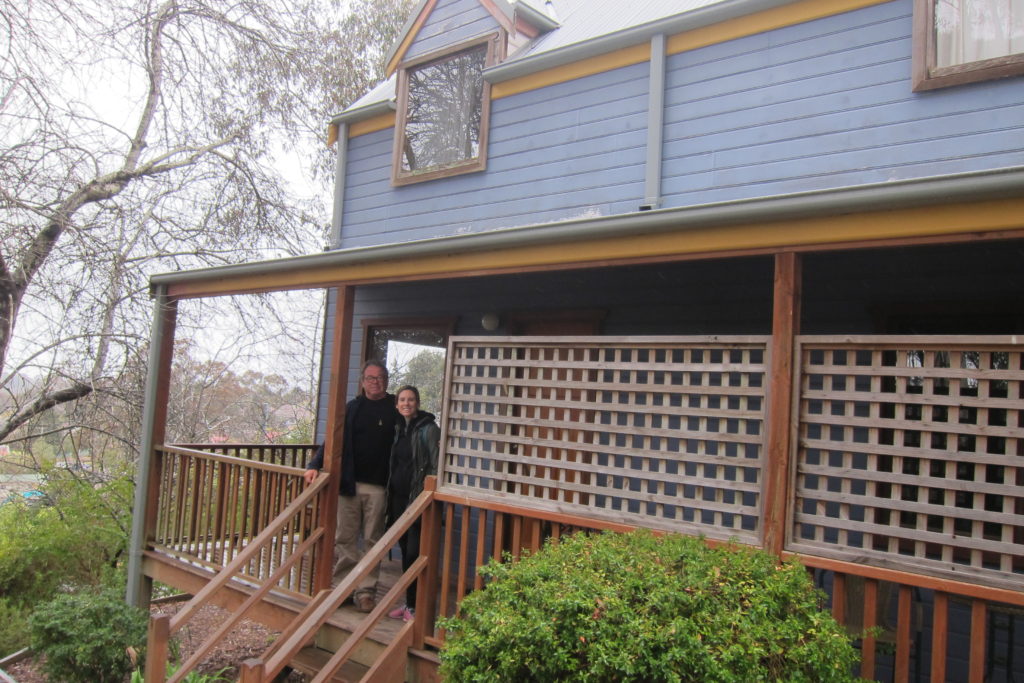 Next day, we walk the misty Jamison Valley at the foot of the Three Sisters.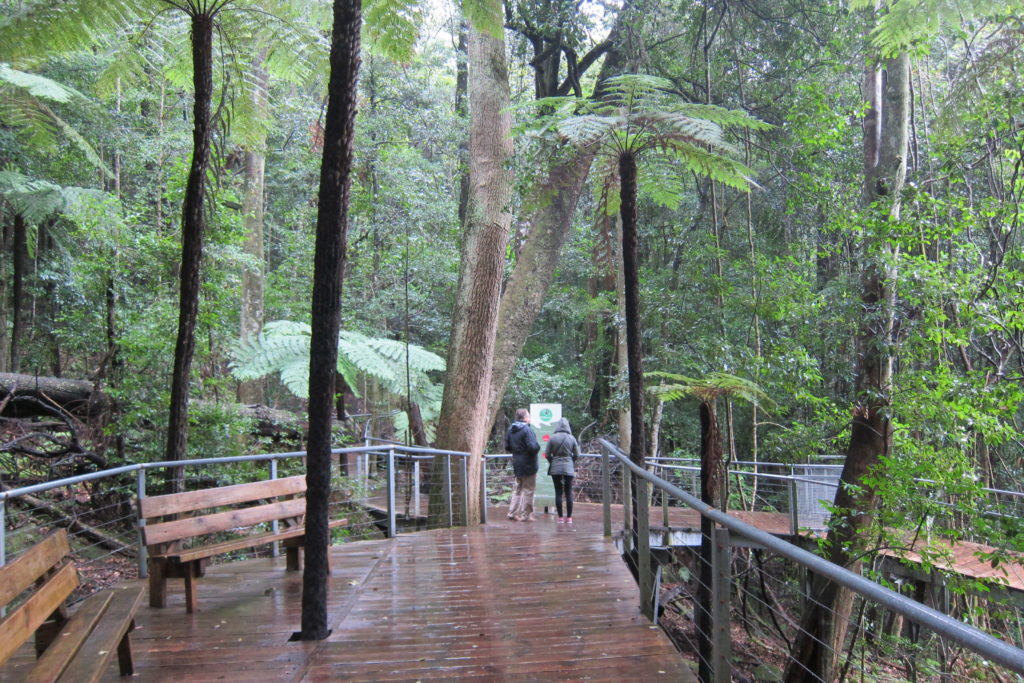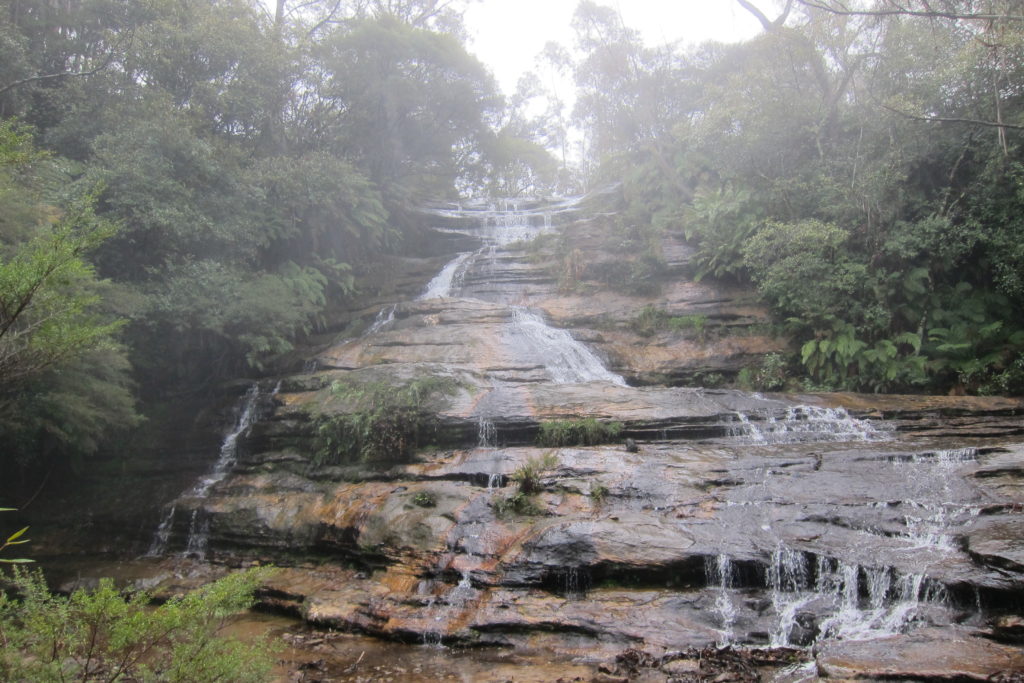 Back in Sydney the next day just in time to see a pop-up Globe production of A Midsummer Night's Dream.
Unlike the real reconstructed Globe in London – which we have had the good fortune to attend – this one is not permanent. Hence, pop-up.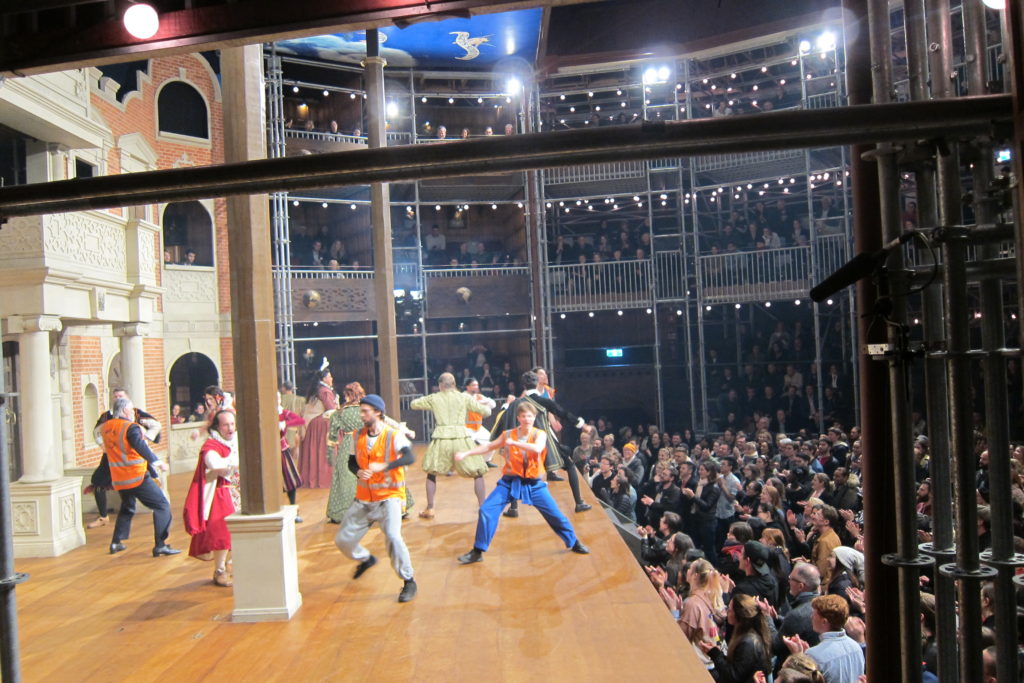 It's a New Zealand troupe performing. Shakespeare's 'rude mechanicals' are dressed as tradies (Australian for 'tradespersons'). The fairies are Maori warriors, delivering most of their lines in Maori.
It is hilarious. Just like 400 years ago.
Maria and Julia spend an afternoon at Bondi Beach while I stay home and binge on Netflix movies.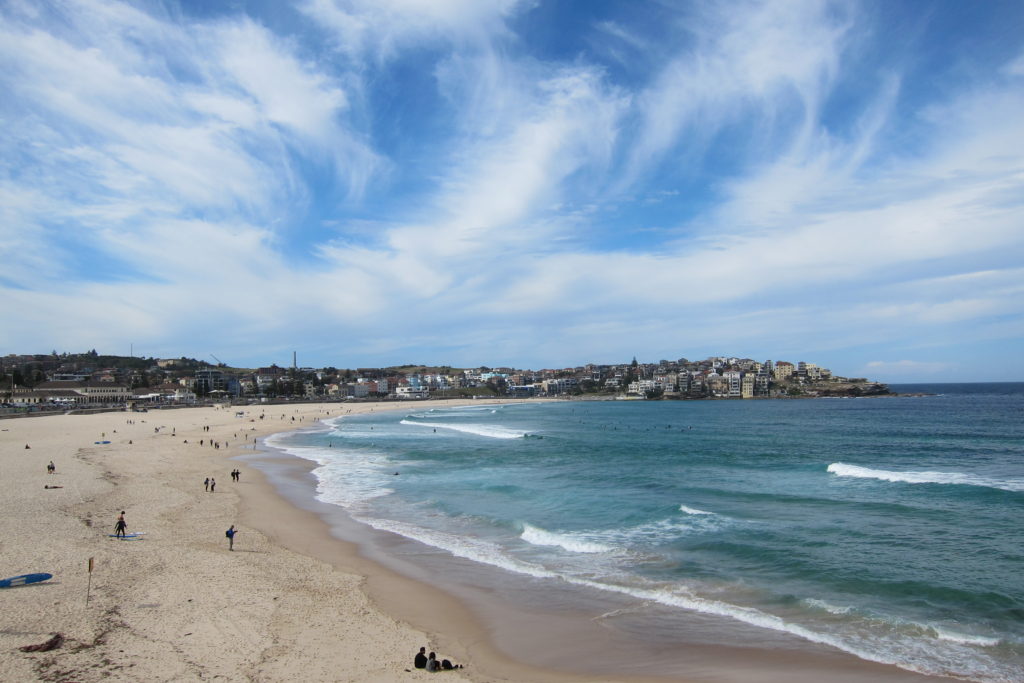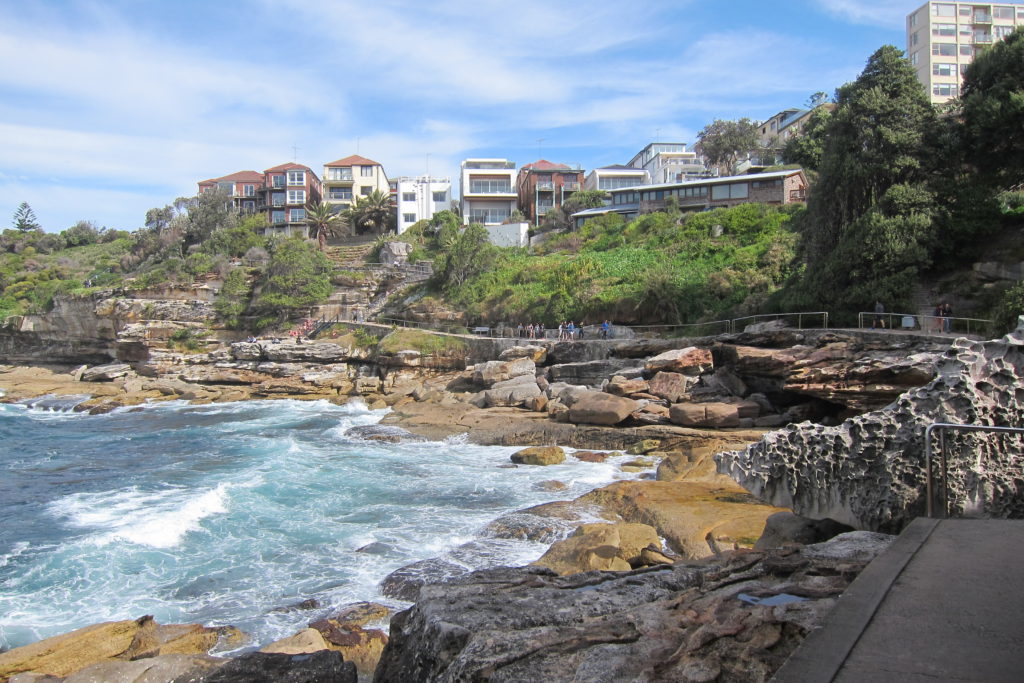 That evening, we meet at a Malaysian restaurant and walk home.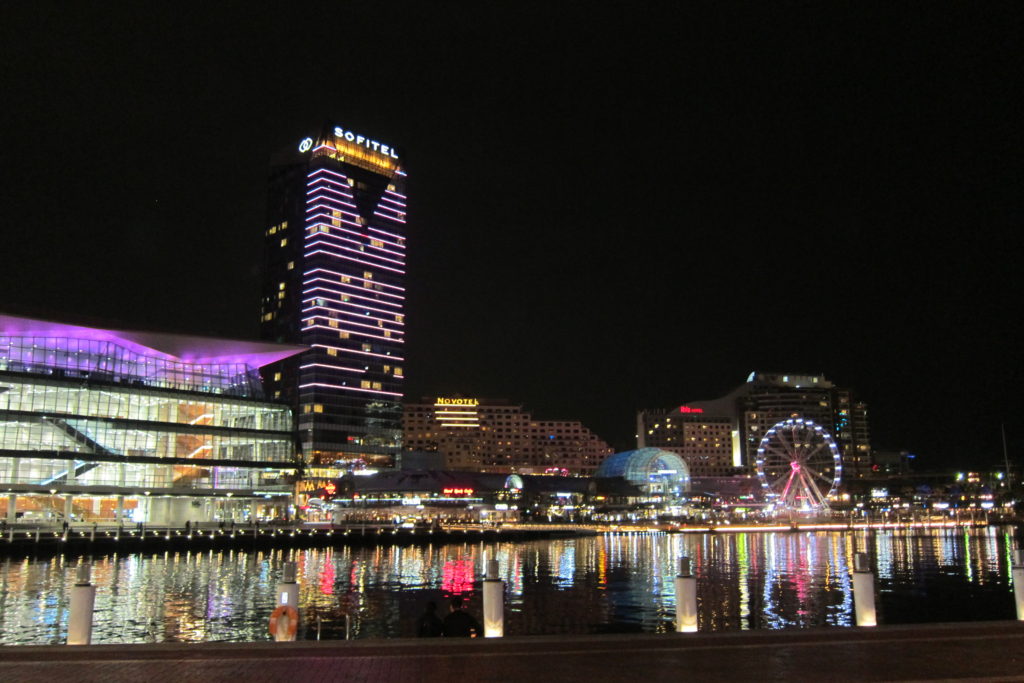 Maria and Julia surprise me one night with a slightly early birthday celebration.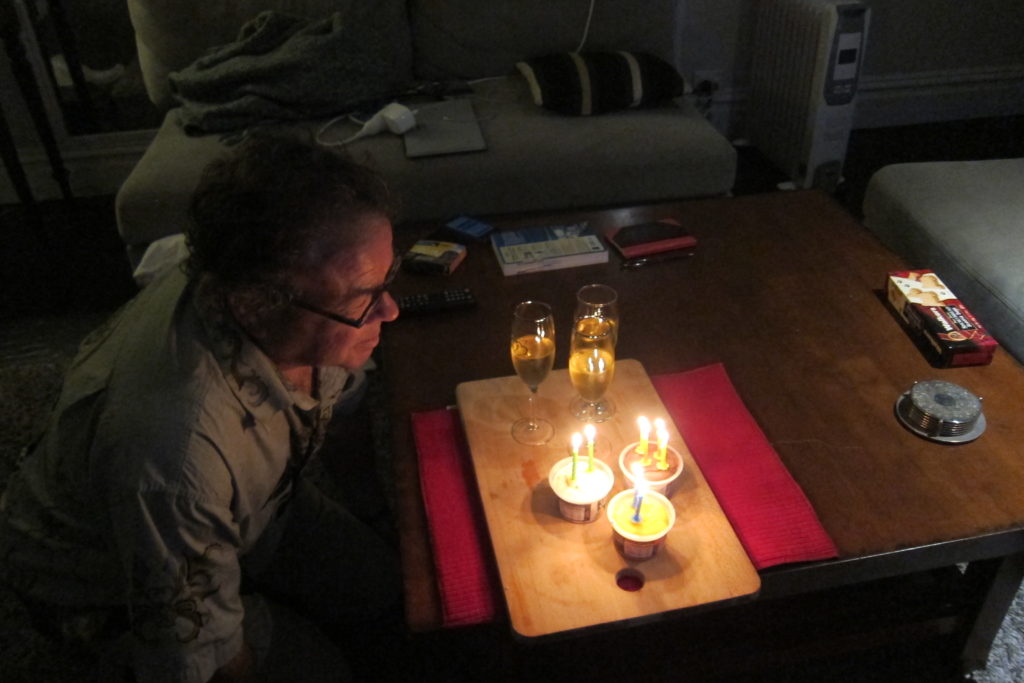 We visit the Museum of Contemporary Arts. We see a retrospective of works  by John Mawurndjul.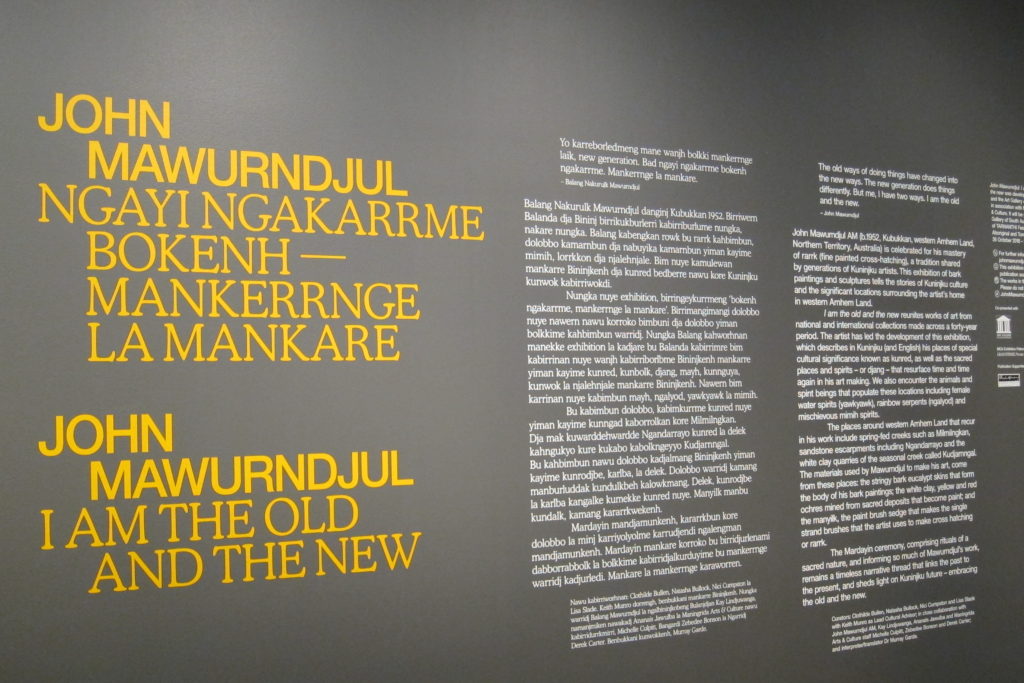 All are on bark.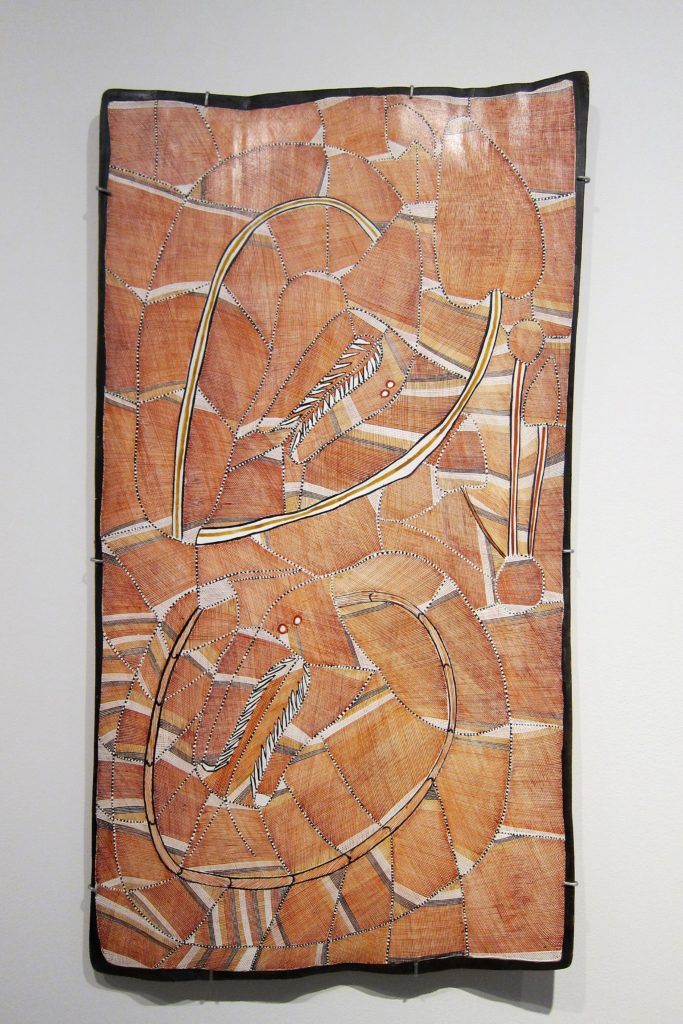 All have unbelievably fine cross-hatching work that we learn is known as 'rarrk'. Try using that in your next game of Scrabble.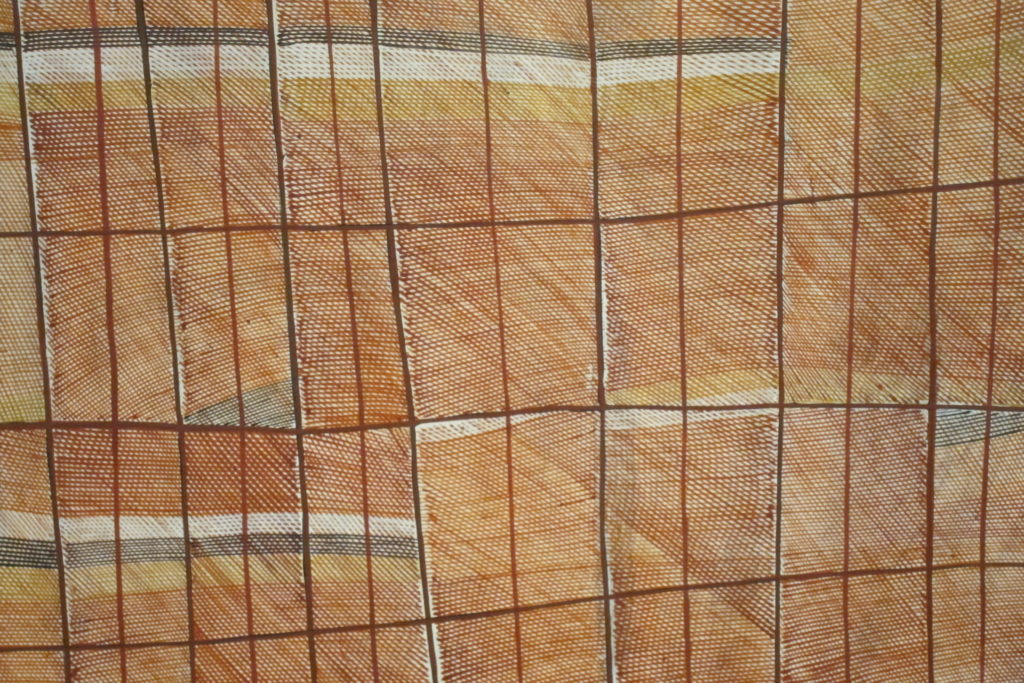 Alas, the day arrives when Julia flies home. We really enjoy spending time with her.
Maria and I have one more evening in Sydney to see The Comedy of Errors at the pop-up Globe.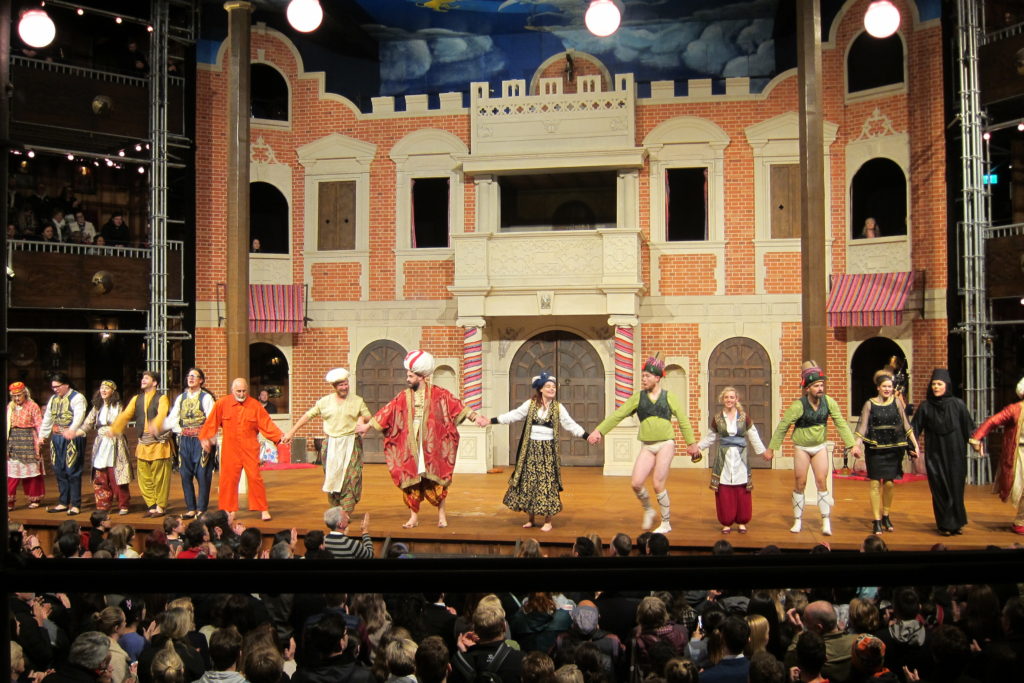 The next day – our last in Sydney for now – is sunny and warm, the first Spring-like day so far here.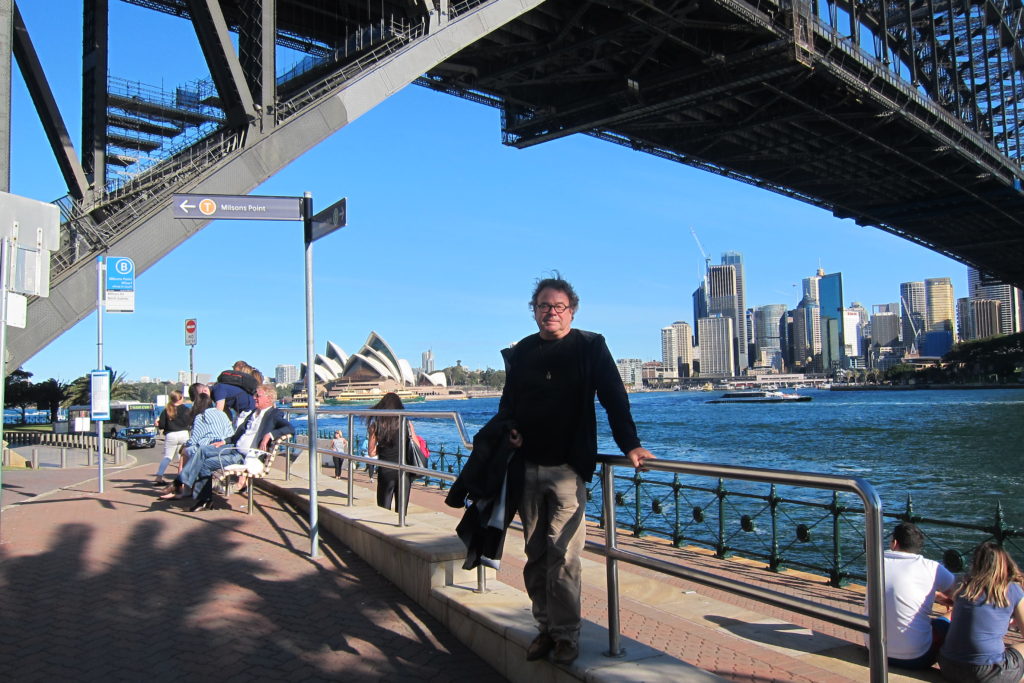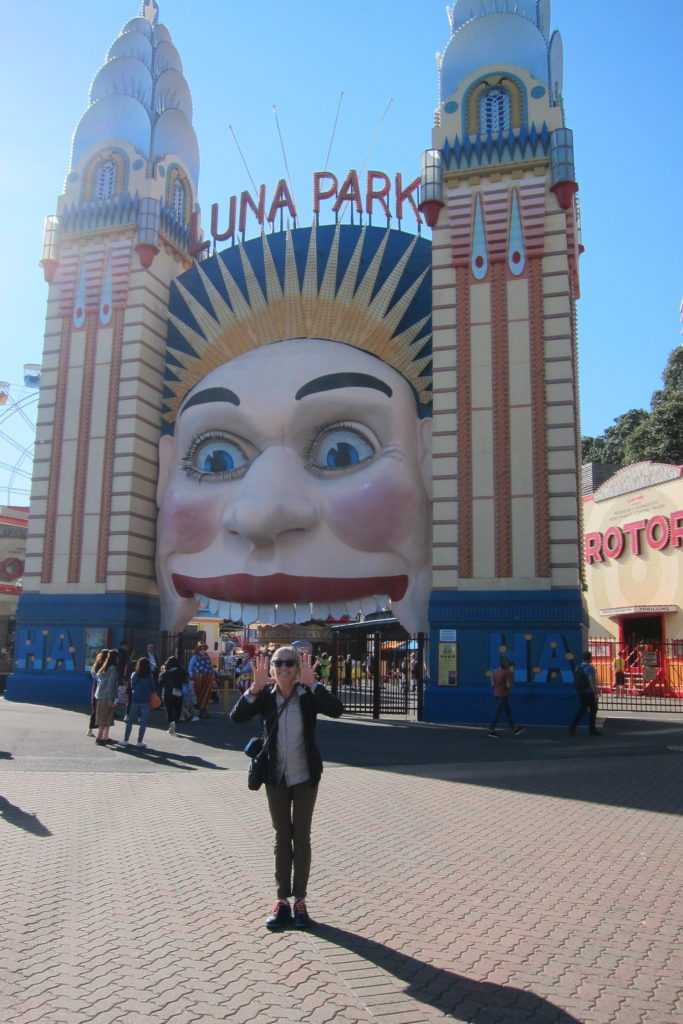 It's been fun, Sydney, but we'll be happy to get back to the wide open spaces again.
Sight or Insight of the Day – Sydney interlude
We mention several times that one thing we enjoy about traveling is discovering new things. This happens again when we re-visit the Museum of Sydney. There is a wonderful temporary exhibit: Bohemian Harbour; Artists of Lavender Bay'.
Chief among these is Brett Whiteley, well-known in Australia but a new name for us.
We spend our last morning visiting his studio in the neighbourhood of Surry Hills.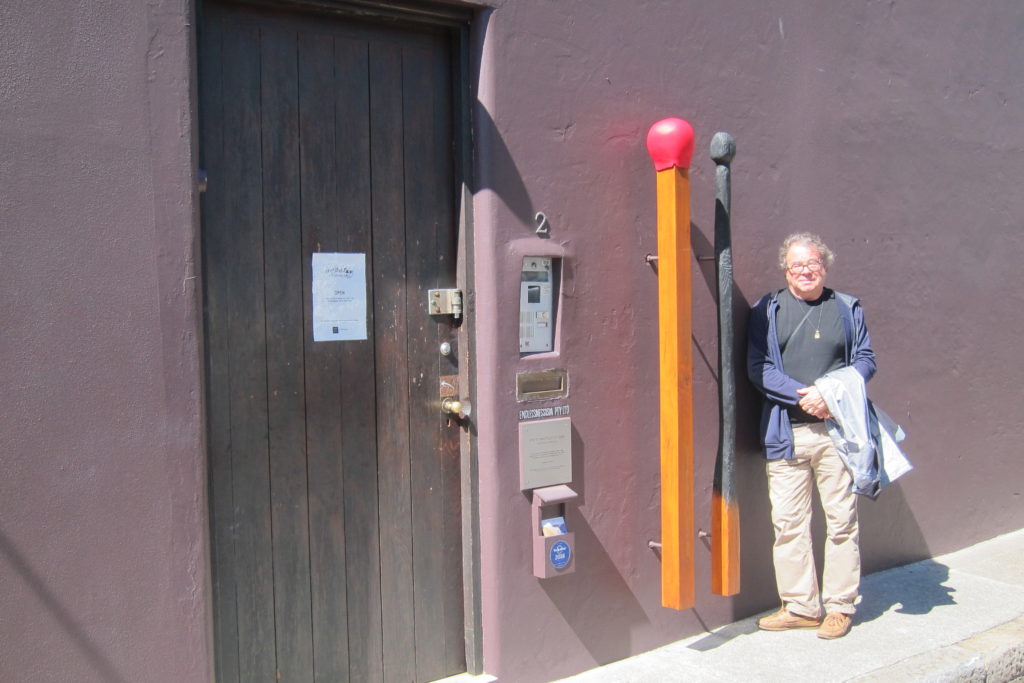 The lower level contains one of his masterworks, the multi-panel piece 'Alchemy'.
The upper level is much as he left it. A nice touch is the music playing throughout the studio, selections from Whiteley's collection. Most of it is familiar from my own music-listening era.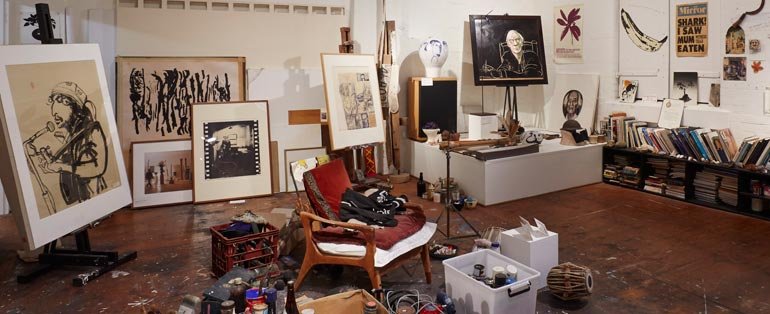 I flip through his CDs and LPs. One album makes me look twice – the Dire Straits live album 'Alchemy'.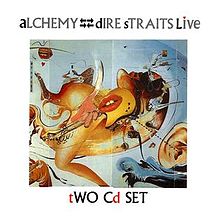 Sure enough, the cover art is the work 'Alchemy' that we just examined downstairs.
Heroin was Whiteley's eventual downfall. This work of his sums up nicely what heroin can do to your sense of perception.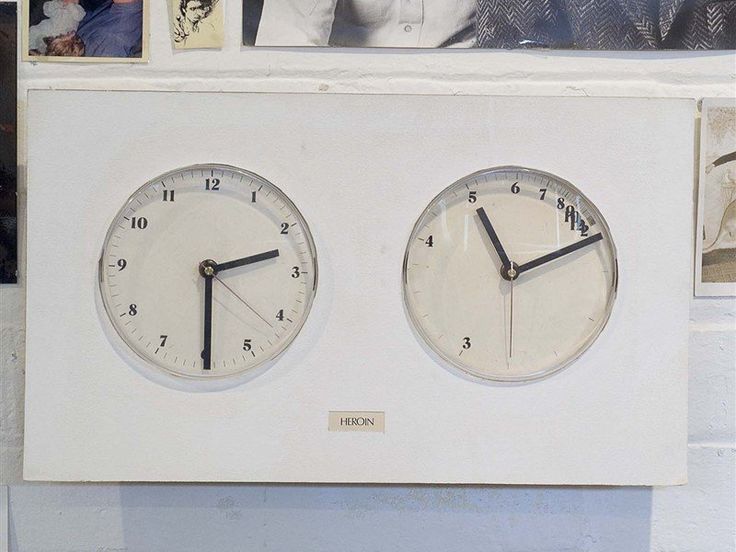 In the afternoon, we visit Lavender Bay itself.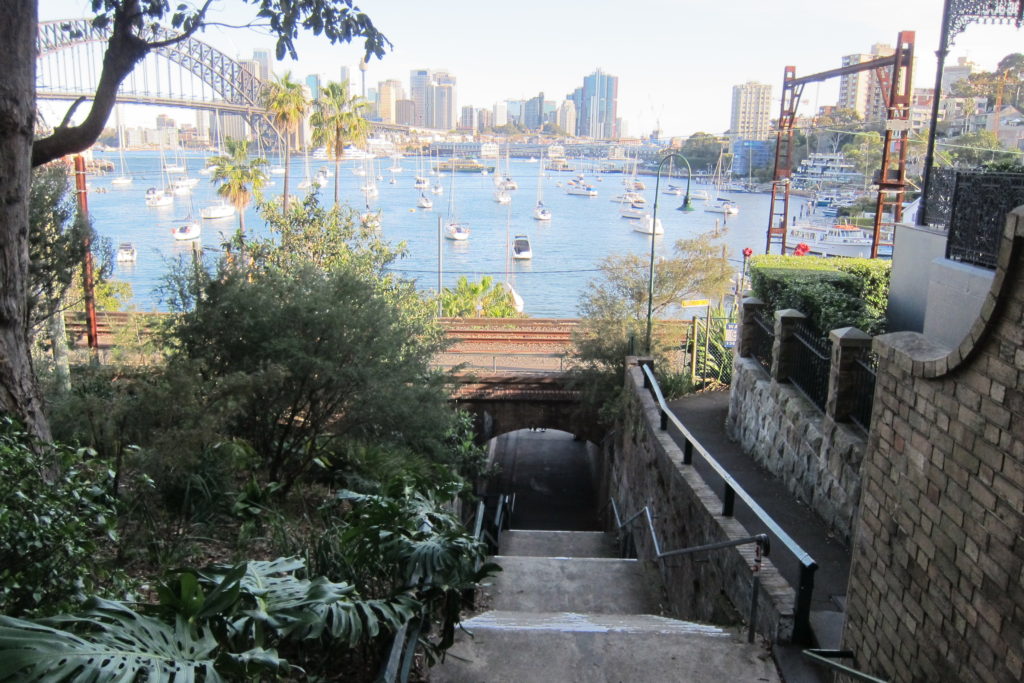 It's definitely not cheap any more. Sydney suffers from the same pathologically overinflated real estate prices as Toronto and Vancouver, for much the same reasons.
Whiteley's ex-wife Wendy still lives at 1 Walker Street. She has spent a quarter century building a beautiful garden – open to all – below her house.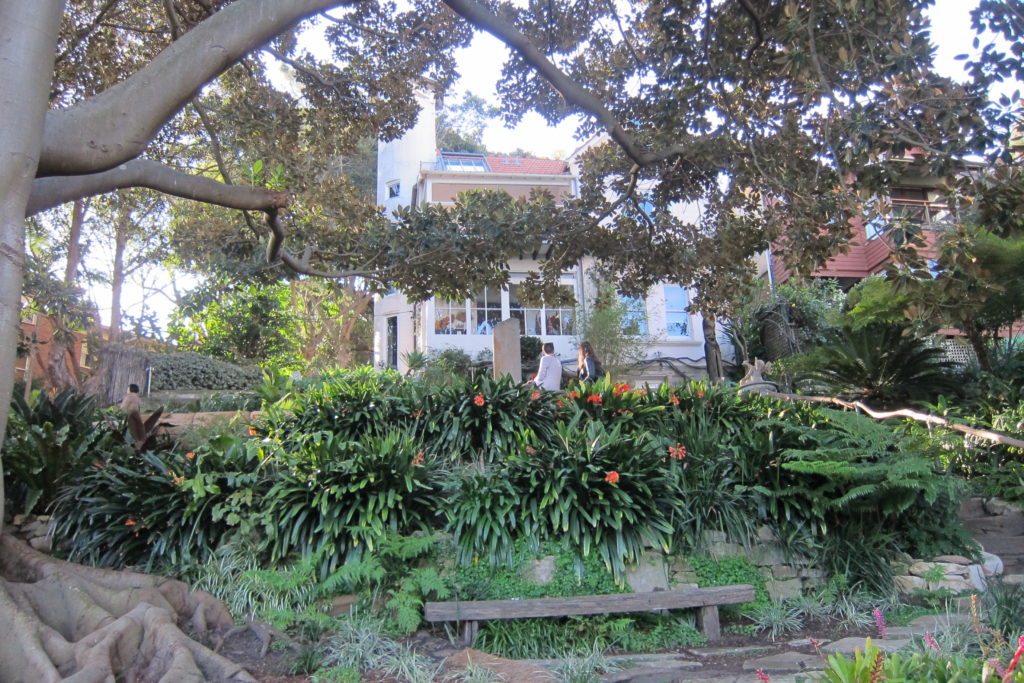 The neighbourhood is much more sedate compared to the drug- and alcohol-fuelled bacchanalias described in the Museum of Sydney exhibit.