After visiting Sheki, we decide it's time for Ganja.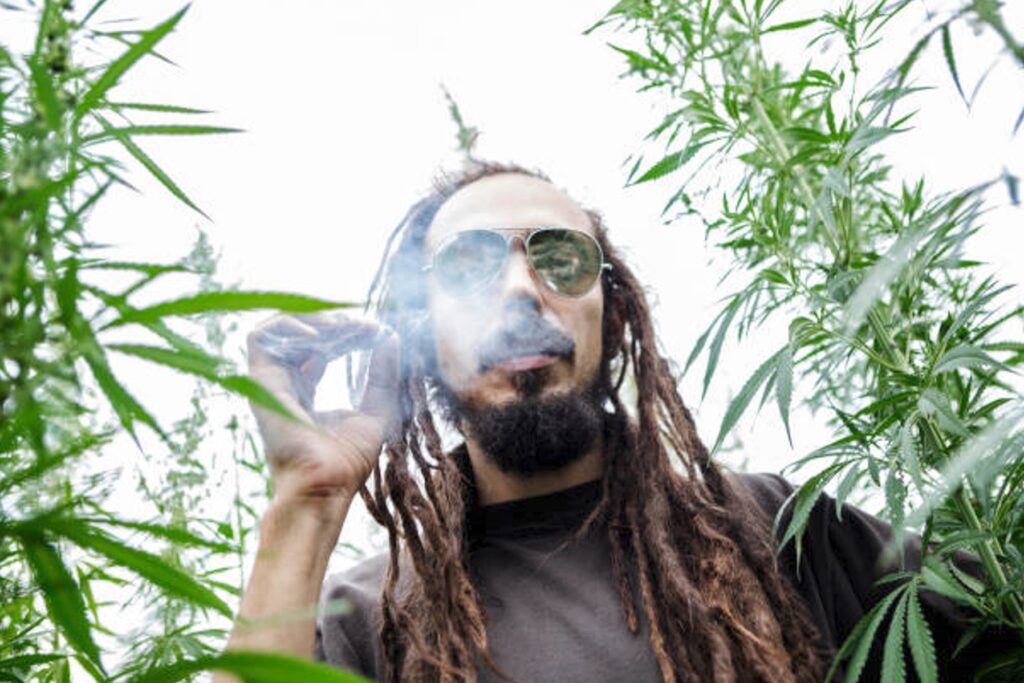 Not that kind of ganja. We mean Ganja, the second-biggest city in Azerbaijan.
It's challenging to drive here. Long, wide boulevards, unheeded road markings, and many roundabouts turn the flow of traffic into a Roman chariot race.
Around our neighbourhood are some Soviet-era flatblocks. Even these don't look so bad on a bright sunny day.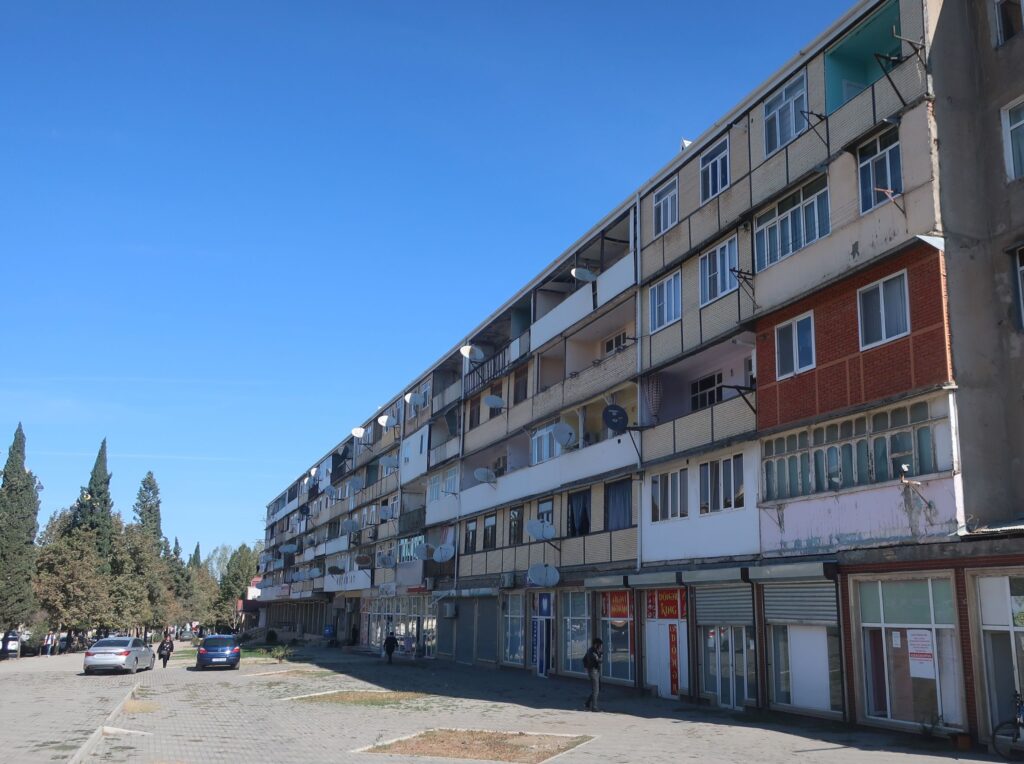 A few blocks down, the real estate becomes less grim.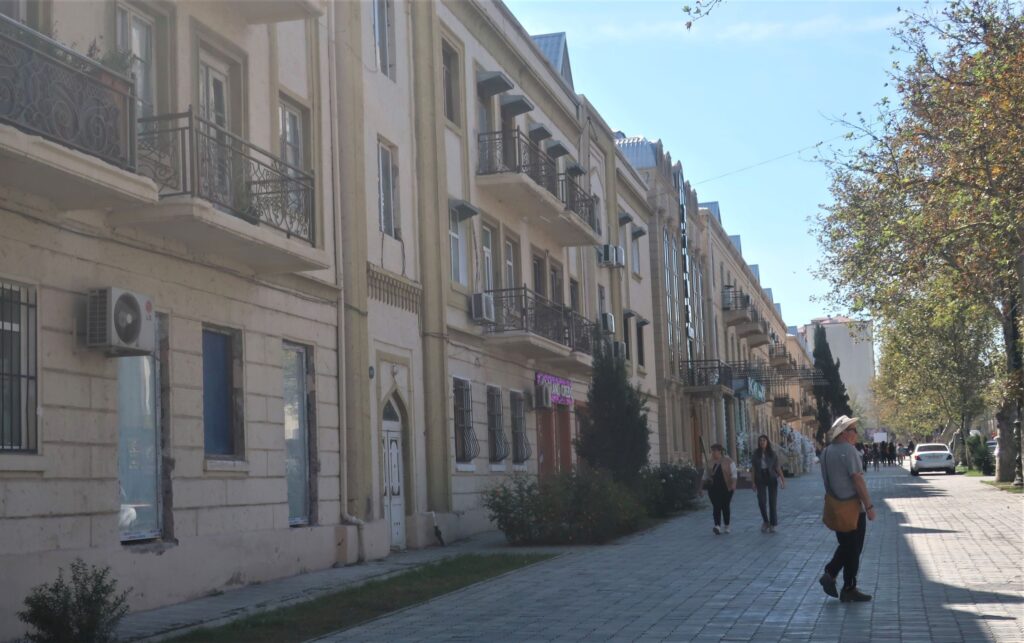 Decades ago, Bruce Cockburn wrote a song called Fascist Architecture. The song doesn't actually have anything to do with fascists or architecture, but the phrase has always stuck in my mind. You certainly know it when you see it.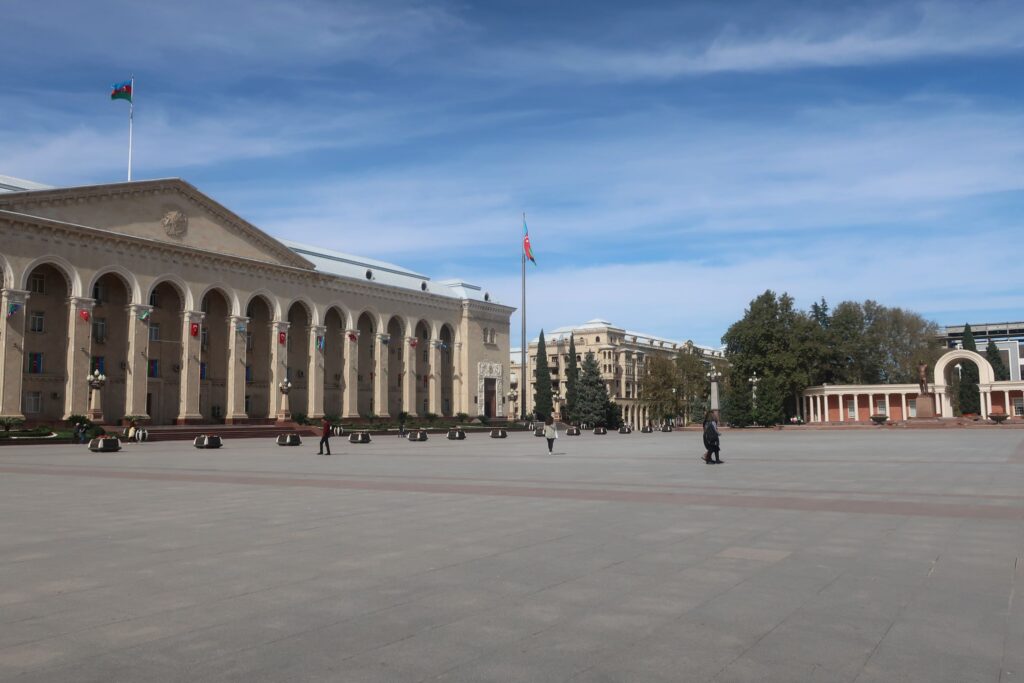 Speaking of fascists, this square is overseen by Heydar Aliyev, the late President for Life and father of the current President for Life. In preparation for running independent Azerbaijan from 1993 until his death in 2003, he led Soviet Azerbaijan from 1969 to 1982 (and held the post of First Deputy Premier of the Soviet Union from 1982 to 1987). The man had a natural gift for governing.
Then he bequeathed the whole country to his son, Ilham.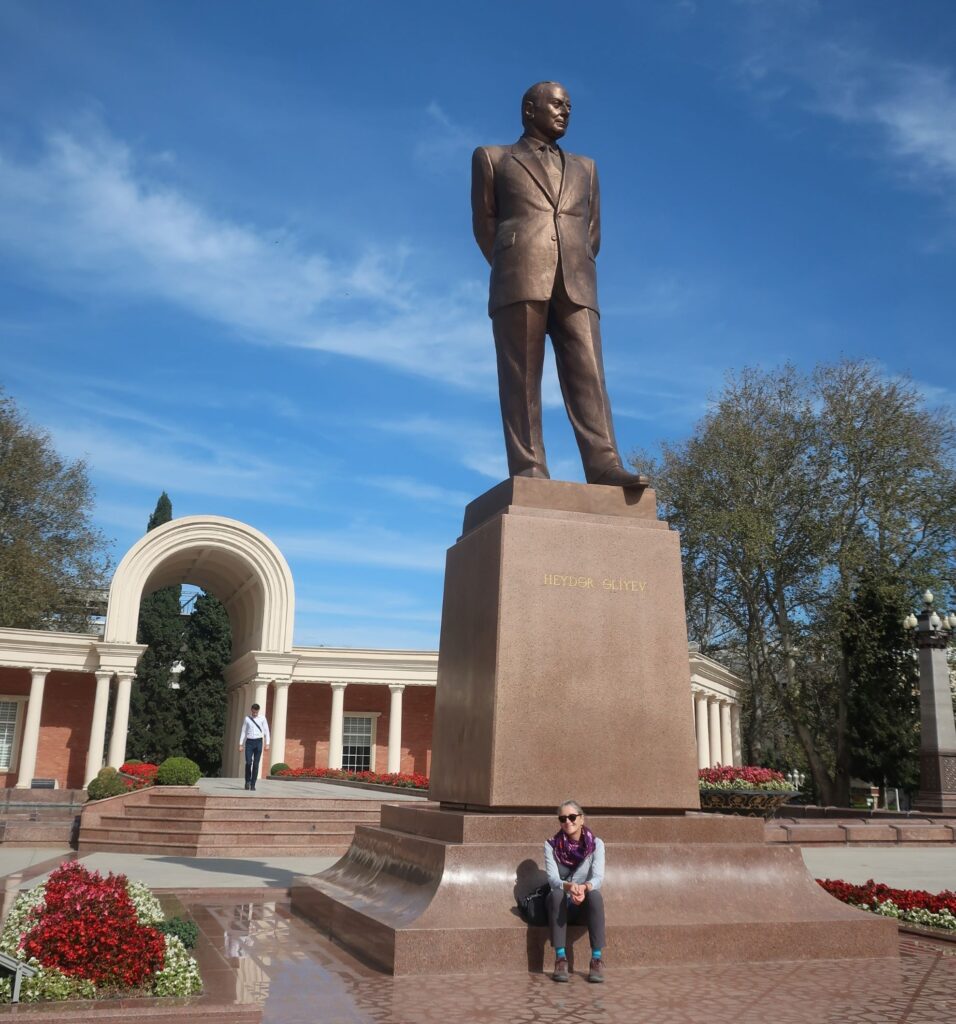 A few fun facts about Ilham Aliyev – his annual salary as President of the Azerbaijani Republic is US$145,639.00, according to this site. Yet his net worth, according to this site is US$900 million. He must be a very astute investor. In these times of plunging equity prices worldwide, it can be hard to stay in the green.
Having said that, we must say that most people have been kind to us here. It's like Iran to the south – people who are generally nice living under an appalling government. (To be fair, the government in Azerbaijan is nowhere near as Satanic as Iran's.)
There are also less Stalinesque buildings around, like this concert hall.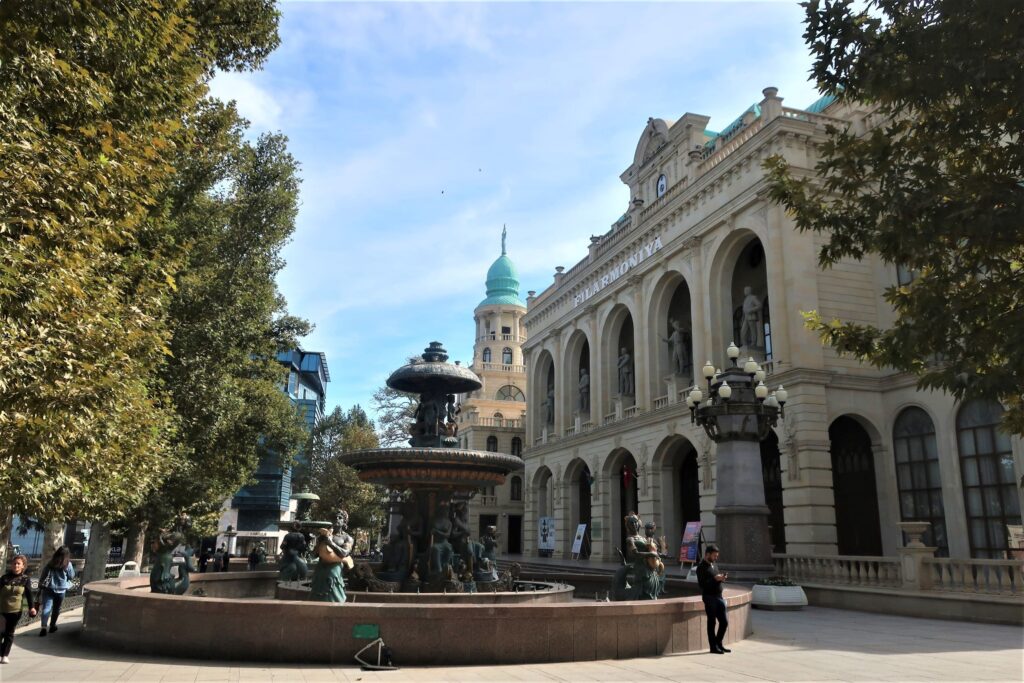 Maria relaxes on a paisley-shaped piece of mall furniture. What we call paisley is known here as buta, and has a long history in this part of the globe.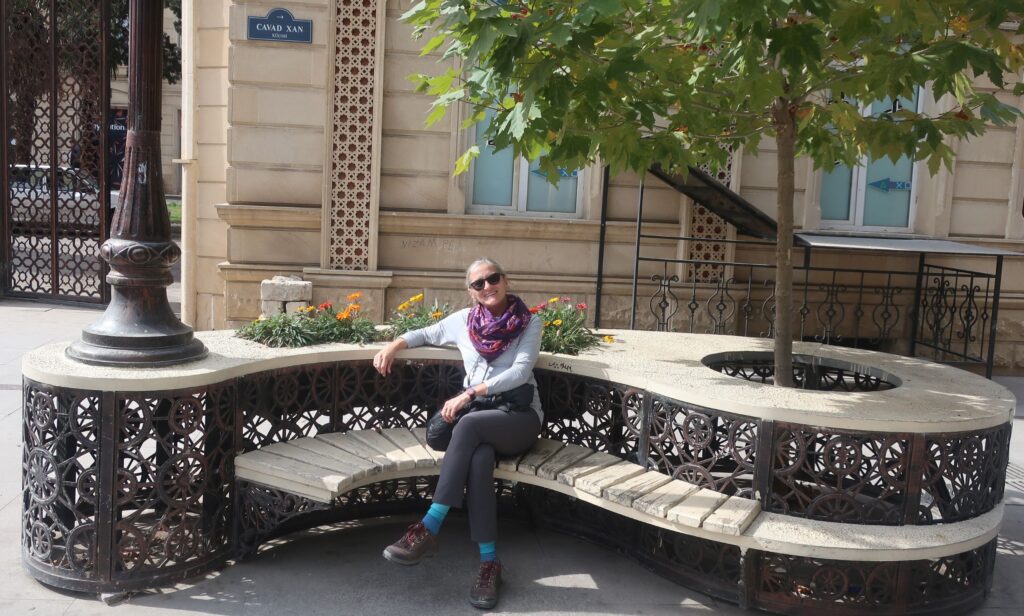 Ganja is not quite as cosmopolitan as Baku. Like most of the country, it's typically Islamic in that you constantly find yourself surrounded by groups of men and boys, with no women in sight.
Personally, I find this a bit depressing. To sum up the world in three words: Women are Civilization.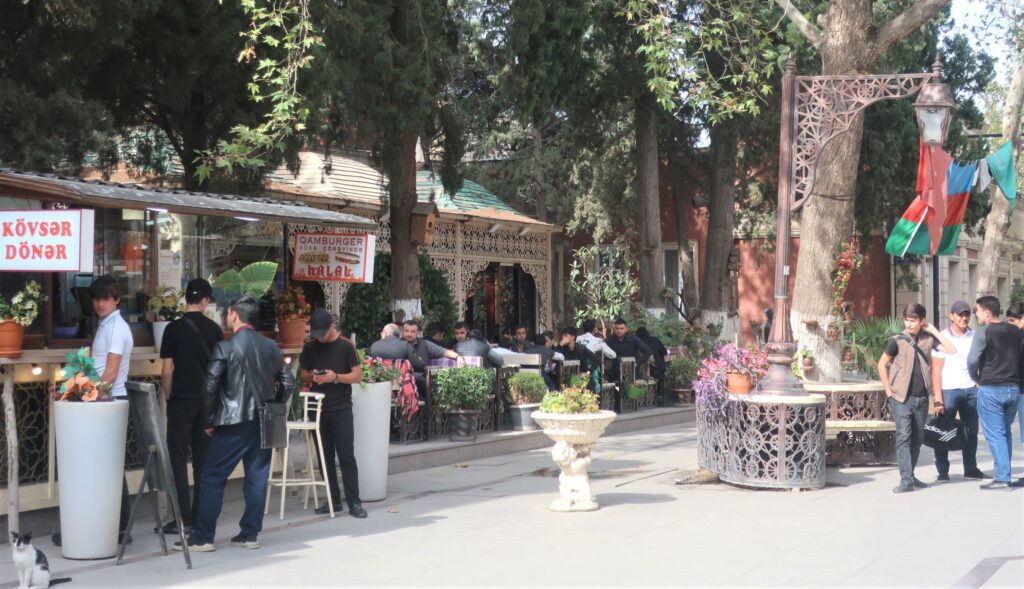 Maria indulges in a fresh pomegranate drink on the street.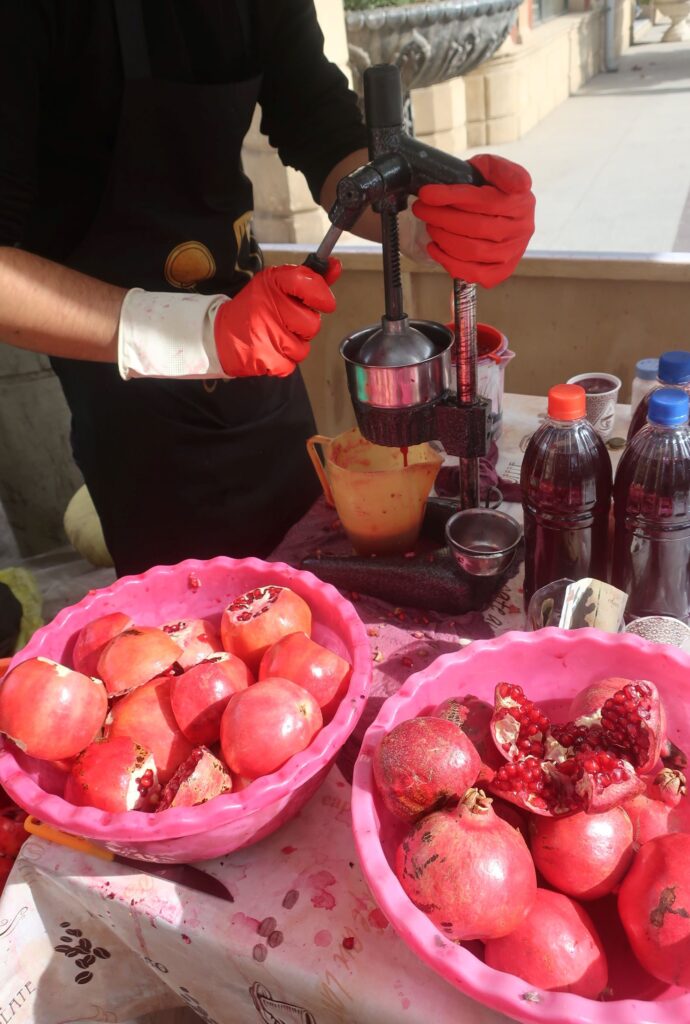 Next day we drive back towards Baku. We go over a few fair-sized rivers, where men sell fish at the side of the road.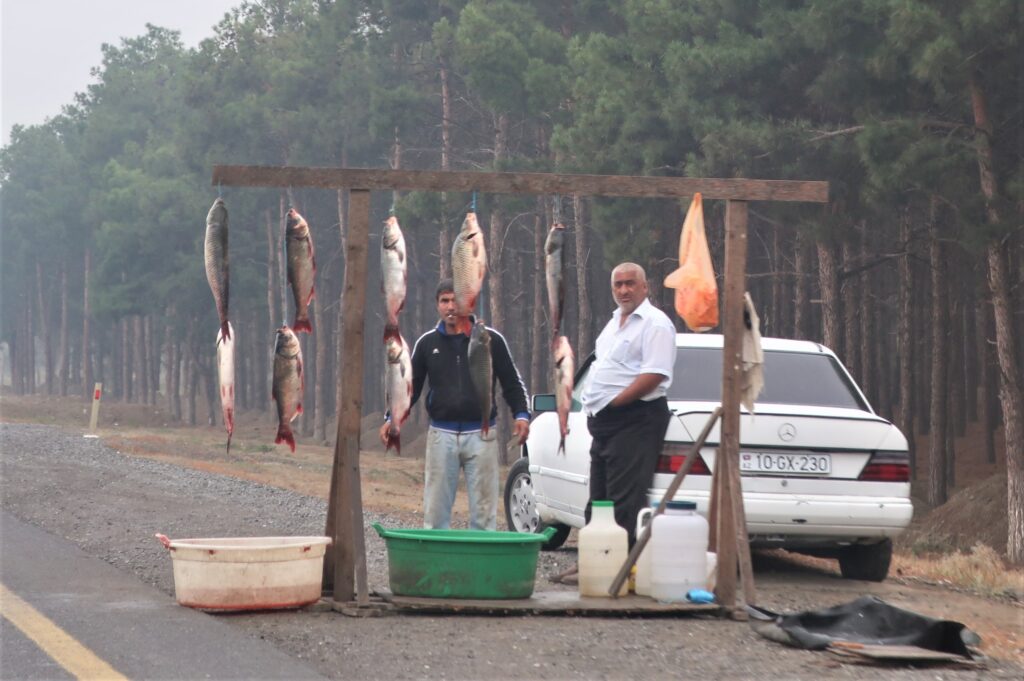 Gobustan is where we spend the night. The main attraction here is the presence of ancient petroglyphs.
There is a new-ish museum that explains the history and significance of these petroglyphs. It's very well done. Then you proceed to the sites themselves.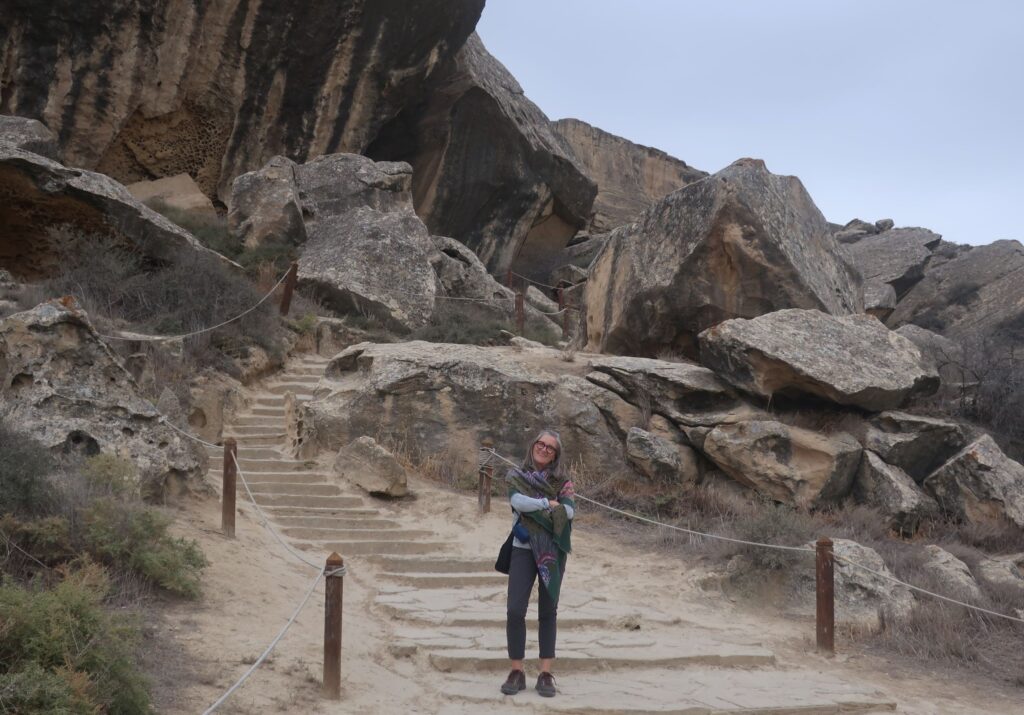 It really looks like someplace you'd find ancient petroglyphs.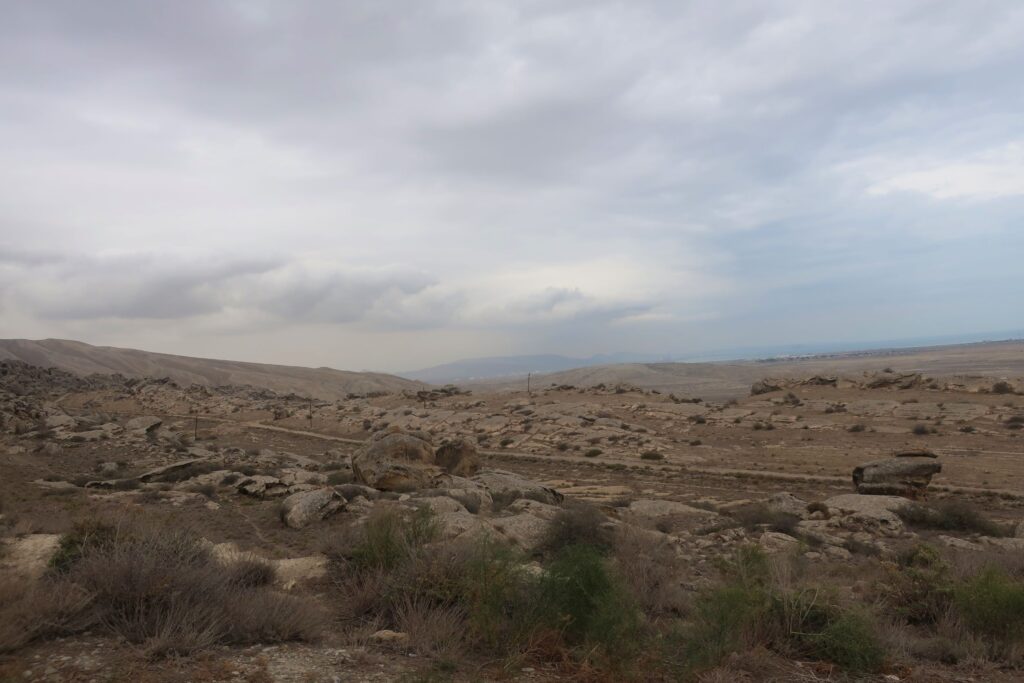 There are signs saying 'beware of snakes', but we don't see any.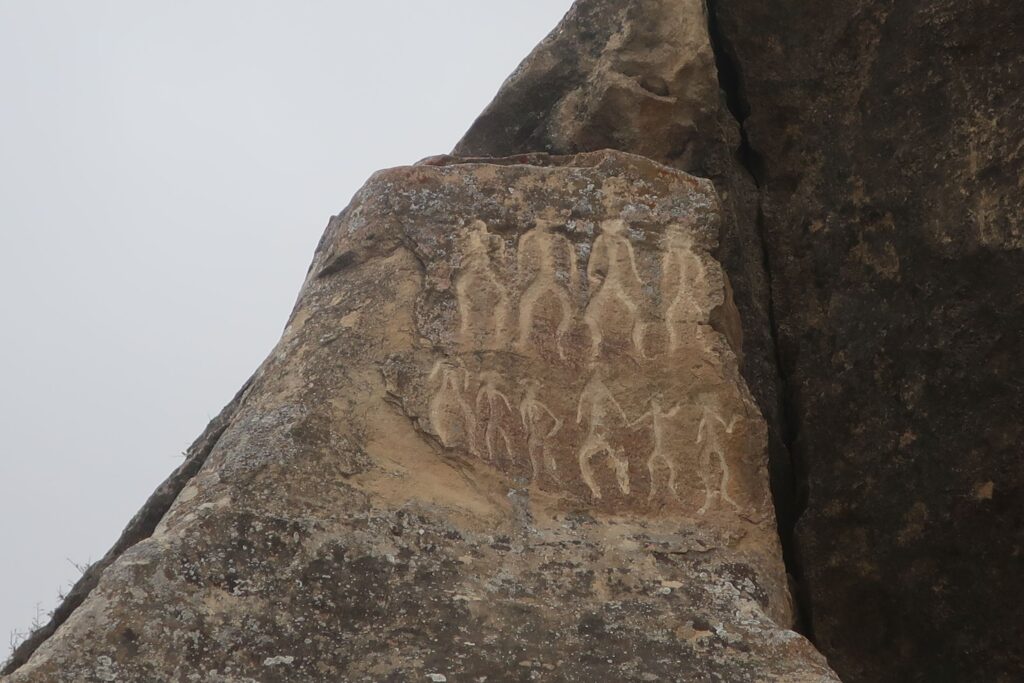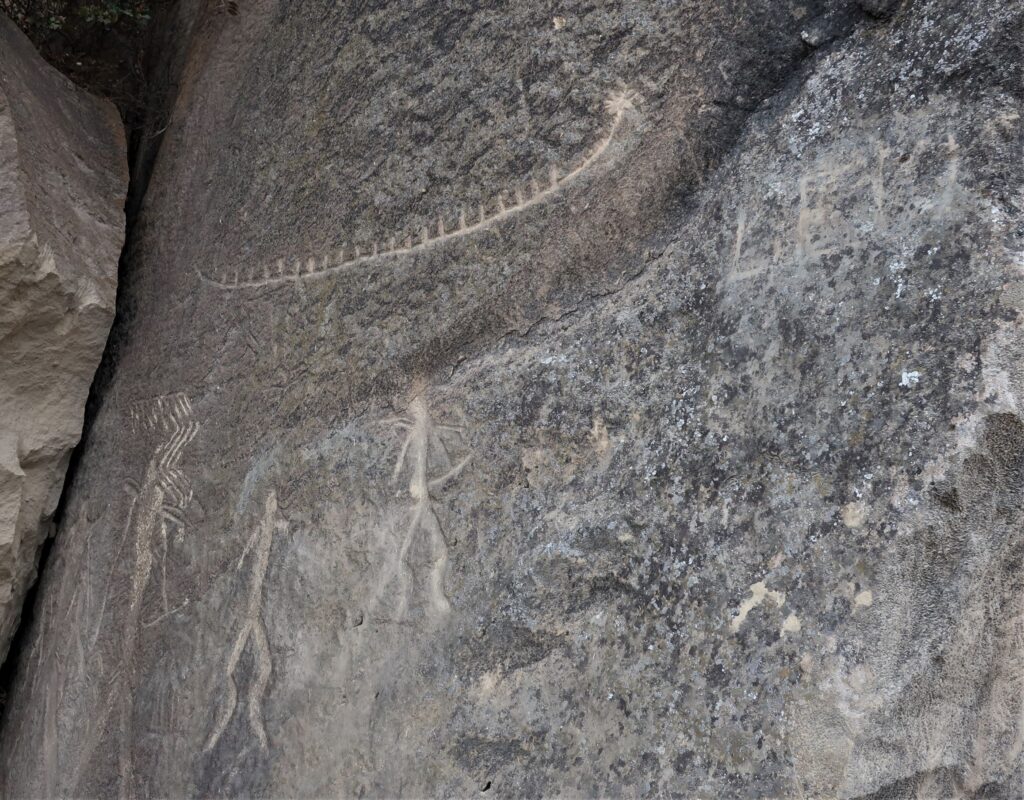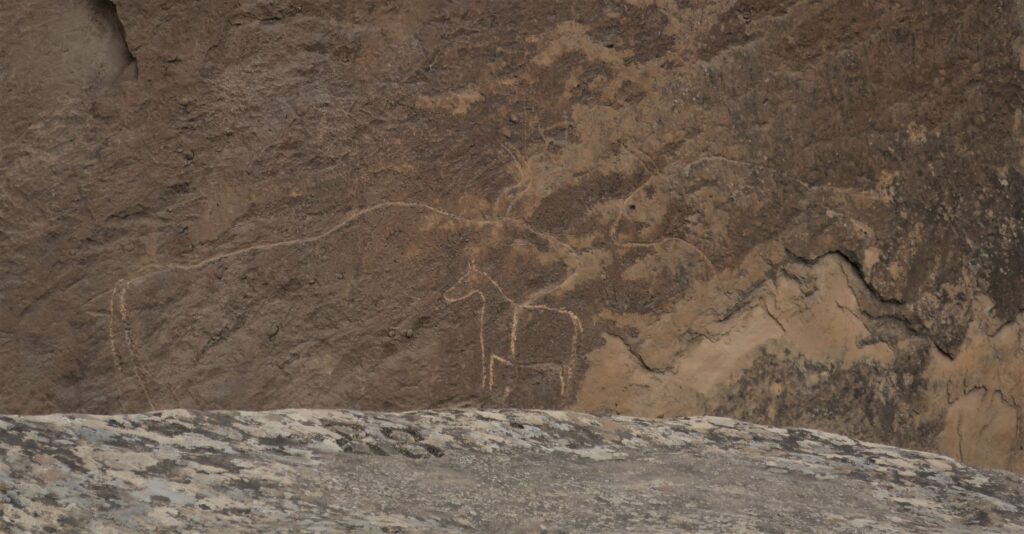 We can see the Caspian Sea from here, with scores of oil derricks.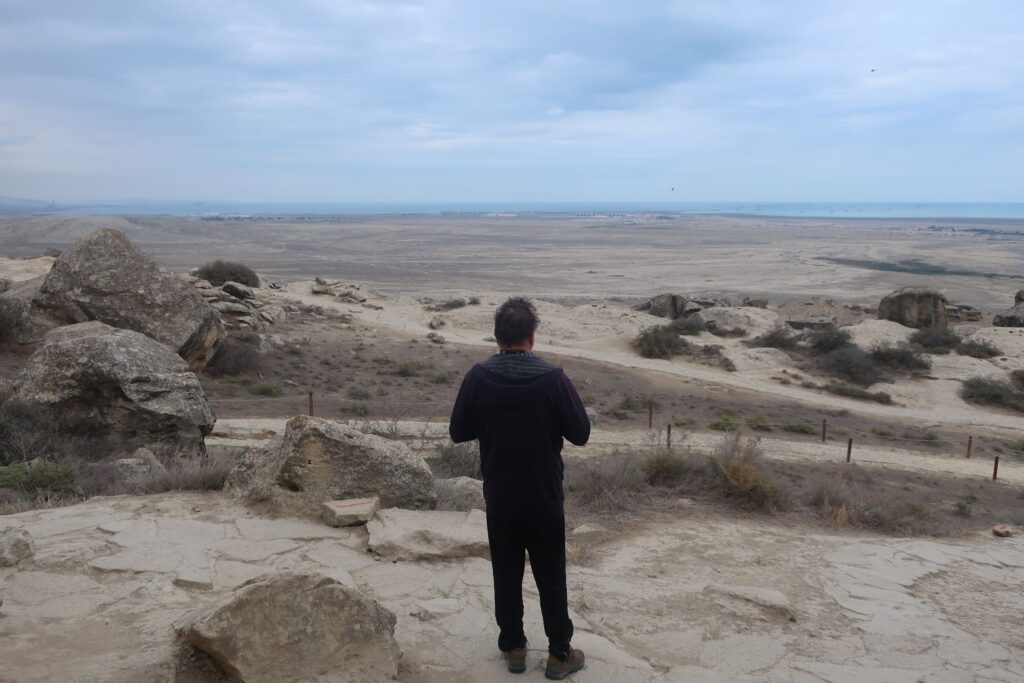 The zoom on our camera brings them into view.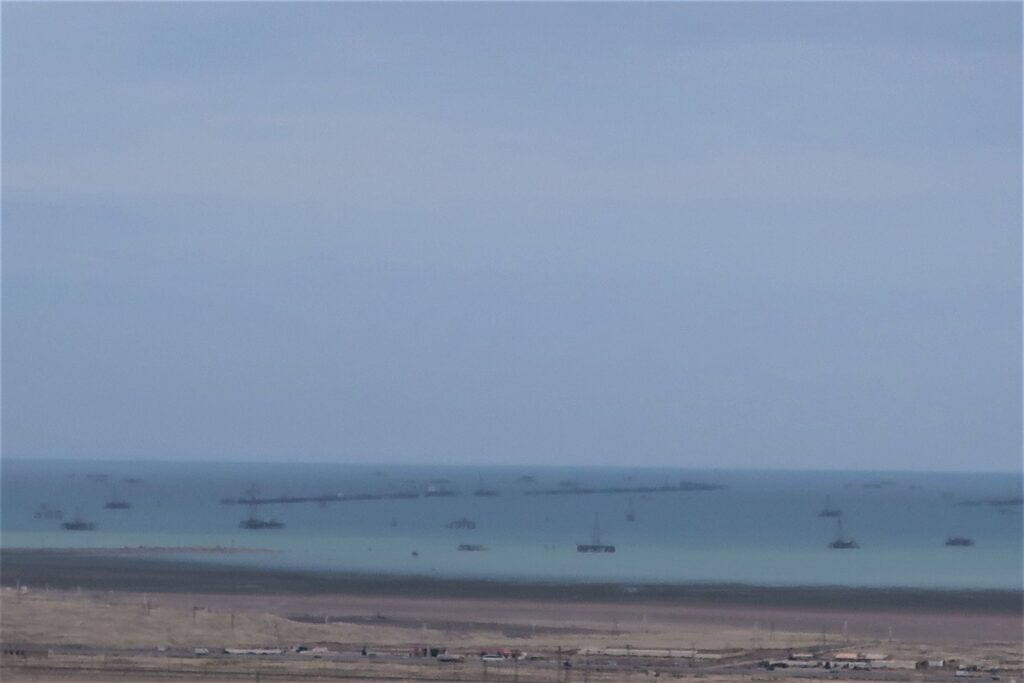 The other attraction around Gobustan is the access to mud volcanos.
Maria tests the beautifying powers of the mud.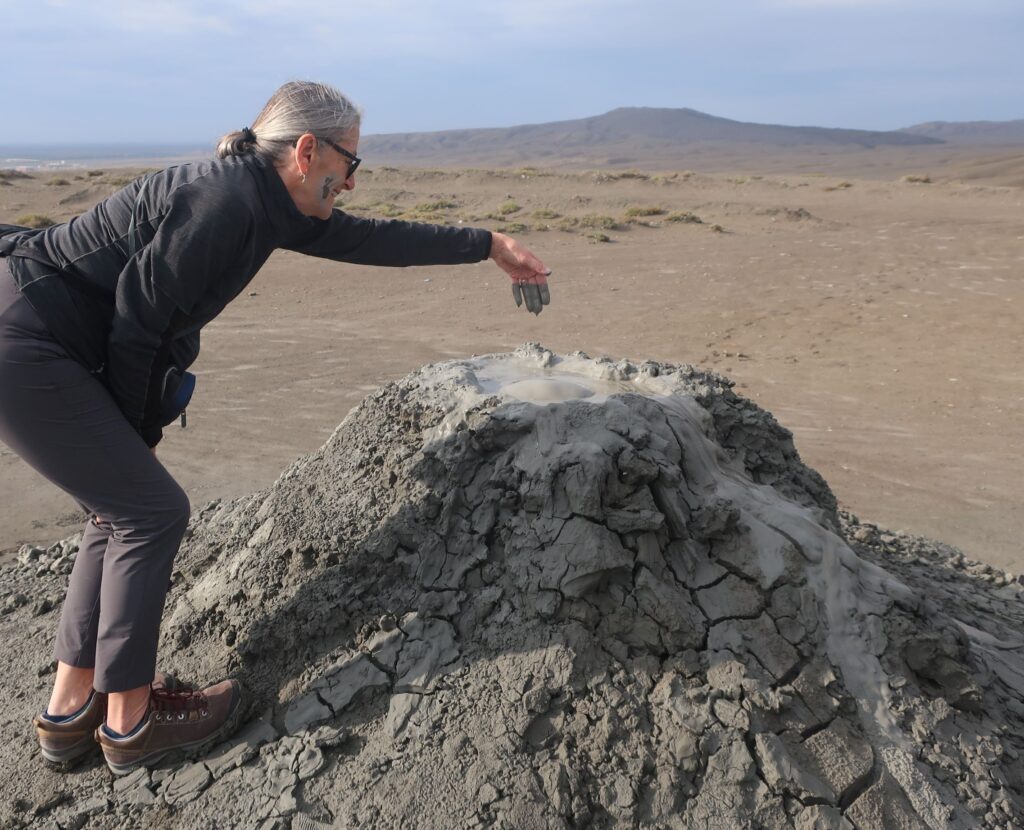 The terrain around the mud volcanos is like a lunar landscape.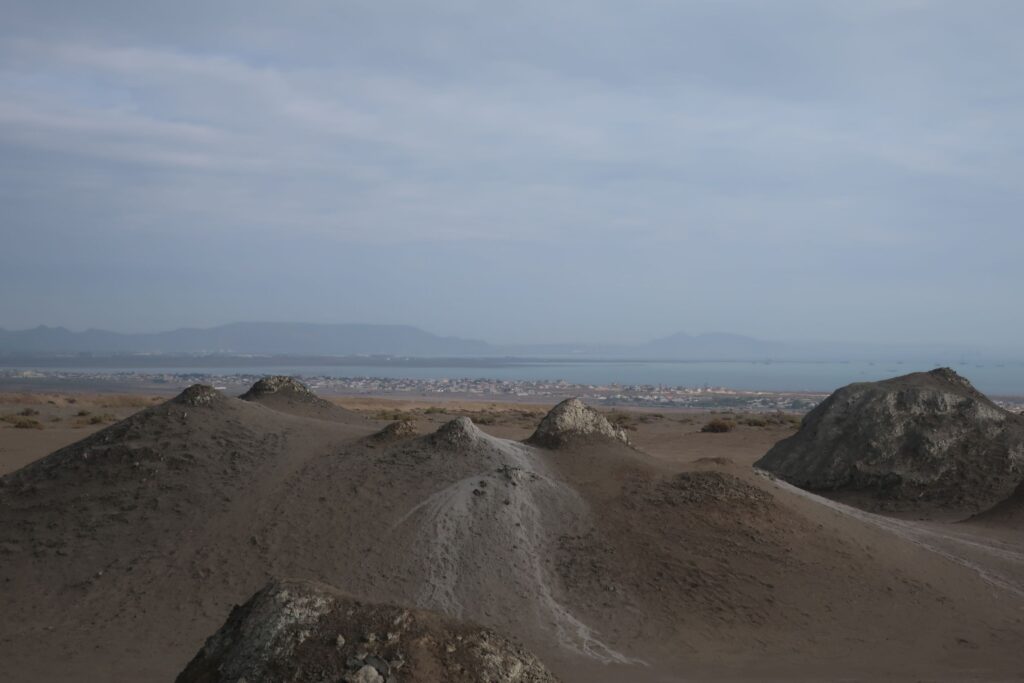 The sound of the gurgling mud is quite comical.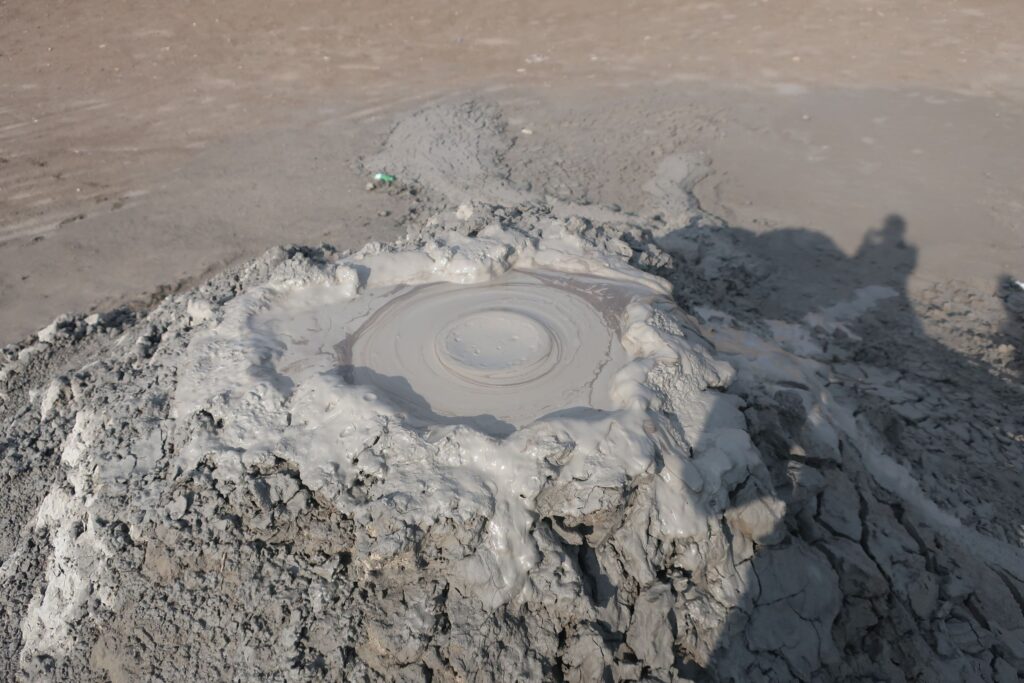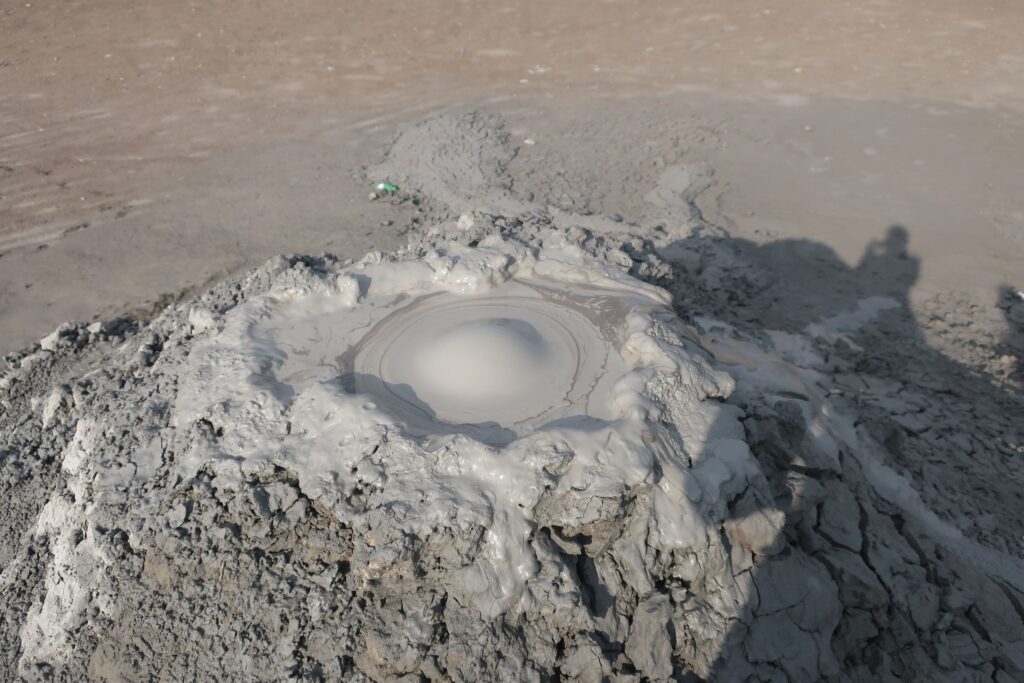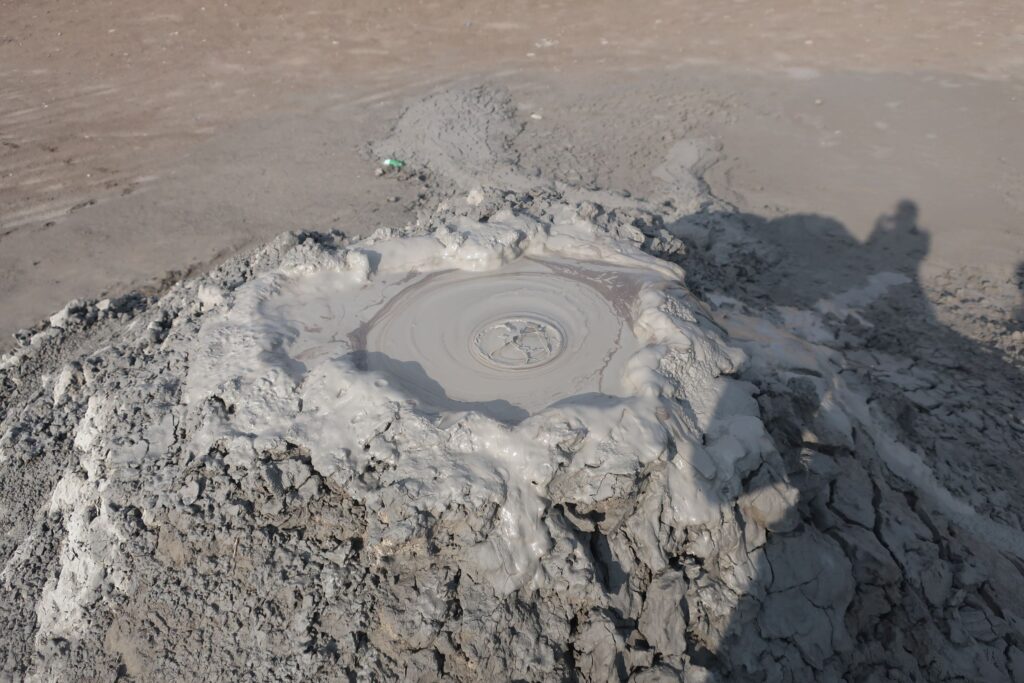 There is also an 'eternal flame' burning. It's difficult to see in this photo, but escaping gas was ignited at one time and just keeps burning.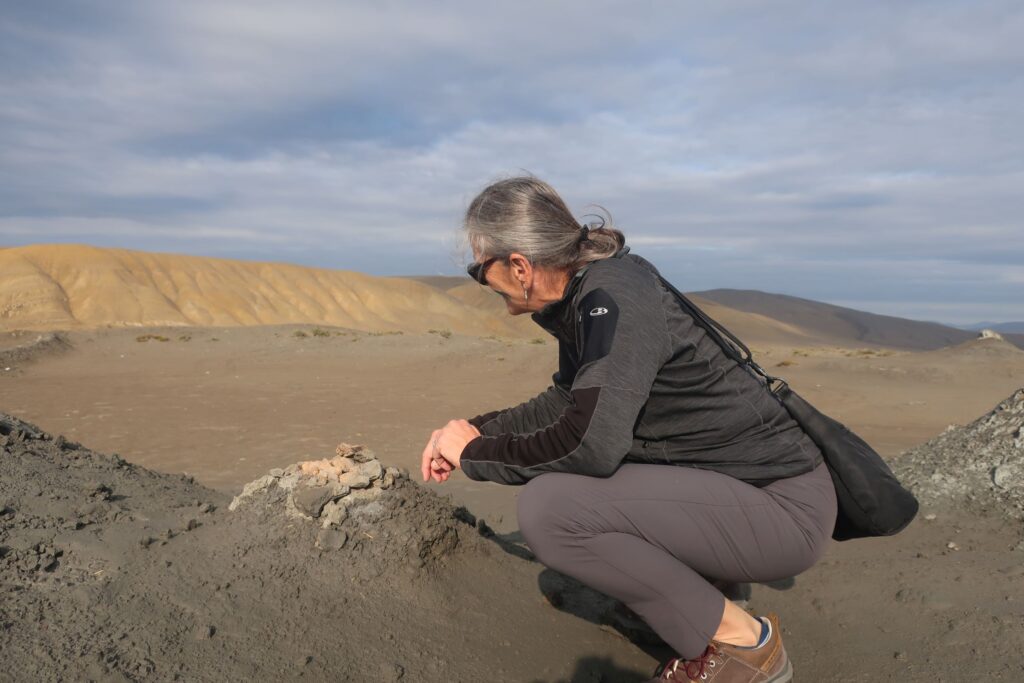 Sight or Insight of the Day
We spend a couple of nights in Baku before flying back to Tbilisi. On our first visit, we missed the Heydar Aliyev Centre. (Three guesses who it's named for.)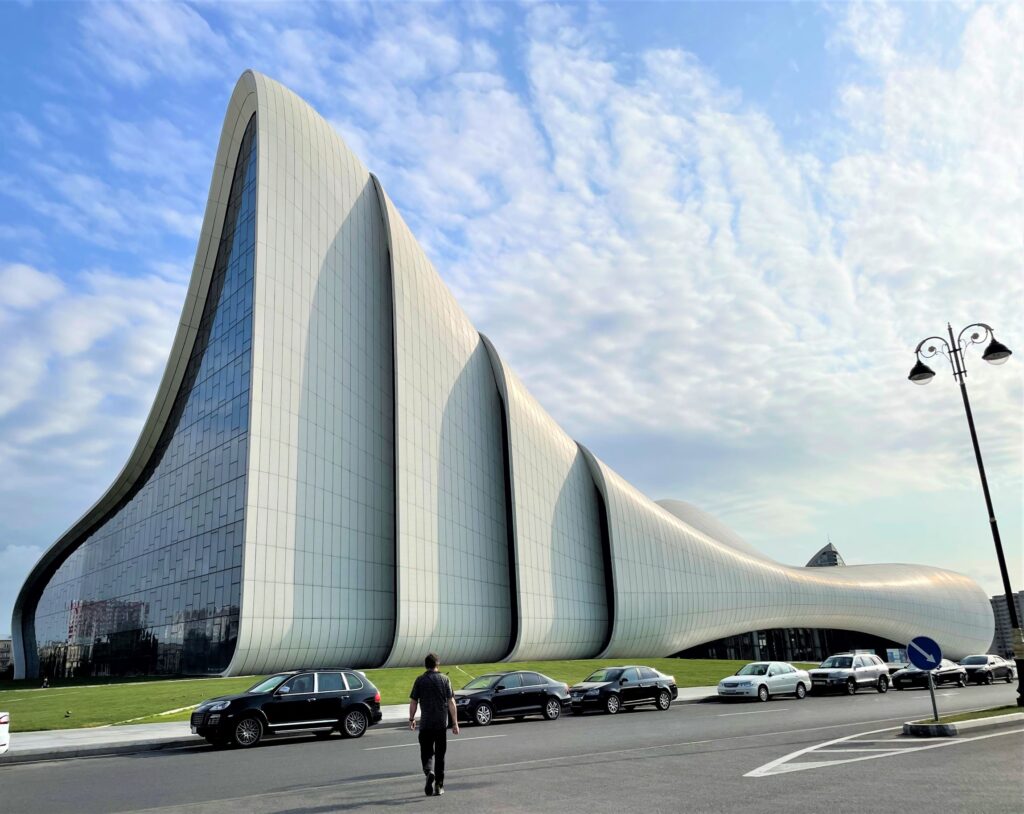 So we make a point of taking the Metro there.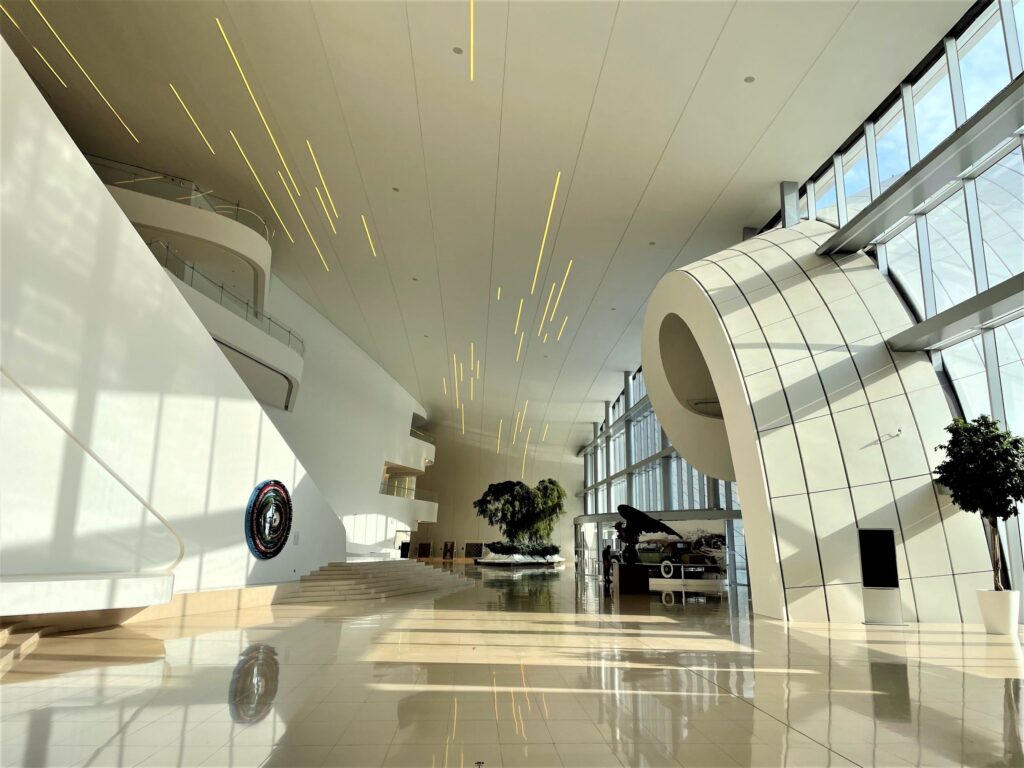 It's pretty stunning. Even by the standards of Baku's over-the-top architecture binge.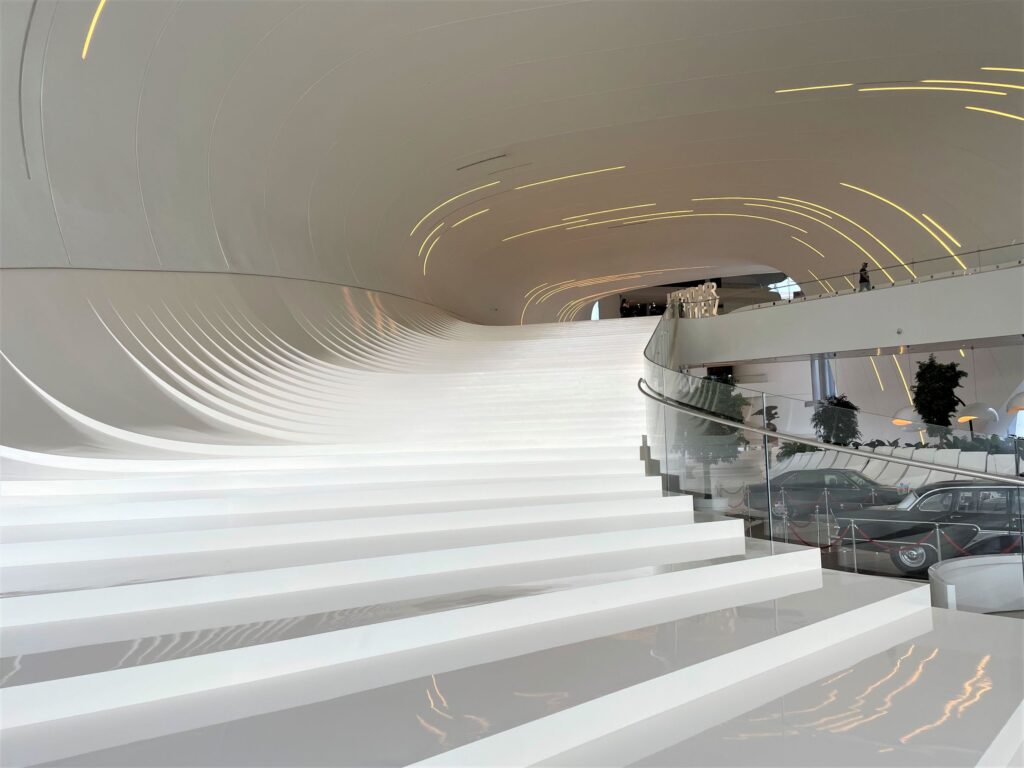 Our last night in Azerbaijan. From the balcony of our room, we see the nightly show displayed on the Flame Towers.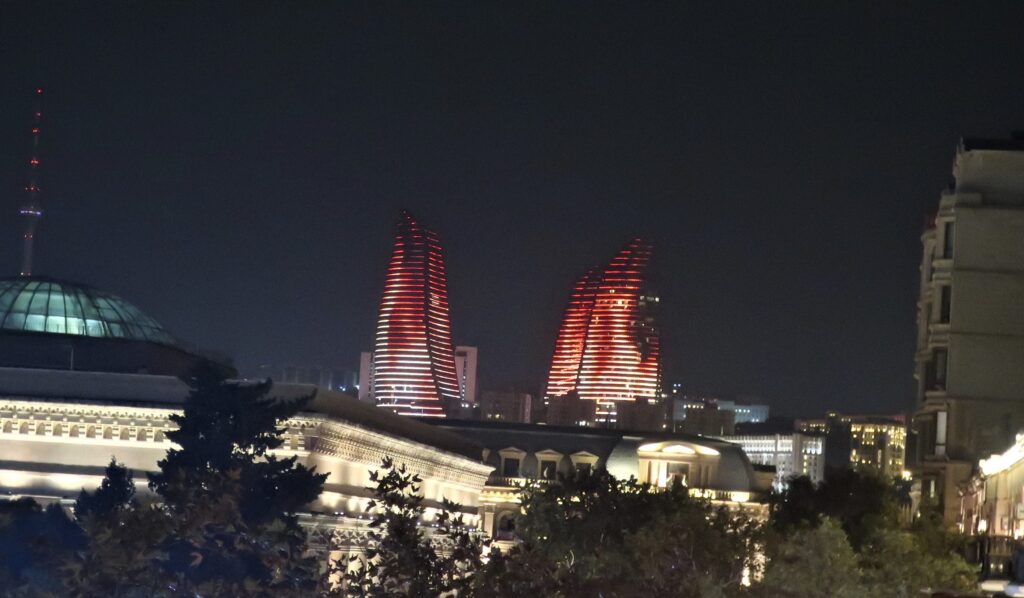 Did we mention that the Flame Towers are completely covered with LED screens? They display things like giant flickering flames (shown here) and jingoistic scenes of Azerbaijani soldiers waving the national flag,