We depart for the town of Areni, by way of Lake Sevan. Sevan is the largest lake in Armenia.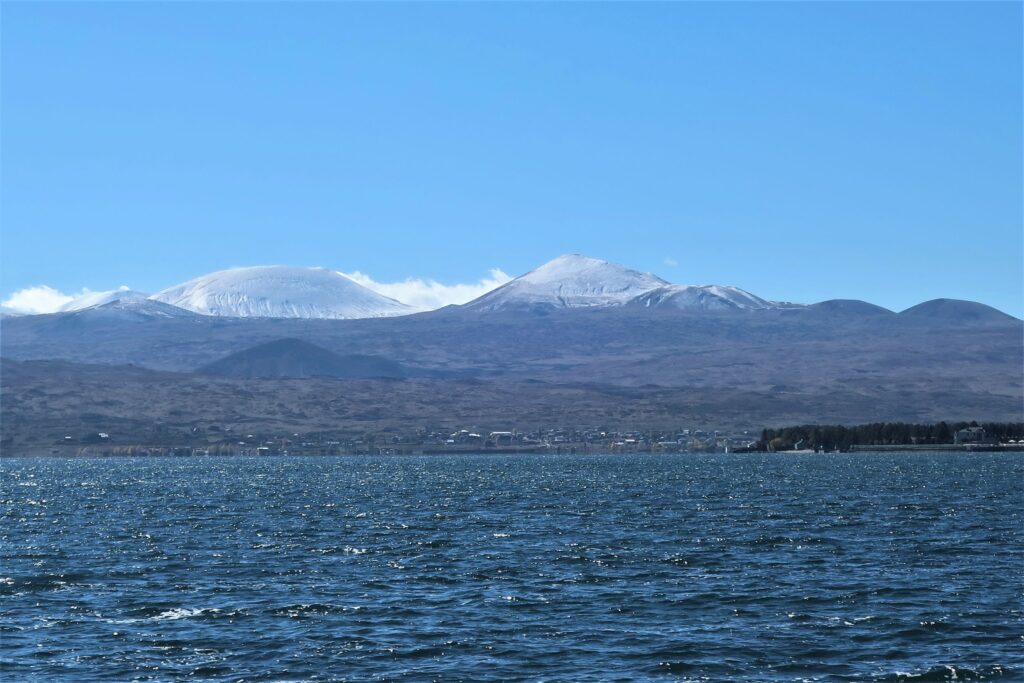 From Lake Sevan to Areni, we drive over the Selim Pass.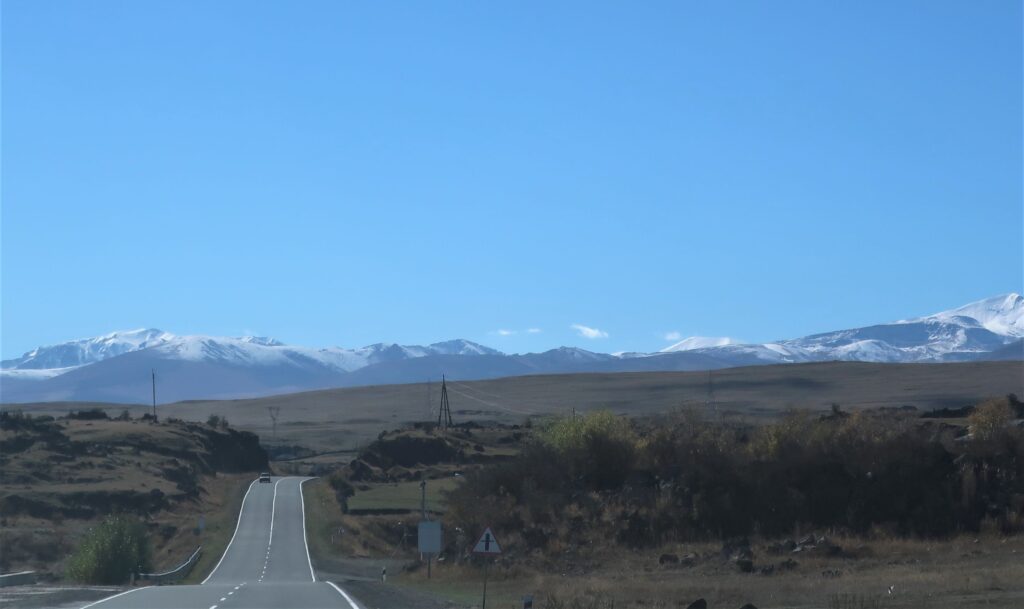 Near Areni is the dramatically-situated Noravank Monastery.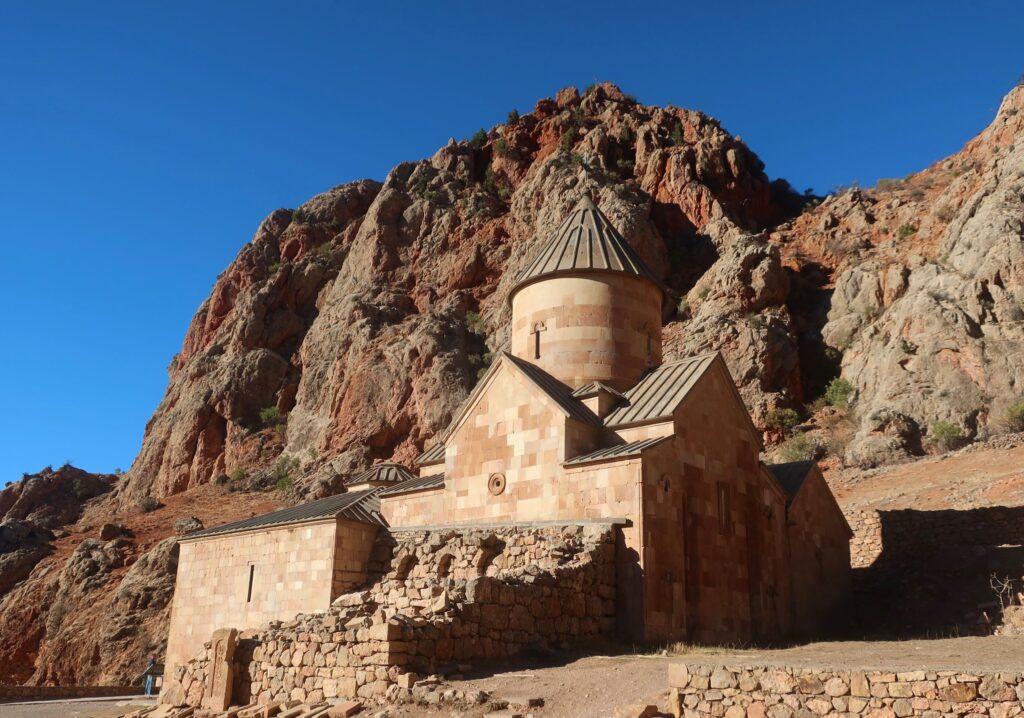 It's dramatic because of the surrounding red rock canyon.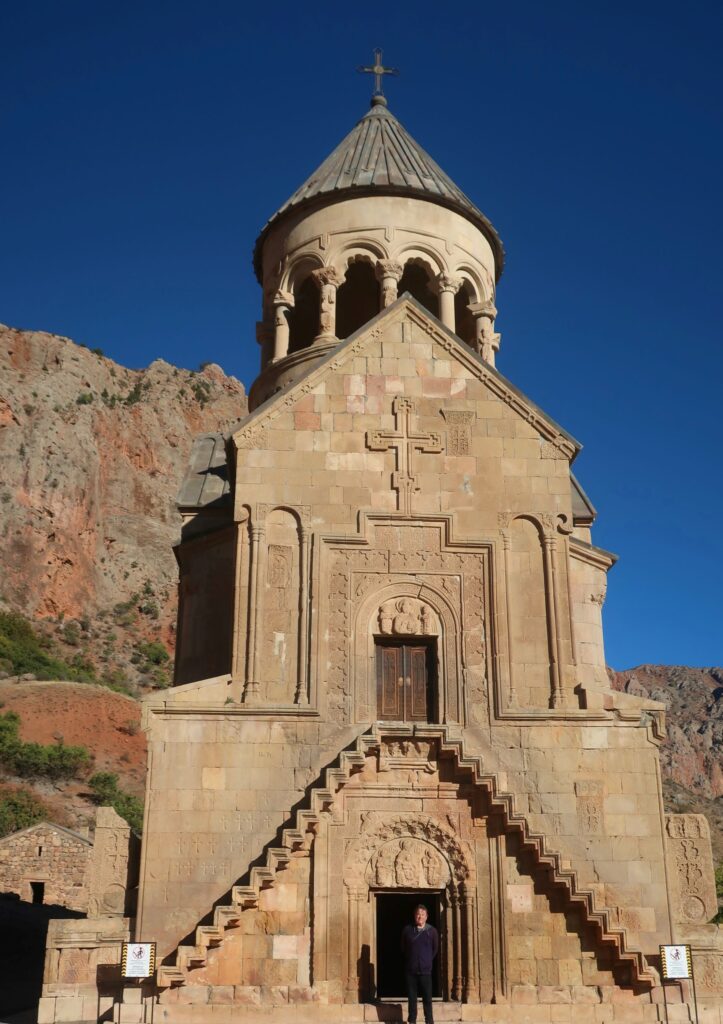 I climb down to an underground chamber that we are told was where a monk would go if he wanted to meditate in solitude.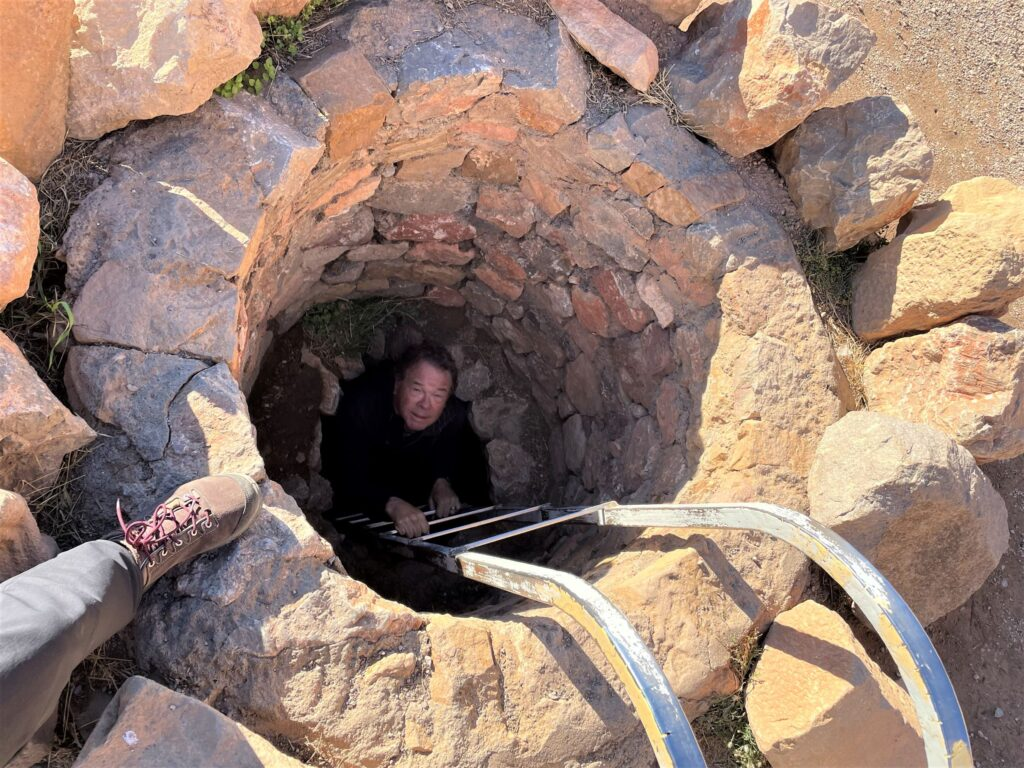 Areni is one of the premier wine districts in Armenia. We visit the Hin Areni, Trinity Canyon, and Old Bridge wineries.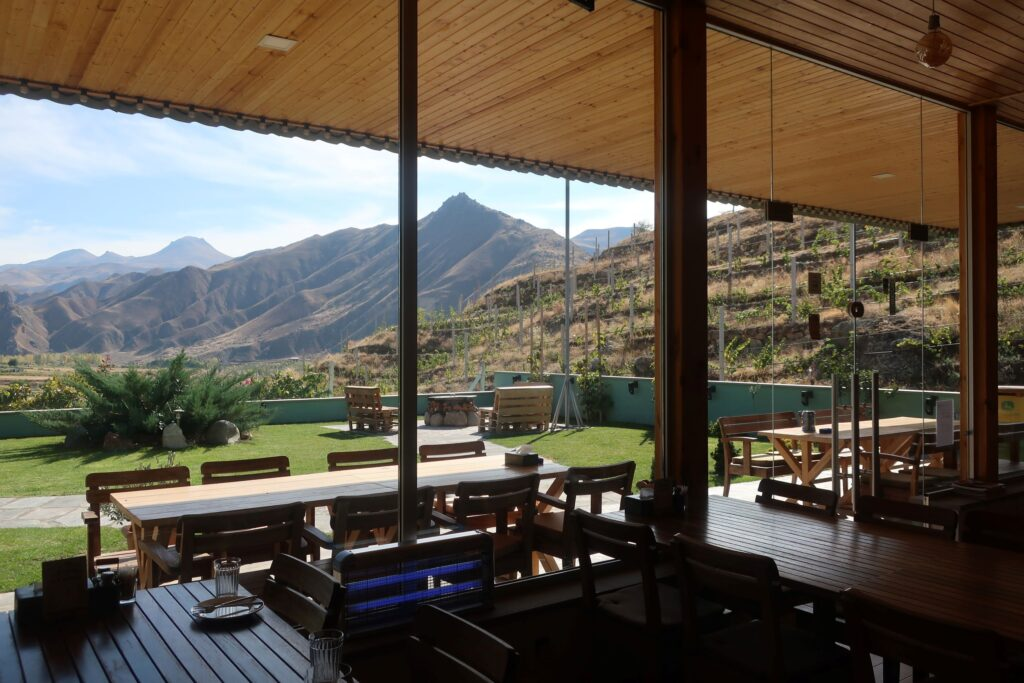 We purchase a bottle of Areni Noir.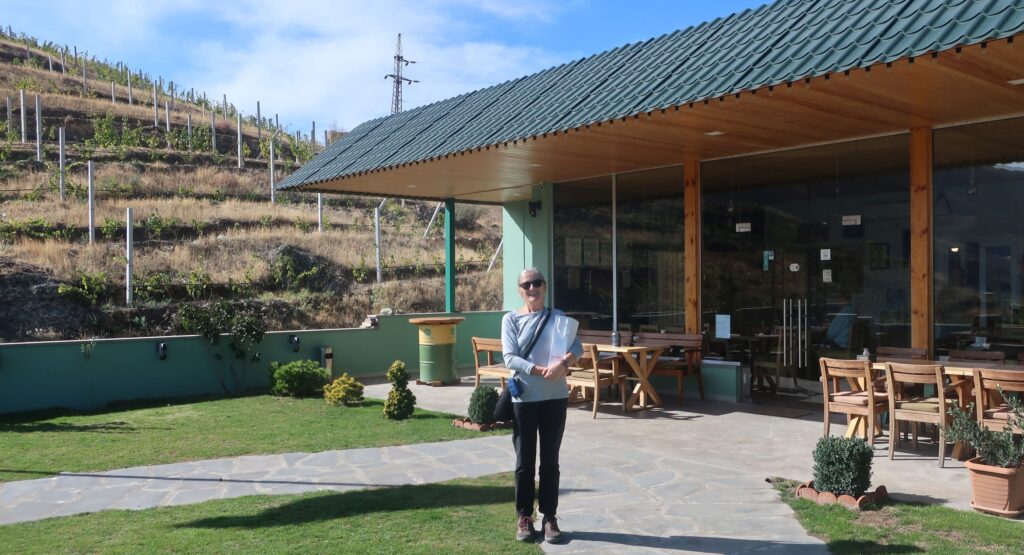 They have a cockatiel who reminds us of Charlie.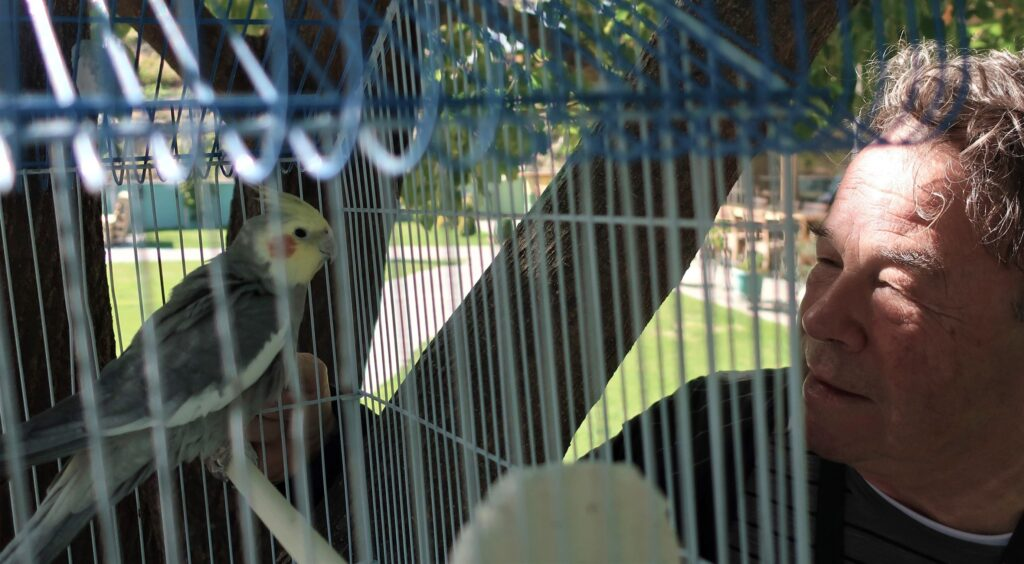 There are roadside kiosks in the area that sell wine in soft-drink bottles. We are told that these are purchased by Iranian truck drivers who smuggle them into Iran (where there is a total ban on alcohol) for personal consumption.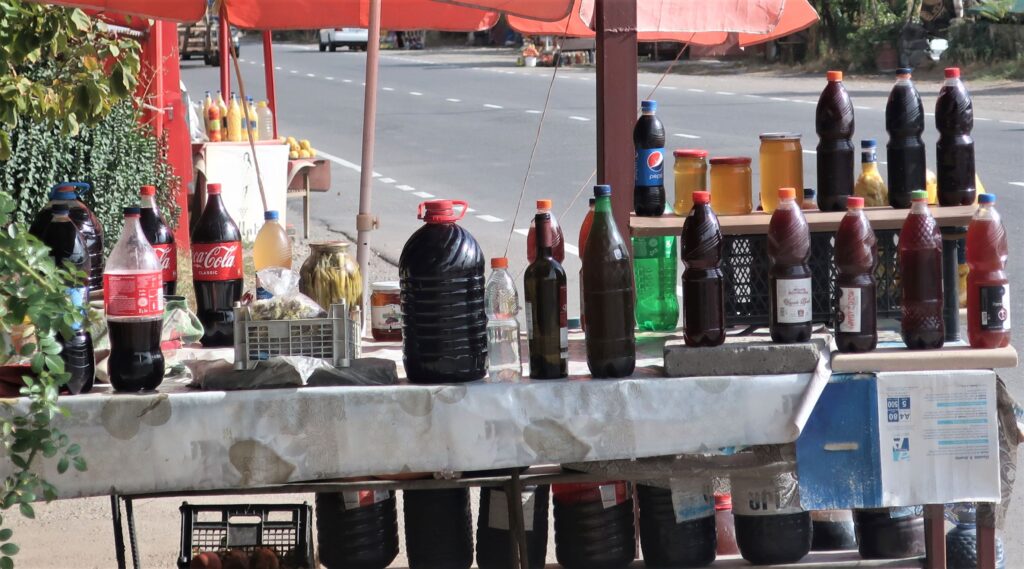 From Areni, we drive further south. Along the way, we overtake a truck carrying a tank.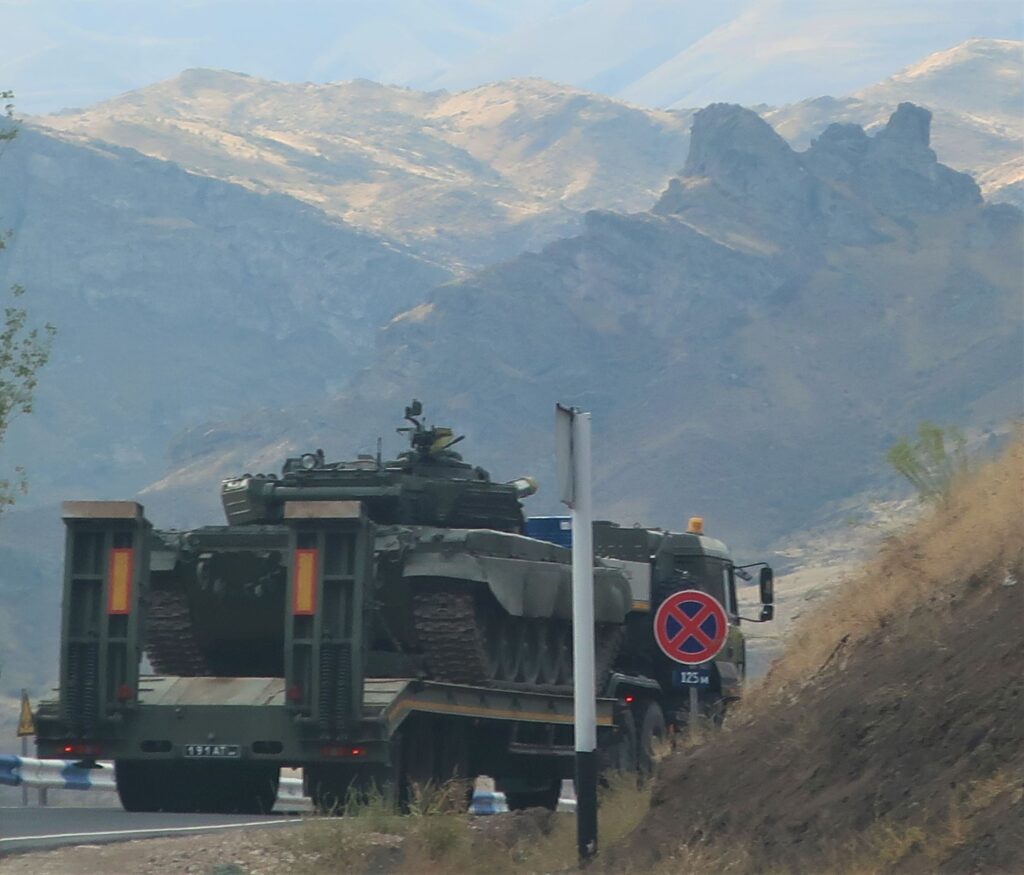 En route, we stop in Karahunj, the 'Stonehenge of Armenia'.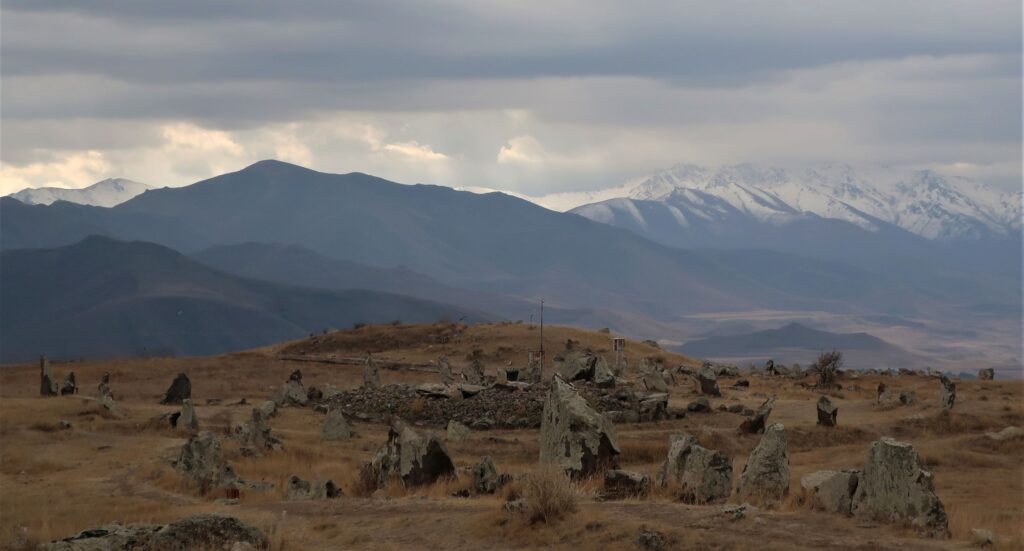 Many of the stones have holes drilled into them. Some archaeologists believe that the holes lined up with celestial bodies. This is yet to be proven for sure.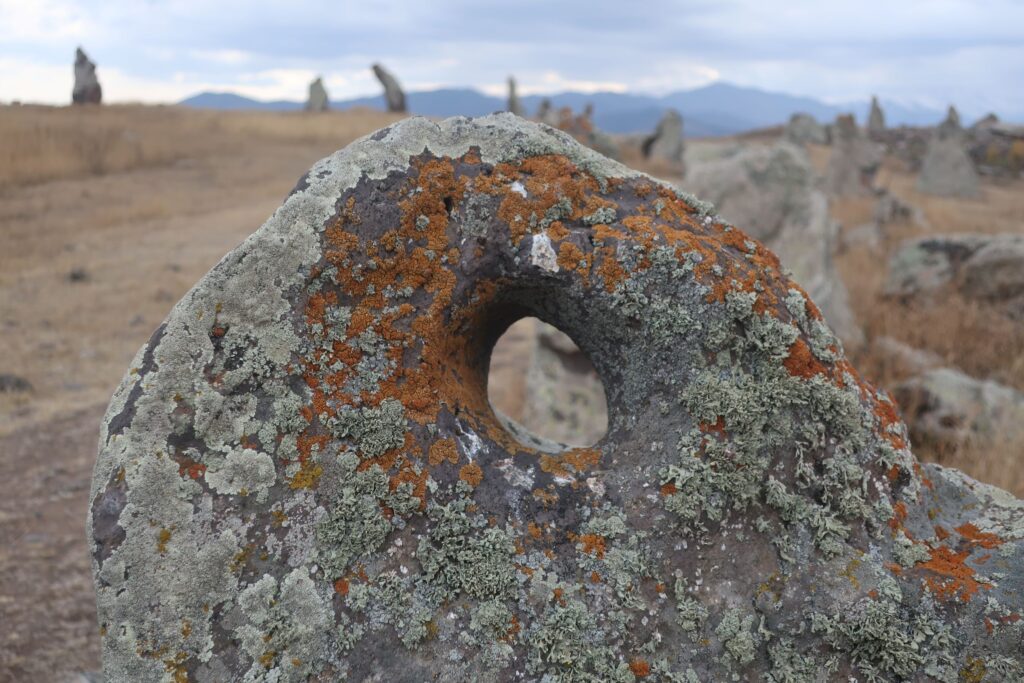 To get to the Tatev Monastery, we take what is billed as the world's longest cable car ride.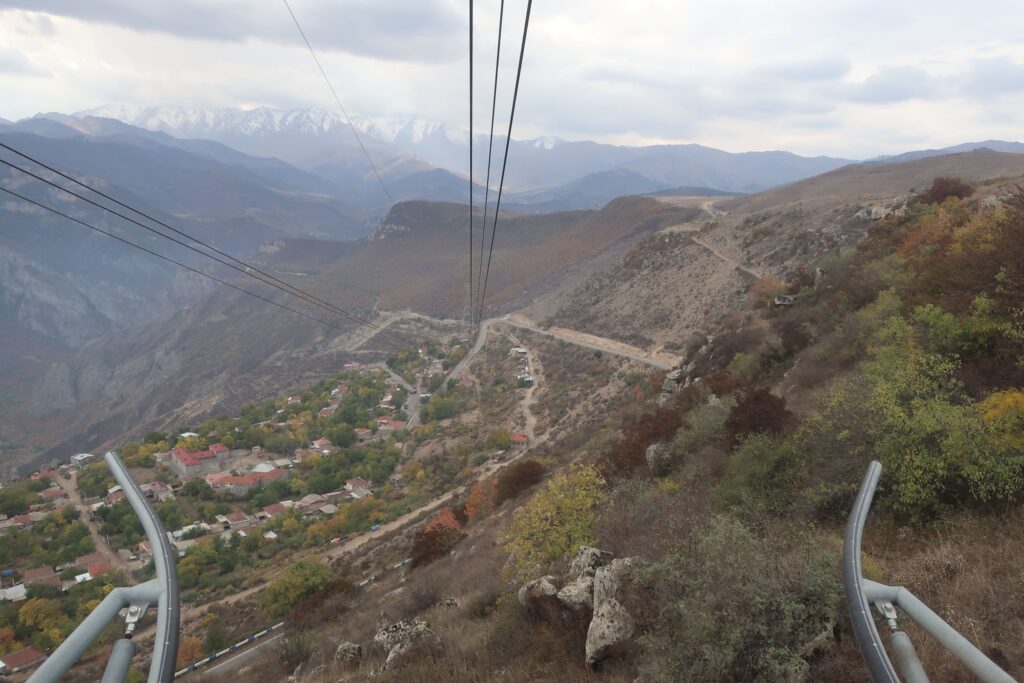 On the journey, we pass over another ruined monastery far below.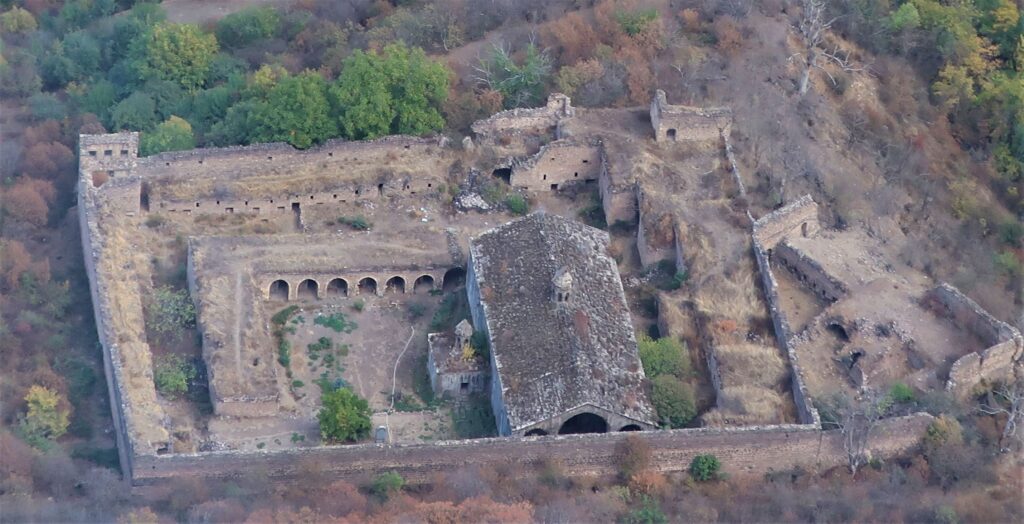 Tatev Monastery itself is well preserved. Probably because they get some help from US Aid, according to a sign at the entrance.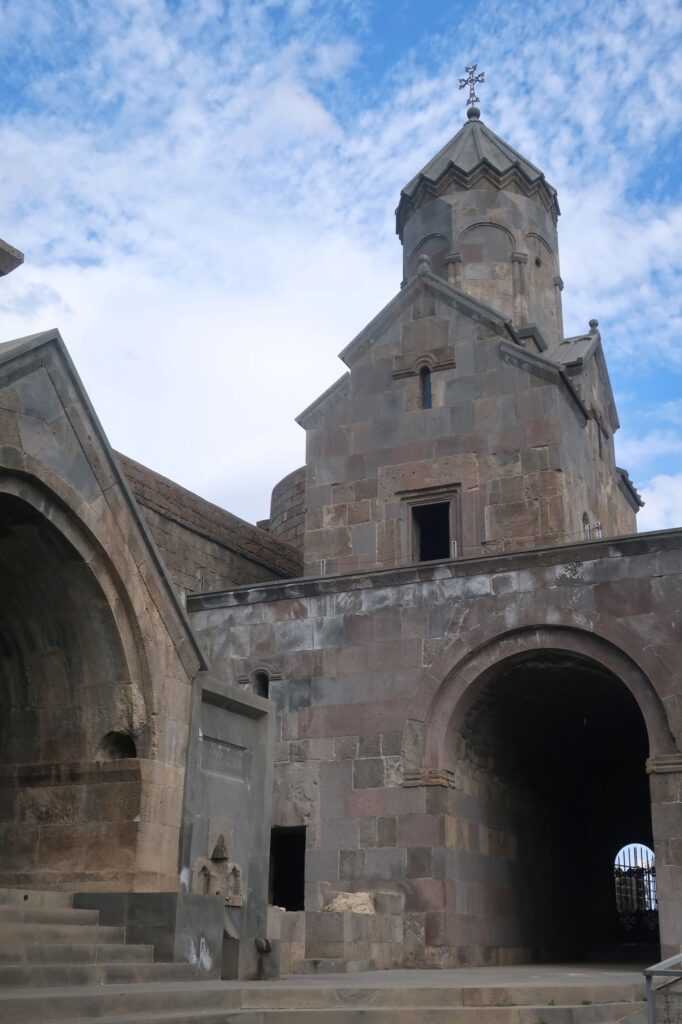 The exhibits of found objects are well-presented, too.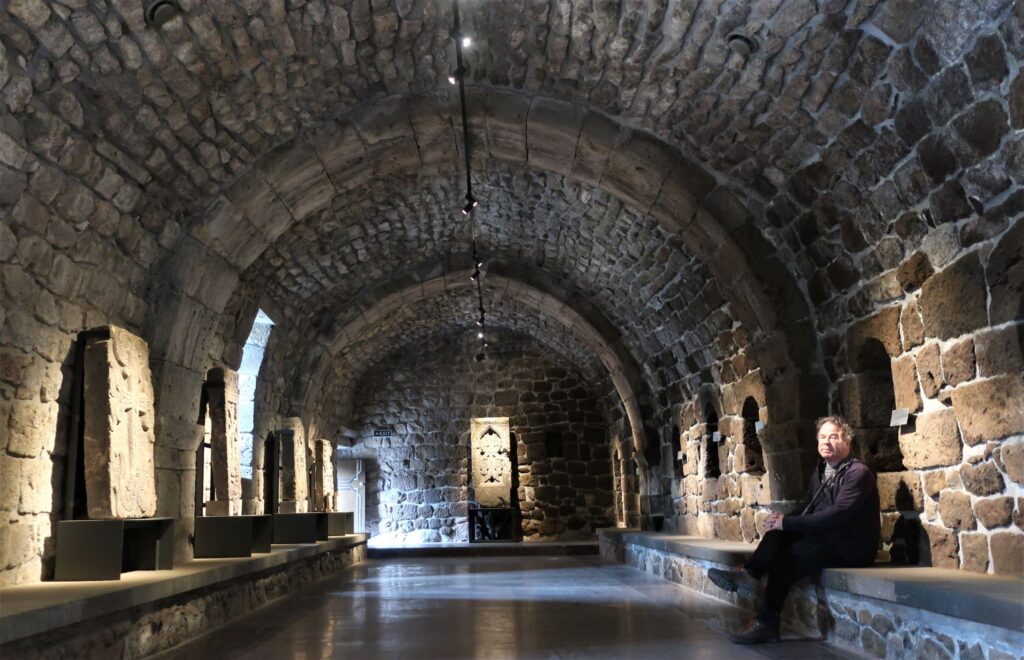 An Eastern Orthodox priest walks by.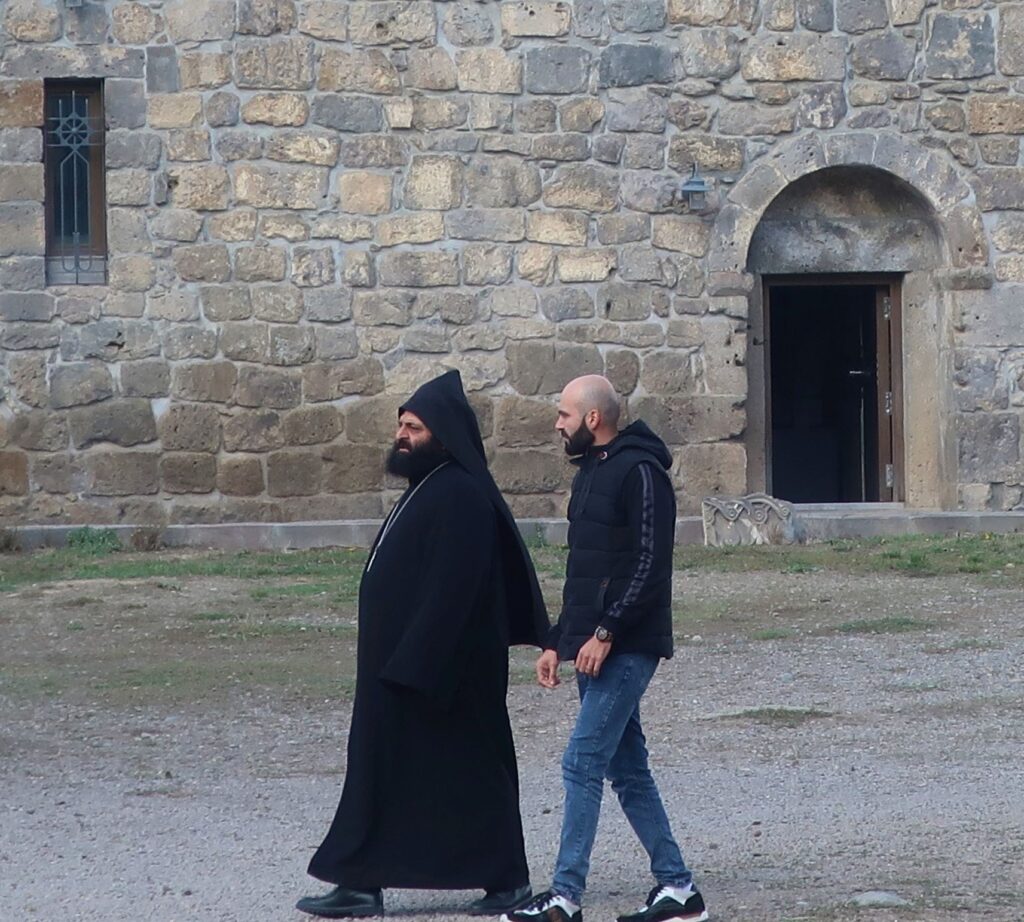 Our destination is the southern town of Goris. Close by, we visit the abandoned cave community of Old Khndzoresk. To get there, you cross over a very wobbly suspended bridge.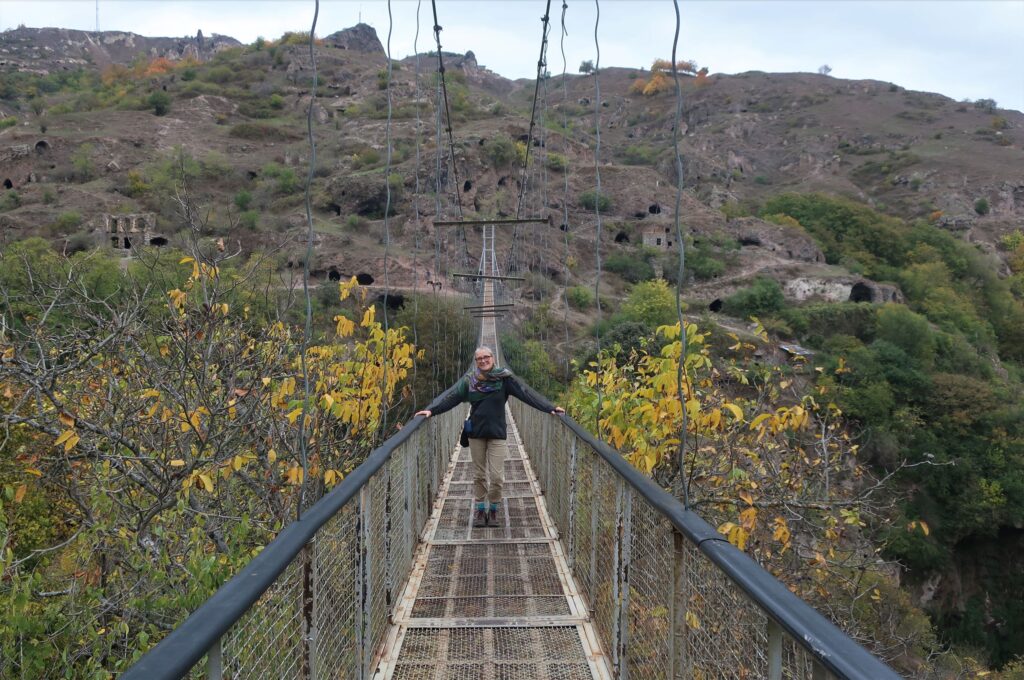 On our way back north, we come across some Russian military vehicles. Russia acts as a peacekeeper between Armenia and Azerbaijan.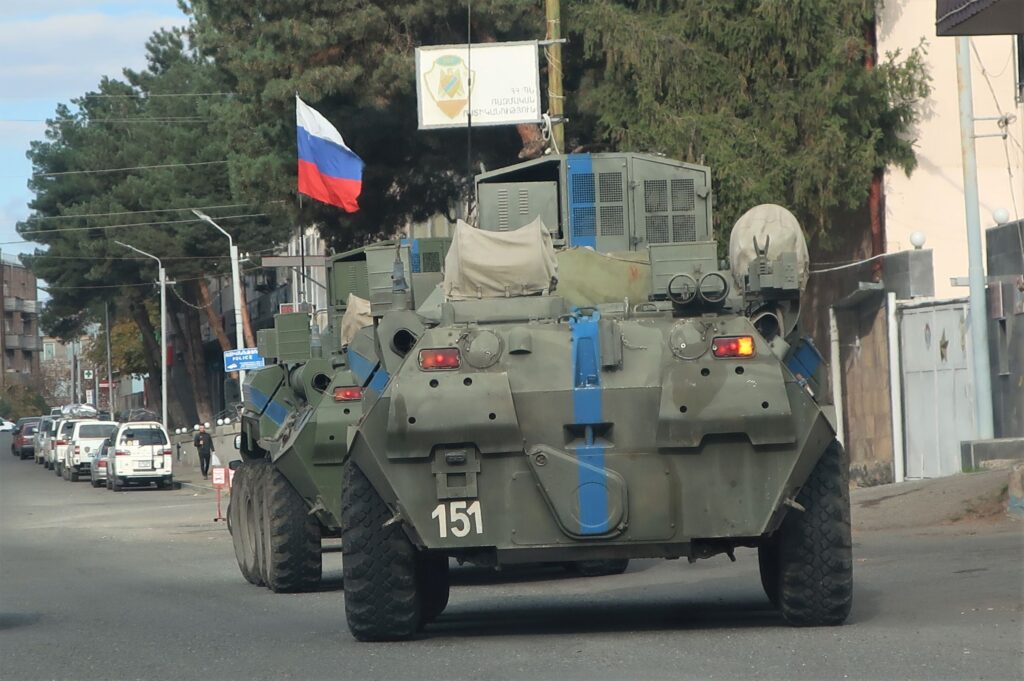 We overtake more on the road.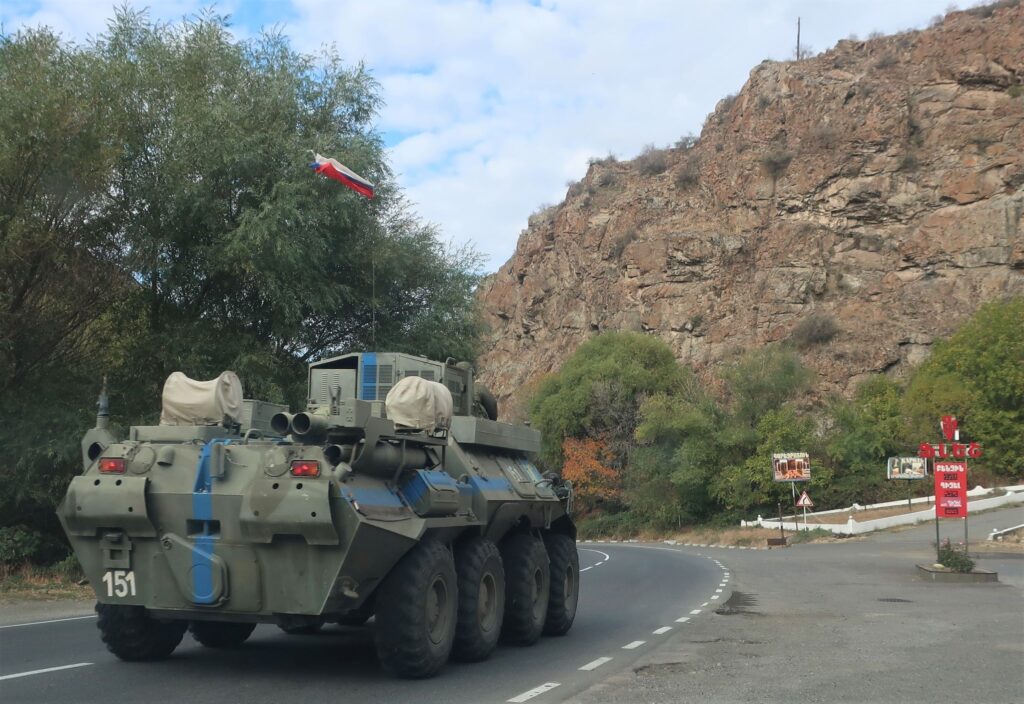 This is a common occurrence in Asia. A vehicle breaks down on the side of the ride. The driver sets down a bunch of large rocks in lieu of warning triangles. When the vehicle drives off, as often as not they leave the rocks on the road.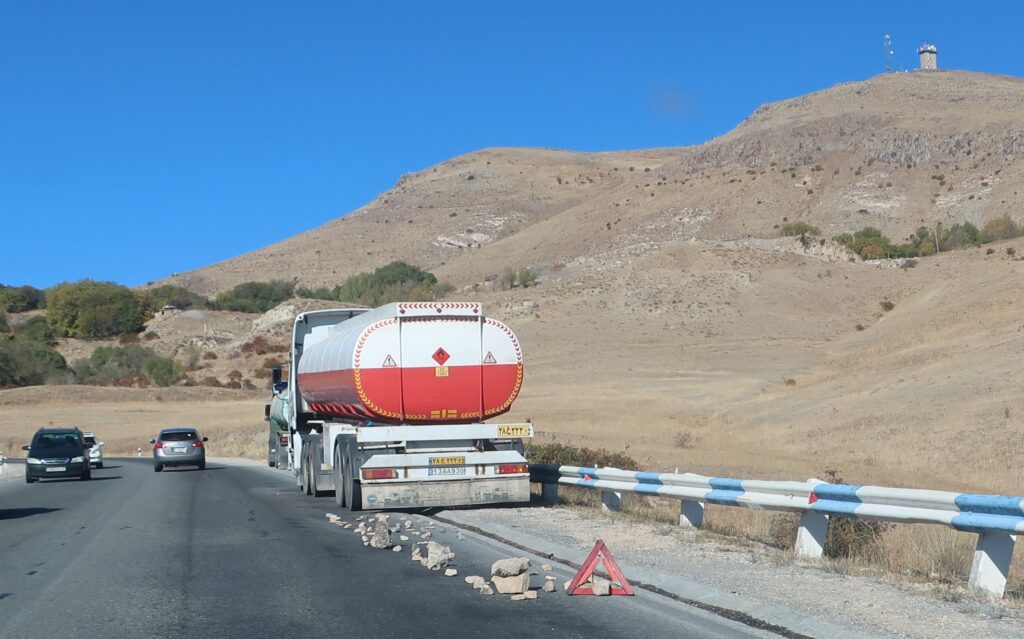 Out of nowhere, the double peaks of Mount Ararat (in nearby Turkey) appear. It's gigantic.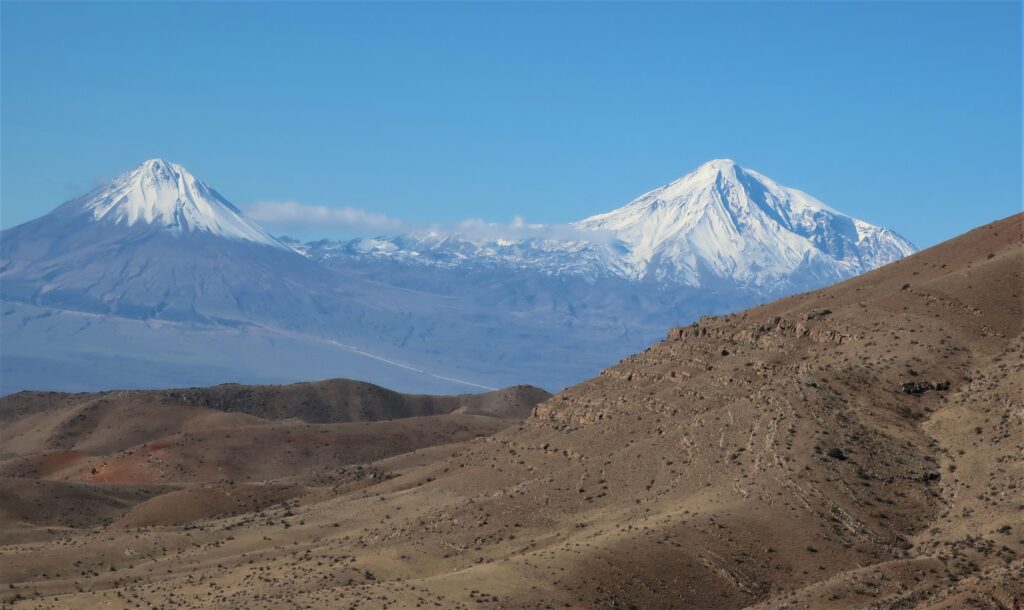 Maria takes dozens of photos of this spectacular sight. We'll limit ourselves to two here.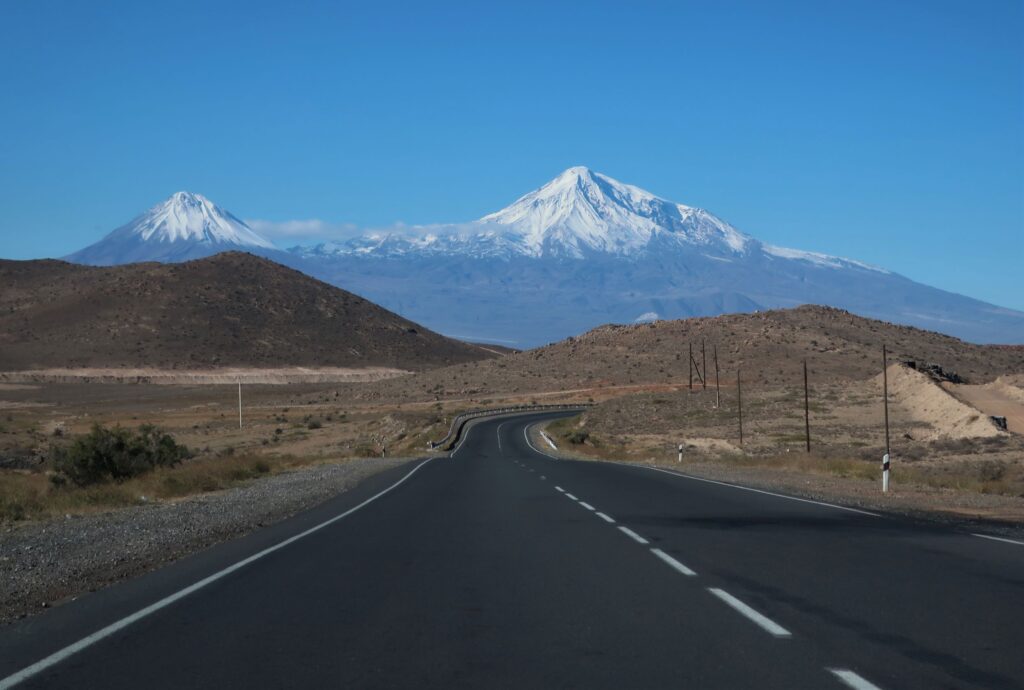 At a roadside bakery. These ladies are making lavash, Armenia's most popular bread.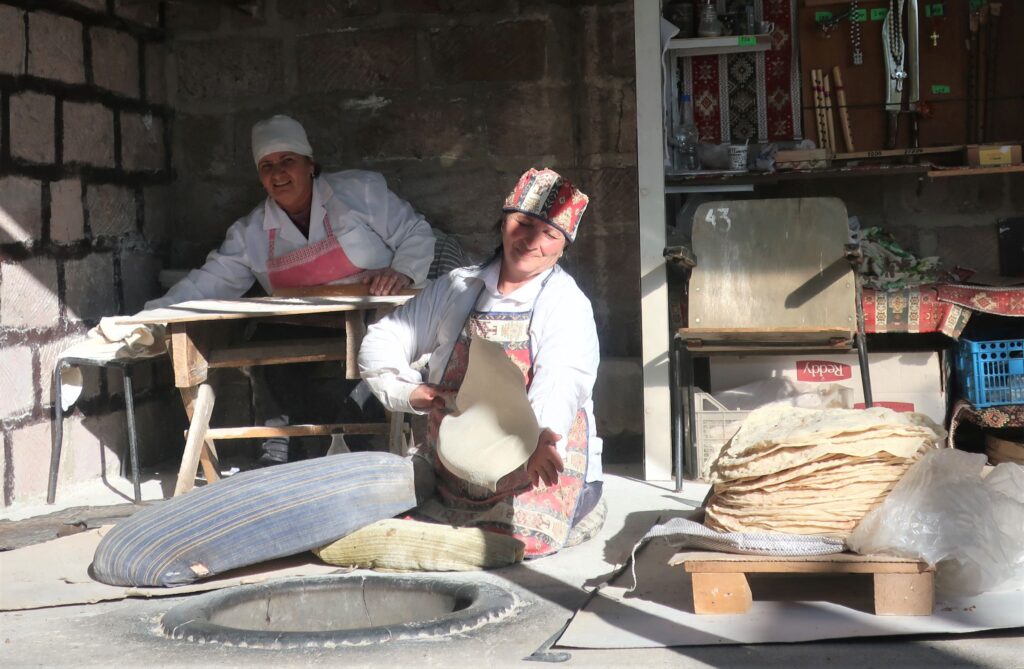 Our last stop before returning to Yerevan is Garni, the only standing Greco-Roman building in Armenia.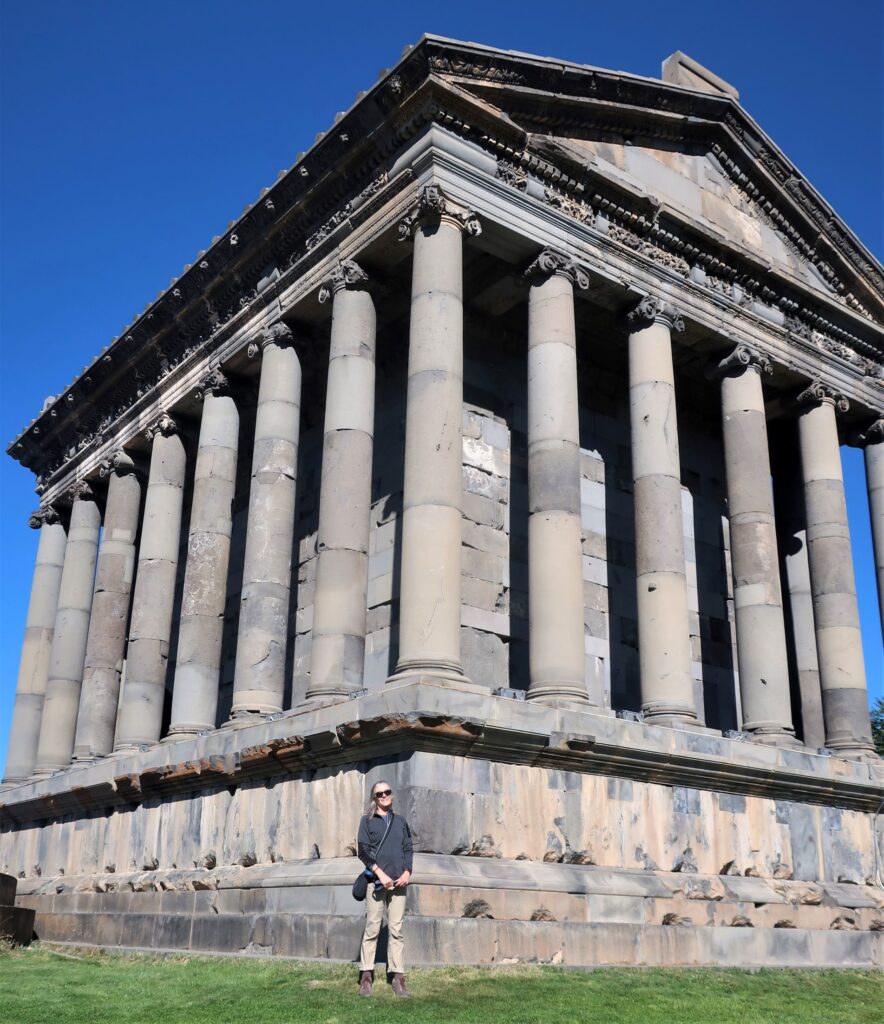 Back in the hubbub of the big city, we prepare to depart the Caucasus region.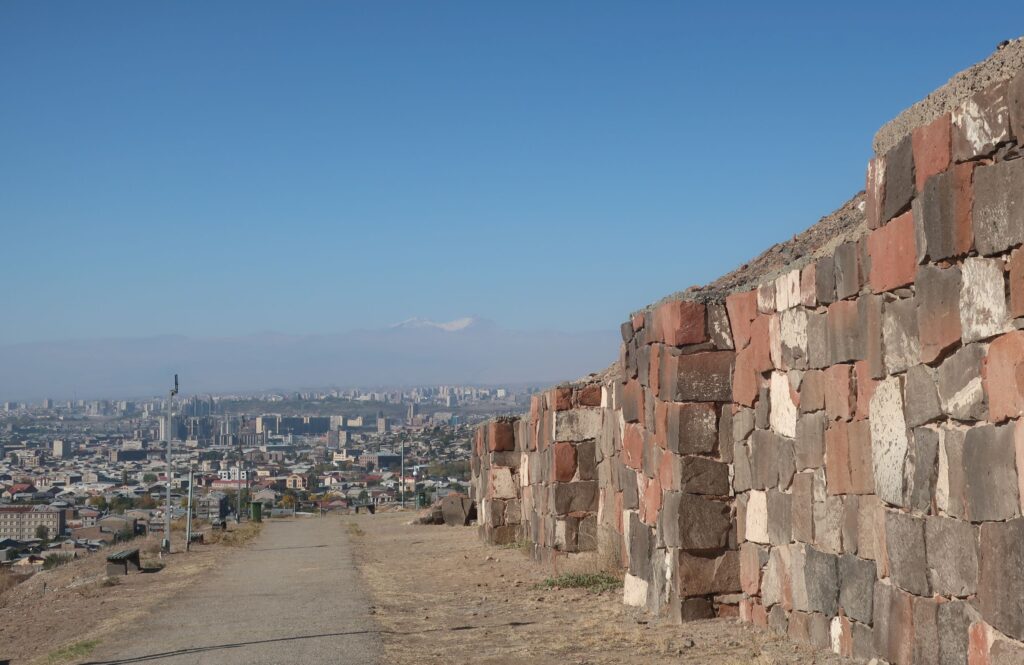 Sight or Insight of the Day
For something different, let's list three facts about the Caucasus that we didn't know before coming here.
Georgia – Even though St. George is the patron saint of Georgia, and St. George iconography is everywhere, the name 'Georgia' does not derive from St. George.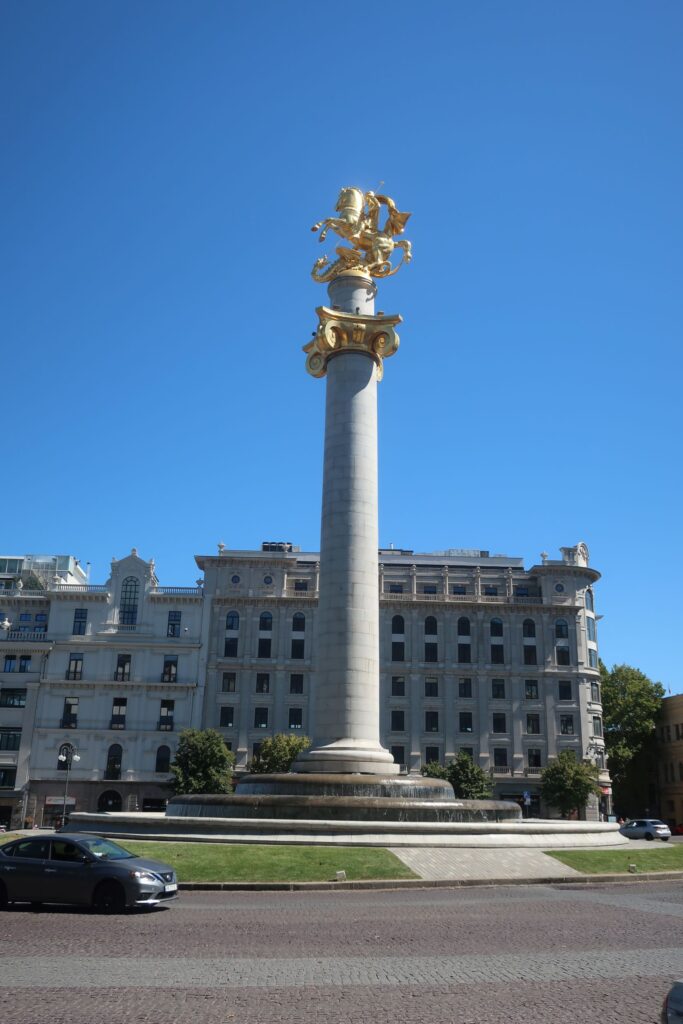 According to this exhaustive article in Wikipedia:
'The European "Georgia" probably stems from the Persian designation of the Georgians – gurğ (گرج), ğurğ – which reached the Western European crusaders and pilgrims in the Holy Land who rendered the name as Georgia and, erroneously, explained its origin by the popularity of St. George (Tetri Giorgi) among the Georgians.'
Azerbaijan – in the Tintin series, Captain Haddock is famous for his descriptive insults. One of his favourites is 'bashibazouk'.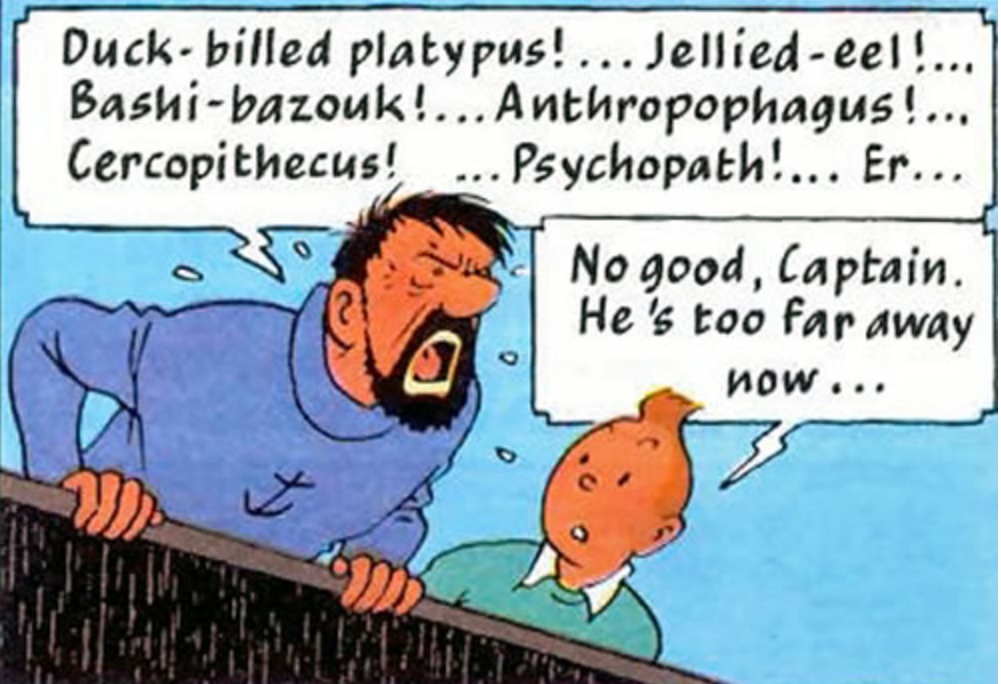 We learn that a bashi-bazouk is a Turkish term for unpaid, undisciplined shock troops, sent in to 'soften up' and terrorize would-be conquests.
During the September Days massacre of Armenians in Baku in 1918, the Turkish army used Azerbaijani bashi-bazouks in the following role:
'Regular Ottoman troops were not allowed to enter the city for two days, so that the local irregulars – bashibozuks – would conduct looting and pillaging.'
Armenia – Almost everyone (well, almost every male) knows that the standard Russian jet fighter is the MiG. The 'Mi' part comes from Mikoyan, that is Artem Mikoyan, aircraft designer extraordinaire. (The 'G' part comes from his design partner, Mikhail Gurevich.)
It turns out that Artem Mikoyan was Armenian, from the small village of Sanahin. We visit a nicely-executed small museum dedicated to Artem and his brother Anastas, a big shot in Soviet Union politics.