We fly from Sandakan back to Kota Kinabalu, planning to take a fast ferry to Labuan Island (still Malaysia) then another boat to Bandar Seri Begawan (in Brunei).
One of the many things we like about Malaysia – you can take a photo at the airport without some jabbering moron sticking an AK-47 in your guts, declaring that the crappy airport of their moribund failed state is a 'strategic military asset'.
(Historical footnote: Sandakan airport is the original site of an airstrip that the Japanese built with the slave labour of Allied POWs before murdering them.)
As it happens, in KK the boat tickets are sold out. We fly instead.
On arrival, we don't see any money exchange. This is the first airport we've ever seen that doesn't have ATMs and a dozen prominent money-change places vying for business.
They have a nice mosque, though.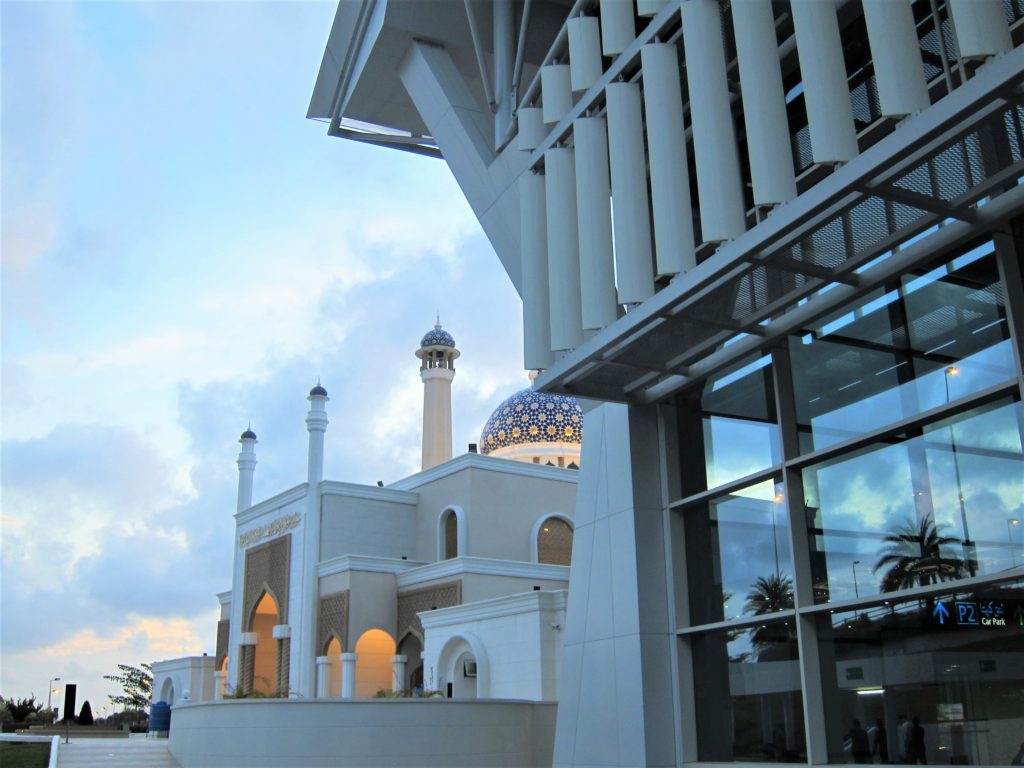 Luckily, we changed money in KK, so have funds for a taxi into town. Someone tells us later that there is a money exchange 'upstairs'. 
This seems to be a theme in Brunei – it can be difficult to find out simple things. We plan to take the boat back to KK, but can't find information about purchasing advance tickets. So we spend an hour travelling out to the ferry terminal. Which is closed.
Fortunately, a young (Chinese-) Bruneian woman kindly offers us a lift back to town. She's very chatty. She spent four years in London studying petroleum engineering and now works for Shell. (Shell seems to have a monopoly on the extraction and retailing of oil & gas in Brunei.)
Brunei is a pocket-sized, oil-rich sultanate. It's very orderly. They have sharia law here.
It's prosperous, but not ludicrously so. (We're looking at you, Gulf states.)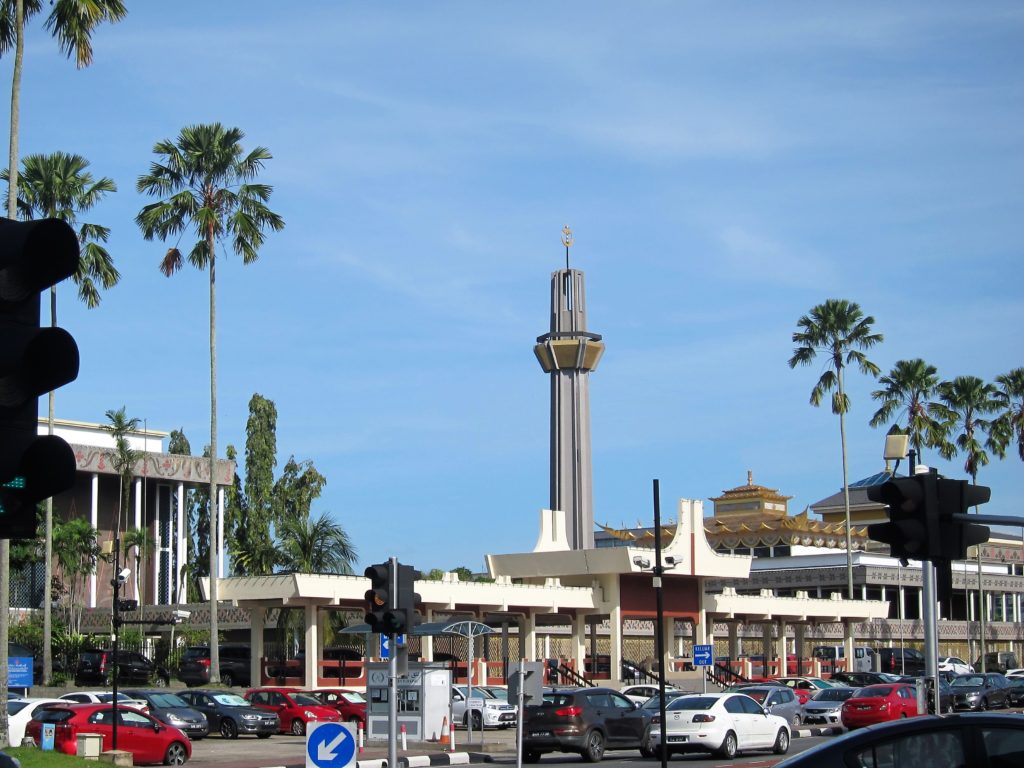 It feels as if some small, decent-but-dull town won the lottery. Everyone is doing OK. But it's still, well, decent and dull.
We like this café sign, featuring a proboscis monkey. Note the road sign in Roman characters and Jawi, a form of Arabic script for writing Malay.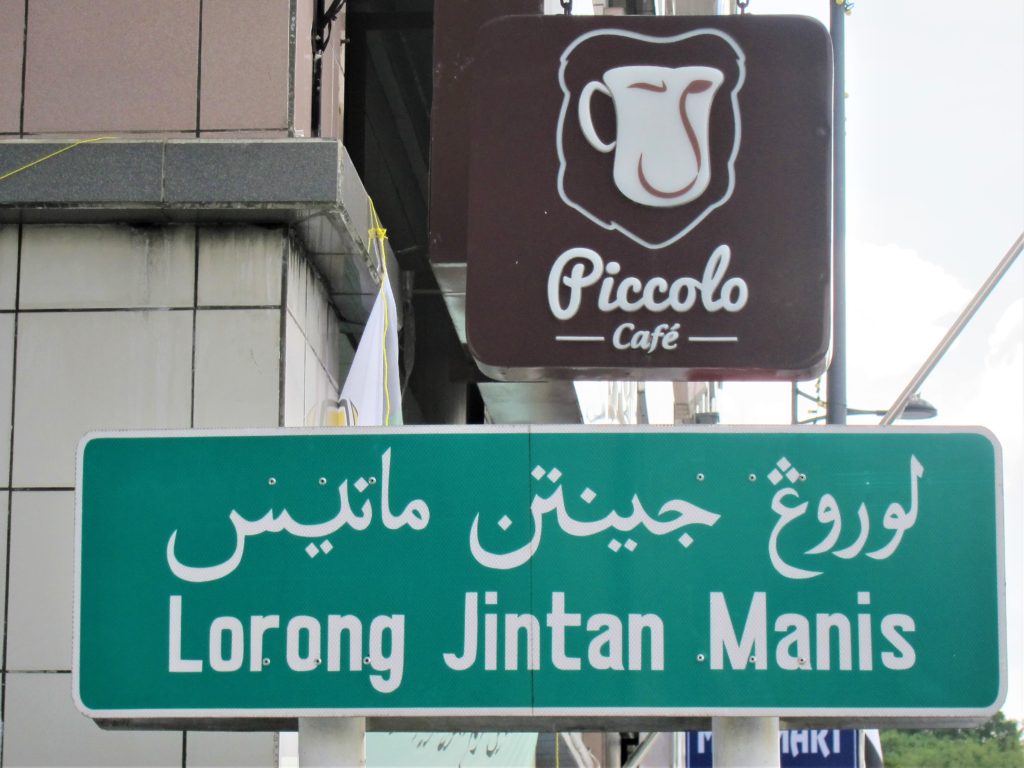 Speaking of non-alcoholic beverages, we are abstaining from our daily sundowner while here. (Not out of virtue – we have no choice because Brunei is an alcohol-free country.)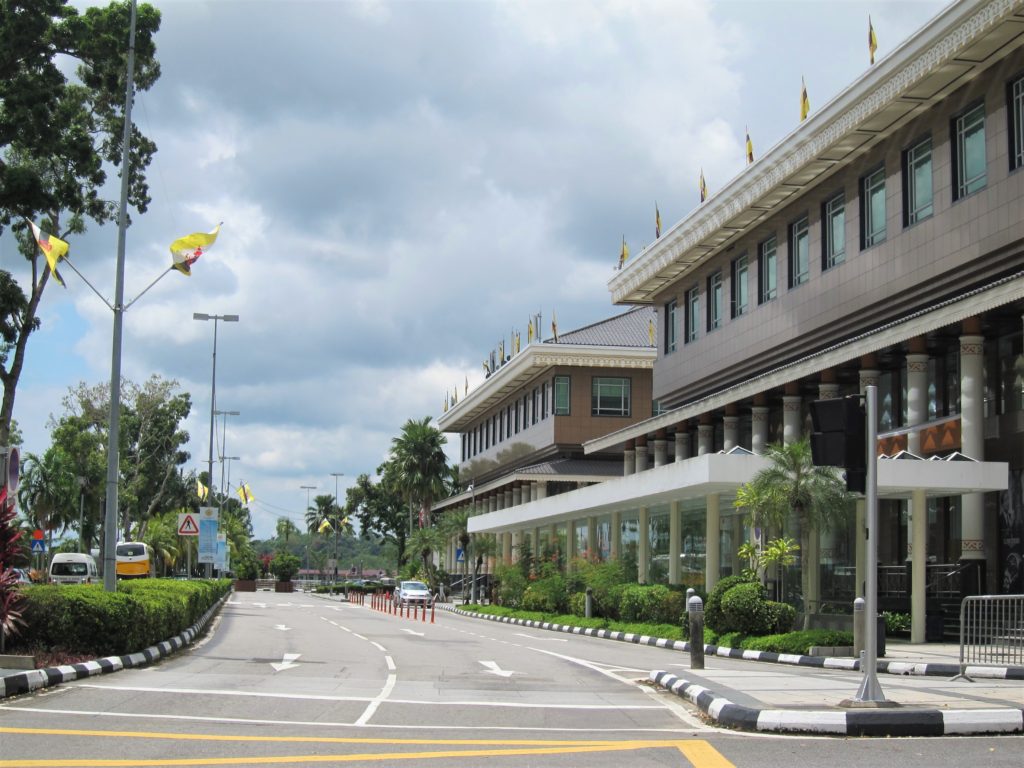 How well-off is Brunei? A personal anecdote – in Ottawa, the embassy of Belgium (population 11,350,000, headquarters of the European Union) moved from 395 Laurier St. East because it was 'too expensive to maintain.'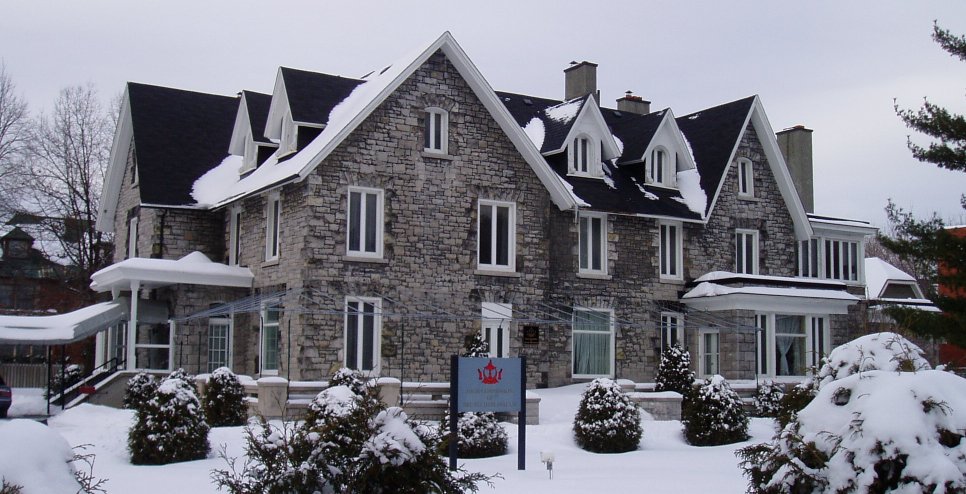 The property was then taken over by the High Commission of Brunei (population 423,196).
Everyone drives here. Gas is cheap. Surprisingly, taxis are expensive, especially by Asian standards.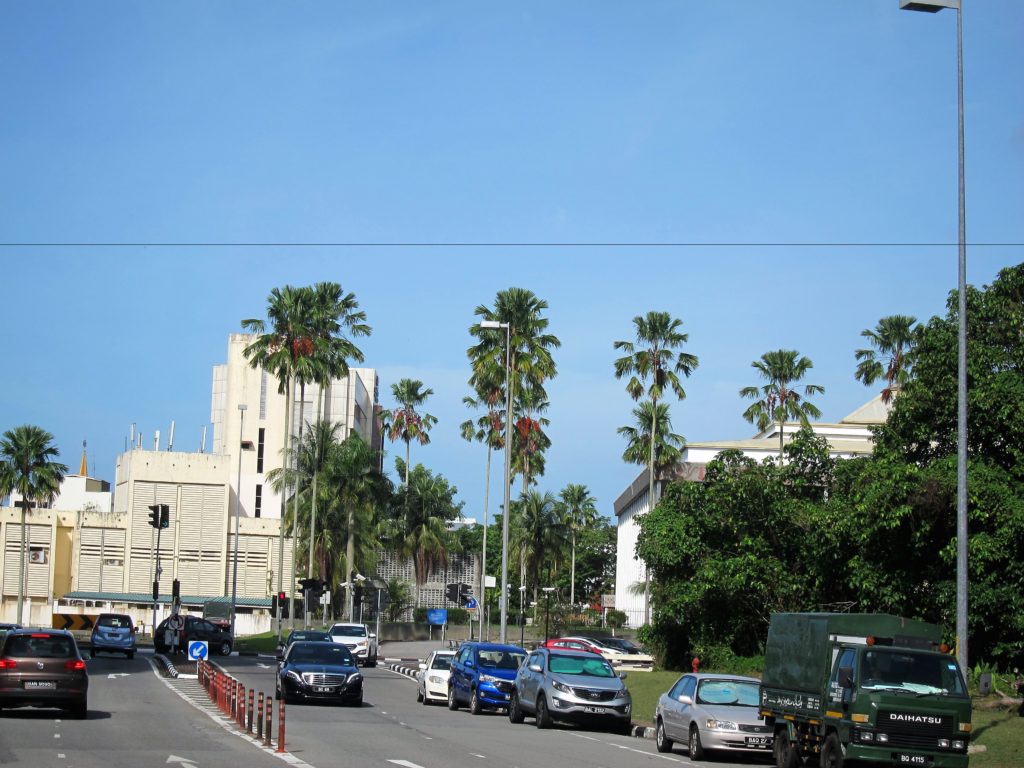 It's safe and unthreatening. Everywhere are affirmations of loyalty to the Sultan. He's fairly benevolent, for an absolute muslim monarch. Not like his brother Jefri.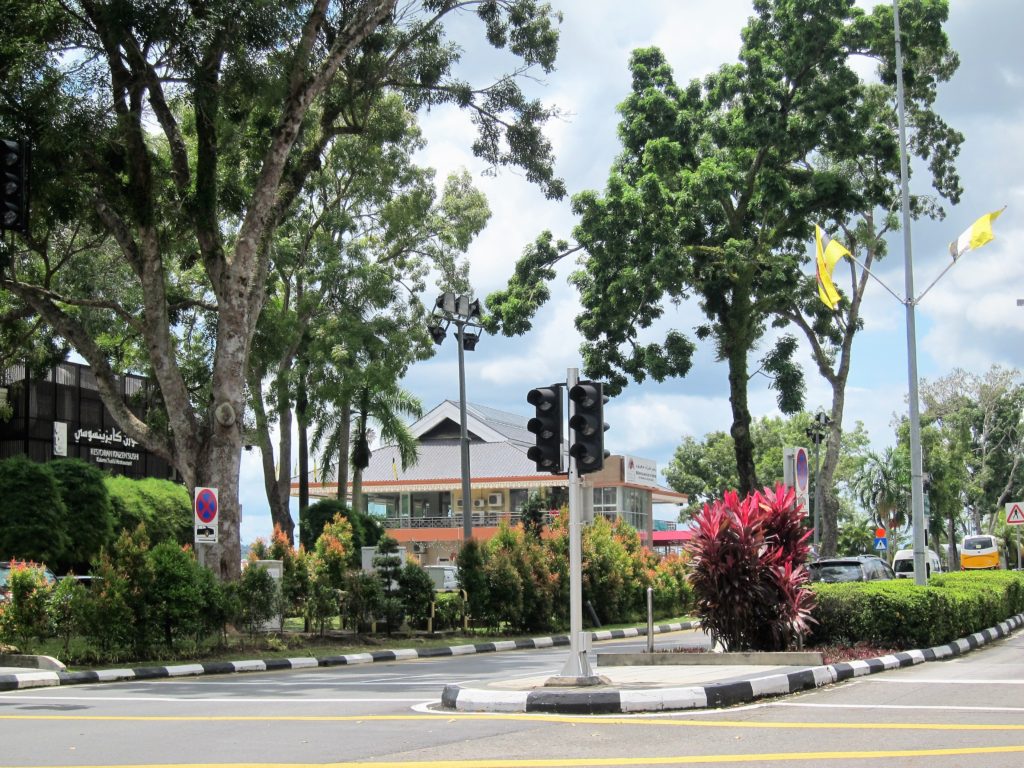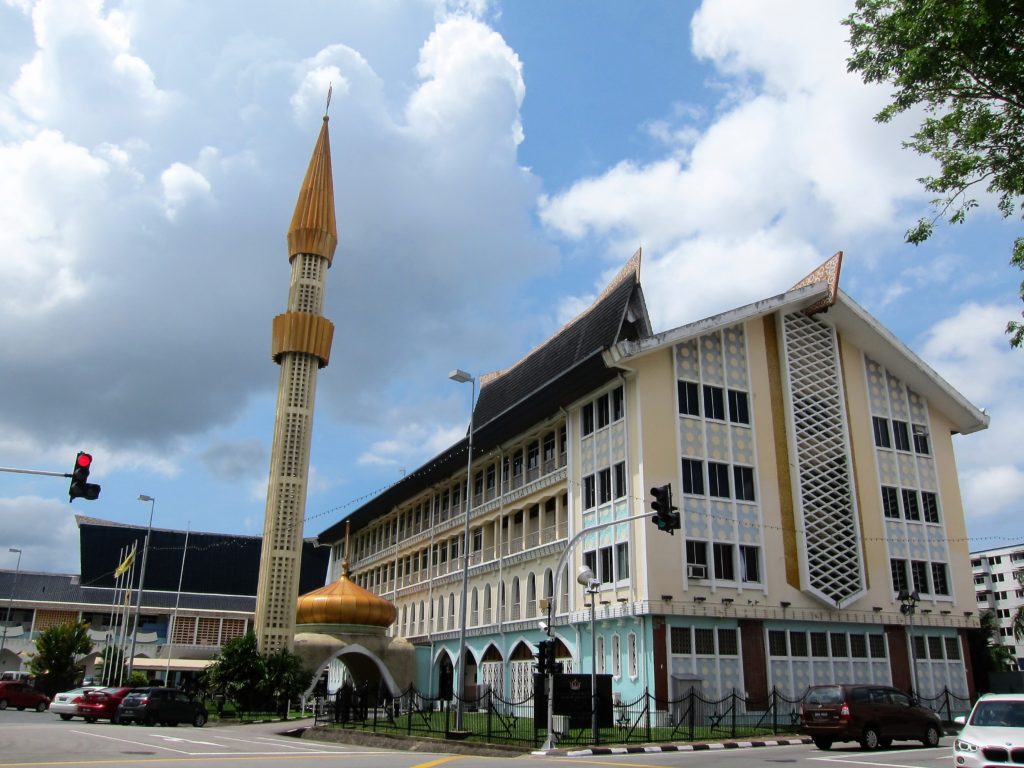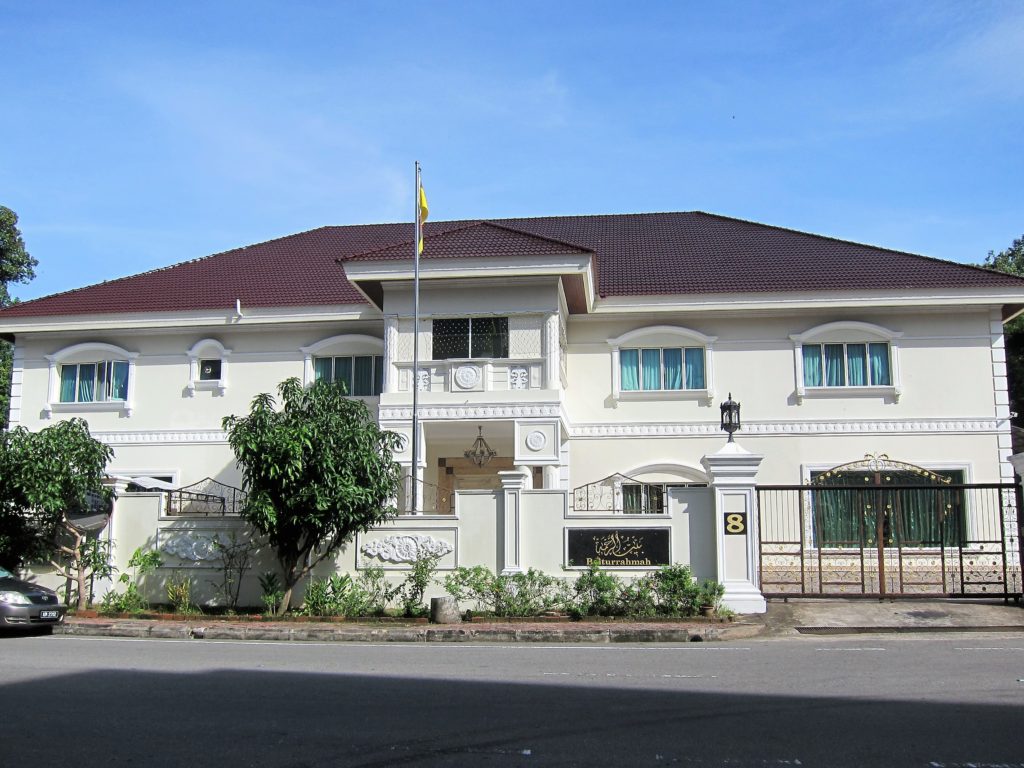 Distributed throughout the broad avenues and modern buildings are old-school wooden houses common in Borneo. They probably date from the pre-oil wealth days.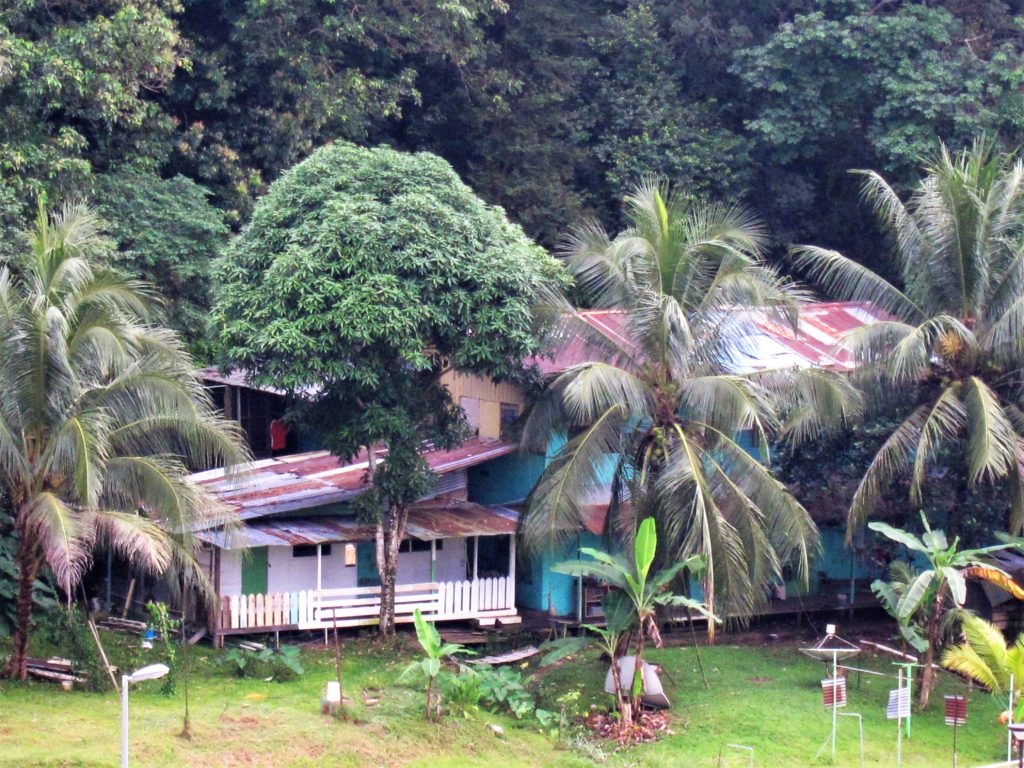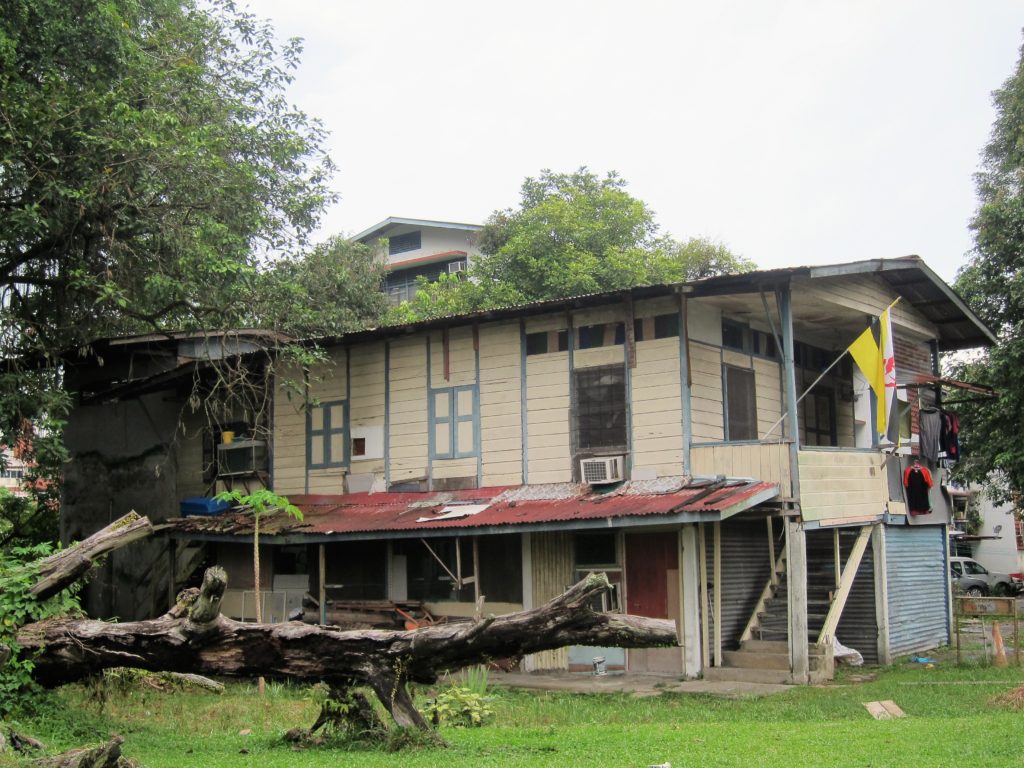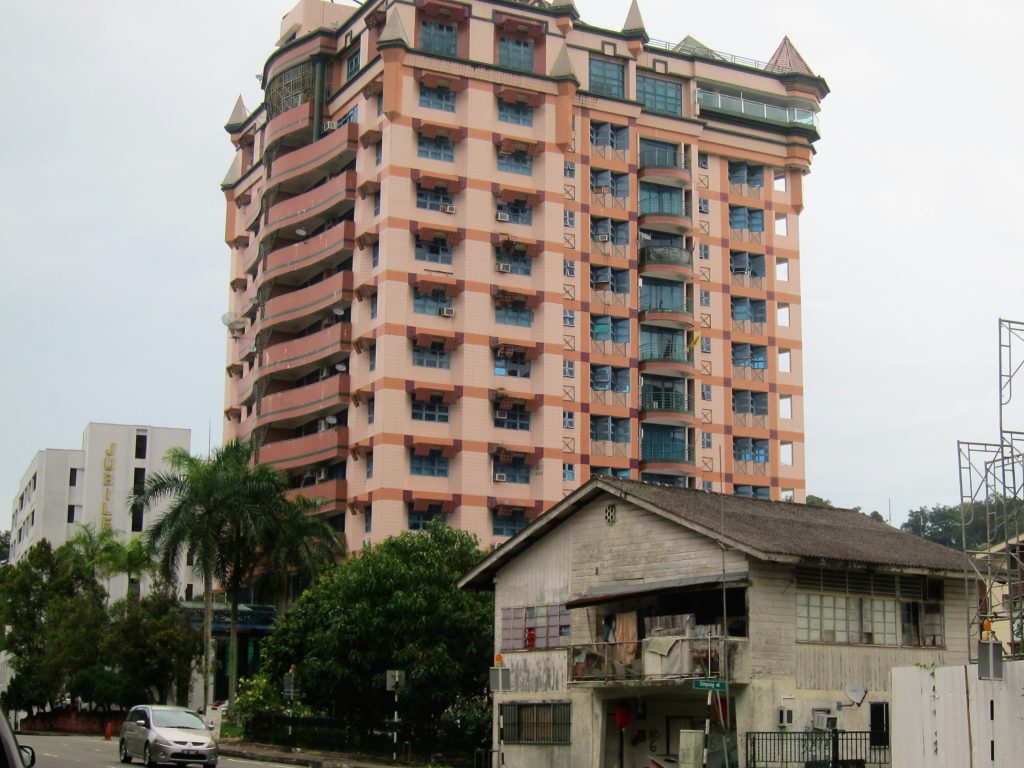 You're never far from a mosque in Brunei.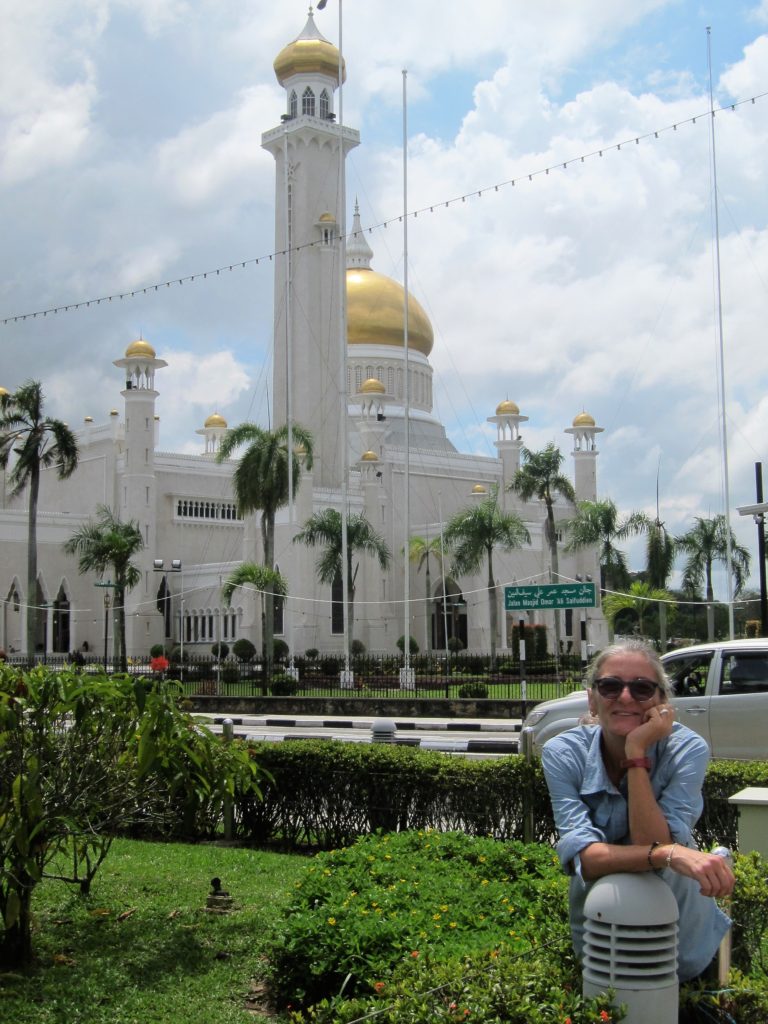 We visit Kampong Air, the water village that lies across the Brunei River.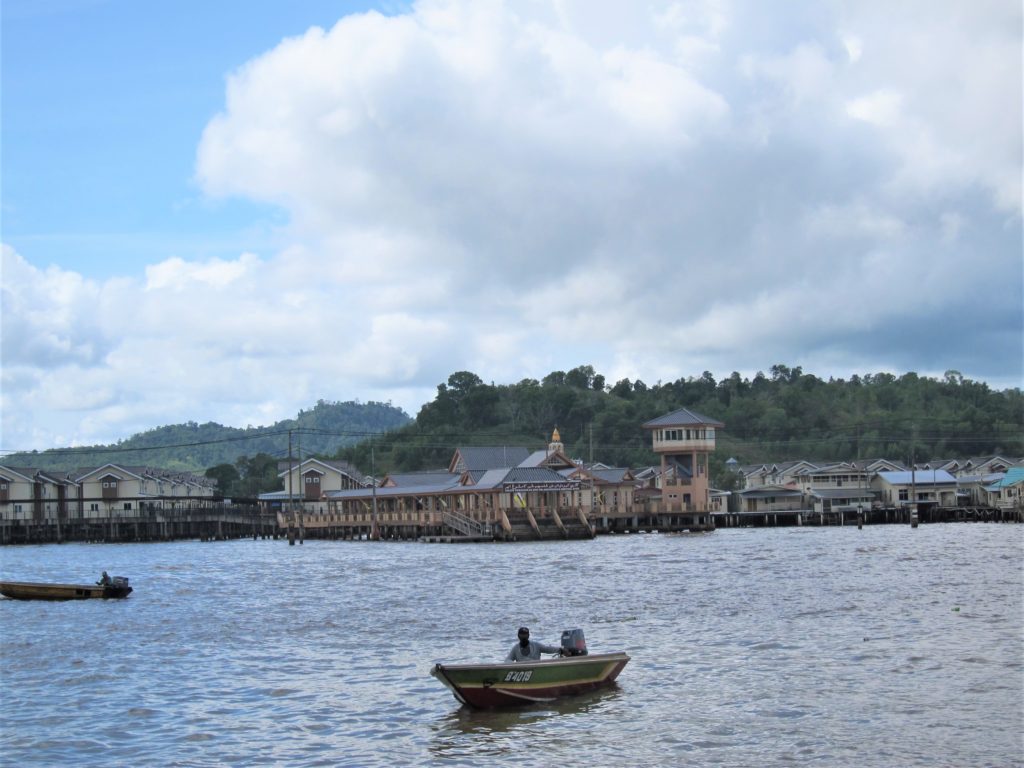 It's supposed to be the largest in the world.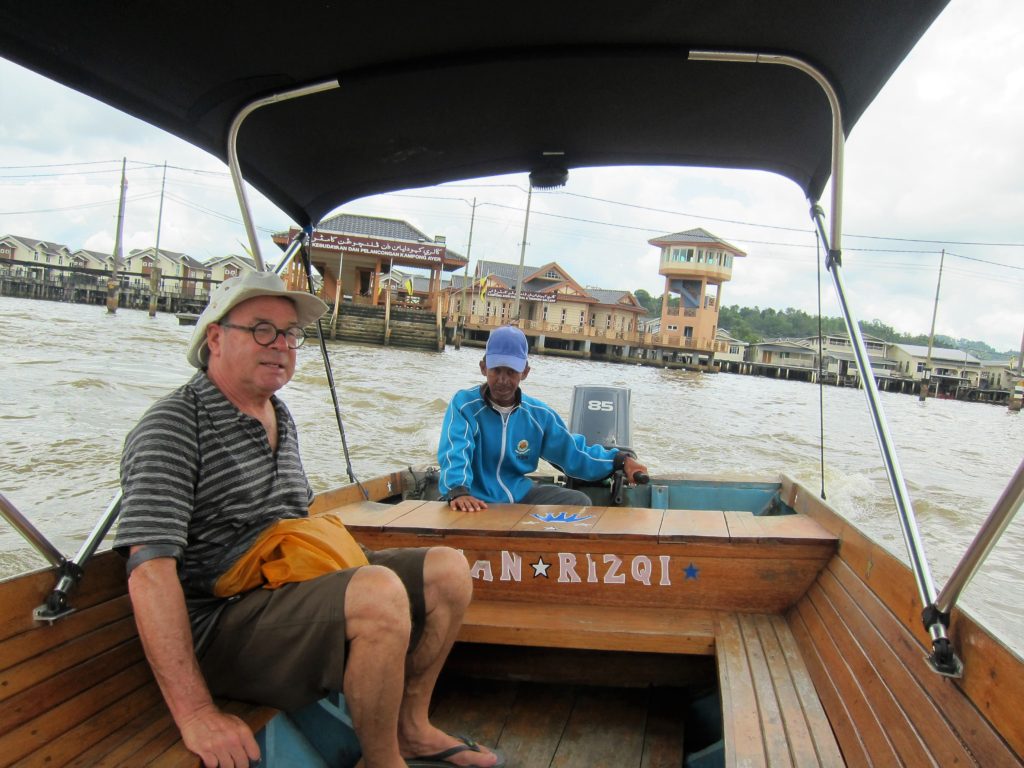 The fare to cross the river is one Brunei dollar. A Brunei dollar is approximately one Canadian dollar.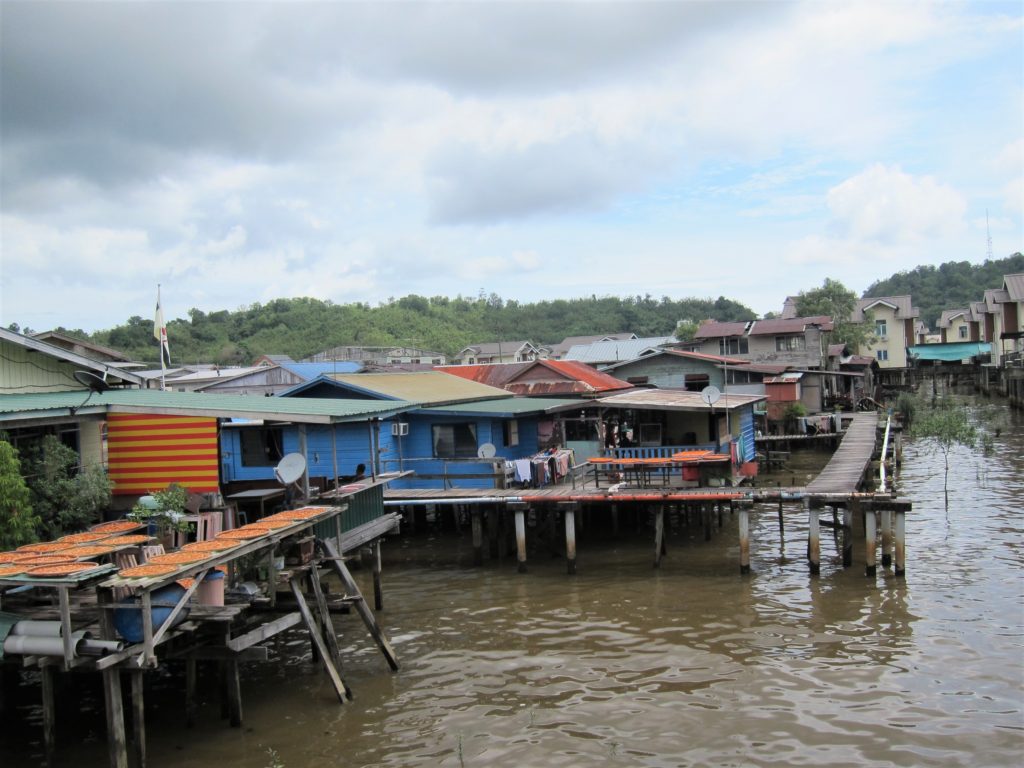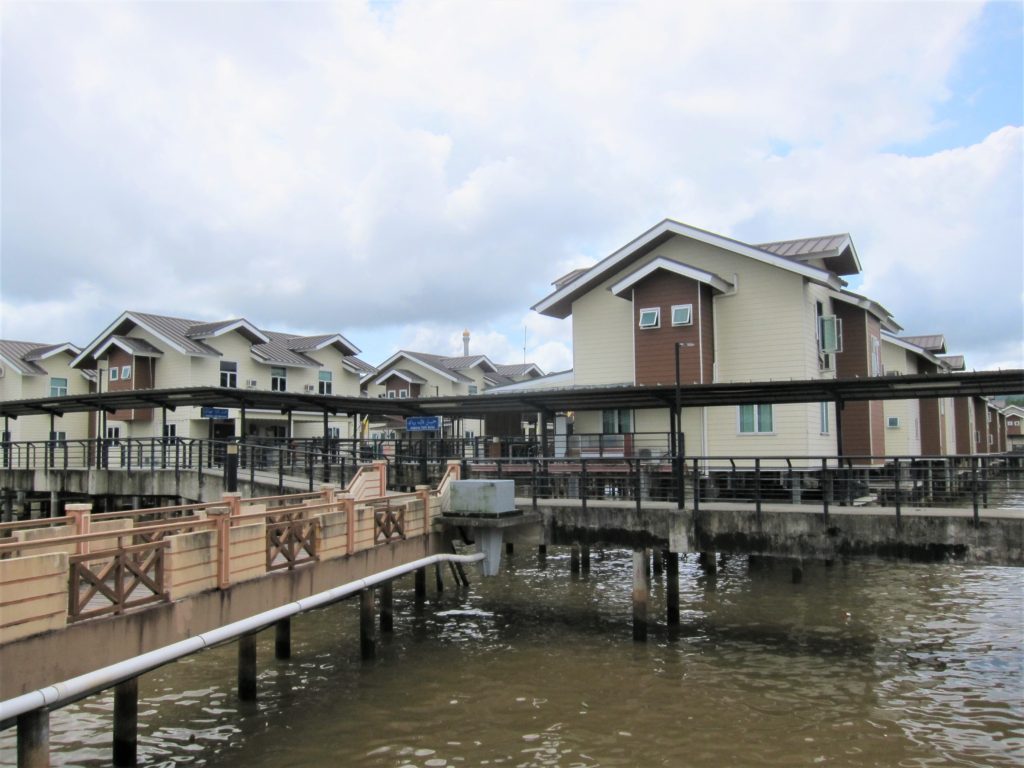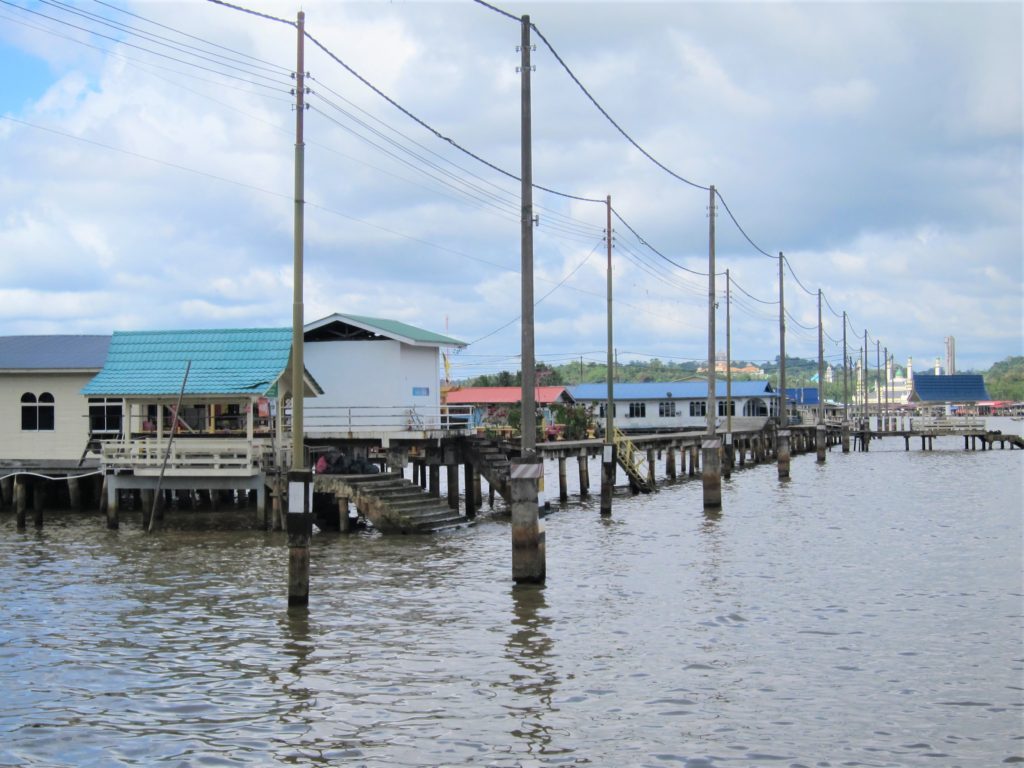 Sight or Insight of the Day – Bandar Seri Begawan
As mentioned, we originally plan on taking the speedy ferry to Brunei. The ferry is sold out. Same for the next day. We have an upcoming return flight to Kuala Lumpur, so time is important.
We buy an air ticket for the same day. Royal Brunei airlines offers the cheapest available seats.
When we check in at KK airport, we discover that our seats are business class. We enjoy the amenities of the first class lounge at the airport and wide, comfy seats on the plane.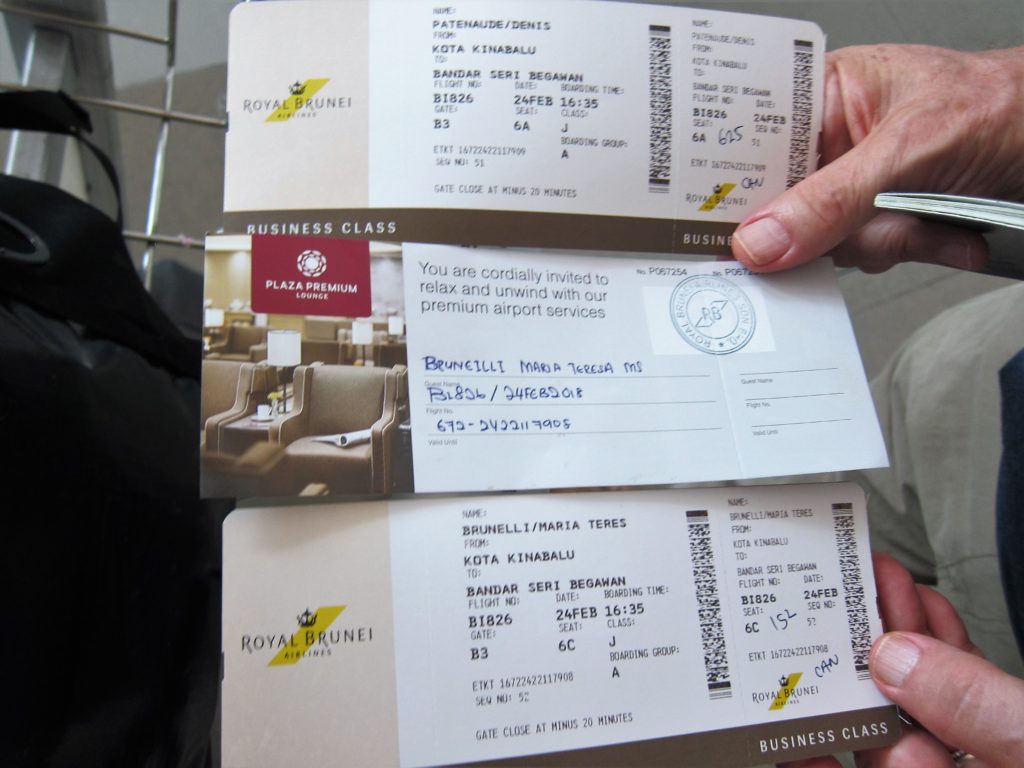 Thanks, Royal Brunei airlines! Too bad the flight is only 25 minutes. A trans-Pacific flight at this level of luxury would've been awesome.