From the sub-Arctic ambiance of Hokkaido we fly to the sultry tropical atmosphere of Okinawa.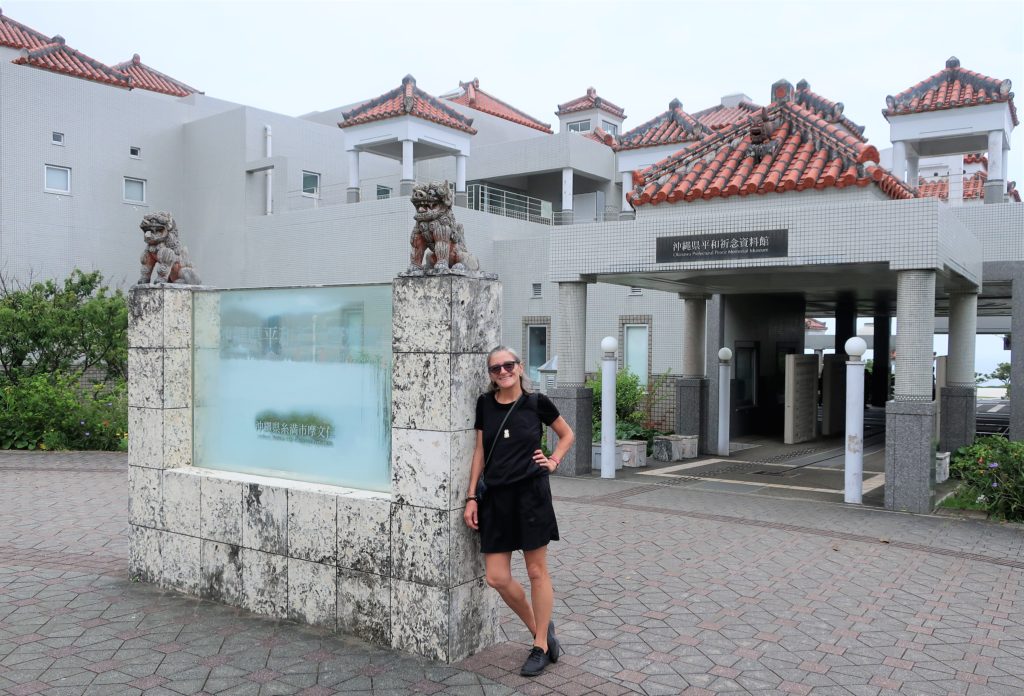 Okinawa has an interesting history. In a nutshell:
The Ryukyu Kingdom, a separate entity, enjoys independence as a prosperous intermediary in trade between China and Japan.
Japan annexes it in the 1870s.
The Battle of Okinawa rages on the island in 1945 as a stepping stone for the invasion of the mainland. The Japanese army essentially uses the entire civilian population as human shields, shooting those who use Okinawan dialect as spies and urging group suicides.
The US administers Okinawa directly until 1972. Okinawa reverts to Japan.
Okinawans become increasingly disenchanted with having a significant area of the country occupied by American bases. Besides the risk of so much military activity in heavily-urbanized zones, crimes committed by US personnel are a problem.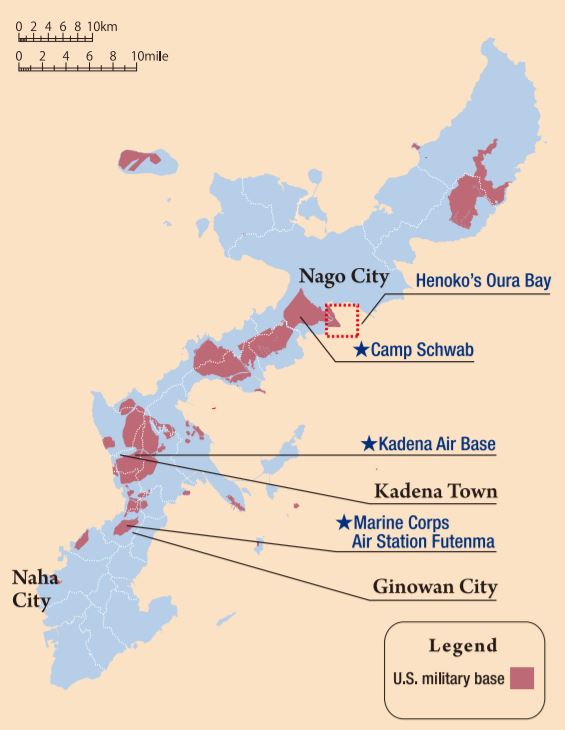 We rent a car. His name is Suzuki, after David, and, well, because he's a Suzuki.
After picking up our car at the airport, we get lost in a labyrinth of ridiculously narrow alleyways in between broad but unidentifiable major streets in Naha, the main town. Turns out that southern Okinawa is one continuous conglomeration of citified confusion.
We eventually find our minshuku, which is like a Japanese B & B.
On the road, we visit a Ryoko-era fort at Nagasuku. There are at least 30 of these around Okinawa.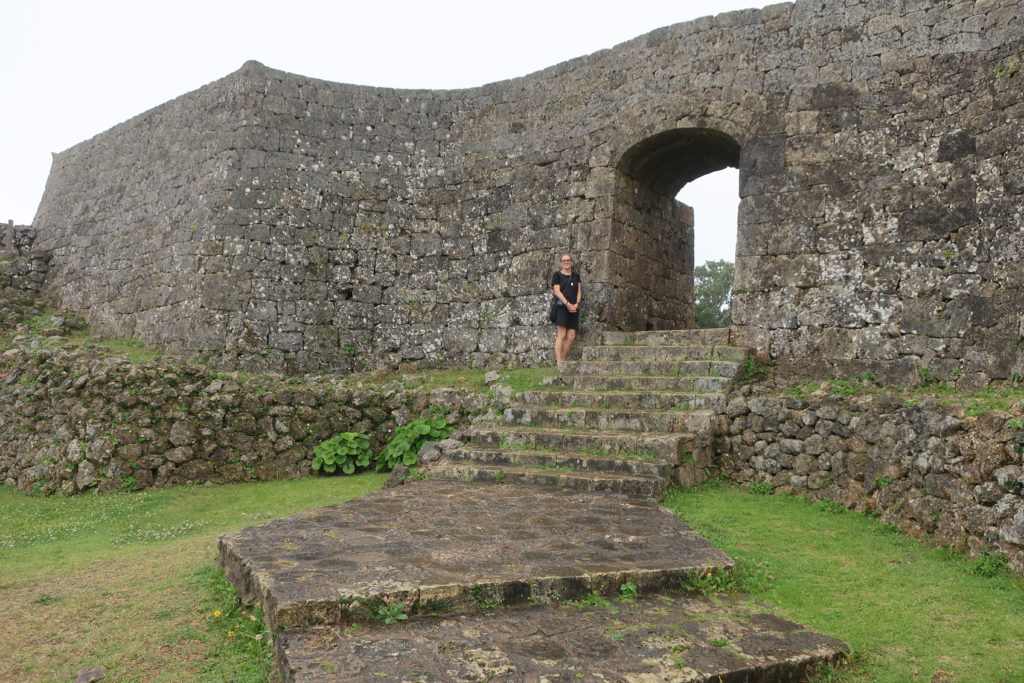 The stonework in these is amazing.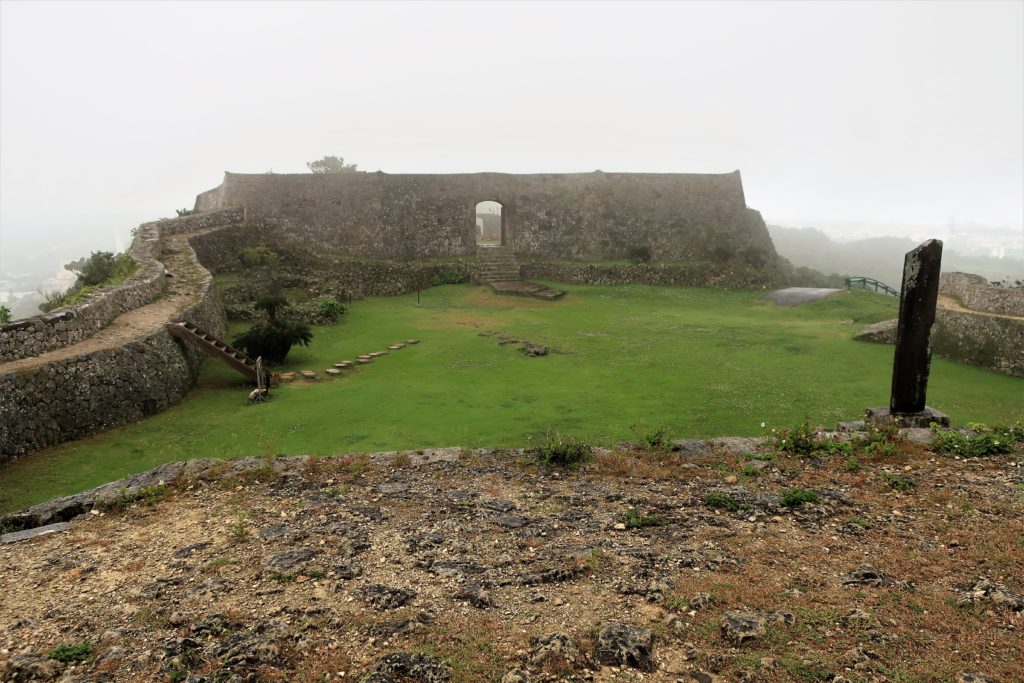 We have the entire site to ourselves – probably because of the rain.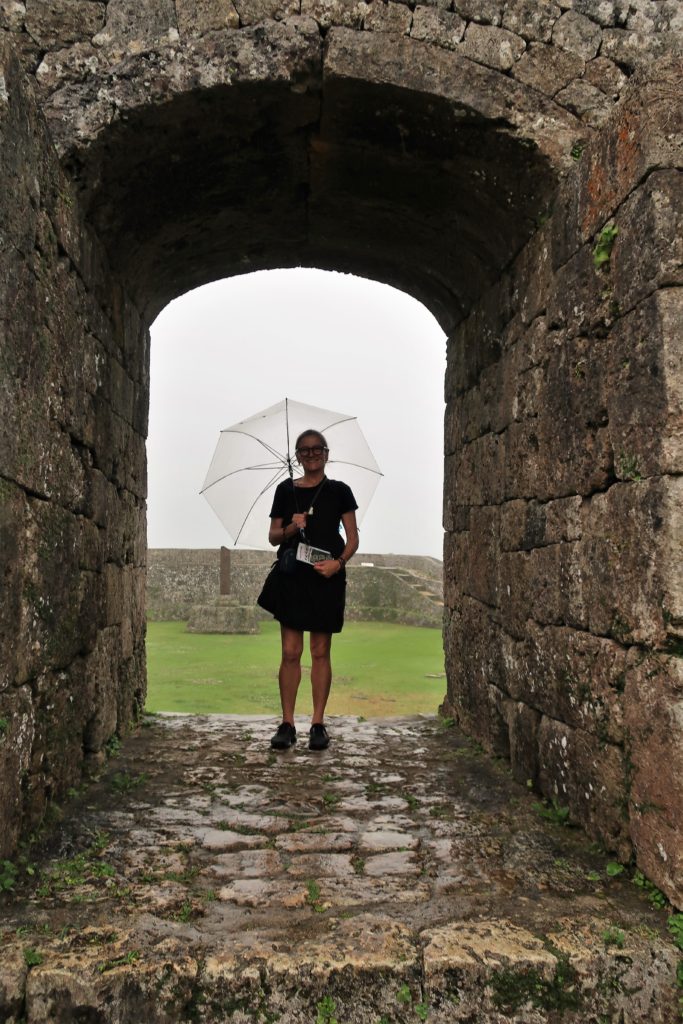 Okinawa is very urban, especially the southern part. We expect more of a tranquil, unpopulated idyll like Sado and Hokkaido. This is not the case.
We're going to cheat here and offer web-search photos of the urbanized south. And the more scenic north.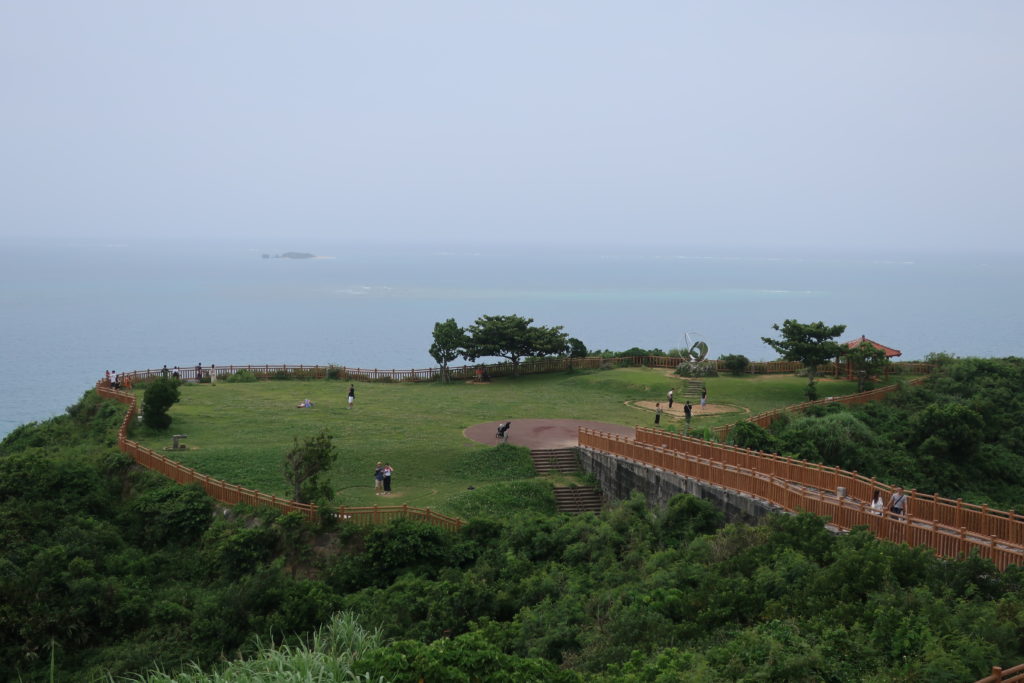 After a few days, Suzuki gets a flat tire and has to be towed back to Naha. There is no spare tire – only a 'puncture repair kit' that has no instructions in English.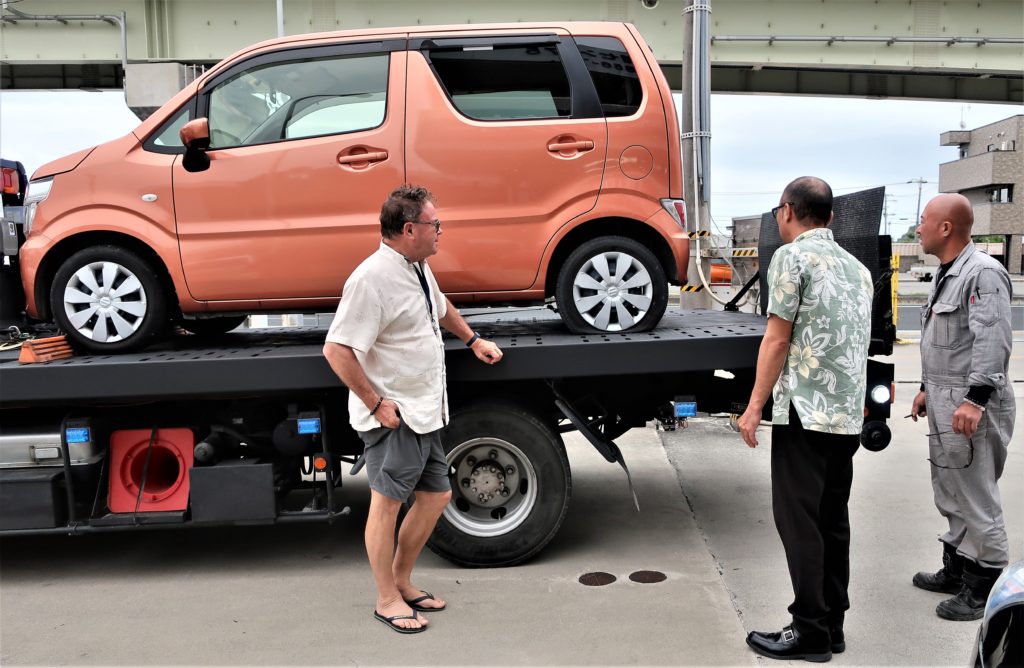 This is one of those travel tales in which strange things happen. While parked up with the flat, a man in a snazzy Mercedes Benz actually scrapes our bumper and we have to get the police involved. Long story. But it ends well.
We pick up a new vehicle to replace Suzuki. We name him Satoshi, after Satoshi Nakamoto.
This vehicle has mind-blowing gas mileage. We are half way around the island before the fuel gauge even begins to go down.
These guardian spirits on rooftops are an Okinawa tradition. If they weren't so heavy, we'd send one or two home.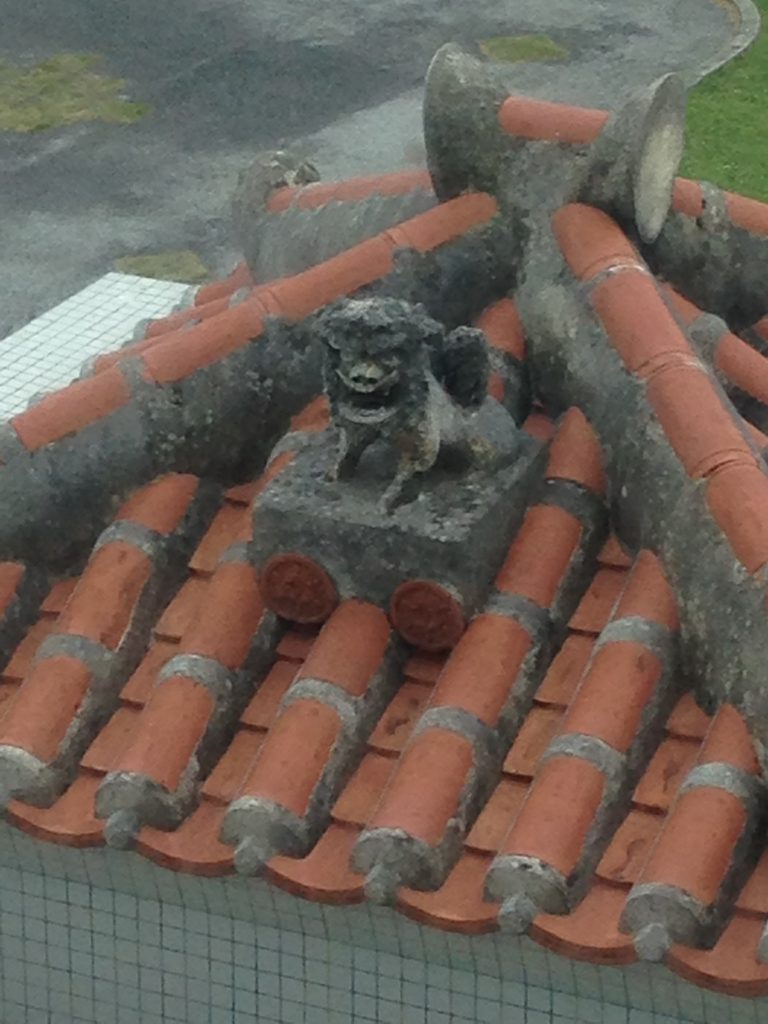 We reach Cape Hedo, the northernmost point of Okinawa. (This seems to be a recent theme, going to the 'northernmost point' of places.)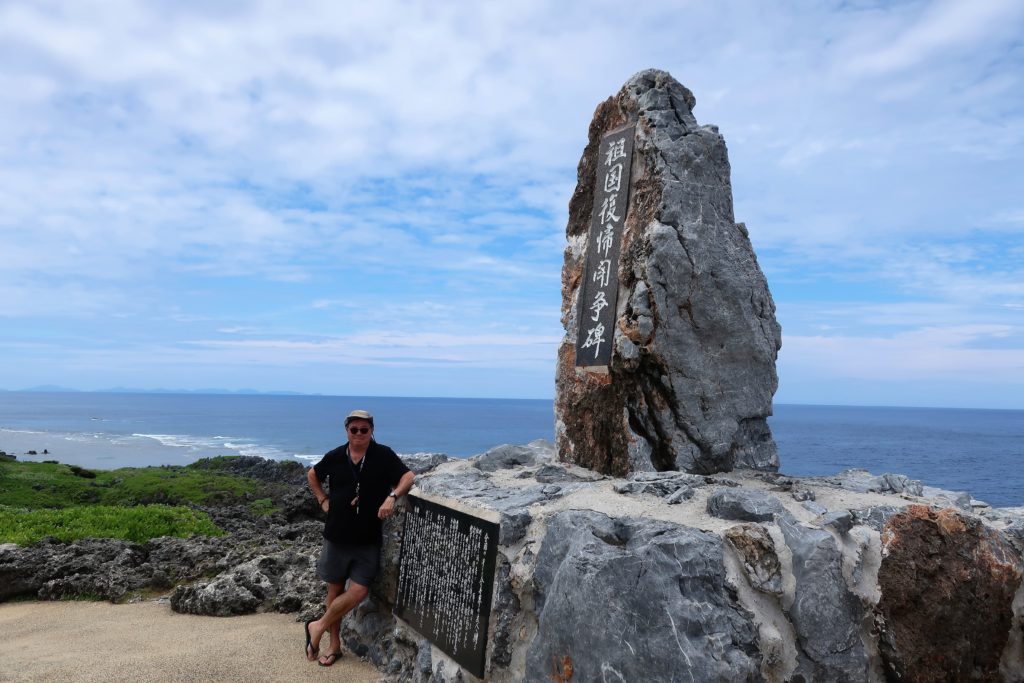 At Cape Hedo, the water is unbelievably clear. We see groups of large blue fish swimming near the shore, which don't really show up in this photo.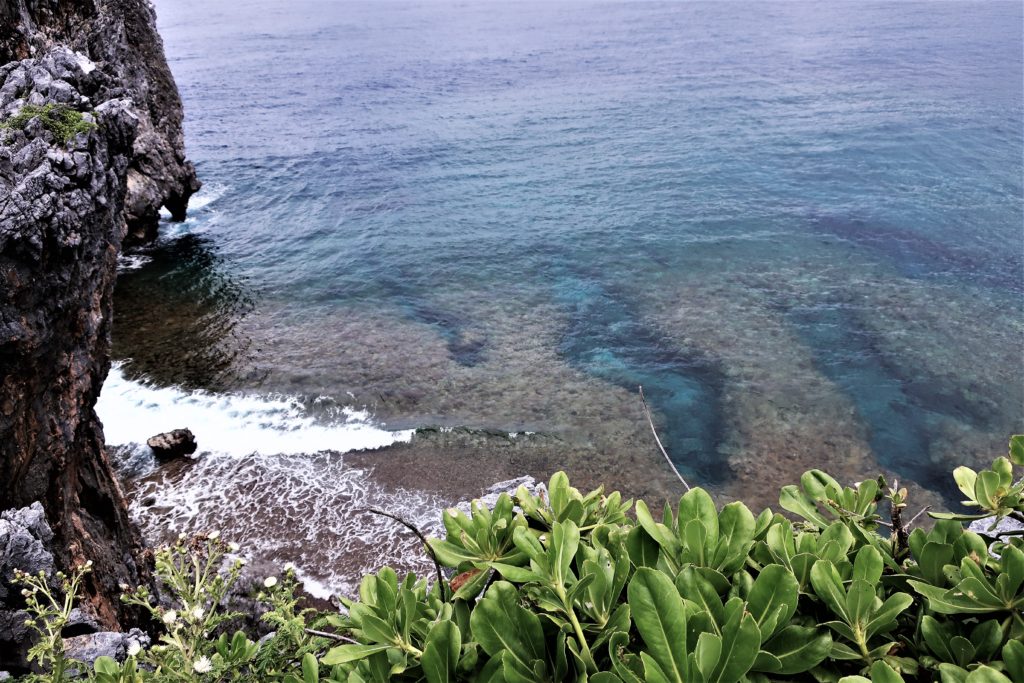 Among the wildlife on the island are wild boar.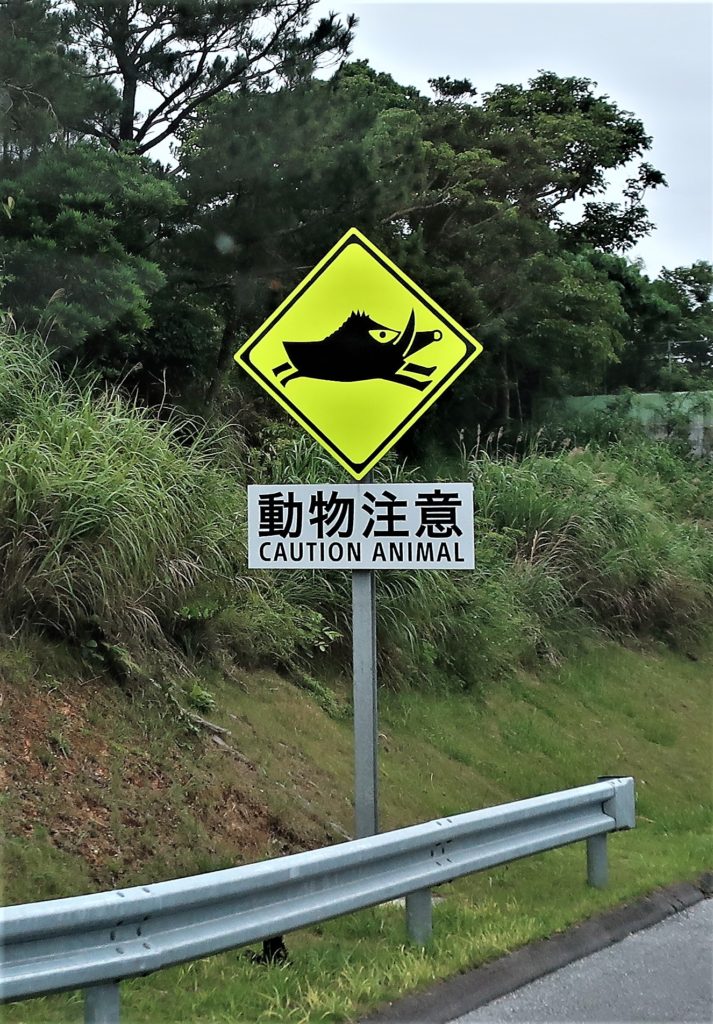 Back in Naha. Naha has an extensive monorail system.
Maria risks losing a limb to take this photo.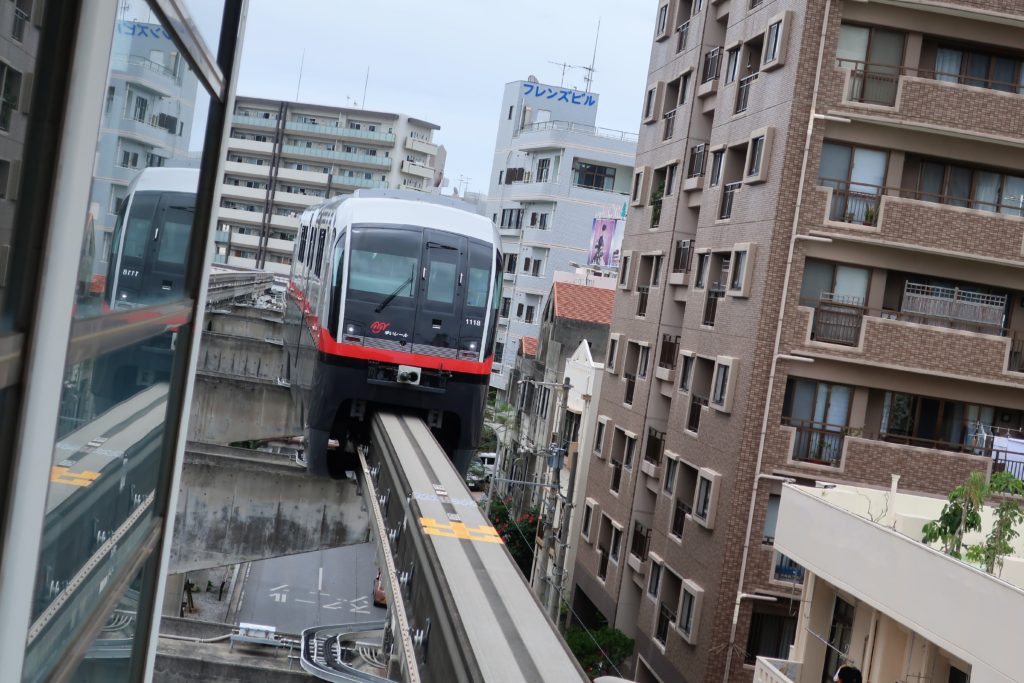 We get a seat right up front.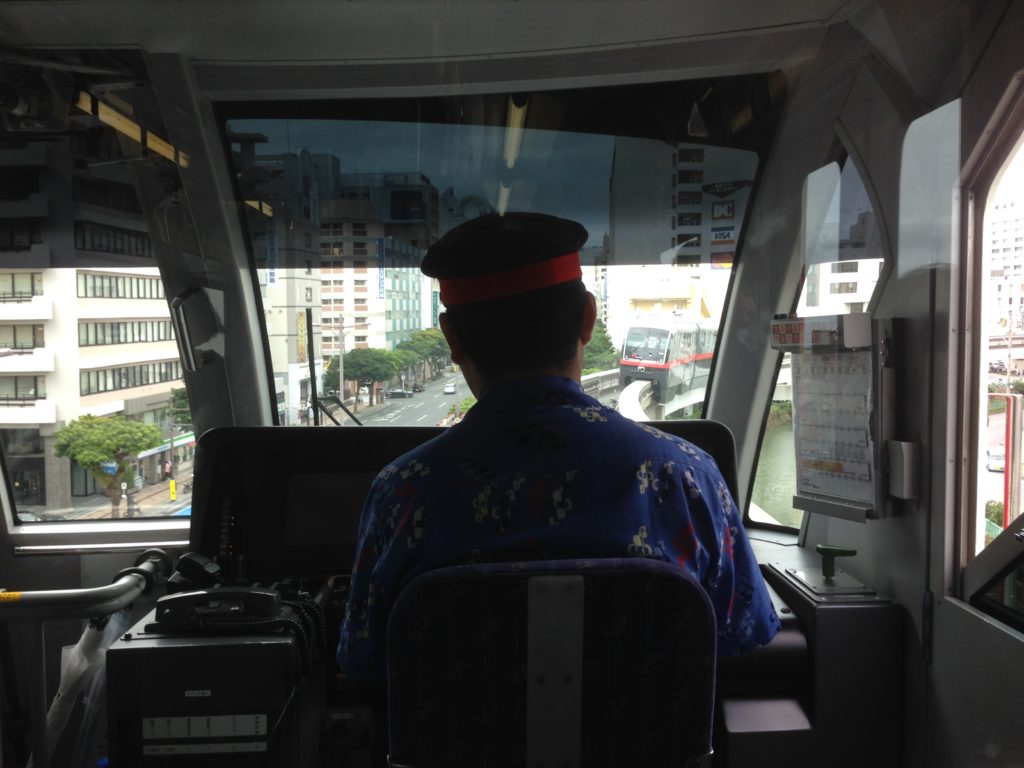 There is a well-known aquarium here that features two live whale sharks. This is reflected in a sculpture created from potted flowers in front of the Okinawa Prefectual Museum.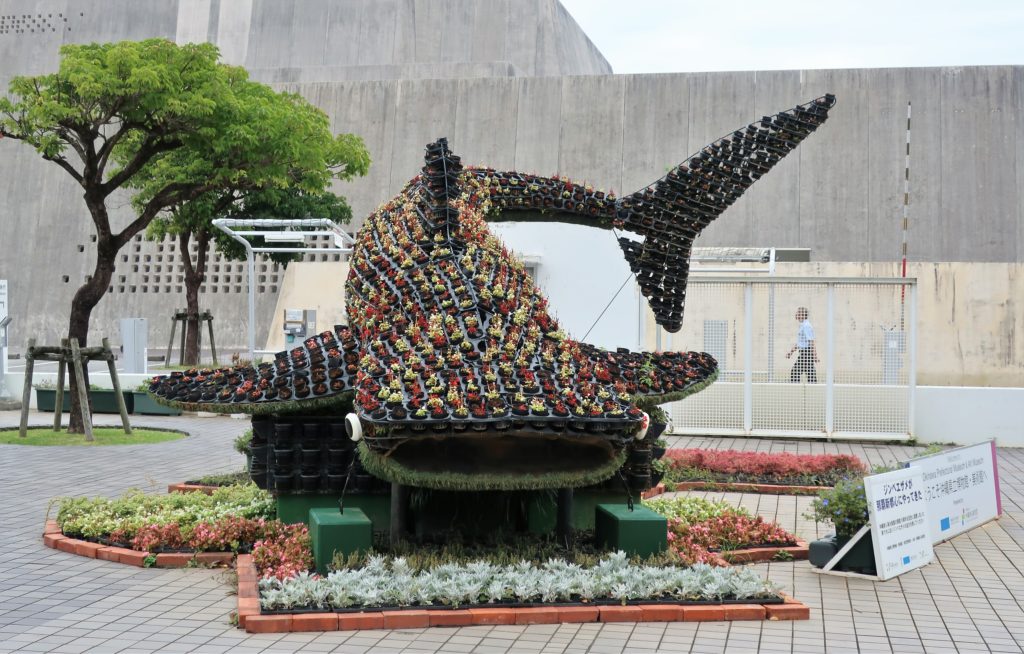 As well as the whale shark motif on this JAL aircraft we see at Naha Airport as we leave for the mainland.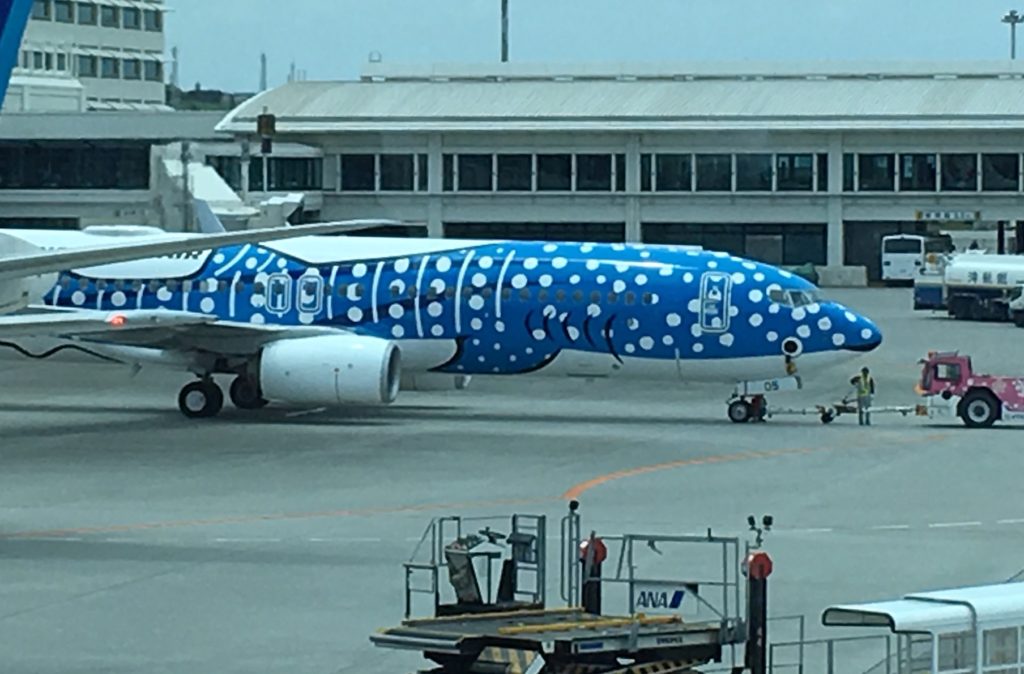 Sight or Insight of the Day – Okinawa
People who know us know that we like rabbits. There is a brand of car in Japan called a 'Lapin'.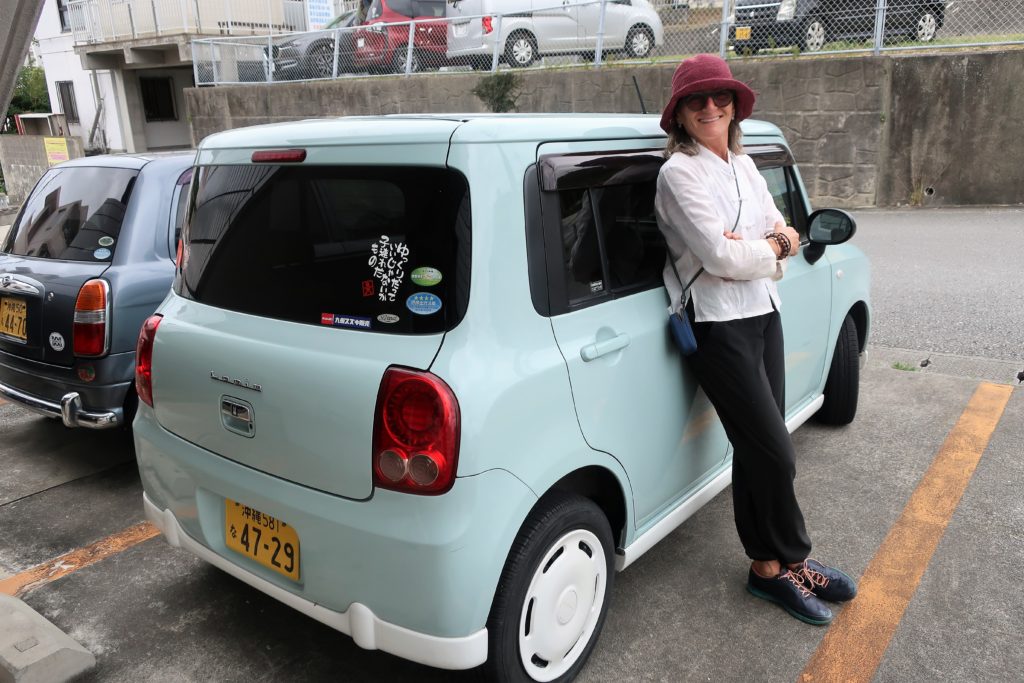 The front badge sports bunny ears.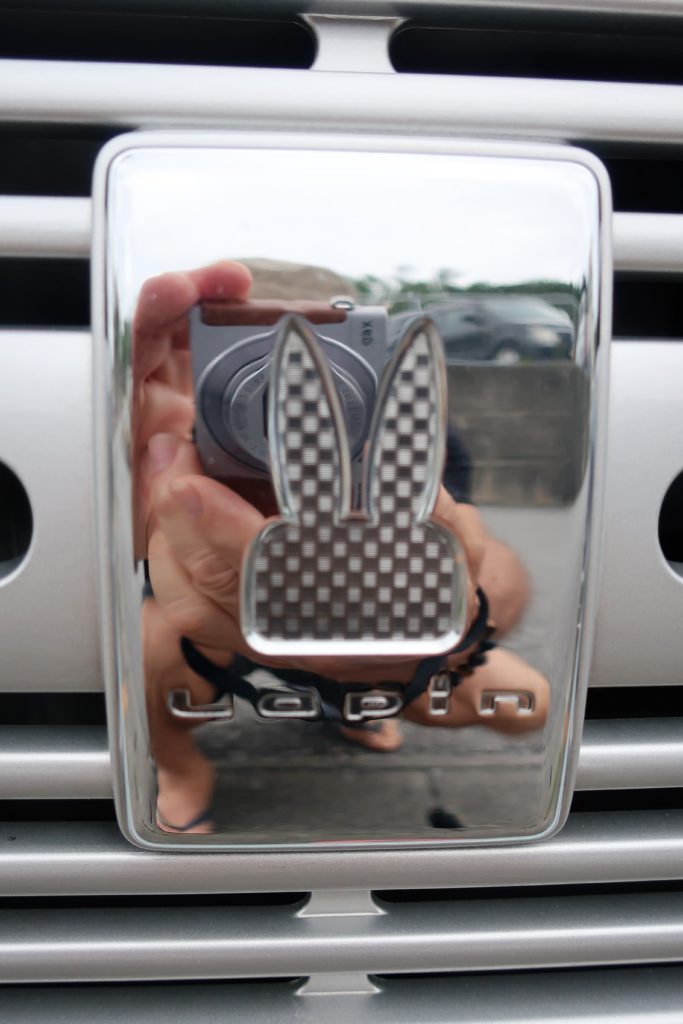 As does the dot over the 'I' in the rear badge.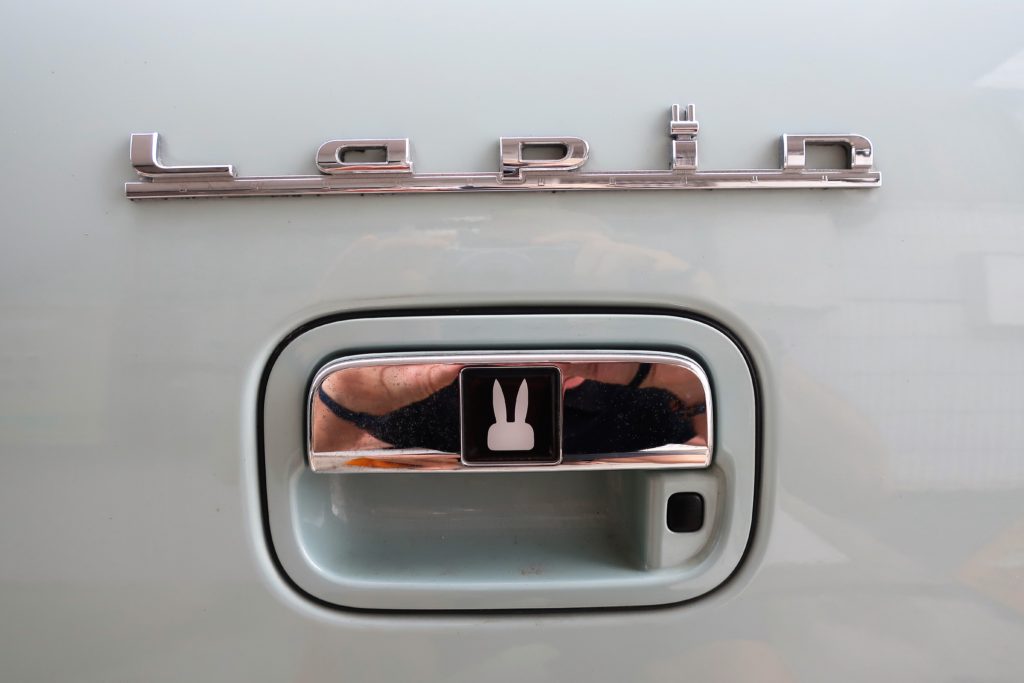 If we could, we'd load one into a container and send it back to Canada.