It's July 24 – Amelia Earhart Day.

Amelia Earhart's disappearance is one of my favourite historical enigmas. Here's a small femmage to her, courtesy of J. Mitchell. 'Then your life becomes a travelogue of picture-postcard charms…' Indeed.
See you in another life, Amelia.
Anyway, back to Delhi. After a few enervating days in Delhi taking care of business, we go south. First stop is Agra.
The Taj Mahal is one of those tourist sights that is genuinely pretty impressive in real life. Like Ayer's Rock.
There is controversy about the meaning of Taj Mahal (although 'mahal' certainly means 'palace.')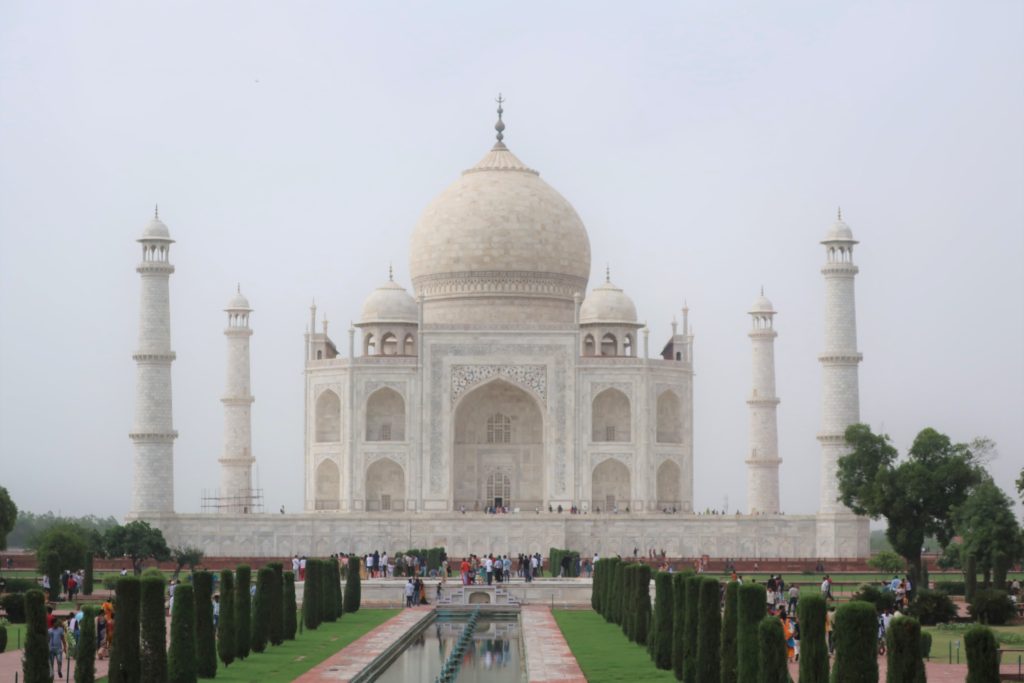 We think this mother-daughter duo are worth a picture.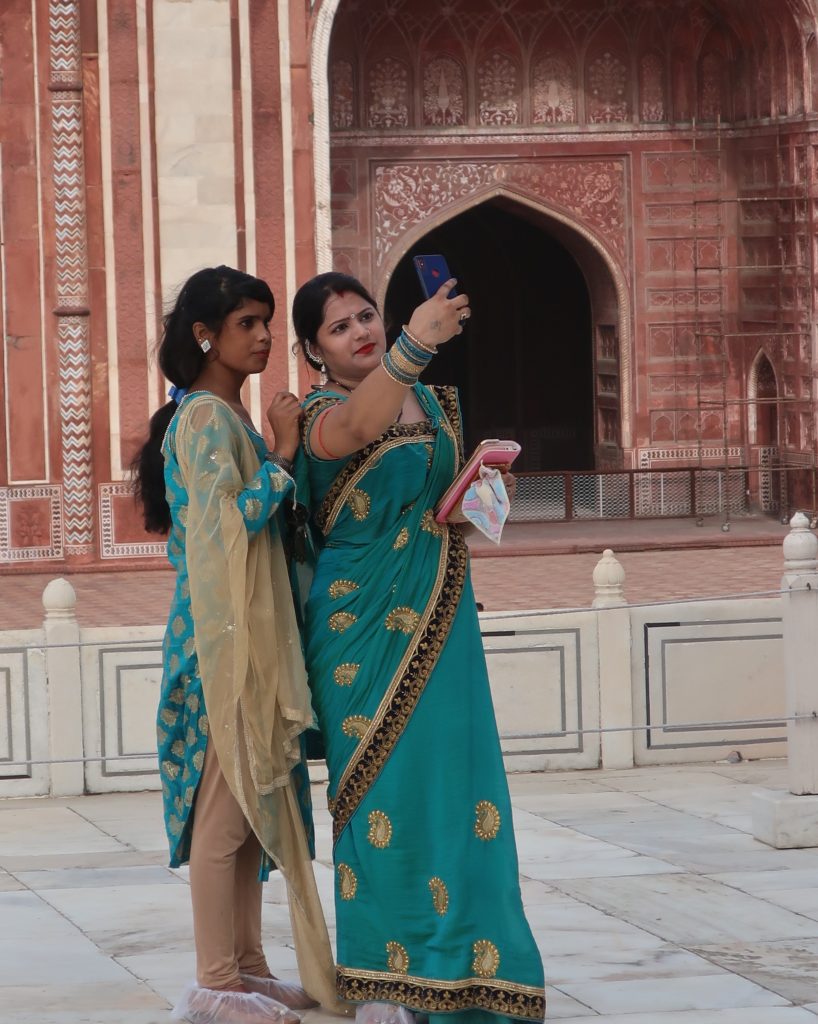 We stay at a cheap place nearby. Great views of the Taj as we sip an evening beer.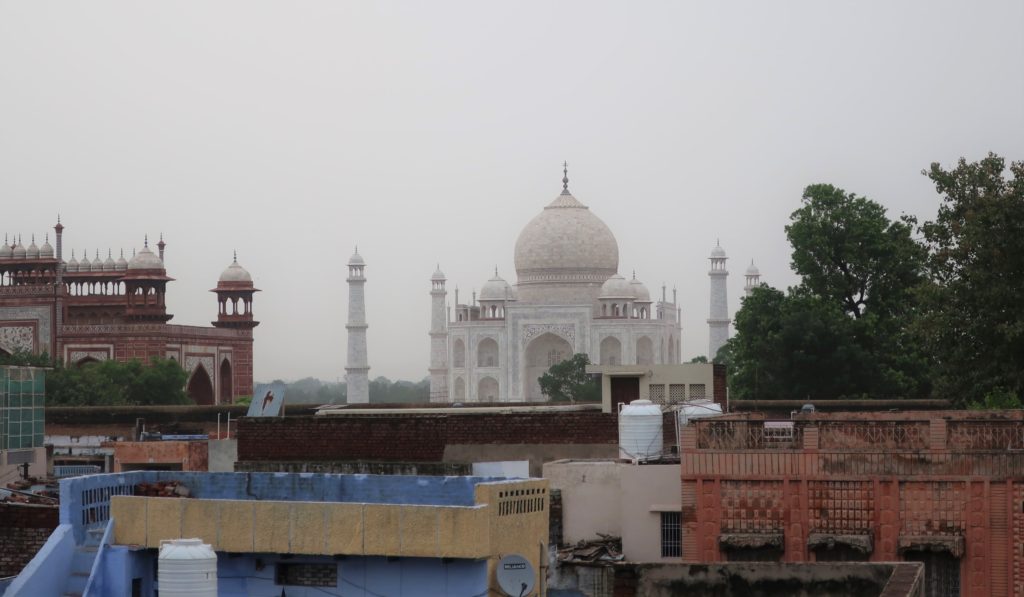 A slow bus takes us to Fatehpur Sikri, the abandoned capital of the remarkable Moghul emperor Akbar.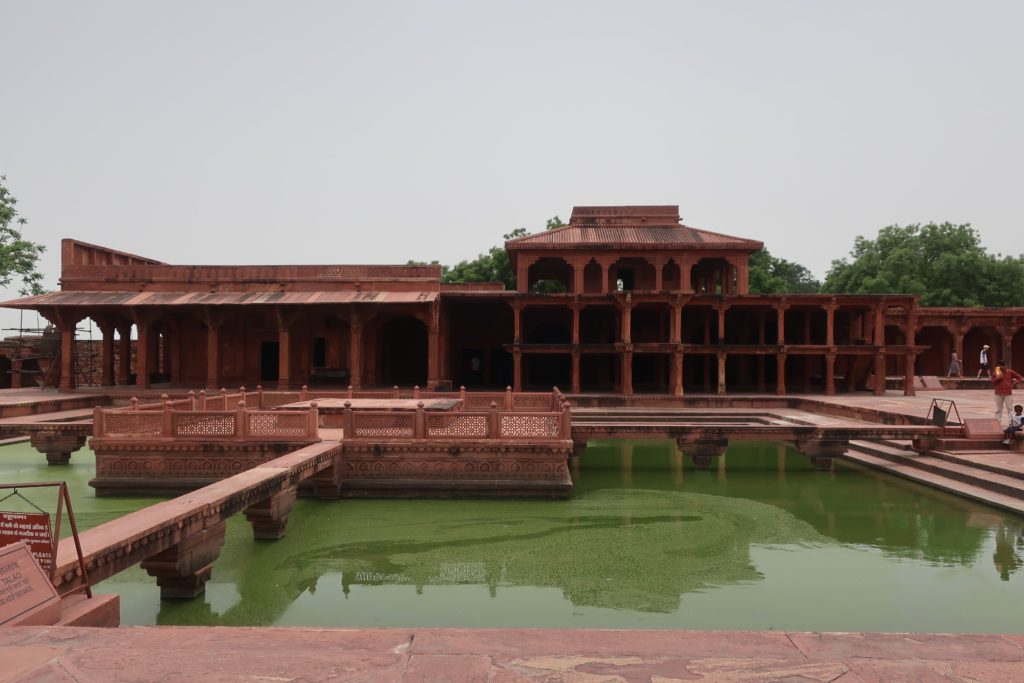 A local goat finds a good place to rest in the heat…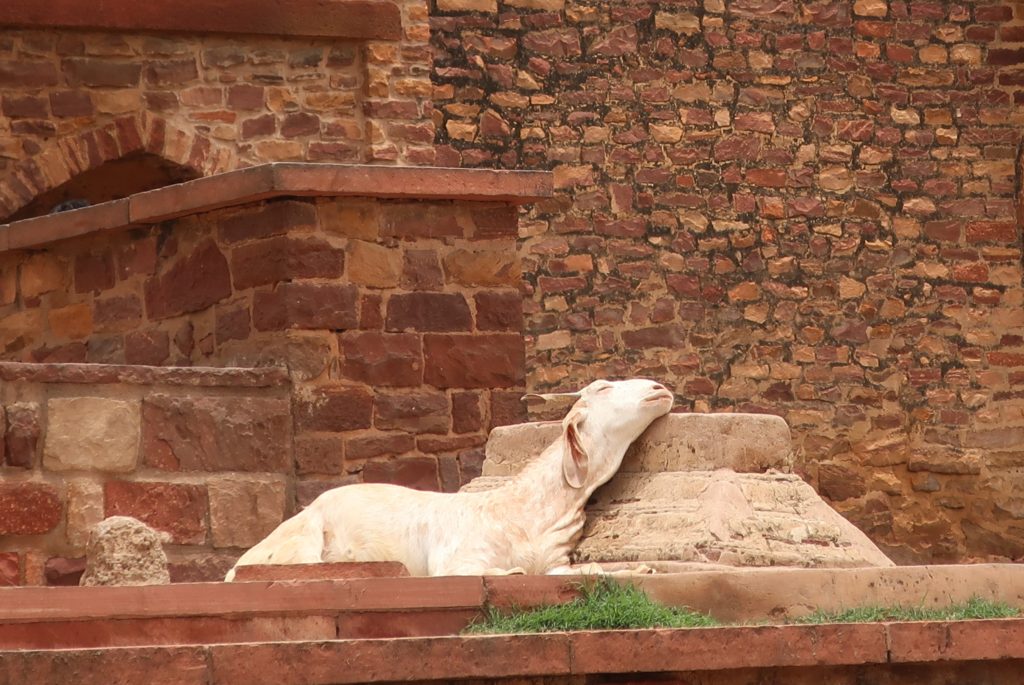 …as does a local older gentleman.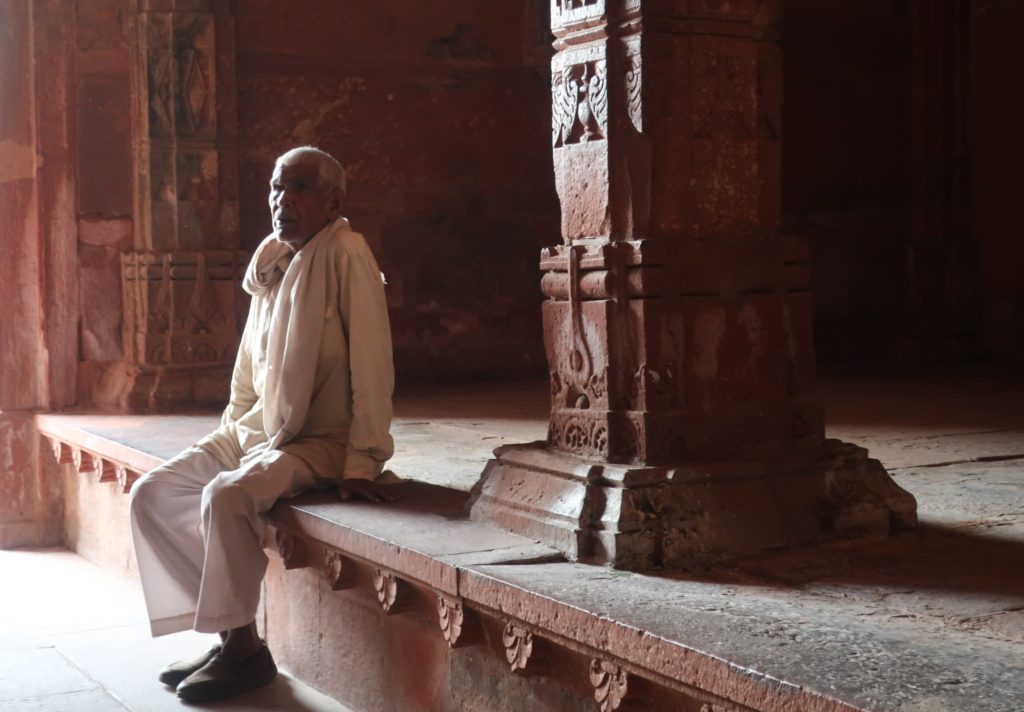 Fine stone-carving is everywhere.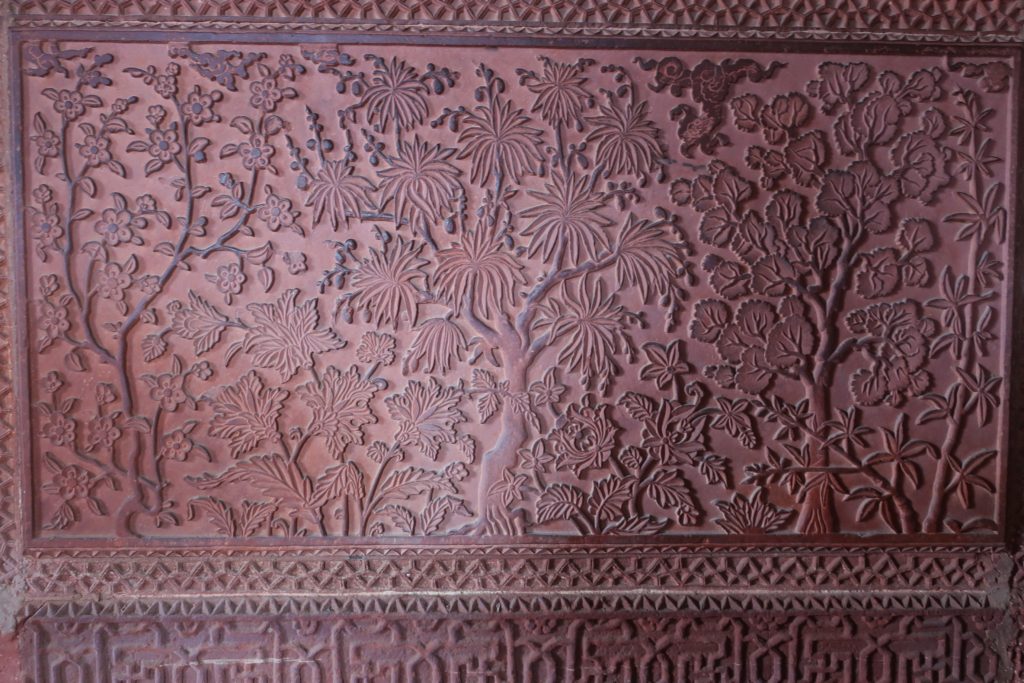 This place hasn't changed that much since I was last here countless decades ago. Just a lot more people around.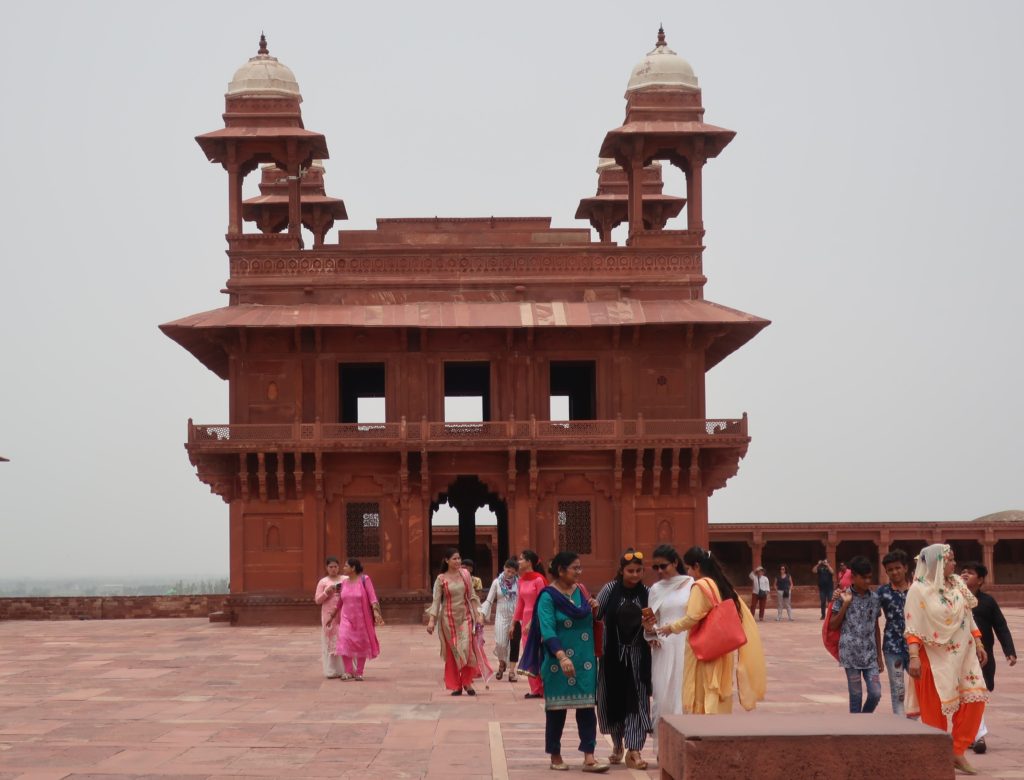 Akbar listened to philosophical debates in this hall. (So they say.)
When I was young, I read the Story of Civilization series. Twice. Still have it. It's what sparked a lifelong interest in world history.
This is the Jama Mosque.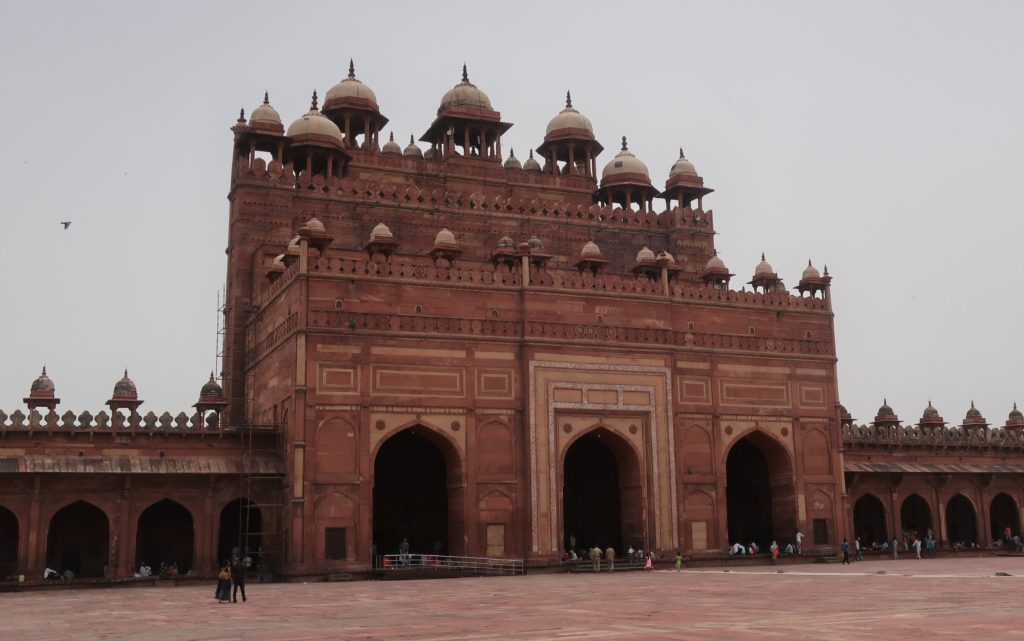 Of course, the women have to pray outside.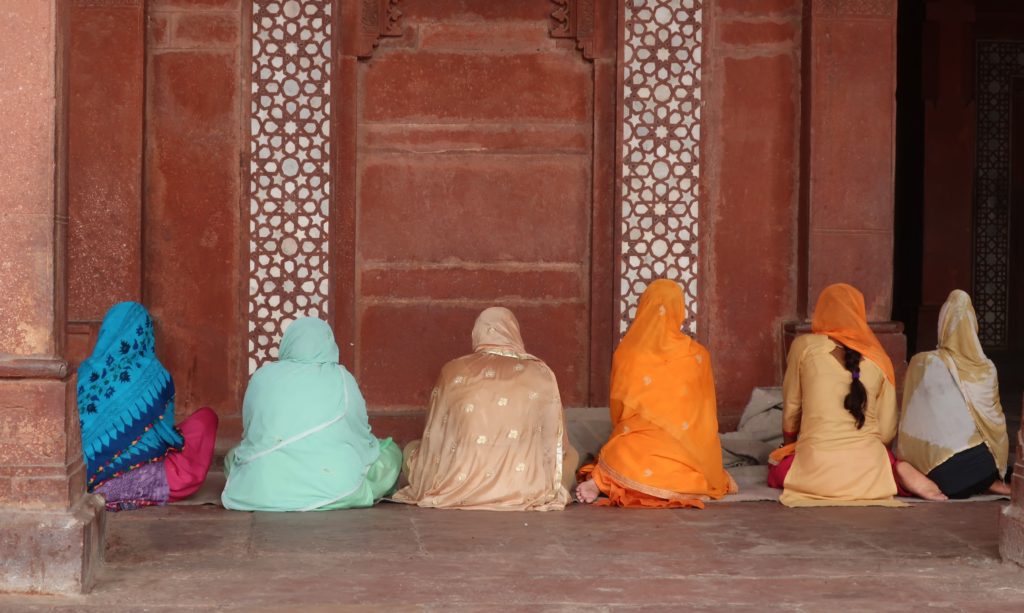 Back to Agra. On another day, we visit Akbar's Tomb.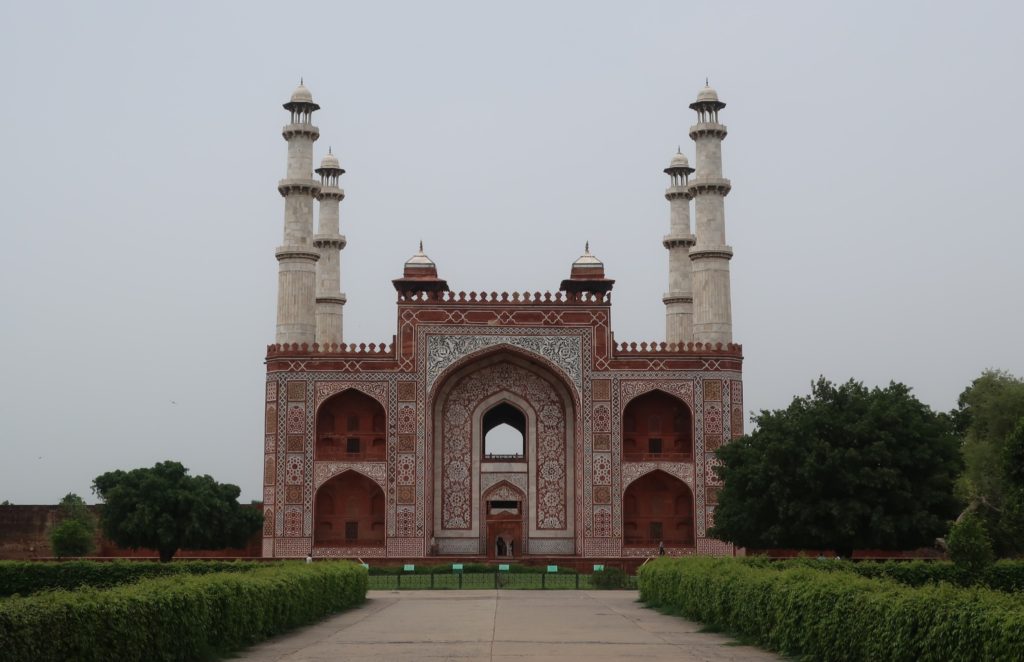 It's in nearby Sikandra. Getting here is quite an experience – like doing just about anything in India.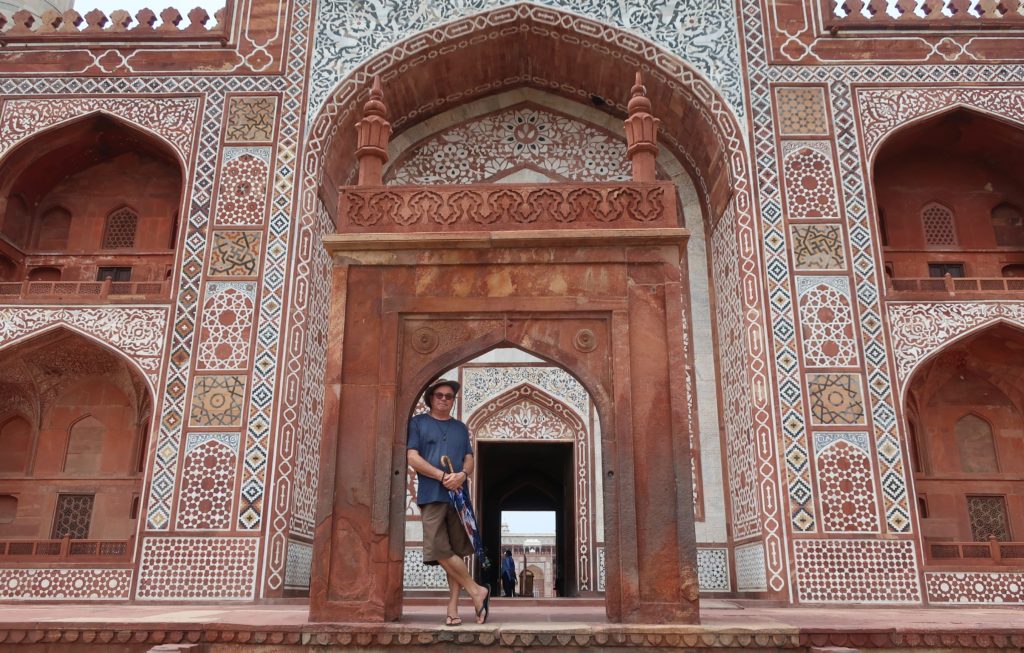 The beautiful gardens are a respite from the chaos outside the walls.
There are quotations in Persian and Arabic on many surfaces.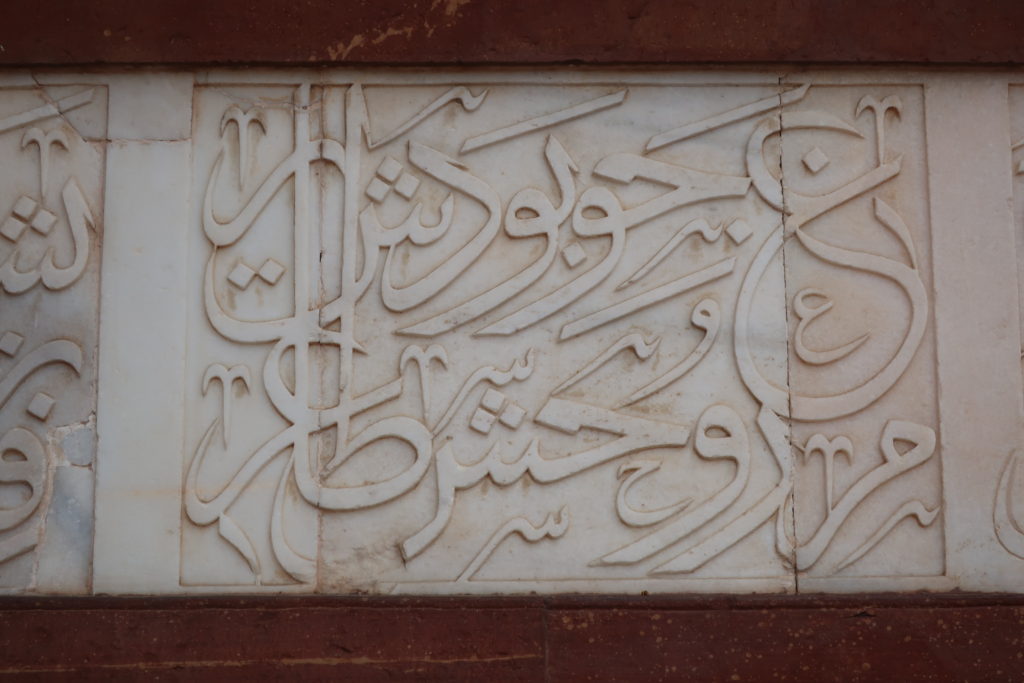 The roof in the entrance preserves its glorious paint job.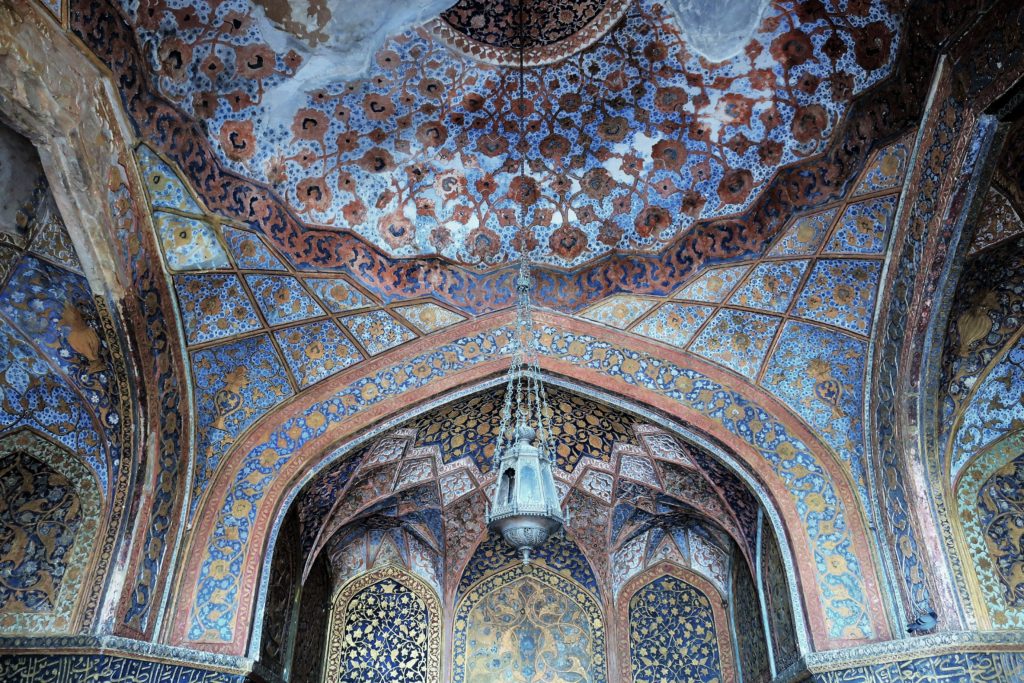 Back in town, we visit the Agra Fort. Akbar also had a hand in the way it looks today. He was a big cheese in this part of the world.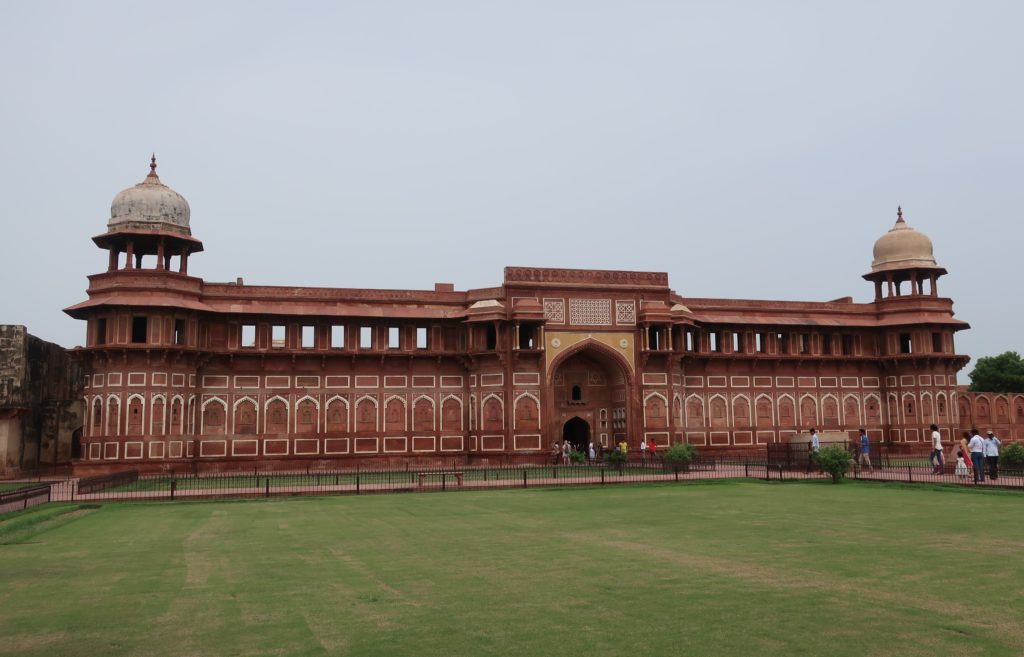 We're not sure why these girls are dressed alike.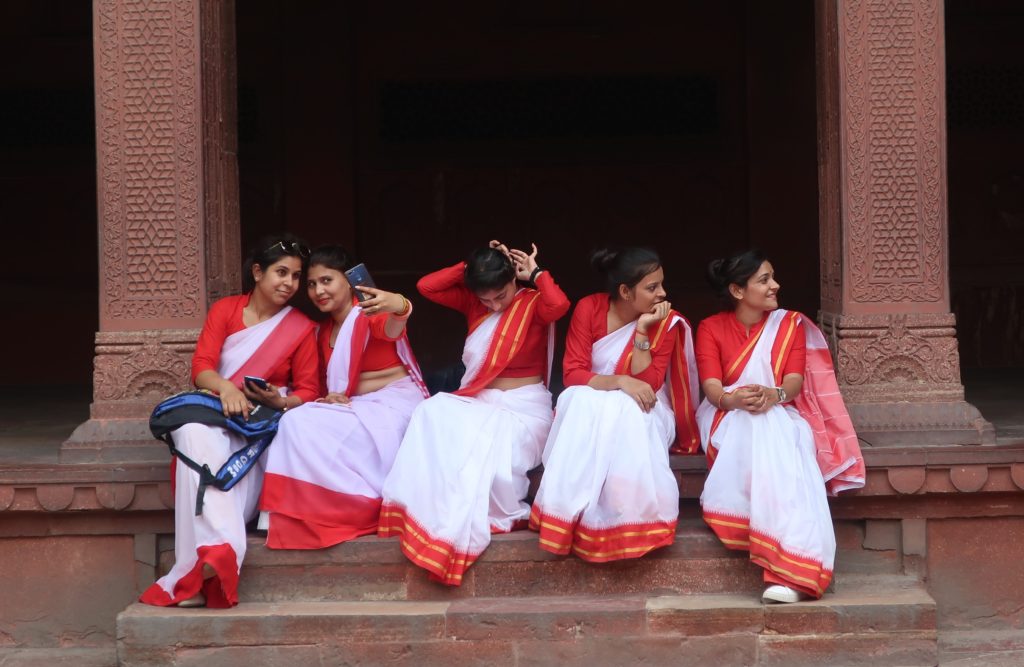 More wonderful stone-carving. Similar buildings in modern times use concrete. Not very impressive, especially when it begins to crumble within a few years.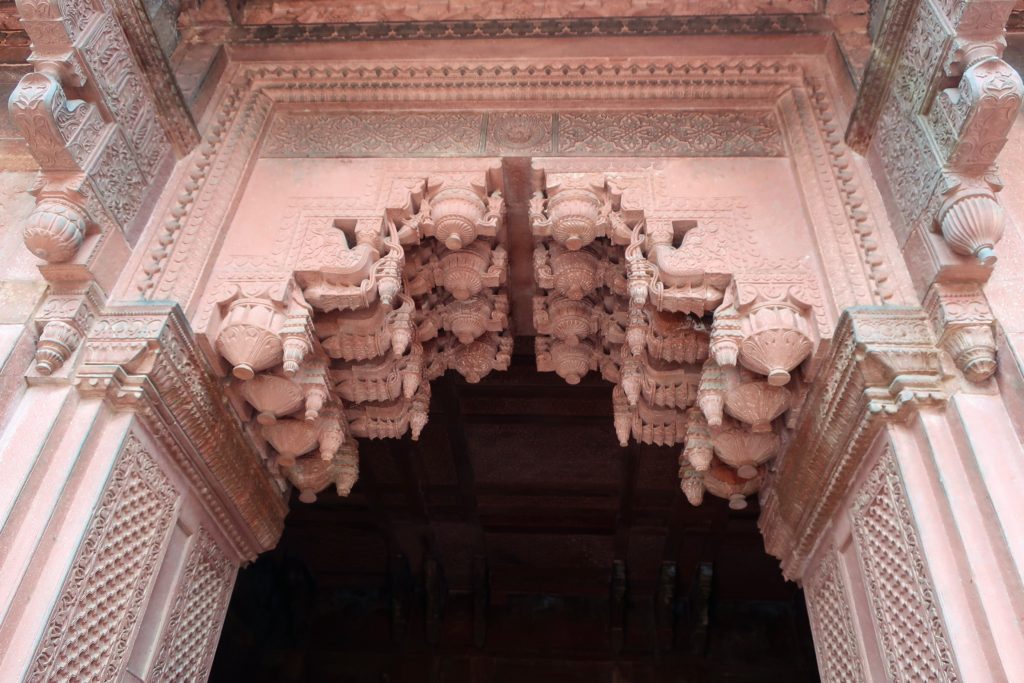 You can see the Taj through these arches, further down the Yamuna (or Jumna or Jamna – take your pick) River.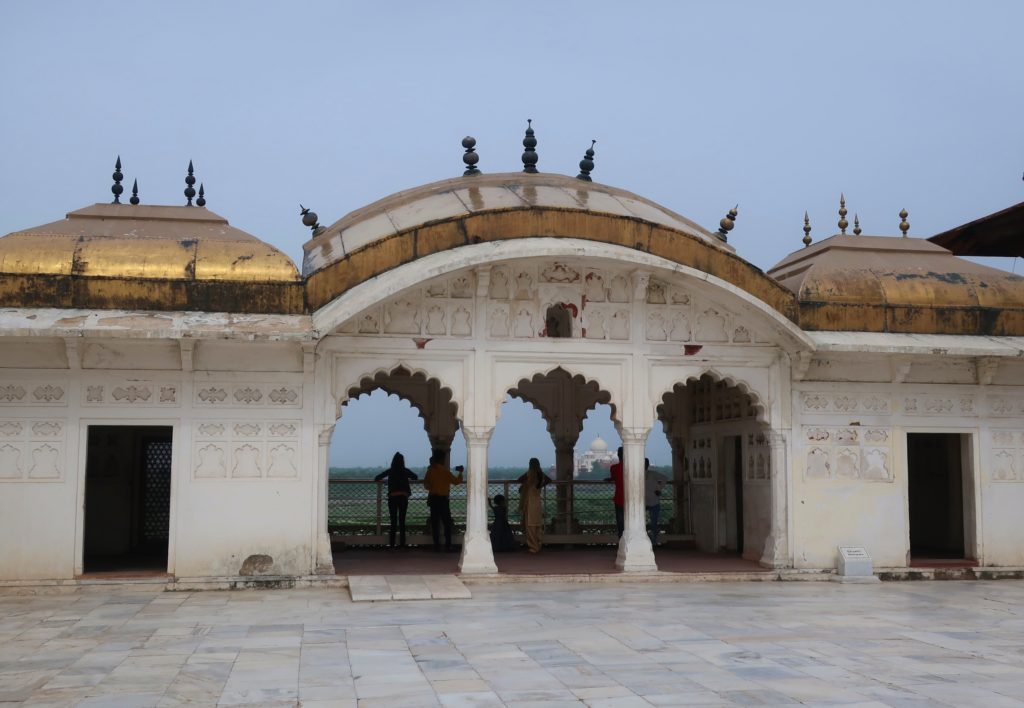 These audience halls are a common feature.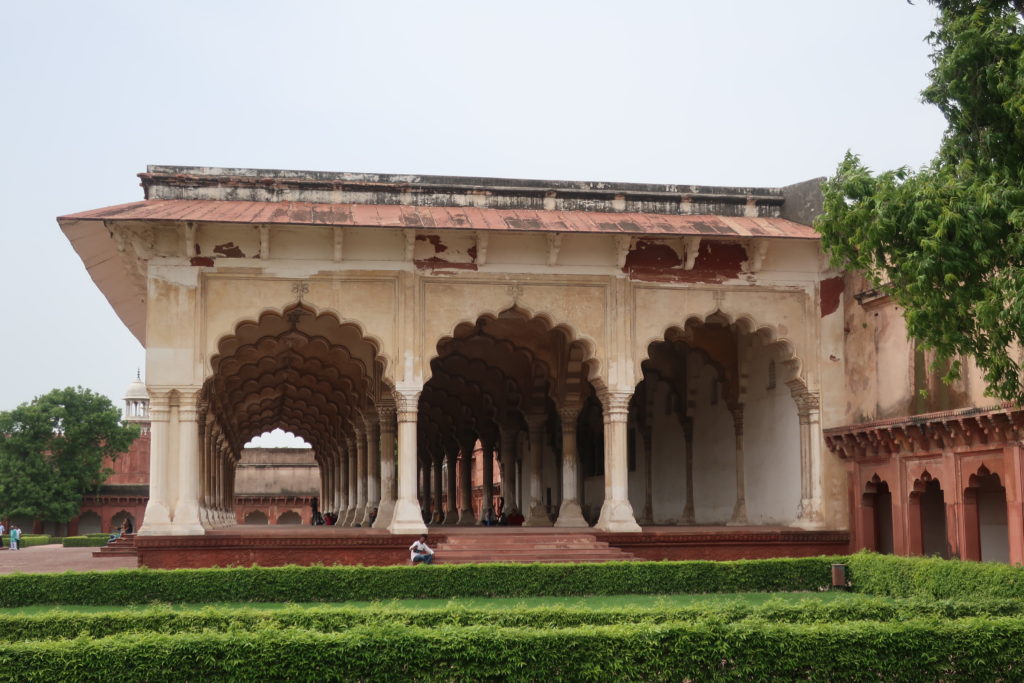 Our next stop is Jaipur. We stay in the Pearl Palace Hotel, the nicest place we've stayed so far in India.
Behind our hotel is Hathroi Fort – old and abandoned, but people still live in it.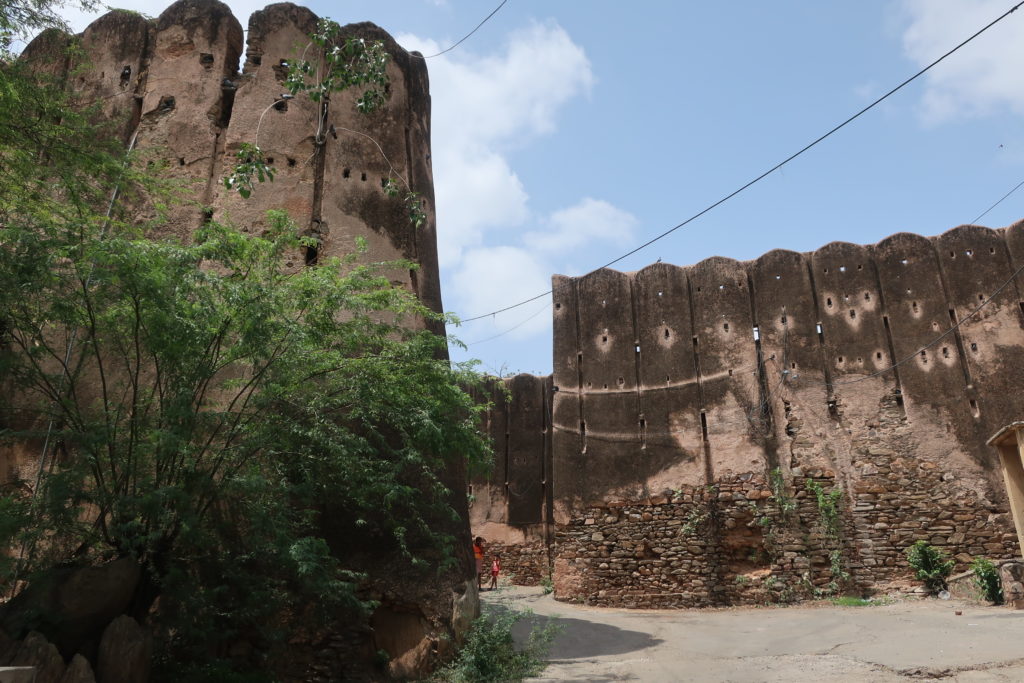 The market in the Old City is worth a look, especially the narrow interior lanes.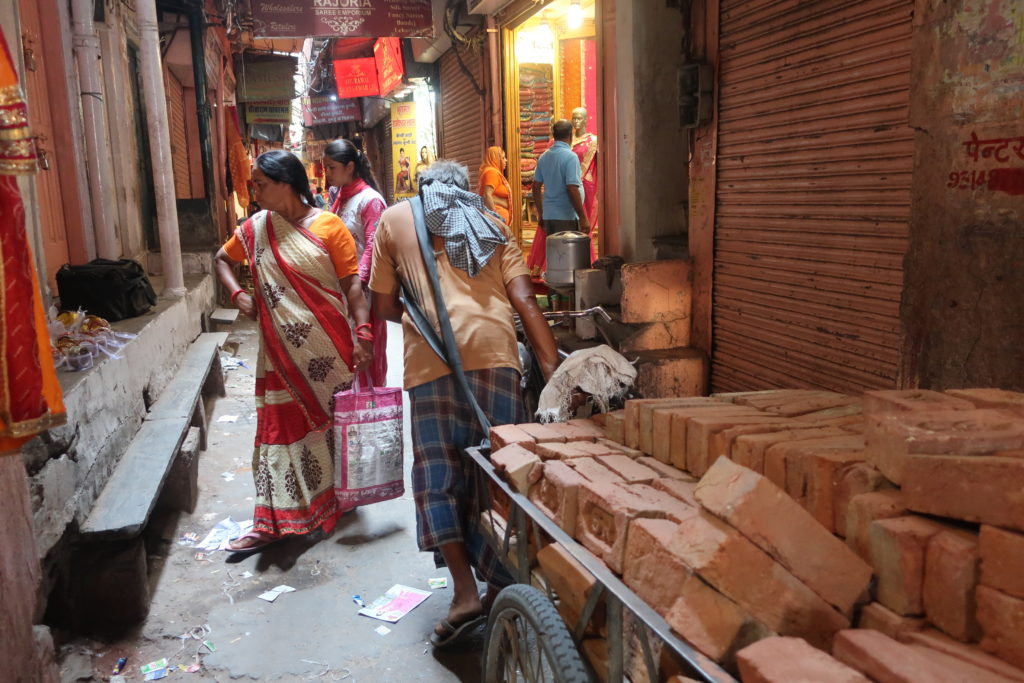 Rajastan is well known for its textiles. In these market stalls, groups of ladies sit as the shopkeeper – or his assistants – pull down bolt after bolt of colourful cloth.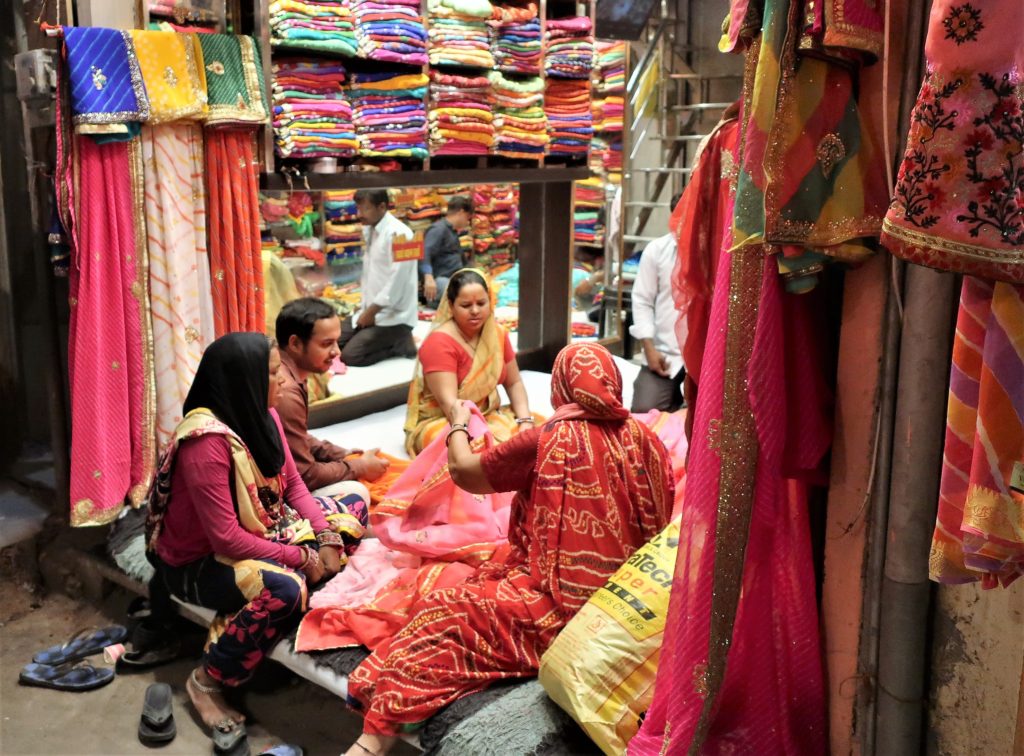 Looking for bargains.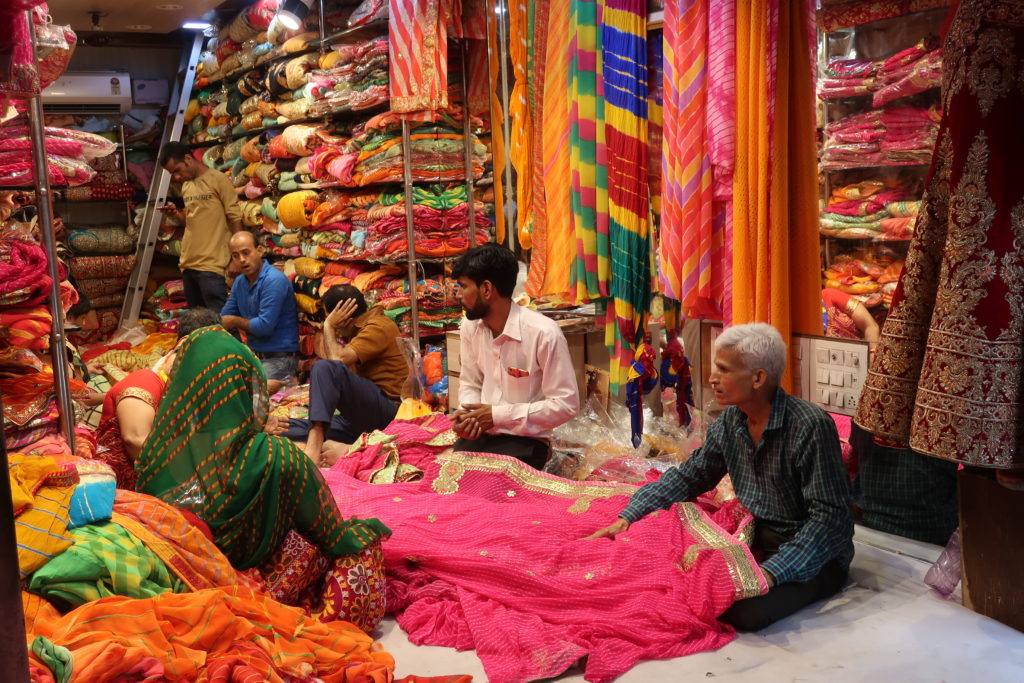 The hawa mahal is one of Jaipur's iconic buildings.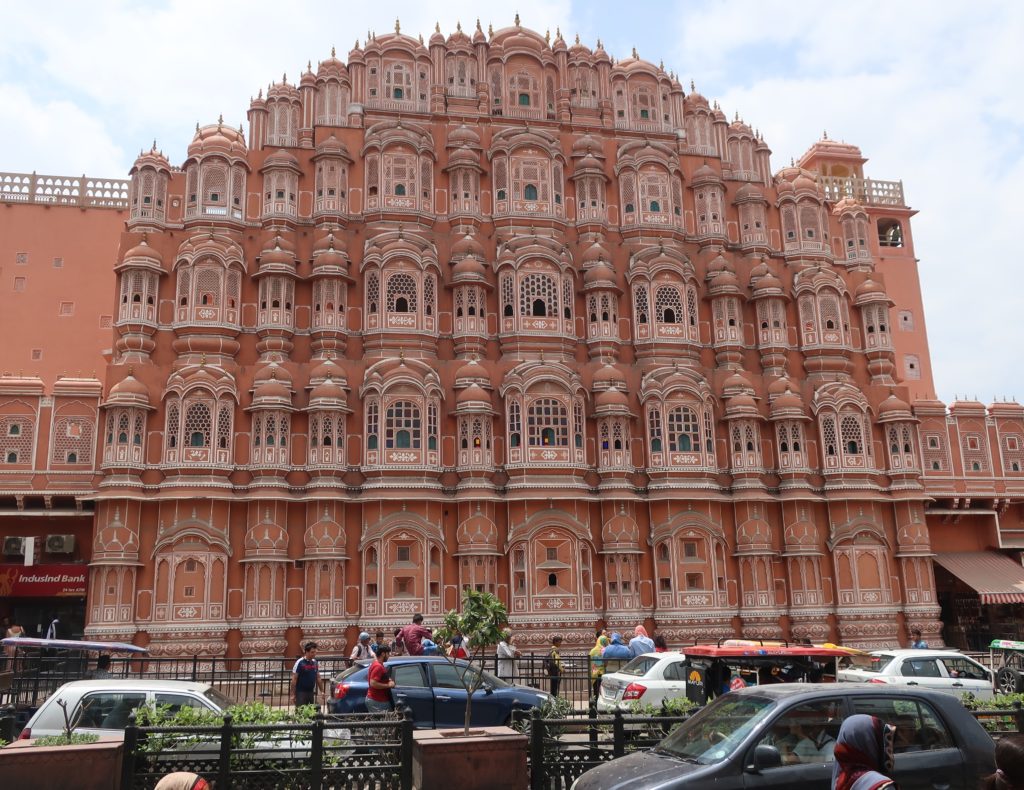 Close by is the City Palace.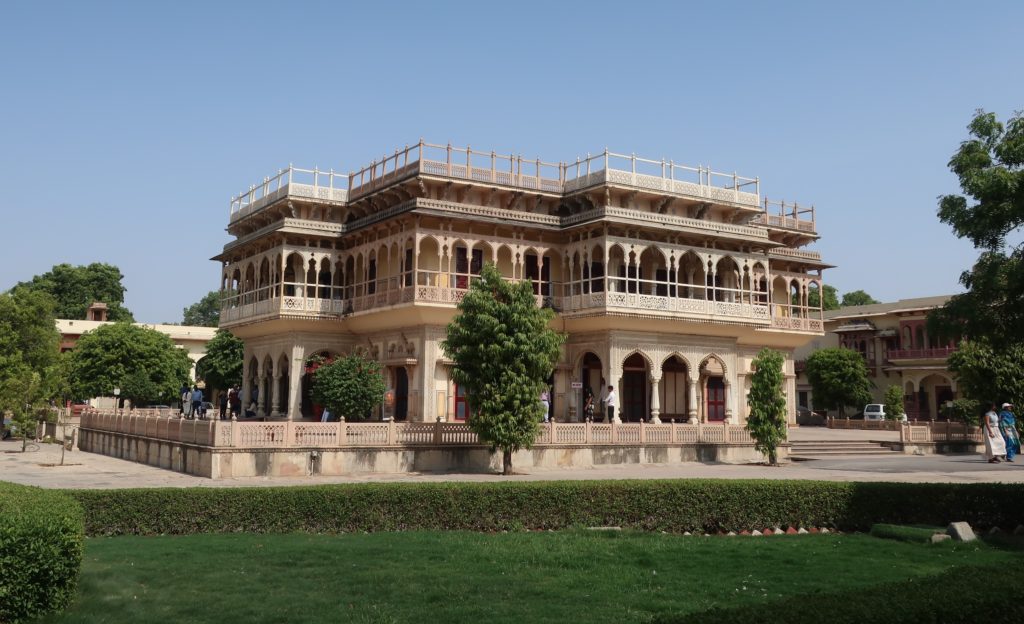 Another part of the palace. Everyone wants to stay out of the sun.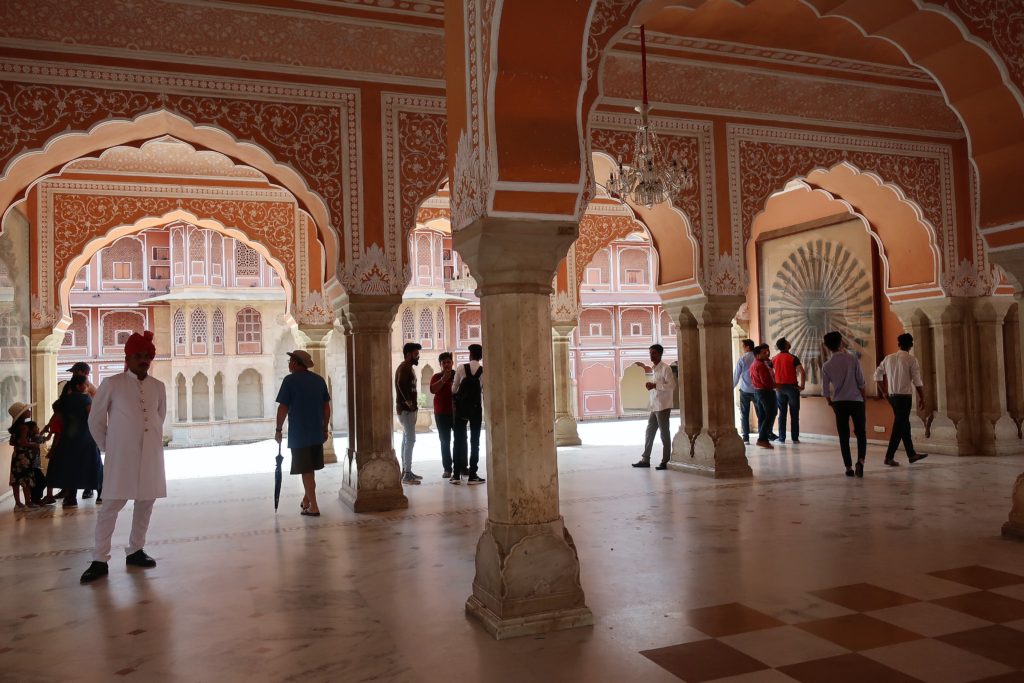 In the area is the famous Jantar Mantar. This is a collection of architectural astronomical instruments built in the early 1700s.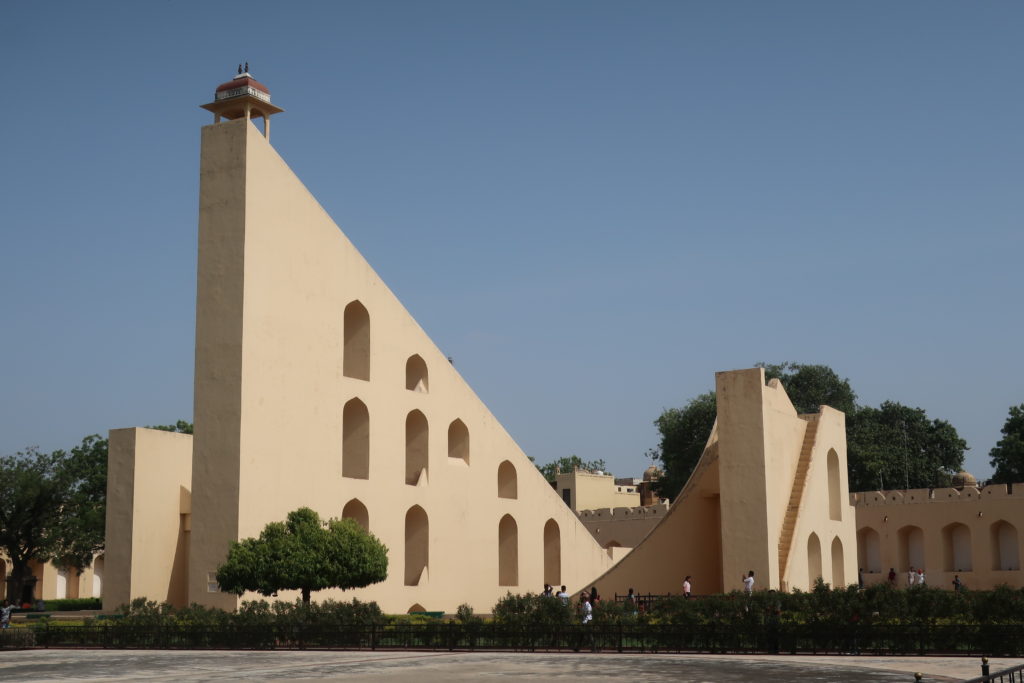 According to Wikipedia:
The name is derived from jantar (yantra, Sanskrit: यन्त्र, "instrument, machine"), and mantar (from mantrana, Sanskrit: मन्त्रण, "consult, calculate"). Therefore, Jantar Mantar literally means 'calculating instrument'.
It looks like a Le Corbusier sculpture park.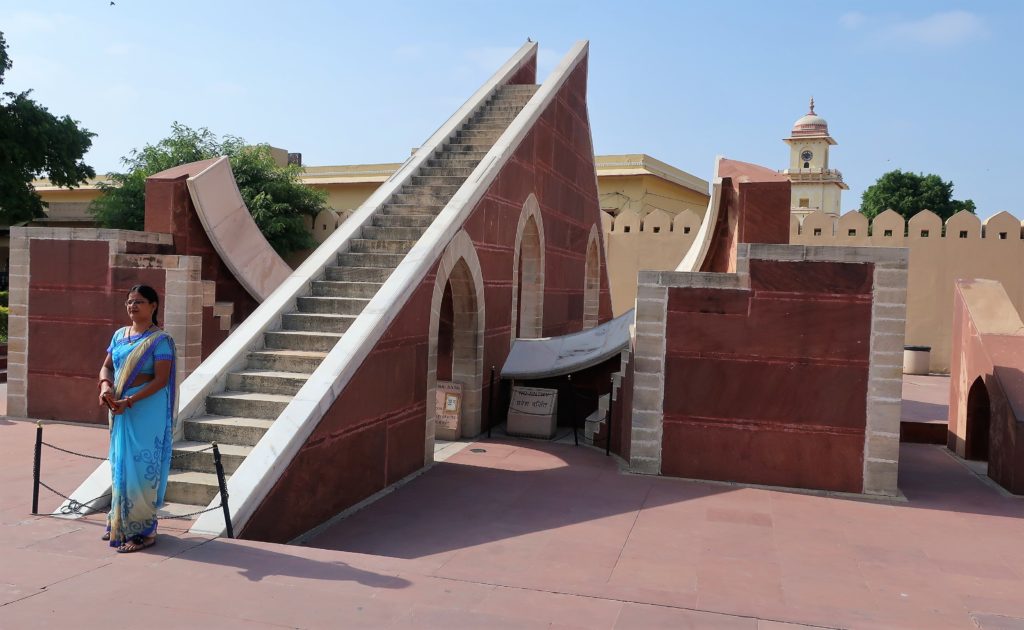 One day we go out to the Amber Fort (known nowadays as the 'Amer Fort').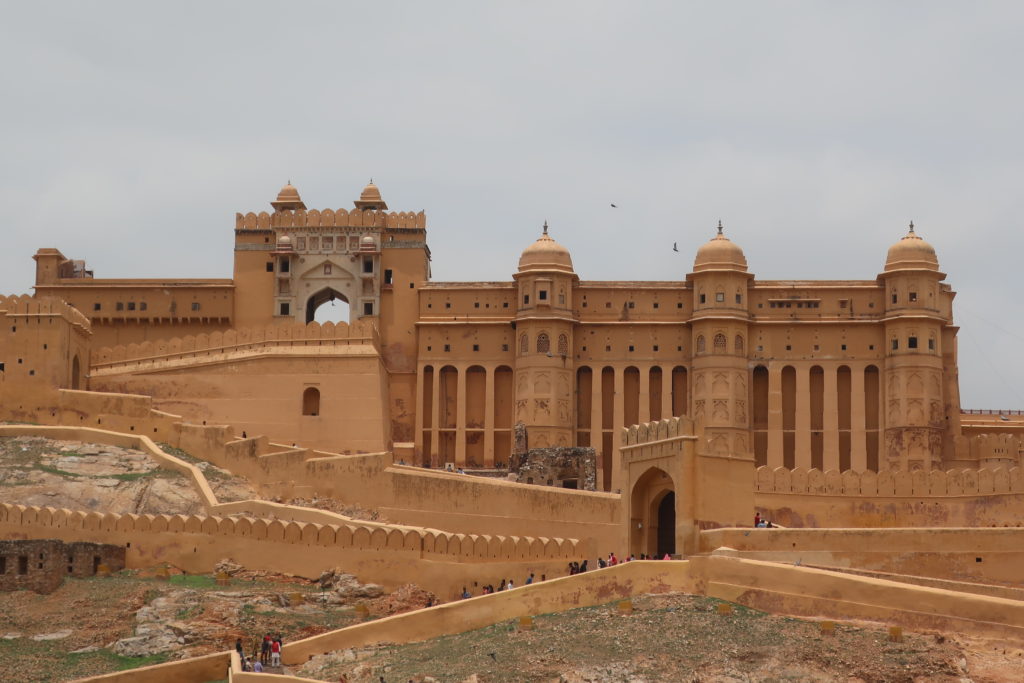 There are many of these forts in Rajastan. Most have a lengthy wall climbing the surrounding hills. Looks like a 'Great Wall of India'.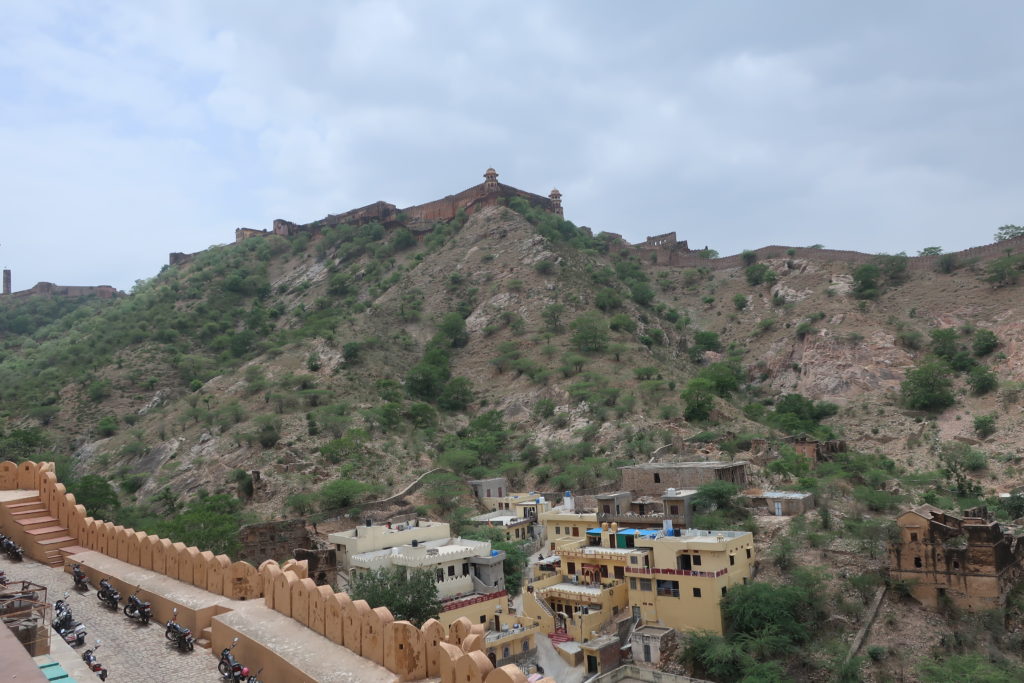 Some parts of the palace are neglected, others are in a good state of preservation.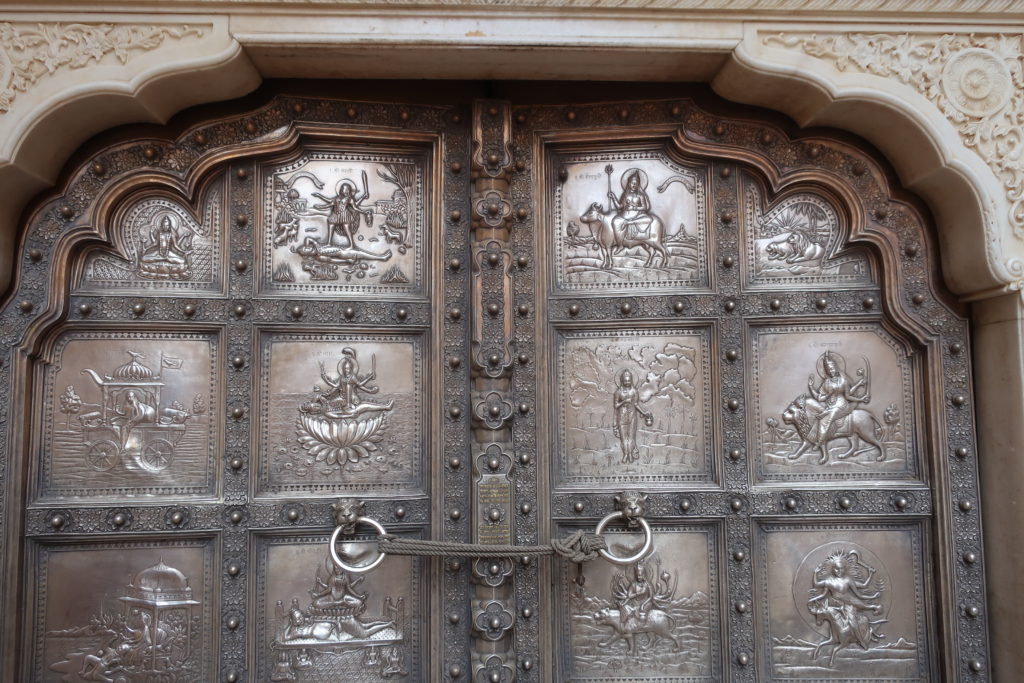 Interior of the first courtyard.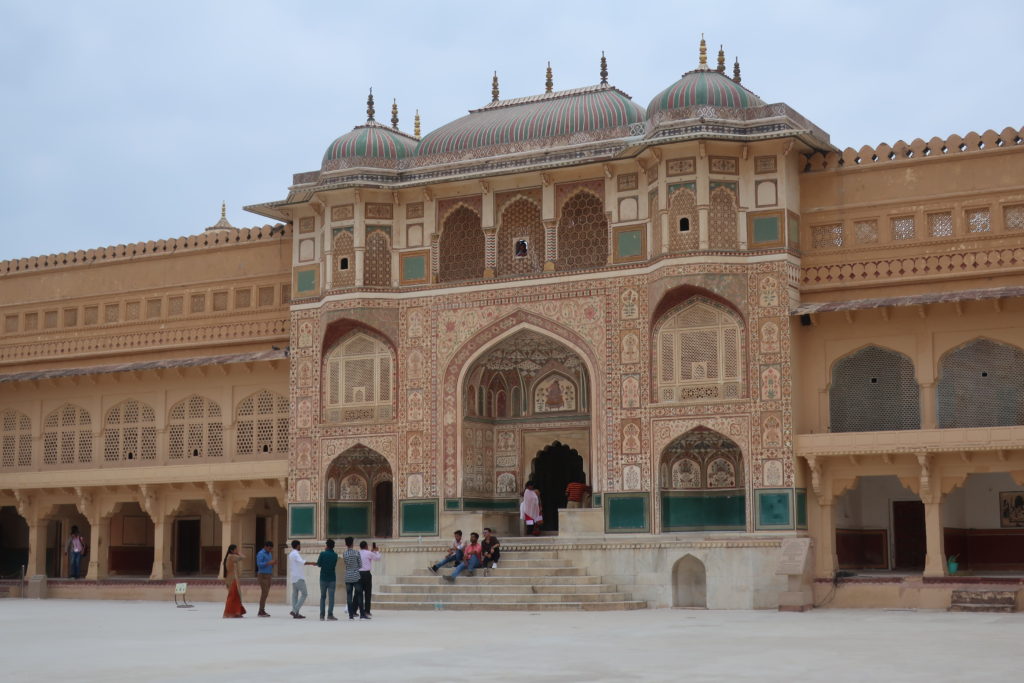 This is the first courtyard. (There are at least three.)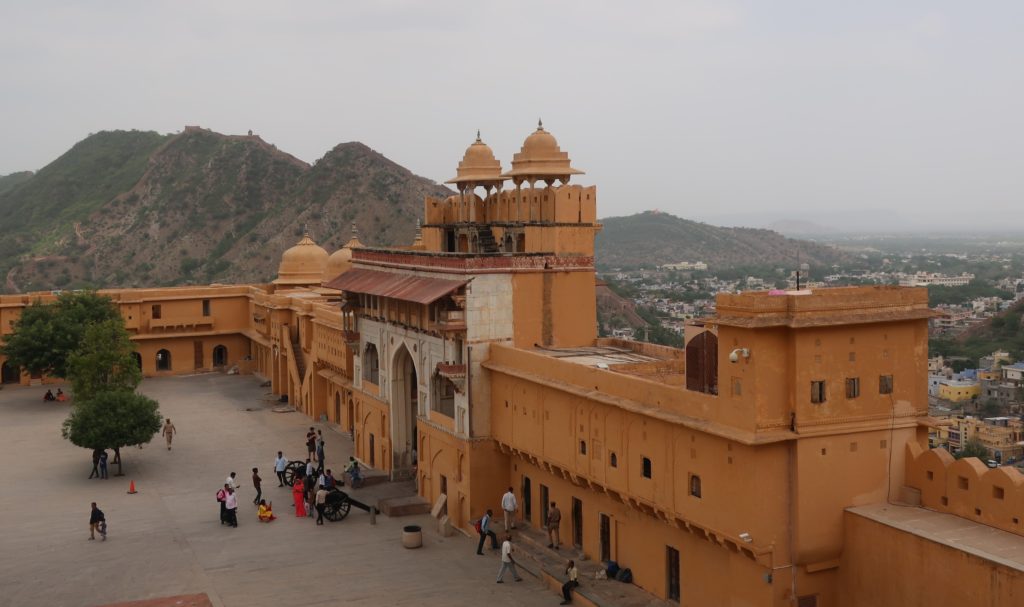 The fort was declared a UNESCO World Heritage site in 2013.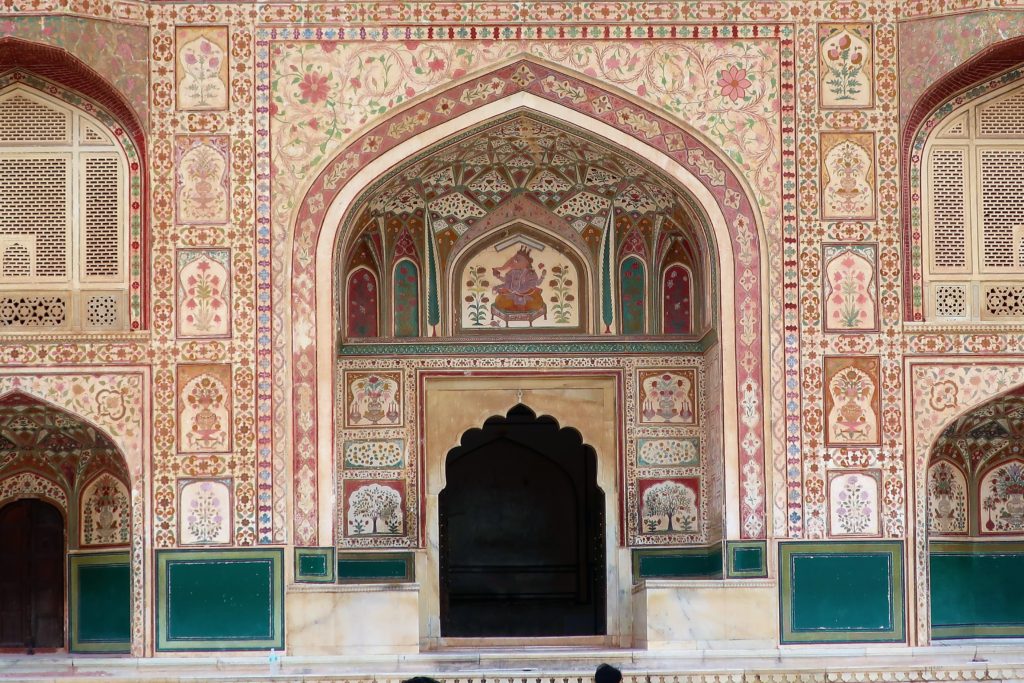 The day is hot – we make a point of moving slowly.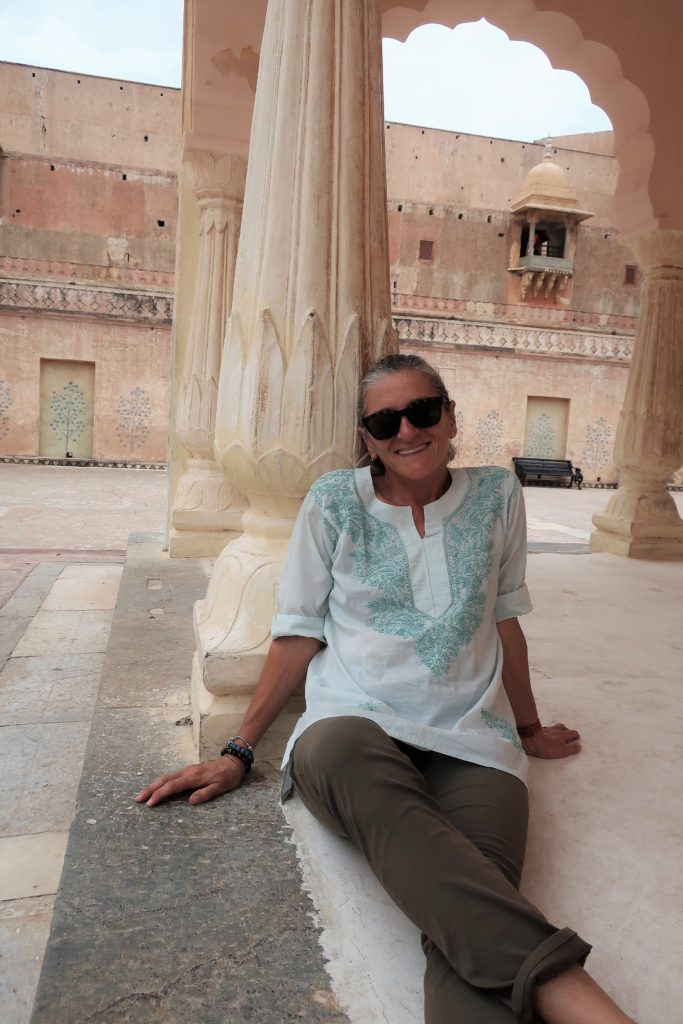 The Mirror Palace is pretty snazzy.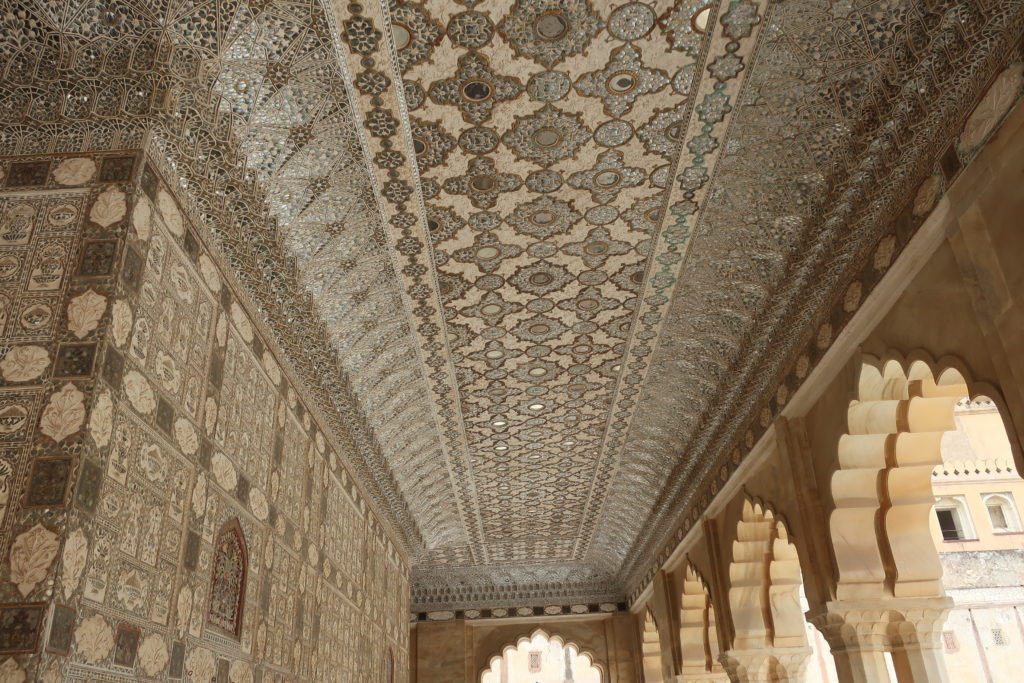 The day before we leave Jaipur, we drop in on the Albert Hall Museum.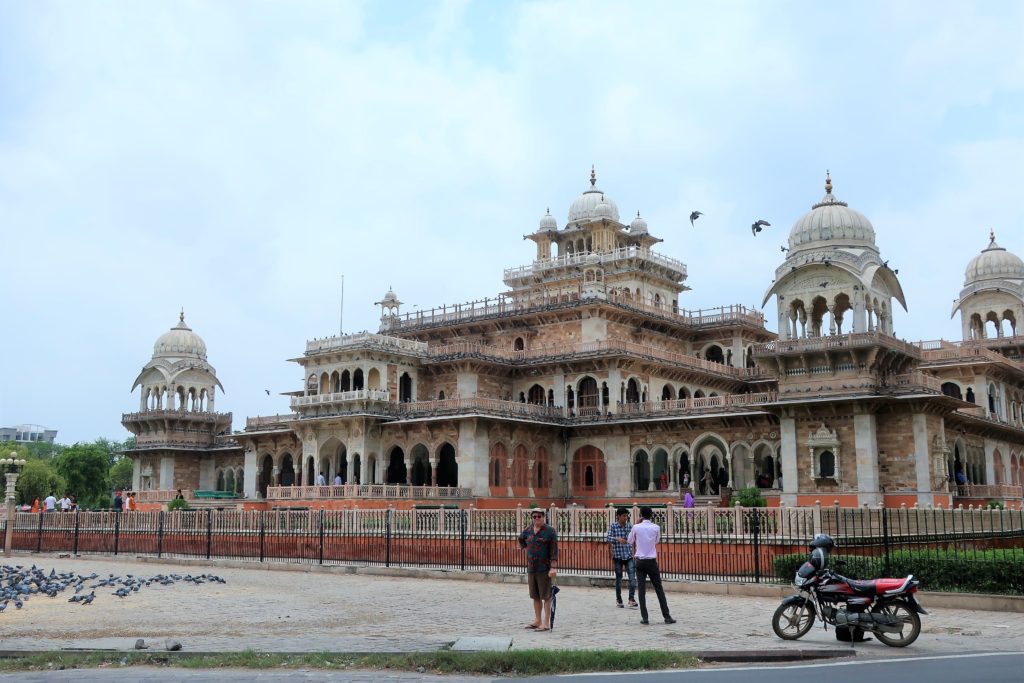 Inside is a good collection, a little bit in need of some curatorial care.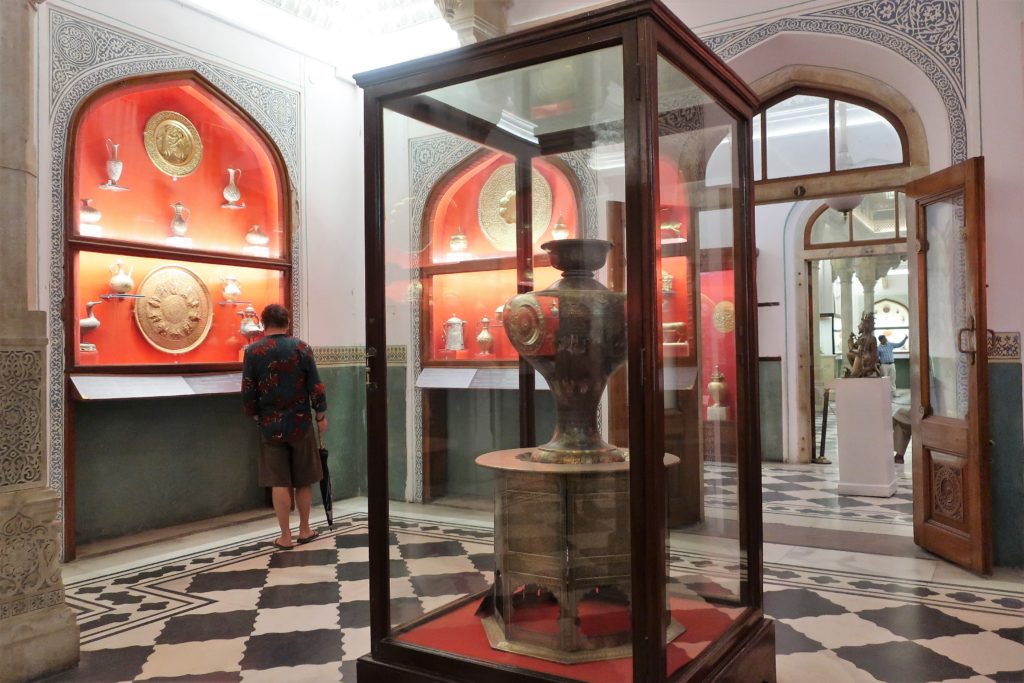 Sight or Insight of the Day
There are many interesting and wonderful things to see and do in India, but holy smokes, it's exhausting traveling in this country. We've been on a few humble buses and trains in the last few weeks. (It's not a case of looking for an 'authentic' experience of getting down with the locals, like some people carry to a slight extreme – it just turns out to be the only way to get to where we're going.)
Unless you're willing to wear blinders, every day brings constant exposure to people spitting, gobbing jets of scarlet betel juice, blowing out snot, lots of public urination (and worse). Wherever you turn, someone is vigorously reaming out a nostril or an earhole. Men are constantly pawing their genitals. 95% of people (read: men) who approach you want something from you. A dead giveaway: the first thing they say is 'I don't want anything from you'. (A negative side-effect of this is the guilt you feel when you are rude and snap at the 5% of people who are trying to be genuinely helpful.)
It's not a place for sensitive souls. (I would say 'No Country for Old Men', if I wasn't so close to being one myself.) And that's not even getting into the physical environment. Maybe in a later entry.