That's right. As we create this entry, we are sitting high in a hotel suite overlooking downtown Ottawa, spending two weeks in self-isolation. It's a long way from the African savanna. Anyway, to take up where we left off…
In Senyati Safari Camp, we enjoy a covered bathroom/living space that comes with our campsite.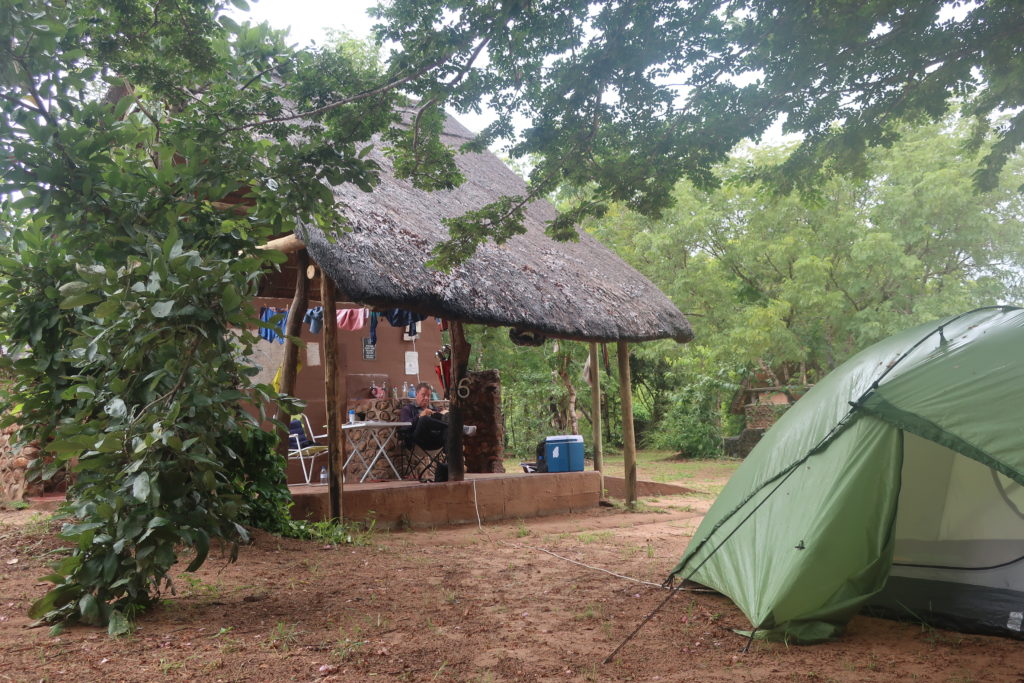 We never get tired of watching the elephants at the watering hole.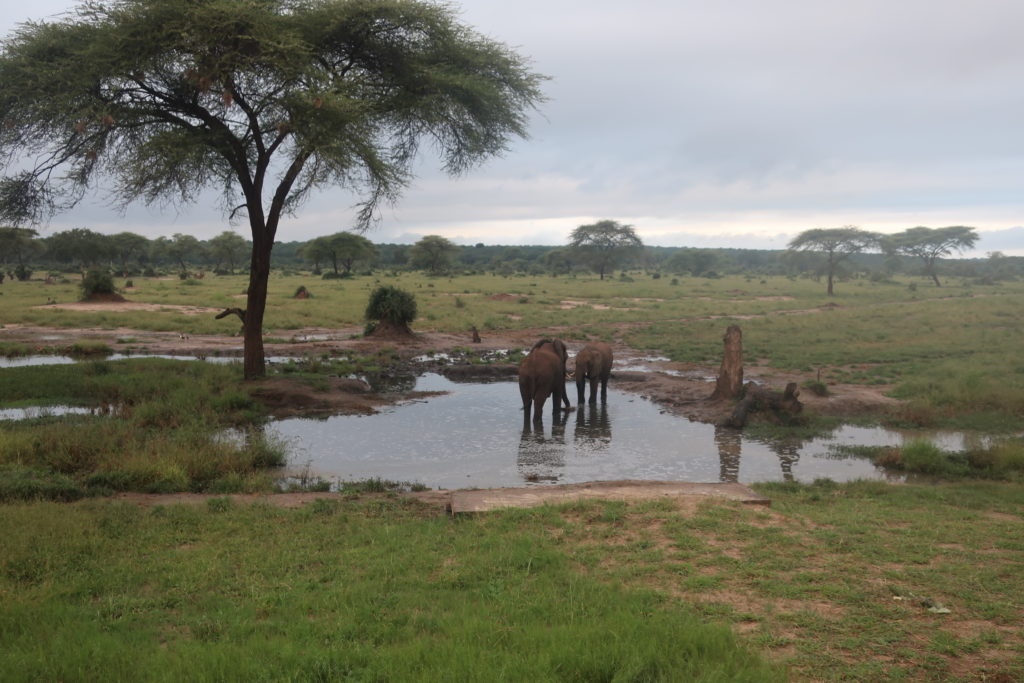 We can't take our South African rental car into Zimbabwe. So we arrange a land transfer to Victoria Falls (in Zimbabwe) and rent another car for two weeks, leaving our car at Senyati.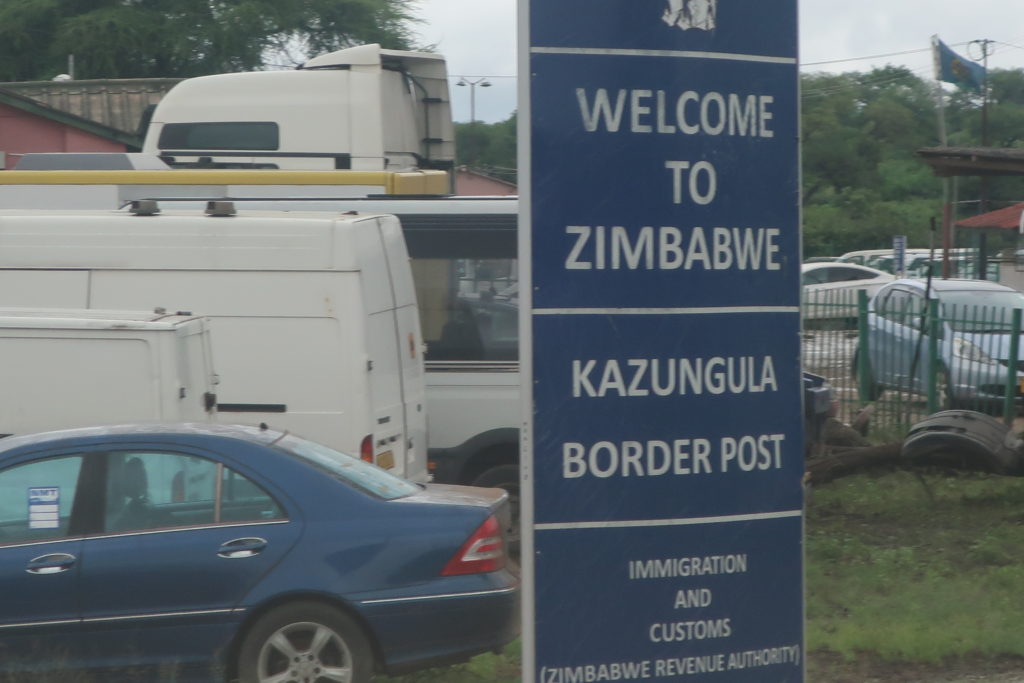 Zimbabwe is undergoing several crises at once (before even taking covid-19 into consideration.) Their economy is in dire straits, as usual. This is the result – as it always is – of bending over backwards and using smoke and mirrors and a labyrinth of bizarre regulations to maintain the illusion that an utterly worthless currency is actually worth anything.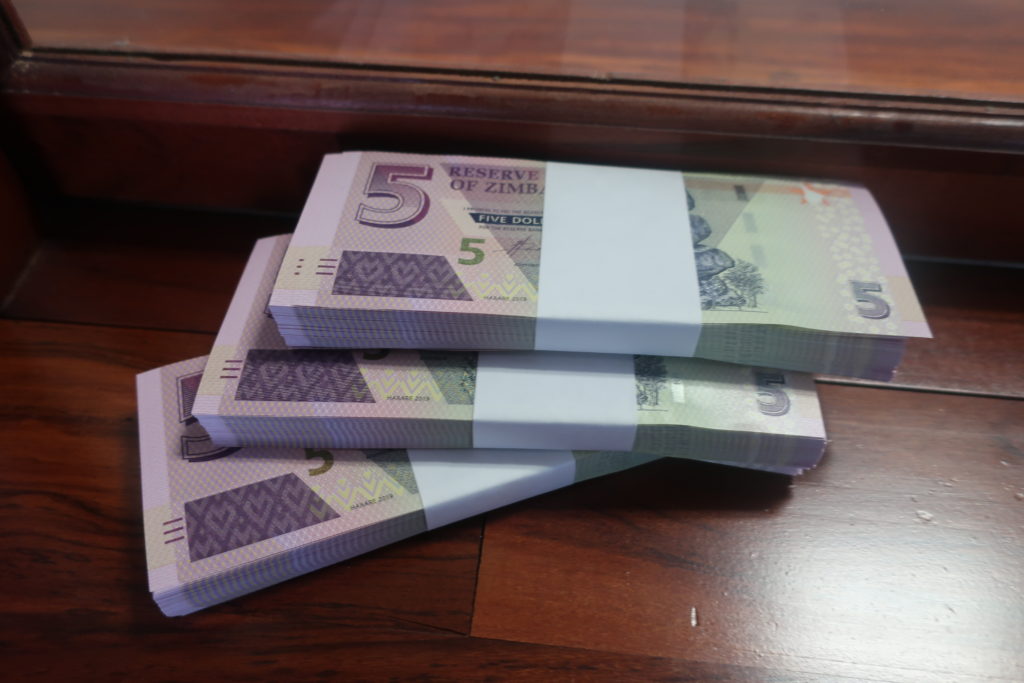 Our first night is spent in Hwange National Park. On our way back to the main road, we stop at he Painted Dog Conservation Centre. ('Painted dogs' are what they call 'wild dogs' in Zimbabwe.)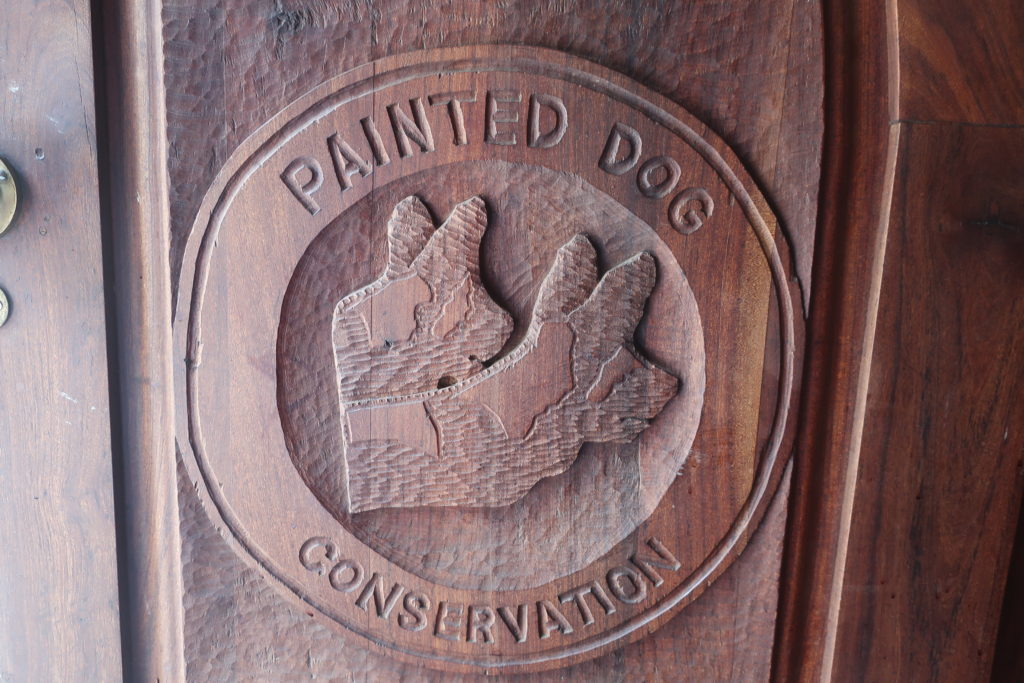 It's extremely professional and dedicated. (Most of the staff we meet are women.) Turns out we were phenomenally lucky to have seen those wild dogs in Moremi.
Besides hosting rescued painted dogs for recovery, rehabilitation, and release, they lead educational programs for youth.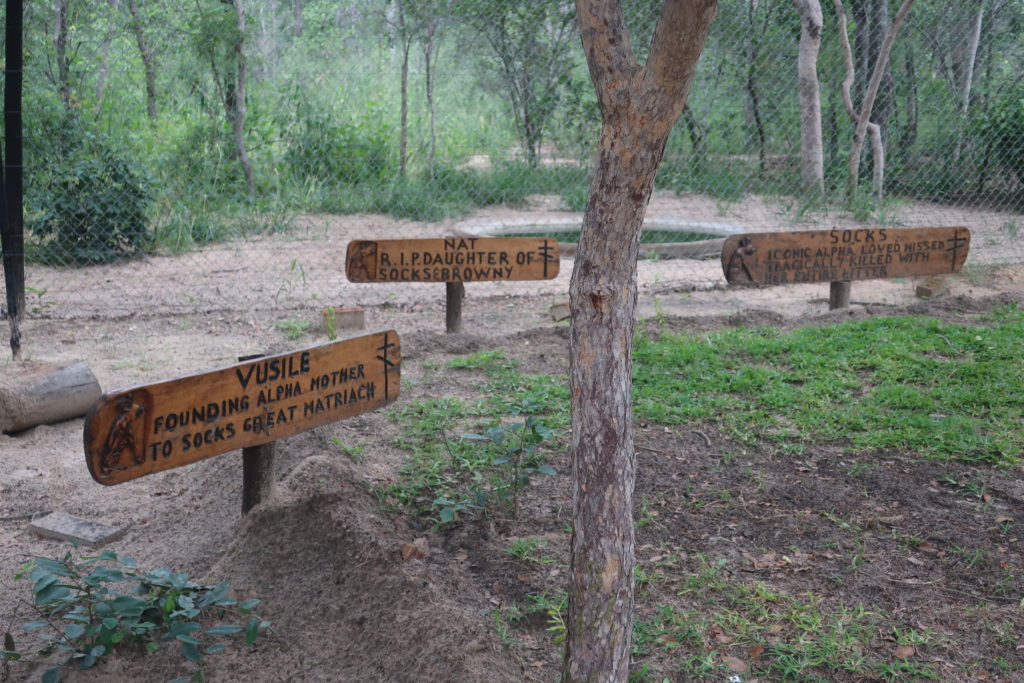 We carry on to Bulawayo, Zimbabwe's second biggest city.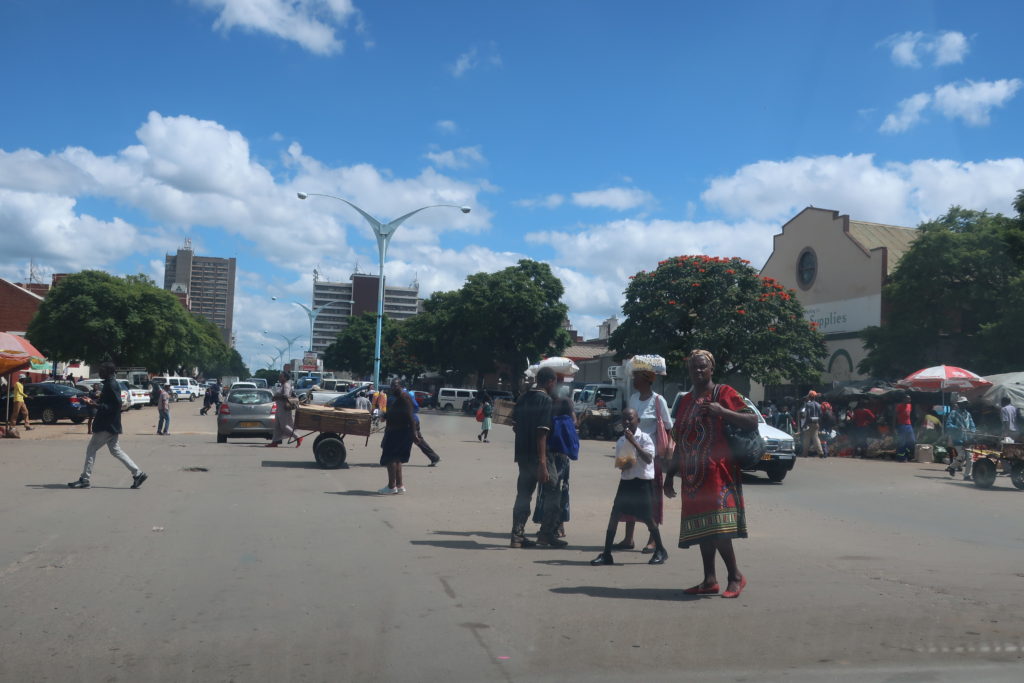 We go to Matobo National Park. Besides containing the grave of arch-colonialist Cecil John Rhodes, the park is known for its rock formations.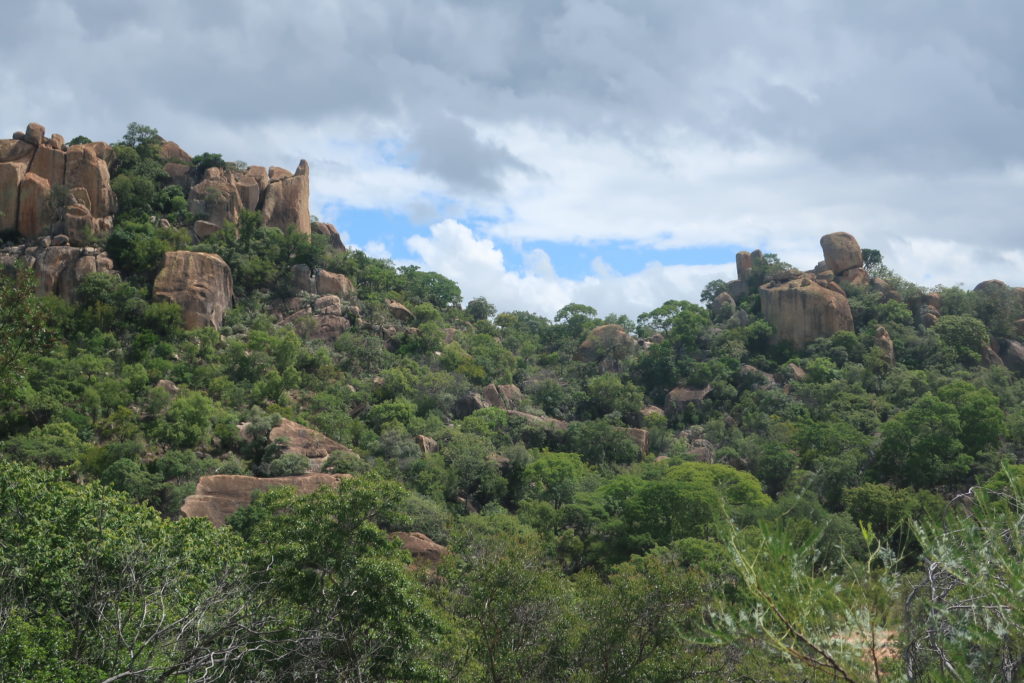 These formations are called 'kopjes' (sounds like 'copies'). They're found in many places in Africa.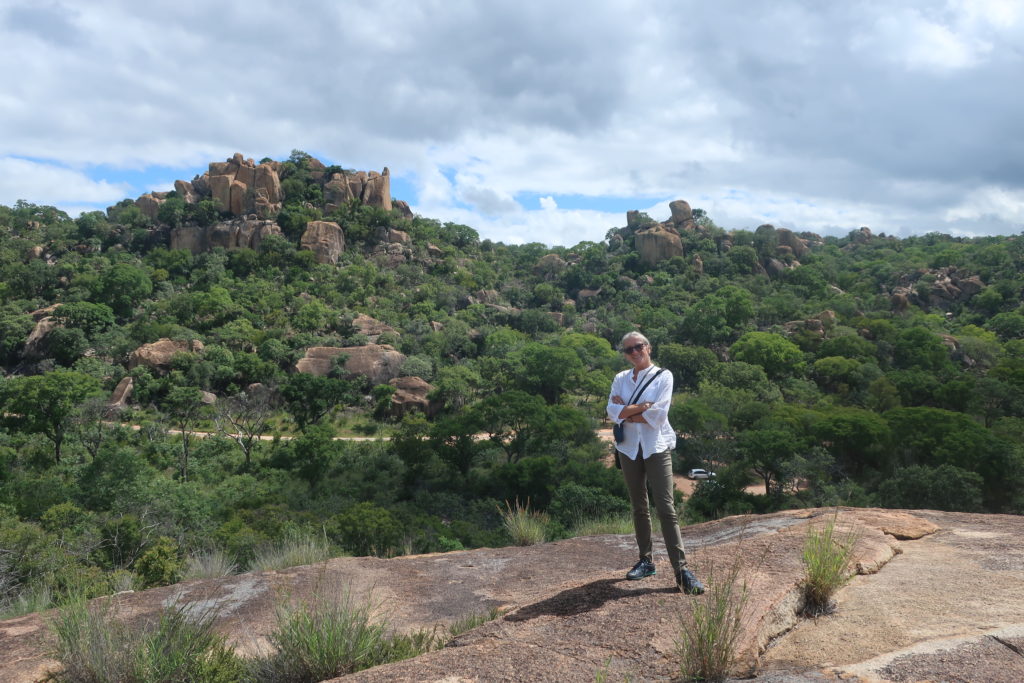 Cave paintings are relics of the San people, the original inhabitants of the southern part of the African continent since, well, forever. (Black Bantu people are relative newcomers. White people even more so.)
Here's a hunting scene.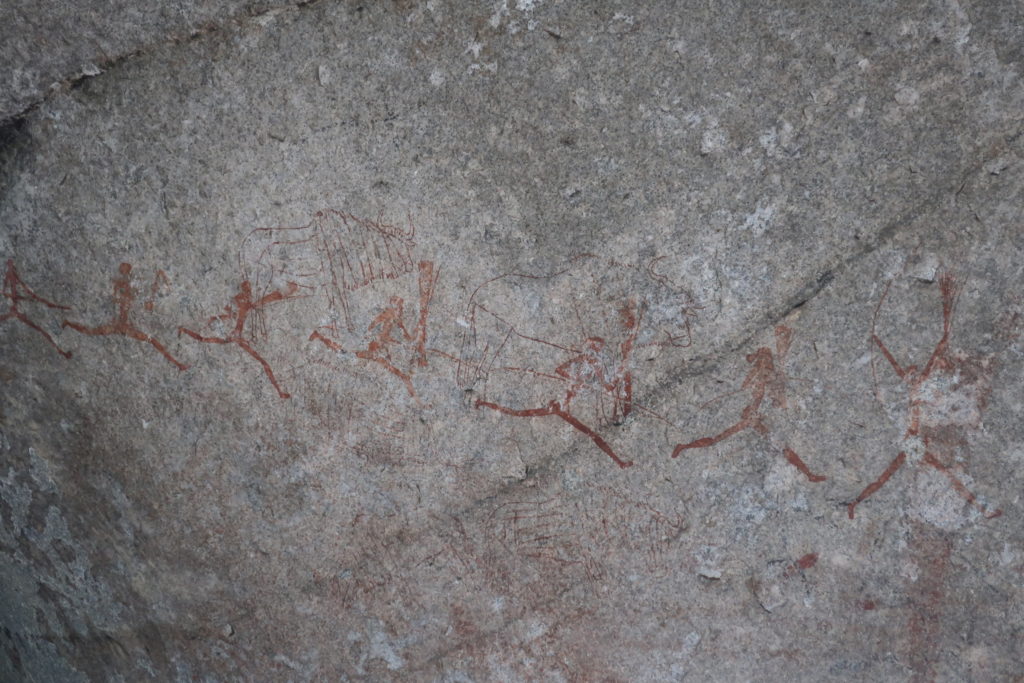 This is recognizably a giraffe.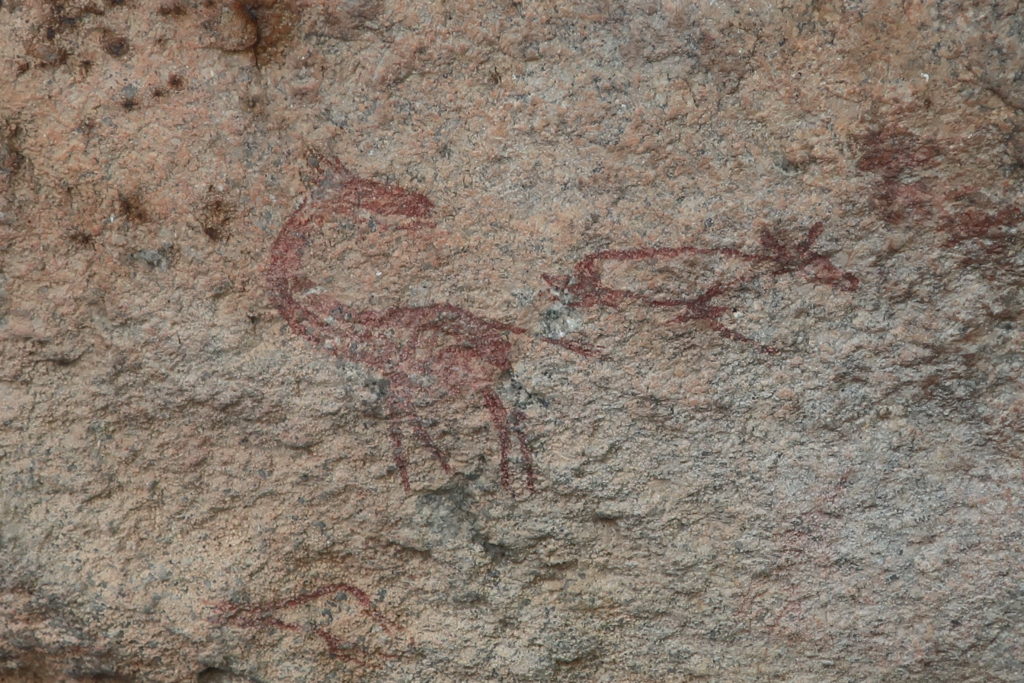 And this is a rhino.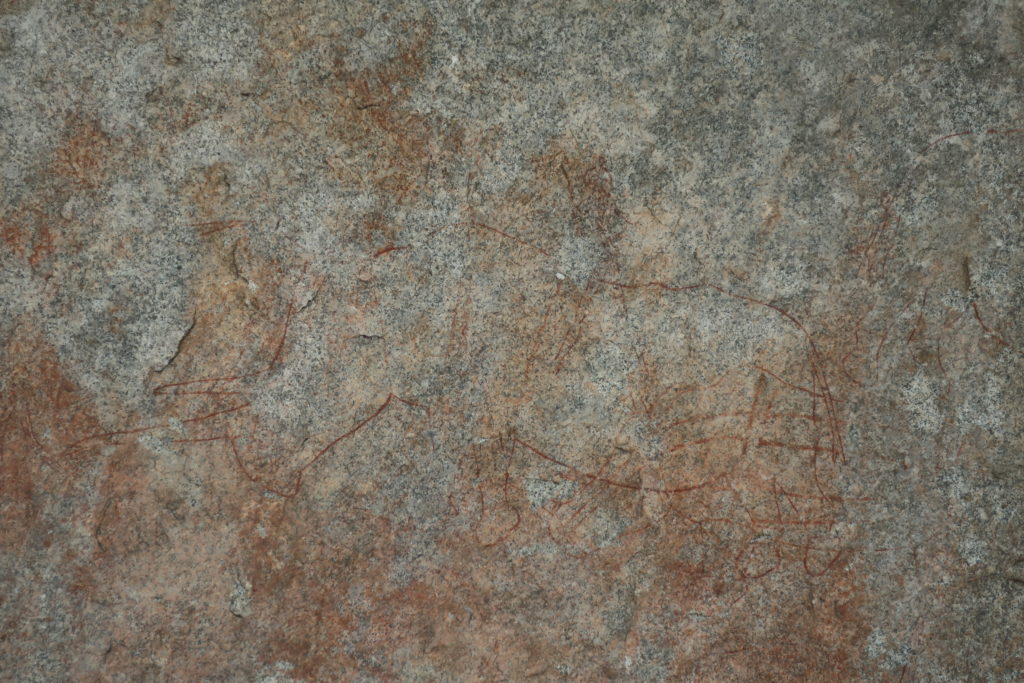 We stay at the Farmhouse Lodge. Not at the lodge itself, but in their campground, a few kilometres away. We have the place entirely to ourselves.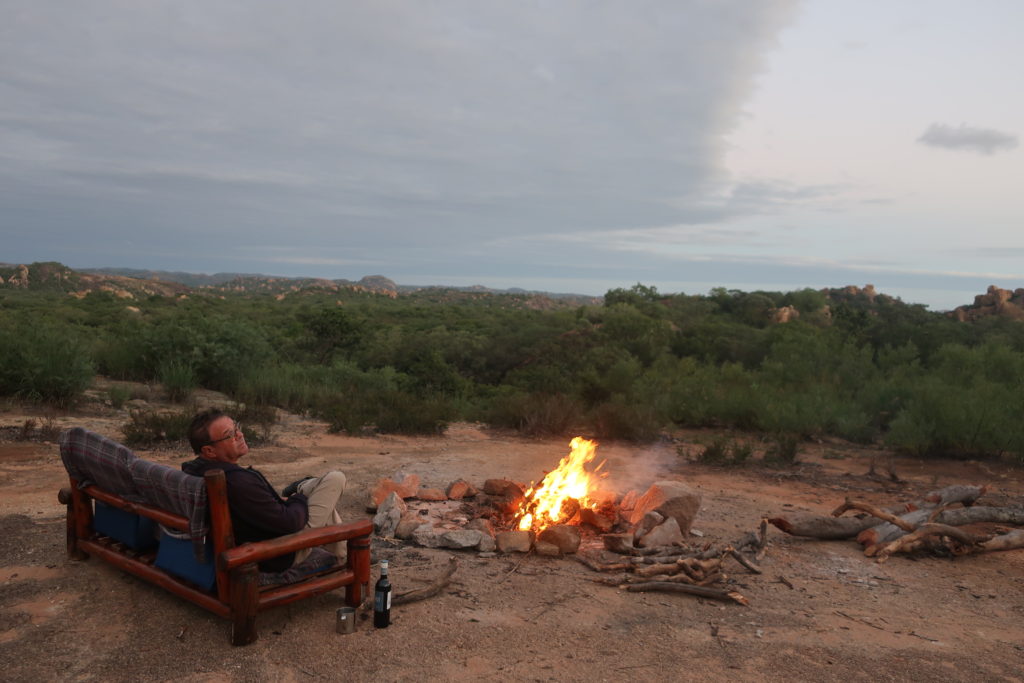 Next stop is the Zimbabwe Ruins. (A running joke since independence is that the misrule of the Mugabe regime has turned the entire country into the 'Zimbabwe Ruins'.)
It's a tight squeeze on the trail up to the 'hill complex'.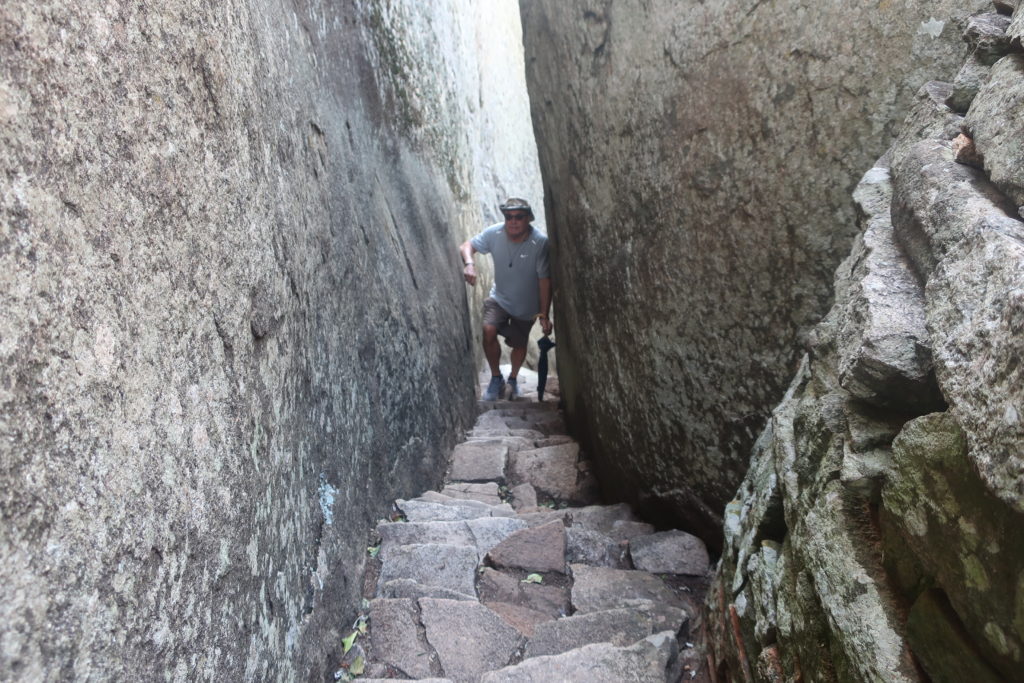 View from the hill complex down to the 'great enclosure'.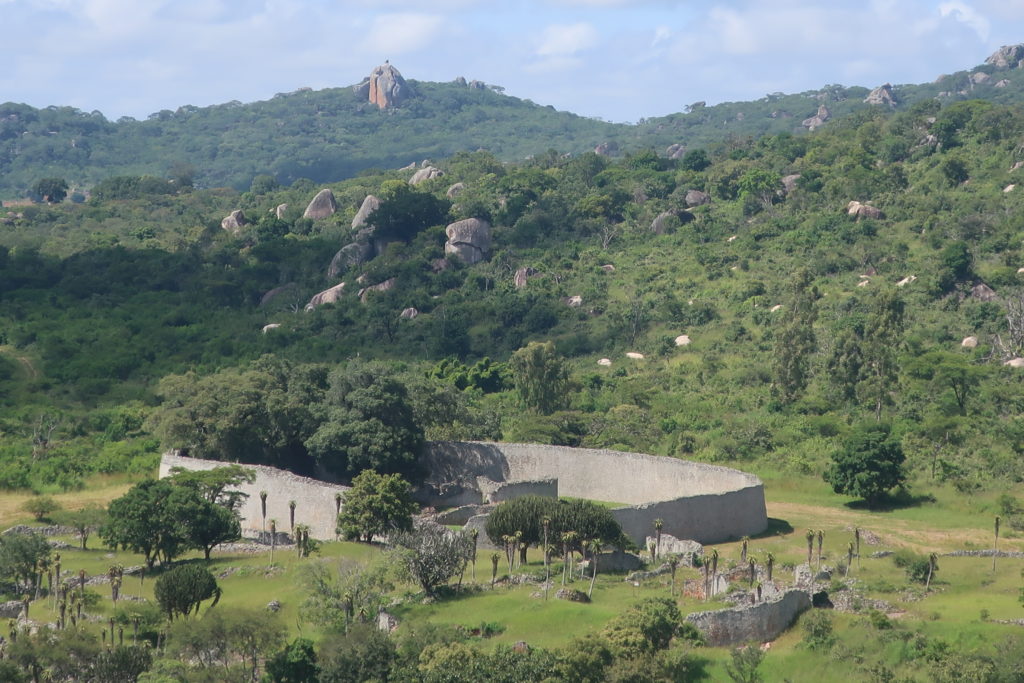 A few more views of Great Zimbabwe.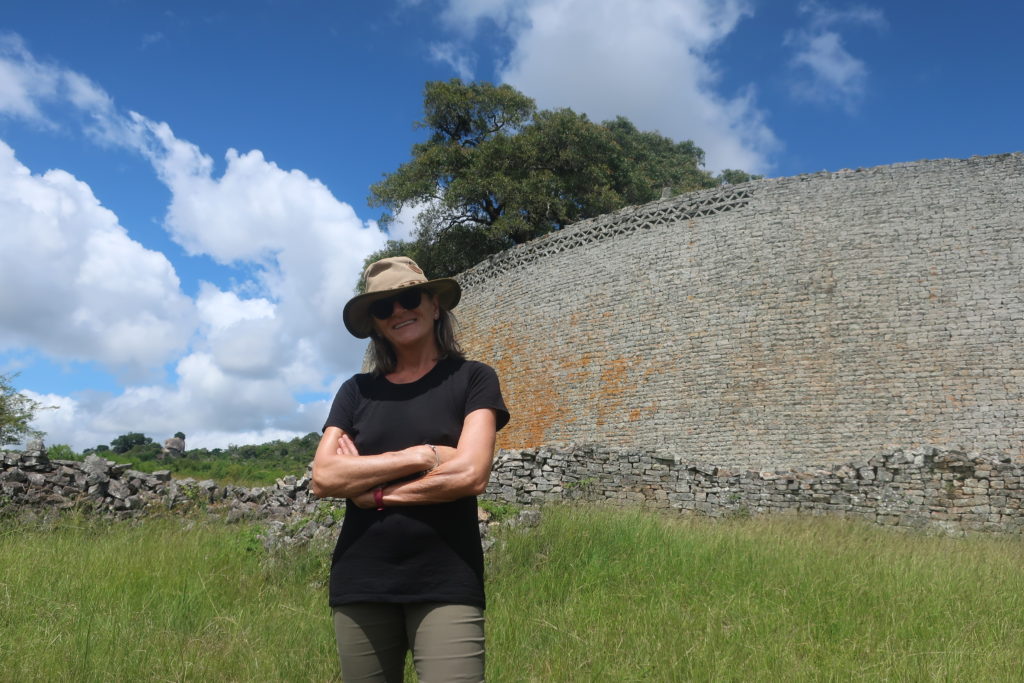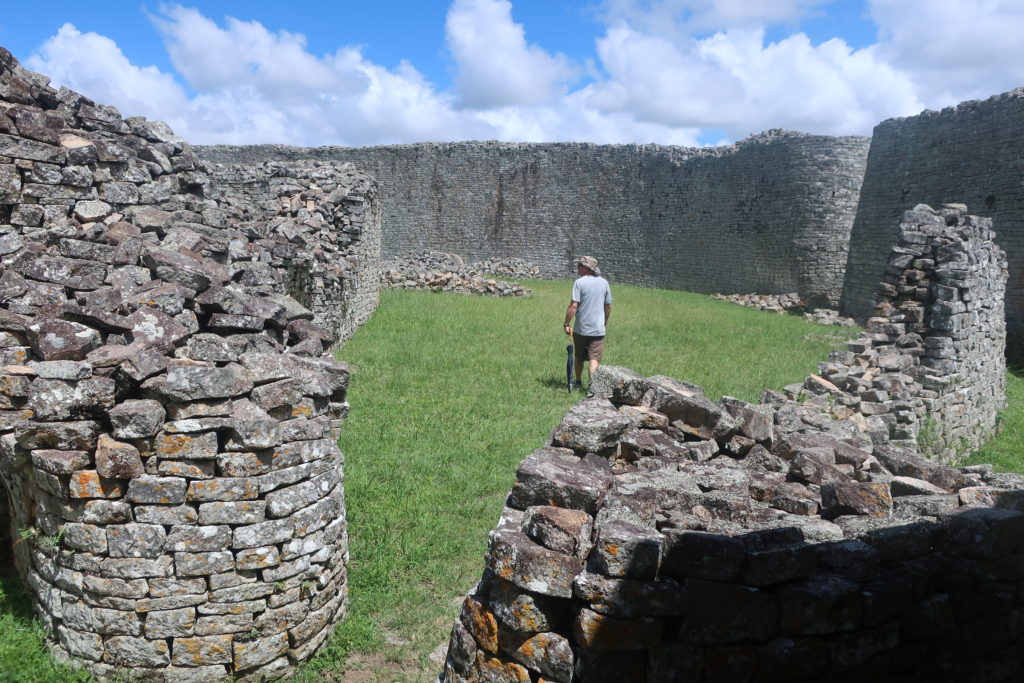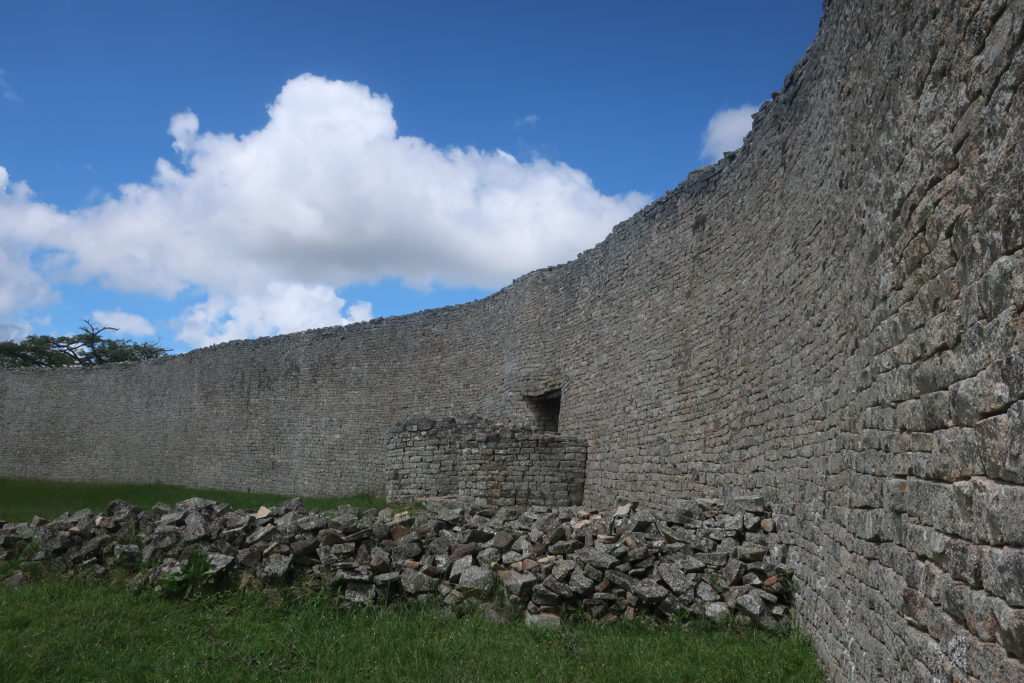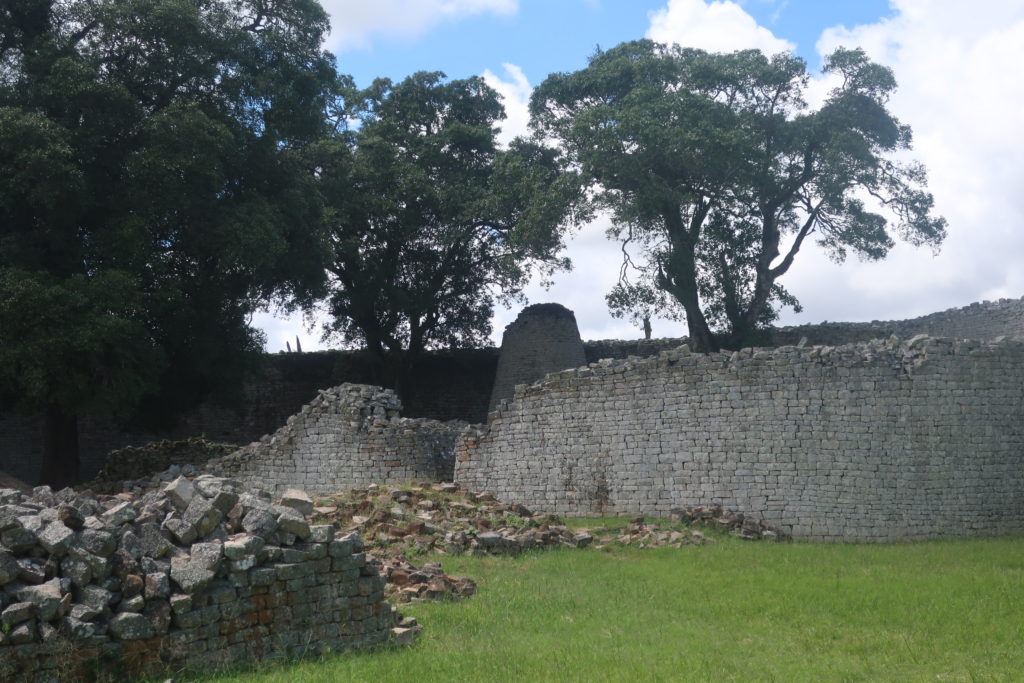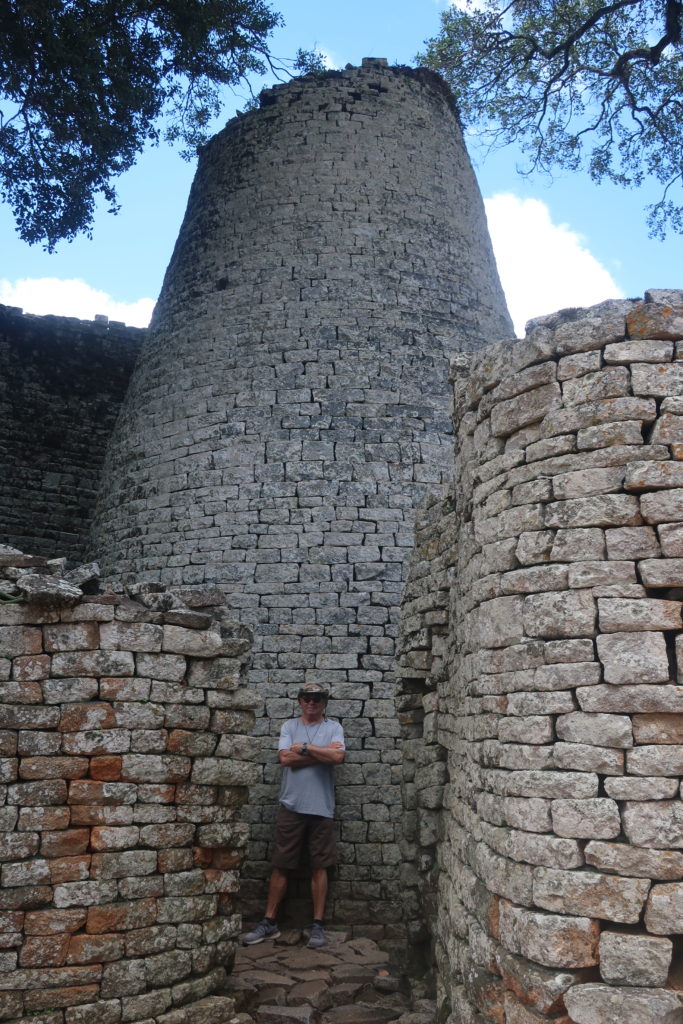 Another crisis in Zimbabwe is a shortage of fuel. We are fortunate enough to have leftover US dollars from our trip to Iran: petrol stations that charge in US dollars are few and far between, but you can fill up immediately.
Stations that charge in local currency, however, have massive lines of cars that wait hours for their turn…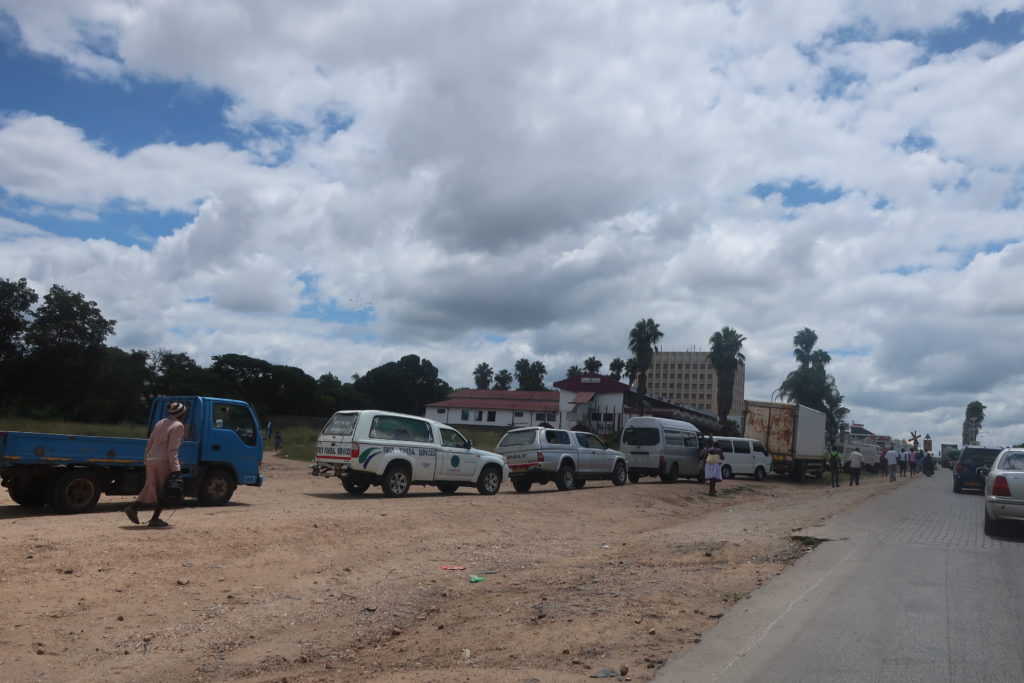 …and of course, many stations have run completely out of fuel.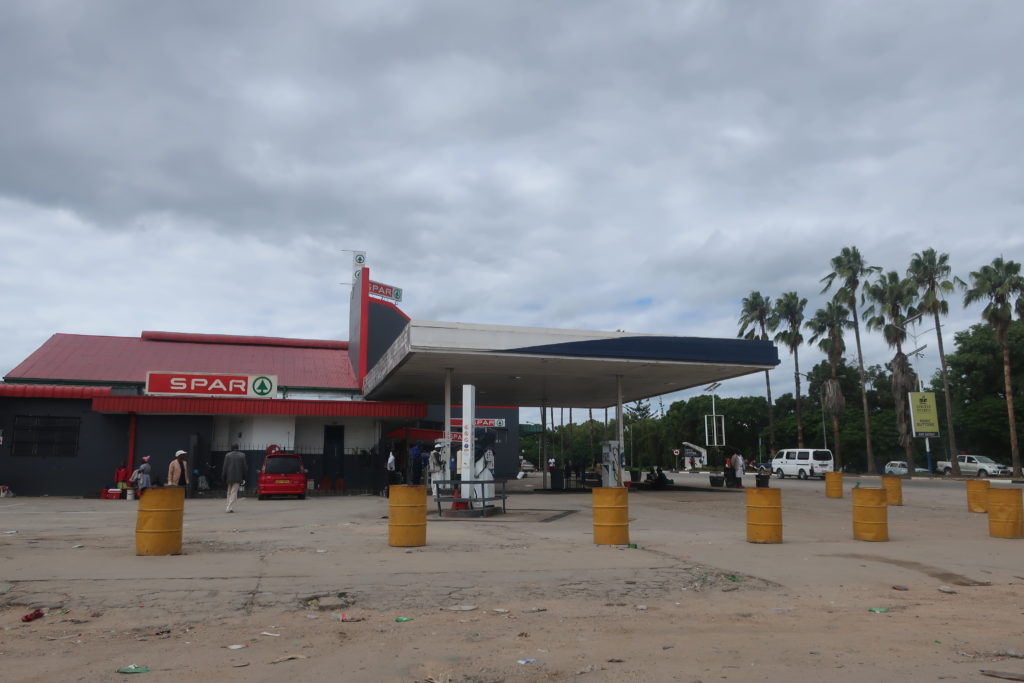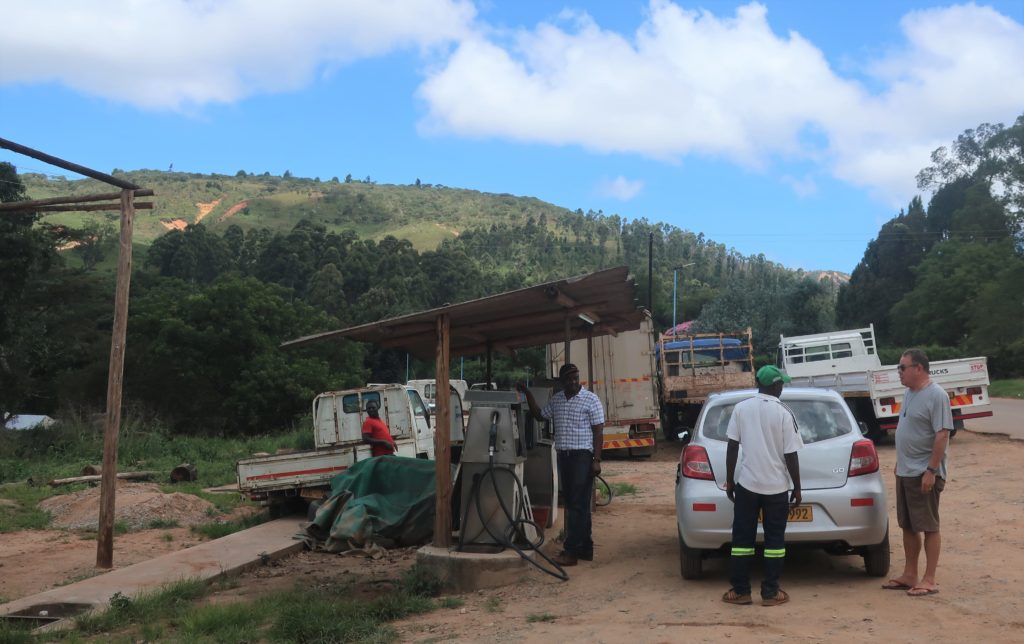 In the Eastern Highlands, we spend a few days in Chimanimani.
This little girl carries her doll in a blanket on her back, just like mom.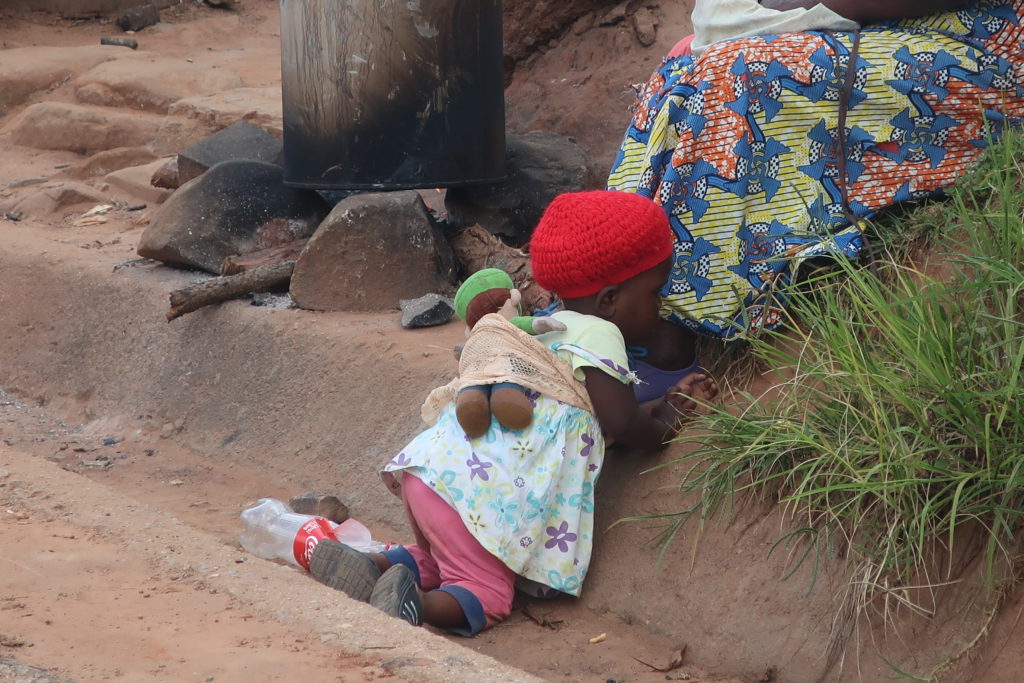 We hike to the Bridal Veil Falls.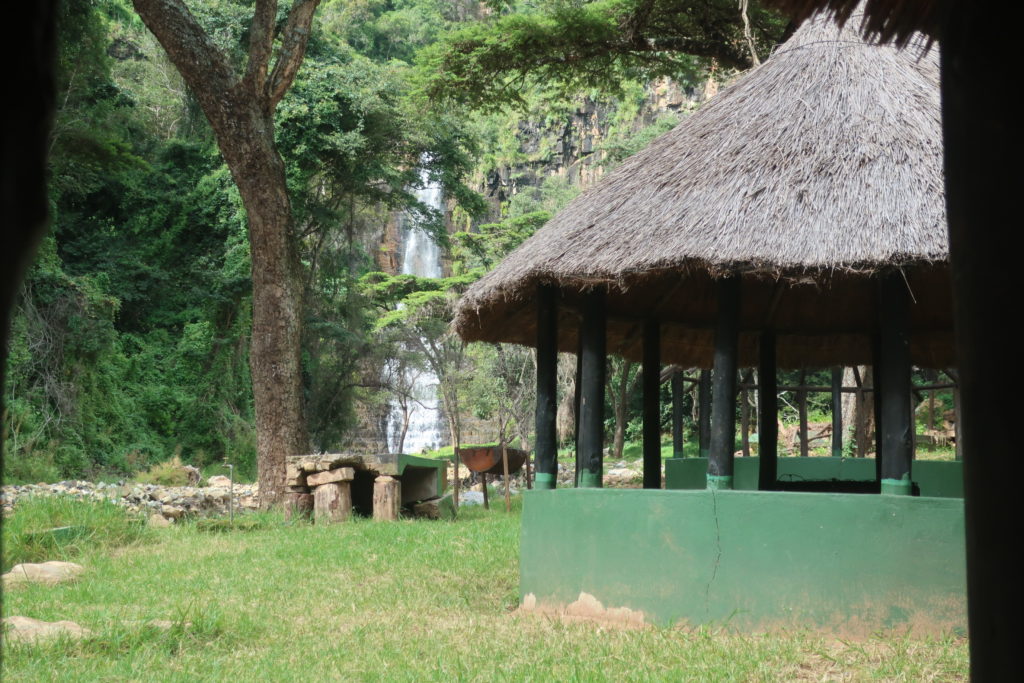 We really like our accommodation in Chimanimani. Dee and Jane, our hosts, have two friendly dogs (and a friendly cat) that keep us company.
This one is Rocky.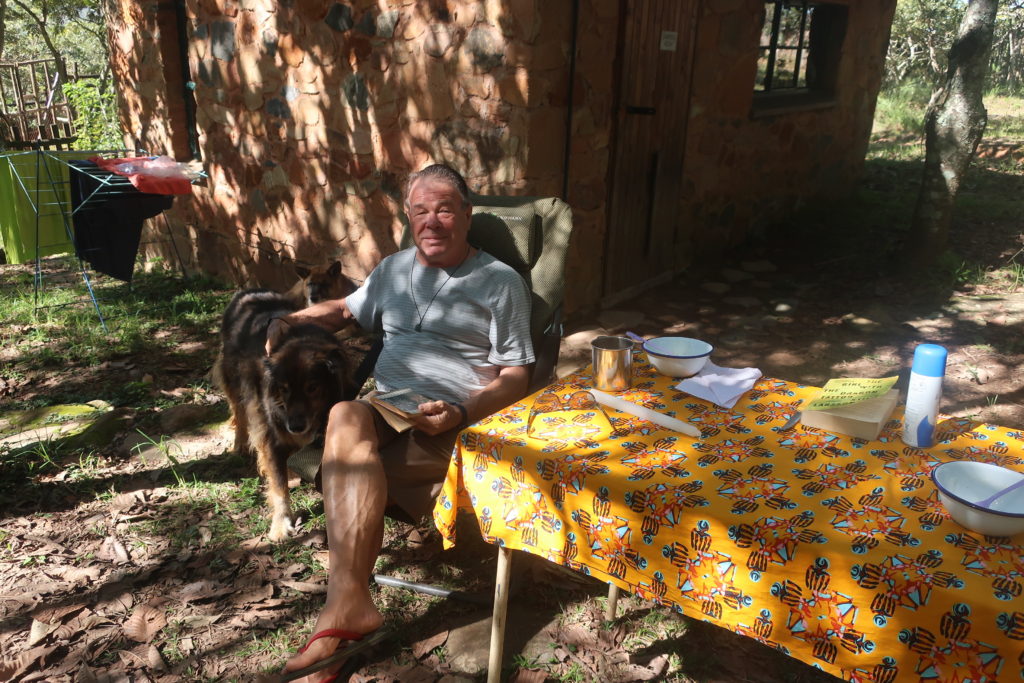 And this one is Carny. He's completely blind. Always has been. We're impressed by the way he gets around the property.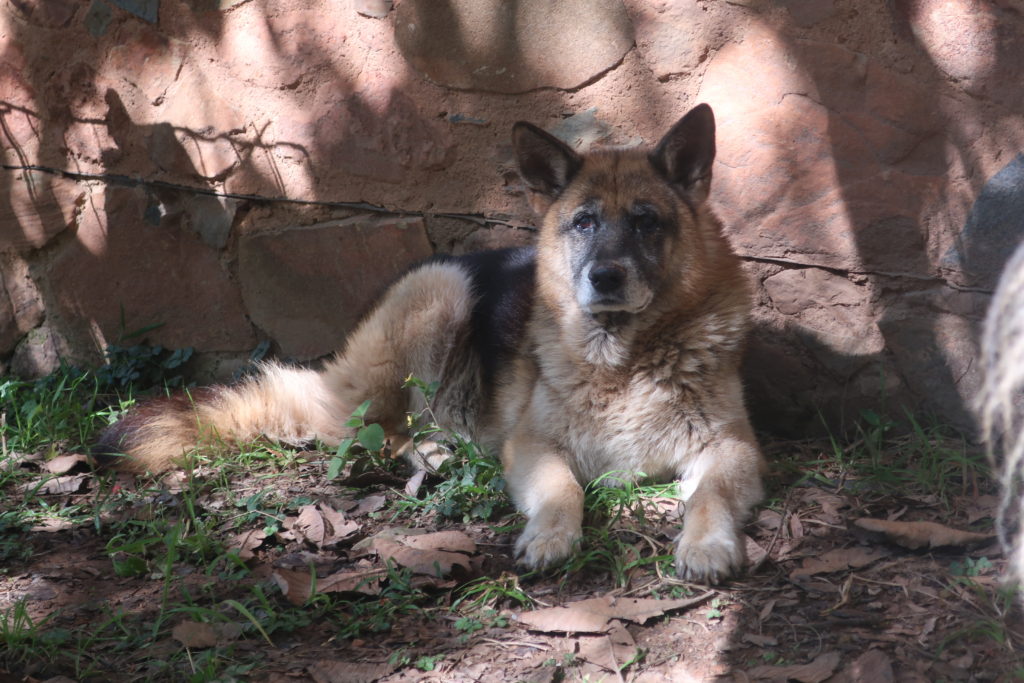 After spending a few days in Harare, our plan is to visit Mana Pools National Park, then take the Kariba Ferry as a shortcut (via Lake Kariba) back to the western part of the country.
As it turns out, Mana Pools is only accessible for 4WD vehicles. And the Kariba ferry is cancelled due to a lack of paying customers. As an alternative, we visit the little-visited Mavhuradonha Wilderness, tucked up against the Mozambique border.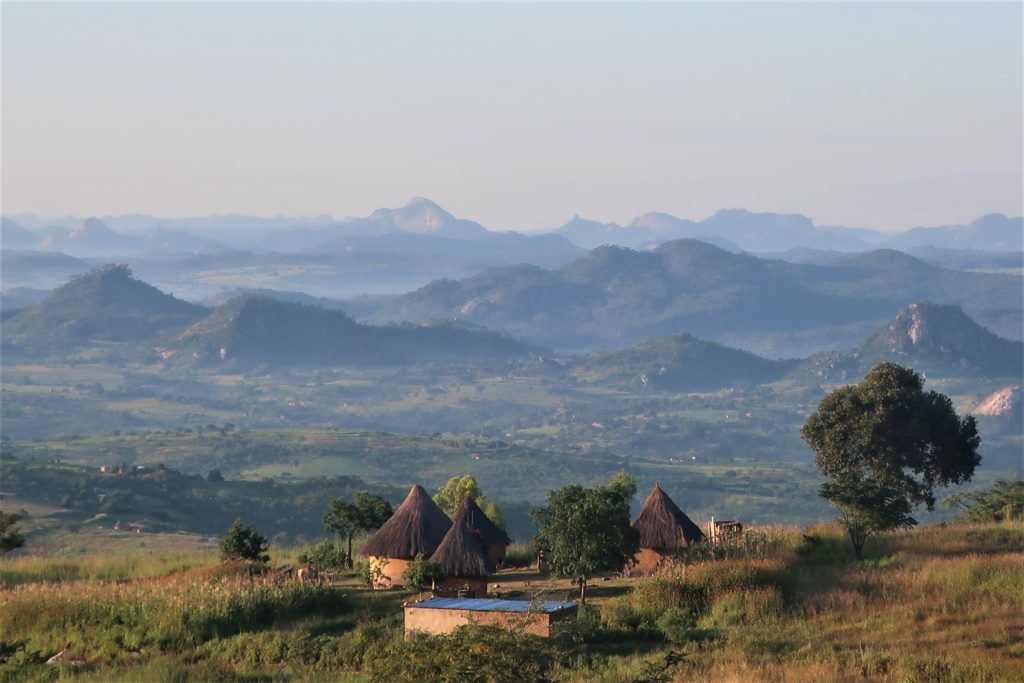 Then we begin our mad dash for Johannesburg – it's a full day's drive to Bulawayo and another to Victoria Falls.
In Vic Falls, we stop for a glass of wine at the Victoria Falls Hotel.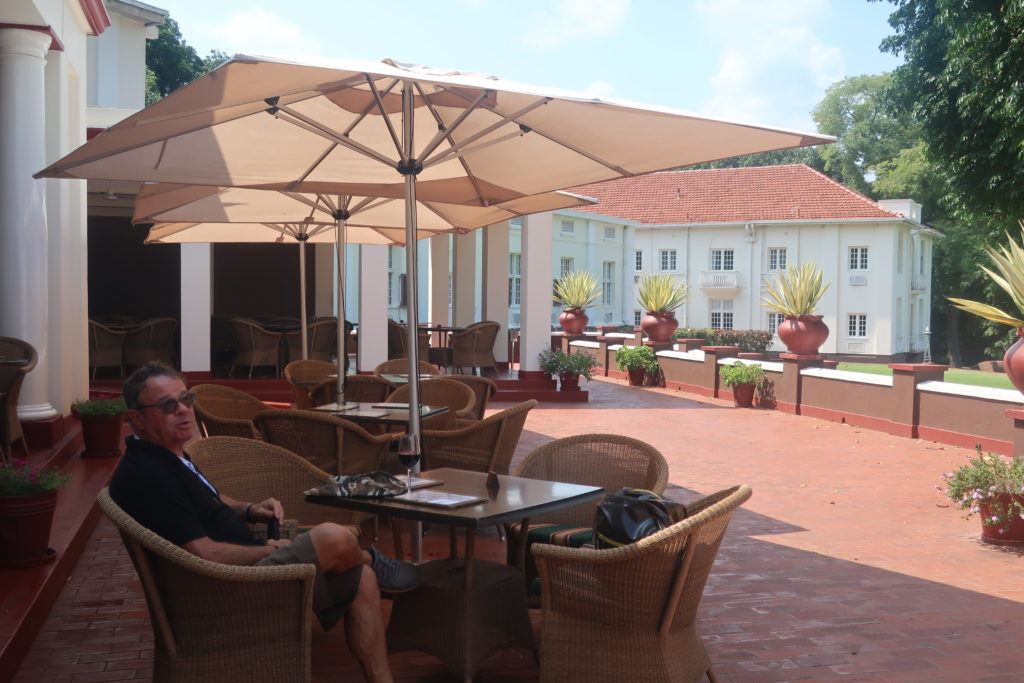 It's a wonderful old pile of colonial decadence.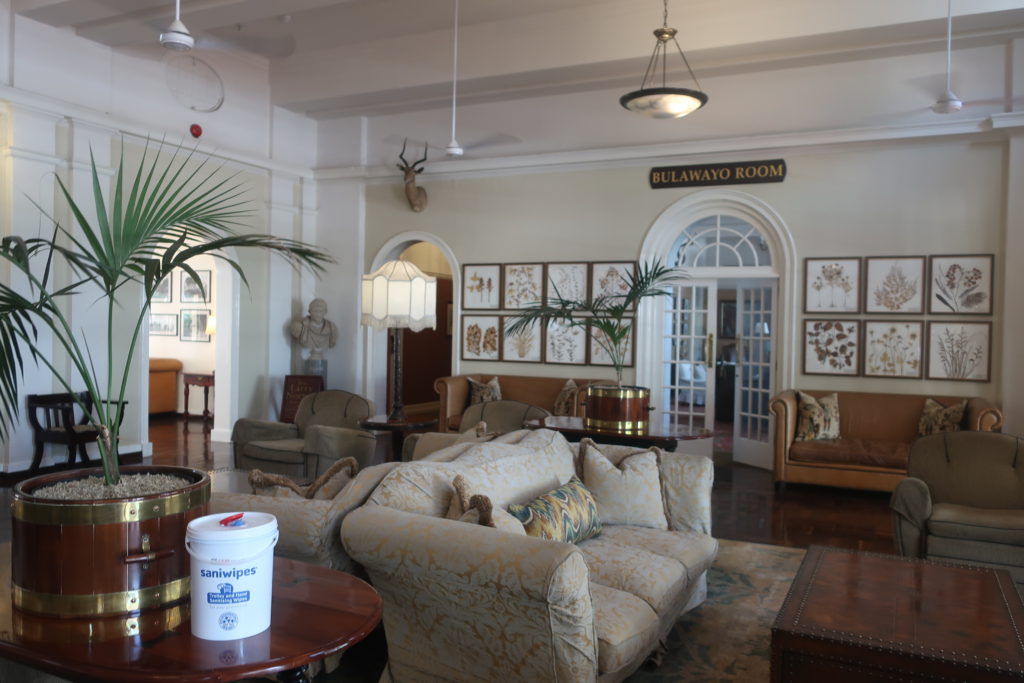 The falls themselves are pretty cool.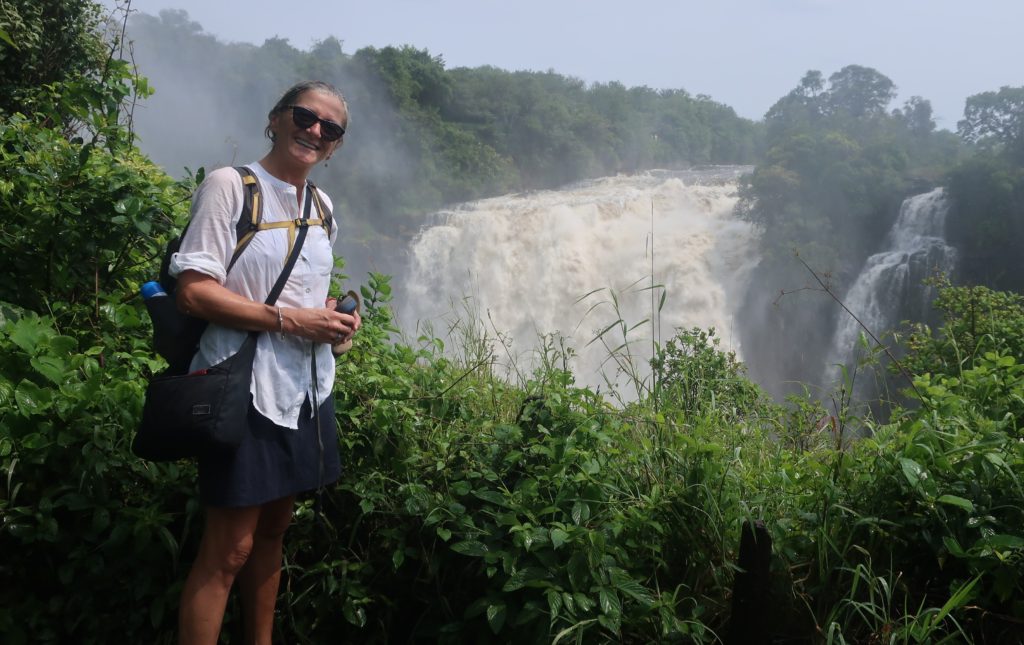 We get thoroughly soaked walking the path that faces the falls.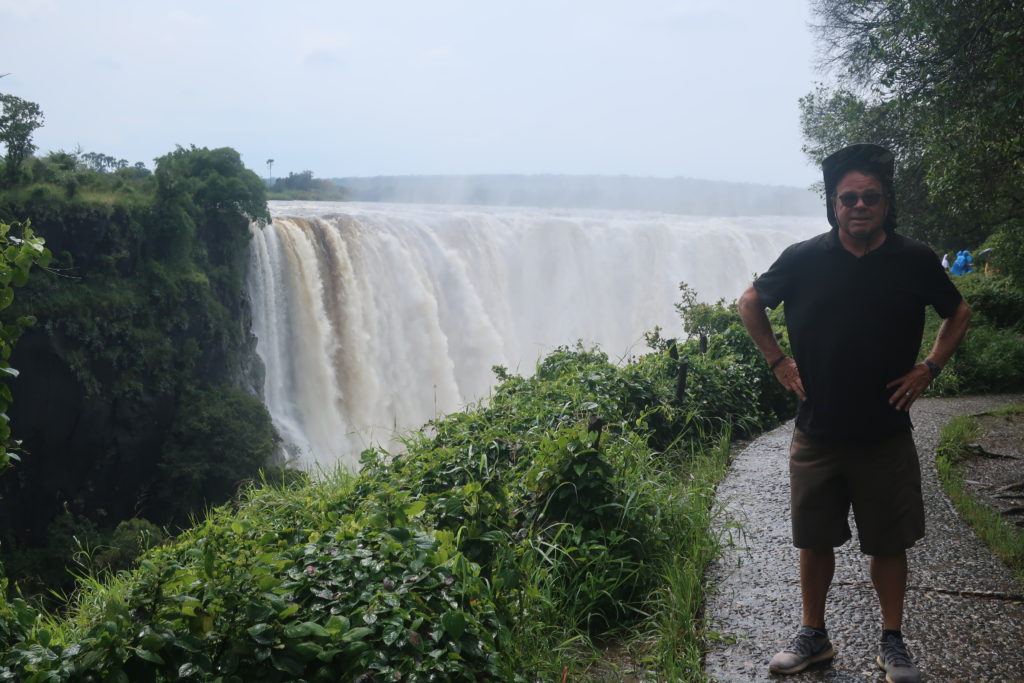 This is our last act of overt tourism before we make a beeline for Johannesburg in an attempt to beat the national border lockdowns that are nipping at our heels.
Sight or Insight of the Day – What a Long, Strange Trip It's Been
Beware of black swan events!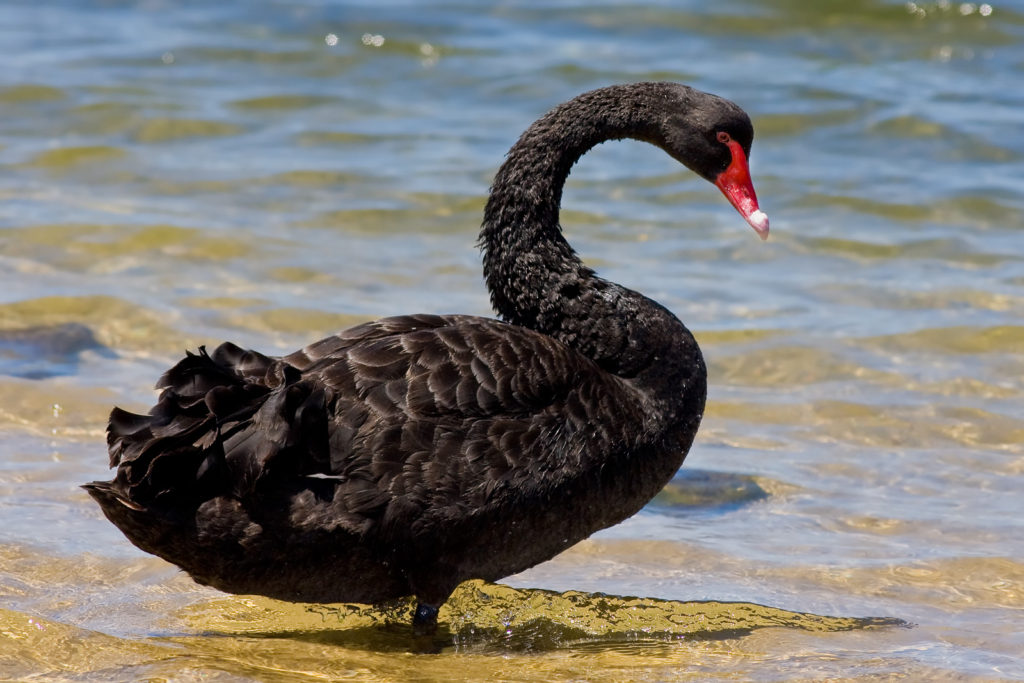 We wind up traveling from the northeast corner of Zimbabwe all the way back to Canada with breathtaking speed.
Beginning at dawn in Mavhurdonha, we drive to Bulawayo – virtually the length of the country.
We plan to spend a few more nights in Hwange National Park, but decide to head straight to Victoria Falls instead.
We drop off our Zimbabwe rental car and get an overland transfer back to Botswana.
After a night in Senyati Lodge, we drive to Francistown, Botswana.
Next day, we cross the border into South Africa and drive to Johannesburg.
That very night, we decide we'd better try and catch a flight back to Canada ASAP. We manage to find one the next day (in theory).
We arrive at the airport. While waiting to check in, we are told by Turkish Airways that the Istanbul-Canada leg of our flight 'is cancelled'.
My sister manages to book us on a flight that day: Johannesburg – Amsterdam – Paris – Montreal.
Next evening, we arrive in Montreal, where we are met by my sister and brother-in-law in two cars.
We overnight near the airport and drive to Ottawa the next morning.
We check into a very comfortable high-rise apartment-hotel for our obligatory two-week quarantine.
Now we stare at each other in disbelief – just a few days ago, weren't we sitting in our shorts & T-shirts having a barbecue, marveling at the sky full of stars while a family of elephants pass silently in the dark three metres away? Today we're looking out over downtown Ottawa at the ass-end of a Canadian winter.
So our random rambles may now be over. We don't know what the near future brings. But neither does anyone else. Happy ramblin', everyone. Stay safe. We'll see you on the other side of this thing.
And remember: Life is a Highway.