In the north of Georgia is an area called Svaneti. After spending a night in Zugdidi, another pleasant mid-sized city, we drive up into the mountains again.
The road is switchback much of the way.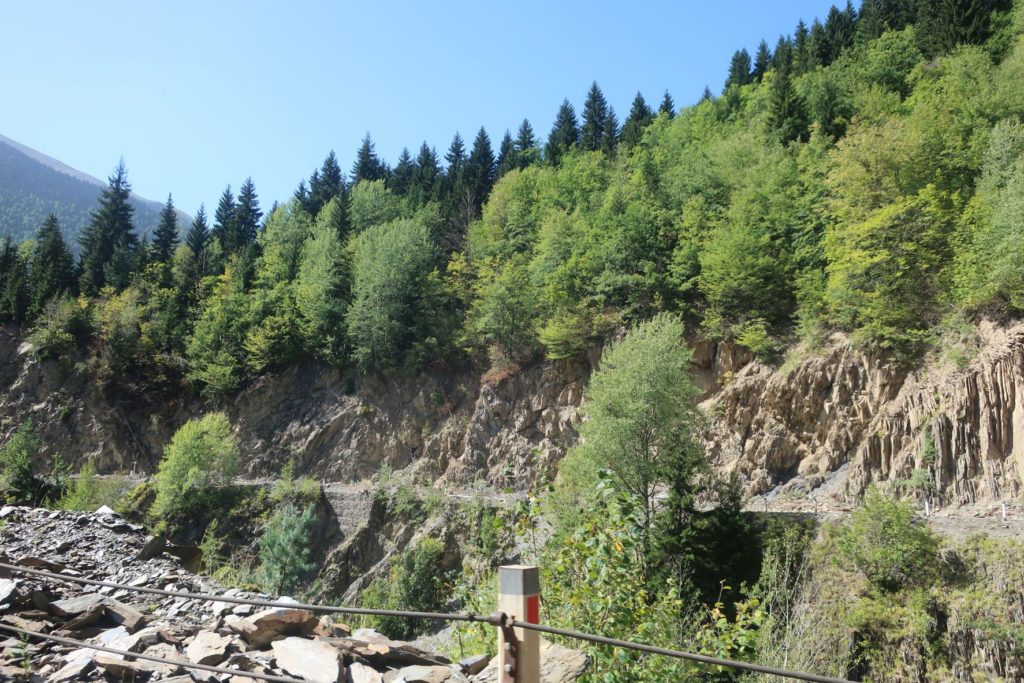 Frequent landslides take out chunks of the road.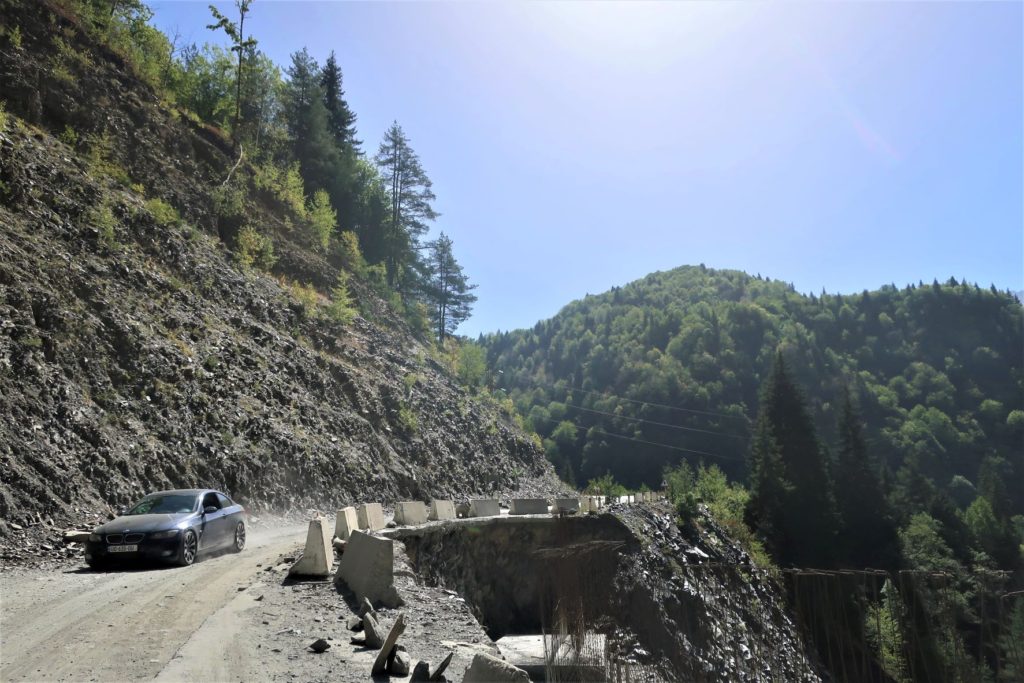 We arrive in Mestia, the main town. Our room has a great view. We stay here a total of three nights.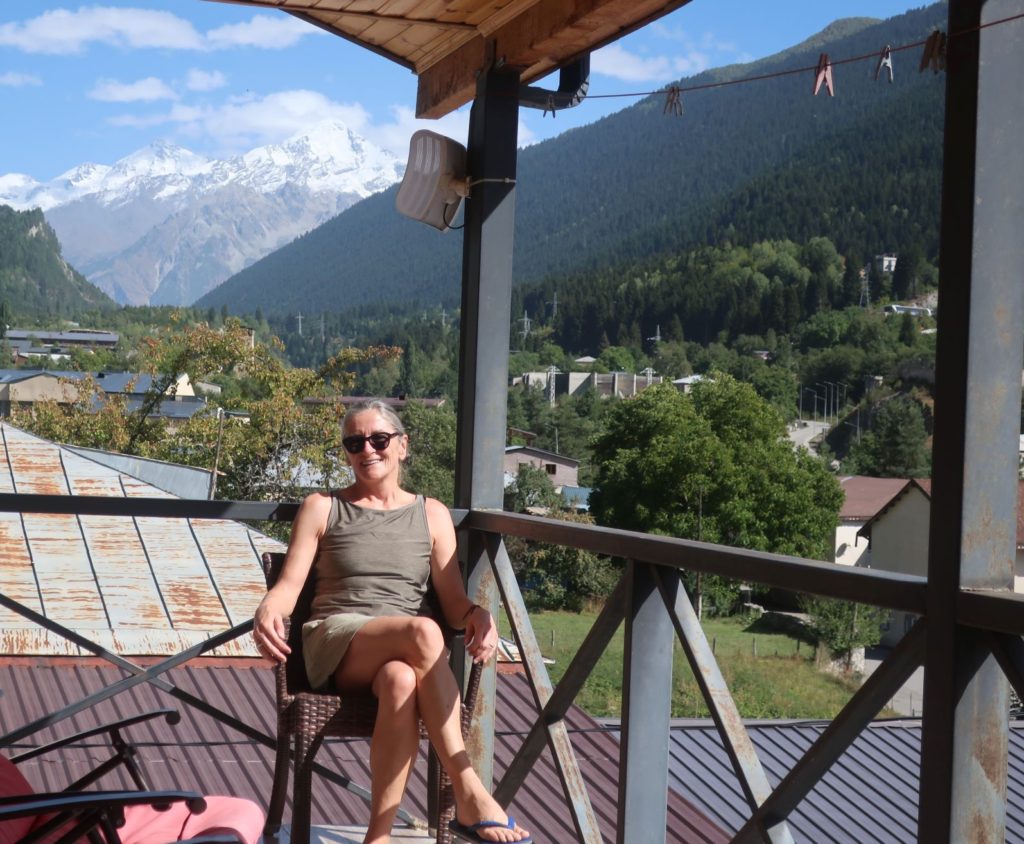 A popular hike is the four-day trek from Mestia to Ushguli. We are not keen on leaving the car unused for that long, so we do the first stage from Mestia to Zhabeshi. We wind up walking on the road to Zhabeshi because we couldn't find the beginning of the trail in town. (Have we mentioned that information can be hard to come by in Georgia?)
This is not as bad as it sounds because there is very little traffic on the road and the scenery is pretty spectacular everywhere.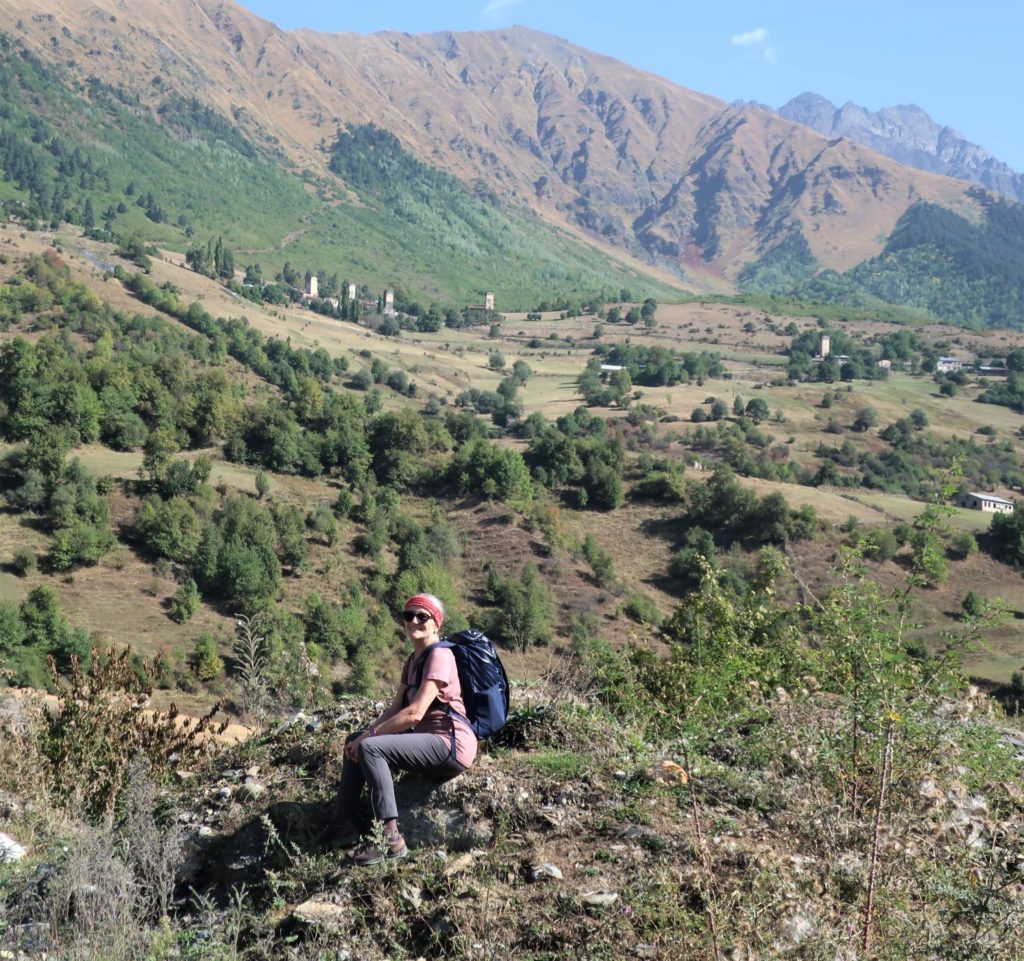 Maria likes the fancy gates on some of the houses.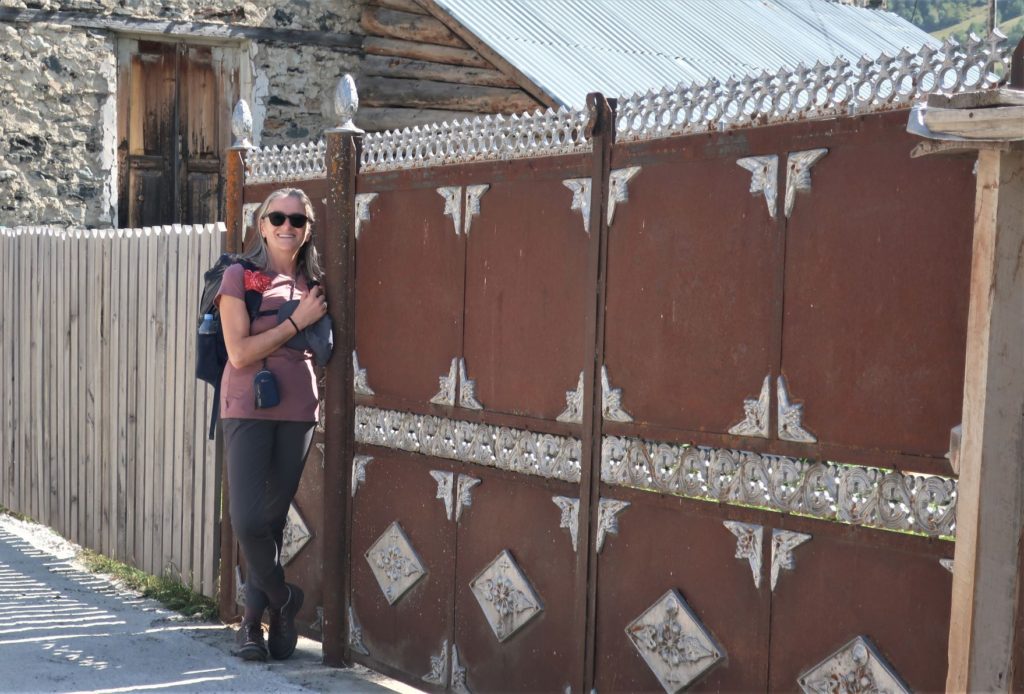 We get to Zhabeshi early in the afternoon.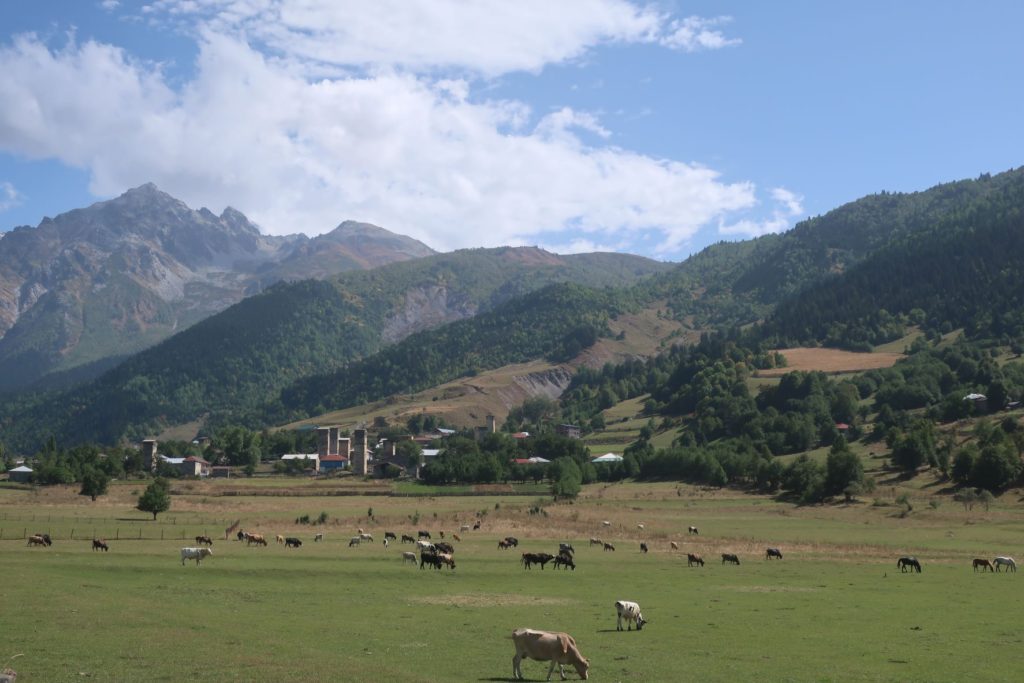 We stay the night in a scrupulously-clean guesthouse and are stuffed to bursting with our hostess's lavish cooking.
We depart from Zhabeshi the next morning, returning to Mestia by the real trail.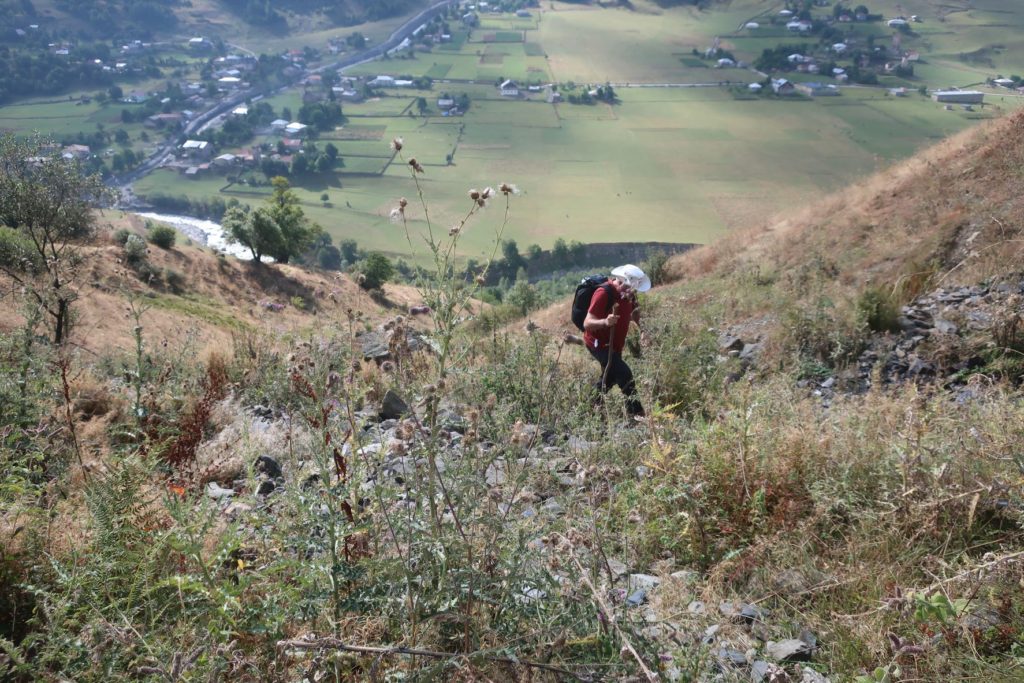 Unfortunately, we are completely on the wrong track. We follow what we think is the trail nearly to the top of a considerable mountain. We're scratched mercilessly by thistles. The trail peters out to nothing. I consult my Maps.Me and find that the path actually begins way down, parallel to the river.
We eventually find our way. In one village, a small herd of elegant goats struts by like a party of supermodels.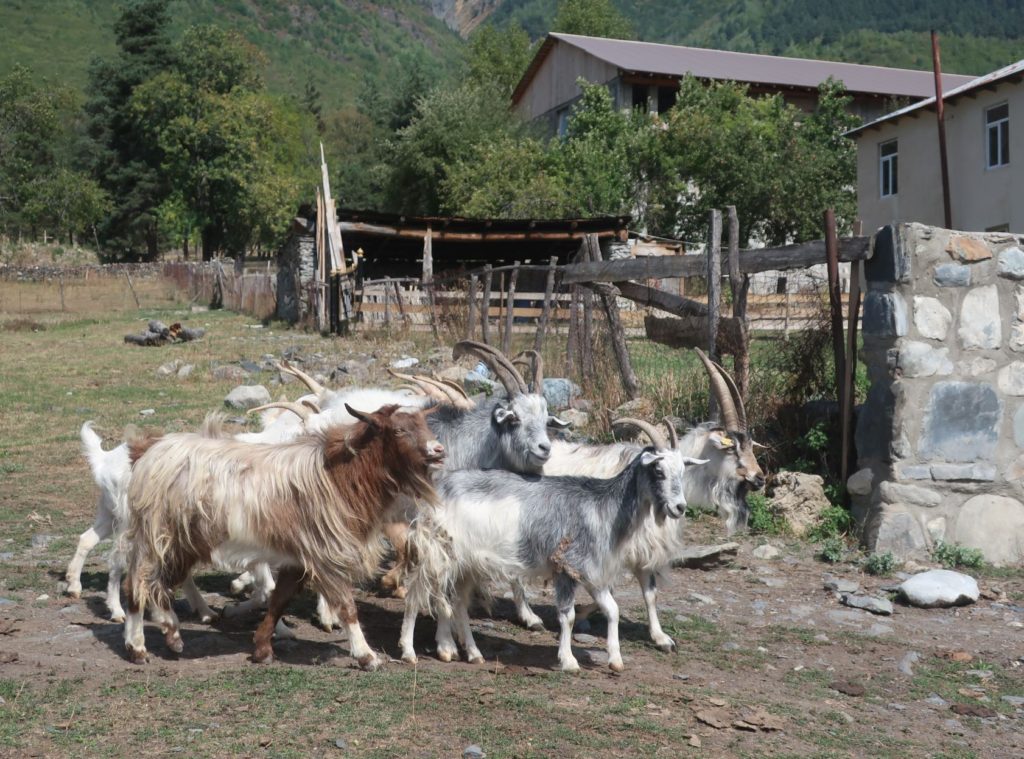 These towers are everywhere in Svaneti-land.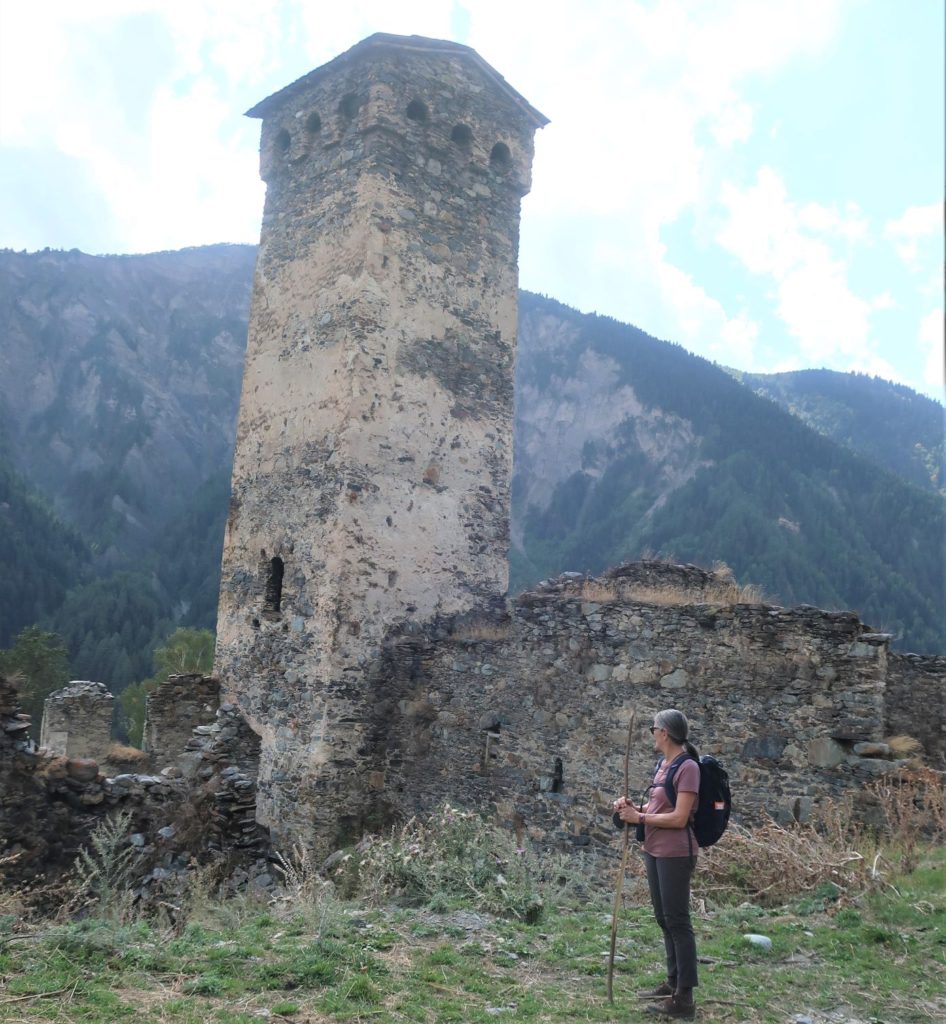 Eventually, inevitably, we lose our way once more.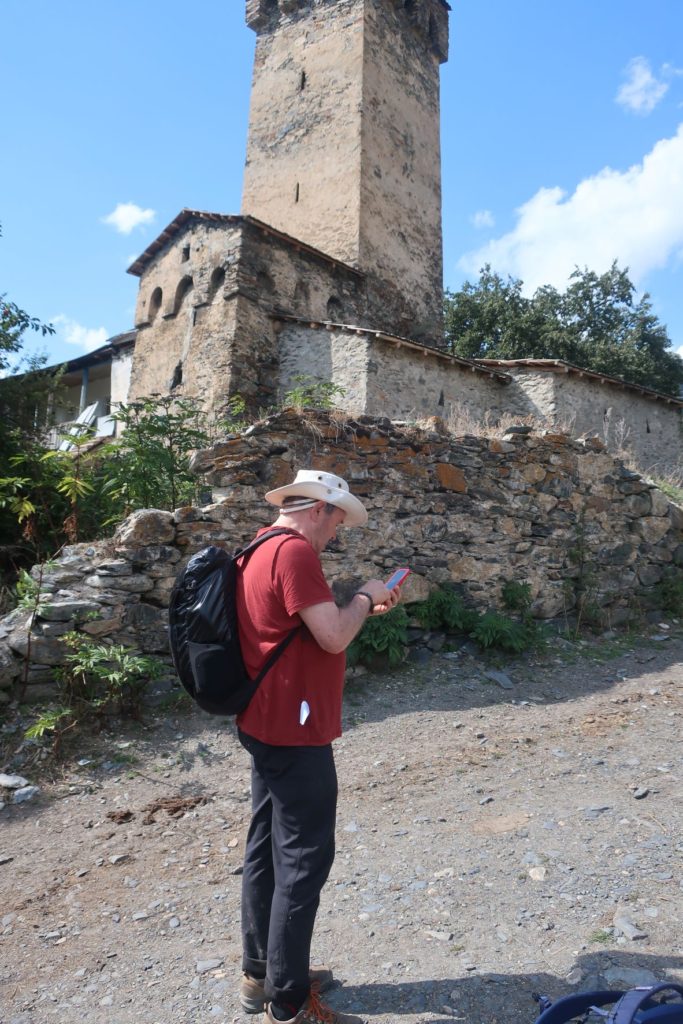 We only get back on track by coming across other hikers. The signage on this trail needs improvement.
This is looking down on the valley before reaching the pass back to Mestia.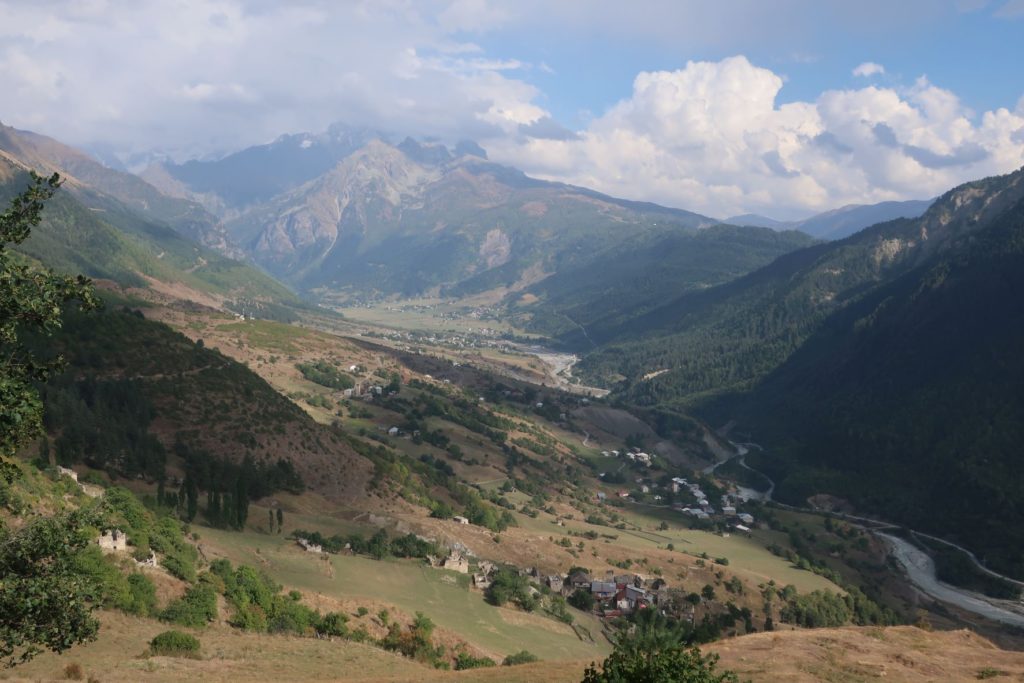 We get back to our hotel in Mestia after 10 hours of walking, dog-tired but with a sense of accomplishment.
Next day, we take a local transport vehicle to Ushguli and back. (We can't take our rental car because the roads are too bad.)
The overnight rains have cause landslides. A work crew clears the road while we wait.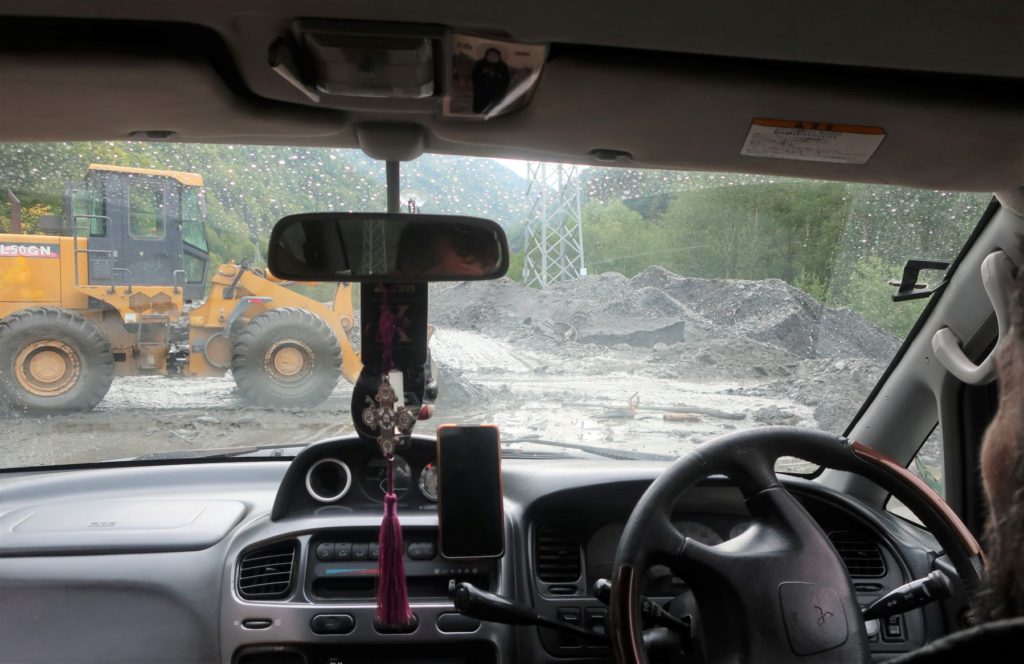 Ushguli is full of stone buildings in various states of picturesque dilapidation. We'll let the photos speak for themselves.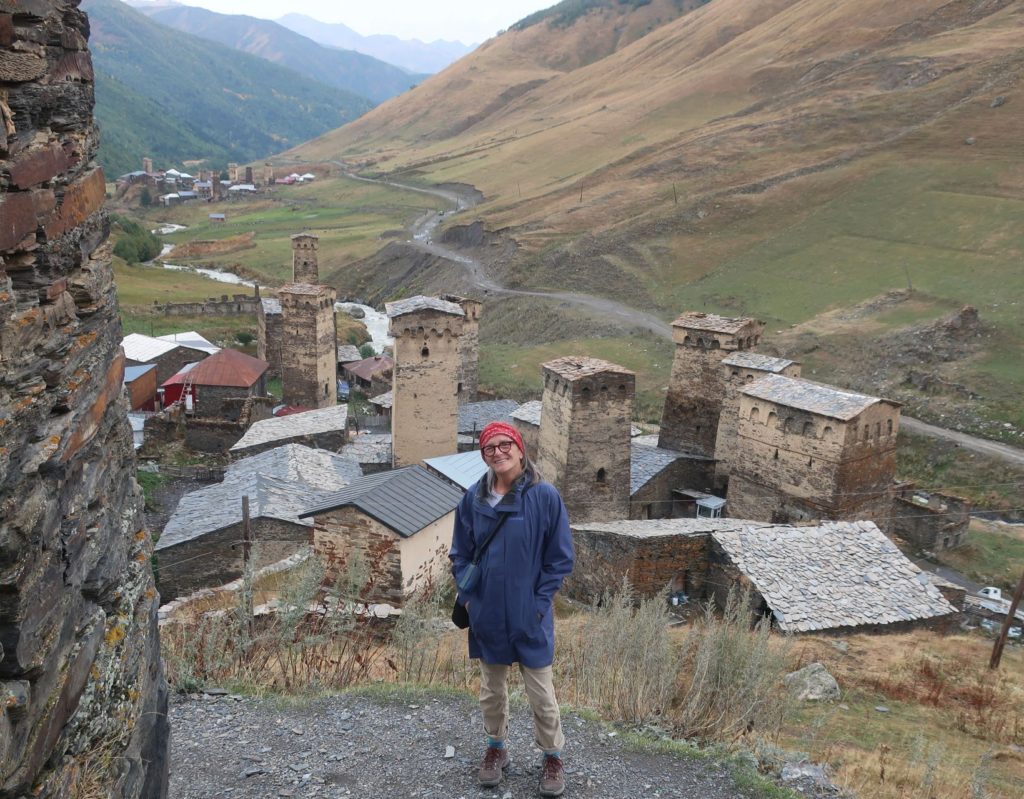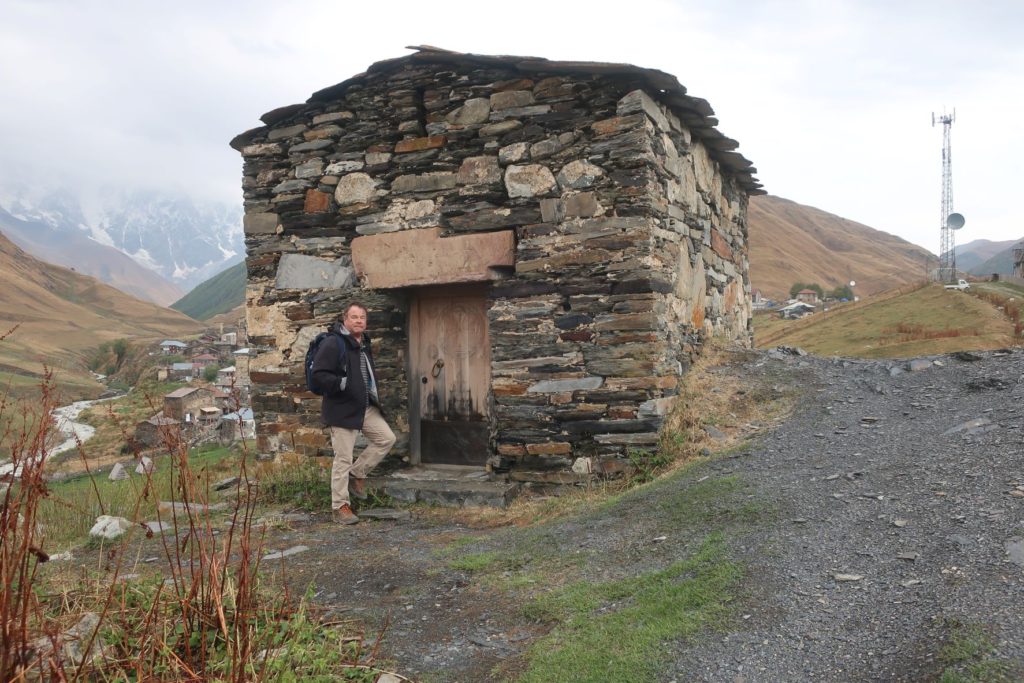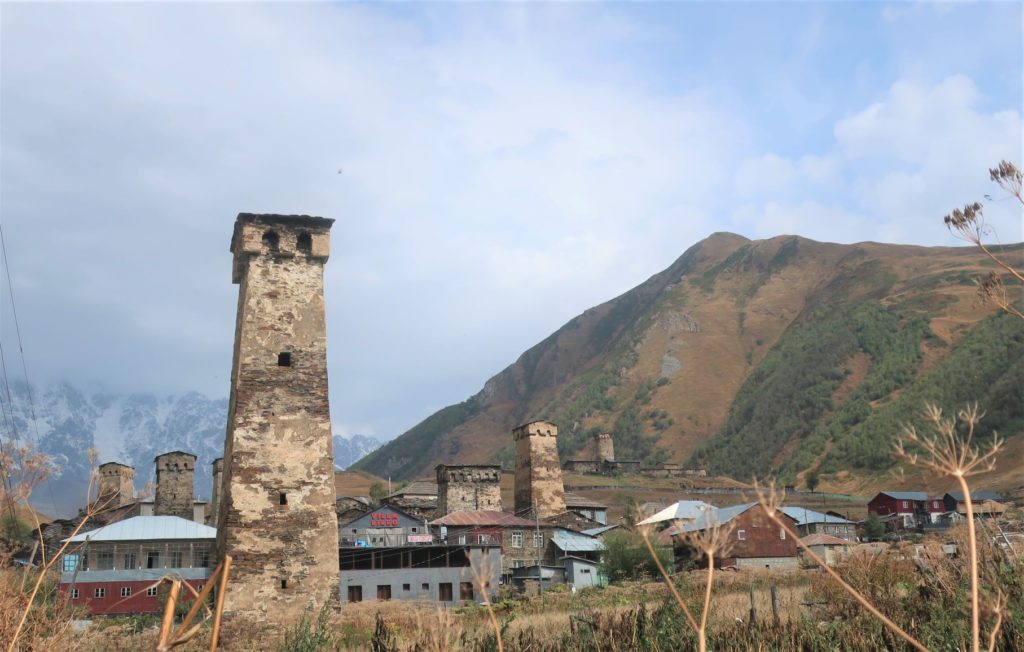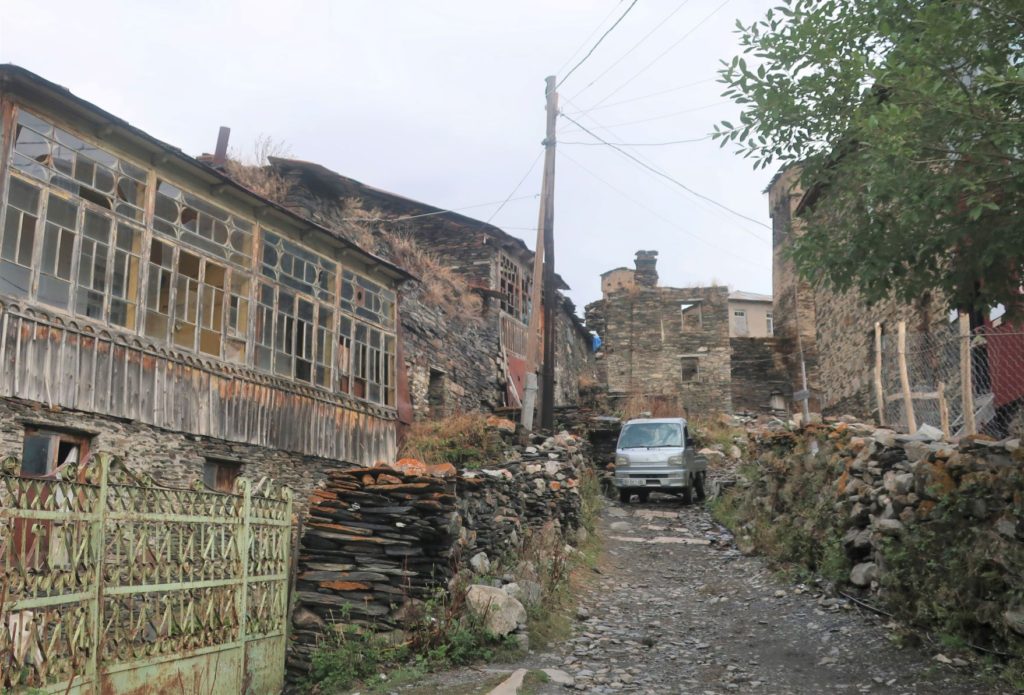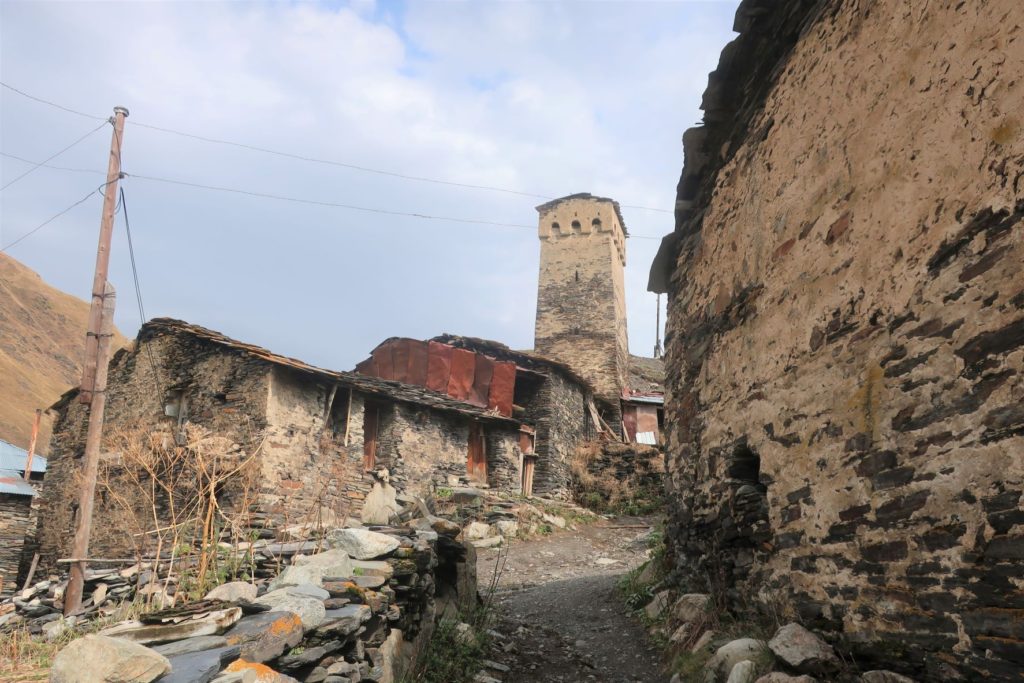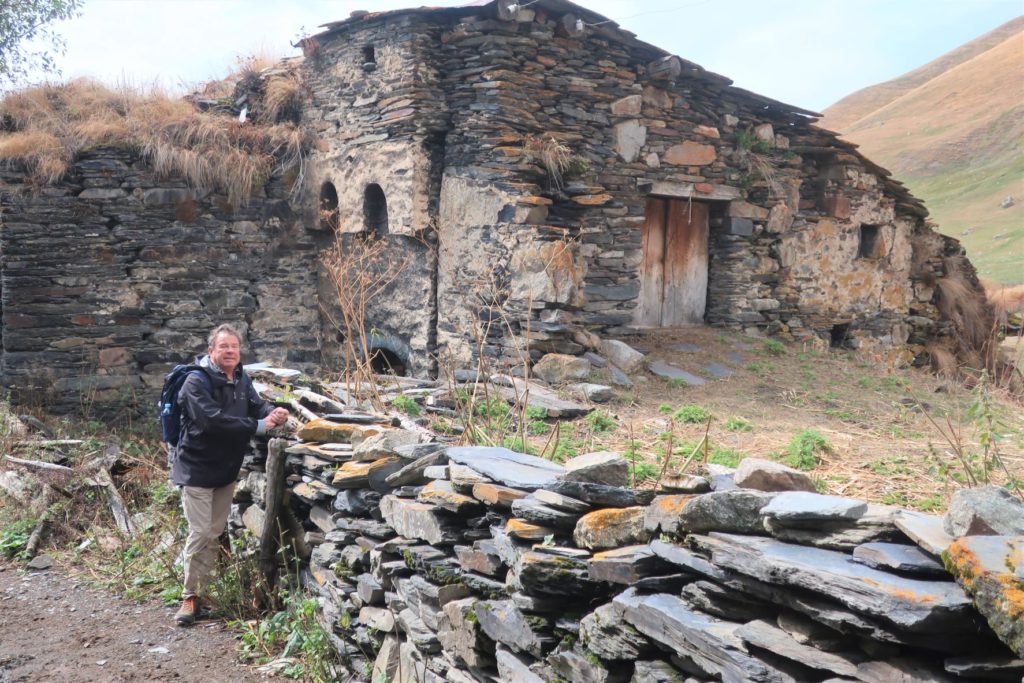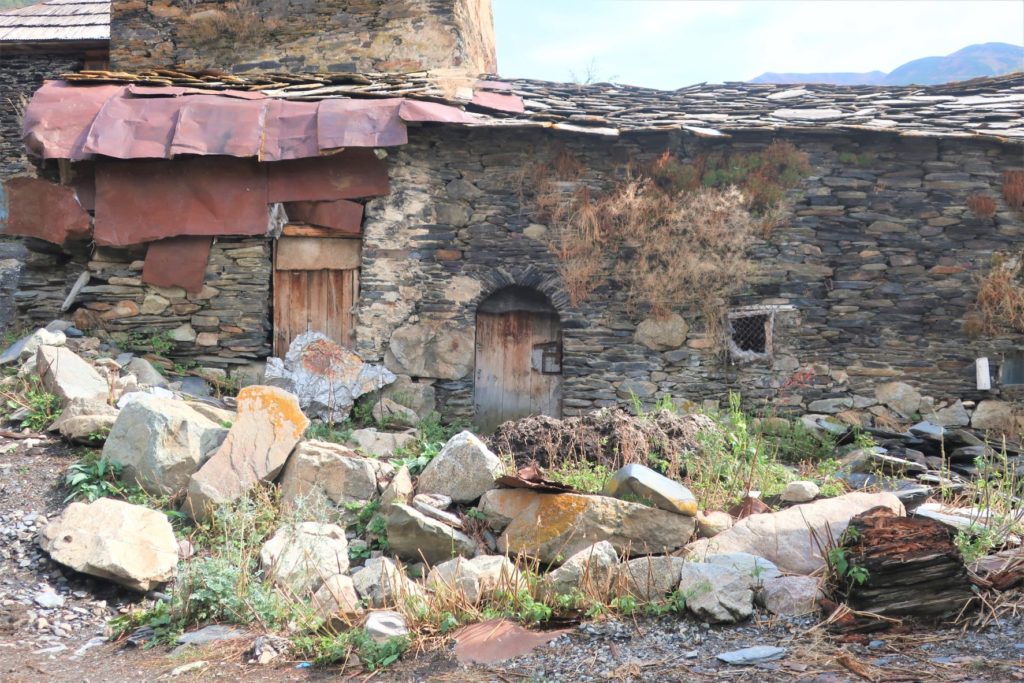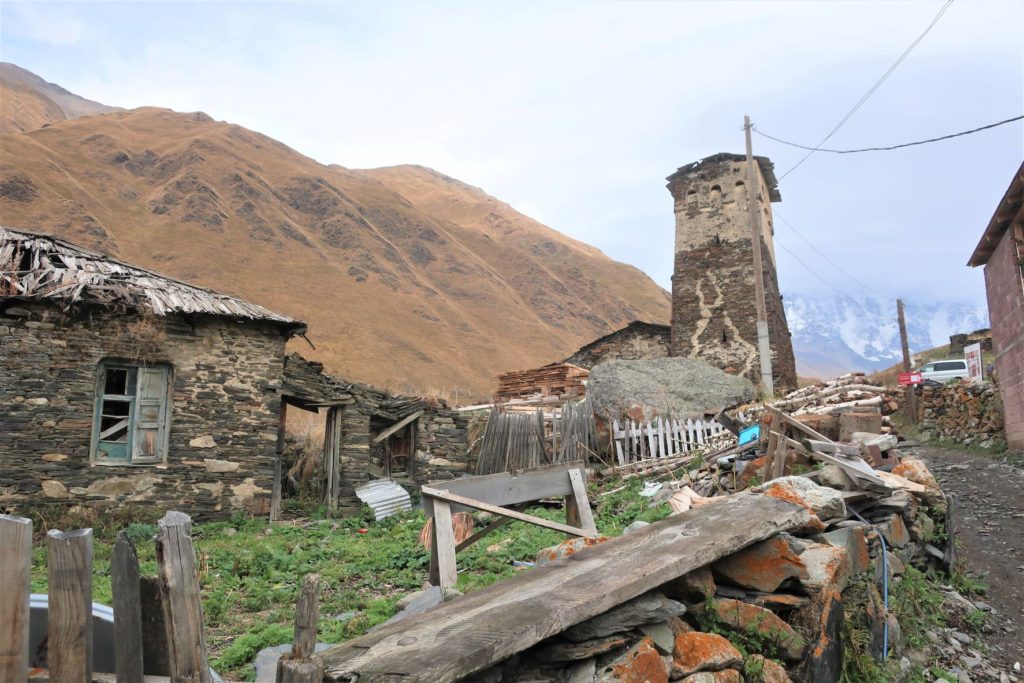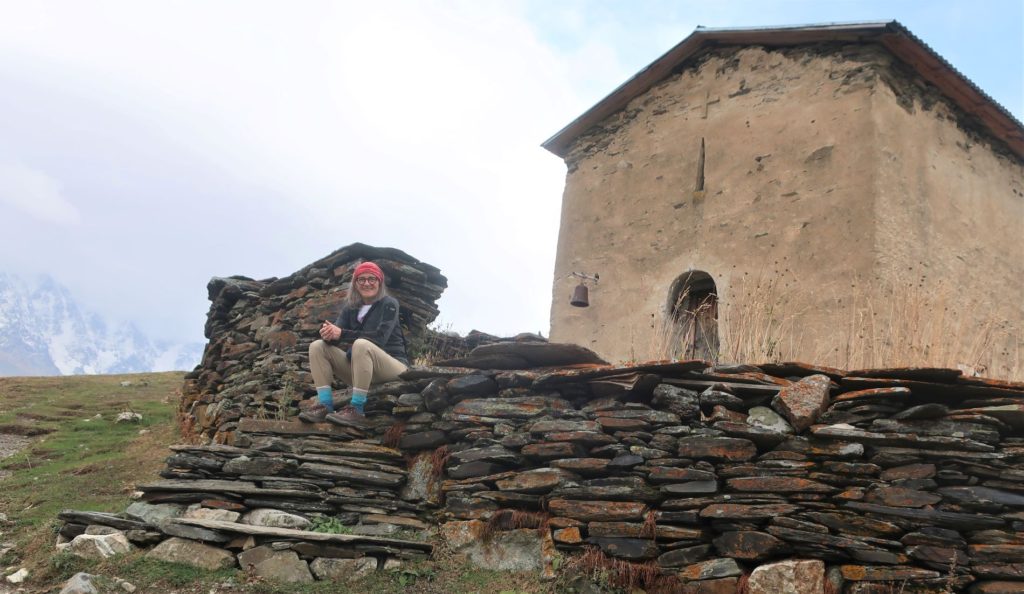 Sight or Insight of the Day
On our day-trip to Ushguli, we meet a young Russian woman who has fled Russia and moved permanently to Georgia. (Sorry, no photo.) She acts as interpreter between the driver (who knows Russian, like most older Georgians, but not a word of English) and us.
It's a shame that ordinary, non-insane Russians feel they have no choice but to leave. This woman was studying data analysis, a sought-after skill at the moment. Now she has to change career paths in a strange country.
She's pretty adamant, though. When we part ways, I say we hoped she could go home soon. She replied without hesitation 'My home is Tblisi!'